How to Share and Play Amazon Music on Discord
I like the way to invite people to enjoy Spotify playlist on Discord. But I don't have Spotify Premium. I do have an Amazon Music Unlimited. Will I also have the Amazon Music overlay option on Discord?
Can I share Amazon Music playlist on Discord? Unfortunately, the answer is no. Till now, Discord hasn't added Amazon Music as an integration. It seems that they have ignored this BUMP for a long time. But that's not the end of our story, to stream your Amazon playlist on Discord, we still have a feasible method stated below.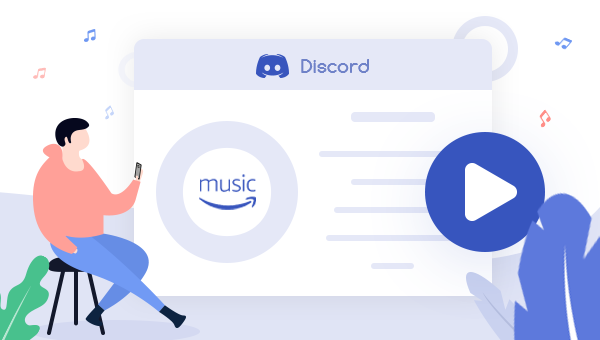 How to Share Amazon Music on Discord
Sharing music on Discord with random faraway strangers could be a pleasant experience. But today, few music platforms have been set on Discord, they have the Spotify & YouTube connection only. So why not try to convert your playlist from Amazon Music to YouTube? After that, you can also share the same Amazon Music song list on Discord easily! To convert playlist between music platforms, here we use Soundiiz as an example. Here's a how-to:
Step 1 Log in to Soundiiz, and click "Start Now". If you don't have an account on it, just register as a free plan.
Step 2 On the left side, find out the "Amazon Music" and "YouTube" service, then click "Connect" to link to your Music account.
Step 3 After that, select one of the Amazon playlists, click the Triple Dot and choose "Convert to", then follow the instruction to choose YouTube platform for playlist transferring.
Step 4 Now, you have the same Amazon song list on YouTube. Copy the playlist link from YouTube, go to the music box on Discord, then just type "!play" with the playlist link pasted behind.
Tips: If there's a Spotify Premium, you can also convert the Amazon Music list to Spotify, then share the playlist on Discord directly.
Finally, your music URL has been sent to Discord, and now you are able to share and play Amazon Music in Discord anytime anywhere.
Extra Tips: Download Amazon Music and Share with Friends
When we would like to share our favorite Amazon Music playlist with others, we can, of course, directly send them the playlist URL. But if they are not Amazon Prime or Music Unlimited members, then will be access denied. If you need to share Amazon songs with anyone else without limitations, try this ultimate solution -- record Amazon Music to MP3.
To download Amazon songs to MP3, here we use TuneBoto Amazon Music Converter, an excellent music recorder born to convert Prime Music & Music Unlimited to MP3/AAC/FLAC/WAV/AIFF with zero audio quality loss. After conversion, you can directly upload Amazon Music to Discord or other platforms with ease.
How to Download and Share Amazon Music
Step 1Open TuneBoto Amazon Music Converter
Launch TuneBoto Amazon Music Converter on computer and log into the Amazon Music account.
Note: TuneBoto needs to work with an Amazon account. But don't worry, it will not take any other information from your account other than the songs.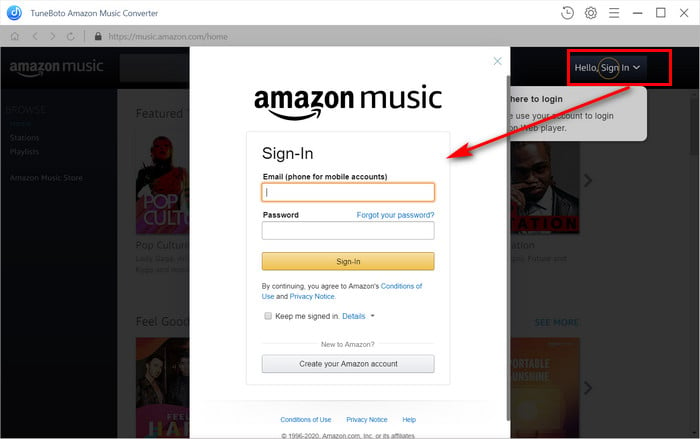 Step 2Select MP3 as Output Format
Go to the "Setting" window, select output folder, output quality, output format, and others. Here please select "MP3" option.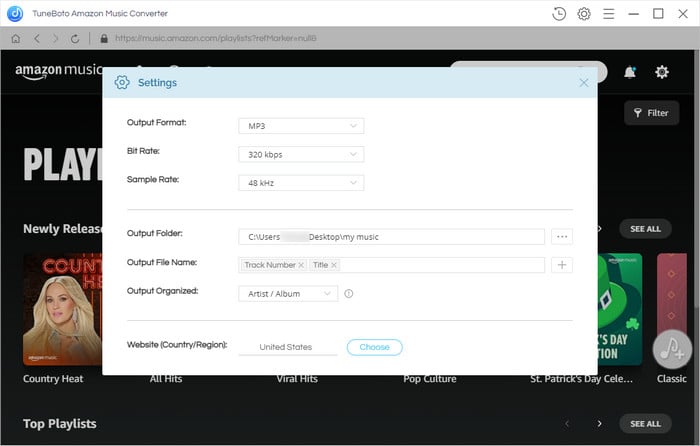 Step 3 Add Amazon Music
Select an Amazon playlist and click the "Add" button. In the new window, choose the Amazon songs that you want to share with others.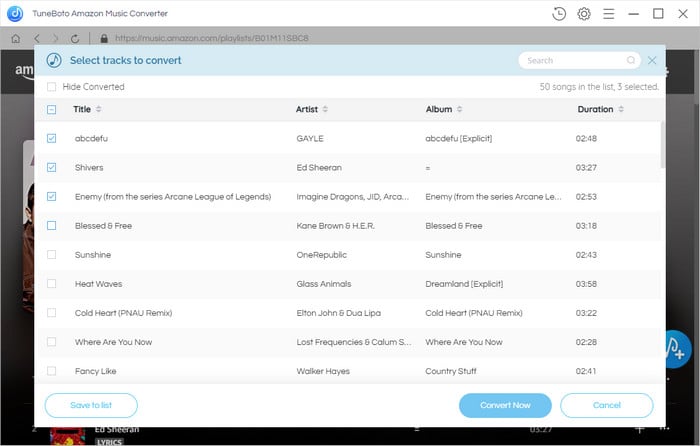 Step 4Start Downloading Amazon Music
Click the "Convert" button to start downloading Amazon songs. After mins, your Amazon playlist will be saved to computer locally.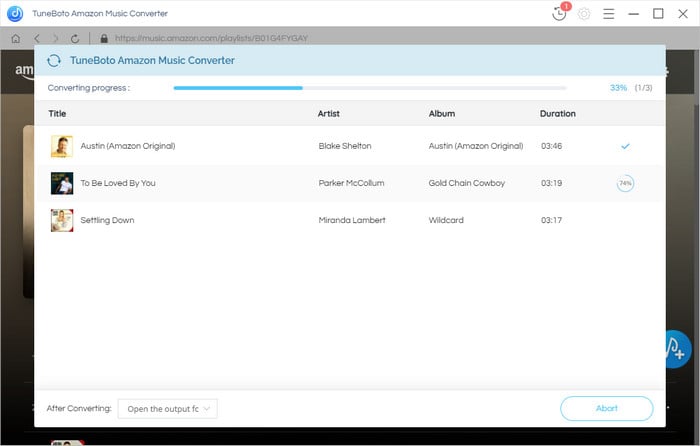 Step 5Share Amazon Music with Friends
Click the "History" button, and click the "Folder" icon behind each song, then you will be directed to downloaded music files. Now, it's time to share Amazon Music via USB Flash Drive, Google Drive, CDs, and more.
The Bottom Line
Bravo! Now you've got the detailed steps to add Amazon Music playlist to Discord. If you are not that into this method to share Amazon songs, just have a try of TuneBoto to download Amazon playlist to MP3. After conversion, your Amazon Music library will be truly empowered and you are able to share them freely forever! TuneBoto offers the free trial version for users to test its features. Now, give it a shot!
Note: The free trial version of TuneBoto Amazon Music Converter enables you to convert the first three minutes of each song and convert 3 music files at a time. You can unlock the limits and enable all its features by purchasing the full version.
Video Tutorial: How to Convert Amazon Music to MP3?
Sours: https://www.tuneboto.com/en1/amazon-music-tips/play-amazon-music-on-discord.html
How to stream Amazon Prime Video over Discord.
If you are looking for a way to stream content from Amazon Prime TV to your friends and family, then everyone can watch and chat at the same time. This article will show you how to use Discord to stream Amazon Prime in a Discord channel so that you can watch content and chat with everyone at the same time.
Related: How to get Text to Speech for your Twitch Chat. (Enable TTS Twitch)
Although Discord was originally developed as a gaming service for players to organise raids and instances in MMORPGs. It has since evolved into a competent all-around communication platform. Discord's lightweight nature, and easy to use interface, along with the fact that it is available on most operating systems and devices, makes it the perfect place to organise casual meetups with friends and family.
Using Discord, you can stream content to users in channels whilst communicating using voice or text. This makes Discord the perfect place to gather friends and start an Amazon Prime TV watch party. This will allow you to stream content from Amazon Prime TV to anyone in your chosen Discord channel. The only catch is that you'll be capped at 720p quality without a nitro subscription. That said, 720p is decent enough if you are viewing on a mobile device anyway.
How do you Stream Amazon Prime Video over Discord? Stream Amazon Prime content to your Discord Channel.
To begin streaming Amazon Prime TV over Discord, you'll need to configure Discord to work with other programs that aren't games, your browser in this particular case. Before you start the steps shown below, make sure the program, app or browser you want to add is running.
To do this open Discord and sign in to your account. When you have Discord open click the Settings icon at the bottom of the screen.

This will take you to a new screen where you will need to click Game Activity near the bottom of the left-hand panel.

In the new window click the Add it! option and select your browser from the list. This will allow you to stream Amazon Prime TV over Discord to your chosen channel.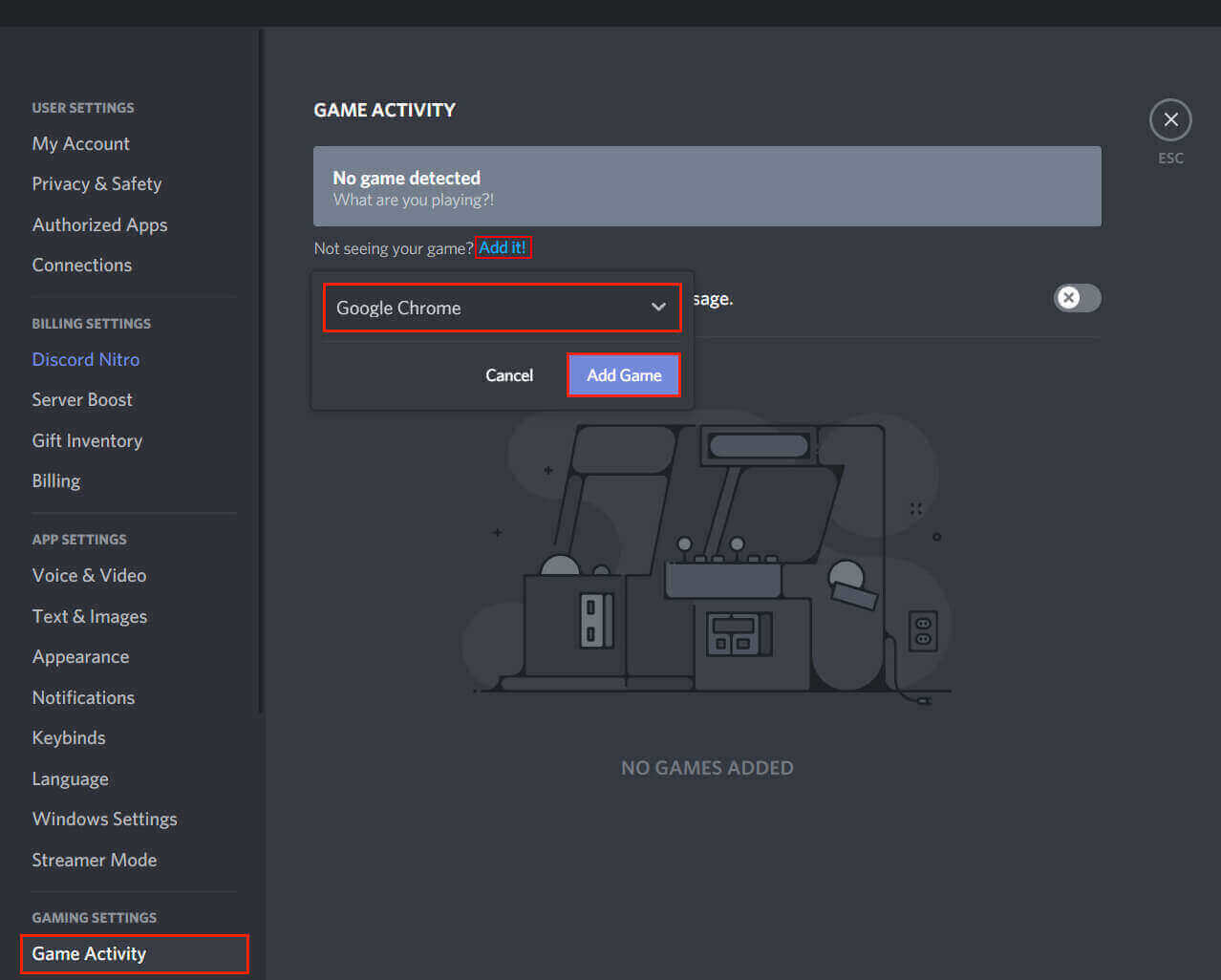 Now all you have to do to stream Amazon Prime TV content over Discord is open the browser you are playing Amazon Prime TV from, then click the Stream icon in Discord and choose your browser from the list of options. That's the Discord side of things sorted, you'll have to make one more change to stream Amazon Prime TV over Discord. You have to disable Hardware Acceleration in your browser, otherwise, Discord will only show a black screen.
How do you turn off Hardware Acceleration in Google Chrome to Stream Amazon Prime over Discord?
To disable Hardware Acceleration in Google Chrome, you'll need to open the browser, then go to Settings > Advanced settings. Near the bottom of the page untick the Use hardware acceleration when available checkbox and you're done. If you don't disable Hardware Acceleration, your Amazon Prime TV Discord stream will be blank.
How do you turn off Hardware Acceleration in Firefox to Stream Amazon Prime over Discord?
Disabling Hardware Acceleration in Firefox is easy. Open the browser then go to Options > General. Here untick Use recommended performance and Use hardware acceleration when available will appear below it. Now untick it as well and you're done.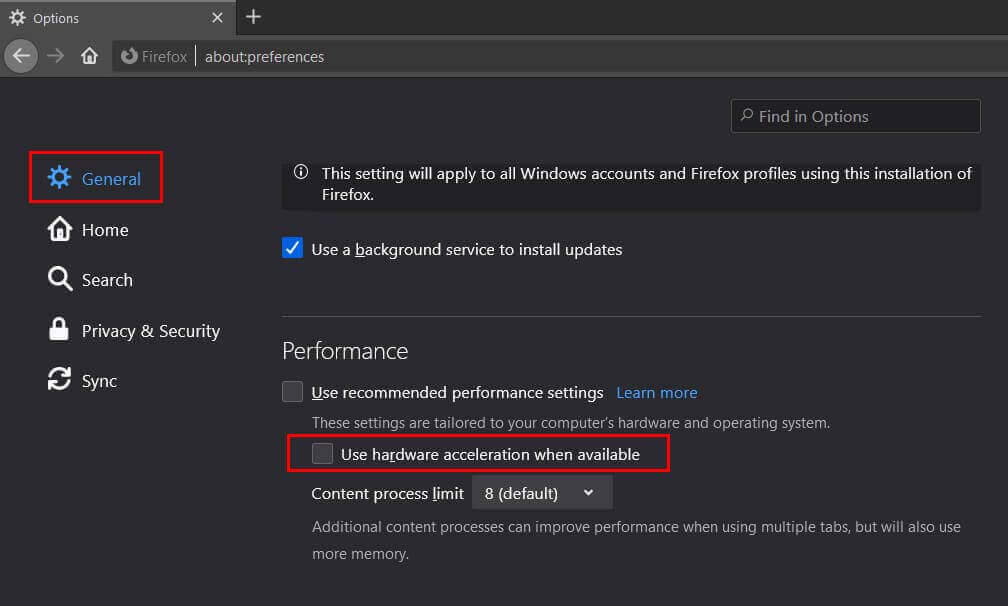 How do you turn off Hardware Acceleration in Microsoft Edge to Stream Amazon Prime over Discord?
To disable Hardware Acceleration in Edge, open Edge, go to Settings > System, then flip the Use hardware accelerationwhen available toggle to Off (grey).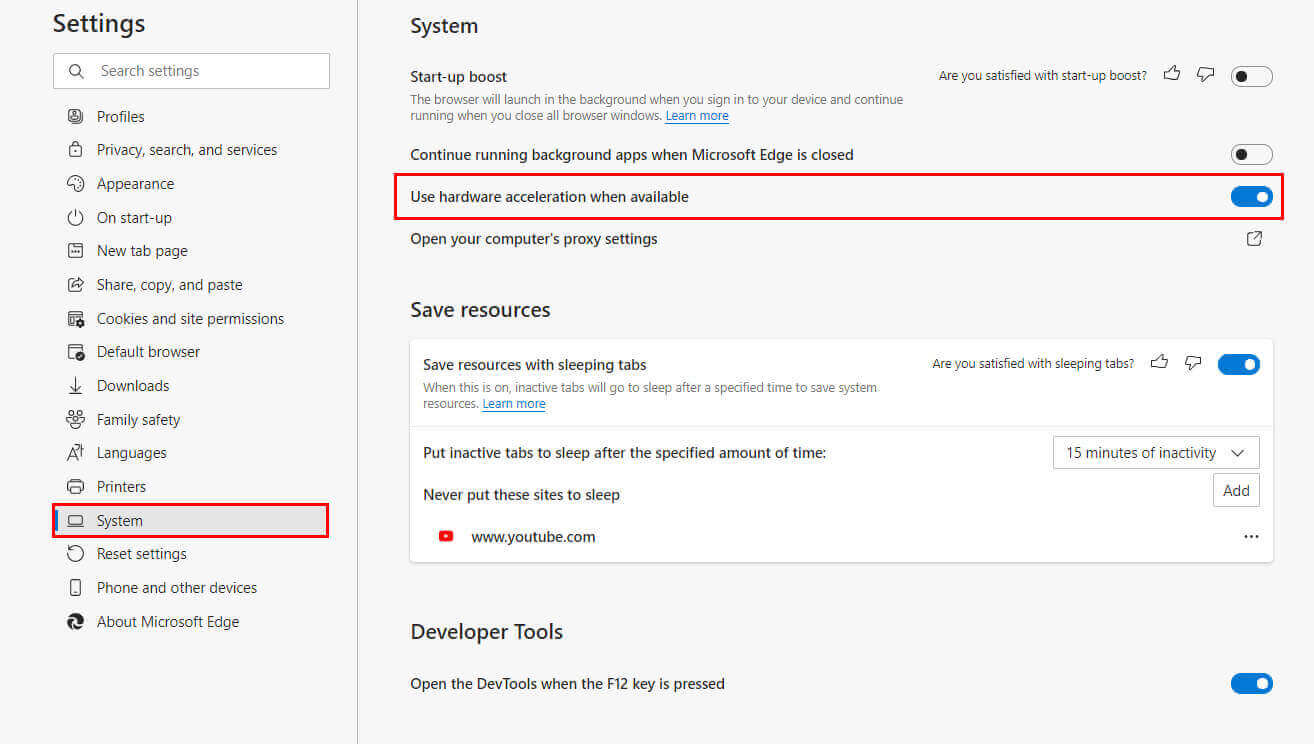 Sours: https://www.downloadsource.net/how-to-stream-amazon-prime-video-over-discord/n/20494/
Over the last few years, Discord has established itself as the best gaming chat service in the industry. Thanks to its easy to use user interface and feature set, no other game chat service can match its prowess. One of the biggest features of Discord is its ability to integrate Discord bots that cannot only help automate things, but also perform actions that are not possible natively. My favorite Discord bots are the music bots which allow users to play music in the background while the whole community is chatting with each other. Whether you're new to using music bots for Discord, or if you are looking for new Discord music bots in the wake of the shut down of Groovy bot, in this article, we are going to take a closer look at all the music bots for Discord and list you the 10 best Discord music bots that you can use in 2021.
Best Discord Music Bots (2021)
Before we check out the list, I just want to make sure that you guys know how to add bots to your Discord servers. The process is quite simple actually. So follow the guide below and learn.
You can also use the table of contents below to navigate this article more easily.
Adding Bots to Your Discord Server
All you need to do is to click on the provided links and then click on the "Invite" button. Finally, just select the server you want to add the bot to, and then click on the "Authorize" button. If you want a detailed tutorial with images, you can check out our article on how to create Discord server as well as how to add bots to Discord and use it to add Discord music bots to your server. With that said, let's get to our list.
1. Fredboat
One of my favorite discord music bots is the Fredboat which is a powerful music playing bot that supports a number of different websites. FredBoat can play music from YouTube, Soundcloud, Bandcamp, direct links, Twitch, and more. I also love that Fredboat supports playlists which allows me to set a playlist and let the songs play without having to set a song whenever the last one ends.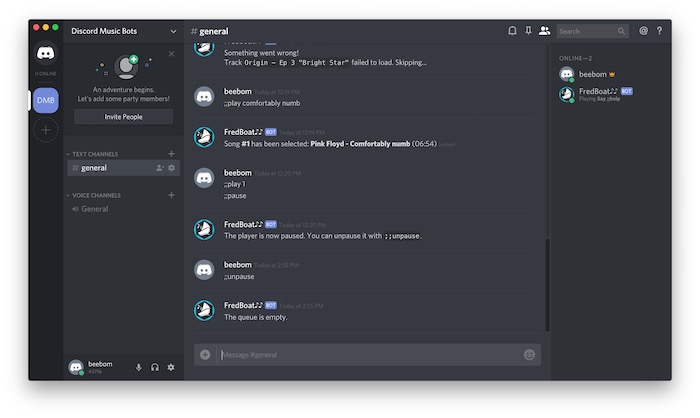 Another cool feature of Fredboat is its search functionality. Instead of adding links from YouTube or Soundcloud you can simply search for the names of the songs that you want to play. Fredboat will give you five different options and then you can select the music that you want to play. Finally, Fredboat is open-source and secure which makes this quiet trustworthy.
Get Fredboat
2. ChillBot
For fans of Lo-Fi music, ChillBot is probably the best option out there. This bot is basically a live streaming radio station that streams lo-fi chilled out songs 24×7. Controlling the bot is easy, thanks to simple and intuitive commands, and you can play/pause music on demand. Obviously, since this is a radio station, you can't play your own playlists with this bot, instead you will get the real feel of an actual radio station.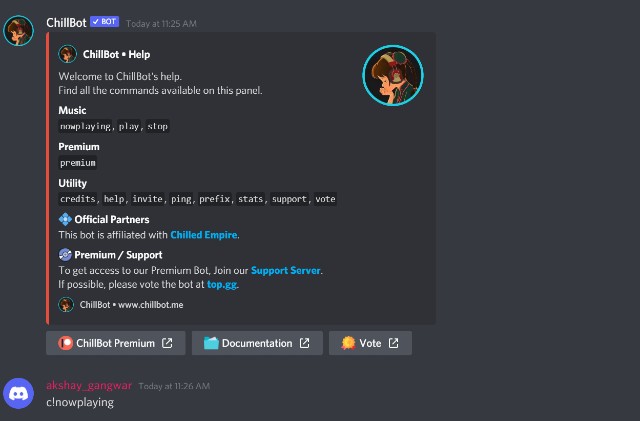 Get ChillBot
3. Octave
Another music bot for Discord that you can check out is Octave. This is a simple, yet feature-rich Discord song bot that will let you add music and fun to your server. Octave offers support for all the usual features you'd want, such as play/pause control, search, as well as a playlist. Moreover, you also get Spotify support built-in so you can easily use your Spotify playlists on your server.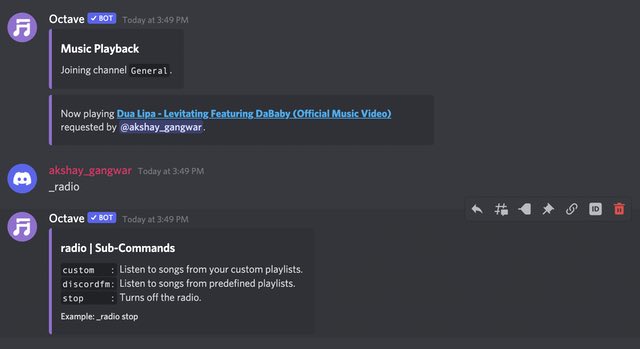 Another really cool feature in Octave is the fact that server members can vote on songs, and if a majority of people dislike a particular song, it will be skipped. There's a lot of customisation available as well, so you can easily set it up to be exactly the way you want it to be.
Get Octave
4. ErisBot
ErisBot is a powerful Discord music bot which is easy to use and brings highly configurable commands. One of the biggest features of ErisBot is that it allows you to create and use your own custom prefix for commands, a feature that most other Discord music bots don't support. One thing that I noticed while using ErisBot is that sometimes it fails to parse the YouTube links and start playing the video instead of just audio, so that's something you'll have to deal with if you're using ErisBot. Apart from that, I had no problem while using ErisBot for playing music and I recommend this bot to anyone who is looking for a capable music bot.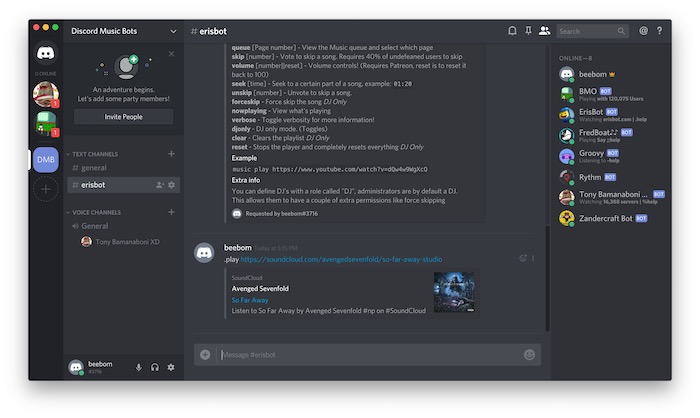 Get ErisBot
5. Tony Bamanaboni XD
The name of this bot might be hard to pronounce, but the bot itself is pretty easy to use. The bot does everything that you'd expect from a Discord music bot which means that it can play/pause music, search for music, queue music, create auto-playlists, and more. It also supports all the usual music sources including YouTube, Soundcloud, Bandcamp, and more.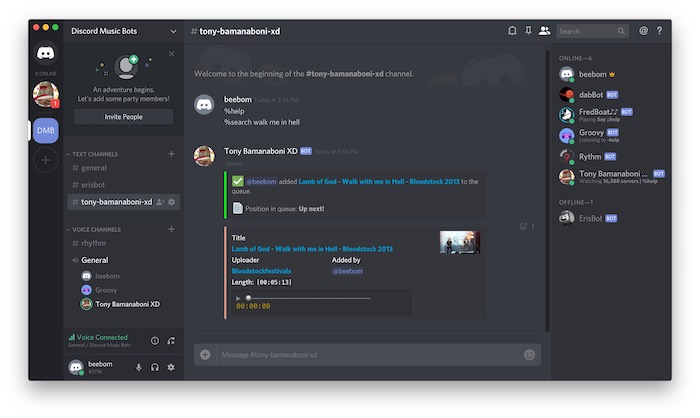 All that's good, but the feature that differentiates Tony Bamanaboni XD from other Discord music bots on this list is its ability to use audio filters to change the music output. You can use filters such as bass boost, pitch, and speed among many others. If this is a feature that you need, then you should click on the link below to try it out.
Get Tony Bamanaboni XD
6. 24/7
Another one of my favorite Discord music bots is the 24/7 by Deluxe. The bot not only supports music playback from different sources but it also supports streaming of any radio station around the world. I also love that the bot can even play any live event that is being streamed on YouTube. Other features of this bot are pretty much what you expect. You can play/pause songs, create playlists, add songs to queue, and everything else. Do note that many of its features are only usable by its Patreon contributors, so keep that in mind while inviting this bot.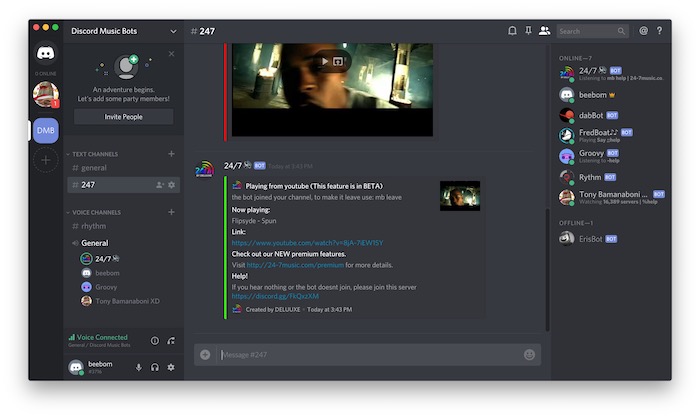 Get 24/7
7. Zandercraft
While the Zandercraft bot is known for its productivity, GIFs, and fun features, I have used it for months just to play music. I use Zandercraft to play music because it has the ability to play XHD (extra HD), Hi-Fi music. If you are a music junkie then it's the perfect tool for your server. Zandercraft supports all the usual features that include playing songs, searching for songs, adding songs to queue, creating playlists of your favorite songs, and more. If you love to stream Hi-Fi music, and you're looking for Discord music bots that can handle that, you should definitely check out Zandercraft.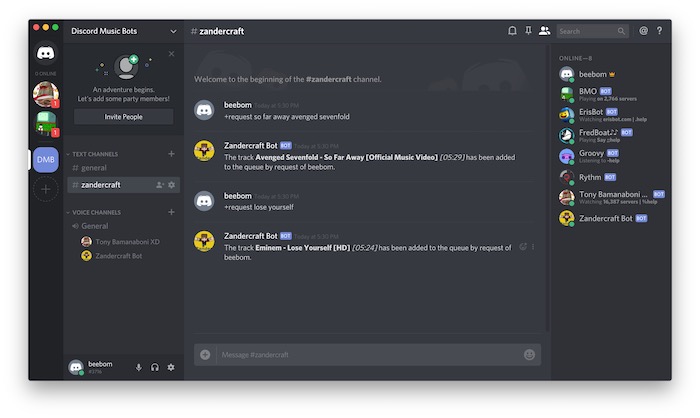 Get Zandercraft
8. BMO
BMO is much more than just a Discord music bot as it also supports games, utilities, image manipulations, and more. However, since we are interested in just the musical functionalities of the bots, we will focus on just that. When it comes to the music features, BMO is quite basic. You can search for songs, play them, and add it to queue. I found that the bot worked pretty fast and played songs in very good quality. That said, it's commands are a little bit harder and you will have to spend some time learning about this bot.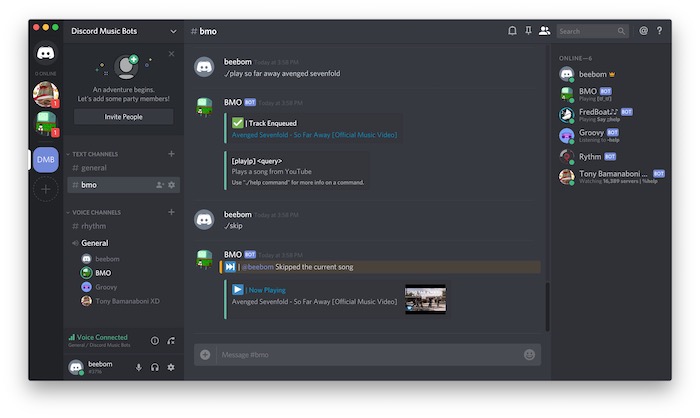 Get BMO
9. Vexera
Vexera is another Discord Music Bot that you can use to serenade your Discord chat friends with your favorite music. It brings a smooth, lag-free music playback experience that is second to none. It uses YouTube as its music provider so you can get all the latest songs without any hassle. You can simply search for the songs that you want to play and control music playback and queuing with in-channel controls. Apart from music, it also brings powerful moderation tools and the ability to send greeting messages to new members. I have tested Vexera for a few weeks and I like how it performs. It's worth checking out.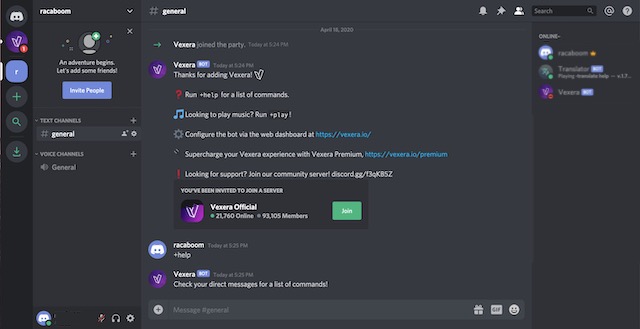 GetVexera
10. MEE6
MEE6 is an excellent music bot for Discord. What I love most about this bot is the visual player that lets you control your music. You don't have to use any complicated commands. Just use the simple drag and drop to rearrange songs, and click to pause, play, and skip songs. It's like using any other song player. Other features include 24/7 playback, volume boost, song seeking, members voting for favorite songs, and more. The bot supports several music sources including SoundCloud, YouTube, Twitch, and more. It's a capable music bot and you should try it out. That said, note that the music control interface is not free and is part of a subscription pro plan.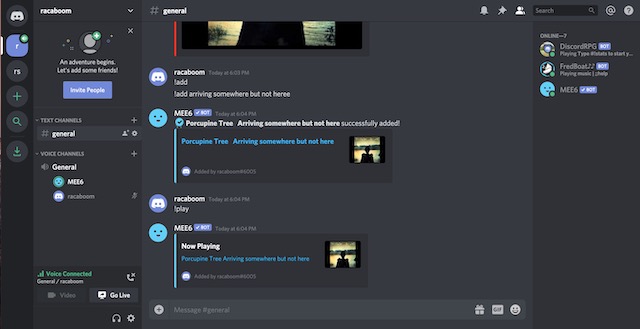 Get MEE6
Listen to Your Favorite Music with Discord Music Bots
These eight are the best Discord music bots that you can use on your Discord servers. While there are other multi-purpose Discord bots which also give you music controls, none of them work as flawlessly as these eight. Do check the list out and let us know your favorite Discord music bots among them all. Also, if you would like to recommend any other Discord music bots that we didn't include on this list, drop them in the comments section below. Also, if Discord isn't your cup of tea, there are a bunch of Discord alternatives that you can check out as well.
Sours: https://beebom.com/best-discord-music-bots/
Amazon Music For Artists Verification + Video Walkthrough
As most streamers on Twitch.tv can attest to, listening to music while gaming is practically a must. Having the beat match the rhythm of the heart thumping in your chest during an epic, intense gaming moment is an awesome feeling. So much so that you'll want to share that feeling with those in your Discord.
Of course, there's the chance that you may just want to "rock out", enjoying the company of your fellow server members listening along. There's nothing wrong with that at all. You might even help a few of them discover some great new tunes.
Regardless of the reason, music and gaming are a match made in Valhalla and the union should be enjoyed every chance you get.
There are two primary ways to play music on Discord without sacrificing sound quality, not only for yourself but for your mates as well.
Adding Music to Discord
The ways in which I know to play music through Discord are:
A Discord Bot. We'll be specifically looking into Rythm for this article.
Setting up Spotify with Discord. We'll also touch on the Listen Along feature for Premium Spotify subscribers.
So if you've ever wanted to stream your favorite songs in Discord, these are your best bet. Below, you'll find the walkthroughs for each of these options.
Keep in mind that the quality of sound will vary depending on your choice. Though, whichever you choose, you'll be blasting sounds into your Discord in no time at all.
Rythm, The Discord Music Bot
Rythm is a Discord music bot focused and dedicated to a singular goal – delivering an amazing music experience on Discord. There are a lot of well-documented bots available but Rythm is a great choice that's free. The dedicated amount of high-quality, music-related features is unrivaled and constantly being updated and worked on.
Need help adding Bots to Discord? This article will help you add the right bots to your Discord Server.
Rythm supports many different sources of music including YouTube, SoundCloud, Twitch, and more. It also boasts 100% stability meaning no lag in your music, ever.
Before you can install Rythm (or any bot) to Discord, you'll need to be either the owner of the server you want to install it on or have the necessary permissions. Without them, you'll need to skip this option and choose one of the other two in the article to play music on Discord.
To install Rythm on a Personal Computer (or Mac):
Pull up your web browser of choice (all should work with Rythm) and head to https://rythmbot.co.
Located at the top-right of the page, click + Add to Discord. This action will bring you to the Discord login screen. (If you're using another Bot source this may differ from "Invite" to "Add Bots")

Enter in your Discord account credentials and login to the site

From the drop-down menu, select the server for which you want the Rythm bot added. You can add the bot to additional servers but will need to repeat the process.

Click the blue Authorize button when presented. It'll be located toward the bottom of the smaller popup window. You'll receive a confirmation message.

Put a checkmark into the "I'm not a robot" box and you'll now have access to your Discord server's Rythm bot.

Setting Up the Music
Launch the Discord Desktop app on your computer. You can also use the browser version if that's what you prefer.
From the server list on the leftmost side of the Discord screen, select the server you decided to add Rythm to.

Left-click the on the voice channel you want Rythm to play music in from the list of channels available. A voice channel must be selected for Rythm if you plan on listening to any music. Which, I'm sure hoping is the case or this entire process is pretty pointless.

Type !play followed by a space and the name of the song or artist you want to listen to. Press Enter or Return and Rythm will search for the song or artist on YouTube (or your set music list) and play that song or a song from the artist.


You can head to https://rythmbot.co and click on Features & Commands for a list of RYTHM's !commands. They'll be found in the column on the right.
To install Rythm on your Android or iOS device:
Follow steps 1-6 for installing Rythm on a Personal Computer (or Mac) and then continue from here.
Launch the Discord app on your device and log in with the appropriate credentials if necessary.
Tap open the menu (top-left of screen) and choose the server you added Rythm to from the list of servers on the leftmost side of the screen.

Tap open a voice channel as you'll only be able to add Rythm to a voice channel if you want to play music.

Type in !play <song or artist> and hit send for Rythm to begin playing music.


A list of Rythm's !commands can be found at https://rythmbot.co under Features & Commands.
Other Discord Bots
There are several options for Discord Bots that add pleasant audio to your server.
Groovy is a bot that is easy to use and supports customization such as shuffling and showing lyrics. A trusted Bot, it makes a great musical addition to Discord servers.
FredBoat is another popular Bot that lets you add music to your Discord. Similar to the customization of the Groovy bots, FredBoat also lets you control who changes the playlist.
Throw A Music Party On Discord Using Spotify
Spotify is a free (with premium memberships) digital music streaming service that provides access to millions of songs from various global artists. It's one of the biggest businesses to offer such a service, second only to Apple's iTunes.
To connect your Spotify to your Discord account is a great feature that allows you to add music without bots.
You can connect Spotify to your Discord by:
Opening Discord on your device and clicking on User Settings, the Cog icon located to the right of your avatar.
Under the "User Settings" section of the menu on the right side, select "Connections".

Find the Spotify icon in the "Connect your accounts" section and click on it. This will take you to the Spotify account login page.
Login to your account with your Spotify credentials.

Agree to the terms concerning connection between Spotify and Discord by clicking on the green AGREE button at the bottom.
A "Connected your Spotify account to Discord" page will be pulled up when the process is complete.

Back on Discord, scroll down the list to see your Spotify connection.

The options allow you to choose how you want Spotify displayed on your Discord profile. If you'd like to disconnect Spotify from your account, you can click the X at the top-right of the green box. Follow this up by clicking Disconnect to confirm your choice.
Using Listen Along
Listen Along is a premium Spotify feature that allows the members of your server to listen in on the music with you. Listen Along lets you listen in on your friends who are also listening to Spotify regardless if they are using Spotify for free.
Unfortunately, while using this option, you're unable to communicate using voice chat. You will instead have to use text chat while Listen Along is active.
If you're currently paying the monthly premium for Spotify, to use Listen Along:
While in Discord, you can click on a member who is "Listening to Spotify" from your friends list or the members list located to the right.
A Listen Along icon should be visible to you. Just click on it to share in your friend's musical preference.

When listening along with a Spotify Free user, you'll hear silence while adverts are being played.
To invite your friends to Listen Along:
While Spotify is already playing music, click the '+' in your text box to send out invitations.
You can preview the message being sent prior to an invite where you can add a comment if you'd like.
After the invite has been sent, those of your friends who are able to Listen Along can click Join in order to "rock out" with you.
Those friends who are currently listening in will be shown at the bottom left of the Discord app.
Sours: https://playerassist.com/play-music-discord/
Music discord amazon
How to Share and Play Spotify Music on Your Discord?
Step 1Run Sidify Music Converter
Before start, you will need to download and install Sidify Music Converter on your PC, then run Sidify after the installed completed.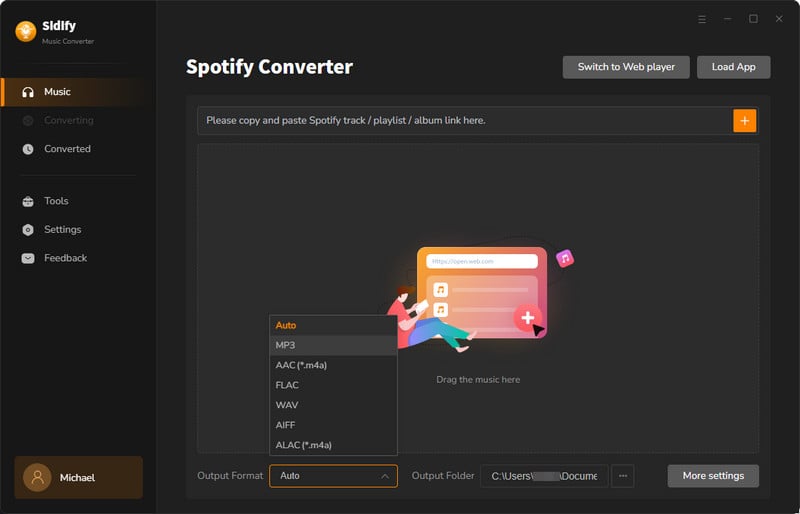 Step 2Add Track, Album, Artist or Playlist from Spotify
To add songs from Spotify, you can click on the "

" button on the Sidify Music Converter main interface, then a smaller window will pop up. You can drag & drop a song, album, artist, playlist or podcast from Spotify to the adding window directly.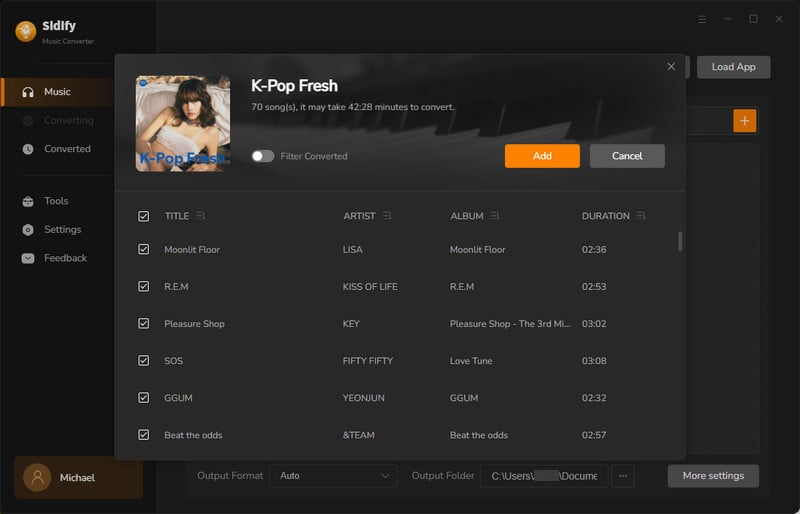 Step 3Change the Output Settings
Before downloading songs from Spotify, you can click on "

" button to customize the conversion and output settings, including output format, output quality and output path.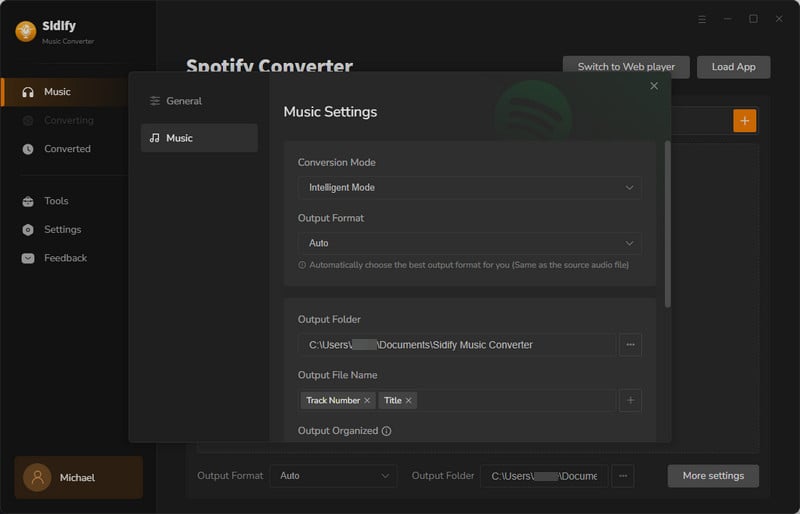 Step 4Start Downloading Songs from Spotify
Now you start downloading the track, album, artist, playlist or podcast from Spotify by click on the "Convert" button.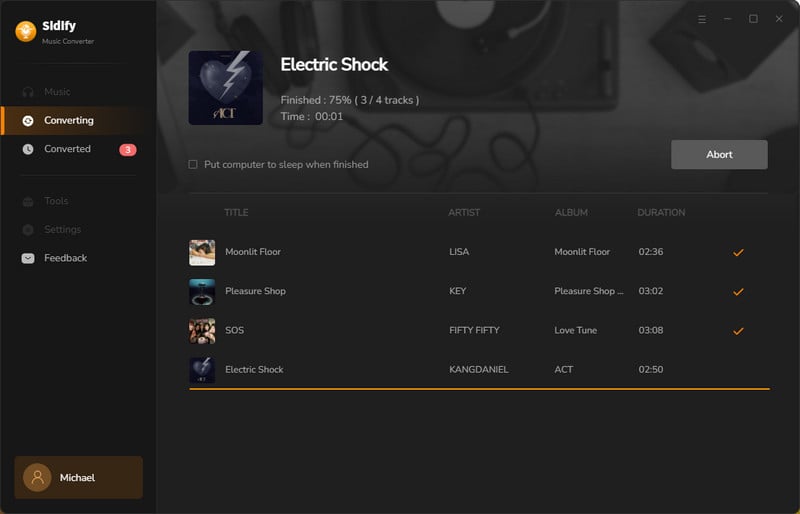 Step 5Upload & Share the Converted Music to Cloud Drive
Sidify Music Converter supports uploading the converted Spotify music or local music to OneDrive for backup. You can follow the steps below:
After conversion is done, you can select the converted Spotify music files and click on "Upload & Share" to open the "upload and share" window, then choose upload to OneDrive.
Or click on "Tools" - > "Upload & Share" to upload and share more music to Cloud Drive.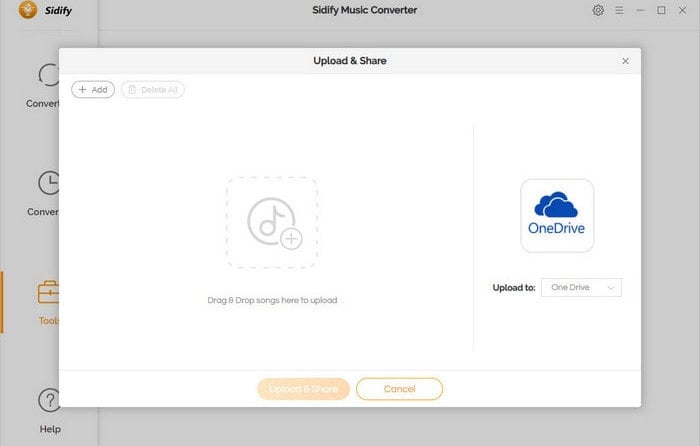 Enjoying sharing and listening to Spotify music with others!
Note: The trial version of Sidify Music Converter enables us to convert the first 3-minute audio from Spotify for sample testing, you can purchase the full version to unlock the time limitation.
Sours: https://www.sidify.com/resources/play-spotify-music-on-discord.html
HOWTO - PLAY SPOTIFY, APPLE MUSIC \u0026 MORE WITH DISCORD MUSICBOT! - ENGLISH
When it comes to chatting online, it's hard to beat Discord. Although the app began with a cult following from the gaming community, Discord has become perfect for groups looking to stay together online. If you and your friends are looking to have a night in while streaming online, using Discord with Amazon Prime to watch a movie is a great idea.
In this article, we're going to tell you how to stream Amazon Prime on Discord, as well as answer a few questions on the subject.
How to Stream Amazon Prime on Discord
One of the many advantages that come with Amazon Prime is the ability to stream thousands of movies and TV shows whenever you want. In addition, you can stream the latest music videos without having to put up with those annoying ads associated with most streaming services.
But that's not even the best part: you can actually stream Amazon Prime on Discord. This way, you can stream that perfect movie or music video and watch it in real time with family or friends.
But you might be thinking, "Isn't it a complicated process?" Absolutely not. All you have to do is treat Amazon Prime as a game. Discord recognizes the service as a game and starts streaming immediately without any issues.
Now let's jump right in and see how it works:
First, ensure that you're connected to a server. Then, open Amazon Prime using your browser. If you're not logged in already, enter your credentials as necessary.

On another window, launch Discord.

Click on the settings icon located in the bottom left corner.

From the menu on the left hand side, select Game Activity.

From the options at the top of the screen, select Add it.

From this point, choose the browser window streaming Amazon Prime.

Click on Add Game.

Leave the settings section and click on Screen in the bottom left corner of the screen. This launches a popup screen where you're prompted to choose the browser window you'd like to stream.

Adjust streaming settings to your preferences. it's important to note that you can't go higher than 720p unless you have a Discord Nitro account which supports higher resolution media and boosts your servers to improve your viewing experience.

Hit Go Live to start streaming immediately.

What makes Discord streaming such an exciting choice among Amazon Prime subscribers is the fact that you can leave your camera on even when you're actively streaming. That way, your viewing partners can see your reactions to the playback.
How to Stream Amazon Prime on Discord Without Black Screen
A black screen occurs when your screen abruptly turns black as you watch. The show will suddenly disappear and you'll find yourself staring at nothing but a blank screen.
There are many reasons to love streaming on Discord, but a black screen can ruin your viewing experience.
While it's not possible to pinpoint the exact cause, you might be relieved to learn that there are possible resolutions. Let's look at several possible fixes if you encounter this problem.
Update Your Discord
Updating Discord is a quick way to fix bugs. If you encounter the black screen, checking for new Discord updates should be top on the list of your troubleshooting options.
Try Clearing the Cache
In some cases, the cache generated by Discord can be infiltrated by corrupt elements, a situation that may interrupt Discord at startup and lead to a black screen. The only way to get rid of such elements would be to clear the cache.
Clear Background Applications
Some of the applications running in the background can interfere with Discord's launching sequence. To avoid this scenario, you should clear any unnecessary program running in the background.
Switch Off Hardware Acceleration.
Hardware acceleration is a technique used to boost processor usage by offloading certain computing functions to hardware components. However, the feature can cause the black screen on Discord. Disabling it can possibly resolve the issue and let you stream content uninterrupted.
Additional FAQs
1. How Do You Stream Amazon Prime With Friends?
• Open Amazon Prime Video on a browser.
• Open the video you'd like to share.
• Click on the Watch Party icon to invite friends.
2. Can You Screen Share Movies on Discord?
Yes. Discord comes with a feature that allows users to share their screens with others.
3. Can I Stream Prime Video on Twitch?
Yes. To do so, you need to connect your Prime account to Twitch and the use the Watch Party feature to share your screen with others.
4. Is It Legal to Stream Amazon Prime on Discord?
It depends. If you're sharing Prime content with a few friends or family, that's perfectly okay. But sharing content with the general public is considered a breach of copyright laws and can get you in trouble.
5. How Do I Stream Movies on Discord?
Once you've created a chatroom and invited your friends, you can easily stream movies by clicking on "Go Live" and then choosing the browser streaming the movie.
6. Why Am I Unable to Share Prime Video Over Discord?
Some of the reasons why sharing Prime Video over Discord can fail include the use of outdated Discord software, hardware acceleration, a corrupted cache, or execution of too many programs in the background.
Upgrade Your Viewing Experience
There's hardly a better way to upgrade your Amazon Prime viewing experience than watching your favorite videos with family and friends, no matter where they are. And thanks to this article, you now know just what you need to do to make this a reality.
Have you experienced any challenges trying to stream an Amazon Prime video on Discord? Let us know in the comments.
Sours: https://www.alphr.com/stream-amazon-prime-discord/
Now discussing:
As soon as he married the. Rich baroness a second time to keep his fortune, the tale turned into a nightmare for young Olivia. The father disappeared on endless trips abroad, and the newly-made stepmother wasted no time pampering her two daughters, in parallel with this, spreading rot to the hated stepdaughter. In this regard, those very two daughters of the Baroness, Lucretia and Chantal, left not far from their mother.
9707
9708
9709
9710
9711