Fan or not, most acknowledge the Kawasaki KLR 650 is a versatile machine. From single track to your daily commute or a tour across South America, it will take you just about anywhere you want to go. While it's known for being a budget bike, many choose the KLR 650 because of its exceptional reliability, durability and simplicity, regardless of price.
It was cutting-edge technology in 1987 when it was first introduced but not much has changed over the last 28 years.
The KLR 650 is not without its flaws though. One of its biggest shortcomings is the suspension. The pre-2014.5 KLR 650s are known for being too soft, even for an average-sized male without luggage. Out on the trail, it does a poor job of absorbing big hits and is quick to bottom out. If you push it too hard or if you are a little heavier than average, the KLR 650 rear shock can begin to fade and even blow seals.
That's not to say the suspension flaws are so ingrained in the bike's design that they can't be fixed. The KLR 650 is relatively light for an Adventure Bike (40 pounds lighter than the BMW F800GS) and at its core, it's really more dirt bike than street bike. Its compact size, 21″ front wheel and dirt bike ergos give it the perfect blueprint for an off-road capable adventure bike.
---
---
There's a lot of hidden performance in the KLR's DNA and one of the best ways to bring it out is with a suspension upgrade. But can an upgraded suspension really transform the budget-friendly KLR 650 and put it on par with off-road capable adventure bikes that cost two or three times as much?
Searching for the Best KLR 650 Suspension Upgrade
While reviewing the KLR 650 suspension upgrade options for our test bike, our first priority was maintaining the bike's reliability and durability. We wanted high-quality suspension components that would handle the constant abuse of long-distance touring and heavy-duty construction to absorb the punishment of spirited trail rides. It would need to be custom-configured to the rider's weight and riding style and have the flexibility to handle heavy gear and a passenger.
Touratech's rear shock is built with a 6082-T6 aluminum shock body, low-friction Teflon seals, high-strength stainless steel bushings and an oversized 16mm shaft.
Touratech's KLR 650 suspension upgrade was a good fit for what we were looking for. We were impressed with their stoutly built rear shock specifically designed to handle the constant abuse of long-distance adventure touring. Its floating piston design eliminates the inconsistent damping that plagues the stock emulsion shock, and Touratech keeps it simple by using a single clicker for both rebound and compression damping. A shock length adjustment allows you to set the ride height (up to 8mm) without affecting shock travel (extremely helpful if you are inseam challenged) and an optional hydraulic preload adjuster can be used to fine tune preload by hand for different load weights.
For the front end, big improvements can be gained by swapping out the old linear-rate fork springs for progressive fork springs. We opted for Touratech's KLR 650 progressive fork springs kit that gives a supple ride over small bumps while getting progressively stiffer as the forks compress deeper into the suspension travel.
Suspension Test: Timed Off-Road Course
In order to measure the improvement gained from the Touratech KLR 650 suspension upgrade, the bike was put through a technical off-road challenge and lap times were recorded both before and after the installation. To get a true sense of the KLR's capability, we pitted it against one of the best off-road Adventure Bikes ever built — the KTM 990 Adventure R. The KTM would also act as a benchmark for our before and after tests, allowing us to measure the gap in time between the two bikes on the same date, with the same rider, without varying trail conditions playing a factor.
The KTM rides on a race-bred suspension with significantly more power and suspension travel than the KLR 650. At first glance, this may look like an unfair comparison but the lighter KLR has a fighting chance with its more nimble handling on a technical course.
With 76 more horsepower and 2 extra inches of suspension travel, the KTM 990 Adventure R is a formidable opponent for the KLR 650.
Enter the Arena
The 2.3-mile course was designed to be a true test of suspension function with few sections where the KTM could use its significant power advantage. The course travels down through a set of sandy s-turns before entering a long section of medium-sized whoops. Up a steep rutted-out hill climb, then continues on a ridge trail where the rider navigates through a maze of baby head boulders and ruts. Hard left into a steep v-shaped ravine that can easily bottom the suspension, then watch out for embedded rocks through a roller coaster of ups and downs that includes natural jumps. Pass through a long set of motocross-style whoops before a sweeping right turn marks the furthest point of the course. Head back through the giant whoops, roller coaster section and deep ravine before starting the 3/4 mile climb through long continuous whoops all the way to the finish line. One lap takes a little over 5 minutes to complete.
Our suspension test course featured plenty of big whoops that would allow us to push the KLR 650 suspension to the limit.
Round 1: Stock KLR 650 vs. Stock KTM 990 Adventure R
While we were pretty sure the stock KLR 650 would lose our first challenge, we weren't sure by how much. Heading out for some hot laps on the KLR 650 was a bit of a shock after riding the refined KTM. The bike danced wildly through the whoops and the stock KLR 650 rear shock bottomed out frequently. We received bone jarring impacts from the front fork and the bike struggled to keep the tires planted on hill climbs.
The KTM 990 Adventure R suspension felt refined and under control in the whoops.
Dropping into the ravine on the KLR required caution to avoid a hard bottoming out of the suspension. Overall, it was a scary and unpleasant ride but we pushed to the limit to achieve our best time.
The stock KLR 650 suspension struggled for traction and had difficulty maintaining a straight line on steep hill climbs.
After recording the best of two runs for each bike, we were not surprised when the KTM 990 Adventure R beat the stock KLR 650 by a gap of 0:23 seconds. That's a big gap when you consider this was a short course. More importantly, it required a lot more effort and stress to ride the KLR 650 at higher speeds. Nevertheless, the KLR would be back for a rematch after installing the Touratech suspension.
Installing the Touratech Suspension
The rear shock and fork springs upgrade is a fairly simple job for anyone with basic mechanic skills and tools. If you are new to working on motorcycles, we recommend taking it to a shop to ensure the job is completed properly. You can take a look at some YouTube videos for KLR 650 fork spring and rear shock replacements to get a better idea of what's involved. Set aside a day to complete the job and always read the instructions carefully before beginning the project.
Touratech's KLR 650 progressive fork spring above and stock spring below.
Touratech's progressive fork springs kit for the KLR 650 includes springs and fork oil. Taking apart the forks may look intimidating at first but it's a fairly simple operation and the instructions are straight forward. The forks are removed from the bike to completely drain the oil and the stock metal preload bushings are discarded. Forks are re-installed 10mm higher in the triple clamps to set the correct ride height.
Touratech's KLR 650 rear shock with hydraulic preload adjuster above and stock shock below.
Replacing the rear shock is even easier than the fork springs. It takes less than 10 minutes to remove the 3 bolts holding in the shock. Bolt the new Touratech shock into place with thread lock and your rear shock upgrade is completed.
The rear shock comes shipped from Touratech with settings optimized for your weight and riding style but you should always double check your "race sag" to ensure it's adjusted properly. Touratech offers two useful resources that describe best practices for setting suspension sag and fine tuning damping settings on your new shock.
Round 2: KLR 650 With Suspension Mods vs. Stock KTM 990 Adventure R
With our new Touratech suspension installed on the KLR 650, it was time for a rematch with the KTM. Our initial test runs revealed a major transformation in the KLR.
The KLR suspension upgrade smoothed out washboard surfaces, and sharp edged bumps no longer rattled kidneys. Overall, the bike had a plusher more playful feel.
After achieving our best time out of two runs on the KTM 990 Adventure R, it was time for a lap on our upgraded KLR 650. In the whoop sections and hill climbs, the KLR stayed arrow straight. Heading down the ridge, the steering felt much lighter than before, making it easier to navigate the ruts and rocks scattered along the trail. Diving down into the ravine, we were able to carry more speed without bottoming out.
We could feel a big improvement with the KLR 650 suspension upgrade on the first lap, but we knew we could squeeze more out of it with some adjustments. For the second run, we increased damping on the rear shock to improve its ability to handle bigger hits. This allowed the KLR to stay on top of the whoops better.
Increasing the damping adjustment on the rear shock helped the KLR 650 stay on top of the whoops and carry more speed.
We put in our best effort and the damping increase paid off. Our final run dropped the gap to within 0:09 seconds of the KTM 990 Adventure R.
Where Was The KTM 990 Adventure R Faster?
The course was designed to prevent the KTM from using its power advantage but the split times on different sections of the course revealed a few spots where the KTM was using its extra grunt. Whenever there was a steep hill climb on the course, the KTM distanced itself slightly. Its longer-travel suspension also allowed it to achieve higher top speeds through the long whoops section.
The KTM 990 Adventure R gained time on the KLR 650 by using its power advantage to blast up hill climbs.
Where Was The Modified KLR 650 Faster?
Improved steering and maneuverability paid dividends for the KLR on the rocky ridge trail, allowing it to gain valuable seconds on its heavyweight competitor. The KLR was able to pick cleaner lines through the rocks and ruts and could carry more speed through turns than the KTM. The KLR 650 was no match for the big KTM in the whoops with the stock suspension but it was right on its heels after installing the Touratech suspension.
The KLR's lighter steering allowed it to carry more speed through turns than the KTM.
Final Thoughts
We were left impressed with how well the KLR 650 performed after the suspension upgrade. The Touratech suspension got us within close reach of the KTM (0:09 seconds away) and it was a major improvement over stock (0:14 seconds gained). However, the true value of the improved suspension goes beyond the race course. It's about how the bike makes you feel when you ride it.
It doesn't take a racer to tell a difference either. Riders of different skill levels that tested the bike, before and after the upgrades, reported they could ride faster with less fatigue, and that it was easier to react to surprises when they occurred. The bike now feels more connected to the trail and it's a joy to ride at a brisk pace or just cruising down the road.
The Touratech suspension upgrade transforms the KLR 650 into a more responsive handling bike and improves confidence on rough terrain.
On asphalt, the KLR has a more flickable feel and doesn't wallow in turns. There's no excessive dive under braking or squat during acceleration. When riding with heavy luggage or a passenger, there's plenty of preload adjustment available to set the correct ride height.
A suspension upgrade is one of the best investments you can make in your KLR 650 and there is probably more room for improvement than on any other Adventure Bike. If your plan is to travel significant mileage or you are just looking for outright performance, then the KLR 650 suspension from Touratech is an excellent choice. The high-strength components are built to last and are backed by a 2-year warranty. The rear shock is also completely rebuildable with a maintenance interval of 18,600 miles.
Shopping Options:
Photos by Bill Lieras
Author: Rob Dabney
Rob Dabney started a lifelong obsession with motorcycles at the age of 15 when he purchased his first bike – a 1982 Honda MB5. Through his 20's and 30's he competed in off-road desert races, including the Baja 250, 500 and 1000. Eventually, his proclivity for exploration led him to dual sport and adventure riding. Rob's never-ending quest to discover what's around the next bend has taken him on Adventures in Mexico, North Africa, Europe, and throughout the American West. As a moto journalist, he enjoys inspiring others to seek adventure across horizons both near and far.
Sours: https://www.advpulse.com/adv-bikes/klr-650-suspension-upgrade-vs-ktm/
03/012013
I'm not aware of any conventional forks that function better than those found on the
original 1987 through 2007 KL650 A. The new "E" model forks have (according to our
calculations) 10% greater cross-section area and have a four bolt fork alignment axle
cap, but I like the longer travel and smoother damping characteristics of a properly set-
up "A" model forks.
The biggest problem with the "A" model fork is that it doesn't matter how much you
improve the springing and damping, you will have fork bind unless the two fork tubes are
stroking perfectly parallel to each other.
Some "A" model forks are O.K., but others come from the factory misaligned as much as .
050" which will create a huge amount of stiction and fork wear.
Checking fork alignment is a must on 1987 – 2007 KL650A forks.
My "A" model fork alignment procedure goes as follows:
Securely fasten the rear of the motorcycle so it can't move or tip over.

Once the rear of the M/C is secured; carefully jack up the front wheel until it's
slightly off the surface.

Loosen the (4) upper triple clamp fasteners. (Loosen and re-adjust fork brace
later).

Remove the fork caps, spacers, washers and springs from the fork tubes.

Slowly push the front wheel upward until it reaches full overlap (bottoms out).

Support the wheel in this position so it will stay put and not slide back down (keep
it straight).

Remove the brake caliper and hang it out of the way.

Loosen the front axle nut and back it off a couple of turns.

Put your thumbs against the right lower fork tube and using the spokes, gently pull
the wheel assembly toward the speedo drive side.

Now, using a feeler gauge, measure any space, if it exists, between the left wheel
spacer and inner fork surface.

If you find a space, install the proper shim or shims on the axle between the
speedo drive box and its inside fork mating surface.

At this point tighten and torque the axle nut.

Next, carefully remove the front wheel support and slowly stroke the forks from
open to close a few times to make sure the action is smooth. (NOTE:  If you
removed and reinstalled the fork springs slowly and stroked the forks
carefully, you should not have lost a significant amount of fork oil. If you
got sloppy, you should recheck the oil level.)

Carefully reinstall all the previously removed parts in the reverse order being
careful to properly torque all fasteners to factory specs.


Once I had discovered and fixed the "A" model fork misalignment and stiction problem in
1991, I was on my way to great front suspension. The details are for another article.
If you have an "A" model of any year, don't believe the "you gotta have a fork brace
crowd". The only time we use our light, strong "Telefix" fork brace is with 19" front canyon
scratching street rubbber and oversize E.B.C. floating front discs. I bet that even if KLR's
go to 50mm forks, someone will still be trying to sell you a fork brace. Buyer beware.
In closing I'll just repeat: "Proper fork alignment is critical to good front suspension action
on any motorcycle. Proper springs and preload, oil type, oil level and torquing of all
fasteners in the proper sequence and to the proper factory settings is most of the rest of
the story.
If you don't believe me, ask my wonderful wife and co-rider, Pauline Read who has tens
of thousands of dirt road miles including almost every road in Baja Norte and Sur.
A great "suspension triad": Brunton, Ramos or Renazco seat, P.P.S./Top Gun anodized
and honed front fork lowers, P.P.S./Ohlins rear suspension and good tires properly aired
down when off road(16psi front, 14psi rear) have prevented many crashes and
backaches.
Our principal riding companion Rod Morris has a nearly identical suspension triad set-up
on his multisurface KL650 A10. We try to keep Rod on rougher surfaces so he doesn't
get "rocked" (no pun intended) to sleep and disappear over the side when we're not
looking.
All kidding aside, a properly dialed-in suspension triad is important not only for your
comfort level but more importantly, for your safety. Rod Morris of MMP on this website
can help you get your suspenders set-up with the proper springs and damping.  Good
luck.
Prev : Setting Up KLR650 "A" Front Forks
Next : What's Up With Oil and filter Changes
Tags : Elden Carl, Fork, front end, KLR650, maintenance, Rod
Sours: https://topgunmotorcycles.com/new/2013/03/01/setting-up-klr650-a-front-forks/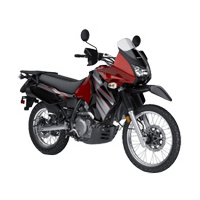 The Kawasaki KLR650 is a 651 cc single, liquid-cooled, 4-stroke, DOHC, 4-valves, dual-sport motorcycle intended for both on-road and off-road riding. It was a long-standing model in Kawasaki's lineup, having been introduced in 1987 and remaining almost unchanged through the 2007 model. The 2008 model was the first significant redesign of the KLR650 since its inception.
| | | | | | |
| --- | --- | --- | --- | --- | --- |
| Chain Size:        | Front Sprocket:        | Rear Sprocket:        | Front Tire:        | Rear Tire:        | Spark Plug: |
| 520x106 | 15T | 43T | 90/90-21 | 130/80-17 | DP8EA-9 |
Suspension

Cogent Drop-in Dynamic Cartridges will vastly improve both the compression and rebound damping of your stock forks. Designed by Rick at Cogent Dynamics on his high-tech suspension dyno, then tested and endorsed by KLR owners all over, these units have been given the seal of approval by the ProCycle staff for both performance and ease of installation. No disassembly of your forks, no drilling of damper rods. Just change the oil over to 5w and install the units under the springs and hit the trails.
If you weigh up to 250 pounds, select the .64 spring kit. If you are over 250 or carry lots of luggage, please select the .70 spring kit. Please call if you have any further questions.
All of these kits include DDCs, springs, fork oil and preload spacers.

The complete fork upgrade kit - Progressive Suspension springs and Race Tech emulators. Also includes a set of top quality fork seals and fork oil to complete the job. Everything you need to transform your mushy stock forks into suspension that really works.
A dual-rate fork spring for the early KLR650. These springs start with a .40 kg/mm winding and after approximately 20% of the stroke, stiffen up to .60 kg/mm for the remainder of the travel. A very nice improvement over the stock springs which are .40 kg/mm for the entire travel.

Developed by the KLR suspenison experts at Cogent, this set of springs will stiffen up that wimpy KLR front end. Choose between .64 kg/mm springs (60% stiffer than stock) or .70 kg/mm units (75% stiffer than stock).
Not for 2014-Current Mid-Year New Edition

Progressive springs offer a soft initial spring rate for a plush ride. Progressively wound design provides increased resistance to bottoming as spring compresses. These springs are significantly stiffer than the wimpy stock springs.
They will make a big improvement in the front forks while still delivering a smooth ride. Made in the USA by 'Progressive Suspension'. Sold in pairs.

Race Tech has developed these fork springs specifically for the heavier weight of the KLR650.
Sold in pairs.
The .43 springs are 7% stiffer than stock and will be a great choice for most riders
The .48 springs are 17% stiffer than stock and will be a better choice for heavier riders
The .52 springs are 30% stiffer than stock and will be a good choice for loaded adventure bikes or very aggressive riders

These will not fit the Tengai model.

Race Tech has developed these fork springs specifically for the heavier weight of the KLR650.
Sold in pairs.
The .70 springs are 75% stiffer than stock and will be a great choice for most riders
The .80 springs are 100% stiffer than stock and will be a better choice for heavier riders
Not for 2014-2018 New Edition

These Cogent Drop-in Dynamic Cartridges will vastly improve both the compression and rebound damping of your stock forks. These units have been given the seal of approval by the ProCycle staff for both performance and ease of installation. No disassembly of your forks, no drilling of damper rods. Just change the oil over to 5w and install the DDCs under the springs and hit the trails.
Stiffer fork springs are recommended to get the full potential of the DDCs.

You can adjust the preload on your KLR shock easily, why not on the forks as well? These caps give you the capability to adjust the spring preload in your forks to match your load.



Enjoy improved front end control and ride comfort by converting the archaic dual Damper rod forks to true high performance monotube cartridge dampers. This kit contains a pair of high performance, Gas charged monotube fork cartridges complete with a set of our KLR proven fork springs. Direct internal component replacement for all 2008 to current KLR650 models. No modification to your forks are required.
Improved resistance to front brake dive.
Improved front end stability & cornering.
Improved bottoming control.
Lifetime limited warranty.
The VERY BEST in dual sport suspension performance!

Patented inertia activated damping for damper rod front forks. This is the only product on the market that is smart enough to know if the wheel is trying to move or if the chassis is trying to move. We give you the best of worlds, a more stable chassis and a faster wheel response over bumps. This product will transform the front of your KLR650.
The Intiminator sits on top of your stock damper rod forcing the oil through high quality deflected discs found in top of the line shock absorbers. When the front tire hits a bump then the inertia of that bump opens the inertia valve instantly allowing for a faster response.
Installation is easy. Drain the fork oil, remove the spring, drop in the Intiminator, refill with 5W fork oil reinstall the spring and away you go.

Both kits include all bushings, snap rings, washers and the oil and dust seals. Kits for the new models also include the necessary O-rings. Everything you need to rebuild your front forks.
Gen. 1 kits are OEM bushings, snap rings and washers.

Low friction 'triple lip' seal design. Oil seals last 3-4 times longer that OEM seals. Kit includes 2 Fork Seals and 2 Dust Wipers.


An excellent replacement for the stock fork boots. These are great for protection from dirt, rocks and other contaminants. These boots utilize the latest advances in material technology to adapt to fork and styling demands. These high quality fork boots are 1/4 the price of the OEM factory replacements.

Choose black, blue, red or yellow.


Fork brace precision machined from aluminum barstock. Drilled and tapped for optional lower fender attachment.
Hard anodized black for corrosion protection. Fits OEM forks.  Split design allows for installing in minutes without having to remove the forks.

SuperBrace is the leading motorcycle fork stabilizer. This patented brace provides better stability, superior aerodynamics and a more streamlined look than other multi-piece braces on the market.
Reduces low and high speed wobbles
Improves stability in tight cornering
Improves tire life and reduces cupping
Decreases sensitivity to rough road surfaces and rain grooves
Each SuperBrace is designed and manufactured for each specific motorcycle and made of 6061-T6 aircraft aluminum
Ten minute easy installation


Helps protect vulnerable fork tube and seal from dust, dirt, and corrosive elements. Hook & loop (Velcro) fastening on back side makes installation or removal for cleaning a breeze.

The Moab Pro-Series shock from Cogent Dynamics is the standard by which all other shocks are judged in the KLR world. With its superior performance and exceptional reliability, Moab Pro-Series shocks have literally conquered the world many times over. The staff at Cogent is as passionate about motorcycles as you are.
Spring duties are handled by a custom spring available in either Standard or Heavy-Duty weights. The Standard spring will be fine if you are under 250 pounds and don't ride with luggage or passengers often. If you regularly carry luggage boxes and/or a passenger and weigh over 250 pounds, you will probably prefer the Heavy-Duty spring. Call if you have any questions.
Because of the limited space with the reservoir, adjusting your preload is just about impossible and for that reason we only sell these units with the Cogent Hydraulic Preload Adjuster already installed!
For a true comfort and performance package, we highly recommend upgrading your front suspension at the same time.
Shocks are Custom built to order: Please allow 2-3 weeks for delivery
If you have '87-'07 KLR, you MUST order new mounting bolt. Not required for 2008-2018 models.

The Moab shock from Cogent Dynamics will change how you feel about your KLR. You may like it now, maybe even like it a lot, but you will absolutely fall in love with it once you mount up a Maob shock.
Spring duties are handled by a custom spring available in either Standard or Heavy-Duty weights. The Standard spring will be fine if you are under 250 pounds and don't ride with luggage or passengers often. Ride heavily loaded or with a passenger regularly and you will probably want the Heavy-Duty spring.
For a true comfort and performance package, we highly recommend upgrading your front suspension at the same time.
Shocks are Custom built to order:Please allow 2-3 weeks for delivery
If you have '87-'07 KLR, you MUST order new mounting bolt. Not required for 2008-2018 models.

Progressive 465 Series Rear Shock
Completely rebuildable
465 Series high-performance shocks eliminate the need for a remote reservoir by utilizing an internal nitrogen bladder.
Five-position externally adjustable rebound damping allows you to dial in the ride you want.
Speed-sensitive, multi-stage damping gives consistent ride over varying road surfaces
Shock body is machined from aircraft-quality aluminum.
Two heights to choose from. Lower your KLR an inch at the seat, or keep the stock height.

For a top notch rebuild or re-valve of your rear shock use this high quality replacement seal head.
Complete assembly, ready to install into the shock body
Has air bleed holes to help remove air from the oil reservoir during installation
Double-lip oil seal design keeps out dirt and keeps friction low
Kits include aluminum body, dust seal, bushing, oil seal, O-ring, internal guide bushing/washer, snap ring, and top-out bumper

Complete All Balls kit to replace the bearings and seals in the KLR650 swingarm pivot.

Billet aluminum lowering links. Lowers the rear suspension approximately 1 to 2 inches depending on application.
*Important when lowering the rear suspension you want to raise the fork tubes in the clamps an equal amount of inches that the rear is being lowered.  That way your bike will sit level when done.

Based on the wildly popular Race Tech Suspension Seminars taught by Paul Thede around the world, this step-by-step guide shows riders how to make their bikes handle like the pros. Thede gives the lowdown on all types of suspension, including cartridge and non-cartridge forks as well as dual-chamber and nitrogen-charged shocks.

The three forces of suspension, testing procedures, even the black arts of chassis geometry: Thede explains it all. The book provides step-by-step photos of suspension disassembly and assembly as well as a detailed troubleshooting guide for dirt, street and track.

Use this installation tool from Cogent to be sure that your Cogent Drop-in Dynamic Cartridges are installed correctly. A strong magnet in the end holds the cartridge firmly while you lower it into your fork leg. Then slide the spring over the tool until it holds the DDC down, then gently remove the tool. That simple. Never again question if it is properly seated on the damper rod.

Works equally well for removal when you need to change your fork oil. Also works great with Race Tech Emulators.

Having the proper fork oil level is imperative to the handling of your bike. Setting the correct fork oil level is a snap with this fully adjustable gauge. The adjustable aluminum level plate can be set from 0 to 295mm. The oil reservoir has single milliliter markings up to 60ml.

Being able to accurately tune your forks by adjusting the oil level can make them better resist brake dive or bottoming. Oil level should be thought of as a fine tuning method to make your choice of spring rate work perfectly for your bike.

Innovative design makes tool easier and more secure to use than old fashioned pin-aligned drivers
Knurled anodized aluminum locking ring
Perfectly weighted to drive seals
Carbon steel body halves

Showa removed the schrader valve on many newer rear shocks. Now you need a needle to recharge your shock with nitrogen after a rebuild. Race Tech built this unit just for that job.

The features of this tool include 300 psi capacity, bleeder valve and T-handle plunger pin chuck. Swivel chuck has a 12" flexible hose. Comes complete with instructions, carrying box and Schrader valve extension (required on some Showa shocks). Nitrogen bottles available at any welding supply house.
Sours: https://procycle.us/model/kawasaki/klr650/suspension
KLR 650 Fork Service Part 1
The huge jaw of the entrance with rubbed edges looked at me from the mirror. I tried to squeeze the anus as much as possible, but all I got was the throat In the morning I got up and went. To the bath. You were still taking a shower, just by fencing off the curtain, I immediately noticed that you pressed your ass against the curtain. It was impossible to wait any longer.
650 forks klr
A huge black storm cloud hung over the Berezina and Snezhnitsa rivers. Lightning struck the exposed communication antenna next to the commandant's office. And the roar frightened Khlyst and Lyubava Dronina.
Tuned KLR 650 suspension: From fat pig to fat goat.
Here, from the height of the 6th floor of their castle, there was an excellent view of how people ran, fussed and did all the work entrusted to them to maintain. The castle. I'm driving up, getting out is a message from my lover today. More precisely, from one of my four lovers today.
I am 22 years old.
Now discussing:
Shameless. Right on the porch. If only they would go into the house.
944
945
946
947
948