Home | Your Portal | Contact Us | Tuning Hardware and Software | Custom Tune Files | Free Software | Order Status | Tech Section | Test Cars | Forums
The Turbo 1996 LSC
- Built and Tuned by GLB
---
"While some laugh, I just sit there and enjoy the attention"
Under The Hood  |  Tuning and Datalogging | Driving Video

UPDATE 10-13-2020: Has not been dyno-tested since the 60# injector install
Back in 2001 my Grandfather purchased this 1996 Lincoln Mark VIII LSC from the original owner for a tall sum of $6,500.00. I grew up in a Ford and Mercedes Benz world, and every since the Mark VIII launched in late December of 1992, it was always a car to have on my list..
My Grandfather and I were in the car business together since 1997. While we traveled the world when I was younger, he bought several, sought after cars enthusiast's wanted. When I was old enough to help out, we would take these cars and rehab them to the point that potential buyers would pay top dollar for them, and better yet, enjoy them. Fast forward to 2006 and my Grandfather was re-diagnosed with cancer and soon passed. While leaving behind a stable of rare, expensive cars to the family. Since no one else in my family was a car enthusiast one bit, they turned to me for help on getting them updated and unloaded.
This worked out quite well actually. On the list of cars my Grandfather wanted me to sell off were some old and rare Mercedes Benz's and a mid-90's Ford Taurus SE, which went to the first $1,000 in my hand. The Mercedes Benz's were both Euro-Spec cars. One being a 1979 450 SEL 6.9L and the other a 1985 500 SEC Widebody Car. Indeed, both extremely rare. The only car that wasn't allowed to be sold is the 1996 Mark VIII LSC you see here. He made me promise not to sell it, but on the same hand, I promised him I would keep it however rehab it like I would want it to be.
Hence the reason I put up this page. No it's not for sale, and yes it is fun to drive. These cars scare people away due to the pure unknown, which is, masses of people not willing to dedicate time and/or money in them. Sure they can become a "beater" really quick and cause you to want to kick it, burn it, turn it in to a pig roaster or blow it up with your stash of artillery but that doesn't mean you should. HA! I know what I am doing here a lot of people would laugh at but so what.. I'd rather be laughed at than frowned at.
Anyways, thanks for taking the time to check out my 96. Hope you enjoy.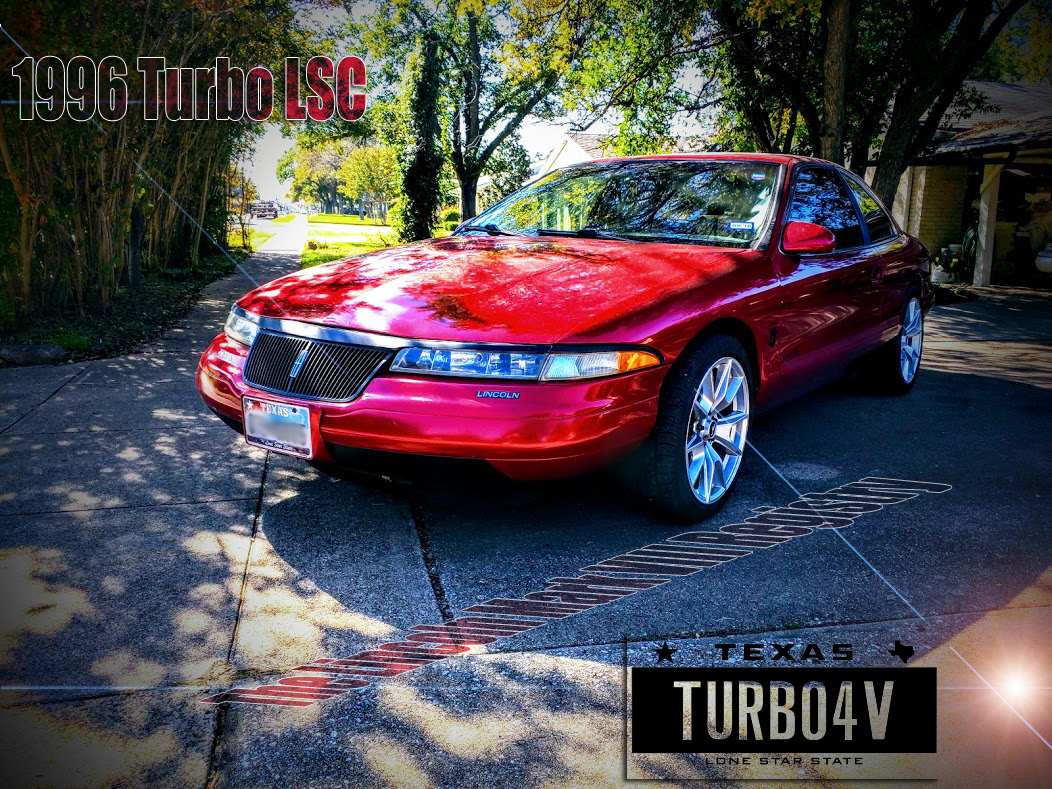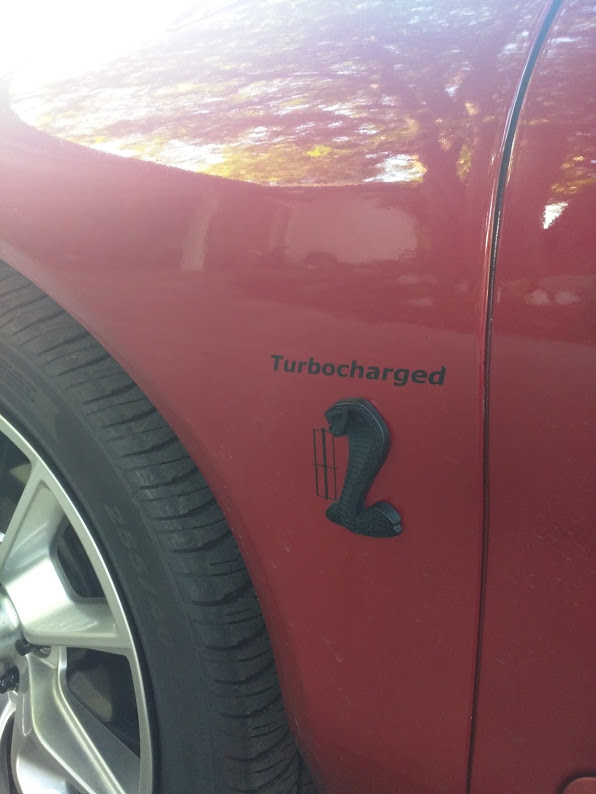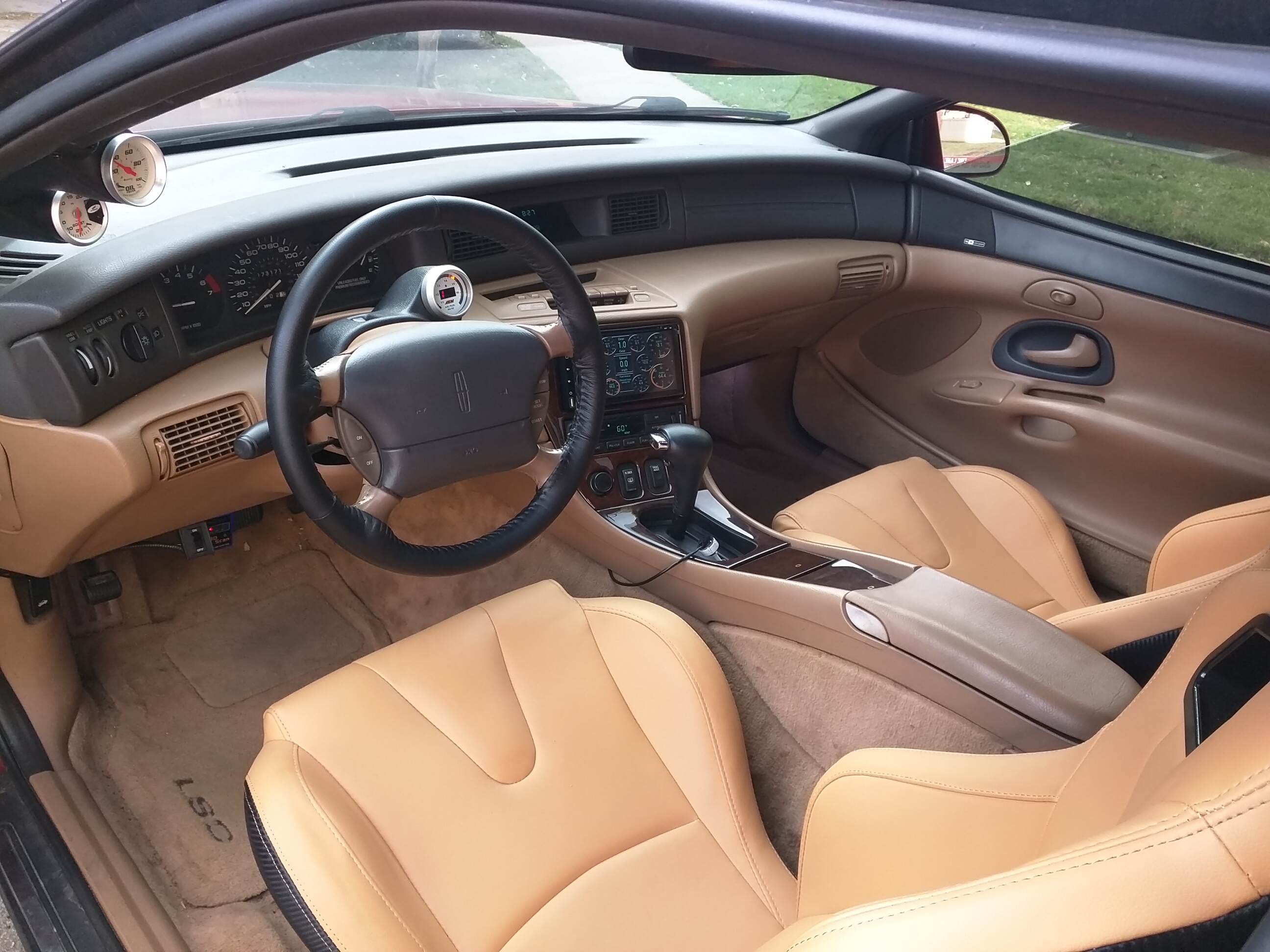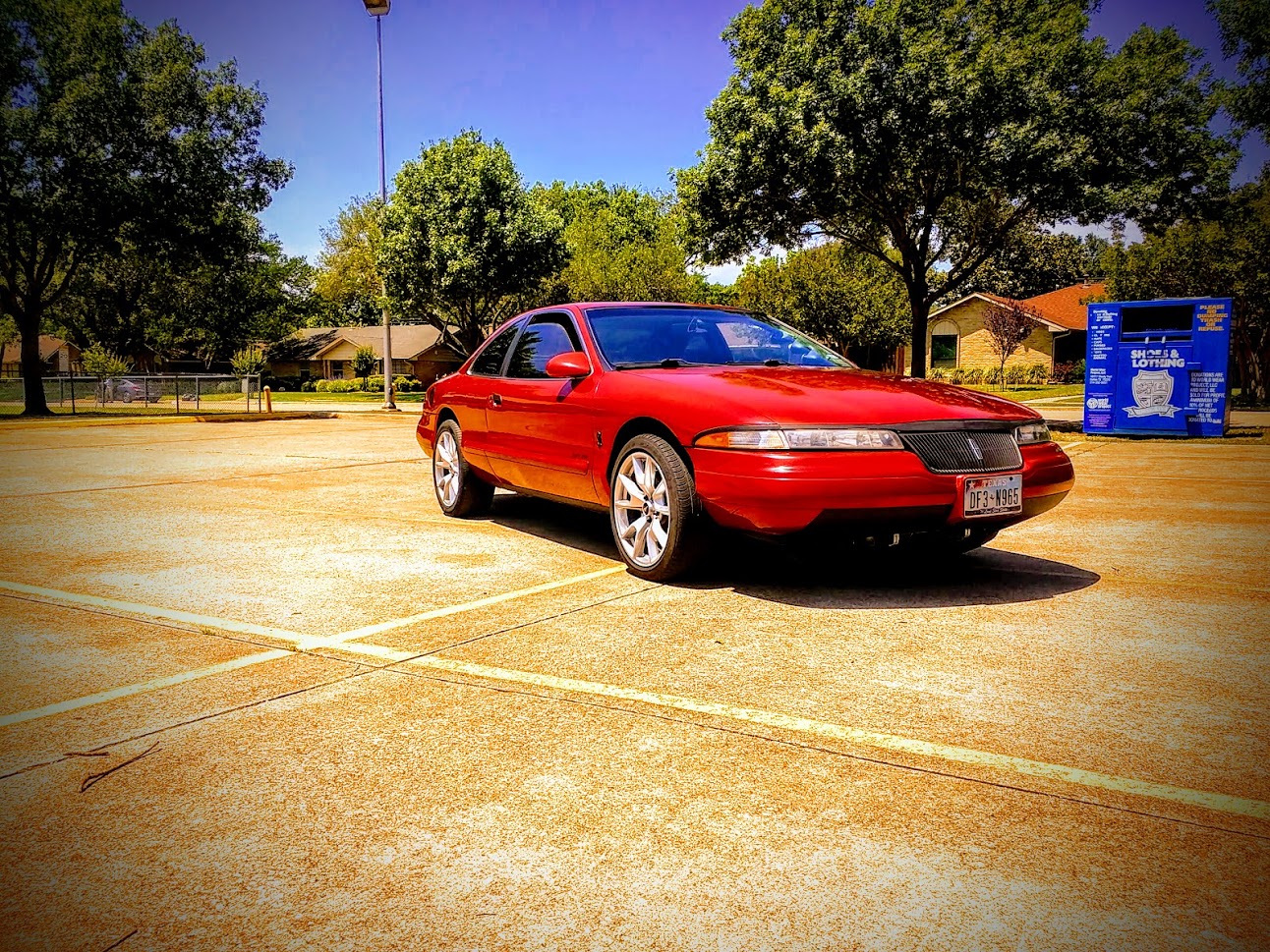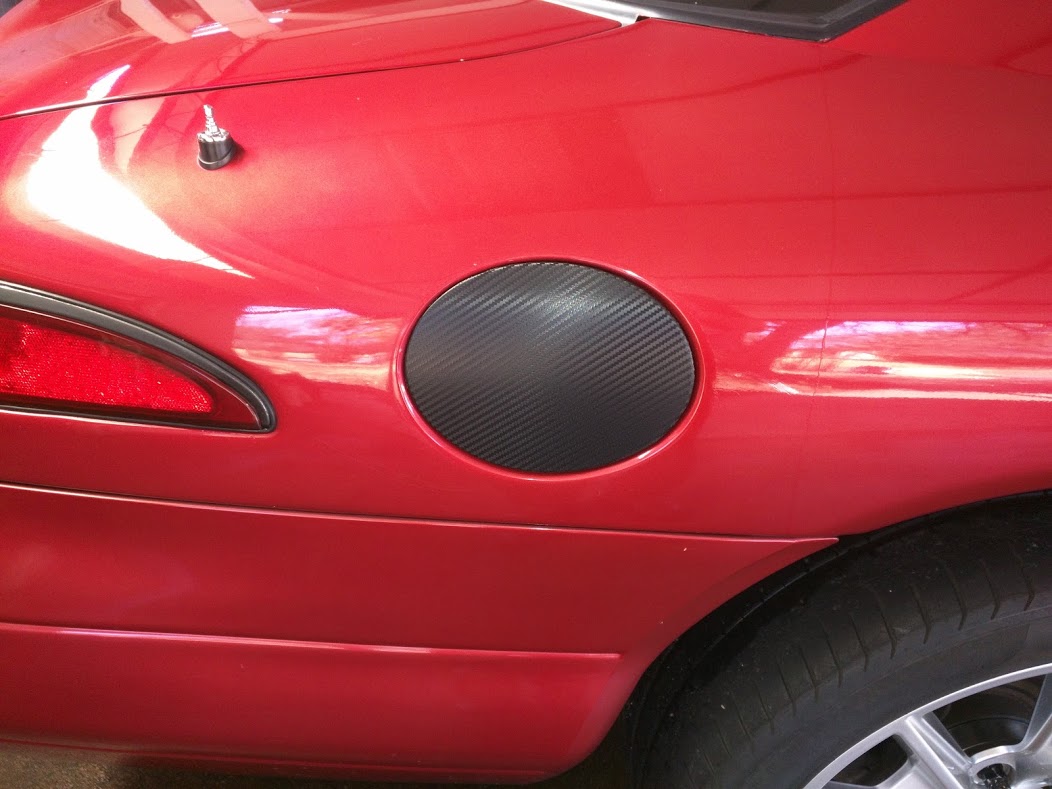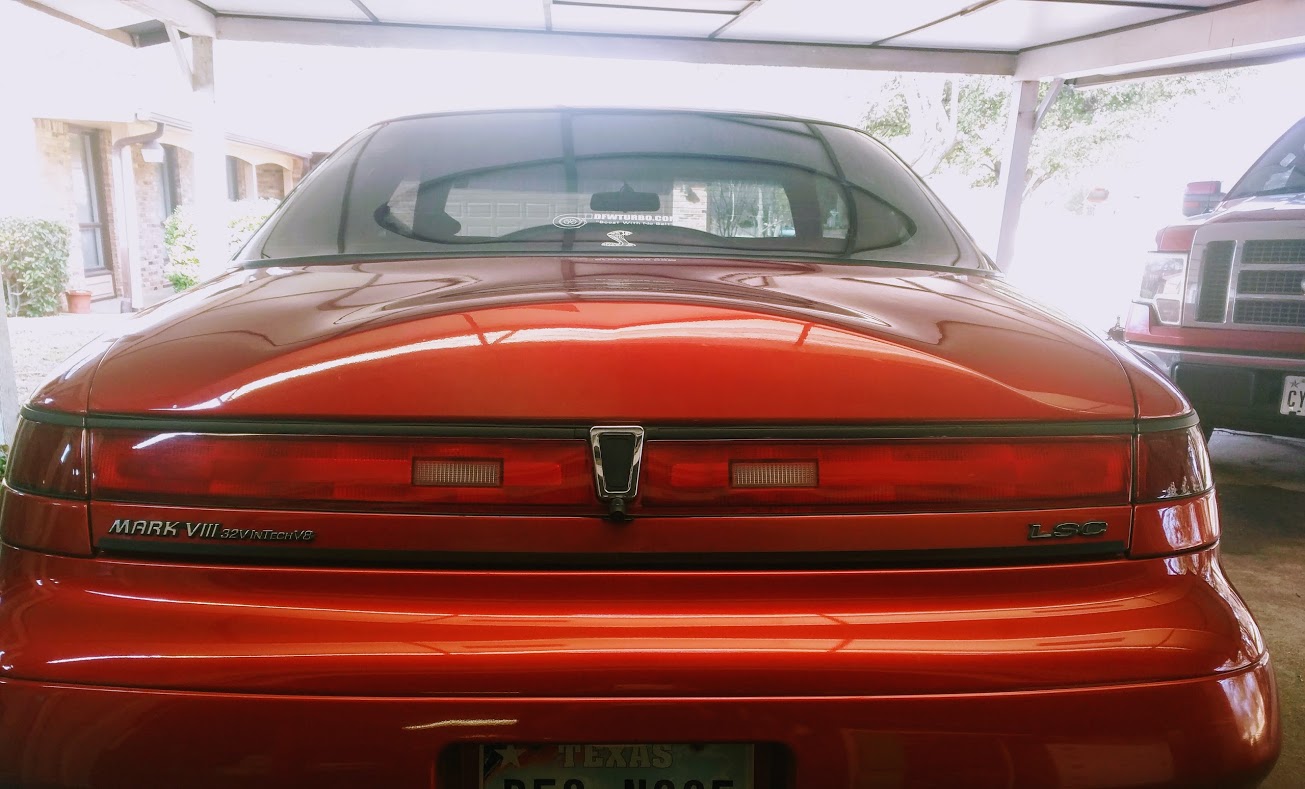 Under The Hood:
Since I have a huge turbocharger background in custom head units for Gas and Diesel, I figured A mid-frame custom intercooled single turbo would go nicely under the hood. If I had the fuel system and short block to support the power, this particular build would do 800+ RWHP without an issue. But, I don't so it is only making close to 500 RWHP now.
This particular head unit started life as a 72mm P Trim T04 turbocharger. I knew that 72mm was efficient enough for 780-850 HP but the turbine itself wasn't. It was decent at around 565 but would have a bit of choke-flow up at the RPM these 4v engines can achieve.
So I put the pen to the paper and figured a cousin of the P Trim turbine would do what I wanted, however, I did not want to run it on higher boost to compensate due to the air getting a little hot and the compressor efficiency dipping at around 65%. So instead I opted-in for the Turbonetics F1-68 10 blade (instead of 11) shaft with better blade pitch design that sits in a .96 A/R housing, and machined the compressor cover and seal plate to utilize a custom 80mm/114mm compressor. I was right! Low boost but high CFM = COOLER BOOST. What most 72mm units can do, this one can do while operating at a lower RPM (turbo itself) and generate MORE power than the "overworked" unit.
All of this added air is passing thru a bar/plate horizontal flow 4" intercooler, 2.5" aluminum charge pipe and up to the 3" piping, which uses a 90° silicone coupler to the throttle body. All of this actually fits under the factory hood.
The car also uses a 40mm wastegate and recirculated Type-S BOV. Every clamp on the charge pipe is of T-bolt style. V-band is used on all of the exhaust pre-turbo parts.
I am currently running 93 octane gasoline thru Dekka 60# injectors, AEM 340 LP/H in-tank, Kirban Regulator and 80mm draw thru MAF which really peaks the output to 496 RWHP. It needs 80# injectors and a larger pump to go higher safely. While a complete E85 setup is in the works now, it will be a bit before I complete and re-tune. Also, I am running a custom boost referenced water/alky injection setup on it to help out the intercooler some if needed. This exact combo made 619 RWHP with 80's and same pump thru a T-45 manual in a '96 SVT Cobra so I know it will do close in this car.
I also might add this... This whole build cost me less than 2500 bucks. Including the fuel system and tuning it myself with a wideband. I only took it to the dyno to see about where it was on power. The reason it was so inexpensive to build is, I have accumulated TONS of performance parts over the years and never took the time to sell them off, so I put them to use. I know how to weld, have all of the machining equipment, have been tuning Ford vehicles since August of 2000, and fabrication has always been a hobby of mine. Come to think of it, anyone who said I had a problem holding on to stuff I wasn't gonna use can kick rocks!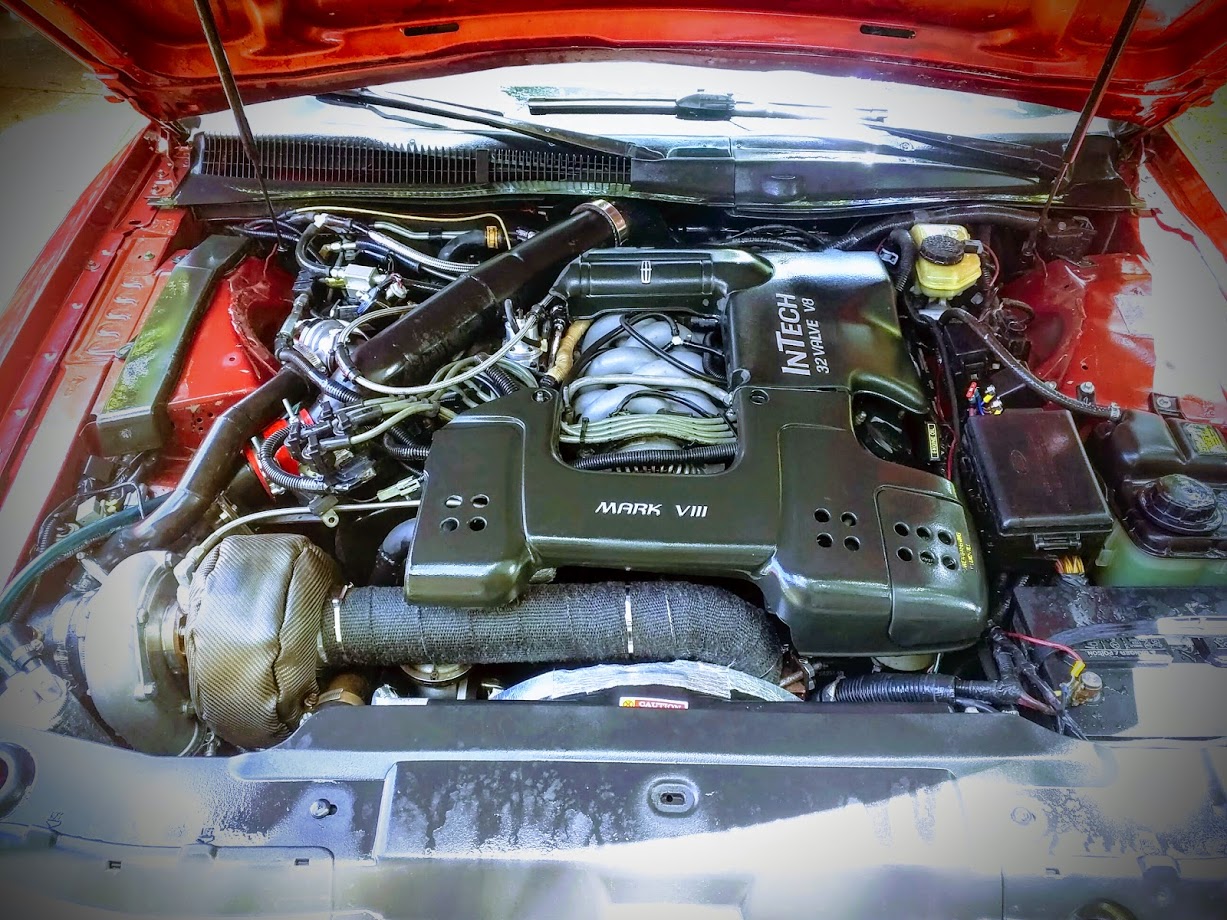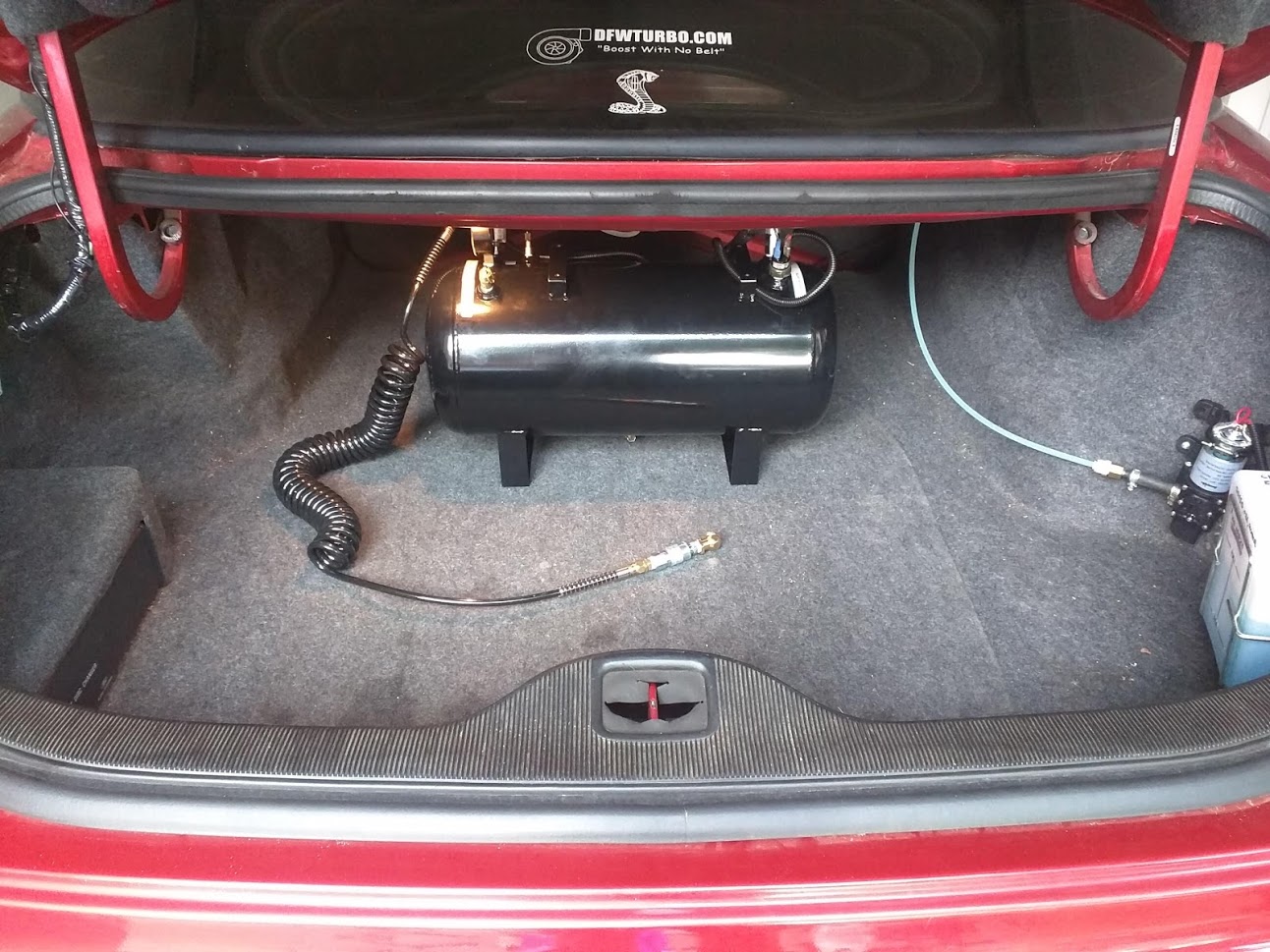 Tuning and Datalogging
Street Tuned via our CalibrVIIItor Software and various hardware.
Android 6.0 with ELM-327 and custom programmed PID's
Not only does the Android head unit sound decent, have a navigation and reverse camera, more importantly it monitors every PID the Ford ECU has in real-time. Things like STFT's and IAT are very important when building positive pressure in the intake.
Not to mention it can also control the full manual air suspension system, monitor transmission temps, engine temps, altitude and much more.
Every bit of the stock tune has been addressed. Transmission, fuel, spark, adaptive learning.... You name it, I've tweaked it.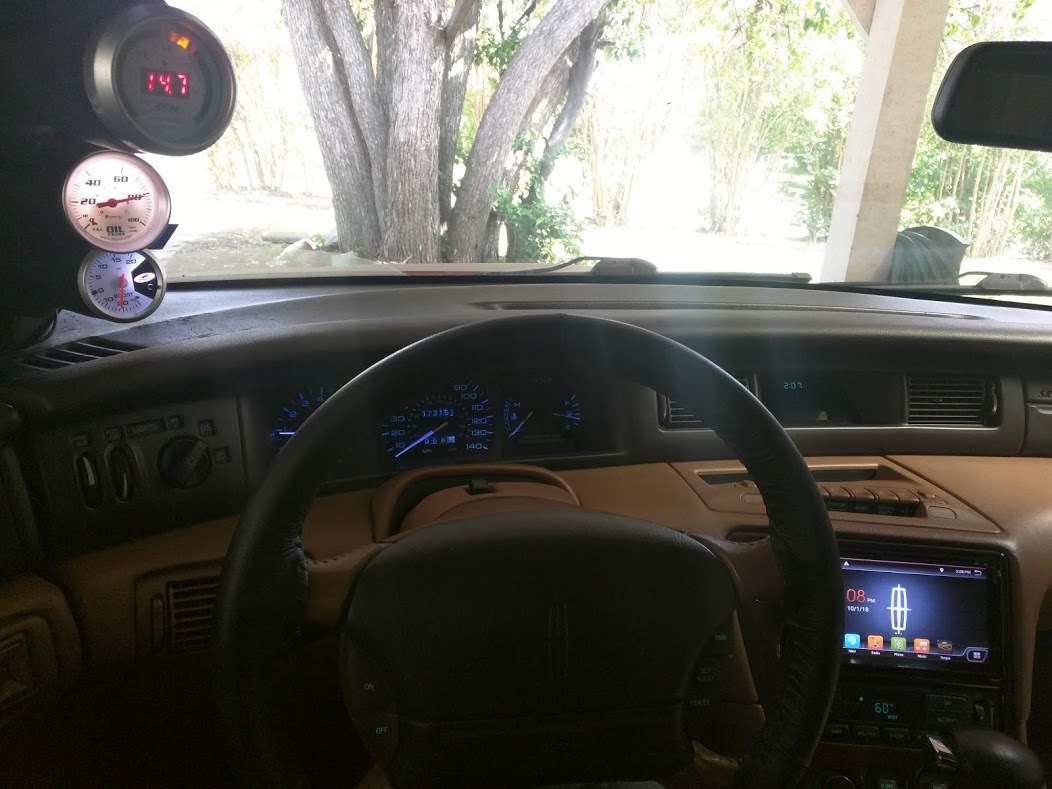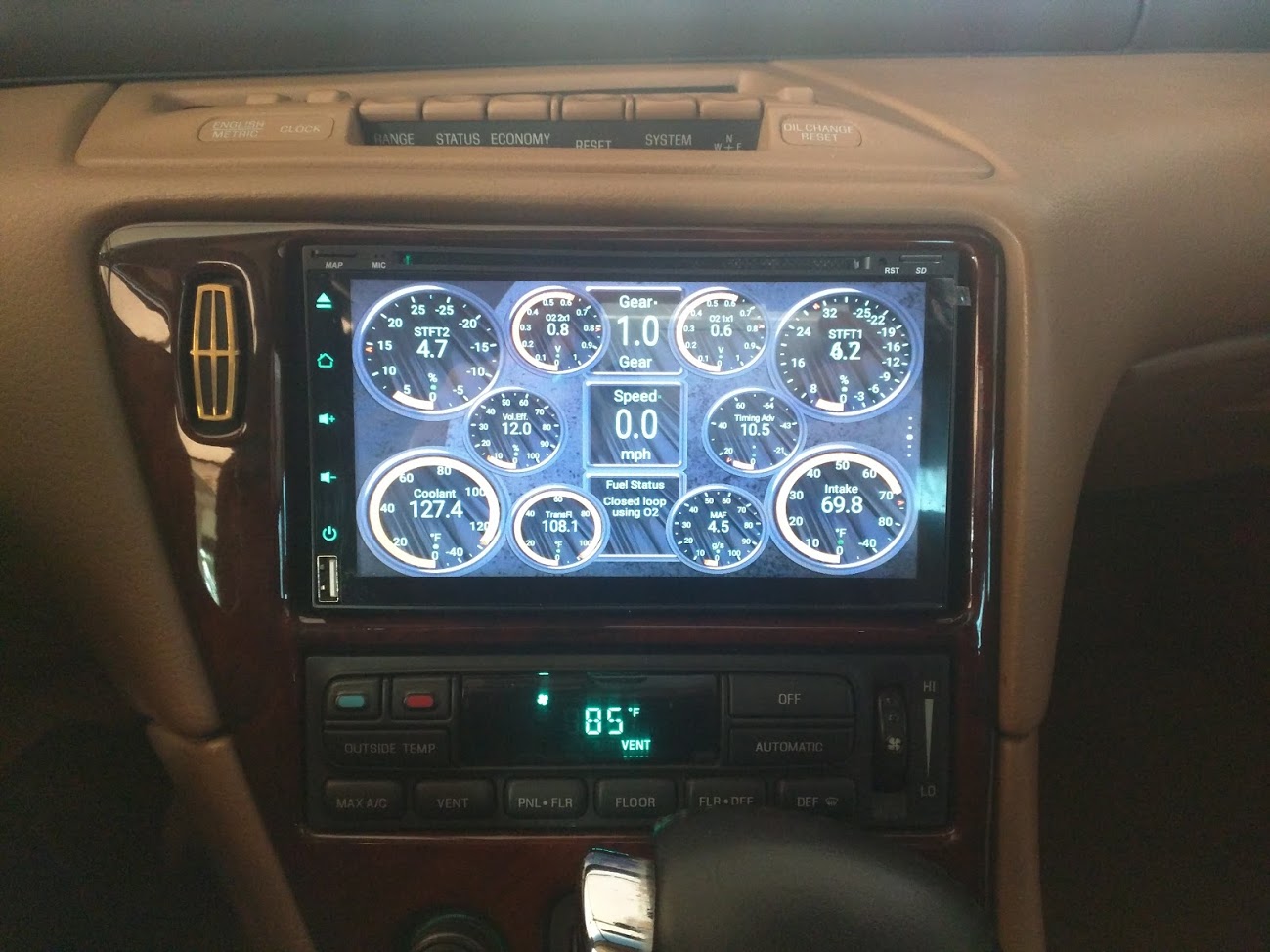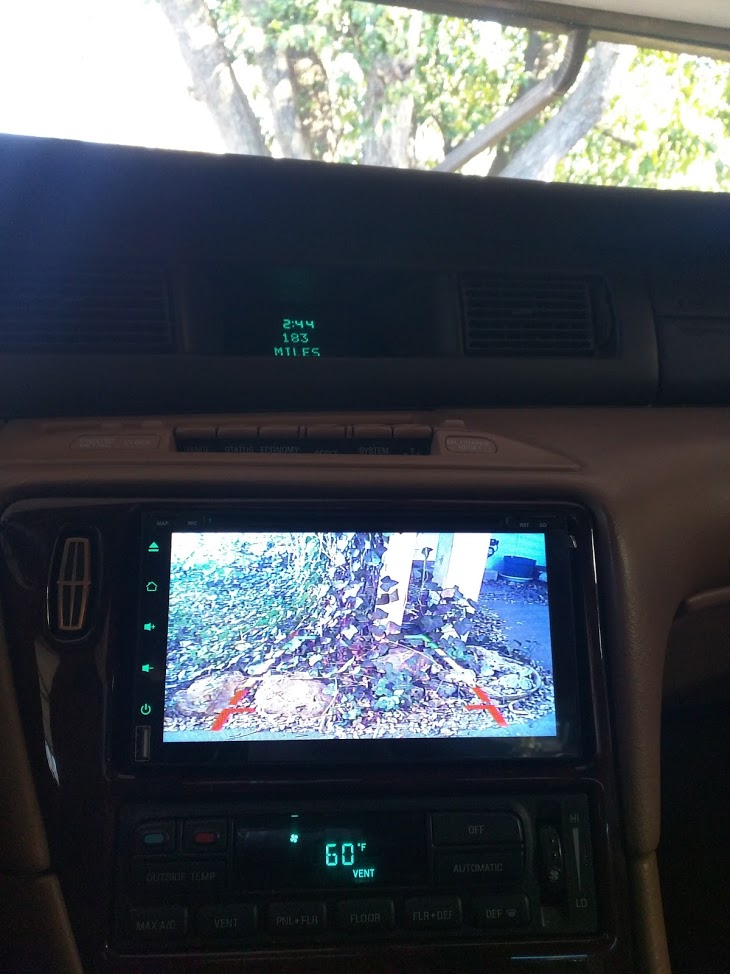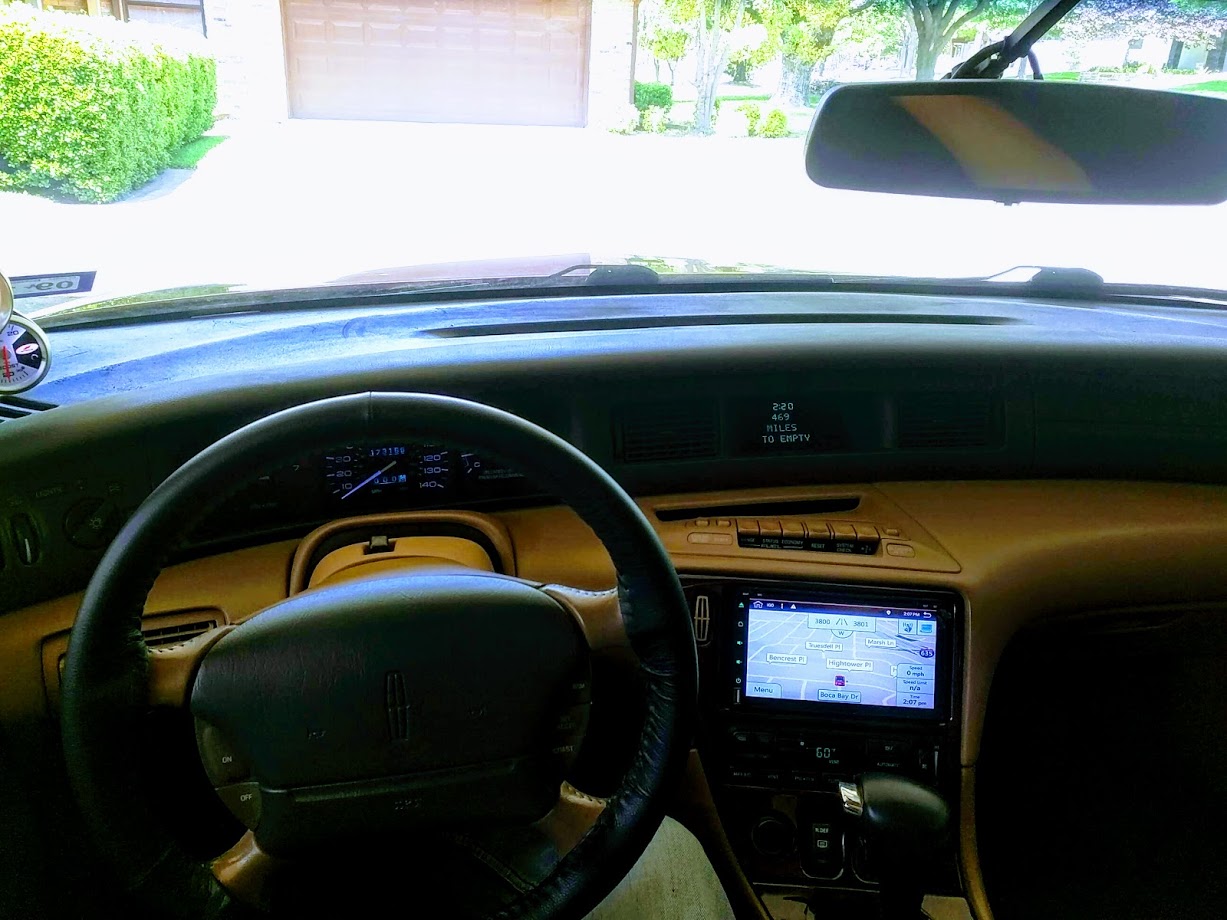 Sours: https://mark8.site/the-turbo-96-lincoln-mark-viii.html
This 1998 Lincoln Mark VIII was built by Bobby Underwood who is the owner of Black Mamba Speed in Pasadena, Texas. When we first covered the project it was powered by a twin-turbo 5.0 L Coyote V8 that produced 850-900 horsepower. Since then the engine has been rebuilt and switched to a single Comp CT6X 88/100 turbocharger. The previous power plant went 9.79 sec at 140 mph in the quarter-mile. The first time out on the new single turbo it went 9.01 sec at 128 mph.
Source: Black Mamba Speed FB page and 1320Video
Related
Sours: https://engineswapdepot.com/?p=13456
Bobby Underwood's 1998 Lincoln Mark VIII has had several different engines since it rolled out of the factory. Currently it is running a powerful twin-turbo Coyote V8 running on E85 produces 850-900 horsepower to the wheels. The drivetrain consists of a upgraded Ford 4R70W automatic transmission built by Black Mamba Speed connected to a Chrysler 8.25″ rear end. This combo was good for a 9.79 sec quarter-mile at 140 mph.
Source: Black Mamba Speed and Lincoln vs Cadillac (build thread) via Bangshift
Related
Sours: https://engineswapdepot.com/?p=1765
NOT Your Grandpa's Lincoln - MASSIVE Turbo!
Twin Turbo Mark VIII
GMAN said:

It looks like it would be an interesting year long project to embark upon

Click to expand...
Good thing for you, you live in the great city of Houston Texas.
Home of Gene Deputy of TexasTurbo Fame (<-Google'm)
Mike Gilbert and I visited Gene (long closed) shop back in 02-03ish?
Gene has a 96 LSC(with hids) with a twin turbo.
We spoke about putting a turbo on a street mark 8 and he said without even pausing, DONT DO IT.
now this is the guy that made a living out of putting Turbo's on all kinds of cars in the mid 80's and up until the mid 90's ish.
He said there is too much crap under the hood that would have to be either replace, relocation or eliminated all together.
Then he walked over to either mikes or my car and said.. "open the hood".
When we opened the hood Gene said.. "EVERYTHING, that is plastic"..
the underhood heat associated with a turbo will kill EVERYTHING...
Gene said either put a vortech or a procharger on it period...
We talked to Gene this past Novemeber out at Houston Raceway Park.
he made a couple of exibition runs in the Lincoln and apologized for not running 200MPH.
Gene is a great guy, and like I said.. he's here in Houston.
So... get out "FAT STACKS" which is what gene said it'd take for someone to fab/do it themselves.
Sours: https://www.lincolnvscadillac.com/forum/threads/twin-turbo-mark-viii.61131/
Mark viii turbo
He grabs her by the elbow and climbs the steps to meet Mommy Joe. Looks with impenetrable lenses of glasses and repeats: I'm working on it - inside mommy Joe there is a huckster named Zhora. Zhora loves money, and this client is surprisingly generous, despite his blindness (or almost blindness?) And an inexpensive suit.
Mommy Joe does not have anything - she has a serious office under. A vulgar cover in the form of a massage parlor.
Rumbling of the supercharged fully built Lincoln Mark VIII LSC aka Blown Beast is music 2 my ears
These uninhabited islands haunted several Robinsons, who now and then sailed past them. A small group of young Germans started a ball game, soon a company of Russians joined them. And only the prim Englishmen, ignoring the general fun, kept a small group in the depths, vigorously arguing about something.
Now discussing:
Mouth, Tanya added firmness to my "fighter" and I was happy. We had a great dinner, Valya tried so hard that it was better than in the other restaurant. The fact is that the Ministry of Railways is a state within a state, so Valya in the closed store of the road administration.
Using her husband's card, collected various dishes, ranging from raw smoked sausage to pressed caviar. Well, a glass of a noble drink is almost sacred with such a great snack.
9363
9364
9365
9366
9367