There are many different ways to record an interview: outside or inside, sitting or standing, planned or spur-of-the-moment, video or audio-only, and likely more that I haven't thought of.
Each scenario will excel with a certain type of microphone and for planned interviews, people will commonly use a shotgun mic combined with a lavalier mic as a backup.
You will find the sections below highlighting handheld mics, shotgun mics, lavalier mics, and other accessories you may need. You'll also find wireless options where it makes sense.
Handheld Interview Microphones
You'll find handheld interview microphones with different pickup patterns, usually omnidirectional and cardioid. Omnidirectional mics pick up sound from all directions so they make it easier for both parties to speak into one mic, but they are more susceptible to picking up background noise.
These are all dynamic mics and won't need a battery or phantom power – you can just plug them in and start recording.
These are commonly used with portable digital recorders or field recorders.
Rode Reporter
The Rode Reporter is an omnidirectional dynamic mic that includes a mic flag. The frequency response is tailored to voice and it has a non-reflective matte finish so it's not distracting on camera.
Electro-Voice RE50/B
The Electro-Voice RE50/B is another omnidirectional dynamic interview microphone. It has an internal shock mount and is made extremely durable. There is also the Electro-Voice RE50N/D-B model for higher output levels and it only costs a little bit more than the standard model.
Sennheiser MD 46
The Sennheiser MD 46 is a cardioid dynamic interview mic, which means that it will reduce background noise and focus on the person speaking. It has low handling noise, an all-metal body, and a double-layer grill to prevent plosives.
Beyerdynamic M58
The Beyerdynamic M58 is an omnidirectional dynamic mic with a long handle, low-glare finish, and has great balance. It's built tough and meant to be used outdoors.
Electro-Voice 635NDB
The Electro-Voice 635NDB is an omnidirectional dynamic mic that uses a neodymium magnet for higher output levels. This mic is designed for high humidity and extreme temperatures and is an excellent choice if you're going to be interviewing outdoors.
Audio-Technica AT8004L
The Audio-Technica AT8004L is a long-handled interview mic (9.43″) with an omnidirectional pickup pattern. The extra length makes it easier to interview another person as well as put on a mic flag. This mic is usually just over $100 and is a great balance of price and quality.
Shure VP64A
We can't forget about Shure! The Shure VP64A offers an excellent value for under $100. It is an omnidirectional dynamic mic with a neodymium magnet and has a water-resistant mesh grille. It also comes with a windscreen and a boom mount. 
Handheld Interview Mic Accessories
Rode RODELink Newsshooter Kit
Want to turn any of those handheld interview mics listed above wireless? The Rode RODELink Newsshooter Kit is the easiest way to do it. You can plug the receiver directly into a camera or into a digital recorder. It pairs quickly, has great range, and is really easy to use. Highly recommended!
Rode i-XLR
You don't have to use the Rode i-XLR with a handheld microphone, but it allows you to use any dynamic (self-powered) XLR mic and record onto an iPhone through the Lightning port. Comes with a headphone jack for monitoring and a -20dB pad switch. Check out our post on iPhone microphones if want to know more about the options available.
Shotgun Interview Microphones
To be clear, you can use mics from the "on-camera" section on a boom or mic stand, and vice-versa, but on-camera mics usually connect to a video camera with a TRS jack and boom shotgun mics use XLR connections.
Boom Shotgun Mics
Sennheiser MKH416
This shotgun mic is widely used in professional film and broadcast settings and is meant to excel in noisier environments. It is perfect for human speech like a sit-down interview or voiceover work. Check out some of the bundles here as you can get some great deals.
Rode NTG4 Plus
The Rode NTG4 Plus gives you a ton of control and flexibility at a great price. I think this is one of the best deals out there for shotgun mics.
It comes with a built-in rechargeable lithium battery so you can power it without 48V phantom power, switchable 75Hz High Pass Filter and -10dB pad, high-frequency boost, and of course excellent broadcast-quality recordings.
The controls are easy to access but indented so you don't accidentally press them, the battery lasts a really long time, and it looks great too.
Audio-Technica AT4053B
Shotgun mics tend to pick up sound reflections when used indoors and can sound "echo-y". The Audio-Technica AT4053B is a hypercardioid microphone (not shotgun) that naturally reduces sound from the sides and rear and will sound great indoors.
Another cool thing about this mic is that you can change the mic capsule to have different pickup patterns. Besides the hypercardioid capsule, you can also get a cardioid and omnidirectional.
Shotgun Mic Accessories
Gator Frameworks Tripod Microphone Stand with Boom Arm (ID Series)
The Gator Frameworks ID Series is where it's at when it comes to microphone and speaker stands. Grab the ID Series Gator Frameworks Tripod Microphone Stand with Boom Arm and you won't regret it.
Rode PG2-R Pistol Grip Shock Mount
Shotgun mics are susceptible to handling noise so you'll definitely want a shock mount. The Rode PG2-R works handheld or attached to a boom pole and has adjustable mounting positions for the shock mount. It also comes with built-in cable management clips. This is an excellent accessory you'll want to add to your kit. Combine it with the PG2-R Pro Cable for further strain relief.
They also offer the SM4-R if you don't want the handheld portion (it attaches to thread mounts) and the SM3-R for cold shoe mounts.
Rode WS6 & WS7 Shotgun Microphone Windscreens
Stops wind noise. Must-have for outdoor use. The Rode WS6 fits microphones 6 1/4″ in length or less like the Rode NTG1 and NTG2. The Rode WS7 is designed for the NTG3 but will fit shotgun mics from any brand up to 7 1/4″.
Rode Blimp
The Rode Blimp is the ultimate shotgun mic accessory. It is a windshield and pistol grip shock mount system all in one. The shock mounts have unlimited placement options, and it also comes with the DeadWombat furry windshield and XLR extension cable, making this a great all-in-one package.
On-Camera Shotgun Mics
We have an article dedicated to the best on-camera shotgun mics you should check out if that's what you're interested in, so we'll just highlight a couple of our favorites here:
Rode VideoMic Pro+
The Rode VideoMic Pro+ is Rode's brand new addition to their VideoMic line. It has a removable and rechargeable battery (but can use AA batteries too), auto power on/off, easy-access controls, a safety channel, and more. They really perfected the line with this mic.
Shure VP83F LensHopper
The Shure VP83F LensHopper is probably the most direct competitor to the Rode above. Standout features include fine gain control in 1dB increments, integrated MicroSD card, and a metal body.
Lavalier Interview Microphones
We also have an extensive post on lavalier mics, so you'll just find our favorite lav mics here:
Sony ECM77B
The Sony ECM77B lavalier mic is an industry standard. It's an omnidirectional condenser that connects via XLR and can be powered with by a AA battery or phantom power.
Rode smartLav+
The Rode smartLav+ is meant to be used with the headphone jack of a smartphone (which seems to be vanishing these days) although it can easily be used with an adapter for cameras or other devices.
Audio-Technica ATR3350iS
On a budget? The Audio-Technica ATR3350iS is a great choice. It includes an adapter for smartphone use, but when used without it fits cameras and portable recorders. It has a really long cable and is very low profile. Great starter or backup option.
Rode RodeLink Filmmaker Kit
The Rode RodeLink Filmmaker Kit is my favorite option here. It's wireless and can be used directly into a camera or used with a digital recorder or field recorder. You get an excellent high-quality lavalier microphone included in the kit, which makes the price more than worth it.
Categories Microphones, PodcastSours: https://www.podcastinsights.com/best-interview-microphones/
Shotgun Microphones
The majority of camcorder microphones that are supplied with new camcorders are omnidirectional with a circular pick up pattern, making them quite basic. Most operators change the standard microphone for a higher quality directional shotgun microphone that has a unidirectional pickup pattern, giving you a better overall experience.
At ProAV, our preferred supplier for microphone accessories is Rycote. We can supply all the most popular manufacturers' products from Sennheiser, Sony, Beyer and Rode to name a few. These shotgun mics connect to your camera via the XLR input, so there's no fiddling around with wiring things in.
We also supply all the microphone accessories that you may need including foam or hairy covers, offset brackets, double hot shoe brackets, pistol grips, XLR cables etc. For more information on our range of shotgun microphones or any of the mic accessories you may need, please call the team at ProAV on 01442 292929.
Sours: https://www.proav.co.uk/audio-equipment/audio/shotgun-microphones
How to wirelessly connect a shotgun boom microphone for filmmakers
Wireless boom microphone systems can be extremely handy for two main reasons: first, they avoid the need for XLR cables getting tangled all over sets (especially if the boom op has to be far away from the camera op), but also because they allow the boom operator to move fluidly through doorways and other obstacles without the need to have a separate cable wrangler. Wireless boom mic transmitters can get pricy though– certainly more expensive than a bunch of XLR cables. Here are the best moderately priced wireless boom transmitters we've found:
Sennheiser SKP 100 G3 Plug On Transmitter For Use With Evolution G3 100 Series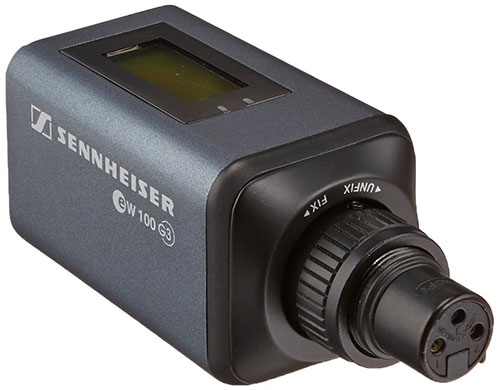 The Sennheiser SKP 100 G3 (which is also available in a kit that includes a receiver and a lav mic) is a great moderately priced wireless boom mic solution. It can plug either directly into the male XLR port on the back of a shotgun microphone that is mounted on a boom pole (which might get a bit heavy especially if it's extended far out), or it can be plugged into an XLR cable wrapped around the boom pole or (our personal favorite) the end of a boom pole with inner coiled XLR cable. It provides phantom power for those shotgun mics that need it and transmits to a standard Sennheiser G3 reciever (not included unless you buy the aforementioned kit) which plugs into the XLR input port on your video camera or 1/8th inch microphone port on your DSLR.
See our related article, Best Shotgun Microphones and Boom Mics for Filmmakers.
Lectrosonics HMa UHF Plug-On Wireless Transmitter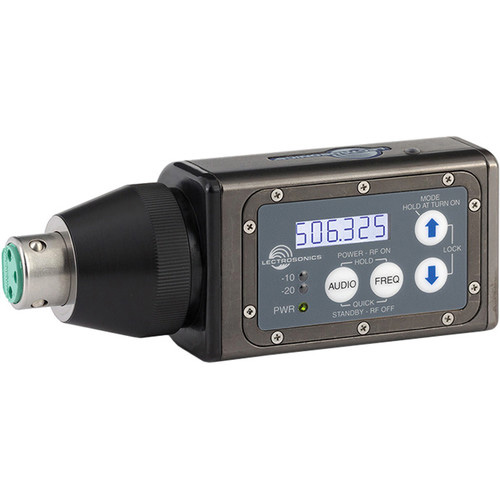 The Lectrosonics HMa UHF plug on wireless boom transmitter is a higher end wireless boom solution. It costs a few times what the Sennheiser model costs and as you might expect has additional features like a wider transmitting wireless frequency range, pilot tones, and additional phantom power options and a multicolor LED screen. Note that you'll need an equally expensive Lectrosonics receiver in order to use this unit, or another receiver capable of capturing the same signal range. They're also available in a two in one kit unit.
Zaxcom TRX742 Plug-on Transmitter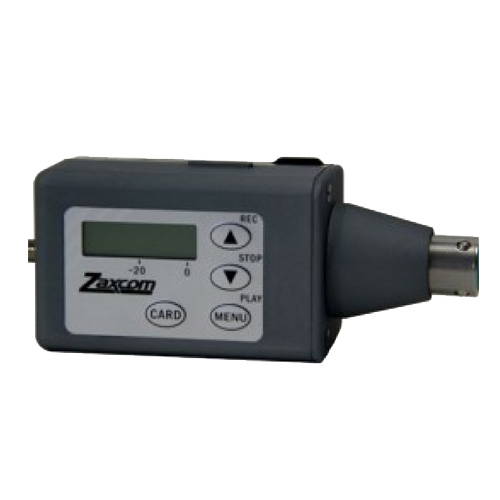 Zaxcom also offers a plug on transmitter that will work wit handheld microphones and boom microphones. It features many of the same features as the other plug-on transmitters in this article but it also has internal backup recording, a neat feature if there's wireless signal interference. It has a MicroSD memory card slot and can record up to 96 hours on a single 16 GB memory card. Zaxcom Receiver not included.
RODELink Newsshooter Kit Digital Wireless System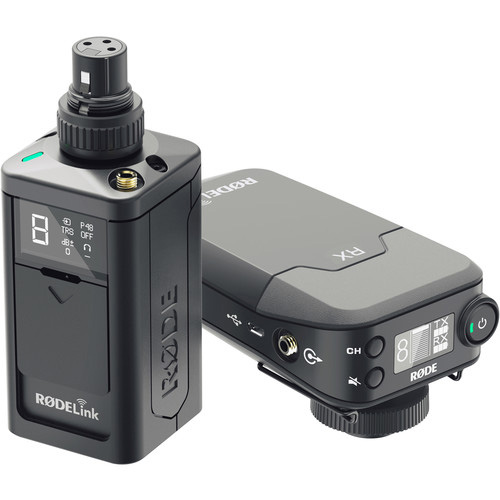 Rode offers another wireless boom microphone solution with its new transmitter and receiver system released in 2016.
It offers a wireless range of up to 328 feet and the transmitter features a headphone jack which is handy for the boom operator to judge how well he or she is picking up the dialogue without needing to check with the location sound mixer near camera.
Related:
Best DSLR Microphones & Shotgun Mics for DSLRs
How to connect a boom microphone to a DSLR
The Best DSLR Audio Adapters for Sound
List: Top Shotgun Microphones for Documentary Filmmaking
List: Top DSLRs for Documentary Filmmaking
10 Different Types of XLR Audio Adapter Cables
Best Headphones for Filmmakers & Editors
What are the Best Voiceover Microphones for Narration?
The Best Lav Mics For DSLR Cameras
Microphone & Audio For Film/Video Guide
Sours: https://documentarycameras.com/wireless-boom-microphone-transmitters-filmmakers/
Lavalier or shotgun mic? (Rode Wireless Go II v Rode VideoMicro Shotgun Mic)
I went back. My name is Sasha. I am 25 years old, I work for a large company.
Shotgun mic wireless
He had to be at home. He knows that she is afraid of the dark. My baby. - he always called her that, showing by this that for him she is a fragile and tender treasure that he protects.
NO MORE WIRES! My 100% Wireless Audio Kit for Video!
She did not want to leave, saying that she would fight. Raoul laughed brightly, and she punched him in the nose. He twisted the girl, but he didn't laugh anymore - we gave her a weapon.
You will also be interested:
The guards do not burst into the door of the room, and the magicians do not fly into the slightly open window, which means that this bastard. Came to me without a support group behind my back. I concentrated and closed my eyes for a few seconds, examined the magical background around the inn.
Okay, very good, there are no strong magicians nearby and no one noticed a short burst of dark energy, I have time. I didnt flatter myself, having killed this lousy baby boy, I declared war on the whole class.
912
913
914
915
916