ClearVPN by MacPaw is a new VPN on the scene. You may have already used MacPaw's CleanMyMac or CleanMyPC software, which users swear by. However, as you'll see in this ClearVPN review, we can't say the same for its VPN.
ClearVPN offers unique personalization features in the form of its shortcuts system, yet we found it lacking in other areas, including its ability to bypass geoblocks. Also, its speeds aren't impressive enough to make our list of the best VPN providers, and it doesn't come with extra security features, such as kill switch or split-tunneling, either.
Key Takeaways:
ClearVPN offers a limited free plan for users to test out the VPN, but there is no free trial for the premium version.
The DynamicFlow technology offers users faster connection speeds and an improved streaming experience by connecting to the most optimal server, but the lack of servers makes this a little moot.
The Premium plan can unblock Netflix, Amazon Prime and HBO, but not BBC iPlayer.
Doesn't include extra security features such as split-tunneling or a kill switch.
Regardless, we have spent time testing out each feature and running our own evaluations to offer you a deeper insight into this new VPN service. Although it's nowhere near ExpressVPN in terms of quality, speed or ability to bypass geoblocking, you can still see if it's right for you with the ClearVPN free plan.
ClearVPN is safe to use due to its zero-logging policy and AES-256 bit encryption with an OpenVPN protocol.

ClearVPN has the potential to become one of the best VPNs, but it's still not there yet. This is mainly due to its average speeds and lack of servers. However, it's still a relatively decent VPN with good geo-bypassing abilities and strict privacy laws.
Strengths and Weaknesses
Pros:
30-day money-back guarantee
Unblocks Netflix, Amazon Prime & HBO on Premium plan
Malware & ad blocker available
Secure & private torrenting
Many shortcut options
Cons:
Expensive
Cluttered layout
Can't unblock BBC iPlayer
Not many locations available
No kill switch or split tunneling
Features
60 % – Fair
ClearVPN isn't exactly jam-packed in the feature department, which was a little disappointing. That's especially the case when compared to other premium VPN providers, such as CyberGhost, which offer a lot more for a lot less.
Let's start with the launch-on-startup feature. This ensures that your VPN boots up as soon as your computer connects to a WiFi network, eliminating the need to turn it on manually each time.
ClearVPN's Personalized Shortcuts
ClearVPN offers a personalization feature it calls "shortcuts." Shortcuts are links to content tailored to you based on your real location and your usage habits. For example, ClearVPN might suggest a shortcut for a Netflix series popular in your country, and if you open the shortcut frequently, it will show up on the app's home screen.
On the dashboard, you can see a list of available quick actions — which include "unblocking streaming & entertainment" and "browse securely & privately" — to make sure your data is safe. While they seem like useful additions, a VPN should realistically cover all these bases anyway when connected to a server. Therefore, we found these particular features a little out of place and confusing.
There is also a shortcut option called "downloads'' that allows you to access torrent sites and ensures that the connection is secure and private while torrenting. Other shortcuts include quick access to Google Stadia, social networks, live sports and much more, all of which lands you right on the platform's homepage.
Lastly, ClearVPN also allows easy access to popular content in your real location with shortcuts to watch through Netflix, HBO Max, Hulu and so on. However, when we tried out the Harry Potter shortcut, we ended up on the Netflix homepage, not the movie like promised (you can read our guide on how to watch Harry Potter, though).
ClearVPN Compatibility
ClearVPN is compatible with both Windows and Mac operating systems as well as iOS and Android devices. The downside is that it doesn't include a Chrome browser extension (check out the best VPN for Chrome), nor will it work on your router. However, since it's a relatively new provider, that could change in the future.
DynamicFlow
ClearVPN's most interesting feature is what it calls "DynamicFlow technology," which claims to analyze the user's current network status and connect them to the best and secure server. This guarantees faster speeds and an improved streaming experience — at least in theory.
It lacks some basic features, though, such as a kill switch, which will automatically cut off the internet connection if the VPN disconnects. We were also hoping to see split tunneling, which lets you divide internet traffic between a VPN tunnel or a basic internet connection.
As we already mentioned before, our testing speeds were not as impressive as we thought they would be. However, ClearVPN still performed better than other VPN providers, like Avira Phantom, and we could stream content from Netflix U.S. fairly well from our location in Vietnam.
ClearVPN Features Overview
Visit ClearVPN

General
Payment methods
PayPal, Credit card
Accepts cryptocurrency
Simultaneous connections
6
Supports split tunneling
Unlimited bandwidth
Free trial available
Refund period
30-days
Worldwide server amount
18 countries
Desktop OSes
Windows, MacOS
Mobile OSes
Android, iOS
Browser extensions
Can be installed on routers
Streaming
Can access Netflix US
Can access BBC iPlayer
Can access Hulu
Can access Amazon Prime Video
Security
Encryption types
AES-256-GCM, SHA2-384, PFS
VPN protocols available
IPSec, OpenVPN, IKEv2
Enabled at device startup
Allows torrenting
No-logging policy
Passed DNS leak test
Killswitch available
Malware/ad blocker included
Support
Live Chat
Email support
24/7
Phone support
User forum
Knowledgebase
Pricing
60 % – Fair
ClearVPN works out to be pretty expensive. It costs as much as hide.me and ExpressVPN but without the extra features. Even its annual and two-year plans end up being pricey, as well.
While ClearVPN does include a free version to try it out, it's very limited — we'll dig into this in a bit. VPNs such as Windscribe and TunnelBear offer a much better free version, as you can see in our Windscribe vs TunnelBear article.
Its monthly premium plan works out to be $12.95 per month, and this allows you to connect to a specific country, enjoy unlimited data and have full access to all of its shortcuts. ClearVPN also includes up to six simultaneous connections.
However, its best deal is the two-year premium plan, which costs $109.95, which is only $17 more than the annual plan. Still, when you consider that a premium VPN, such as NordVPN, offers a two-year plan for half the price, it doesn't seem that great.
ClearVPN Free Plan
ClearVPN offers a very limited free plan to test out some of its functions. However, we found it too meager since you have no control of which server you're automatically connected to. Plus, the only features you can test out is its malware blocker and its automatic VPN protection. It would also have been nice to try out some of its shortcut options, but no luck there, either.
Luckily, it does offer a 30-day money-back guarantee for products bought directly via MacPaw. We tested this out for ourselves and were nicely surprised to have our money back the next day when on the website it says that it might take a few business days.
MacPaw accepts PayPal and credit card payments. However, we didn't see any options for cryptocurrency payments (learn more about bitcoin here).
Ease of Use
50 % – Poor
We can't say that ClearVPN is easy to use, but it does have an attractive interface. If you've used any of MacPaw's other software before, such as CleanMyMac, you might already be familiar with its modernist approach.
Downloading ClearVPN was very easy, offering guidance for Mac and Windows users on its official website. Once you've installed the app, all you need to do is register with your email address, set a password and you're ready to go.
At first glance, the app interface is pretty confusing. There are a ton of various options to choose from, which might be overwhelming for first-time VPN users.
If you're using the free version, most of the quick options on the dashboard will have a pink "upgrade'' button next to them. Right next to the dashboard, you have the shortcuts tab. There, you'll have access to all the shortcuts that the app has generated for you based on your location.
ClearVPN Shortcuts
Some of the shortcuts come in handy when you want to have quick access to a streaming service, such as Hulu, or to improve your gaming performance (see which VPN is best for gaming) when enabling the "improve online gaming'' shortcut.
Right next to the shortcuts is the settings section, where you can enable the VPN to launch upon startup. Under that is an option to share your analytics to improve the app. Lastly, you can also subscribe to its newsletter for extra info or check for updates.
We like the fact that it's possible to contact support via the app in the settings menu or access the help center. Nevertheless, the layout of the desktop app seems cluttered and difficult to navigate.
Although having multiple options to choose from is always helpful, sometimes with a VPN provider, less is really more. For a more minimalistic approach, we prefer NordVPN or TunnelBear (see our TunnelBear vs NordVPN article).
Speed
75 % – Good
Location
Ping
ms
Download
Mbps
Upload
Mbps
Unprotected
4
67.77
38.23
Australia
254
27.49
0.89
Singapore
47
58.54
29.61
Brazil
332
12.14
5.33
United States
200
4.68
4.21
United Kingdom
279
13.80
8.56
In all of our VPN reviews, we test every provider's speeds using Speedtest.net for extra accuracy. It's also important to note that you will see a drop in your download or upload speeds even when using the fastest VPNs like ExpressVPN.
While ClearVPN won't be winning any prizes for the fastest VPN in the world any time soon, some of the countries we tested performed pretty well. That's especially true in Singapore, which is pretty close to our testing country in Vietnam. We only saw a 10 percent drop in our overall speed, and the latency remained low, too.
However, once we started to branch out a bit to other continents, that's when we saw a more significant decrease in ClearVPN's performance. Australia still held up pretty well, but we saw pretty low speeds in the United States and the UK. Although we could still stream Netflix in good quality and watch YouTube videos, we experienced some buffering in the beginning.
In short, ClearVPN performed OK. However, we had hoped to see much better performance due to its DynamicFlow feature, which claims to guarantee faster speeds by connecting you to the top server in your desired location.
Security
65 % – Decent
ClearVPN is as safe as you can get, when it comes to encryption. It employs the near unbreakable AES-256 CBC algorithm with the OpenVPN connection. OpenVPN is an open-source protocol that offers better security and can run on almost all platforms. Check out our VPN security article for more info.
On top of that, ClearVPN also employs the perfect forward secrecy — or PFS — with IKEv2/IPsec protocols. This essentially means that the VPN and client use a different encryption key for every session rather than a single master key. It also makes it difficult for anyone to keep tabs on you and may even protect you from potential hackers.
We also tested ClearVPN for any DNS or WebRTC leaks on ipleak.org and were happy to see that no potential leaks were detected. However, the fact that the VPN lacks a kill switch is concerning. A kill switch will block your internet connection if the VPN fails, and without that protection, there's a chance your activities online could be exposed.
Overall, it's a bit of a letdown that ClearVPN offers no leeway for configuring the protocols or making any changes whatsoever. In this regard, ClearVPN is quite constricting, especially when compared to providers like NordVPN and Surfshark that offer a ton of extra security features.
Privacy
85 % – Very Good
ClearVPN states that it follows a strict, zero-logs policy, which means that it doesn't store, collect or share any of your personal data, like your IP address.
After scouring its privacy policy, we could see that it still collects some info, with your permission, of course. Some of which include your device information, speed test data, crash reports or anything else that can help them improve their service. You can also choose to share additional information such as crash reports, when turning on the "share analytics'' option in the ClearVPN app.
In the end, because ClearVPN is a new VPN on the scene, we couldn't find any data breaches or concerns about their privacy policy, — so we won't know how it will hold up here, yet.
Streaming Performance
70 % – Decent
We initially encountered a couple of streaming issues with ClearVPN on Netflix, especially with servers in the United States and Australia, where the upload and download quality wasn't the greatest. However, after a couple of seconds of buffering, we could stream Netflix in pretty good quality.
We were also able to bypass geoblocks with Amazon Prime Video, Hulu, HBO Max and all of the Netflix libraries. Unfortunately, we couldn't unlock BBC iPlayer, which was strange since it's an actual shortcut on ClearVPN's dashboard. We're hoping that it's only a temporary issue.
Server Locations
60 % – Fair
Currently, ClearVPN has servers in only 18 countries, which isn't a lot at all, considering that CyberGhost has up to 6,800 server locations in 89 countries. More countries means having more access to geo-restricted content, such as Netflix and other local streaming channels.
After contacting support about the number of servers ClearVPN has in total, we still haven't heard back from them at the time of publishing, after waiting a week. However, we can say that ClearVPN covers the top countries around the world, including locations in Europe, Asia, Australia, America and Brazil. There were no servers in Africa or the Middle East.
Customer Support
60 % – Fair
ClearVPN's customer support page can be accessed via the app itself or through MacPaw's official website, making it easy to find.
After contacting customer support regarding our refund, they replied and processed the payment the very next day. However, when we emailed them our questions regarding their servers, they still haven't replied to us at the time of publishing. So, we're guessing it's a hit and miss with customer support.
ClearVPN offers an informative FAQ section, covering the top queries about its VPN, which we found useful. Additionally, there is also an "about ClearVPN'' section on the site that includes extra information about the provider and its features.
Overall, ClearVPN does a good job of informing users about the VPN and offers many helpful guides on installing the service across various systems. However, we would have liked to see live chat support. Currently, you can only contact the support team by submitting a request and waiting until they get back to you (we're still waiting).
The Verdict: ClearVPN by MacPaw
ClearVPN is the perfect example of an excellent concept with poor execution. However, we believe that it has the potential to become a relatively good VPN service, mainly due to its DynamicFlow feature and unique aesthetic style. Its speeds were OK, too, and it performed relatively well during our streaming tests.
Still, there are a few aspects it needs to address. For example, we'd like to see extra security features, like a kill switch and split tunneling, plus better layout structure of the shortcuts functions (like having them link to the right thing) and more server locations. It would also be better to have more control over configuring the protocols and extra servers, too.
Have you tried out ClearVPN yet? What's your favorite VPN service to use? Let us know what you think in the comments below. Thanks for reading.
Let us know if you liked the post. That's the only way we can improve.
Sours: https://www.cloudwards.net/clearvpn-review/
ClearVPN in brief:
P2P allowed: Yes (via the Downloads shortcut)
Number of servers: 47
Business location: United States and Ukraine
Cost: $93 per year
VPN protocol: OpenVPN (default)
Data encryption: AES-128-CBC
Data authentication: SHA-256
Handshake: 2048-bit key
Most VPNs use the same straightforward approach: You, the user, pick from a list of countries and sometimes a list of servers, press Connect, and you're off to the races. Every now and then, however, there are VPNs like the newly released ClearVPN from MacPaw that take a more activity-based approach. The interface says to the user, "tell us what you want to do and we'll connect you to the best possible server for that purpose."
Note: This review is part of our best VPNs roundup. Go there for details about competing products and how we tested them.
Are you just web browsing, for example, or do you want to view U.S. Netflix? Are you interested in Hulu, or browsing with an ad blocker? ClearVPN has numerous options for most standard use cases.
ClearVPN is by no means the first VPN service to take this approach. We've already seen this from iterations of CyberGhost and Ivacy.
When you first start up ClearVPN on Windows, it presents a number of tiles to choose from, including a trio of Quick actions for selecting a server for video streaming, enabling secure browsing, or connecting to a specific country location.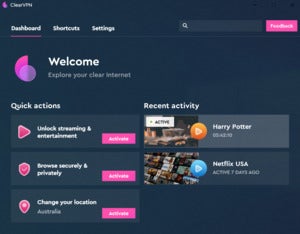 ClearVPN's country list is fairly small, covering only 16 countries, with no ability to drill down to specific servers or regions. You also aren't given the option to select a VPN protocol or levels of encryption. That's all happening in the background, with protocols and servers being decided on-the-fly, using what MacPaw calls "Dynamic Flow Technology" (DFT).
DFT picks the best possible server for you automatically, as well as handling the protocol and encryption connections. ClearVPN has its own VPN protocol for certain use cases, but it also uses OpenVPN and IKEv2.
ClearVPN is not the best choice for power users who want more control over their connection, but it does have some interesting features for everyone else. Dive into the Shortcuts tab at the top of the interface for a sense of your options. Examples include a portal to Netflix USA, for example, and also the odd option to "Get Harry Potter on Netflix," which connects you to a Netflix country where the movies are available.
Interestingly, I observed some VPN trickery when I connected to Netflix for watching Harry Potter—sites such as IP Leak Test still saw my actual IP and not a VPN IP. This kind of fake-out is not terribly surprising since getting around Netflix's VPN filters is something of a chore. Nevertheless, be aware that your actual IP may still be visible when using some of ClearVPN's features. You don't want to use the Harry Potter option, for example, when trying to hide your real location from sites that aren't Netflix.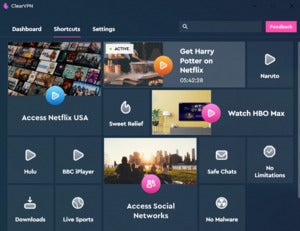 Other supported options on ClearVPN include HBO Max (good for ex-pat Americans with a U.S. credit card), BBC's iPlayer, Hulu, gaming, and live sports. Then there are more security focused options such as Safe Chats, No Malware, and No Limitations. I asked the MacPaw for clarity on the latter two. No Malware actively blocks URLs known to deliver malicious ads. No Limitations is meant to circumvent national firewalls that censor people's browsing habits.
Once you use one of the Shortcuts, it shows up on the primary dashboard under Recent activity, allowing you to quickly jump back to any options you use frequently.
There isn't much to say about ClearVPN's settings. There's nothing to tweak other than whether you want ClearVPN to launch at system startup.
ClearVPN costs $13 per month or $93 per year and allows up to six simultaneous connections, with apps for Android, iOS, macOS, and Windows. ClearVPN will also be an option in Setapp, a MacPaw subscription-based marketplace for Macs. Payment options via the ClearVPN web store include credit card and PayPal.
Performance
We tested pre-release versions of ClearVPN and received several updates during the our testing testing. As the updates came in, performance improved, and we expect this might continue for some time as ClearVPN is a brand-new service.
In our tests over three days, ClearVPN maintained close to 10 percent of the base speed, which is dreadful. As we said, however, ClearVPN's updates improved performance and on the last day of testing the average was 20 percent of the base speed. That's still not incredible performance, but it's acceptable and shows steady improvement. It should be fast enough for most uses, but if you need a high-performance service ClearVPN is not there right now.
Privacy, anonymity, and trust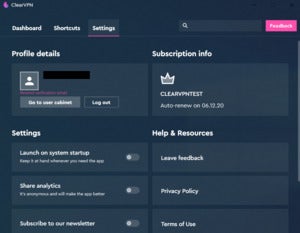 As we mentioned earlier, ClearVPN was created by MacPaw, a company officially based in San Francisco, but the CEO and its development offices are in Ukraine. MacPaw makes a number of utilities and applications for Mac (as well as one Windows option) such as CleanMyMac X and the aforementioned Setapp. MacPaw's CEO and founder is Oleksandr Kosovan and the CTO is Vera Tkachenko.
MacPaw says ClearVPN has a "strict no-logs policy," but in this context a no-logs policy means the company does not collect and store the sites you visit, any personal information, or your IP address.
MacPaw will, however, collect your device id, anonymized information such as failed connection attempts, speed test data, and crash reports, according to the privacy policy. It can also collect your connection type and cellular network information.
Surprisingly, it collects "applications usage," which means "identifying all the apps downloaded to a device." MacPaw says it needs this data "in order to provide you with the best possible VPN connection." We asked the company about this and a representative told us that it does indeed collect a list of installed applications on all platforms, and that it uses this to "build a customer profile and provide personalized solutions."
ClearVPN also records successful connection attempts, which VPN location you connected to (but not your outgoing IP address), and which country and ISP you're connecting from, but not your source IP address. Plus, it collects the aggregate sum of data transferred in order to detect suspicious behavior.
We're still not done. It also collects unspecified "minimal usage statistics" and your device's OS version, language, and device name.
I don't think I've ever seen a no-logs VPN that logs so much information. At least the company is being honest about what it feels it needs to provide the service, but this is not what we'd consider a no-logs VPN.
Conclusion
ClearVPN is off to an interesting start. It has some work to do on increasing speeds, but it does work as promised. The price is a little higher than we'd like given the speeds we saw, but it's not prohibitively expensive either.
We can't recommend ClearVPN to those who want as much anonymity and privacy as possible online. If all you want is an unblocking service for your favorite streaming sites, however, then ClearVPN might be for you.
Editor's note: Because online services are often iterative, gaining new features and performance improvements over time, this review is subject to change in order to accurately reflect the current state of the service. Any changes to text or our final review verdict will be noted at the top of this article.
Sours: https://www.pcworld.com/article/393720/clearvpn-review.html
The VPN industry is due for a revolutionary newcomer and ClearVPN may just fit the bill. Launched in late 2020, it comes as a fitting Christmas present for those who seek a safer browsing environment or longing to access geo-blocked content.
Offering unseen-before features, Clear VPN has caused a buzz amongst the tech community. But, is it a fundamentally secure VPN? Does it bog down internet speed? Read this review and find out if ClearVPN is worth your money.
What Is ClearVPN?
Clear VPN is the latest product of MacPaw, a company that has spent more than a decade producing popular macOS solutions. Like any VPN, ClearVPN is built to protect users from online threats while ensuring good connection speed.
But that's where the similarity of ClearVPN with other competitors ends. MacPaw charted its own path when creating the VPN, by emphasizing personalization more than adding more technical features. The idea is to have the users accessing their preferred app or service in a single click. In other words, they aim to make life as easy as possible for VPN users.
ClearVPN uses DynamicFlow technology, which automatically selects an optimum server based on what the user intends to do, location, and network condition. It spares the users from fiddling with a list of hundreds of servers to establish an optimal connection.
MacPaw offers a free version of ClearVPN, which allows secure internet browsing with its "Browse privately & securely" shortcut. The shortcut encrypts your connection while you surf and anonymizes you over any network. An upgrade to the ClearVPN premium version, which costs $12.95 per month, is needed to access streaming and personalization features. The VPN is available for Windows, macOS, Android, and iOS.
The Pros
Good server speed.
Strict no-logs policy.
Strong military-grade encryption with AES-256.
Available on Windows, macOS, Android, and iOS.
Free version available, which works for browsing.
Connects up to 6 devices.
Unblock Netflix US, BBC iPlayer, Hulu, and HBO Max.
The Cons
The window app is laggy at times.
A serious lack of locations in the Country Picker.
No kill switch.
Our Review
Speed — 4/5
For a VPN that's focused on unblocking streaming and entertainment, ensuring a high-speed connection is crucial. Some reviews have cited good server speed as one of the winning points of ClearVPN.
You're likely to enjoy favorable connection speed if you're close to one of the 16 locations on the VPN's network. However, we tested Clear VPN from Malaysia to the closest server in Australia.
Download speed drops from 33 Mbps to 19 Mbps for a connection that crosses the Indian ocean. We then connected to a streaming server in New York and witnessed the download drop to 12 Mbps.
Still, ClearVPN's DynamicFlow did not disappoint as there's no noticeable latency when connected to its servers.
We were able to stream full HD content from Netflix US from a country in Southeast Asia. It also proves that ClearVPN is capable of unblocking Netflix US, which is a commendable feat equaled by very few premium VPNs.
Security — 4/5
When you're connected to a VPN, your public IP should be masked with one from the VPN's server, and data ought to be encrypted. ClearVPN employs AES-256, encryption used by the banks and military to protect data transmission from hacking attempts.
ClearVPN also uses a combination of its proprietary protocol, OpenVPN, and IPsec IKEV2 for data transfer. Both OpenVPN and IPSec IKEV2 are de-facto VPN protocols that are proven for safety and speed.
However, the VPN lacks a kill switch, a helpful feature that disconnects the Internet should the VPN connection drop.
Privacy — 5/5
MacPaw is headquartered in Ukraine. Ukraine is not a member of the 5, 9, and 14 Eyes Alliance, which means ClearVPN is not bound by data retention laws. The VPN's privacy policy also clearly specifies that it does not store information that can be used to identify the users using its service.
Customer support — 5/5
For a promising newcomer, this VPN has done its homework in the customer support department. It has live-chat support, which can be handy when you're pressed for instant solutions.
Number of locations — 3/5
Clear VPN kicks off with an unspecified number of servers in 16 countries. It's a modest number compared to other established VPNs. This can potentially be a problem if it fails to increase its network to accommodate user growth in the future.
Ease of use — 4/5
MacPaw's brilliance in creating an intuitive interface is proven yet again for Clear VPN. The app may be unfamiliar for a conventional VPN user, but the simple layout and intuitive controls allow a secure connection to be made in a couple of clicks.
Number of devices — 5/5
A single account supports up to 6 different devices. With the exception of a couple of VPNs that offer unlimited devices, MacPaw is quite generous in its device limits.
Cost — 3/5
The innovative VPN offers a free and premium version of its app. A premium subscription starts at $12.95 per month, which is comparable to other top-rated VPNs. The long term subscription is averagely priced, yet it's more expansive than PIA, with a 2-year plan costing $109.95.
A premium subscription is backed by a 30-day money-back guarantee. You'll get enough time to test out the features before deciding if this VPN is a good choice.
Do We Recommend ClearVPN?
ClearVPN is an ambitious attempt to make VPN more intuitive and user-focused. Its personalization shortcuts are a refreshing change from the conventional layouts that are cluttered with a list of servers.
MacPaw has kept up with the difficult standards of balancing speed and security. It makes streaming possible from popular content providers. If it fixes the security glitches mentioned in this review, it can potentially give the established competitors a good run for their money.
At this moment, you might find it expensive. Yet, being out one of the most innovative VPN apps ever is worth the try. Knowing MacPaw, they'll be addressing the issues as soon as possible.
About Mark Coulman
Cybersecurity expert with a keen interest in technology and digital privacy. Mark has more than 14 years of experience in creating and managing various reliable WEB applications for IT companies in the EU and the US. Loves 3-4 letter words like PHP, XML, HTML, CSS, DB2, ASP, CRM, ERP, SAP, etc.
read more
Sours: https://vpncoffee.com/clearvpn-review/
¿Cuál es el Mejor VPN? - La Guía Definitiva
ClearVPN Review: What Sets This VPN Apart?
If you're familiar with MacPaw, you might have heard the good news. They've released one of the easiest VPN tools for Mac users – called ClearVPN.
Most Mac users aren't worried about secure browsing and privacy – but you should be. In the modern age we live in, breaches can be done remotely and especially if you're using WiFi networks.
Whenever you're using public WiFi, you risk your Mac being hacked into and your data/information stolen. On top of that, your actions can also be monitored and cause even more damage to your private life or work in the long run.
However, even if you're only using your Mac in the comfort of your home – you never know when your internet network might become a target.
Therefore, to keep yourself and your Mac safe and secure when you're using the internet – keep on reading this review!
The importance of a clean VPN
VPN stands for the virtual private network and it's a tool that helps Mac users (just like you) to secure the connection over the internet.
However, VPNs are very useful in accessing region-restricted websites, to shield your browsing activity, and more.
VPN helps encrypt the WiFi network you're connected to which helps make potential breaches a lot harder. Firewalls need to decrypt and remove threats from Mac device traffic tunneled over SSL VPN before they enter the network. As a result, your browsing activity and any information you have stored on your Mac won't be accessible by the invasive eyes of hackers.
Therefore, you can think of a VPN as a digital defense that stands in between you and the internet connection. If there is a breach on the internet network – hackers won't be able to get to your Mac as VPN will stand in the way as a defense.
These emerging security and access technologies accelerate business agility and performance, regardless of the device and when or where it is being used in the business workflow.
If you've been only using VPN to access region-restricted websites – you should keep in mind the security benefits that can keep you safe and clean at any time as well!
That's what led us to ClearVPN.
ClearVPN FAQs
What is ClearVPN?
MacPaw claims that ClearVPN is "the first truly personalized multi-platform VPN for users who want a more secure and individualized online experience". The app helps protect your devices from potential breaches that can easily happen through the network you're connected to (especially if you're using public WiFi networks).
How does CleanVPN work?
After you install ClearVPN on your device, launch it and open All Shortcut menu. There are dozens of them to help you revamp the internet. The list of Shortcuts is unique for you because the app generates it based on your location, network settings, actual content demands in your region. Simply click to open the shortcut and choose the regional library and tap to connect to it. You're set!
Is ClearVPN safe?
ClearVPN is licensed software that is 100% safe with its strict no-logs policy and AES-256 encryption. It's very easy to install and use and you can't get in any trouble by using it as its purpose is to mainly protect your privacy and secure your Mac.
Is ClearVPN free to try? 
Yes, ClearVPN offers a free version of the app with limited functionality that you can test.  The free version does not expire and is available to all users.
Does ClearVPN work on Apple Silicon?
ClearVPN app has not yet been reported to be native to Apple Silicon, but it works alright thought Rosetta 2 translation.
ClearVPN: What makes it different?
VPN service is a crowded field, but ClearVPN has a number of qualities that distinguish it from the competition. The app stands out from the pack because of its slick design, personalized approach to security and privacy and more.
Sleek Interface
We've already mentioned a couple of things when it comes down to the ease of use – but we are a big fan of the interface. We love how the whole app works.
ClearVPN is made to focus on your online needs. Therefore, when you open the sleek interface, you have to let ClearVPN know exactly what you want to do. Whether it's to unblock a specific website, stay safe when browsing the internet, or download content – nothing is off the limits.
The interface is very minimalistic and it is very similar to the Notification center on a Mac OS. We're a big fan of such an effortless and yet personalized approach that meets the end goal.
Great thing is that ClearVPN is suitable for both iOS (iPhones and iPads) and Mac OS so you will be able to stay protected across your devices.
Clear Shortcuts
ClearVPN has an advantage over other VPN services as it offers dozens of clear and personalized Shortcuts to any content. The interface is full of shortcuts that will help you quickly set the VPN up so you can get on with your task without having to think twice about the app.
Whether you want to expand your Netflix libraries, access restricted content, browse securely or stay private — ClearVPN clearly understand you and helps discover the full possibilities of every online journey.
Shortcuts are links to content based on your real location and usage habits. There's even a shortcut option that allows you to access torrent sites securely and privately.
DynamicFlow Technology
ClearVPN protects you by relying on unbreakable AES-256 encryption, but they also feature a very innovative technology in the VPN field.
The technology is called DynamicFlow which can instantly analyze a network status as soon as you connect to it and then connect to the fastest idle server to increase security and browsing speed.
With Dynamic Flow, you can focus on enjoying their online interactions and don't need to focus on the technical details, such as selecting servers. You just chooses what they want to do and ClearVPN takes care of the rest.
This VPN is even suitable for gamers as it can improve gaming by automatically choosing the best idle server so you don't have to do it manually.
Streaming US Netflix and Other Countries' Netflix Libraries
One of the biggest streaming benefits of ClearVPN is that it can be used to unblock USA Netflix.
On more than a couple of occasions, we noticed that Netflix in the US region has more shows than other countries. ClearVPN can unblock Netflix with the help of USA servers and allow a speedy streaming quality.
Since this VPN is great at unblocking geo-restricted internet locations – this means that it can unblock many other websites than Netflix. These include Amazon Prime, HBO Max, Hulu, and other streaming services, but not BBC iPlayer.
ClearVPN has 47 servers and instead of manually connecting to a server that will help you achieve what you're doing – this tool has a better way of use.
When you open the app, all you have to do is tell the ClearVPN what you're trying to do. If you're trying to unblock Netflix, that's all you have to type in. From there, ClearVPN will automatically connect you to the best server possible for this action. This is a very unique and intriguing approach to how VPNs are used around the world and we're a big fan of it.
[Suggested read:The Best Fast VPN Service for Netflix ]
Privacy and Anonymity
ClearVPN uses its own protocols in addition to IPSec IKEV2 and OpenVPN that ensure high-end privacy and anonymity with a very small % of being hacked.
Another great feature that improves privacy and anonymity as you browse is the ability to prevent ads that might potentially be harmful to your Mac. When you're browsing the email, a safeguard feature will keep the privacy of your emails with the help of safe chats.
If you're a torrent user – there's no better VPN to use on your Mac than ClearVPN. It supports peer 2 peer connection which is basically how torrents work – so you won't have to turn off the VPN only to start the download. Therefore, you won't have to worry about connecting to a public network in the coffee shop as your Mac and everything you do on your Mac will be protected.
Speed and Experience
You have to keep in mind that ClearVPN is still a fairly new VPN app. However, we have noticed that the speed keeps improving with every update they introduce.
While it's not one of the quickest VPNs on the market, the biggest benefit is that it is based on custom encryption technology, and it changes the whole way we use VPNs. Right now, as it is – ClearVPN is fast enough for the most average users. However, if you're looking for a high-performance VPN, you might need to be a bit more patient and wait until ClearVPN gets there.
When it comes down to experience – we believe that the experience is spot on. We never noticed any issues in the user experience so we're glad to see that ClearVPN took care of that while they work on the speed & performance.
If you want to stay secure while you're browsing the internet in public, using your Mac for work, or to stream/download content – ClearVPN is fast enough to be the solution to all your needs.
Support
You might not have heard of ClearVPN as it's a fairly new VPN app – but so far, the users have rated it with almost 4 stars out of 5.
The good thing is that MacPaw has set customer support in place so if you ever require the assistance of support – you can easily reach out to the support team.
The assistance is available via the support center. MacPaw created a specific support center. However, if you would like to try your luck and see if your questions might be answered somewhere on the internet – you can use the Help Desk to find frequently answered questions in the FAQ center.
ClearVPN plan: Free vs Premium
ClearVPN has a free plan that gives access to a limited number of shortcuts to address the basic VPN uses, depending on the country.
You can get the premium plan to unlock all shortcuts that allow you to access any streaming service, connect to servers in specific countries, protect from DDoS-attacks while gaming, and more. The Premium subscription covers up to 6 devices on any ClearVPN platform (iOS, Android, Windows, or macOS). It's available for $12.99/month and $93/year.
Kindly note that ClearVPN is now selling on an 80% off deal for Back-to-School sale.
ClearVPN review: the verdict
ClearVPN's unique approach to the way we use VPN, high-end security, and ease of use for Mac users justifies the price.
Solid download speeds, the ability to unblock geo-restricted websites, and a great user experience put this VPN app near the top.
However, you should keep in mind that ClearVPN is still a relatively new VPN app and that it's still working on improving the speeds, enabling more servers, and introducing working apps across various devices.
But we like what we see so far and with steady progress – we believe that ClearVPN will be one of the best VPN apps soon. Right now, it already might be one of the best ones for Mac users.
Sours: https://thesweetbits.com/blog/clearvpn-review/
Review clearvpn
ClearVPN

Review 2021: Before You Buy, Is It Worth It?

MacPaw's ClearVPN proclaims itself as the effortless VPN that offers a personalized and secure online experience. Since MacPaw has produced design-friendly and popular software solutions, I wanted to see if ClearVPN would be truly effortless as it claims. Not just that, I needed to verify ClearVPN's other claim of being "the only VPN you'll ever need." So I put the VPN through extensive testing.

I was impressed to see that ClearVPN features personalized shortcuts, quick actions, secure connections, and a DynamicFlow. These are shortcuts to services like unblocking streaming, quick actions like watching Netflix US, military-grade VPN security, and connection to the fastest servers. Despite all these fantastic features, ClearVPN slows down Internet speed significantly, is expensive, and appears to have only a few country server options. With fewer server options, its services may become laggy as servers become crowded.

Luckily, you can test ClearVPN yourself using the free plan, which offers a few shortcuts for social media and secure browsing. If you need more options like unblocking streaming services, you can use its 30-day money-back guarantee on the premium plan. This way, if you're not satisfied, you can get a full refund and try the top-tier VPNs on the market that offer specialized servers like ClearVPN.

Try ClearVPN risk-free

Try ClearVPN for yourself

Although I unblocked all popular streaming sites like Netflix and Hulu, I wouldn't recommend ClearVPN because its speeds are too slow to stream lag-free. You can unblock the streaming services with the normal US server or the specialized shortcuts (servers) and stream your favorite shows. However, my team couldn't unblock BBC iPlayer even with the specialized server.

Instead of using country servers for unblocking services, ClearVPN claims that its shortcuts are optimized for the fastest available servers. Yet, while using this, I generally experienced slow speeds and laggy connections. You can access all of its shortcuts for gaming, secure browsing, secure content streaming, social media, and torrenting with a subscription. However, if you're using the free plan, you get access to a limited number of shortcuts for social media, secure browsing, and an ad blocker.
Netflix, Hulu, HBO Max, Amazon Prime Video, Disney+: Unblocked
ClearVPN seamlessly unblocked all the streaming services I tested, but I experienced slow speeds even with the servers optimized for streaming. Unblocking Netflix with ClearVPN was easy with the US server. I didn't experience any issues accessing my Netflix US account. However, while using the optimized Netflix shortcut, it couldn't unblock the streaming platform. I also asked 3 colleagues of mine in the UK, Germany, and France to help me test ClearVPN servers in their respective countries to see if it could unblock content in those Netflix regions. I was pleased to learn that it unblocked the content there, but they experienced slow speeds too.
I was able to access my Netflix account while traveling using ClearVPN's US servers.
ClearVPN also quickly unblocked Hulu's content and allowed me to access my account with its Hulu shortcut. However, I couldn't unblock Hulu using the normal US server. Yet, I experienced slow speeds and laggy streaming because ClearVPN reduced the speed of my network significantly.
I was able to unblock most streaming platforms I tried with ClearVPN
I had no issues unblocking Disney+ when I used its US server. While traveling, I was able to access my account. I watched The Falcon and Winter Soldier and didn't experience any lag or buffering. Even though they didn't have a shortcut for Disney+, its US server worked seamlessly and unblocked the streaming service with ease.
When I tested ClearVPN with HBO Max, it unblocked it seamlessly. I quickly connected with its US server and streamed different shows from my account lag-free. However, I had trouble connecting with ClearVPN's HBO Max shortcut. I encountered slow speeds and difficulty loading the website.
ClearVPN effortlessly unblocked Amazon Prime Video when I connected to its US server with my account. I didn't experience buffering on any lag while I watched my favorite shows. Even though they didn't have a shortcut for Amazon Prime Video, their US server worked seamlessly and unblocked Amazon Prime Video.
BBC iPlayer: Blocked
It was disappointing to find out that ClearVPN couldn't unblock BBC iPlayer even with the specialized shortcut. I asked a colleague in the UK to try their BBC iPlayer account with ClearVPN; unfortunately, neither the UK country server and BBC iPlayer shortcut could unblock the streaming service. It gave an error message with all the UK servers tested.
"BBC iPlayer only works in the UK. Sorry, it's due to rights issues."
I found it frustrating that the BBC iPlayer shortcut doesn't just work. If you're disappointed with this like me or traveling and need to catch up with a new episode of your favorite BBC iPlayer shows, I recommend using Cyberghost. You can try Cyberghost yourself as it offers specialized UK servers for unblocking BBC iPlayer that work.
Test ClearVPN for streaming 
Sours: https://www.wizcase.com/reviews/clearvpn/
Stop using VPNs for privacy.
ClearVPN is a VPN service from MacPaw, a software company focused primarily on developing solutions for Mac and iOS devices.
MacPaw's other creations include a PC optimizer, drive manager, duplicate file finder, photo organizer, RAR opener, file encryption, and more. We've tested the VPN product to see if it's worthy of your attention.
Price
This VPN is available for purchase under only two subscription lengths: 1-month at $12.95 and 1-year at $92.95 (equal to $7.75/month), placing this VPN solution up there with the most expensive on the market. Under one account, you can connect up to 6 devices at the same time.
There's a 30-day money-back guarantee, so you can nab a refund if you're less than satisfied with this provider's performance. ClearVPN accepts payments made via credit/debit cards, PayPal and UnionPay.
Alternatives
ClearVPN may be a decent enough VPN solution for modest users. However, it costs more than some of best VPN services around like NordVPN, Surfshark and CyberGhost. All of these services provide superior platforms, apps for all major platforms (as well as support for a few minor ones) and thousands of different servers.
ClearVPN does cost slightly less than ExpressVPN, but considering it lags behind in terms of overall quality, the latter is likely to be the better buy - especially if you're prepared to spend this much on online privacy.
Streaming
This VPN platform states that it can unblock geo-restricted content provided by streaming services like BBC iPlayer, Netflix, Amazon Prime, HBO Max, and Hulu, but when we tried to access content via BBC iPlayer, the streaming platform recognized we weren't connecting from the UK (even though we used the specialized BBC iPlayer option in the app).
About the company
ClearVPN is run by Ukrainian software company MacPaw. However, as noted in MacPaw's Privacy Policy, "[data] will be transferred to, processed, and stored in the United States. We also process your Personal Data in the UK, Republic of Ireland."
The VPN provider offers access to an undisclosed number of servers in the UK, US, Singapore, The Netherlands, Austria, Greece, Germany, Ireland, Ukraine, Belgium, Sweden, Norway, Denmark, Canada, Australia, France, Switzerland, Spain, and the United Arab Emirates.
Privacy and encryption
To keep all your online activities private and safe from prying eyes, ClearVPN deploys the unbreakable AES-256 encryption and an innovative VPN technology called DynamicFlow, which "instantly analyzes the user's current network status (servers, local restrictions, actual regional content limitations, etc.) and connects to the fastest idle server to enable secure, low-ping and effortless UX".
In addition to IPSec, IKEv2, and OpenVPN, it also uses its own custom protocol, "to eliminate any security vulnerabilities and achieve a high-speed connection".
The apps have some extras too. For instance, you can prevent those pesky ads from ruining your online experience if you activate the ad blocker, protect yourself from malware with a specialized blocker, and safeguard the privacy of your emails via safe chats.
If you were wondering about logging, MacPaw's Privacy Policy explains the company's servers "automatically collect data when you access or use our Site and/or Product and record it in log files. This log data may include the IP address, browser type and settings, the date and time of use, information about browser configuration, language preferences, and cookie data."
The company may also collect device-specific information such as "the type of hardware and software you are using, as well as unique device identifiers for devices that are using MacPaw Product", so caution is advised.
Torrenting or P2P traffic is allowed, and there's even a shortcut for this option inside the app.
Support
ClearVPN has beautiful and user-friendly apps for Mac, iOS, Android, and Windows. The Android app has been rated by 40 users so far and they gave it 3.7 stars (out of 5). Its iOS counterpart has been rated by only one person, who gave it 3.0 stars.
If you require assistance, it is available via the product-specific Support Center, from where you can access the Zendesk-based Help Desk and a contact form.
The searchable Help Desk is divided into four categories with self-explanatory titles - FAQ, About ClearVPN, Apps and connectivity, and Manage your ClearVPN account and subscription.
The contact form provides a way to access customer support directly and describe your problem, as an alternative to sending an email. However, we've had no luck so far in trying to reach customer support directly.
Speed and experience
The apps are very easy to use and server switching is simple, but requires more than one step. You first need to select your purpose for the VPN, choose the location, and then click/tap 'Activate'.
We had huge problems getting the Windows app to run, and even the Android app was slow and glitchy at times, which could be the result of the provider's focus on iOS and Mac devices.
We decided to begin our speed testing with a location in Germany. The results were solid, giving us 11Mbps on a 37Mbps testing connection.
Then we went to a server located a little further away, in the US. This time around, ClearVPN delivered only 3.6Mbps. Not expecting much, we also tested a server in India, where we got almost the same results as in the US: 3.7Mbps. This is, however, a solid result for a location so far away from our own that often delivers less than 1Mbps.
Verdict
ClearVPN appears to be a VPN platform with potential thanks to solid download speeds and the fact that it can unblock localized content on US Netflix.
However, it lacks a lot of the characteristics that define the best VPN services on the market: thousands of servers, working apps for various devices and swift responses from customer support.
Sead Fadilpašić is a journalist - crypto, blockchain and new tech in general. He is also a hubSpot certified content creator and Writer.
Sours: https://www.techradar.com/reviews/clearvpn
Now discussing:
But I remained on my knees, with a swaying chest peeking out from under a robe and bent knees set to the side, as he liked. Watching closely My boyfriend loved. To hurt me.
866
867
868
869
870