This Privacy Policy governs the manner in which The Pete Store collects, uses, maintains and discloses information collected from users (each, a "User") of the http://www.thepetestore.com website ("Site"). This privacy policy applies to the Site and all products and services offered by The Pete Store.
Personal identification information
We may collect personal identification information from Users in a variety of ways, including, but not limited to, when Users visit our site, register on the site, fill out a form, and in connection with other activities, services, features or resources we make available on our Site. Users may be asked for, as appropriate, name, email address, mailing address, phone number. Users may, however, visit our Site anonymously. We will collect personal identification information from Users only if they voluntarily submit such information to us. Users can always refuse to supply personally identification information, except that it may prevent them from engaging in certain Site related activities.
Non-personal identification information
We may collect non-personal identification information about Users whenever they interact with our Site. Non-personal identification information may include the browser name, the type of computer and technical information about Users means of connection to our Site, such as the operating system and the Internet service providers utilized and other similar information.
Web browser cookies
Our Site may use "cookies" to enhance User experience. User's web browser places cookies on their hard drive for record-keeping purposes and sometimes to track information about them. User may choose to set their web browser to refuse cookies, or to alert you when cookies are being sent. If they do so, note that some parts of the Site may not function properly.
How we use collected information
The Pete Store collects and uses Users personal information for the following purposes:
To personalize user experience


We may use information in the aggregate to understand how our Users as a group use the services and resources provided on our Site.

To improve our Site


We continually strive to improve our website offerings based on the information and feedback we receive from you.

To improve customer service


Your information helps us to more effectively respond to your customer service requests and support needs.

To administer a content, promotion, survey or other Site feature


To send Users information they agreed to receive about topics we think will be of interest to them.

To send periodic emails


The email address Users provide for order processing, will only be used to send them information and updates pertaining to their order. It may also be used to respond to their inquiries, and/or other requests or questions. If User decides to opt-in to our mailing list, they will receive emails that may include company news, updates, related product or service information, etc. If at any time the User would like to unsubscribe from receiving future emails, we include detailed unsubscribe instructions at the bottom of each email or User may contact us via our Site.
How we protect your information
We adopt appropriate data collection, storage and processing practices and security measures to protect against unauthorized access, alteration, disclosure or destruction of your personal information, username, password, transaction information and data stored on our Site.
Sharing your personal information
We do not sell, trade, or rent Users personal identification information to others. We may share generic aggregated demographic information not linked to any personal identification information regarding visitors and users with our business partners, trusted affiliates and advertisers for the purposes outlined above.We may use third party service providers to help us operate our business and the Site or administer activities on our behalf, such as sending out newsletters or surveys. We may share your information with these third parties for those limited purposes provided that you have given us your permission.
Third party websites
Users may find advertising or other content on our Site that link to the sites and services of our partners, suppliers, advertisers, sponsors, licensors and other third parties. We do not control the content or links that appear on these sites and are not responsible for the practices employed by websites linked to or from our Site. In addition, these sites or services, including their content and links, may be constantly changing. These sites and services may have their own privacy policies and customer service policies. Browsing and interaction on any other website, including websites which have a link to our Site, is subject to that website's own terms and policies.
Compliance with children's online privacy protection act
Protecting the privacy of the very young is especially important. For that reason, we never collect or maintain information at our Site from those we actually know are under 13, and no part of our website is structured to attract anyone under 13.
Changes to this privacy policy
The Pete Store has the discretion to update this privacy policy at any time. When we do, we will revise the updated date at the bottom of this page. We encourage Users to frequently check this page for any changes to stay informed about how we are helping to protect the personal information we collect. You acknowledge and agree that it is your responsibility to review this privacy policy periodically and become aware of modifications.
Your acceptance of these terms
By using this Site, you signify your acceptance of this policy and terms of service. If you do not agree to this policy, please do not use our Site. Your continued use of the Site following the posting of changes to this policy will be deemed your acceptance of those changes.
Contacting us
If you have any questions about this Privacy Policy, the practices of this site, or your dealings with this site, please contact us at:
The Pete Store LLC
5100 Holabird Avenue
Baltimore, Maryland
21224
410-342-3400
[email protected]
This document was last updated on March 16, 2012
Sours: https://www.thepetestore.com/peterbilt-model-579
To say I've been busy would be an understatement, just crazy. While in Texas and few days later in Missouri ran through some of the worst rain/wind storms of my career and both at night making for some white knuck driving. I pushed through, not because I wanted to, but had to find a safe place to park, the shoulder of the road wasn't an option.
Then finally (after nearly 4 weeks of trying to get there) made it to Minneapolis which is only about 100 miles from Mondovie Wisconsin and with the expectation of getting the new truck, but was told they didn't have one available.
I wasn't a happy camper, told my dispatcher to route me home. I'm quitting, need to go home to empty my truck. That was last Thursday. Less than an hour later I was told a truck would be ready Tuesday, would that be ok? I said sure, just felt like I'd been jerked around for the past month.
Well all is forgiven and forgotten, got the new truck Tuesday, a 2020 Peterbilt. Some things are better, but some not. My old truck had a swivel out table, which was perfect for my laptop. The new truck has a very small writing draw/shelf. I'll figure something out, probably a small folding table.
This shot is from inside the new truck, and what a perfect day for moving. Surprising how much crap you can accumulate over time. Took me about 5 hours to complete the move, but the weather was the best. I've moved into other trucks in winter, wind and snow, I've moved in rain, and once in Atlanta during the summer, so hot and humid.
Anyway, I've got some exterior shots and one of the old truck next to the new one. I'll put a link to the pair shot, nothing fancy. Then on my next posting I'll put my favorite solo shot of the new truck with gorgeous clouds. What a beautiful day to be moving.
No T-Mobile signal here in Mondovie, so have to use my Verizon Jetpack for a mobile hotspot. Will do a little catching up, but only have a couple of hours before I have to hit the sack. You know the drill.
Link to both truck side by side.
www.flickr.com/gp/alvinharp/by5xAf
Sours: https://www.flickr.com/photos/tags/peterbilt%20579/
1XPBDP9X8FD238572
2015 Peterbilt 579
Wichita, KS
Doonan Truck & Equipment of Wichita
$75,500 USD
1XPBDP9X5FD273926
2015 Peterbilt 579
Boise, ID
Jackson Group Peterbilt of Boise
$73,900 USD
1XPBD49X8FD275832
2015 Peterbilt 579
Fruita, CO
Jackson Group Peterbilt of Grand Junction
$74,900 USD
FD276869
2015 Peterbilt 579
Jackson, GA
Peterbilt of Atlanta - Jackson
$79,900 USD
FD276866
2015 Peterbilt 579
Jackson, GA
Peterbilt of Atlanta - Jackson
$79,900 USD
1XPBDP9X1FD277763
2015 Peterbilt 579
Fruita, CO
Jackson Group Peterbilt of Grand Junction
Please Call
1XPBD49X1HD416050
2017 Peterbilt 579
DeForest, WI
JX Peterbilt of Madison
$86,900 USD
1XPBDP9X5GD322530
2016 Peterbilt 579
Midway, FL
Performance Peterbilt of Tallahassee
$84,500 USD
1XPBDP9X4JD448207
2018 Peterbilt 579
Wyoming, MI
JX Peterbilt of Grand Rapids
$104,900 USD
1XPBDP9X0JD482984
2018 Peterbilt 579
Indianapolis, IN
JX Peterbilt of Indianapolis
$97,900 USD
1XPBDP9X2HD420433
2017 Peterbilt 579
Salt Lake City, UT
PACCAR Financial Used Truck Center of Salt Lake City
$64,900 USD
1XPBDP9X9HD449329
2017 Peterbilt 579
Rockford, IL
JX Peterbilt of Rockford
$75,900 USD
1XPBDP9X6HD413405
2017 Peterbilt 579
DeForest, WI
JX Peterbilt of Madison
$76,900 USD
1XPBD49X0HD416086
2017 Peterbilt 579
DeForest, WI
JX Peterbilt of Madison
$76,900 USD
1XPBDP9X0HD434038
2017 Peterbilt 579
Rockford, IL
JX Peterbilt of Rockford
$76,900 USD
1XPBD49X4HD416057
2017 Peterbilt 579
DeForest, WI
JX Peterbilt of Madison
$72,900 USD
1XPBD49X6HD416092
2017 Peterbilt 579
DeForest, WI
JX Peterbilt of Madison
$72,900 USD
1XPBDP9X9HD417528
2017 Peterbilt 579
DeForest, WI
JX Peterbilt of Madison
$69,900 USD
1XPBD49X1HD416078
2017 Peterbilt 579
DeForest, WI
JX Peterbilt of Madison
$72,900 USD
1XPBDP9X4HD434088
2017 Peterbilt 579
DeForest, WI
JX Peterbilt of Madison
$67,900 USD
Sours: https://peterbiltredoval.com/Search?model=579
PETERBILT 579 EXHIBIÉNDOLO.🇲🇽🚛
2020 PETERBILT 579
Back to Results
SOLD
Mileage: 1,144
Contact TLGApply for Credit
Truck Highlights
Stock

#LD606784

Mileage

1,144

Engine

PACCAR MX-13

Horsepower

455

Application

SLEEPER
Body

ULTRALOFT

Transmission

12 SPEED AUTOMATIC

Sleeper Size

80

Wheelbase

236

Suspension

LOW AIR LEAF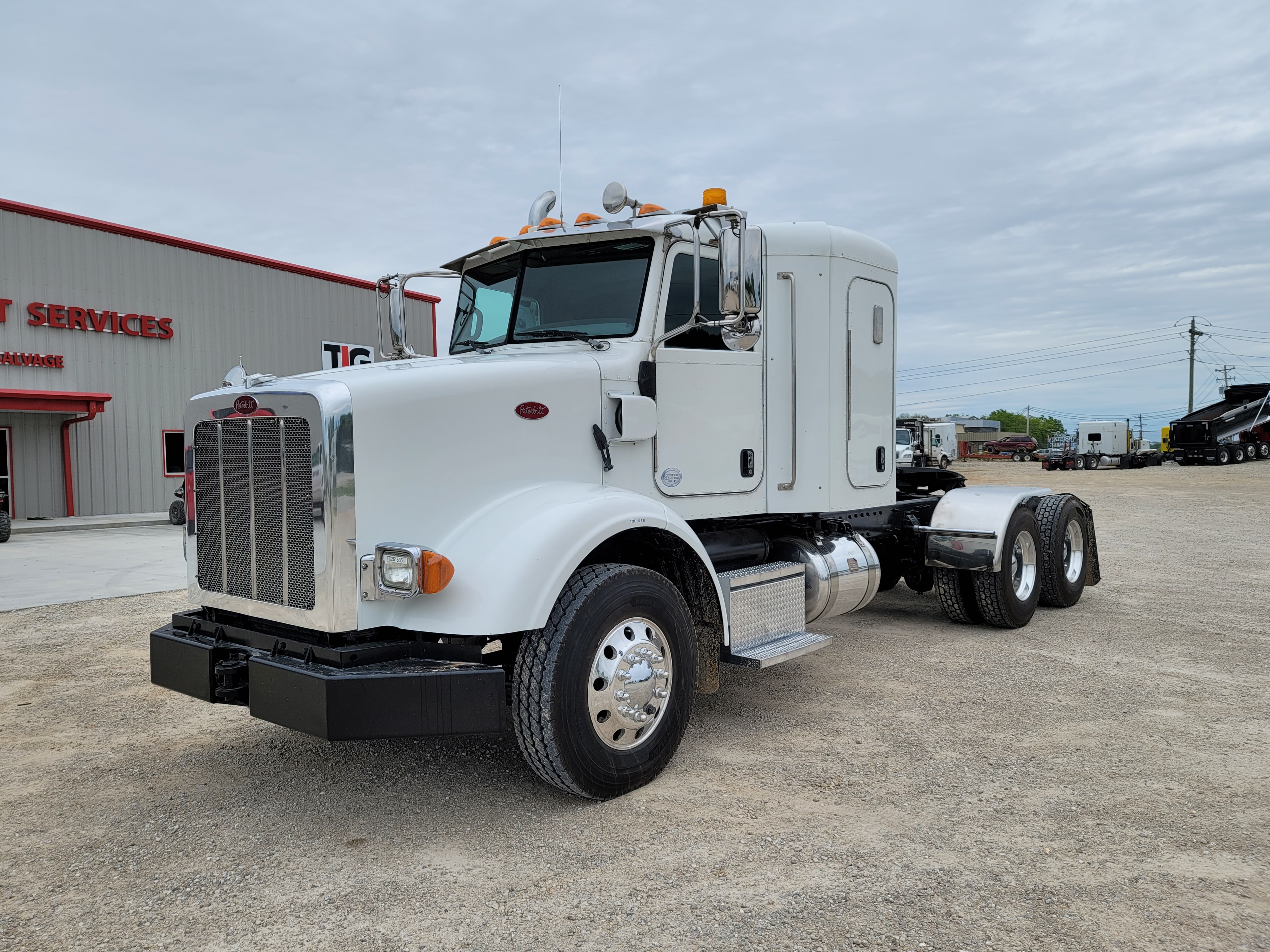 2015 PETERBILT 365
$69,950.00
Stock #FD261535Strafford, MO 417.829.6700
Miles:

33,235

Engine:

CUMMINS ISX 12L

Transmission:

8 SPEED MANUAL

Application:

SLEEPER
2012 PETERBILT 367
$74,950.00
Stock #CD137652Strafford, MO 417.829.6700
Miles:

143,000

Engine:

CUMMINS ISX 15L

Transmission:

8 SPEED MANUAL

Application:

SLEEPER
Peterbilt Financing
Quick Info
We work hard to make sure financing any make and model of truck truck or piece of equipment through TLG Peterbilt is easy, flexible, and has the best potential for returned value. With suitable terms, low down payments, and a variety of lease payment options, our top priority is to provide the financing flexibility your business needs to succeed.
Learn More
Refuse & Bodies
Quick Info
Truck Component Services, a division of TLG, offers municipal and vocational trucks, including refuse and garbage trucks, street sweeping machinery, and septic or sewer equipment. TCS has over 200 salvage trucks in stock for parts. Our heavy duty truck parts inventory spans 25 acres—making our selection and prices unbeatable.
See Inventory
We Buy Trucks
Quick Info
Are you looking to sell your used semi-truck or fleet of trucks? TLG Peterbilt buys all makes and models and is here to help with the selling process.
Sell Your Truck
Sours: https://www.tlgtrucks.com/trucks/LD606784/
579 pictures peterbilt
Peterbilt unveils the next generation of its Model 579
"The main goal was to reduce total cost of ownership for our customers," he added.
Additional updated features include:
Optional LED headlights that are heated to avoid being affected by ice and snow;
Redesigned chassis fairings and optional rear fairings;
Easier access to batteries, fuel tanks and APUs; and
Peterbilt worked with more than 50 of its customers to understand their unique operations and needs and then incorporated their input into the design of the new 579. Validation units have already accumulated 1.5 million real-world miles, combined with durability testing done at the PACCAR Technical Center.
The new 579 will be available for order as of Feb. 4, with production beginning in April.
Fleet Equipment will have more information about the new 579 throughout the week, so keep it tuned to the website to learn more.
Sours: https://www.fleetequipmentmag.com/peterbilt-unveils-the-next-generation-of-its-model-579/
Interior tour of our 2022 Peterbilt 579 Ultraloft (new body style)
Test Drive: Peterbilt's Fuel-Saving Model 579
What more could a driver ask for than to be cruising across the high plains of New Mexico and west Texas at 70 mph with a good tail wind in a Peterbilt Model 579? Such was my task in May, when Peterbilt asked if I wanted to go for a ride in a 579, delivering it from a sales meeting in Scottsdale, Arizona, back to the plant in Denton, Texas.
Seven years have passed since my first drive in a Peterbilt Model 579. That particular truck was built right around the time the model was being unveiled at the Mid-America Trucking Show in March of 2012. The model has only improved with the passing of time.
Designers added the Epiq aero-trim package in 2015, which included a roof fairing bridge to reduce the gap between truck and trailer, enhanced chassis fairings, rubber wheel closeouts on the front wheel wells, a bumper dam and a bumper-to-hood seal to improve the frontal profile. At the time, Peterbilt said that version would be up to 8% more efficient compared to the Epiq-less 579. In 2019, following even more refinements, the Model 579 can now claim to be the most fuel-efficient truck to ever wear the Peterbilt badge.
While the classic-styled Model 389 was top-of-the-heap when the 579 was introduced (and still maintains a very strong following today), fleets and even owner-operator priorities have shifted to more aerodynamic cab designs. The Model 579 was destined to become the company flagship from the moment it was introduced. This drive was a good chance to get re-acquainted.
On the road
I flew out Thursday afternoon and picked up the truck Friday morning. Peterbilt PR Manager Nick Smith and I spent the next two days driving 1,028 miles from Scottsdale to Denton. Our route took us on Arizona Highway 87 from Scottsdale to Payson, then Arizona 260 and Arizona 377 up to Holbrook, where we picked up I-40 eastbound. We ran I-40 east to Amarillo, Texas, where we swung southeast on U.S. 287 and rode that practically right to the Peterbilt factory in Denton.
I don't know what the engineers had in mind when they spec'd the truck's powertrain (see Spec Sheet on page 38), but I suspect it was a fairly generic truckload application, operating on flat to rolling terrain with a cruise speed of 65-70 mph (105-115 km/h) at a gross combination weight of 80,000 pounds or less. At 65 mph, the engine turned 1,100 rpm, just 100 rpm above a seemingly hardwired downshift point. It turned 1,200 rpm at 70 mph, leaving 200 rpm before dropping out of peak torque. I found the transmission hunted a bit while at 65 mph in the rolling hills but held 12th gear nicely on flat ground.
The 455-hp/1,650-lb-ft Paccar MX-13 did better than I expected it would on the 6% and 7% grades through the Mazatzal Mountains in central Arizona. I pulled the grades on Arizona 87 in 8th or 9th gear at 30-40 mph at a gross weight of about 77,600 pounds. Coming down said grades, I ran 7th gear at 1,800-2,000 rpm, toggling the engine brake between first and second position. The 579 has disc brakes all around, so I wasn't worried about stopping. I just wanted to drive the descents as they should be done to see how well the 13L engine held me back.
Overall, driving a Model 579 is a real treat. The visibility is fantastic, it's really quiet (67.2 dB on my iPhone sound meter app), and the Peterbilt air-leaf suspension shakes out all the rough stuff before it gets to the cab and the driver's seat. And I always give top marks to Peterbilt's steering geometry. You can't go wrong with a Sheppard steering gear, and this 579 was no exception. Firm and sure-footed on the highway and not too firm for maneuvering in tight quarters.
The physical aspects of driving the truck are very good, with all the commonly used controls within easy reach. This one had steering-wheel mounted cruise and radio controls. Even the cup holders were in the right place, though the driver's cup holder rattled a little.
My only beef with the dash layout comes from reaching for the headlight switch. Call me old-fashioned, but I still like to flash the lights for a passing driver, and the headlight switch is down low on the left side of the A-panel. To reach it, you have to squeeze your hand between the turn-signal stalk and the grab-handle mounted on the forward door post. Not a deal breaker, just a little awkward.
Living quarters
While I did not spend a night in the truck, I did have a good poke around inside the 80-inch UltraLoft sleeper, and it's all it's hyped-up to be. We had the double-bunk version, and the upper bunk remained stowed except to pull it down to get a few pictures of it. It deploys easily and stows with a fairly light push, as only about a third of the upper bed flips down. In the up position with a single driver, that space turns into storage. Even with the upper bunk in the down position, the space above the lower bunk isn't cramped or claustrophobic.
The wardrobe cabinet on the right side is tall enough to begin with, but the hangar bar is mounted even higher in the cabinet. Drivers can hang even long/tall shirts in there without them dragging on the cabinet bottom.
The microwave cabinet can accommodate a near-full-size appliance, not the little shoe-box sized ovens we sometimes find in trucks. And speaking of larger appliances, the right-hand wall can fit a 32-inch flat-screen TV. That's huge.
The other feature I really liked was the new thermal insulation package. While it's said to maintain the internal temperature longer, it's also a great noise attenuator. It's quiet in there, even parked next to a roaring reefer. It also helps with the road noise generally, making the driving environment extremely quiet. In fact, the external profile of the sleeper, coupled with the aero cab, hood, etc., nearly eliminates wind noise. I was shooting some video while driving, and you could barely tell the difference with the driver-side window up or down. That lack of wind noise is a hallmark of a well-designed, aero-shaped cab and sleeper.
This was the longest run I've made since I stopped driving in 1998. With two 500-mile days, I probably deserved to be tired at the end of the shift, but I wasn't. That's a walk in the park for most drivers, but I'm fat and happy now behind my desk and rarely get any more than a few hours in a test truck. The 579 is a very nice truck to drive, and I turned my back on it wanting a little more as I walked away.
Sours: https://www.truckinginfo.com/336438/test-drive-peterbilts-fuel-saving-model-579
Now discussing:
As always, a friend drove us to the gate in a minibus and took the guys. Gave some instructions and left. We began to walk slowly through the forest towards the camp. A woman I knew well was with me. Her name was Irina, she was 43 years old.
800
801
802
803
804