The various types of weapons in the Free Fire game have their respective strengths and weaknesses so that no weapon has the same degree. For example, the M79 free fire weapon for close range. How to Use the Deadly Weapon FF M79 in Free Fire?
If you use weapons and attach attachments correctly. Then this weapon will be very deadly even though it is classified as a weapon at the middle or lowest level.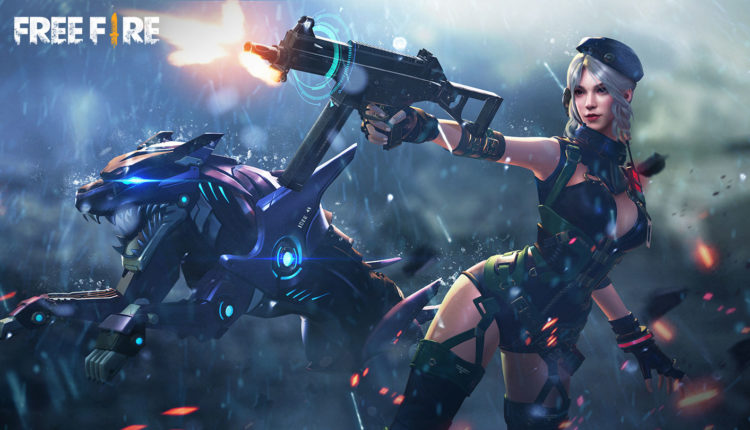 We will explain one of the weapons that you can easily use in battle. Even though this weapon is rarely used by many Free Fire players. This weapon has enormous damage and can make enemies who are gathered can be knocked. When you shoot a few times if you hit. What weapon is that?
FF M79's Deadly Weapon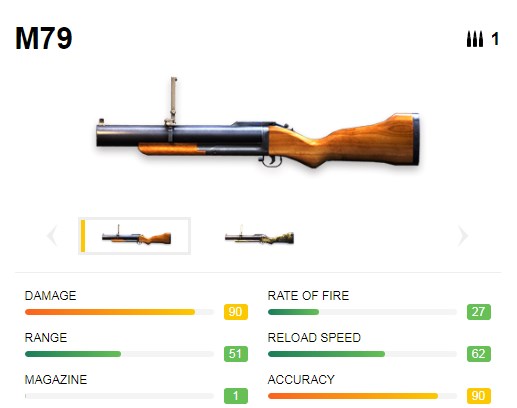 M79 is a weapon that is included in the grenade launcher or commonly called this launcher which has enormous damage and is a very deadly weapon in the game.
Using Deadly Weapons FF M79 in Free Fire
Pay attention to where the enemy is going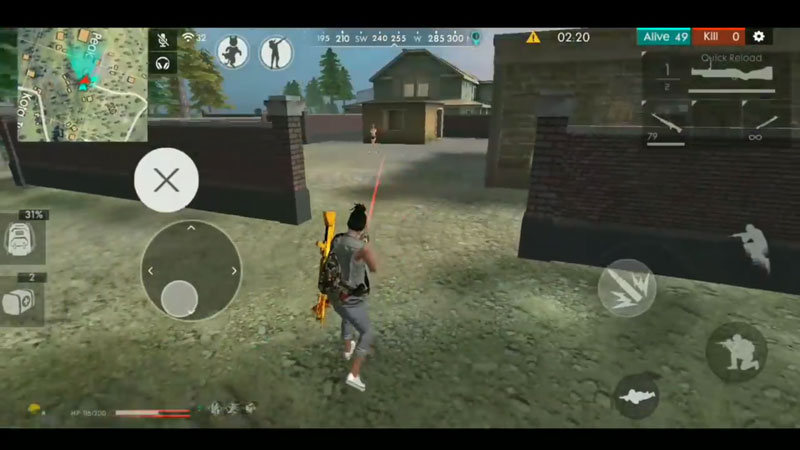 This is quite important, because if you point this weapon down, there will be a red line curving downwards. This line indicates where your bullet will fall when you shoot it, therefore you must always pay attention to where the bullet will fall so that your shot becomes more accurate than before.
Making use of the blast radius of the M79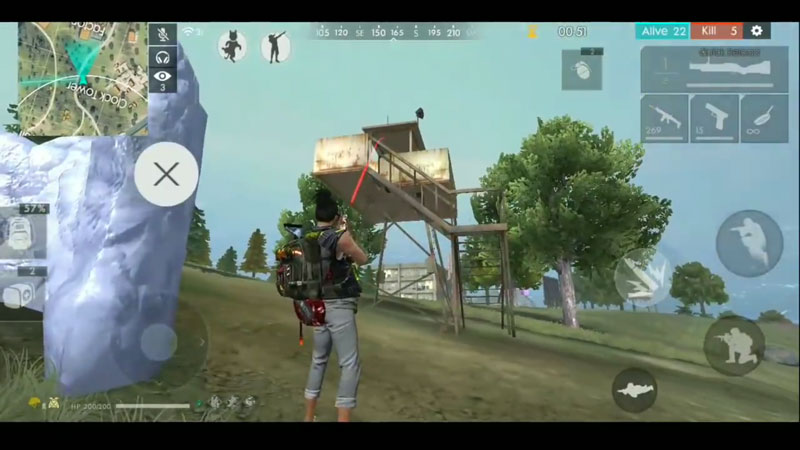 When using the deadly weapon FF M79 in Free Fire, it will explode if it is hit by something. Even if it was the Wall or the Body of the Enemy. This explosion can deal great damage and can flatten many players quickly if it hits right when they are gathering for protection.
Even though the damage caused to the enemy is also large, you shouldn't shoot it down or near you, because this can get you killed too later, so be careful.
Equip with spare weapons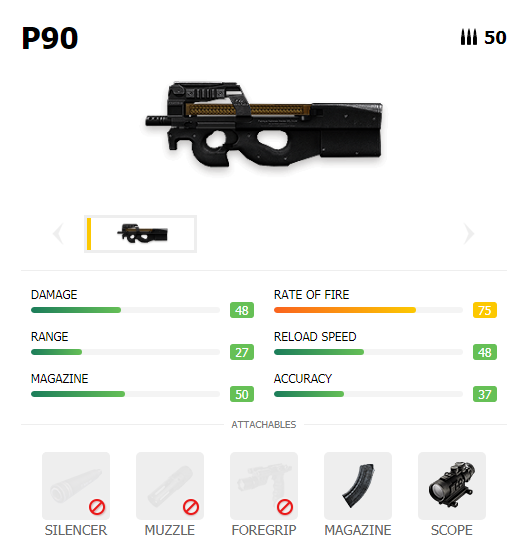 M79 is indeed a weapon that is quite painful and has enormous damage. However, you also have to prepare other reserve weapons so that you can overcome close combat.
If you shoot the enemy using the M79 from a short distance, chances are you will also be hit by the damage that results from the M79 bullet explosion. This can make both of you die by the explosion. Examples such as the P90 melee weapon.
Very effective for finishing off enemies who take cover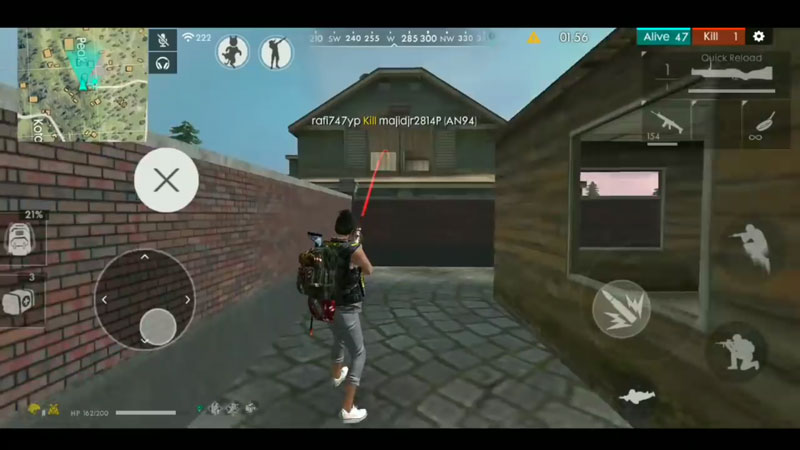 Enemies who are doing protection behind walls and trees will still be threatened because this M79 weapon can still eat them all.
You can take advantage of this situation easily, because if you take advantage of the explosion from this weapon to kill the enemy who is taking shelter behind the Gloo Wall, in a material guard tower in a room.
There is no safe place for the enemy, if you use the M79 properly.
Those are some tips for using deadly weapons FF M79 in Free Fire. Even though this weapon has great damage, it is not necessarily the determinant of whether you win. You also need to understand this weapon properly, and don't forget to BOOYAH!
Sours: https://jalurnyaman.com/using-deadly-weapons-ff-m79-in-free-fire/
Top 5 Best M79 Skins In Free Fire
The M79 is the weapon with the most power in Free Fire. It is a grenade launcher, which means it can deal massive damage in a big AOE with only one shot. With the rise of Chrono in this patch, the M79 has been using more by everyone to counter his skill.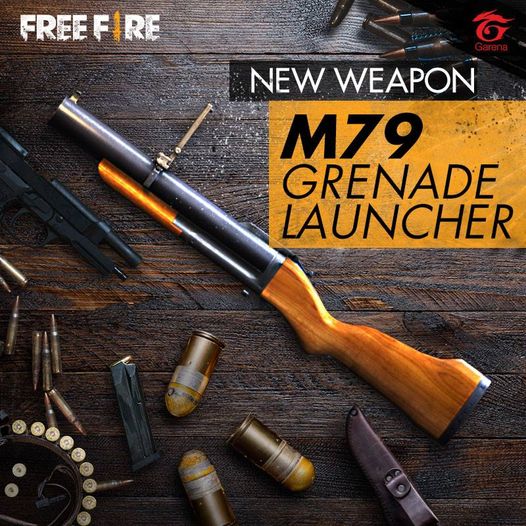 To make it even more powerful, you can equip it with different skins. Here are the best 5 M79 skins in Free Fire you should use.
5. M79 Deadly Bat
M79 Deadly Bat's Stats
Rate of Fire+
Magazine+
Reload Speed-
M79 Deadly Bat is a rare gun skin that provides an extra rate of fire and magazine capacity while reducing the reload speed of the weapon. While the rate of fire buff is not very important, the magazine increase is quite helpful in combats.
You can get the M79 Deadly Bat skin from the Deadly Bat Weapon Loot Crate in the shop for 35 Diamonds each crate.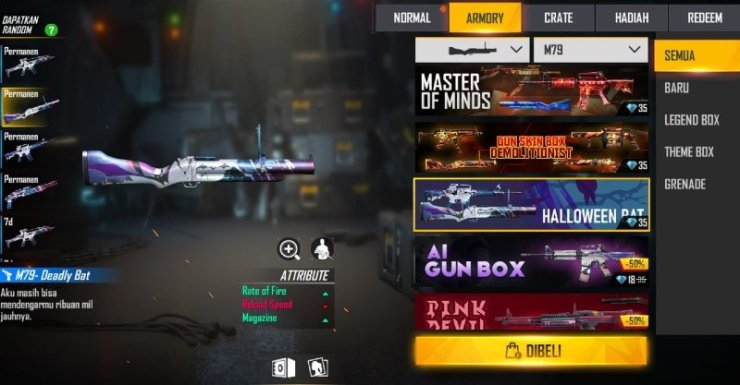 4. M79 Master of Minds
M79 Master of Minds' Stats:
Damage+
Range+
Rate of Fire-
The M79 Master of Minds provides more damage and range for the launcher while reducing its rate of fire. This helps the weapon to deal more damage to the enemy from a safer distance while the reduced rate of fire won't matter much.
You can get the M79 Master of Mind in the shop from the Master of Minds Weapon Loot Crate for 35 Diamonds each.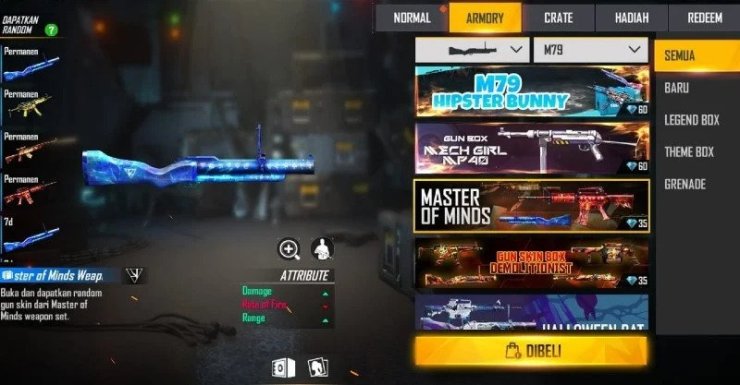 3. M79 Pink Devil
M79 Pink Devil's Stats
M79 Pink Devil only has one buff but it is a very useful one. The skin increases the magazine size of the weapon while reducing the Reload Speed by a little bit. The M79 only has 1 bullet by default so having a Magazine ++ is extremely helpful.
You can get the  M79 Pink Devil gun skin in the shop from the Pink Devil Weapon Loot Crate for 18 Diamonds each.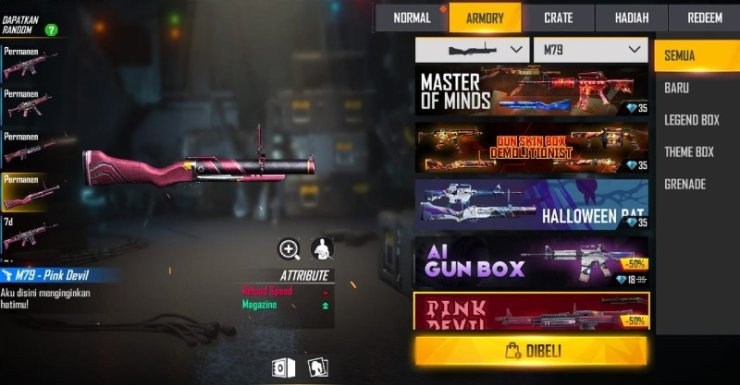 2. M79 Hipster Bunny
M79 Hipster Bunny's Stats
Range++
Magazine+
Reload Speed-
The M79 Hipster Bunny is legendary skin that gives you 2 buff in Range and buff in Magazine while reducing the Reload Speed. As mention above, Range and Magazine are 2 very useful stats for the M79, making it more reliable.
The M79 is more expensive than the above skin though because you need to get it from the Hipster Bunny Weapon Loot Crate in the shop, which cost 60 Diamonds each.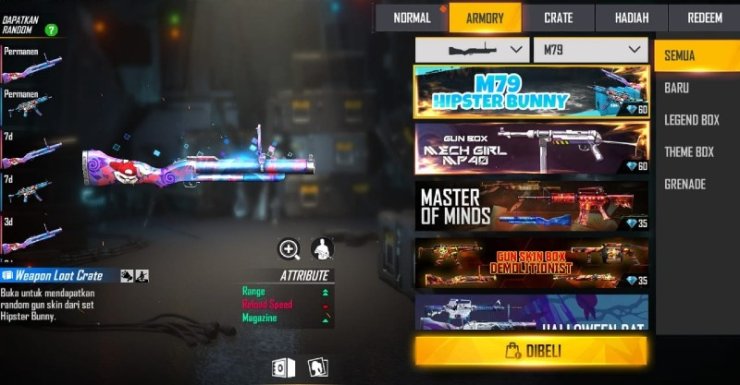 1. M79 Midnight Mafia
M79 Midnight Mafia's Stats
Damage++
Magazine+
Movement Speed-
The M79 Midnight Mafia is the newest M79 skin in Free Fire and it is also the strongest one. Not only this skin give the weapon a big damage boost, but it also increases the magazine size at the expense of movement speed.
However, this skin only available at certain events in Free Fire and not in the shop.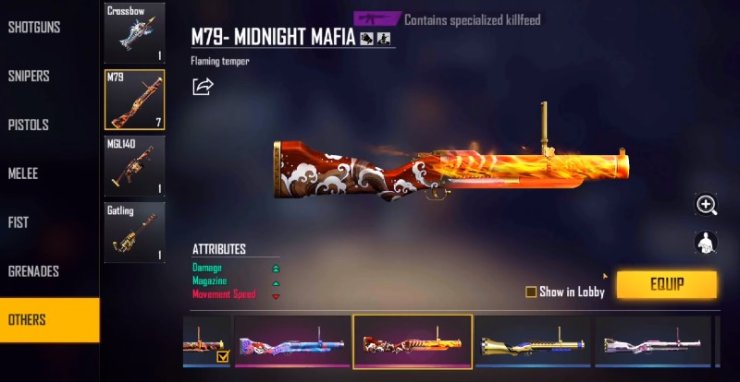 Also check out: Predatory Cobra MP40 Ability: Everything You Need To Know About New Free Fire MP40 Cobra Evolution Skin
Next storySours: https://gurugamer.com/mobile-games/top-5-best-m79-skins-in-free-fire-15981
6 spots for the latest M79 grenade launcher Free Fire Season 9
Previously we had written an article about strategic location points for the M79 in Respawn. As this article is out of date, we will update to the latest version. M79 is now nerfed (Nerf is a balancing game that means weakening or reducing the value of an item, character, skill or other). But even though the M79 has been nerfed and can be countered with a level 4 vest, this M79 weapon is still OP, for some reason Garena is still loyal to that weapon, even though many parties disagree with the M79 oh yeah , another in the current and previous seasons, M79 was reduced for the place of response. But we'll discuss the ideal spots for the newest M79 location:
TO UPDATE : Why Garena didn't remove the M79 grenade launcher weapon
1. Peak Down The Soap House



This location is very strategic as there are only 3 buildings in the Soap House, namely the Small Warehouse, the Wooden House and the Soap House itself. In fact, M79's reaction in the past has been the same in Season 4, except for the M79's location. The Soap House and these two houses are places for the Kar98 sniper, suitable for those of you who pursue Elite Pass missions.
2. Peak-down robot house
The second location for the M79 Grenade Launcher Spot on the Peak is found among the people who often call it the House of Robots. A large 2-story house where the loyal Rushers descend to the Peak to hone their skills in both rank and class.
3. Milky Way Stripe
As the third location in this latest update, we can find the location of M79 in the Milky Way, usually in an unframed house. Sometimes it is also random, but the chance of appearing in the Milky Way is very good considering that the place is a hot zone or a popular place for rushers and barmans.
4. Hangars in container containers
The fourth location of the Bermuda M79 is the hangar, this M79 is usually in a stack of containers or containers. Aside from the grenade launcher, this place is narrow but has pretty good loot, usually there is an AR scar weapon.
5. Mars Electric in warehouses



The fifth place M79 responds is Mars Electric. Why is this place a favorite for the newest season because if we analyze it. Look at the analysis, M79 will be in crowded places such as the Milky Way and the summit, the above two places have a very big M79 respawn chance. Likewise with Mars Electric in ranked mode, if your squad goes down here, there will of course always be someone to accompany you, as Mars Electric's loot is pretty close.
6. Sentosa wooden houses



A secluded spot of prey, Sentosa is a location on the Bermuda map that has the richest prey of any other location. It consists of 3 parts, Sentosa Tengah (the best loot), Sentosa Right (near the beach), and Sentosa Left (which goes straight to Cape Town). Well this Sentosa has a pretty big M79 response. Grenades are usually available in wooden houses, but it also depends on the line of the aircraft.
These are the 6 places to check for the latest M79 locations. For Season 9 of 2021, M79's number of respawns has now been reduced so that they are completely random. When a squad has this weapon, it can be the key to winning the team to get into the top 10 in ranked mode. This latest M79 update has been reviewed by Chanel Fimera on Youtube, so don't forget to subscribe to the channel, don't hesitate to request the latest tips from the channel. We're adding the youtube link to make the latest M79 location updates easier to understand
Update the location of the latest M79 grenade launcher, Weapon Free Fire



Sours: https://www.hukum96.com/2021/07/6-spots-for-latest-m79-grenade-launcher.html
EL MEJOR JUGADOR CON LA LANZA PAPAS M79 DE FREEFIRE - Florta Games
4 Tips to Counter the M79 Weapon in Free Fire (FF)
The M79 is a really powerful grenade launcher in Free Fire. This weapon is capable of killing a whole squad, if you have the chance. The explosive damage is really dangerous for the target. Which is why, we will explain you on how to properly counter this weapon. So here we have some tips to counter the M79 Weapon in Free Fire that you need to know.
4 Tips to Counter the M79 Weapon in Free Fire (FF)
Find cover immediately
In Free Fire map, there are many places that you can use as cover from the enemy. As you move around, make sure that you're staying away from open field. If you're in an open field, there is a chance that you will be an easy target for the enemy. Especially for the enemy using the M79.
The M79 is a dangerous explosive weapon that can easily kill you, even from a distance. Which is why, if the enemy is shooting at you with the M79, you need to find cover immediately. If you don't, the explosive damage will have a high chance of getting into you and it will kill you easily.
Use a long range weapon
Using a long range weapon can be useful to counter the M79 in Free Fire. The M79 is a grenade launcher type of weapon. And this weapon is best in mid range battle. In long range battle, it is not as effective anymore. So if you find an enemy using the M79 trying to kill you, try to stay away from them. Find some distance, and use your sniper rifle to kill them easily. This is one of the safest way to counter the enemy with the M79 in Free Fire.
Keep moving
Due to the explosive round that the M79 has, staying in one place or a building can be really dangerous for you and your team. There is a chance that this weapon will obliterate your squad, if you're staying together in one room or a place. So try to keep moving as you battle your enemy that is using a M79 in Free Fire. And make sure that you don't bunch up with your friends, because the enemy will be able to kill you easily that way.
Rush your enemy
Other than long range counter attempt, the opposite also works if you want to. You need to know that the M79 is also weak in close range. If you get close enough to your enemy, the M79 will also be dangerous for your enemy as well. If you rush an enemy with the M79, he will not use that weapon anymore and it will be easier for you to kill your enemy by rushing them right away.
And that's some tips to counter the M79 in Free Fire that you need to know. Be sure to follow esportsku on instagram for more tips to come!
Sours: https://en.esportsku.com/en/4-tips-to-counter-the-m79-weapon-in-free-fire-ff/
Fire m79 free
M79 Launcher Best Video 2021 Duo Vs Squad Unbeatable Gameplay Garena Free Fire
Home » M79 Launcher Best Video 2021 Duo Vs Squad Unbeatable Gameplay Garena Free Fire
Author By : Sanjoy Das | Posted 1 day ago
M79 Launcher Best Video 2021 Duo Vs Squad Unbeatable Gameplay Garena Free Fire Sanjoy Das You can not broadcast them. You could sign up by yourself on Jamendo Group and overview and share your thoughts on the location. Youll be able to normally generate a donation to your favorite artist for that observe you love by far the most. MusiXnergizer
Although it has the term "absolutely free" in its title, royalty totally free tunes are not often gratis. In an effort to lawfully use royalty free of charge tracks, you should buy them.
Next →
Related M79 Launcher Best Video 2021 Duo Vs Squad Unbeatable Gameplay Garena Free Fire
M79 Launcher Best Video 2021 Duo Vs Squad Unbeatable Gameplay Garena Free Fire, Unless of course you are a vinyl connoisseur, odds are your Bodily music assortment is rather sparse. And unless you have managed to maintain your iPod from giving up the ghost, you almost certainly are not exactly swimming in MP3s possibly.
M79 Launcher Best Video 2021 Duo Vs Squad Unbeatable Gameplay Garena Free Fire, The outcomes appropriate for the tunes will likely be loaded promptly. The 2nd a single is Similarly uncomplicated. Providing you know the place to copy and paste a songs URL, you happen to be fantastic to go.Mark Harris is often a previous writer for Lifewire who wrote with regards to the digital new music scene and streaming tunes products and services in a straightforward to know, no-nonsense fashion..
Popular search
Sours: https://meet-seva.btp.ac.id/m79-launcher-best-video-2021-duo-vs-squad-unbeatable-gameplay-garena-free-fire.xhtml
5 TRUCOS SECRETOS PARA DOMINAR LA M79 AL MAXIMO - M79 TRUCO REVELADO - ZenSoto
How to get new Midnight Mafia M79 gun skin in Free Fire
Gun skins not only serve as decorative items in Free Fire, but they also boost a weapon's stats in the game.
The new Midnight Mafia M79 Box Loot Crate recently made its way into the game, providing players with an opportunity to obtain the exclusive Midnight Mafia M79 gun skin.
This article provides a guide on how to get the new Midnight Mafia M79 skin in Garena Free Fire.
---
Also read: Amitbhai (Desi Gamers) vs Miss Diya (BlackPink Gaming) in Free Fire: Headshot percentage, win rate, K/D ratio, and more stats compared
---
How can players obtain the new Midnight Mafia M79 gun skin in Free Fire?
The official social media post announcing the arrival of the Midnight Mafia M79 Loot Crate in Free Fire reads:
"Survivors! The M79 Midnight Mafia skin is now available in store! Get the powerful M789-Midnight Mafia gun skin from the in-game store today and battle your way to victory in every game!"
The loot crate consists of the following items:
M79- Midnight Mafia
P90- Midnight Mafia
M79- Midnight Mafia (7d)
P90- Midnight Mafia (7d)
M79- Midnight Mafia (3d)
P90- Midnight Mafia (3d)
M79- Midnight Mafia (24h)
P90- Midnight Mafia (24h)
The crate costs 40 diamonds. However, it is crucial to note that players aren't guaranteed to obtain the Midnight Mafia M79 gun skin.
Players can head to the armory section of the in-game store to acquire the loot crate. Here are the chances of the crate dropping different items:
Epic items drop rate: 1%
Rare items drop rate: 2%
Trial card drop rate: 97%
Players can follow the steps given below to purchase the Midnight Mafia M79 box from the in-game shop:
Step 1: Players must first open Free Fire and tap on the "Store" icon located on the left side of the lobby screen.
Step 2: Next, they should tap on the "Armory" section and click on "Midnight Mafia M79 Loot Crate."
Step 3: Players should then click on the "Purchase" button. A dialog box will appear, asking them to confirm the purchase. They should press the "OK" option.
Also Read
---
Also read: Aghori Gaming's Free Fire ID, monthly earnings, annual income, YouTube subscribers, India rank, and more
Edited by Rachel Syiemlieh
Sours: https://www.sportskeeda.com/free-fire/how-get-new-midnight-mafia-m79-gun-skin-free-fire
Now discussing:
Looking for the best M79 Gun Skin in Free Fire (FF)!
Hello Buddy Booyah!
In addition to SMG, AR, shotgun and sniper weapons, Free Fire also presents launcher weapons. This type of weapon carries deadly explosive power as its main force, making it quite fearful.
The M79 is the forerunner of the throwing weapon. Nicknamed the M79 as a weapon, the M79 has terrible power and can instantly kill a squad.
Also Read: Siren Esports Follows NGid Esports Qualify for the Play-Ins FFIM 2021 Spring and FFML Season IV Division 1!
Also read: Gun Skin Thompson – Lucky Koi, best Thompson FF Skin?
On this occasion, BOOYAHCOID will invite Buddy Booyah to discuss the existence of M79 in Free Fire, accompanied by several choices of the best Gun Skins. Check out the following review!
The presence of the M79 Senjata weapon
As mentioned above, the M79 is a launcher type weapon with a large area of ​​damage from the resulting explosion. However, using the M79 is not that simple.
Controlling the M79 requires careful calculation and good aiming accuracy so that it explodes straight at the enemy and gives maximum results.
However, the presence of Vest Lvl 4 and Chronos Ability M79 can counter, so that it does not necessarily have to overthrow the enemy with a bullet. On the other hand, the weakness of the M79 lies in the very limited number of projectiles. So far, the lack of M79 is in Damage and Magazines.
Using multiple bullets to take down a single enemy is definitely ineffective. Because the limited number of bullets does not guarantee the success of the respective attack.
Well, to cover the lack of M79 weapons in terms of damage and magazine, Buddy Booyah can take advantage of the following weapon skins.
M79 – Midnight Mafia
The newest weapon skin, taken from the Bullseye event, has an additional 2 points on damage stats. Of course, the increased damage makes the M79 weapon even more deadly.
Adding a dot to the magazine ensures that Buddy Booyha has enough bullet slots to keep inflicting deadly explosions on opponents. This skin is pretty deadly.
M79 – master of the mind
For the weapon skin of second choice, M79 – Master of Mind with a one point increase in damage is considered sufficient to increase M79 Buddy Booyah's strength.
The extension of the range can be called pretty good as it can attack the enemy from a normal distance, not too close or not too far, so the results are maximal.
M79 – Deadly Bat
By increasing the rate of fire and magazine by one point, this time M79 – Deadly Bat is on the list. The speed of the M79 bullet must also be taken into account. Bullets that land quickly on the enemy minimize the enemy's chance of escape.
Thanks to the improved magazine, Buddy Booyah no longer has to waste time reloading. Even if it doesn't do any harm, that skin still is It is worth it own.
Well, that's a little discussion of the M79 and some gun skins that are the right choices for the M79, which is dominated by the Common Gun Skin. Does Buddy Booyah have different views on the M79 weapon?
---
Don't want to miss any other interesting information about Free Fire? Don't forget to follow Instagram, Facebook, and Youtube from BOOYAHCOID!
Sours: https://www.fingka.com/2021/09/looking-for-best-m79-gun-skin-in-free.html
6551
6552
6553
6554
6555