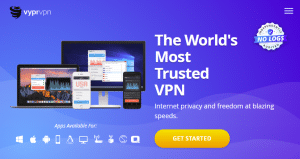 Privacy cowboys are back
There's something I particularly like about the old West.
As a kid, I remember often fooling around on grain fields, pretending to be a cowboy. I wore a toy revolver, a gallon hat, and my father's leather jacket. It was mostly for fun, but also because I thought this is what adults do (credit goes to Clint Eastwood). And after a few hours of daily banging, I got back into my natural habitat – behind a computer.
So, here I am writing to you the review on VyprVPN.
Bang bang! Let's get started!
VyprVPN synopsis
| | |
| --- | --- |
| Ranking: | 37#/52 |
| Parent company: | Golden Frog GMBH/Golden Frog Inc |
| Jurisdiction: | Switzerland/the United States |
| Locations: | 63+ countries/700+ servers |
| Overall test result: | SAFE |
| Torrenting: | PASSED (Torrent allowed) |
| Netflix: | PASSED (Unblocks Netflix 2/3) |
| Encryption/protocols: | AES-256/IKEv2/L2TP/IPsec/PPTP/Chameleon/OpenVPN UDP & TCP |
| Support: | E-mail response ~25h/Live Chat (24/7) |
| Cost: | $2.50/mo |
| Official site: | www.vyprvpn.com |
☒ Third-party trust – company profile
VyprVPN is a VPN service founded in 2009. Its legal entity Golden Frog, Inc. is a cybersecurity group in Texas and Switzerland.
The first question that pops into my mind: In which jurisdiction is it? – Switzerland or the U.S? Because one is part of 5 eyes alliance and the other one is not.
…Sort of.
Golden Frog GmBH is incorporated in Switzerland and therefore has favorable privacy laws. All of their customer data is stored near the Alps and hosted on their own.
But, what did I mean by Switzerland being sort of part of 5 eyes?
Switzerland is a 5 eyes partner and therefore in some cases willing to co-operate with foreign authorities.
And why does Golden Frog have a presence in Texas?
According to their founders Ronald and Carolyn Yokubaiti, it's because Texas is where they got started.
VyprVPN is only one of their brainchildren. The couple in their 70s are Internet veterans who have been in business since 1994. Their ventures include Texas.net (ISP), Giganews (Usenet provider), and Data Foundry (data center and colocation/managed services).
Goldenfrog, Inc. personnel are located in the Austin office and so are some of their servers. Their servers previously used to retain logged data for 30 days including:
customer IP
assigned IP
connection timestamps
bytes used
Yet this has changed.
…What exactly? – Bear with me.
☑ Logging policy seems trustworthy
Last year when we performed the first tests, VyprVPN was still one of the data logging VPNs.
According to an independent audit by Leviathan Security Group, Inc. Golden Frog has fixed all high and medium severities discovered. As a result, the user can now be sure that VyprVPN does NOT log your data.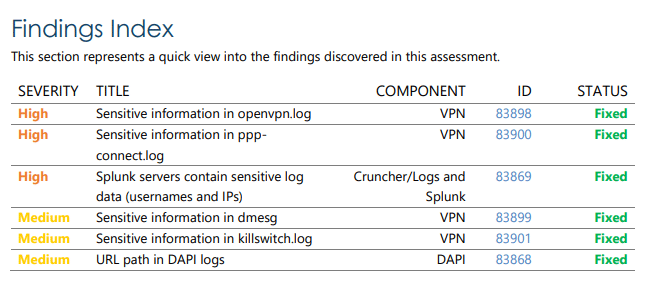 We're glad to hear that. Great job!
And if you are interested in Golden Frogs internal spirit, here's an explainer on the architecture and previous risk diagram: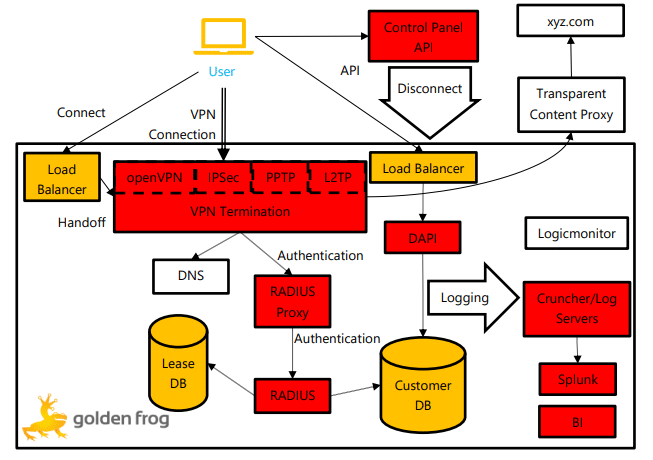 Red indicates a major threat in that the component has full data on the users' activity and can log it. Orange indicates a minor threat in that the component has some user data that could be logged.
Just to be sure the audit is the real deal we did a quick background check on the security firm. This is what we found:
Leviathan Security Group, Inc. is an IT company in Seattle. They have ~28 employees and have been awarded by the US Defence department programs twice:
Creators of an image exploitation detecting system for DARPA (The Defence Advanced Research Project Agency)
Received $143,300.00 for malicious behavior detection tool for high-risk data types (DetChambr)
Looks legit to me. Let's move on.
☑ Setup is quick and intuitive
The setup is fairly intuitive. The first thing to do is to check whether your device is compatible with the service.
Thankfully, a wide range of devices are supported including Windows, Mac OS X, Linux, Android, iOS, and Blackphone. In addition to desktop and mobile phones, you can use it on routers and enjoy smart TVs like Apple TV and Android TV.
If it might be a fit for you, let's move on to subscription plans
You have 4 options – Vyprvpn Standard or Premium plan, VyprVPN for Business, and Business Premium Cloud.
Business clients can have their whole team using it and Business Premium adds the additional possibility to use an account through cloud servers. These packages require customized price inquire by e-mail.
For personal use, the pricing of packages is much clearer.
The Standard plan includes 3 simultaneous connections and costs $60 / 2 years. One thing we immediately recognized and dislike is the fact that you cannot pay for the service on monthly basis but have to buy it the whole year upfront… I will come back to that later.
The Premium plan costs $80 / billed yearly and includes 5 simultaneous connections plus extra features like:
+ Chameleon Protocol (for VPN blocking and throttling)
+ VyprVPN Cloud (controllable dedicated cloud server, this one saves you from configuration pain with platforms like AWS, DigitalOcean, and VirtualBox
As mentioned earlier, yearly billing is a huge con because it puts the user at risk. Maybe you end up totally disliking the software? And that's not it. You can't even ask for a refund. (theoretically)
Okay, wait a minute. It's more complicated than that.
You can, but you can't. This is the easiest way to say it. There are two ways it can go: You either have a 3-day trial or a 30-days money-back guarantee.
Apparently, each user sees the page a bit differently. According to their support, it depends on different things, the location is one of those. Here's a screenshot of our conversation:
However, an extremely dislikable part was that the customer support didn't even know how it worked. Even if I asked him if he could figure it out or forward me to a technician, he assured me that it's not going to happen: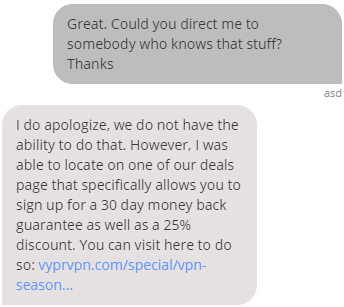 Okay, what about payment?
There are 3 ways to pay, and it doesn't include cryptos. Bummer! Either use a credit card, PayPal, or AliPay. Suit yourself.
Downloading took only a few seconds thanks to the super small file size: only 5.25 MB! Once downloaded, the Virustotal web tool helped us to perform a malware check. And it's looking good:

☑ Great usability
I have seen some ugly user interfaces. The worst one is the VPN Gate by the University of Tsukuba… Complex and unintuitive, I felt like I was thrown into an 18th-century hedge maze. Not a good choice for laymen.
VyprVPN has got it right. Large connection button, simple navigation, and logical structure. Servers are categorized and easy to find. While using it for 5 days, I didn't reckon any connection or software bugs whatsoever. The only complaint would be the tiny settings button under exit. A bit difficult to hit this one on a small screen.
And speaking of servers.
VyprVPN manages 700+ independent servers in 63+ countries. According to their website, users have total access to 200 000 IP addresses. It's not bad considering the market average, which is around ~40 countries.
☑ Connection test in China was successful
If you are a frequent traveler like me, you want to make sure VPN has your back everywhere you go.
China has an unusual approach to the Internet. Apparently, they don't enjoy Western cowboy movies as much as I do.
China has blocked a large number of websites like Google, Youtube, Wikipedia, and not only. Even most of the VPNs blocked. Thankfully some VPNs still work and we were eager to find out if Vypr is one of them.
Let's imagine you are already walking on a Great Chinese Wall and discover you have some business to do.  You usually use Gmail and only know the client's e-mail address. Would you be able to access VyprVPN site, download the app, and access Gmail?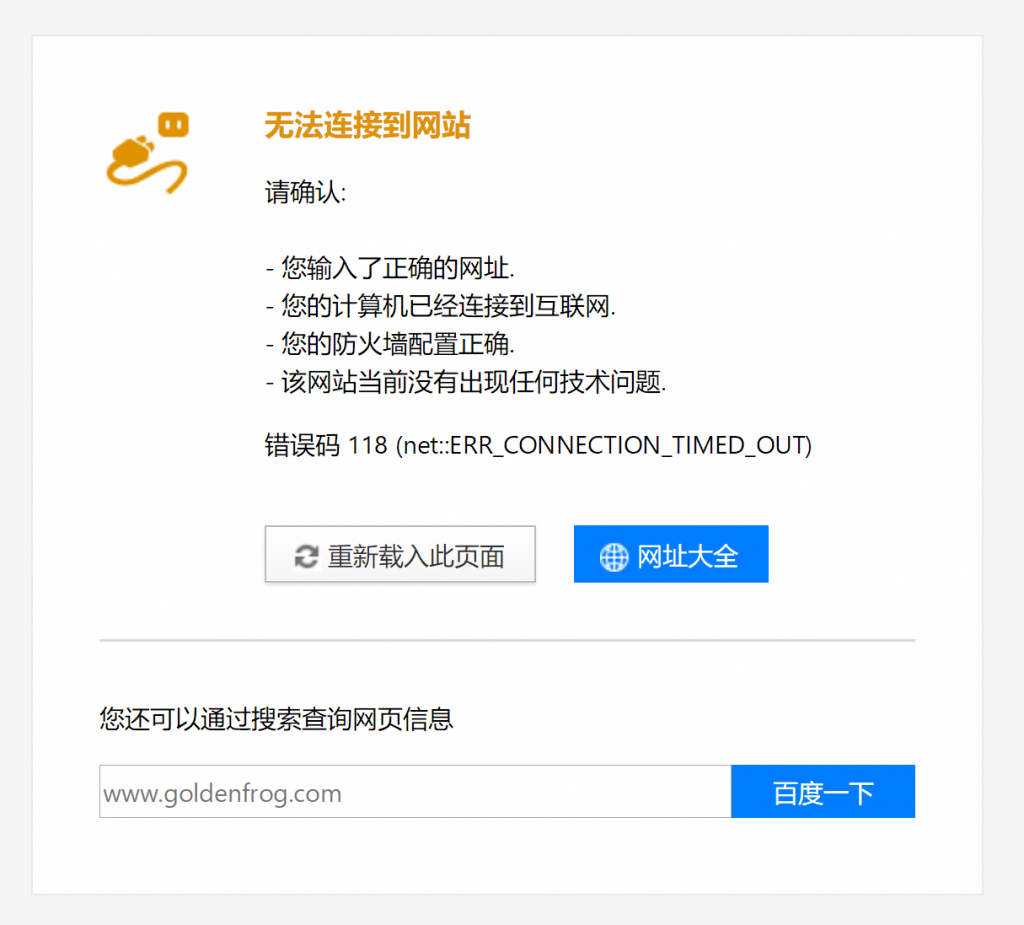 Nope, it's blocked. But if you have the account ready and software in your device before arriving in the country, then I have good news for you…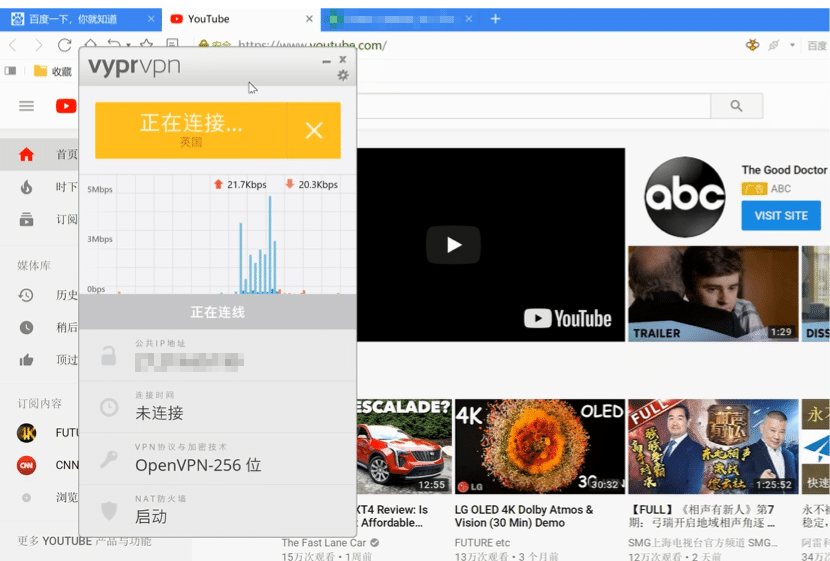 VyprVPN software works in China while using China Unicom ISP. The connection was successful and surprising as only 12 VPNs out of 51 do work.'
☒ Slow server speeds
VyprVPN server speeds rank as 44 out of 51. Although nothing much needs to be added, we'll briefly explain the background.
Each service we review gets tested with 3 servers around the globe – The United States, The United Kingdom, and Asia (Tokyo or Hong Kong). Keep in mind that the server speeds vary due to your geographical location and usable server. Here are the results of VyprVPN:
| | | | |
| --- | --- | --- | --- |
| Country | Ping | Download | Upload |
| U.S | 1161.11% | -85.16% | -60.58% |
| U.K | 461.11% | -83.48% | -29.82% |
| Asia | 1461.11% | -87.78% | -10.53% |
Download speeds are probably the most important for you to consider, as it influences the user experience while streaming videos and loading websites. The results were not good at all. As a comparison, ExpressVPN, one of the key players on the market decreases your download speeds only by -5% to 25%.
☑ Streaming Netflix and torrenting
Streaming can be limited by the host. For example, Netflix blocks certain IP addresses and doesn't allow users to watch movies out of their geographical region. Here, VyprVPN comes in handy, because 2 out of 3 randomly tested servers worked fine: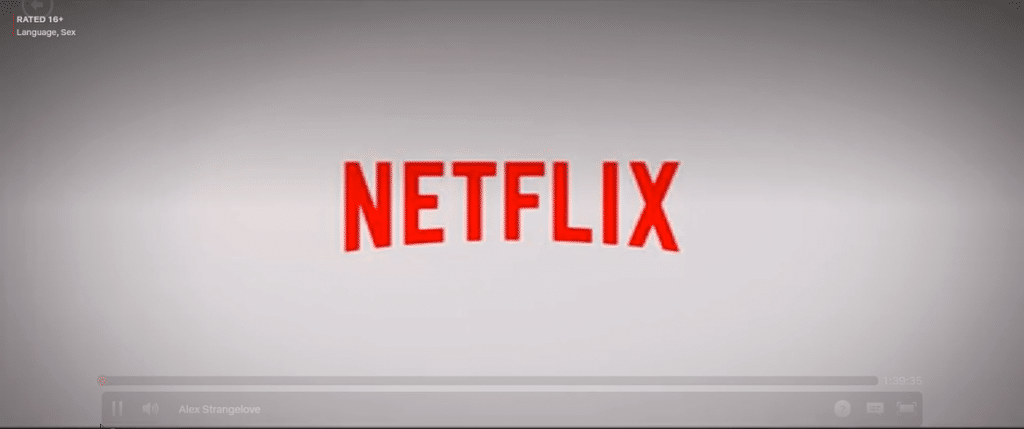 Another great thing about VyprVPN is that according to the provider: torrenting is available. Let's try to download copyright-free Jon Waynes "The Lucky Texan":

Not the greatest speed yet works like promised.
☑ Encryption and protocols
Finally, arriving back to the most important part – security. VyprVPN is equipped with military-grade AES 256-bit encryption. AES-256 stands for Advanced Encryption Standard and is used by Defence Agencies for highly sensitive data around the world. Encryption comes with different protocols and varies by speed, safety, and overall performance. Let me illustrate:
Encryption is like a door and protocols are the pins inside the lock. You have to choose between different materials: sliding plank for old barn door (robust yet vulnerable as everybody knows how it works), a metal lock with pins (much more modern yet a locksmith can easily enter) and smart locks (complex, requires high knowledge and skills).
VyprVPN protocols:
PPTP – The only advantage is speed. Not good for safety can be easily blocked.
L2TP/IPsec – Suffers from limited ports. Hackable, but can be ok for casual use.
IKEv2 (Manual setup and iOS only) – Useful if you're constantly switching connections. Stable. Good choice for travelers.
OpenVPN – an Industry standard. Highly recommended due to great speeds and security
Chameleon™ – VyprVPN's own protocol, that uses unmodified OpenVPN 256-bit protocol and scrambles the metadata to prevent DPI, VPN blocking and throttling.
☑ No DNS leaks found
During our study in 2018, 22 VPNs out of 51 leaked your DNS. DNS – Domain Name Service is what converts hard-to-remember IP address numbers into a hostname. DNS leak is what happens if the VPN tunnel fails to prevent DNS information from going out of the tunnel. There is one simple method to test it, we are going to use 5 web tools while connected to the service servers. Here's the result: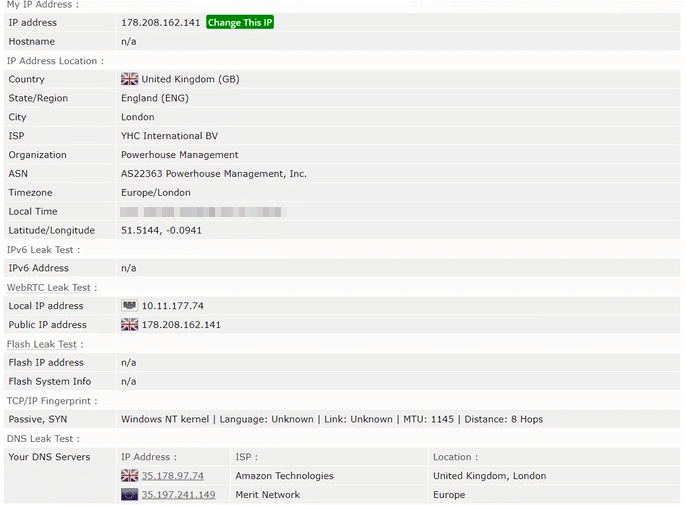 All other engines showed the same results. We can safely say that during our tests, VyprVPN didn't leak any DNS data.
VyprVPN review conclusion
Do we recommend VyprVPN?
Unfortunately, the reality is not black and white as an old movie. If you handle highly sensitive data in the banking industry, run a competitive company or just have blessed with a high level of paranoia, it wouldn't be your best option. This is because Switzerland is not a privacy haven, your payment data is not anonymous. In addition, the server speeds will likely disappoint you.
However, if you are looking for a VPN for regular use like unblocking content, streaming movies, and changing your virtual location to anonymously review your boss, good old Texan has your back.
NB: We would like to hear about your experience with VyprVPN. VPN test it now!
Write your VyprVPN review below
Was this page helpful?
YesNo
Sours: https://vpntesting.com/reviews/vyprvpn
A popular Swiss-based VPN from the same corporate group as Usenet provider Giganews, VyprVPN has a decent-sized network with 700+ servers in 70+ locations across 60+ countries. These aren't solely focused on Europe and North America, as we often see – VyprVPN has 14 locations in Asia, 5 in the Middle East, 7 in Central and South America, 2 in Africa and 5 in Oceania.
Even better, these servers are owned and managed by the company. That means there's no reliance on third-party web hosts, unlike most of the competition.
Welcome features include a zero-knowledge DNS service, a customized Chameleon protocol to help bypass VPN blocking, P2P support across the network, and 24/7/365 customer support to keep the service running smoothly.
Wide platform support includes apps for Windows, Mac, iOS, Android, Tomato-based routers, QNAP, Anonabox, Smart TVs and Blackphone.
If that's not enough, the website has 30 tutorials to help you set up the service on Chromebooks, Linux, Blackberry, Synology NAS, OpenELEC, Android TV, Apple TV, and via DD-WRT, AsusWRT, OpenWRT and more. It's a lengthy list, but there's still something missing: VyprVPN doesn't have any browser extensions.
Whatever hardware you're using, VyprVPN supports connecting up to five devices simultaneously. That's still the industry standard, but many providers now offer more: Private Internet Access and IPVanish support up to 10 simultaneous connections, StrongVPN handles 12, while Windscribe and Surfshark have no limits at all.
The website has the usual 'no logging' claims, but unlike most of the competition, you don't have to take these on trust. In 2018, VyprVPN had an independent audit to verify that it doesn't log or share anything about what you're doing online, including session logs, and you can read the report for yourself.
Recent improvements are mostly about performance and protocols. You can now make speedy WireGuard connections on Windows, Mac, iOS, Android and Android TV. The company's Chameleon obfuscation protocol has been reengineered to do an even better job of getting around VPN blocking, and the VyprVPN iOS app now supports both Chameleon and OpenVPN.
There's good news on the unblocking front, too, with VyprVPN now claiming to support 35 streaming catalogs, including Netflix, Amazon Prime Video, BBC iPlayer, Hulu, HBO Go and more. Does it deliver all this? Keep reading.
VyprVPN price and plans
VyprVPN pricing starts at $12.95 billed monthly, towards the high end of the $10-$13 industry average.
The annual plan is cheap at just $3.75 a month (paid upfront), though, and it plummets to only $2.50 a month on the two-year plan.
This isn't just a special introductory deal, either, where the price doubles on renewal (like at Surfshark). There are no marketing tricks, no uncomfortable surprises later on – just surprisingly low standard prices.
Sign up and although you'll be asked for payment details (card and PayPal are supported), the company won't bill you for three days. Cancel from your web console before the time is up and you won't be charged anything, so this is effectively a short free trial.
Three free days isn't long, but it's three days longer than most providers offer, so we're not about to complain. If you decide to carry on after the trial is up, and you run into any major issues, you're also protected by a 30-day money-back guarantee. A few companies give you more – Hotspot Shield and CyberGhost allow 45 days, for example – but 30 days should be long enough to identify any problems.
Privacy
VyprVPN protects your privacy with well-chosen protocols and industrial-strength encryption. It supports AES-256-GCM and SHA384 HMAC by default for OpenVPN, with TLS-ECDHE-RSA-2048 to provide Perfect Forward Secrecy. (The latter is a smart technique which ensures that a different key is used for every connection, so that even if an attacker obtains a private key, they would only be able to access data in that particular session.)
WireGuard is now supported across all platforms, along with OpenVPN and IKEv2. VyprVPN's custom Chameleon 2.0 protocol has been improved to do an even better job of bypassing aggressive VPN blocking (it's a new option on the iOS app, too, which is good to see).
We don't attempt to test access from China, but VyprVPN is far more upfront about issues with its service than most providers, publishing details of any current problems on its Service Status page.
If you're having difficulties connecting to the service, unblocking particular streaming sites or anything else, the Service Status page usually has more info available. We can't say whether it includes every problem the company is experiencing, but it seems to be regularly updated with a lot of useful details, and the fact that it exists at all is a major credit to VyprVPN. We wish other providers would be as upfront about their service difficulties.
Back to privacy: VyprVPN provides an encrypted zero-knowledge DNS service, a handy way to avoid 'man-in-the-middle' attacks, DNS filtering and other snooping strategies. Works for us, although if you're less happy with the idea, the apps also allow you to switch to any third-party service (just enter whatever IP addresses you need).
Individual apps have their own privacy-protecting technologies, too, including options to defend against DNS leaks and bundled kill switches to reduce the chance of data leaks if the VPN connection drops. We'll look at these in more detail later.
Logging
Figuring out a VPN's real logging procedures can require spending an age digging through the privacy policy, terms of service, support documents and more, before trying to decide how much you can trust whatever the provider has said.
VyprVPN improves on this immediately with a privacy policy which gets straight to the point, explaining that there's no logging of source or destination IP addresses, connection start or stop times, user traffic or DNS requests.
Even better, you don't have to take VyprVPN's word for this, as in September 2018 the company hired Leviathan Security Group to audit the platform and produce a public report on its logging practices.
The results [PDF] are available to all on the VyprVPN website, and make an interesting read. Experts will find a huge amount of detail on how VyprVPN works, and the in-depth testing performed by the auditors (logging in to servers, inspecting running processes, examining source code, and more).
Everyone else can simply check the executive summary, which explains that the audit initially found a few limited issues ('from inadvertent configuration mistakes'), but these were 'quickly fixed', and 'as a result, [the audit] can provide VyprVPN users with the assurance that the company is not logging their VPN activity.'
While that's great news, and still much more than the majority of VPN providers have done, we hope VyprVPN doesn't stop there. It's been more than two years since this audit; plenty of time for new problems to have cropped up. TunnelBear has had three annual security audits of its service, and we'd like to see other providers do repeat runs like so.
Performance
To understand the real-world performance of a VPN, we put every service we review through a series of intensive tests.
We use test locations in the US and UK, each with a 1Gbps test connection. After connecting to our nearest VPN server, we check speeds at least five times with multiple benchmarking sites and services: SpeedTest.net's website and the command-line app, Netflix's Fast.com, TestMy.net and more. Tests are repeated for at least two protocols (where possible), and the full set of tests is repeated across morning and evening sessions, before we crunch the numbers and calculate median speeds.
OpenVPN performance proved disappointing, with average speeds of only 32Mbps in the UK, 35-45Mbps in the US. That's not far away from the results in our last review, though – 30Mbps in the UK, 50-70Mbps in the US – so it seems to be telling us something useful.
Don't give up on VyprVPN just yet, though, because switching protocol made a huge difference. Moving to IKEv2 in the US more than doubled speeds to 90-100Mbps, and switching to WireGuard saw another big leap to 150-170Mbps.
The UK saw the most dramatic increase, though, up to a very capable 270-420Mbps. That's still a long way short of the best we've seen, and for example Hide.me, NordVPN, StrongVPN, Surfshark and TorGuard all exceeded 600Mbps in recent tests. Even if you only see the minimum 270Mbps speed, though, that's more than enough for most devices, connections and situations.
Sours: https://www.techradar.com/reviews/vyprvpn
Screenshots
Description
Fast, easy and secure internet connection: take back your Internet privacy with VyprVPN. Connect easily on any device to protect your identity and privacy when browsing with a virtual private network. Stream global content and enjoy unlimited Internet access and unparalleled speeds without download caps, no matter where you are in the world.

5 reasons to download VyprVPN:

- 3-Day Trial: discover VyprVPN at no risk. Discover our safe and private connection with no commitments and easy cancellation.
- Zero Logging: we will never log, monitor, expose or transmit your private data to third parties, and our independent audits prove it.
- Access Unlimited Content: unblock your favorite content and say goodbye to data caps. No matter where you are, we've got you covered.
- 70+ Global Server Locations: with over 700 servers and 200,000+ IPs spanning 70 countries and 6 continents, you can find yourself wherever you want to be.
- Fast Servers: our upgraded servers guarantee the best speeds and fastest connections whether you are gaming, streaming or downloading.

VyprVPN offers one of the most secure browsing experiences available. We own, engineer and manage our VPN servers so we can deliver fast and reliable connections with the highest level of security. No matter what device you choose to use, we have a version of VyprVPN to keep you safe online.

We also have a "Kill Switch" feature that will stop internet traffic when VyprVPN disconnects or is not enabled. This ensures maximum security so you can be assured that you'll always have VPN protection whenever you connect to the Internet. And should you ever have a question or concern, our 24x7x365 support team is here to help you.


If you're ready for the ultimate VPN experience, so are we! Try VyprVPN for three days, 100% free. Connect now to the top VPN service.


Connect With Us:

[email protected]
https://www.facebook.com/vyprVPN
https://twitter.com/VyprVPN

Subscription Details:

- Kill Switch is only available on select devices.
- A credit card is required for the free trial. You will not be charged unless you decide to continue using VyprVPN after the trial period is over.
- You can choose from three subscription plans: $69.99USD/year, $24.99USD/3 months or $11.99USD/month.
- Your payment will be charged to your iTunes account at confirmation of purchase.
- Your account will be charged for renewal within 24 hours prior to the end of your selected subscription.
- You can turn the auto-renewal off by going to your Account Settings.
- Your current subscription cannot be canceled.
- See our full terms and conditions and privacy policy at https://www.goldenfrog.com/terms-of-service and https://www.goldenfrog.com/privacy
We regularly update our app to improve performance and fix bugs to help you stay securely connected.

Ratings and Reviews
4.6 out of 5
12.6K Ratings
Doesn't work with well with iMac, ios, MacBook
Long time user but at some point the software stopped working with iMac and mac book pro. Contacted technical support several times. I was told they are "aware and fixing the problem", well that's been a good long while. I'm at the point now I have to reboot in order to use the VPN. The IOS phone softy became buggy also. This isn't an apple issue it's gone on way to long, putting in tickets and getting nothing. No trouble shooting just delete and reinstall? That's not the problem. Previously this was the top of the line VPN in my opinion don't know what happened. No doubt time to get a new VPN.

The software has been updated!! Works very well now thank you for listening and responding to software issues. The mac and ios software are faster more servers it seems and the other issues have been resolved.
Thank you for your feedback. Some users have experienced similar behavior which is solved by allowing "Golden Frog" in macOS Preferences. For more detail, please visit: https://support.goldenfrog.com/hc/en-us/articles/360006438974-General-MacOS-connection-troubleshooting
Please hear me out before using this App
I've actually been trying to chill myself before writing this review, because I don't want my rage to confuse others. The simple fact for me is that, I trusted VyprVPN, but their terrible service caused me not only anxiety, but also economical lost.

Before I left U.S. for China, I checked different VPN companies, because I know that Chinese Fire Wall would cause me lost connection with the world outside. VyprVPN advertises itself, saying it has a team consistently working on breaking the Chinese Fire Wall, so I payed for a year's service. However, the truth is that their servers do not response most of the time, and my MacBook VyprVPN does not even try to connect when I click the "Connect" button! I could not check my gmail, or my Messenger, which fact made me almost isolated from my friends and colleagues outside of China for two weeks until a friend in China helped me find another VPN service, free to use and much more reliable. During which time, I lost a check sent from the U.S. due to the fact that I could not update my address in China.

I really hope that no one else would fall into such terrible situation as I did. Please reconsider if you are planning to use VyprVPN for serious reasons. And do not pay them anything! Since I just learned that there are other VPN services that are free to use, and that, more importantly, really work!
Fault app and disabled my iPhone completely
Firstly when I got the app, I was not able to connect with it at all. Even when I was using the paid features it did not allow me to connect to any network that I normally would be able to on any of my other devices. On top of that the app would automatically connect me to the vpn whenever I connected to a different wifi and when it did that, I wasn't able to use that wifi until I went into the app to turn it off. It also would not let me tap the vpn off slider in the settings to turn it off, as I said before I had to go into the app and turn it off, on top of all that today I had an experience where it showed a random phone notification asking for my password. When I tried to hit cancel the notification opened up again and it would not stop, making my iPhone completely unable to use. I tried rebooting it and it still showed up. I had to quickly delete the app in the .5 seconds that I had between when I hit cancel and when it opened again. DO NOT DOWNLOAD THIS APP. I've never reviewed an app before because I've never felt such a hatred or liking to any other app OTHER THAN THIS ONE. However if you are considering using vypr for your computer I wouldn't hesitate it's a great vpn but again, do not download this app
Thank you for your feedback. Our support team would be happy to investigate this situation. Please contact us via chat or email for prompt assistance. https://support.goldenfrog.com/hc/en-us/requests/new
The developer, Golden Frog, indicated that the app's privacy practices may include handling of data as described below. For more information, see the developer's privacy policy.
Data Not Linked to You
The following data may be collected but it is not linked to your identity:
Location
Contact Info
User Content
Usage Data
Diagnostics
Privacy practices may vary, for example, based on the features you use or your age. Learn More
Information
Seller

Golden Frog, Inc.

Size

45.5 MB

Category

Productivity

Compatibility

iPhone

Requires iOS 13.0 or later.

iPad

Requires iPadOS 13.0 or later.

iPod touch

Requires iOS 13.0 or later.

Languages

English, Arabic, Dutch, French, German, Italian, Japanese, Korean, Portuguese, Russian, Simplified Chinese, Spanish, Traditional Chinese, Turkish

Age Rating

4+

Copyright

© Golden Frog, GmbH

Price

Free

In-App Purchases

VyprVPN (1 Month)$11.99
VyprVPN (1 Year)$69.99
VyprVPN Pro (1 Month)$14.99
Supports
Family Sharing

With Family Sharing set up, up to six family members can use this app.
You Might Also Like
Sours: https://apps.apple.com/us/app/vyprvpn-vpn-online-privacy/id577635689
How to install vyprvpn on Windows 10 by golden frog byNP
Golden Frog Vpn Login
Login page for golden frog vpn login is presented below. Log into golden frog vpn login page with one-click or find related helpful links.
Last Updated: 22nd June, 2021
Create a VyprVPN account | Golden Frog
https://www.vyprvpn.com/personal-vpn-service
Your Data. Our Servers. No Third Parties. Unlike our competitors who use 3rd parties to host their VPN servers and DNS, we write 100 percent of our software, ...
Support | Golden Frog
https://www.goldenfrog.com/contact-support
Submit your support request and you will receive a direct response from a live support member. Our support staff is here 24x7x365 to provide expert timely high ...
Vyprvpn Golden Frog Login 🔥SaferVPN - …
http://singlxvpn.com/Vyprvpn-Golden-Frog-Login.us?LoginVyprvpnFrog=389...
Vyprvpn Golden Frog Login Best Vpn Extension For Chrome, Vyprvpn Golden Frog Login > Get access now (TechRadar) [Vyprvpn Golden Frog Login Vpn Download For Android] , Vyprvpn Golden Frog Login > Get nowhow to V...
VyprVPN Login Issues in China - Service …
https://forum.goldenfrog.com/t/vyprvpn-login-issues-in-china/5707
At this time, customers within China are experiencing issues logging into our VyprVPN apps. We are aware of this matter and our Team is actively investigating so that …
VyprVPN Free Account | Best Free VPN
https://bestfreevpns.com/how-to-get-a-vyprvpn-free-account
We need more information from you before we can activate your Golden Frog account. For your protection, we perform several security checks to verify your account. One of our security checks flagged your account...
Chameleon Set-up Instructions for Windows – …
https://support.goldenfrog.info/hc/en-us/articles/360011078611
Once you've installed the VyprVPN for Windows App, open the app and login Click on the Customize option in the bottom left corner of the home screen Click "Protocol" and select "Chameleon 256-bit encryption" pr...
Sours: https://loginii.com/golden-frog-vpn
Frog vpn
We optimize Internet connections to increase performance and speed, enable privacy and provide access to a free and open Internet.
Our Products
Our Policy
Visit Our Policy Page
Blog Content

Visit our Take Back Your Internet blog to check out our latest articles and content pieces.

Visit Our Blog

Vision Paper

Read our vision paper and call to action: Peace, Prosperity and the Case for the Open Internet.

Read Vision Paper

About Us

Learn about our history as a company, view our core beliefs and meet the Golden Frog team.

Learn About Us
Sours: https://www.goldenfrog.com/
What is a VPN Benefits of Using VPN VyprVPN Golden Frog
VyprVPN: Protect your privacy with a secure VPN
Unlimited access with a fast, easy and secure connection: take back your privacy with VyprVPN. Protect your identity and online privacy, and hide behind a secure connection to a virtual private network on any device. Stay anonymous as you stream global content, enjoy the strongest web encryption, fast download and streaming speed with no caps and a no-log policy, no matter where you are in the world with our secure VPN. Enjoy the online security and secure connection of a virtual private network and forget about throttling, geo-locked content, identity theft and online privacy concerns. Now, you can have it all.

Top 5 reasons to download VyprVPN for Android:

- Free 3-Day Trial: hide and protect your identity, and try VyprVPN at no risk. Discover a safe secure connection with our VPN with no commitments and easy cancellation.
- Zero Logging: we have a no-log policy, and we will never monitor, expose or transmit your private data to third parties. Our independent audits prove it. We believe a virtual private network should stay that way—private.
- Unlimited Access: unblock and download your favorite content, and say goodbye to data caps and buffering when streaming. No matter where you are, our secure VPN got you covered.
- 70+ Global Server Locations: with over 700 servers and 200,000+ IPs spanning 70 countries and 6 continents, you can freely browse or hide anywhere in the world.
- Fast Servers: defeat throttling. Our upgraded servers guarantee the best download speeds and fastest connections for gaming, streaming or downloading.

VyprVPN offers one of the most secure browsing experiences available. From owning our fast and secure servers to a strict a no-log, no throttling policy (and offering the level of web encryption that works best for you) our app offers it all. Truly unlimited access with a VPN connection, and powerful web encryption to match. Discover more of VyprVPN's features:

- Easy to Use on All Devices
Laptop, smartphone, or even your TV—we keep all your connections safe.

- Strong Unblocking with Chameleon™ Protocol
Get past any firewall at school, college or when you travel. Our Chameleon™ Protocol scrambles your connection with the best web encryption to hide and protect your identity, and ensure you stay anonymous even for ISPs and governments.

- "Kill Switch" for Unstable Connections
Kill Switch stops internet traffic when VyprVPN disconnects to guarantee you'll stay anonymous. This ensures maximum security and online privacy, as you'll never connect to the internet without VPN protection.

- Extra Security with NAT Firewall
With our NAT firewall, browse and shop online with peace of mind and prevent hackers from accessing your personal information.

- Ad Free!
Enjoy a secure and ad-free app experience, even with our free trial.

- 24x7x365 Support
If you have any questions, our dedicated support team is there to help you.

Why Use a Virtual Private Network?

Still not sure why you should use VyprVPN for all your network traffic? Here are 5 reasons to connect with our VPN app:

• Increase Privacy and Security – Encrypt and secure your Wi-Fi or hardwired web connection to keep hackers or third-party snoops from seeing your browsing activity.
• Bypass Restrictive Networks and Censorship – Escape school or government censorship, including the Great Firewall of China. Our VPN creates a private, encrypted "tunnel" so you can get around those blocks.
• Improve your Streaming and Gaming Experience – Defeat throttling put in place by your Internet Service Provider.
• Unblock & Access Geo-Blocked Content – Choose an IP location from anywhere in the world and access unlimited content.
• Defeat Data Retention – Keep your personal data hidden and stop the government from controlling what you can see. VyprVPN is independently audited to verify its no-log status.

If you're ready, so are we! Try VyprVPN for 3 days, 100% free.

Connect With Us:
https://www.vyprvpn.com
https://www.facebook.com/vyprVPN
Sours: https://play.google.com/
Similar news:
Finally she glanced at the screen. Zhanka froze, looking at me, thrusting one hand into her shorts. I winked at her and turned off the camera. Now I was in the right mood.
646
647
648
649
650