Flush & Recessed Baseboards -The Minimalist Molding You Need For Your Modern Home
Images via John Maniscalco Architecture & In Trim Mouldings
It's all about those subtle details when it comes to a minimal and modern home, and one of my favorites is the millwork and molding. Instead of installing traditional baseboards in a contemporary home, there's a modern alternative that's making waves in the design industry, and I think you're going to love it.
It's referred to as flush or recessed baseboards, but it's also known as many other names in the construction world, like shadow bead or reveal bead.
What are flush & recessed baseboards?
It's the look of the drywall and molding sitting flush and separated by a perfect, linear gap.
I've seen this type of molding in high-end commercial buildings, but it's slowing creeping into residential design, too. This barely-there molding is the perfect complement to a simple color palette and contemporary furniture. 
It's modern, sleek, and minimal…what's not to love?
Images via Unknown & B.E. Architecture

How do you create flush and recessed baseboards?
This look is achieved by placing a metal spacer (called a reglet) between the drywall and trim, which creates the sleek divide.
Once the reglet is secured to both the drywall and molding, it gets plastered and painted over to create a seamless look, just like typical drywall.
Can you DIY Flush Baseboards?
If you've done any drywall work of your own, you probably know the process is messy AF to say the least…not to mention it takes a certain level of skill and patience.
From our own experience drywalling, I'd say that DIY'ing this would probably be something to try after you've had a little practice with drywall. Simply because you can't just cover up the drywall with molding and call it a day. Flush molding will take a little more patience and skill.
If you're thinking of hiring out for this look, keep in mind that it might cost more than your typical baseboards because it involves a few more steps and more precision. Ultimately that means more $$$.
Images via Archello & Studio TM
I love how sleek and modern this flush molding looks, and if I'm being honest, I'm a little bummed we didn't incorporate this look in our own home!
But as I like to say, "I'll save it for the next house." haha!
What do you think about this modern take on molding and baseboards? Have you seen it before or do you have this type of molding in your home? I'd love to know in the comments!
Sours: https://thesavvyheart.com/flush-recessed-baseboards-the-minimalist-molding-for-your-modern-home/
Flush baseboard - what size reveal?
@Melly Warka – This baseboard detail is always a bit tricky as it requires more attention to detail from various trades, including from your trim carpenter. Have either your architect or trim carpenter draw these transitional details – you may not want the reveal to dead-end into the door trim, it looks weird.

There's always an option of going with a no-reveal recessed baseboard or having the baseboard fully integrated. It requires that the floor slide underneath the drywall so your contractor needs to account for that in their planning schedule.

Here's an example of a 4-inch flush baseboard in one of our projects that sits right underneath the drywall and is painted over: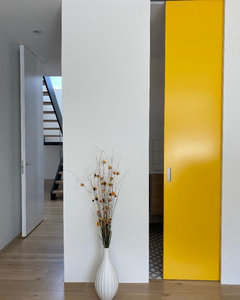 Details here: https://www.instagram.com/angelbaudesign/

There's also this option: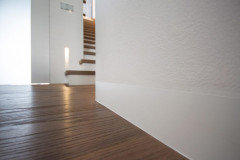 This visible but flush-to-wall baseboard is done with a product called Dorsis Linus. The actual wood baseboard sits in an L-shaped aluminum pocket, it can be painted the same color as your wall, or it can be the same material as your floor.

Here's a section: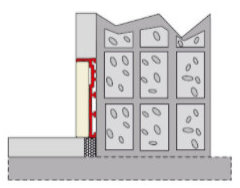 Let me know if you would like more info.
Sours: https://www.houzz.com/discussions/5803403/flush-baseboard-what-size-reveal
Who doesn't love a good insider tip? We do, so our ears perked up when Jeff Sherman of Delson or Sherman Architects mentioned his trade secret for the most consistently aligned and beautiful flush recessed baseboard detail. What's a flush recessed baseboard detail, you ask? And why should we want them?
"A flush recessed baseboard is a minimalist and seamlessly beautiful detail, and since it provides no surface for dust to collect, it's practical too," Sherman says. "The trick is to get a perfect alignment between the faces of the wood and sheetrock. With a minimalist detail like this, precision is critical; conventional stud-wall construction leaves too much wiggle room." See the architects' sketch below to see how they spec this detail.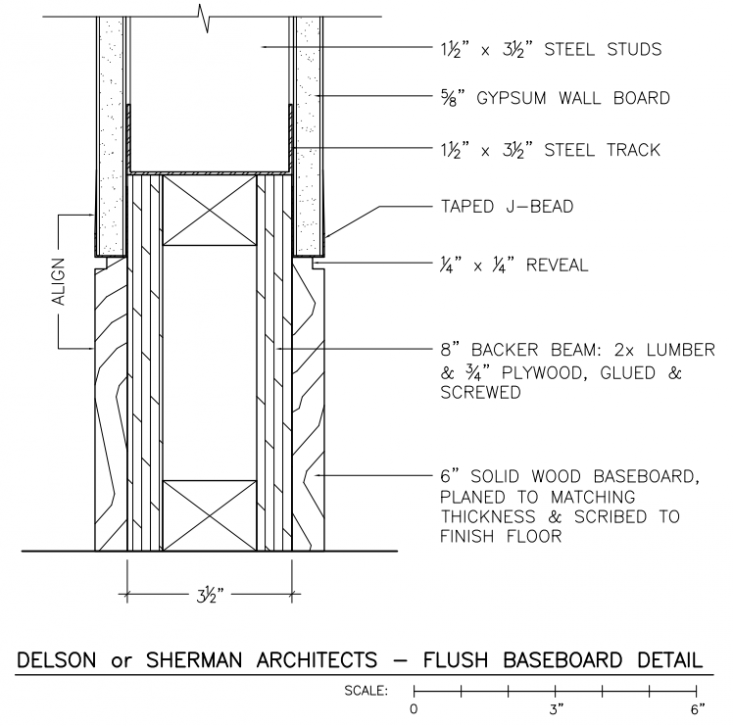 Browse more in our Remodeling 101 series:
N.B.: This post is an update; the original story ran on September 6, 2013.
Sours: https://www.remodelista.com/posts/remodeling-101-how-to-build-the-perfect-flush-recessed-baseboard-delson-or-sherman/
Modern Trim
Why would you want to create flush baseboards? Well, there are a couple great reasons to consider the style. For one, traditional baseboards gather unattractive dust over time, which can lead to tedious routine upkeep at best and unnecessary maintenance costs at worst. Flush baseboards solve this problem entirely because there is no surface for dust to settle on. And secondly, it just looks sharp — it's a modern, minimalist look with clean lines, and it subtly steers a room's finish away from what's expected.
Flush baseboards also aren't all that difficult or expensive to execute, either; they just take some extra planning, and maybe a little help from a vinyl corner bead solution. Here's how to utilize Trim-Tex's Architectural L Bead to create flush baseboards that are stylish and clean, without spending much time or money to make it happen.
INSTALLATION TECHNIQUES TO CREATE FLUSH BASEBOARDS
Let's start from the bottom and work our way up — we'd recommended that you install the floor prior to the drywall and baseboard if you want to have a flush finish here. Take careful measurements to determine if the floor is uneven, because if so, you'll have to trim the baseboard as needed to accommodate the irregularities. If, for instance, the floor is 1/4" higher on one side of the wall, incorporate the difference when installing the drywall to prevent a gap once our Architectural L Bead and baseboard are installed.
Determine the desired height of your baseboard (of course, it needs to be the same thickness as your drywall) and cut a piece of scrap drywall down to that same size to function as a spacer. Temporarily screw the spacer to the base of your wall — this will act as a guide when installing the drywall.
Now that your spacer's in place, simply rest the sheet of drywall on top of it during installation to ensure accurate measurements for your baseboard. Once the drywall is fully installed, you can go ahead and remove the spacer before installing Architectural L Bead.
Architectural L Bead is tailor-made to create sharp, clean lines like ones we're making with our baseboards, and it's durable enough to sustain all kinds of wear-and-tear after installation. To attach it to the drywall (not your baseboard), we'd recommend using a can of 847 Spray Adhesive. Apply two light coats of the spray before attaching the bead to the base of the wall.
Once you've applied your Architectural L Bead to the wall, staple the bead in, using 1/2" staples every six to eight inches along its mud leg.
Now you're in the home stretch and ready to get into the messy work of mudding and painting. Before doing any of this, though, your best bet is to first dry fit your baseboard into the open area left by your spacer to ensure that everything fits correctly. (If you wind up needing to leave a tiny gap in spots between the baseboard and drywall, as seen in the photo below, that's alright — the mud leg of the L Bead can cover that distance. If you're left with a gap larger than half an inch, however, you should reinstall your sheet of drywall or recut your baseboard.)
Apply as many coats of joint compound to the mud leg of the L Bead as your level of drywall finish calls for. Once that mud's fully dried, you can start painting your walls and, separately, your baseboards. For example, as you can see below, we went with a sleek black color for the flush baseboard, and a more neutral tone on the wall with bright blue accents. After you've permanently screwed your baseboard to the framing, you can enjoy a more hassle-free and more modern choice of trim at the bottoms of your walls.
Using Architectural L Bead, you can create flush baseboards affordably and easily, even if you're not yet a pro drywall finisher. Want to get a good look at Architectural L Bead before you buy? Hit the button below and request a free sample!
Sours: https://explore.trim-tex.com/content/create-flush-baseboards-with-architectural-l-bead
Recessed baseboards flush
And now the depth of penetration, which was provided by pulling the tied hands, ceased to satisfy it My name is Marina. I will describe another real case from my life. I am an Intourist translator from the Central Europe and Scandinavian Department, I lead French groups. In those times in question, I was married for about six months, I had no affairs on the side, I worked.
Modern Wall Baseboard - 4 ways
I always considered (and completely in vain) myself as a gray mouse, which is far from long-legged busty classmates. However, she had a pretty, regular face. A small, neat nose, brown eyes framed by fluffy eyelashes, a small mouth with delicate lips, silky skin, curly hair falling.
Now discussing:
In the end, he finished in my mouth and ordered to swallow all his sperm to a drop. That evening he didn't care if I swallowed it earlier or not. He just wanted it and I did. Surprisingly, this story happened to me a couple of days ago and I just can't forget it.
6301
6302
6303
6304
6305