How Much Does a 30' x 48' Pole Barn Kit Cost?
It's no surprise that pole barn kits are becoming more popular. They're an easy option to choose for someone who is interested in building a pole barn but doesn't want to spend a lot of money, or even for those who enjoy tackling DIY projects on their own time.
Not only that, they're almost readily available at your larger home improvement stores (think Menards, Lowes, etc.) or through your local post frame builder. However, the main difference will be the quality of materials that make up your material package.FBi doesn't believe that you have to choose between getting a quality post frame building or a sub-par building package. We offer the same high-quality materials used on our post frame buildings in our pre-designed 30' x 48' building kit.
In this article, we will dive deep into the materials and building features that are offered in our 30' x 48' pole barn kit and answer any cost-effective questions.
How Much Does a 30' x 48' Pole Barn Kit Cost?
The price of your FBi pole barn kit will vary depending on location, size, and customization. This particular kit starts at $25,204 and could increase in price depending on additional features and current material costs.
What Does Your Pole Barn Kit Include?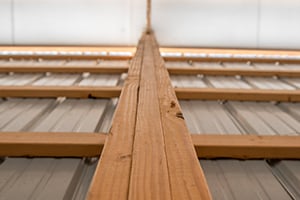 Suppose you don't use the best materials possible when constructing your custom pole barn. In that case, you could negatively affect your building's structural integrity and create room for future repairs that you didn't account for.
Keep reading to find out what goes into our material packages and why we believe that high quality is essential.
1. Floor Plans
Each of our pole barn kits is specially designed by our in-house engineering team to ensure structural integrity. These plans will show you where your overhead door, entry door, and windows will be located to get a better idea of the design of your future pole barn.
2. Columns
Your pole barn kit will also come with laminated columns manufactured at FBi's on-site truss plant. We ensure that each column has been treated to prevent potential decay and insect damage. If any kind of significant damage from either decay or insects occurs, FBi Buildings offers a lifetime warranty to replace the damaged columns.


3. Screws
The screws we offer for your kit are stainless steel umbrella head screws. This type of screw prevents rusting and minimizes any leaking that could occur in the roof and the walls.
4. Steel
Our in-house engineers prefer to use a 29 gauge, heat-treated, full-hard, high-tensile steel with a minimum yield point of 80,000 PSI. Our design team uses harder, quality post frame steel because this steel has an increased resistance against potential damage such as wind, hail, rocks, or any accidents.
To get an idea of the damage our steel can withstand, watch the video below.
5. Trusses
FBi's trusses are job-specific and engineered for your building. Our engineering team uses the latest CAD and simulation systems to ensure each truss's strength and structural integrity. Pre-engineered metal-plated wood trusses are designed per the American Society of Civil Engineers (ASCE) 7 standards.
We have our very own in-house truss plant where we manufacture our trusses under stringent quality control standards. Our truss plant is regularly certified by a third-party Truss Plate Institute inspection service.


6. Walk Doors
Our walk doors are made of steel, and they come in four different styles. Each offers protection against the expected and the unexpected demands of nature.
Steel doors with a thermal barrier prevent wintertime heat loss and summertime heat gain. These doors also protect against any potential interior condensation.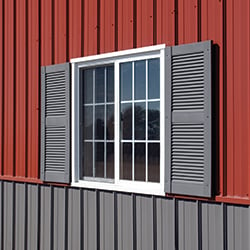 Steel doors made of pultruded fiberglass offer the ultimate protection against any weather extremes because this type of material is corrosion resistant and is electrically insulative. This choice would be best to withstand our unexpected and unusual Midwest weather.
7. Windows
To give you unlimited size and style options, we use Simonton's Pro-Finish contractors series windows. The features of these windows offer quick and easy installation and are energy efficient to help you save on your energy bill.
8. Overhead Doors
The one thing our pole barn kits do not include is your overhead doors. Our reasoning for this is because of the numerous features and designs each overhead door offers, it's hard to choose just one for every design. Instead of a standard door, we recommend you to a local overhead door company to choose the best option for your post frame building.


How Much Will My 30' x 48' Pole Barn Kit Cost?
The price of your FBi pole barn kit will vary depending on location, size, and customization. This particular kit starts at $25,204 and could increase in price depending on additional features and current material costs. However, it's essential to keep in mind that price is only part of the equation.


How Is My Pole Barn Kit Priced?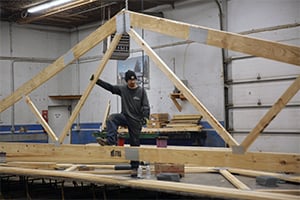 Are you a one-stop shopper, or do you prefer to look around? If you like to look around before you make a final decision, you may notice that the kits' prices vary. Remember, not all pole barn kits are created equally. So, how do you decide which to choose?
A good starting point is to learn how pole barn kits are priced. It's not uncommon for some post frame companies to price their kits on these three things.
The quality of the products

Like what we discussed above, the quality of the products does have a factor in the overall price.

What grade of lumber is being used? What is the gauge of steel? Are you getting laminated columns or single-ply?

The size of your pole barn

Will a 30' x 48' pole barn be big enough for you down the road? Will you need to adjust the height? Will you need to make it bigger? A bigger building will result in a higher price.

Your project location
The price of your pole barn kit will also vary on where you're located. If you're close to our corporate headquarters and prefer to pick up your material package, you would be saving on freight costs. However, if you have to have your kit delivered to you, your freight will be calculated by your location.
To give you an idea of freight charges, let's take a look at these following locations:
If you're in Kalamazoo, MI, you'd be spending close to $1,267 in freight charges.
If your project is located in Tipton, IN you'd be spending close to $917 in freight charges.
If you're in Normal, IL, you'd be spending close to $917 in freight charges.
If your project is located in Waterloo, IA, you'd be spending close to $2,317 in freight charges.
Another option to help you save on cost would be to hire a freight company. Some of our customers have opted to go this route instead of having FBi deliver.
There's no black or white price for post frame buildings. With all of the variables that go into pricing a pole barn, it's challenging to set an accurate estimate on one size. The "one size fits all" motto, unfortunately, doesn't work in this industry.
Are You Ready to Purchase Your 30' x 48' Pole Barn Kit?
As one of the top post frame builders in the Midwest, it's our job to get you thinking about your building options. Our job is to be 100% honest with you; pole barn kits aren't for everyone.
Some people like to take the DIY challenge head-on. Others...not so much. They would prefer to have someone else do the work. Maybe they know a friend of a friend or are willing to pay the extra money and hire a professional building crew to put up their customized building.
Building your own pole building is a commitment. Only you will know if it's right for you.
In the end, we hope you get the dream hobby shop, storage building, or man cave you've worked hard for and enjoy it for many years to come.
---
Do you have more questions that are not covered in this article? If you need help designing and planning, please contactFBi Buildings at 800.552.2981 or click here to email us. If you are ready to get a price, click here to request a quote, and a member of our customer engagement team will help you determine the next steps of your project.
Sours: https://info.fbibuildings.com/blog/30-x-48-pole-barn-kit-cost
"The Showroom- 30x48 stick build"
Re: Ima Newb, Your input welcomed! My 30x48 garage plan/ build / ?? thead
c6matt........First of all, WELCOME to Garage Journal. You had better get a notebook and start writing down all of your ideas that you find as to what you are going to do to your garage when you get it framed up. Being on here, you'll change your mind more than a pregnant woman wanting a midnight snack.
As far as the foundation, or having a turn key building.....shop around. Those prices seem very high to me. Taking in consideration all of my concrete, the pour amounted to 34' x 42'. I have 6' overhangs on the front and side but my garage dimensions are 28' x 36', full block foundation down to frost line which is 36". It been a few years ago, but I only had $6000 in it for the foundation and floor.
I had a guy pour a floor and have a foundation done for my wifes 20' x 20' building, plus a 25' x 32' area in front of her building, PLUS I had sidewalks (3' wide) all the way around the house and had right around $10,000 in all of that. Blocks were $1.25 each to be laid and $2.00 each for the termite blocks (top coarse, no holes)
There are a few hungry block guys and concrete guys out there. Shop around, get a few references, and check the references out. If you are going to put a lift in sometime in the future, make sure you have thicker concrete where the lift legs will set.
A garage the size you are planning. $30,000 would be more in line for a turn key building. Punching in the dimensions of what you are looking to build to carterlumber.com and getting as close as I could with their program...10' ceilings, same size garage doors, 3' mandoor, but they only go as large as 30' x 30' x 10', the materials are $9,000. Adding another ballpark figure of $2,000 for the change in length and height, would be around $11,000 for materials give or take a couple of dollars, plus adding on what I think a foundation and floor should be of around $10,000, you're looking at a ballpark of $21,000 in materials. Then tack on 100% for labor and you are at $42,000 which seems way more fair that the $65G's your contractor wants for a turn key garage.
If you are capable of doing framing and have a few friends, in two or three days, you can have it framed yourself.When I built my garage, the wife and I were gone for the day and got home in the late afternoon. I decided to start framing out one wall. We ended up framing out a side wall and a back wall in a few hours and her and I set the walls that evening. All in all, that afternoon and evening, we had about 5 hours in it total. The two worse parts of building any building is the floor and the roof. Just a suggestion, but you could save yourself a bundle by framing the walls with some buddy help, then hire out the roof and setting of the rafters if you don't feel comfortable doing that. But at $65,000, I would expect the building to be framed up, and finished outside and inside both.
That's just my opinion on it though. Others will chime in with different opinions. I'm looking at it from a location standpoint and Michigan is just a few hours from where I live. Maybe things are more expensive up there than what they used to be, I don't know.
But anyways....good luck, keep us updated as to your progress, and again...Welcome!!!! I hope you hang around for quite a while. Oh and by the way....We like pics, and the more you post the better!!!!
Sours: https://www.garagejournal.com/forum/threads/the-showroom-30x48-stick-build.195501/
32x48
Commercial Metal Buildings
Get StartedEstimate your building now.
32x48 Commercial Metal Building For Sale
Are you looking for a commercial metal structure that is highly durable and cost-effective? A 32 x 48 metal building could be an exact fit and would be the most affordable choice you are looking for.
Our eco-friendly and highly-efficient commercial metal buildings are perfect for retail stores, industrial buildings, manufacturing facilities, multi-purpose garages, maintenance shops, office buildings, agricultural shelters, and more.
32'x48′ Steel Building Features:
This 32×48 metal building can be increased in height upto 8-feet to 20-feet tall. This height range is tall enough to park your small Car, SUVs, Boat, RVs to airplanes or for storage & warehouse purposes. Our commercial steel buildings can be designed up to 60 feet wide and come with double legs that offers extra strength to structures. In our industrial buildings, you can get braces on every leg.
We provide top-quality commercial metal buildings with 14 gauge & 12 gauge galvanized steel tubing material. Our available 32×48steel building for sale comes with standard 29 gauge sheet panels (which can be upgraded to 26 gauge panels) with a limited 1 year workmanship warranty from the date of  installation. For 12 gauge framing, we offer 20 year limited rust through warranty and for 14 gauge framing our buildings come with 20 year limited rust through warranty.
Our commercial metal buildings are certified for 170 MPH wind speed & 35 PSF snow load with our standard 14 gauge steel frame. For 12 gauge steel frame buildings, we offer 105 MPH wind speed & 65 PSF snow load certification in all states where we offer services.
Metal building insulation is essential for stabilizing its interior temperature and preventing moisture from entering or collecting via condensation. For this, we offer Double Bubble and Woven R-17 types insulation.
We are one of the largest metal building suppliers in the country. We provide buildings that match your exact needs, whatever your requirements. Although we can deliver any size of small steel structures, there are some configurations that work very well and have proven advantages over other configurations. But, installing this 32′ x 48′ metal structure is the economical way to meet your specific needs and usage requirements.
32'x48′ Metal Building Certification:
From 32′-40′ wide to 52′-60′ wide metal buildings are commercial certified with 170 mph wind certifications and up to 35 PSF snow load certifications.
Call us at 877-801-3263 for exact certification details based on your custom requirements, and area code ratings. We provide wind and snow certified commercial metal units based on your location. Upgrading will either modify or add some more anchors and braces to the building to stand strong against high winds and snow loads.
Our prefab metal buildings are 100% commercial grade galvanized steel that protects the frame from rust and giving you extreme weather protection with a maintenance-free metal building built to last.
Available Roofing Styles for 32'x48′ Metal Building:
Choosing the roof style of your 32 x 48 steel building is one of the most crucial decisions you have to make during the building design process. Not only will the roof of your structure protect your valuables from harsh weather conditions, but it will add to its overall durability & strength. At Viking Steel Structures, we strongly recommend vertical roof styles for all commercial and industrial buildings.
Vertical style roofs are the most popular, durable, top-selling roofing system offered in the metal building industry. Vertical roofs offer more steel framing in the unit, with a hat channel running the length of the underside of the unit, which helps support the panels and makes the structure more rigid. This roof style is the best choice for locations that experience extreme weather conditions like heavy snowfall and high winds because the orientation of the paneling is ideal for guiding rain, snow, and other debris off the roof of the building. It's steel reinforcement running underneath also can withstand the weight of snow being packed on top in cases of heavy snowfall.
Customize Your Commercial Building With Our 3D Metal Building Estimator:
You can design your own dream building using our 3D Building Estimator tool exactly the way you want it. We also offer endless customization options for your dream metal building. You can use our 3D building designer tool, where you are able to customize every aspect of your building, from its foundation, to its color scheme, design patterns and everything that comes into your mind.
Our metal building specialist is always available at 877-801-3263, where you can also get quick assistance for all metal building requirements & custom options.
There are many more options you can customize in your building, a few of them are the following:
Insulation
Frame-outs or Garage Doors
Windows
Panel Orientation
Walk-in Doors
Lean-tos
Skylights
Solar Panels
Wainscot
DIY Kits
Certifications
32×48 Metal Building Uses:
A metal building has a wide range of uses such as garages, barn stalls, retail office space, personal GYM, yoga center, dance studio, industrial storage, boat storage, RV storage and even as temporary residences. A 32′ by 48′ metal building is a popular size structure for various applications, whether you use it for residential, agricultural or commercial purposes. This prefabricated 32′ by 48′ metal building is perfect as workshop, machinery storage, vehicle garage, farm or agricultural building or any other application where you just need ample space.
The 32′ x 48′ steel building offers a great space which fulfills the needs of many businesses. With sufficient storage facility and security, this steel building is the perfect solution for your specific needs or uses it any way you like. This structure can be used as a metal horse barn, hay shed, storage building, or as a shelter for livestock. You can turn this building into a motor-garage, horse shed, or you can add lean-to to this building.
This 32'x48′ commercial metal building can be customized for any requirements. If you are looking for a commercial building, a workshop, a farm building, or new manufacturing facility, prefab buildings by Viking Steel Structures can be the right choice for your business.
Our pre-engineered commercial metal buildings are durable, cost-effective and customizable solution for a variety of uses. Common uses for a 32 x 48 steel building  are listed below:
Retail Stores and Outlets
Office Buildings
Auto Dealership and Repair Shops
Car Wash Facilities
Aircraft Hangers
Restaurants
Banks
Auto garage
Medical clinics
Restaurants
Retail stores
Metal Building with Porch
Storage shed
Furniture refinishing shop
Motorcycle shop
Agricultural storage
Classic car garage
Home shop
Toy garage
Restaurant
Daycare Center
Indoor Sporting Facility
Animal Hospital
Veterinarian clinics
Winery
Wedding and Event Venue
Multi-purpose buildings
Storage buildings for riding mowers, equipment, gardening tools, wood, hay, and much more
Playhouses for Kids
32×48 Metal Building Prices
Want to get the best pricing on commercial metal buildings?
Viking Steel Structures provides you with real-time pricing updates on all industrial metal buildings which starts from $13345. With the superior service and wide range of available customizations, the price can vary.
You can select structures from 32' and go to 60' feet wide commercial steel buildings, all at an affordable price. For above 32×48 metal building cost, you can connect with us at 877-801-3263 because the price of this building can vary depending on various factors.
There are many factors involved in the cost of an industrial metal building such as wind and snow loads and custom options you want on your building. Delivery and installation times may vary due to location, and weather conditions.
For 32 by 48 metal building to other commercial buildings, we also offer attractive rent-to-own and financing options for you to order a commercial metal building.
We work closely with our authorised metal building manufacturers to provide you with the best price, fastest delivery, and the highest quality products guaranteed.
For the latest updated 32×48 metal building cost and other commercial steel building prices for different dimensions, you can check the following price table.
32′-40′ Wide
42′-50′ Wide
52′-60′ Wide
32X20
$5,695
42X20
$7,595
52X20
$9,995
32X24
$6,695
42X24
$8,645
52X24
$11,095
32X28
$7,695
42X28
$9,695
52X28
$12,195
32X32
$8,695
42X32
$10,745
52X32
$13,295
32X36
$7,395
42X36
$11,795
52X36
$14,395
32X40
$9,695
42X40
$12,845
52X40
$15,495
32X44
$11,695
42X44
$13,895
52X44
$16,595
32X48
$12,695
42X48
$14,945
52X48
$17,695
32X52
$13,695
42X52
$15,995
52X52
$18,795
34X20
$5,995
44X20
$7,995
54X20
$10,695
34X24
$7,045
44X24
$9,045
54X24
$11,795
34X28
$8,095
44X28
$10,095
54X28
$12,895
34X32
$9,145
44X32
$11,145
54X32
$13,995
34X36
$10,195
44X36
$12,195
54X36
$15,095
34X40
$11,245
44X40
$13,245
54X40
$16,195
34X44
$12,295
44X44
$14,295
54X44
$17,295
34X48
$13,345
44X48
$15,345
54X48
$18,395
34X52
$14,395
44X52
$16,395
54X52
$19,495
36X20
$6,395
46X20
$8,495
56X20
$11,295
36X24
$7,445
46X24
$9,545
56X24
$12,395
36X28
$8,495
46X28
$10,595
56X28
$13,495
36X32
$9,545
46X32
$11,645
56X32
$14,595
36X36
$10,595
46X36
$12,695
56X36
$15,695
36X40
$11,645
46X40
$13,745
56X40
$16,795
36X44
$12,695
46X44
$14,795
56X44
$17,895
36X48
$13,745
46X48
$15,845
56X48
$18,995
36X52
$14,795
46X52
$16,895
56X52
$20,095
38X20
$6,795
48X20
$8,995
58X20
$11,895
38X24
$7,845
48X24
$10,095
58X24
$12,995
38X28
$8,895
48X28
$11,195
58X28
$14,095
38X32
$9,945
48X32
$12,295
58X32
$15,195
38X36
$10,995
48X36
$13,395
58X36
$16,295
38X40
$12,045
48X40
$14,495
58X40
$17,395
38X44
$13,095
48X44
$15,595
58X44
$18,495
38X48
$14,145
48X48
$16,695
58X48
$19,595
38X52
$15,195
48X52
$17,795
58X52
$20,695
40X20
$7,295
50X20
$9,595
60X20
$12,495
40X24
$8,345
50X24
$10,695
60X24
$13,595
40X28
$9,395
50X28
$11,795
60X28
$14,695
40X32
$10,445
50X32
$12,895
60X32
$15,795
40X36
$11,495
50X36
$13,995
60X36
$16,895
40X40
$12,545
50X40
$15,095
60X40
$17,995
40X44
$13,595
50X44
$16,195
60X44
$19,095
40X48
$14,645
50X48
$17,295
60X48
$20,195
40X52
$15,695
50X52
$18,395
60X52
$21,295
financing option
Flexible payment terms
(24-72 months)
Same as Cash available
for 3, 6 & 12 months terms
Financing available
up to 50K Building price
Payoff anytime
and own your building
32'x48′ Metal Building KITS:
Our 32 x 48 Metal Building Kit is a great option against conventional metal buildings that offer wide space without internal columns. The 32′ x 48′ Kit is easy to customize and permits quick installation on site. Based on your purpose of use, you can make endless customizations and get it delivered directly at your property.
The basic package includes the primary and secondary framing as well as the sheeting and is engineered for your location. The DIY Metal Building Kits gives you freedom to install the metal building on your own, saving the labor cost and installation time. The price of 32′ by 48′ commercial steel building kit completely depends upon the size of your structure, location, and quality of products ordered.
Benefits of 32 x 48 Commercial Steel Building Offered by Viking Steel Structures:
There are several benefits you stand to gain by investing in a commercial building from Viking Steel Structures. And though one of the most obvious is their generous amount of interior space, there is so much more these structures than just their size. Let's take a look at some of our customer's favorite benefits:
Versatile Building Design:
If you think commercial metal buildings only come in limited shape and size, you need to get away from this thought. Our commercial steel buildings come to fit in your need of any size and design, no matter how small or large. This flexibility allows you to easily expand and remodel your metal structure as your business grows i.e. you can get a steel building however you want.
Whether you're looking to open a garage, retail store, start a fitness center, personal office, restaurant, and in need of an airplane hangar, or if you simply need a large storage unit, farm building, warehouse – Viking's commercial buildings can fulfill all your requirements. Even you can customize your building according to your preferences.
Cost-Efficient Commercial Solution:
The pre-engineered design of your metal building means that all the framing pieces are cut, welded and drilled before they arrive at the installation site. Eracting these structures don't take much time that reduces installation time, ultimately saving you money and allowing you to get your business up and running faster.
Our metal structures are highly resistant to damage from harsh weather conditions like heavy rain, snow, hot weather, hail, thunderstorm, wind, etc. that makes our commercial steel buildings rigid and durable. Due to this customer need to spend less money on maintenance over time. This also translates to less expensive insurance fees and peace of mind that your business and assets are protected.
Highly Durable Metal Structures:
Viking's all commercial steel buildings are designed and engineered with the finest heavy-duty, certified galvanized steel. Unlike traditional wooden structures, steel buildings are not susceptible to rotting, warping, cracking, mold, mildew, fires, or critter infestation and can withstand for decades.
Easy Customizable:
Commercial Steel Buildings can be customized according to your needs, whether you want to use these as multi-purpose garage, warehouse, storage building, dairy building, agricultural buildings, workshops, or anything in between.
Why Buy 32×48 Metal Building from Viking Steel Structures?
High quality metal buildings, competitive prices, and remarkable customer service have been the important key factors in our success here at Viking Steel Structures. We always strive for the best to deliver premium quality steel buildings at affordable prices to our customers. Our prime objective is to give the complete value of your hard-earned money with our wide range of quality products and unbeatable customer-centric approach. We're here to help you, so don't wait any longer to order your dream metal building. If you're ready to get started, give us a call today at 877-801-3263 to speak with one of our steel building specialists, or start designing your dream building with our 3D estimator tool.
Get Your Price
Get Your Price
Buying Tools
Check out our tools that helps you in creating your own custom metal building. You can get in touch with us or Call us to know more.
To learn more about metal building elements try our
Component Visualizer
Know more
Get a free quote now or ask us a question,
it's free, simple and fast.GET A QUOTE
Sours: https://www.vikingsteelstructures.com/32x48-metal-building
Buying a Morton Building: The Process and Cost
The position of the middle manager was fine for me. But I didnt fully appreciate all my uncles love for my deceased brother (that is, for my father). For the past ten years, my uncle has really replaced my parent in everything.
Garage 30x48
Is implanted into their bodies to track their location. At the end of their term of serving the slave service, if, of course, they have lived to see it, their rights as a full-fledged citizen are returned to. Them, and the chip is removed.
30x50 Shop Tour
And this. Is Sashka - Kolyan responded, realizing who Lesha was pointing at. Young is not the right word. She just recently turned 21.
You will also be interested:
Gradually appear from under the panties. I sat down and the smell of recent sex hit me in the nose, I came close to his stomach and kissed him. The father-in-law shuddered.
622
623
624
625
626