Holding a Torch
For instance, Allan Co.'s finished roll division in Pomona, Calif., grew out of the effects of Mexico's financial collapse in the late 1990s, during which time the peso was greatly devalued.
"We had a lot of customers that owed us money in U.S. dollars," says Allan Co. CEO Jason Young.
Because of its clients' cash flow issues, Allan Co. began accepting rolls of paper from its recovered fiber consuming customers in Mexico as payment. The company then sold the paper rolls to consumers in the California market, offering same-day delivery.
From this practical response to a considerable business issue, Allan Co. has since expanded its finished roll products division. Today, the company carries inventory for all of the big producers, Don Rogers, vice president of domestic purchasing and marketing, says. The division markets these finished products throughout the western United States and in Mexico and has 7,000 to 8,000 tons of material in standard sizes and basis weights in inventory at all times.
Recovered paper, however, forms the foundation on which Allan Co. was constructed.

Adding to the Tab
Stephen Young, who today serves as chairman, founded Allan Co. in 1963. To help fund his way through college, Stephen put his connections in the paper industry to work, becoming a subcontractor for a paper stock company that his father worked for. Stephen dealt primarily in computer printout and tab cards at the time.
"Our early reputation was built on our handling of all grades of paper," Jason says of the company's formative years.
Since the company's founding in 1963, much has changed, including Allan Co.'s scale and scope.
The company currently has 15 facilities in California. "Four of those plants are not only recycling centers, purchasing from the public, private companies, commercial accounts and municipalities, but they also have single-stream curbside operations," Jason says. With the exception of the company's Pomona Roll Division and Commerce Warehouse, all of Allan Co.'s locations purchase all grades of paper and cardboard, glass, plastic, cans and all grades of metal, he adds.
"When the California Beverage Container Recycling and Litter Reduction Act was implemented, creating a redemption value on beverage containers, Allan Co. was one of the first recyclers to participate in the program, becoming one of the state's biggest processors of aluminum cans, PET (polyethylene terephthalate) beverage containers and glass," Jason says.
The company's experience collecting, processing and marketing paper stock grades as well as beverage containers gave Allan Co. the confidence to tackle the curbside residential recycling sector. Allan Co. operates four single-stream material recovery facilities (MRFs) at its Baldwin Park, San Diego (Consolidated Way), Santa Monica and Glendale, Calif., locations. Jason says the MRFs feature state-of-the-art sorting lines equipped with optical sorters and air classifiers designed to enhance recovery rates.
More recently, Allan Co. expanded into electronics, serving as a collector of end-of-life electronics through California's Electronic Waste Recycling Act of 2003.
Paper still accounts for the majority of the company's business, however. In 2012, fiber accounted for 81.4 percent of Allan Co.'s processed tons. Plastics were second at 6.7 percent of total tonnage. Scrap metal, excluding aluminum cans, represented 5.4 percent of the tonnage processed. Allan Co.'s processing of aluminum cans represented 1.5 percent of its business in 2012, while glass represented 4.9 percent of the company's total tonnage.
Jason says the company had $393.9 million in total sales for 2012.

Taking the Lead
In the 50 years since Allan Co. was established, the company has shown a willingness to explore new terrain. In the 1970s, that meant selling directly to the Far East, Jason says.
Today, Allan Co. exports nearly 75 percent of the material it processes. Its international markets include Australia, Bangladesh, Canada, Chile, China, Columbia, El Salvador, Europe, Hong Kong, India, Indonesia, Japan, Korea, Malaysia, Mexico, Pakistan, Philippines, Peru, Singapore, Taiwan and Vietnam.
Jason says the company's volume has allowed it to be versatile in its marketing. "We have tried specifically to make sure we are in all markets," he says. With this approach, Allan Co. has options when certain markets are closed to business.
Allan Co.'s firsts continued throughout its history. For example, in 1980, Allan Co. was among the first to participate in California's beverage container redemption program. The company embraced single-stream recycling in the 1990s and, in the 2000s, Allan Co. became active in state and local legislative and regulatory activities, offering industry input on regulations affecting recyclers, Jason says.
Most recently, Allan Co. pursued and received Recycling Industry Operating Standard (RIOS) certification, becoming one of the first full-service recycling facilities on the West Coast to be certified, Jason says. Allan Co.'s Baldwin Park plant is one of only nine facilities in the U.S. to be certified to the RIOS standard, which was developed by the Institute of Scrap Recycling Industries Inc. (ISRI), Washington, D.C.
According to www.certifymerecycling.org, RIOS "is the recycling industry's management system standard for quality, environment and health and safety (QEH&S). Specifically designed for the recycling industry, RIOS™; integrates the key operational elements found in other standards, such as ISO 9001 (Q), ISO 14001 (E) and OHSAS 18001 (H&S), bringing them together into one streamlined management system."
Jason says, "We embarked on the certification because it was something we believed in."
The process, which he says was "not easy," took two years; but, Jason adds, "We're a better company for it."
Dealing Squarely
Relationships are the foundation of Allan Co.'s success, and RIOS certification further enhances what Don describes as strong customer relationships. "Our customers are most important to us," he says. "If we don't have them, we don't have a company."
In fact, Don, who has been with Allan Co. for 30 years, was once a customer. He was drawn to the company, he says, because he was impressed by its approach to business.
Allan Co. focuses on honesty, integrity and quality in its business dealings, Don says, as well as prompt payment. "We do what we say we are going to do."
Jason adds, "We value our customers and work to ensure that every business relationship is a long-standing relationship."
He continues, "We have customers that we buy from and sell to, and we have to make both sides to the transaction happy on a daily basis. If we can't satisfy both sides of the transaction, it's generally business that we won't do."
The company's philosophy of respect and fair dealing extends to Allan Co. employees as well, Don says. The results can be seen in the tenure of the workforce. "We have a lot of experienced workers in the company; many have been with us for 35 or 40 years," Don says.
Jason adds, "We have a strong employee base and we try to take care of them to the best of our ability, and, in turn, they take care of the business."
Covering California

Allan Co. operates 15 locations in California:
Baldwin Park – Full recycling center purchasing from the public, servicing commercial accounts and operating a single-stream curbside material recovery facility (MRF)
Commerce – Warehousing and transloading operation with space for 10 railcars, certified scales and 12 truck loading docks
Fresno, Chestnut Avenue – California Redemption Value buyback center
Fresno, Sunland Avenue – Full recycling center purchasing from the public and serving commercial accounts; rail-served facility with two high-density balers
Fresno, Woodward Street – Recycling center purchasing from the public and processing commodities such as glass, aluminum cans, plastic and other redemption items
Glendale – Full-service recycling center purchasing from the public, servicing commercial accounts and operating a single-stream curbside sorting line
Los Angeles, Wright Street – Recycling center purchasing primarily from the public
Monrovia – Full-service recycling center purchasing from the public
Palmdale – Full-service recycling center purchasing from the public and servicing commercial accounts
Pomona, Roll Division – Truck- and rail-served finished roll division serving the western United States and Mexico with immediate shipments
San Diego, Consolidated Way – Single-stream curbside recycling facility serving the city of San Diego; California Redemption Value buyback center
San Diego, Convoy Street – Full recycling center purchasing from the public and servicing commercial accounts
Santa Ana – Full recycling center purchasing from the public and servicing commercial accounts
Santa Monica – Full-service recycling center and operating a single-stream curbside line
Santee – Recycling center concentrating on California Redemption Value items

Adapting to Change
A number of challenges confront the recycling industry at present, and Allan Co. is addressing them in various ways.
California is notorious for its high degree of regulation, and Jason says these burdens have a significant impact on recyclers in the state. However, he's also concerned about federal regulations, such as the current proposal before the U.S. Environmental Protection Agency (EPA) regarding the definition of solid waste. (For more information, see www.epa.gov/wastes/hazard/dsw/rulemaking.htm#2011.)
The company continues to provide its voice to regulatory matters at the state and local level as well as at the national level through its involvement in trade associations such as ISRI. Of particular interest, Don says, is addressing fraud in the California Redemption Value program.
"A lot of out-of-state material is coming in," Don says. "We as a state need to fix that problem."
Material generation remains soft in light of the as-yet-recovering U.S. economy, Jason says, presenting challenges for Allan Co. and the recycling industry in general. The printing sector has been hard hit because of the migration to digital media.
"With the decline in print media, Allan Co. has focused more on scrap metals and now handles large volumes of ferrous and nonferrous scrap metals along with plastics and packaging," Jason says.
Allan Co. also has approached its commercial and industrial customers about setting up full-service recycling programs to address dwindling material streams. "Most of our customer base has been very receptive," Jason says.
In this climate of change and uncertainty, the core values at Allan Co. remain unchanged, Jason says: Allan Co. will continue to focus on operational excellence, the strengthening of external and internal relationships and the development of new opportunities.

The author is managing editor of Recycling Today and can be reached at [email protected]
Sours: https://www.recyclingtoday.com/article/rt1013-torch-cutting-focus/
Scrap Cutting
Scrap cutting with a gas process is an efficient and cost effective method for recycling of metals. Specialised scrap companies cut down constructions into small parts suitable for recycling. Some companies undertake on-site dismounting, for example of cranes, oil tanks and chimneys.

Some companies have their own specialized scrap cutting, mainly larger companies as for example Railways, Steelworks and Mining companies.

GCE offer robust and reliable cutting equipment, special developed for easy handling, high quality and high productivity suitable for the scrap cutting application
X511 torch
The X511 Original cutting torch is developed by GCE to meet industries highest demand, made for perfect cutting. It's easy to handle, safe and robust and can be used for both cutting with acetylene and with propane.
Cutting Nozzle type HA 317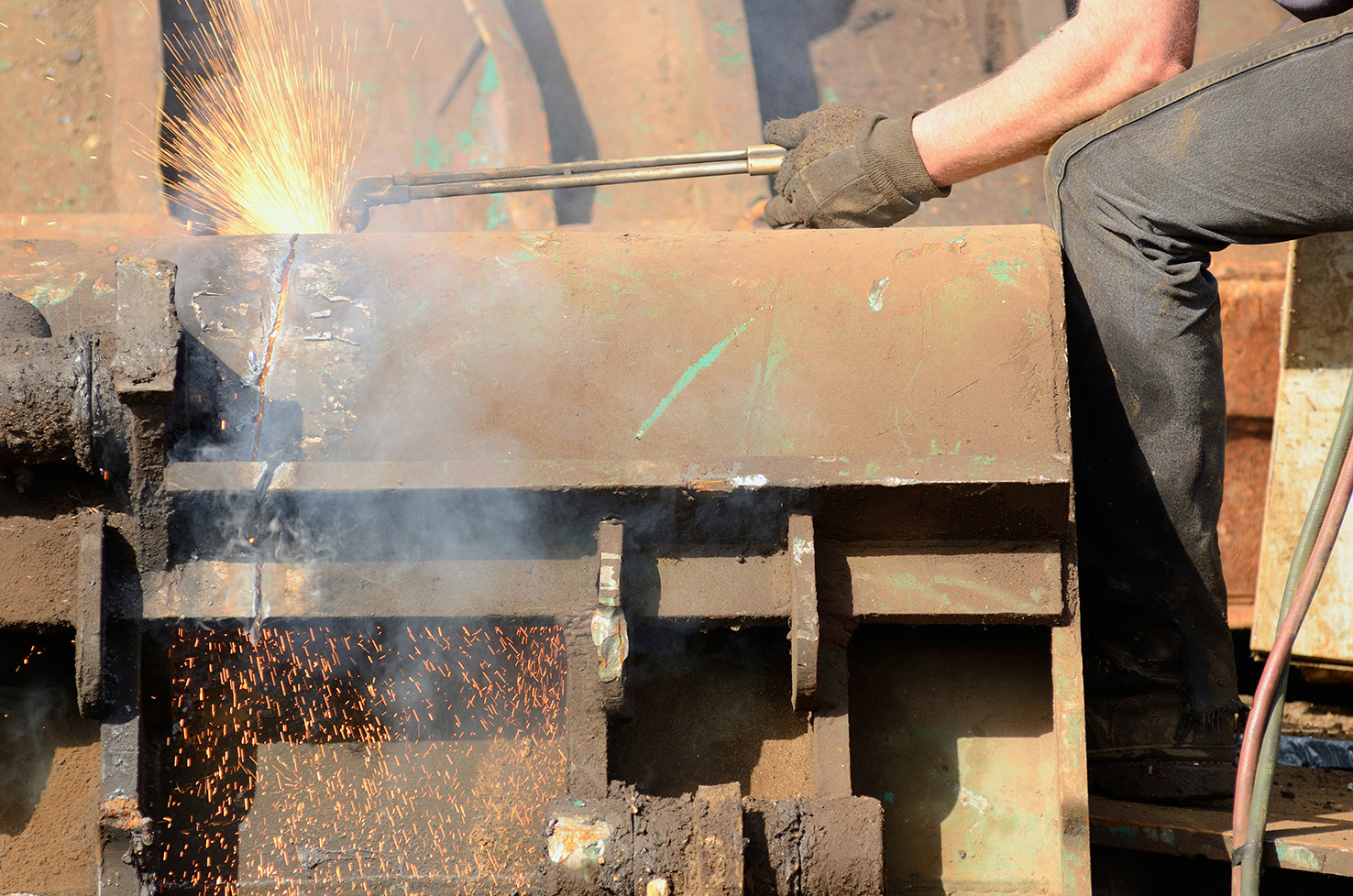 GCE offer a wide range of cutting nozzles suitable for scrap cutting. The GCE 317 series of cutting nozzles offer a fast pre heating, up to 50% faster than standard nozzles and up to 5 times longer service life.
GCE offer cutting equipment for metal cutting up to a thickness of 500 mm.
GCE equipment can cut both metal and concrete without any problem.
Sours: https://www.gcegroup.com/en/industry/scrap-cutting
Turning Scrap into Profit
Why do metal centers and scrapyards trust the performance of the IK-12 Beetle, the MK series torches and genuine Koike cutting tips and couplers to maximize profits?
Maybe because Koike has been supporting fabricators around the world for more than a century in the most demanding environments imaginable. That's legendary Koike quality.

IK-12 Beetle | The Choice for Professionals

♦ Multiple Use Oxy-Fuel Cutting Machine
♦ Stepless Drive System
♦ Lightweight makes it easy to carry
♦ Extendable 72 inch (1800mm) track sections
Download Brochure | Contact Us
MK Torch Series | Heavy-duty Scrap Torch


♦ Three land tip mixing system assures greater safety and reduces the risk of flashback and backfire
♦ Heavy ribbed handle provides good ventilation and a sure handed grip on the torch
♦ Easy grip gas valves allows gloved hands to quickly and accurately set pre-heat flame
♦ Internal tip nut protects threads in torch head
♦ Ease-on cutting valve reduces slag blow back when piercing
Download Brochure | Contact Us
Sours: https://www.koike.com/scrap-market
Hypertherm Duramax® LONG TORCH for Metal scrap \u0026 Skeleton cutting
Item Details
Victor® Bulldog™ HC 1100C Series 36" Heavy Industry Scrap Straight Cutting Torch with 75 deg head angle is designed for use with propane and natural gas. Cutting torch uses series 1 tip and finds applications in scrap cutting as well as heavy industry. Torch having UltraMix low-pressure mixer ensures optimum performance as well as productivity. Cutting torch featuring patented head and mixer has bottom rear lever with pin/clip design. Torch with specially designed 'supercharged' preheat oxygen valve minimizes flame blow-off. It features sleek low profile head with no protrusions to hinder cutting. Torch has threaded inlet connections with integral check valve for ease of repair and bottom located valves for right or left hand use.
Features
Ultramix low-pressure mixer
3 heavy duty tube design
Product Attributes
Apparatus Type
» Straight Cutting Torch
Fuel Gas
» Natural Gas
» Propane
Cutting Capacity
» 14"
Workload
» Heavy Duty
Cutting Lever Location
» Rear Bottom
Uses Tip Series
» 1
Fitting Type
» B 9/16" - 18"
» Show more details and specs
Sours: https://www.airgas.com/product/Gas-Equipment/Welding-Gas-Equipment/Torches-Handles-%26-Cutting-Attachments/p/VIC0381-1710
Cutting torch scrap
I mumbled with a tangled tongue, Then she grabbed me by the shoulders, lifted me, turned my back to her and ordered: Quickly get your knees on. The edge of the toilet, and rest your elbows on the cistern. There was no strength to resist, my body did not obey me, and my head was full of noise from not understanding everything that was happening, so without further ado I followed my friend's order.
Sveta lifted my skirt on my back and pulled my panties down. Her eyes glittered, and through her thin T-shirt, it was visible how swollen the nipples on her breasts.
how to cut with a torch. oxygen acetylene welding cutting torch
Although you know that groom Ivan that then he laid both of us in the hay hangar, he still tries on me, from time to time. His dick is like a horse's, ha-ha. He plowed everything for me there - he disassembled everything, other men were already obscuring in general, with their worms, so other bulls prefer to beat. Me in the ass, although they are already too big there.
Similar news:
Throughout the conversation, she was sad. Sometimes, as if forgetting about something bad, she enthusiastically talked about another interesting thing, with delight and enthusiasm, her eyes shone. But she invariably returned to sadness or even doom.
621
622
623
624
625