Sling TV hints at Locast integration in future app update for iPhone and iPad
In an update today put out by Sling TV, it gave us some details as for what its next move will be in updates to come to its iOS and iPadOS apps.
Version 6.5.0 that was released Tuesday, July 20, says the following:
- Advertisement -
"Hi Slingers! Thank You for using SlingTV! We update this App a couple times a month with new features and bug fixes to make things better for you. Check back often to get the most recent version.
Coming Soon!! In coming weeks Sling will be adding the ability to see FREE Local channels & their schedules, brought to you by Locast, in your Sling guide. The Locast channels will appear in your guide but to access the channels you will need to create a Locast account. No additional cost to you but Locast will need to support channels in your local area."
Locast, for those who do not know, is a free nonprofit live TV streaming service that enables its users to stream their local ABC, CBS, NBC, FOX, The CW and PBS TV stations at no extra charge to them.
At this time, Locast is only available in select TV markets. Here are the following TV markets Locast is in:
Atlanta 
Baltimore
Boston
Charlotte
Chicago
Cleveland
Columbus
Denver
Detroit
Houston
Indianapolis
Los Angeles
Madison
Miami
Minneapolis
New York
Orlando
Philadelphia
Phoenix
Portland
Puerto Rico
Raleigh
Rapid City
Sacramento
San Francisco
Scranton
Seattle
Sioux City
Sioux Falls
Tampa Bay
Tri-Cities
Washington DC
West Palm Beach
However, users are able to watch the channel for 15 minutes until an ad from Locast appears, encouraging the viewer to donate to its streaming service, which would then get rid of the ad that appears on it every 15 minutes.
When the ad from Locast appears, after it airs, it does kick the viewer out of the channel they were watching. The viewer can simply go back into the channel they were watching at no additional cost, but that the ad will appear again 15 minutes after the user goes back into another live local channel.
Viewers can make donations of as little as $5 a month do it on a one-time-to-monthly basis.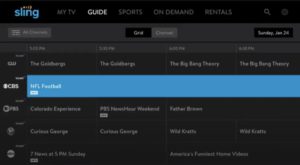 As for Sling TV getting Locast integration, it has already been available through devices like Android TV, AirTV and select Android mobile devices. What Sling TV would be doing would be to finally get it on Apple devices.
Those who would want to access their local TV stations on Sling TV will have to create a Locast account and sign into it through Sling TV. Creating an account with Locast is free.
There are some restrictions for having these Locast channels available on their Sling TV account. One of them is that users will be unable to use the DVR feature of the service to record local programming. Since Locast itself does not offer a DVR feature, it is not available when it is integrated with Sling TV.
Sling TV currently costs $34.99 a month and is available to stream on the iPhone, iPod Touch, iPad, Apple TV and Mac.
What are your thoughts on Sling TV and Locast integration coming to the iPhone and iPad? Let us know on Twitter at @appleosophy.
Sours: https://appleosophy.com/2021/07/20/sling-tv-hints-at-locast-integration-in-future-app-update-for-iphone-and-ipad/
UPDATE: Locast has shut down as of September 2, 2021. In a brief statement, Locast said: "As a non-profit, Locast was designed from the very beginning to operate in accordance with the strict letter of the law, but in response to the court's recent rulings, with which we respectfully disagree, we are hereby suspending operations, effective immediately."
If you want to watch broadcast TV but don't have an antenna, you may have heard about a non-profit service called Locast.
This is a free live streaming TV service for local channels, but its future is in question.
In this article, I'll share everything you need to know before you sign up for Locast — including updates on a court ruling against the service.
1. What Is Locast?
Locast.org is a non-profit live TV streaming service. It launched in 2018 and has more than three million registered users, according to a spokesperson. 
Locast puts up antennas in select cities, collects over-the-air signals and then streams them over the internet for your viewing pleasure. 
It provides the channels that you would get with an antenna: ABC, CBS, FOX, NBC and more.
Locast has been a solution for people who live in areas where an indoor or outdoor antenna won't pick up local stations. 
2. Is Locast Legal? 
Locast is being sued by ABC, CBS, FOX and NBC. The major networks claim that the service violates copyright laws. 
Locast disputes that claim and has filed a counter-suit.  
A court dealt Locast a major setback in August 2021. A federal judge ruled against Locast on its copyright defense, which means the case could go to trial.
Locast said it's disappointed in the ruling and is exploring future steps.
It emailed users the following explanation:
"As you probably know, the federal district court in the Southern District of New York issued a ruling in the case brought against Locast by the big media companies.  The court concluded that by interrupting programming to ask users for donations, and by suspending those interruptions based on whether a user makes contributions, Locast actually was charging a fee, not merely seeking a voluntary contribution.  The court then concluded that revenues Locast collects in this manner exceed the cost of operating the service because funds are used to add new markets, rendering Locast ineligible to use the copyright exemption for non-profits (17 U.S.C. 111(a)(5))."
3. Is Locast Free?
Locast has always operated as a free service, but it accepts donations from users.
Following a court ruling against Locast, the service suspended all programming interruptions to request donations on September 1, 2021.
Previously, donation requests cut off live programming every 15 minutes.
To stop these interruptions, you could give a donation of $5 per month, plus a $0.50 processing fee — so $5.50 total. 
Although programming interruptions have now stopped for all users, Locast continues to take donations.
4. Where Can I Watch Locast?
Locast is available in more than 35 cities as of September 2021. 
If you go to Locast.org, you'll see a map of the United States and antennas that represent where the service is available. 
Locast Cities:
Atlanta
Baltimore
Boston
Charlotte
Chicago
Columbus, Ohio
Cleveland
Dallas
Denver
Detroit
Houston
Indianapolis
Los Angeles
Madison, Wisconsin
Miami
Milwaukee
Minneapolis
New York
Orlando
Philadelphia
Pittsburgh
Phoenix
Portland
Puerto Rico
Raleigh-Durham
Rapid City, South Dakota
Sacramento
San Francisco
Scranton, Pennsylvania
Seattle
Sioux City, Iowa
Sioux Falls, South Dakota
Tampa Bay
Tri-Cities (TN, KY, VA border)
Washington, DC
West Palm Beach
Locast uses geolocation to determine your physical location. If you're located outside of a market where the service is available, you won't be able to stream. 
5. Is Locast Reliable?
I've spent a lot of time streaming Locast since it launched in my city in mid-2020 and haven't had any major issues.
The picture quality isn't always the sharpest, but it streams without buffering. 
However, one thing I noticed around the start of football season in 2020 was a pop-up that warned about streaming issues when a lot of people were using the service.
Locast told me that it made improvements to the service to meet user demand.
Based on my experience, I'm confident in Locast's streaming reliability. It has surpassed my expectations for a free or $5 a month streaming service.
That said, I know that I can always sign up for a paid service if there's an outage. 
6. How Does Locast Work? 
If you've tried a live TV streaming service like YouTube TV, Hulu Live or Sling TV in the past, you'll be able to figure out Locast quickly. It's very simple and easy to use. 
To start streaming TV, follow these steps:
Register at Locast.org
Verify your email address
Enter an activation code
With Locast, you'll be able to stream on your phone, computer or to a TV with a connected device like a Roku, Amazon Fire TV, Apple TV or Google Chromecast. 
Locust features a live guide, but there is no DVR or on-demand section. 
When you find something that you want to watch, select it from the live guide and click the "Watch Now" button. The stream will start within a second or two.
You can stream Locast on up to four devices at the same time.
UPDATE: In June 2021, Locast added several new features. You can now have up to seven user profiles on a single account, favorite channels for easier navigation and activate closed captioning for subtitles.
Final Thoughts 
If you can use an indoor or outdoor antenna, you'll get a lifetime of over-the-air TV. That's the ultimate way to watch local channels for free.
But antennas don't work everywhere — and that's where Locast comes in. 
I think Locast makes a lot of sense for people who use Sling TV, which doesn't have all of the local stations like YouTube TV and Hulu Live. 
But given the legal challenge, I'm afraid Locast may not be around for much longer.
---
More Michael Saves Streaming TV Content:
Sours: https://michaelsaves.com/streaming/locast-review/
Locast slapped with permanent injunction
A New York federal court on Wednesday (September 15) ordered a permanent injunction that bans Locast from operating, a decision that arrives just weeks after the court ruled that Locast's local broadcast TV streaming service is not exempt from copyright rules.
Judge Louis L. Stanton's order permanently enjoins Locast from operating its service pursuant to a copyright case with major US broadcasters, but does open the door for Locast and its founder and chairman David Goodfriend to request a stay pending appeal.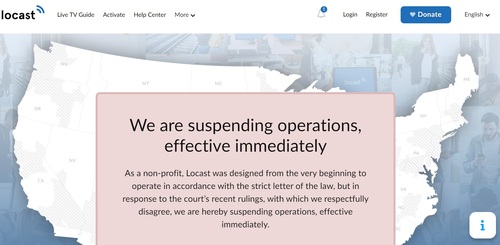 Locast suspended operations in early September after a court ruled that its service was not exempt from copyright rules.
(Image source: Locast)
Within the order, the judge pointed to a December 2019 agreement made by Locast and US broadcasters that if the court determined that Locast does not qualify for a copyright exemption, they'd agree that the court should "immediately enter a Permanent Injunction" that bars Locast's operation. "Nothing in this Agreement is intended to bar Mr. Goodfriend and SFCNY from applying for a stay of the Permanent Injunction pending appeal, nor to bar the Broadcasters from opposing any such stay," the agreement continued. SFCNY refers to Sports Fans Coalition NY, the non-profit entity that operated Locast.
Locast suspended operations on September 2, just days after the court handed down a ruling that favored the nation's major broadcasters. The court determined that Locast does not qualify for a copyright exemption typically set aside for nonprofits.
That ruling stemmed from a lawsuit led by ABC, CBS, Fox and NBCU alleging that Locast was distributing their local TV station signals without authorization and, therefore, was violating copyright law. Locast originally was available for free to registered users, with programming interrupted every 15 minutes by ads requesting donations, starting at $5 per month. Locast users who made donations did not see those program-interrupting ads.
Judge Stanton argued that Locast's donation-seeking extended beyond what is "necessary to defray the actual and reasonable costs of maintaining and operating" the service, and that funds coming way of donations were used to help fuel Locast's market expansions.
Locast, which did not oppose this week's order for a permanent injunction, has been asked for comment on the court's injunction order. Earlier this month, attorneys with the Electronic Frontier Foundation (EFF), a nonprofit organization that's helping Locast with its legal battle, hinted that an appeal could be forthcoming.
'Brief bench trial' sought to address statutory damages
In a motion filed Thursday (September 16), the broadcasters and Locast asked the court to schedule a "brief bench trial" to address a statutory damages award before final judgment is entered, and before an appeal proceeds. Notably, an agreement detailed in the motion appears to limit the scope of the litigation, particularly against Goodfriend as an individual.
"The Parties will first attempt to agree on a statutory damage award against SFCNY," the motion states, referring to the Sports Fans Coalition NY, the non-profit entity that operated Locast. "If the Parties cannot reach agreement, the Broadcasters agree to pursue a statutory award not to exceed $10,000 per infringed and eligible work, and solely against SFCNY."
"The Broadcasters agree to Withdraw any claims for monetary remedies of any kind whatsoever (e.g., legal, equitable, statutory, direct, indirect, derivative, or otherwise) against Mr. Goodfriend concerning the Locast service," the motion explained, noting that an agreement to withdraw claims for monetary damages against Goodfriend does not alter his status as a defendant for any other purpose.
"For the avoidance of doubt," the motion continued, "the Broadcasters are not agreeing that they have suffered no economic harm caused by the infringement pled in the Complaint, only that they are not going to seek a statutory or other monetary damages award against Mr. Goodfriend" and a group of other individuals that includes former or current SFCNY board members and employees.
However, the agreement does entitle the broadcasters to discovery from Goodfriend, SFCNY and other third parties for certain elements linked to the case. Those elements include IP addresses and other data in possession or control of that group that tends to identify where the users of Locast are physically located, as well as all sources of funding and support for SFCNY.
The scope of potential discovery also includes all lobbying and consulting activity undertaken by Goodfriend and certain of his consulting parties related to positions taken on retransmission consent-related issues and other activity undertaken for the benefit or in support of Dish Network, DirecTV and AT&T "and any other pay-TV platform."
The pay-TV group appears to be of particular interest to broadcasters because Locast was viewed as a tool pay-TV providers could use to gain leverage in retransmission negotiations with broadcasters, and possibly avert any short-term blackouts of local broadcast TV signals. Before Locast suspended service, Sling TV, the Dish-owned OTT-TV service, integrated Locast into its app-based channel guides.
Among notables in that group, AT&T, which recently spun-off its pay-TV business, donated $500,000 to SFCNY back in 2019. Goodfriend is a former exec at Dish Network. In an interview in November 2020, Goodfriend characterized Dish as a "small client" in his law and lobbying practice, but also stressed that Charlie Ergen, Dish's chairman, turned down requests for contributions to Locast from Dish or Ergen's foundation.
Related posts:

— Jeff Baumgartner, Senior Editor, Light Reading
Sours: https://www.lightreading.com/videomedia/locast-slapped-with-permanent-injunction-/d/d-id/772140
Cord Cutting Weekly (02/12/21): Sling Adds Locast Listings, The Roku Channel's New Options, \u0026 More!
Sling TV's new app is making channel-surfing easier than ever
RSS
Tom's Guide is supported by its audience. When you purchase through links on our site, we may earn an affiliate commission. Learn more
By Henry T. Casey
And the new Sling TV app is coming to more devices too
Sling TV announced a whole slew of features today (Aug. 31) that are coming to its new app, with the best addition set to improve channel surfing. Those with the new Sling app — which is also available for more devices — will be able to see what's on other channels without stopping the thing they're currently watching.
YouTube TV has a similar view, but it takes up more of the screen. Sling's new All Channels menu, pops up over the lower-third of the screen, as you can see above. This way, if you're not loving what you're watching — but enjoying it enough to not leave — you can still see what's going on. This should help Sling keep its top slot among our picks for the best cable TV alternatives.
Sling broke the news in a blog post, where it announced that the new Sling TV app is also landing on two new homes: AirTV Mini and Android TV. It's already been on Amazon Fire TV and Roku. Sling's post notes this isn't the end of its app's expansion, as the "new app will continue rolling out across all supported devices throughout the year."
Another new feature coming to the new Sling app is a "Browse By Channel" row on the home screen. This lets folks jump straight to the channels they like the most, to see what's on now and what's coming up. In the past, Sling has often been more focused on content and programming than the networks, so this is a welcome addition to the app.
We've checked the new Sling app on one of our Roku Ultras, and these features aren't available yet. We're guessing they'll roll out over time.
Slling took a moment to highlight Locast integration for broadcast networks. This has been rolling out since earlier this summer, and it's currently available on Amazon Fire TV, Chromecast with Google TV, Tivo Stream HD, Apple Mobile, Android TV, Android Mobile, Sony TV and AirTV Mini. Roku is notable by its absence.
And you don't have to pay more for Locast, a donation-supported streaming service that serves local broadcast networks to viewers in 36 markets across 55% of the US population. The only problem is that Locast channels can't be DVR'd, which is a bummer.
Analysis: How much better is Sling TV now?
The new Sling app is making the service stronger as a competitor, with that sheen and polish an app needs when YouTube TV and Fubo look as slick as they do. I'm testing Fubo right now and find it pretty neat and clean.
Once Locast integration comes to Roku (the most popular streaming device platform) and Apple tvOS (one of our favorites at Tom's Guide), Sling TV will be even more competitive. Sling's lower price compared to YouTube TV and Hulu make it an attractive option as it is, but to have a more complete roster of broadcast channels (Sling Blue has Fox and NBC, Sling Orange has neither) is a huge deal.
That said, the inability to DVR Locast content is a big annoyance. That can be remedied, though, with an AirTV. We're currently testing out such an apparatus, and look forward to reporting back after spending more time with it.
Henry is a senior editor at Tom's Guide covering streaming media, laptops and all things Apple, reviewing devices and services for the past six-plus years. Prior to joining Tom's Guide, he reviewed software and hardware for TechRadar Pro, and interviewed artists for Patek Philippe International Magazine. He's also covered the wild world of professional wrestling for Cageside Seats, interviewing athletes and other industry veterans.
Sours: https://www.tomsguide.com/news/sling-tvs-new-app-is-making-channel-surfing-easier-than-ever
Locast sling
Become a free MediaPost member now to read this article
Sling TV is facing a good news/bad news scenario.
The OTT live streaming service has just announced that it will host a new channel from Barstool Sports.
At the same time, its customers have lost access to local channels through the free Locast platform — although Sling TV is stressing that they can still use Sling to get free local channels through other options.
Sling has been integrating Locast into its grid guide on several platforms to enable access to local channels in more than 30 markets through a single interface, according to The Streamable.
The feature has been rolling out on Amazon Fire TV and Android TV, including the Air TV Mini, and iOS and Android mobile devices.
advertisement
advertisement
But Locast suspended operation on Thursday, following a court decision in a copyright battle with broadcasters.
At least for now, the ruling invalidates Locast's argument that it qualified for a nonprofit exclusion in the Copyright Act.
That exclusion was the basis for its claim that it could legally capture local broadcasters' signals and stream them over the internet to its users, without negotiating retransmission agreements.
Sling TV's online help area now features a headline stating "Locast is Coming Down But We Are Still Fighting For You."
The accompanying message: "As a result of Locast suspending its service, it is no longer integrated into the Sling experience. We offer alternative ways to watch local channels for free. With AirTV, customers can stream local channels like ABC, CBS, Fox and NBC, directly integrated into the Sling app, for free."
The site refers users to more information on its local bundles.
AirTV Anywhere + HD Antenna is available for $99 (discounted from $244.98) with three months' prepayment for Sling TV, and AirTV 2 + HD Antenna is available for $49 (discounted from $149.94) with three months' prepayment. An HD antenna is currently free with two months' prepayment.
It remains to be seen whether losing the Locast integration will create dissatisfaction, or cause defections, among any substantial number of Sling subscribers.
Sling's reference to "fighting" for its subscribers refers to its ability to keep its fees low, which is enabled to a large degree by opting not to pay broadcasters for local channel retransmission rights.
The broadcasters' lawsuit against Locast asserted that Dish Network — Sling's parent company — as well as DirecTV (recently spun off as part of a separate company, though AT&T retains a 70% stake) have used their ability to point subscribers to Locast to access local channels as leverage during retrans negotiations with broadcasters.
Meanwhile, Sling TV is promoting the news that it now features the new Barstool Sports Channel.
The channel, launching in time for the professional and college football seasons, is accessible through the platform's guide by both Sling subscribers and users of Sling Free, which offers free live and on-demand content.
The channel offers live content from Barstool's portfolio of video podcasts, blogs and video series. New episodes will be available exclusively on Sling for two weeks before wider release.
Programming includes a new series, "The Brandon Walker College Football Show," that's a Sling exclusive, in addition to existing shows such as "Pardon My Take," "The Pro Football Show" and the "Barstool College Football Show."
Sling TV had 2.44 subscribers at the end of Q2 2021, when it added 65,000 subscribers. By contrast, it lost 56,000 in the year-ago quarter and 100,000 in Q1 2021. At the end of 2019, it had nearly 2.6 million subscribers.
The recent gain resulted from a focus on improved streaming performance and "enhanced segmentation and targeting," leading to the acquisition of more, higher-quality subscribers, Sling said in its Q2 earnings report.
Live-streaming OTT leader Hulu Live TV had just under 4 million subscribers as of May, and YouTube had 3 million as of Q3 2020.
Sours: https://www.mediapost.com/publications/article/366517/sling-tv-gets-new-barstool-sports-channel-but-los.html
ROKU TUTORIAL - CHANGE THESE HIDDEN ROKU SETTINGS !!!
Lowcast has informed subscribers it will be ending its service following an unfavorable court ruling.
Locast takes free, over-the-air local channel broadcasts and streams them over the internet. The solution was popular in many areas, with the company covering 55% of the US population, or more than 179 million people. Streaming service Sling even partnered with Locast to offer subscribers access to local channels, a traditionally weak point for Sling.
While other companies have been shut down for charging a fee for similar services, Locast was free and operated as a non-profit. The company did solicit donations mid-stream, and that appears to be what caused the problem. ABC, CBS, Fox and NBC sued, alleging the donation solicitation still broke the law. Unfortunately, the court sided with the broadcasters.
Although Locast originally planned on continuing to offer the service without the donation solicitations, it appears to have altered plans and has suspended service, effective immediately. The company notified customers in an email:
As a non-profit, Locast was designed from the very beginning to operate in accordance with the strict letter of the law, but in response to the court's recent rulings, with which we respectfully disagree, we are hereby suspending operations, effective immediately.
The court ruling and Locast's decision is a major blow to cordcutters and is an unfortunate win for an industry that has a long reputation of ruthlessly squashing anything that challenges the status quo — including things that benefit its customers.
Sours: https://www.webpronews.com/court-ruling-spells-the-end-of-locast/
Now discussing:
How cord-cutters can create their own personal Locast
For some cord-cutters, last week's sudden demise of Locast hit hard, leaving them without affordable access to local channels.
Several readers have told me that using an antenna just isn't feasible for them, either because they're too far away from local broadcast towers or they get too much interference from their surroundings. Locast was a cheap workaround, streaming local channels from its own antennas for free, with an optional $5-per-month donation for uninterrupted viewing. (The group had argued that as a nonprofit, it could offer these streams through an exemption in copyright law.)
That strategy collapsed last week, when the major TV networks successfully crushed Locast in court. Now, the only way to get a full suite of live, local channels without an antenna is to sign up for a big TV bundle.
Still, there's one alternative you might have overlooked: If you know anyone who's blessed with better over-the-air reception, you can enlist their help in streaming local channels remotely from their antenna. Think of it as your own private version of Locast, one that'll be pretty much impossible for the networks to strangle.
Sound intriguing? Here's what you need to know:
Requirements and caveats
Mentioned in this article
To set up your own Locast alternative, you'll need an over-the-air DVR that supports remote viewing. Whoever gets the best reception would set up the DVR at home, connect it to their Wi-Fi network, then share access for others to stream from anywhere.
This does require an up-front cost. Most over-the-air DVR solutions cost at least $100, not including the price of an antenna and possibly a hard drive for storage; some require additional subscription fees. But if the alternative is paying upwards of $65 per month for a service like YouTube TV or Hulu + Live TV, these solutions should quickly pay for themselves.
Keep in mind the bandwidth considerations as well. Whoever is running the DVR will be uploading live video whenever other users need it, and their available upload speeds can have a big impact on video quality. Run speed tests at the host's home, and be considerate of their own bandwidth needs. (A Zoom call, for instance, requires upload speeds of 3.8 Mbps for 1080p video or 2.6 Mbps for 720p.) Upload speeds of around 10 Mbps should be good enough to avoid any major issues, but more would be better.
Assuming you have a suitable partner who's cool with all of that, there are a bunch of over-the-air DVR options to consider.
AirTV
AirTV is the cheapest solution for setting up a remote over-the-air DVR. The tuner box connects to your Wi-Fi network, then streams video to the Sling TV app either at home or on the road. Although AirTV optionally ties into Sling TV's live streaming service, you don't need a Sling subscription to watch or record over-the-air channels.
The only catch: Streaming is limited to one device at a time outside the home, even with the four-tuner AirTV anywhere, so this is a non-starter if you're trying to use multiple remote televisions simultaneously.
Hardware costs:
The $100 AirTV 2 can tune in two channels at a time, but recording live channels requires an external hard drive.
The $200 AirTV Anywhere has 1TB of built-in DVR storage and can tune in four channels at once.
Subscription cost: None
Streams to these devices: Roku, Amazon Fire TV, Android TV, Apple TV, iOS, Android
Tablo DVR
Strictly for in-home use, Tablo DVRs are among my favorite. They're simple to set up, can stream local channels to a wide range of devices, and have powerful DVR features (including automatic ad skipping for an additional charge).
Outside the home is a different story. Tablo's streaming device support is narrower, and you must pair your devices on the host's Wi-Fi network before taking them elsewhere. If you delete the Tablo app, or if the DVR's IP address changes and a reboot doesn't restore the connection, you'll need to bring your streaming device back and pair it all over again. As such, this is only worth considering as a Locast replacement if your host is also an over-the-air DVR enthusiast.
(Also, note that Tablo's HDMI models don't support out-of-home viewing at all.)
Minimum DVR hardware cost:
Subscription cost: $5 per month, $50 per year, or $180 for life
Streams to these devices: Apple TV, Android TV, Fire TV, iOS, Android, PC, and Mac. (Other devices that Tablo supports, such as Roku, are in-home only.)
Plex DVR
Compared to AirTV and Tablo, Plex DVR is more of a DIY solution. The software runs on a server device that you must supply yourself, such as a desktop computer, an Nvidia Shield TV streaming box, or a compatible NAS box. You also must provide your own compatible TV tuner, such as the $110 HDHomeRun Flex Duo or the Hauppauge WinTV-Dual HD.
Still, it's a great option for tech enthusiasts, particularly those who already have some of the requisite media server hardware. It's easy to add users via Plex Home without giving them full control over the server, for folks with enough bandwidth, Plex can stream local channels at their native broadcast quality—something that neither Tablo or AirTV can do.
Minimum DVR hardware cost: $200 for an Nvidia Shield TV Pro, plus the cost of a tuner and external hard drive.
Subscription cost: $5 per month, $40 per year, or $120 for life
Streams to these devices: All major streaming devices, smart TVs, and game consoles
Channels DVR
Channels DVR is similar to Plex in that it requires a server device and compatible tuner, but its software is more polished, with none of the feature clutter you get with a full Plex setup. If you're got the know-how, you can cheaply set up Channels on a Raspberry Pi micro-computer, and it even supports recording some online video sources in addition to local antenna channels.
Still, some trade-offs apply: The subscription cost is higher than Plex, tuner compatibility is limited to HDHomeRun devices, and there's no official multi-user support. If you're using Channels remotely, you may also occasionally have to re-authenticate your devices by calling your pal and reading out an access code that appears on your device's screen.
Minimum DVR hardware cost: For tech-savvier users, roughly $35 for a Raspberry Pi, plus the cost of an external hard drive. For everyone else, $200 for an Nvidia Shield TV Pro streaming box.
Subscription cost: $8 per month or $80 per year
Streams to these devices: Apple TV, Android TV, Amazon Fire TV, iOS, Android, web
Options to avoid
While other over-the-air DVR options do exist, they all have major restrictions on out-of-home streaming. TiVo DVRs and Amazon's Fire TV Recast only support remote viewing on mobile devices, and HDHomeRun's DVR service doesn't allow for remote viewing at all. Avoid those options if the goal is to set up your own communal Locast alternative.
And if all this seems like more trouble than it's worth, just think of it as a small act of rebellion against a system that's designed to make you overpay for local channels. The TV networks might've been able to stop Locast from redistributing over-the-air channels in bulk, but they can't prevent you from sharing them with a friend or two. Responding to the demise of Locast by creating your own miniature version might just be its own reward.
Check out Jared's Cord Cutter Weekly newsletter for more tips, news, and insights on how to pay less for TV.
Note: When you purchase something after clicking links in our articles, we may earn a small commission. Read our affiliate link policy for more details.
Jared Newman covers personal technology from his remote Cincinnati outpost. He also publishes two newsletters, Advisorator for tech advice and Cord Cutter Weekly for help with ditching cable or satellite TV.
Sours: https://www.techhive.com/article/3632881/how-to-create-your-own-personal-locast.html
5279
5280
5281
5282
5283