Arts N Crafts: Crayon, Paint, and Embroidery Tattoos
Hopefully, a tiny silver lining of global quarantines was that many people got in touch with their more crafty DIY side. We've seen some pretty fabulous projects pop up all around the world, and to celebrate...we thought we'd collect some of the arts 'n' crafts tattoos!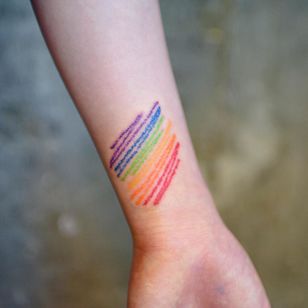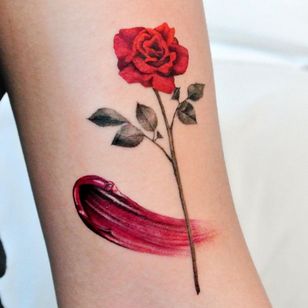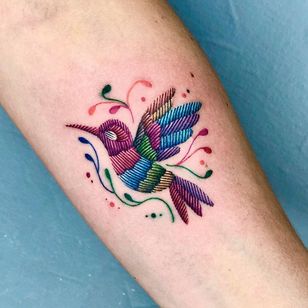 Looking for a tattoo artist?
That's why we're here. No matter your idea, budget or location, we will help you find the perfect artist for your next tattoo.
Get started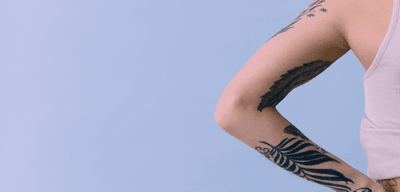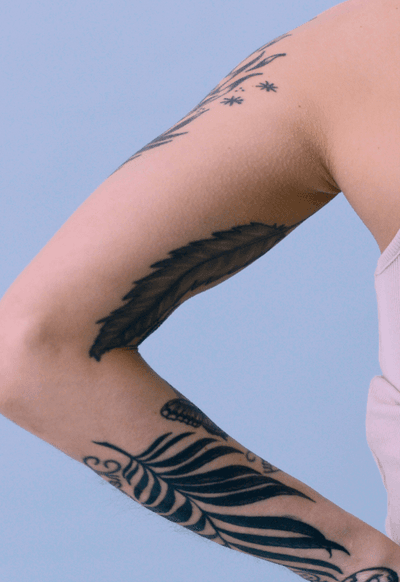 Although not exactly new, embroidery tattoos, cross stitch tattoos, and crayon tattoos have all reached new heights of excellence thanks to artists who are pushing their craft to the next level. Peruse the tattoo inspiration and see if you find something that captures your heart!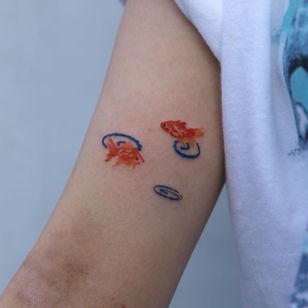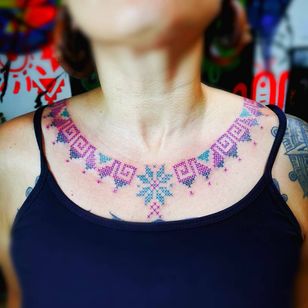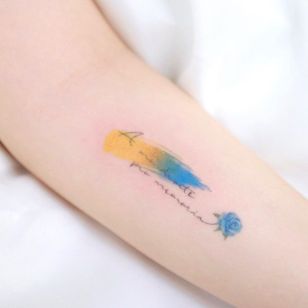 Y'all Thready For This: Embroidery Tattoos
A highly contemplative act, embroidery tattoos not only capture texture and color, but they also hark to an ancient art form. Examples of embroidery have been found in China dating back to the 5th and 3rd centuries!
We've found some pieces that are really stellar examples of how tattooists can create embroidery tattoos. You'll notice that some are made to look literally embroidered into the skin, with shiny silky thread, and others use a more subtle approach with texture and color. We've also included some cross stitch tattoos for those who like their threads even more organized!
Get Your Cray-Cray On: Crayon Tattoos
Truly, this particular technique can often look really personal. Each crayon tattoo we've seen really encapsulates a childlike wonder or ingenious cuteness that we can't get enough of. This particular technique has been growing more in popularity, and it may be that it's the perfect way to recreate children's drawings! Great for proud mums and dads or siblings too!
There are many different ways that tattooists make a crayon tattoo but perhaps mostly used is a dotwork technique. Hand poke tattoo artists have also been diving into this particular style with stunning results.
Not to Be Brushed Off: Paint Tattoos
Who doesn't love the look of rich and vivid colors? Paint tattoos keep popping up everywhere and we can instantly see why. They're a unique way to show a love for art and creation, and the textures tattooists can create are like ASMR for eyeballs.
Impasto, the technique of layering thick coats of paint, means you can really see the brushstrokes. The texture created by this technique gives the artwork energy and movement. It was even the approach of Van Gogh, himself, which makes it even clearer why people are so drawn to paint tattoos!
We hope this arts n craft tattoo guide has helped on your wanderlust journey to find the perfect tattoo to capture your artistic side. If you're looking for more, check out our article on fine art tattoos!
---

Written byTattoodo
A curated collection of counter culture. Featuring the world's top artists. Show us yours.
Sours: https://www.tattoodo.com/articles/arts-n-crafts-crayon-paint-and-embroidery-tattoos-150137
Want to know more about Watercolor Crayon Tattoo? You are in the right place. Expand your knowledge of tattoos. Gather all the necessary information, choose the style, design and wizards. Read the reviews. Decide on your desires and start transforming your appearance. Do not deny yourself the joy of a new tattoo! Here you can find everything about Watercolor Crayon Tattoo.
36 Best Watercolor Crayons images Watercolor, Art ...
https://www.pinterest.com/tishblake/watercolor-crayons/
The Ultimate Summer Bucket list for bored kids - Watercolor crayon tattoos: Wet crayons, draw on body and wash off with soap and water. What others are saying The Ultimate Summer Bucket List For Bored Kids I LOVE this! would be so much fun to have a paint party with face painting, paint [.
155+ Stunning Watercolor Tattoos That Will Take Your ...
https://www.inkme.tattoo/watercolor-tattoos/
The sky is the limit for tattoo ideas, you can get just about anything as a watercolor tattoo. There are elephants, flowers, feather, owl, quotes, roses, trees, sunflowers, magnolia, lions, mermaids, butterflies, dandelions, fish and so much more. Just about anything looks great as a watercolor tattoo design.Author: Love Kimberly
10 Most Inspiring Watercolor tattoos Ideas
https://www.pinterest.com/topics/watercolor-tattoos/
Watercolor tattoos. From the basics to advanced, you'll find everything watercolor tattoos here. Watercolor tattoos on Pinterest has 167.1k followers and thousands of ideas and images to try.
How to Paint a Poppy with watercolor crayons tutorial ...
https://www.youtube.com/watch?v=B0hDeGz2qe0
Oct 10, 2012 · Learn how to sketch and paint a simple poppy using watercolor crayons or watersoluble oil pastels. This easy project is great for beginners or people who …
How to Make a Temporary Tattoo With a Pencil: 11 Steps
https://www.wikihow.com/Make-a-Temporary-Tattoo-With-a-Pencil
Mar 24, 2020 · To make a temporary tattoo, use a pencil with a rounded tip, or rub a sharp pencil on paper until the tip is worn down. Dip the tip of your pencil in warm water for 5 seconds to soften the lead. Then, draw your design onto your skin, dipping the pencil back in the water every few lines.Views: 147K
Have you found Watercolor Crayon Tattoo information?
We hope you find the information you are interested in. On our site you can find many other information about tattoos. In addition, we have a catalog of tattoo artists, as well as a description of tattoo styles. Explore the various pages of our site and you will learn a lot of interesting things about the tattoo design.
Sours: https://skinink.com.au/w-tattoo/watercolor-crayon-tattoo.html
Here's a delightful story. San Francisco based tattoo artist Jess Koala has recently gone viral after posting one of the sweetest tattoo designs you'll ever see:
This content is imported from Instagram. You may be able to find the same content in another format, or you may be able to find more information, at their web site.
Koala explained to Yahoo that Eric, a client of hers, had initially come in to get his daughter's two self-portraits tattooed onto his arm, but soon decided to go HAM and have them design the whole sleeve.
Koala had Eric's daughters draw using crayon to create a "flash sheet" — which is a stencil tattoo artists use to tattoo specific designs onto skin. Check out that detail! It really looks like crayon on there.
Koala said Eric ended up having two self-portraits of his daughters (with their crayon signatures and all), as well as a heart, flower, and an owl. She says the girls are working on more designs and will be adding to Eric's sleeve in the future.
Follow Carina on Twitter.
Carina HsiehSex & Relationships EditorCarina Hsieh lives in NYC with her French Bulldog Bao Bao — follow her on Instagram and Twitter • Candace Bushnell once called her the Samantha Jones of Tinder • She enjoys hanging out in the candle aisle of TJ Maxx and getting lost in Amazon spirals.
This content is created and maintained by a third party, and imported onto this page to help users provide their email addresses. You may be able to find more information about this and similar content at piano.io
Sours: https://www.cosmopolitan.com/sex-love/a12785855/viral-dad-tattoo-sleeve/
TATTOO STYLES
This Oregon Tattoo Artist Turns Celebrities Post Malone and Biggie Smalls into Crayola Caricatures
In 1885, a company called Binney and Smith was established by cousins in New York City. Today, their business is known as Crayola and went on to become the most popular manufacturer of crayons in the world. Binney and Smith began producing crayons in 1903, introducing their product in 18 different sized boxes. Initially, the brand released just 8 individual colors, however, today there are approximately 120 standard shades. Since their initial debut, Crayola crayons has had a significant impact on modern society and many celebrities have shared their favorite colors over the years. Way back at the start of the new millennium, Crayola held a promotion called "Crayola Color Census 2000," which asked Americans to vote on their favorite Crayola crayon color. And while the nation settled on blue, many public figures put in their two cents. For example, former President George W. Bush's favorite color is "Blue Bell," whereas Tiger Woods prefers "Wild Strawberry."
Nearly two decades later, a tattoo artist named Chase Tafoya decided to put his own spin on the iconic art brand and is transforming some of your favorite stars into adorable crayon designs. From Post Malone to Eminem to Childish Gambino, this artist from Oregon has Crayola-fied dozens of celebrities in tattoo form. Take a look at the gallery below to see some of our favorite Crayola tattoo creations and let us know your thought on this colorful project in the comments section on Facebook. 
Post Malone sure loves yellow, we wonder if this shade is Dandelion or Goldenrod?
Unanimously regarded as the world's most influential white rapper, Eminem looks like a Rap God in this signature shade. 
Busta Rhymes looks brilliant in Boysenberry. 
Biggie Smalls is the true king of the crayon box.
Nipsey Hussle is killing the game in cornflower.
Would you describe E-40 as yellow-orange or maize?
Slug looks sensational in inchworm.
Nas is popping in raw sienna.
Action Bronson looks amazing in classic orange.
Jelly Roll is killing it in charcoal gray.
Childish Gambino looks perfect in plum.
MF Doom looks fantastic in fern.
Schoolboy Q looks badass in blue.
Mac Dre looks marvelous in magenta.
Tyler the Creator looks gorgeous in green.
What do you think about these colorful Crayola crayon creations? Would you get a tattoo of your favorite star turned into a cute crayon? Let us know your thoughts, opinions and questions in the comments section on Facebook.
Sours: https://www.inkedmag.com
Style tattoo crayon
Local Tattoo Artist Hand Pokes Adorable Crayon-Style Bear Designs According To Different Horoscopes
Cutesy tattoos styles have been gaining favour among ink lovers in recent years. One local tattoo artist who specialises in bear designs has taken a cute twist to her designs by incorporating crayon-style effects and pastel colours into her work. Featuring horoscope bears, care bears, and other adorable designs, today i poke definitely has something for those who love all things cute.
Check out the handpoked tattoos by today i poke!
A quick scroll through today i poke's Instagram page and you'll find that crayon-style cartoon bears (in different moods and shapes and sizes) make up close to 70% of her artwork. Check out her IG highlights for more bear-themed hand poked tattoos!
Photo from @todayi.poke via Instagram
Photo from @todayi.poke via Instagram
Photo from @todayi.poke via Instagram
Photo from @todayi.poke via Instagram
Photo from @todayi.poke via Instagram
These delightful horoscope bears can be personalised according to your preferences.
Photo from @todayi.poke via Instagram
Photo from @todayi.poke via Instagram
Photo from @todayi.poke via Instagram
Photo from @todayi.poke via Instagram
UV tattoos, or more commonly known as 'glow-in-the-dark' tattoos have been gaining popularity among ink lovers. These tattoos don't actually glow in the dark (so no, they won't glow when you turn off your bedroom lights) but rather, these tattoos do glow only under black UV lights. If you'd like to add a whimsical touch to your tattoos, UV embellishments would make the perfect adornment to your already amazing body art.
Photo from @todayi.poke via Instagram
Apart from bear-themed hand poked tattoos, today i poke also does other dainty handpoked designs such as pokemon creatures, frogs, fruits, and more!
Photo from @todayi.poke via Instagram
Photo from @todayi.poke via Instagram
Photo from @todayi.poke via Instagram
Prefer words instead of images? today i poke has got you covered.
Photo from @todayi.poke via Instagram
Photo from @todayi.poke via Instagram
For those who are fans of her work but aren't ready to commit to a permanent tattoo, fret not as she has recently launched her own temporary tattoos. Unfortunately for us, they're sold out at the time of writing. Let's keep our fingers crossed that she re-stocks them soon!
Check out our other tattoo-related articles:
Share this article with an ink lover!
Sours: https://girlstyle.com/sg/article/98914/todayipoke-tattoo-singapore
HOW I PRACTICE TATTOOING ?
Ideas
Explore the world's #1 largest database of ideas and innovations, with over 500,000 inspiring examples.
Trend Reports
Discover why 900 brands rely on our AI-powered Trend Reports to get better, faster insights.
Newsletter
Join 305,370 subscribers who rely on our weekly newsletter to keep up with need-to-know trends and insights.
Consumer Insights
Uncover major shifts and emerging opportunities with our exclusive PRO research.
Trend Reports
Discover why 900 brands rely on our AI-powered Trend Reports to get better, faster insights.
Newsletter
Join over 250,000 subscribers who rely on our weekly newsletter to keep up with need-to-know trends and insights.
Dashboard
Get special access to premium content, topic tracking and customizable tools through our AI-powered Dashboard.
Assessment
Enhance your innovation potential with a deeper understanding of your unique innovation archetype and how your organization benchmarks.
eLearning (NEW)
Prepare for the year's ahead with 100+ lessons, tactics, tools and frameworks with our full learning database.
Advisory & Services
Accelerate innovation and ignite disruptive thinking with our award-winning programs and research.
Trend Reports
Get fast, customized trend reports, presentations and deep dives 20x faster than traditional research.
Plans
Get started today with a free consultation, our self-serve tools, or a dedicated program.
Jeremy Gutsche
Ignite your event or virtual event with our CEO, a NY Times Bestselling Author and one of the top innovation keynote speakers.
Contact
Get in touch to learn more, ask a question or submit a tip.
About Us
Learn more about Trend Hunter and how we accelerate innovation.
FAQ
Get answers to common questions about Trend Hunter.
Community
Stay on the cutting-edge with the help of the Trend Hunter community.
Team
Meet the team trusted by hundreds of leading businesses worldwide.
Jobs
Find opportunities to accelerate your career with the #1 Trend Firm.
News
Catch up on noteworthy Trend Hunter news and media mentions.
Join
Build a portfolio and put your trend-spotting abilities to the test.
Advertising
Supercharge your marketing by partnering with Trend Hunter.
Portfolio
Visit your public portfolio and browse your past articles.
Add a Trend
Write up an article and showcase your trend-spotting skills.
My Trends
Edit your articles and see how they stack up on the leaderboards.
Settings
Edit your profile, connect your social media accounts, and more.
Login
Add a trend, customize your dashboard, or track topics.
Free Webinars
During COVID-19, learn to innovate through chaos, navigate the new normal and maintain work culture from home.
Search our database of 396,920 cutting edge ideas.
Join 305,370 entrepreneurs, innovators and CEOs who rely on our weekly trend report to stay ahead of the crowd.
You'll get special access to premium content and trend research that cannot be found anywhere else.
View last week's newsletter
Sours: https://www.trendhunter.com/trends/crayon-drawn-tattoos-yann-travailles-childish-tattoos
Similar news:
Rushed straight at the monsters. One of the Ghouls quickly pounced on my friend, but Stephen deftly repelled the monster's attack with a shield with one powerful counterattack and separated the. Ghoul's head from the body. Henry, we won't stand up to them all. - Stephen shouted to me, desperately trying not to become food for corpse eaters.
500
501
502
503
504