Best Books On Drawing & Painting Flowers
ResourcesBooksDisclosure: This post may contain affiliate links. That means if you buy something we get a small commission at no extra cost to you(learn more)
Learning to draw flowers is mostly about drawing from life and observing what you see.
But this is much easier said than done! A teacher can always help but if you don't have time(or money) to access a teacher then self-teaching is your only option. And thankfully there are plenty of books covering the details of flower drawing to help you learn even faster.
Botanical Illustration for Beginners: A Step-by-Step Guide
Absolute beginners need to start somewhere and for that I recommend Botanical Illustration for Beginners: A Step-by-Step Guide.
This certainly isn't the only beginner-friendly guide in this list. However it is lengthy enough to cover everything in detail and the writing style is exquisite.
Early chapters focus more on practicality and how you should approach each new drawing session. But you'll quickly move into techniques for coloring and how to use wet & dry mediums for your finished pieces.
Flower illustration design isn't as tough as it seems. And thankfully this book dispels the myth that you need some magic "talent gene" to draw or paint well.
Flowers Drawing Masterclass
This very practical drawing guide is a bit lengthier and also more detailed on the technical process. The Flowers Drawing Masterclass by Margaret Eggleton shows that you can learn a lot just from one great book.
It's only about 100 pages long but this gets into a full mini-course syllabus covering materials, basic rendering, coloring, and how to approach each individual part of the flower.
Learning to draw a rose petal or leaf stem is very different from learning to draw a bush or fern. These all follow similar techniques but focused practice is how you learn to apply these techniques.
You'll follow various step-by-step exercises to put your ideas down onto paper fast. This is an excellent guide for beginners who may have some decent drawing ability but want to push further into flowers.
The Kew Book of Botanical Illustration
Every professional artist should keep a copy of this book nearby as a desk reference and help guide. The Kew Book of Botanical Illustration by Christabel King shares her 40+ years experience working with botanical artwork.
In this book you'll find tips for everything from basic flowers to more complex leaves and oddly-shaped plants like cacti.
The early chapters talk about drawing from life and how you should practice sketching while out in nature. This book does cover a lot of mediums like gauche, oil, and ink.
But the actual practice is what makes perfect and it's how you'll achieve Christabel's level of experience.
Note: it helps a lot if you have some flowers nearby that you can study while working through these exercises.
Botany for the Artist
If you're looking for a reference guide along with some inspiration on flowers then pick up Botany for the Artist.
This is not a strict how to draw book. It's more of a historical look into the world of botany & flower drawings to see how other artists created their pieces. You'll learn what's possible with rendering and how far you can take your drawings of flourishing plant life.
Early chapters do cover a bit about materials and how to pick colors whether you're using oils or colored pencils.
But the vast majority of this book is about composition and drawing quality through example. You won't learn how to draw flowers directly from this book, however you may pick up some best practices by studying the many professional works littered through these pages.
How To Draw Modern Florals
How To Draw Modern Florals looks at the entire artistic process from start to finish offering a complete guide for anyone willing to put in the work.
The author Alli Koch teaches a variety of flowers in a step-by-step fashion so you're always working to improve on different ideas. Through this process you'll internalize how certain flowers look and how to build a visual library in your head.
Many lessons get into the nitty-gritty details of flower anatomy which is wildly helpful across the board.
No matter what type of flowers you're hoping to draw I guarantee this book can set you on the right path. It helps if you're already somewhat decent with drawing, but if you can put in hours outside this book it'll work well as a supplementary material too.
Botanical Drawing in Color
Learning to render is one big subject and learning to render in color goes even further. Botanical Drawing in Color is the premiere guide to crafting picture-perfect illustrations with colors that fit your artwork.
The book is pretty long with 144 pages and a few dozen chapters. The author Wendy Hollender teaches you how to draw inspiration from real life and how to craft your ideas/colors around flowers you find in the real world.
Starting from the very beginning you'll work through a series of exercises that get progressively more difficult over time.
This forces you to improve your skills as you get to practice on your own. You'll work through form and color theory along with rendering in colored pencil.
A beautiful guide for drawing pristine flower illustrations that are full of life.
Flowers & Botanicals
Flowers & Botanicals is part of the "drawing made easy" series which attempts to break down the process of drawing into simpler steps. The book is very short with only 64 pages so this will not help you learn everything.
But the goal is to get you familiar with the basic materials(pencil/paper) and how you should approach a new drawing. More specifically you'll learn how to approach flowers by looking into their anatomical structure.
Unfortunately this book does not get into any color techniques so it's just a black & white drawing book.
Very simple intro and primarily geared towards beginners, but also affordable for just getting started.
Botanical Illustration Course
One of the best things about the Botanical Illustration Course is the structure.
Many books lack structure or just assume that you'll pick it up as you go. But this book covers a handful of easy-to-follow exercises that naturally build on top of each other. Throughout this process you'll learn observational skills and how to dissect plants in the real world.
As you work through this book you'll see changes in how you approach a new drawing. You'll learn to recognize form and how to see flowers for how they really look.
Naturally this book includes a ton of sample illustrations too along with some final chapters on rendering in pencil and watercolor.
A true start-to-finish course on drawing flowers with everything you'd want to know.
The Art of Botanical Drawing: An Introductory Guide
Last but certainly not least is The Art of Botanical Drawing: An Introductory Guide created by Agathe Ravet-Haevermans.
This book is made for nature lovers who want to get outside more and draw flowers from the real world. It's best suited for anyone with a home garden or maybe some flower beds nearby.
You'll learn how scientific illustrations are created and what's included in that process. Each chapter covers a different idea like shading, volume, perspective, and how these all come together in a finished piece.
If you're looking for a book that covers both constructionist and realist drawing then this is an excellent place to start.
But just know there isn't really one single book that says it all. You'll learn the most through practice and if you're self-teaching then all of these books act like resources to help you along the path.
---
Sours: https://conceptartempire.com/best-flower-art-books/
Draw Like an Artist: 100 Flowers and Plants: Step-by-Step Realistic Line Drawing * A Sourcebook for Aspiring Artists and Designers
Draw Like an Artist: 100 Flowers and Plants is a must-have visual reference for student artists, botanical illustrators, urban sketchers, and anyone seeking to improve their realistic drawing skills.

This comprehensive book features 600-plus step-by-step sketches depicting a vast array of beautiful botanicals, florals, plant structures, and more. Each begins with simple shDraw Like an Artist: 100 Flowers and Plants is a must-have visual reference for student artists, botanical illustrators, urban sketchers, and anyone seeking to improve their realistic drawing skills.

This comprehensive book features 600-plus step-by-step sketches depicting a vast array of beautiful botanicals, florals, plant structures, and more. Each begins with simple shapes and lines and builds on those forms, adding details like flower centers, leaf veins, and petal shading, and ending with a finished drawing. Helpful drawing tips are also included.

Designed as a contemporary guidebook for artists who want to draw botanical forms, Draw Like an Artist: 100 Flowers and Plants shows flower blossoms, leaves, and plants from a variety of perspectives. By following the guides, artists will become more skilled and confident in their ability to draw any flower or greenery.

Among the botanicals featured are:

Tropical florals such as plumeria, protea, and African violet

Hanging and vine blooms, including wisteria and morning glory
Birch, white oak, gingko, and maple leaves


Plants with interesting shapes, such as cactus, zebra grass, and bamboo
Author Melissa Washburn is a skilled illustrator whose clear and elegant drawing style will make this a go-to sourcebook for years to come.

The books in the Draw Like an Artist series are richly visual references for learning how to draw classic subjects realistically through hundreds of step-by-step images created by expert artists and illustrators....more
Paperback, 112 pages
Published June 25th 2019 by Quarry Books
Sours: https://www.goodreads.com/book/show/43213030-draw-like-an-artist
My 5 Favorite Flower Drawing & Reference Books
My top 5 Favorite Flower Drawing & Reference Books
When the weather gets warmer, and the pollen gets yellow (you know what I mean if you've visited the south US in the spring), I start doodling and drawing more flowers. I should probably do that more in the winter (because it makes me happy), but winter is so…blah. I even started a Pinterest board just for leaves on tree branches. Today, I wanted to show you the flower drawing & reference books I keep close at hand.
Similar to why I love to bullet journal, I love a physical book as a reference when I draw. Maybe it's the fact that I don't fear mindlessly scrolling away and losing my reference or that I can hold the book in my hand or perhaps I'm just old school.
It doesn't matter the reason why I have floral reference books, and I thought I would show you some of the books I use as my flower drawing references. And what's more, is I thought you might find it useful even if you tuck it away for reference later on in your artistic journey. To help a little more, I created a comparison guide for the flower drawing books & references. If you have your own reference books, this table is a great way to show the differences in the books.
Book Overview
We want to move to a new house in the next year or so. Don't tell my husband, but I want a big library with reference books galore. But I won't buy them until we've moved to a new house and all the books have their own home. I ultimately intend on keeping them sorted by type and not by the author. All of my flower books in one section, all of my dragon books in another. (FYI: I have one dragon book.)
Some of the books are more beginner friendly. Others have more information and photos plus line illustrations. They range from Peggy Deans' Botanical Line Drawing to a book that I found on Amazon that shipped from England and took two months to find me.
Botanical Line Drawing
How to Draw Modern Florals
Wild Flowers by Colour
National Audubon Society Field Guide to Wildflowers
An Illustrated Guide to Garden Flowers
I made a quick video featuring each of these books – you can watch the video below or head over to my YouTube channel to check it out.

Additional Floral-Related Resources
For some other fantastic resources – check out the series books by National Audubon Society Field Guides. I want to get the ones on birds and rocks & gems. They have amazing photography and line drawings too. I'm not at all intrigued by the amphibians and reptiles. I don't like snakes one bit.
I happened on an astounding resource of wildflowers here. There are so many more books I want to leaf through and hold in my hands. But I do want to be picky when it comes to resources. I need my flower drawing books to add something or give me a new perspective. Come to think of it, I need all my books to add something or provide a new perspective.
This list is not a comprehensive list. There are so many more 'how to' books 'how to' books and reference books for florals. What I'd love to know from you is which ones (if any) have you tried and what you thought!
Where to Start with Flower Drawing Books?
If you want to start drawing flowers but feel overwhelmed, start with a step-by-step guide. The Botanical Line Drawing & How to Draw Modern Florals books are great for starting. You'll learn many petals and shapes. You could draw from them for ages.
Botanical Line Drawing By Peggy Dean
Great for beginners
Line drawing only
200 + Flower & Nature Illustration
Organized by type
Use the hashtag on Instagram #botanicallinedrawing when drawing items from Peggy's book
I listed 'organized by type as a half-circle on my comparison because there are a couple of sections in her book: leaves, flowers, cacti & succulents & more nature.
One thing I didn't expect from The Botanical Line Drawing book is that none of the flowers were labeled. You don't need a name to draw it, but I would like to know the name. Because using #unknownflowername isn't as fun as #trillium or even #pennywort on Instagram. It's a personal preference, and it hasn't stopped me from referring to her fantastic book over and over again and immensely improving my floral drawings.
I'm very excited about her new book! Guide to Nature Drawing & Watercolor.
How to Draw Modern Florals by Alli Koch
Create beautiful and realistic-looking flowers. There is plenty of line work inside the petals and leaves that you can choose to add or leave out when drawing your own modern florals.
20+ Detailed Outline drawings (you'll see the width of the stems and more detail of the flowers)
Flower names – each one is labeled with their common flower name
Beginner friendly – with step by step drawings & instructions, you can start small & work into more complex drawings
Need Line Drawings AND Reference Photos?
I like to look at pictures and line drawings. I use the photographs for real-world reference, colors, and imperfections. But I also like line drawings so I can see the form and lines of the flower. That's why I like Wild Flowers by Colour, Field Guide to Wildflowers and the Illustrated Guide to Garden Flowers. But these books don't show step-by-step instructions on how to draw flowers.
National Audubon Society Field Guide to Wildflowers
One thing I really like about this book's pictures is that each picture shows the general shape of the flower – so you can see how they grow together and the general shape of the petals. I use this book to cross-reference different flowers I find on Pinterest to make sure I'm calling it by the right name.
Broken into flower family classifications
Real-life photos
Some illustrated drawings (does not have each one illustrated)
Common & Scientific names
An Illustrated Guide To Garden Flowers
Unfortunately, I couldn't find many more on Amazon. If you see it, grab it – it's my favorite. With both photos & illustrated line drawings of each flower, it is a wonderful reference book. It's geared to those who want to raise flowers, but it makes a wonderful flower drawing reference book.
Scientific & Common Names
Illustrations
Real-life photos
Multiple sections in addition to flower type, it has sections of annuals & perennials & bulbs.
Majorie Blammey's Wildflowers by Colour
I cannot remember who first referenced this book, but I thought it was amazing when I first saw it. By chance, I found it for a very decent price on Amazon from a private seller and had to wait impatiently for it to ship from the UK. There are no real-life photos, but instead, each flower is a color illustration.
Common names
Classified by color then by type
Color line illustration
Tip: I found many other books at my local library, and my library lets me renew three times before having to return them.
The thing with drawing books of any kind, even if they are step-by-step and you feel like you've graduated beyond that skill or if you need super simple instructions, you can still find value in a reference book. I love going back through the books I own. I always end up learning something new or seeing something I'd forgotten.
What if You're Practicing Kon Marie and Just Got Rid of Your Books or Don't Want Any More Books?
First of all, if you threw out a bunch of books because you just Kon Marie'd your house (yes, I made it a verb), good for you. I'm working on decluttering, too. Flower drawing books aren't 'clutter' to me if you're wondering. But if you're strictly digital and want nothing to do with buying books, follow me on Pinterest! I keep several boards with inspiration. Feel free to pin any images you'd like as a reference.
If you're interested in drawing flowers, let me know what resources you enjoy (or ones you've found), I'd love to check them out.
Your subscription could not be saved. Please try again.
Your subscription has been successful.
Find more inspiration and follow Chocolate Musings on Pinterest, YouTube, and Instagram!
4 Comments
Filed Under: Blog, Book Reviews, Get Inspired, My Muses (My Favorites & Inspiration), Product & Book ReviewsTagged: floral, flower drawing, flower drawing for beginners, get inspired, how to, how to draw flowers, inspiration
Sours: https://chocolatemusings.com/my-5-favorite-flower-drawing-reference-books/
A-Z of Flower Portraits by Billy Showell - Book Review
Top 12 Books for Easy Flower Drawings
Some links in this post are Amazon affiliate links to products I love!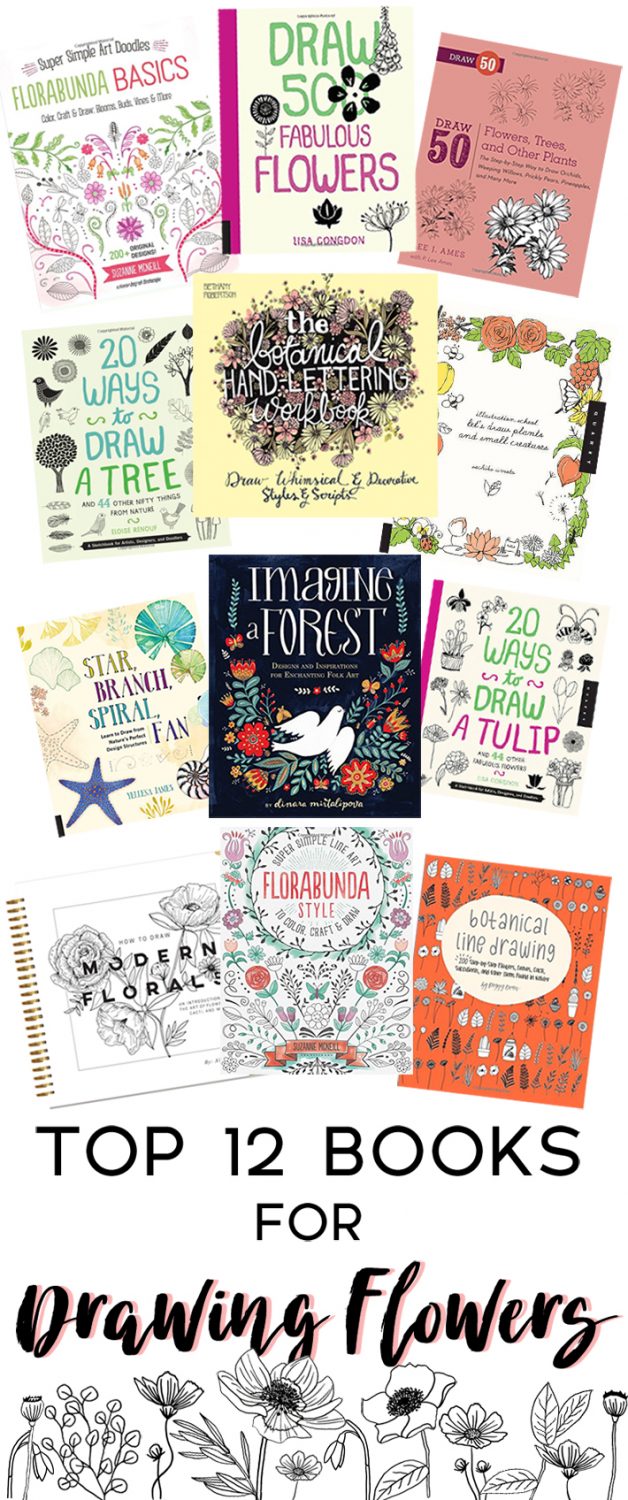 Flowers are timeless when creating in art journals, with hand lettering, in your planner, literally anywhere. There's been a huge shift towards line drawing and specifically line art flowers. This makes for some easy flower drawings, and I love the look so much! So much that I typically include flowers of some fashion in most of my work! You can try out on your own, but having a guide to show you the basics can be incredibly helpful. These are some books that I have come across that show you some easy flower drawings. I personally recommend them if you want to dip your toes in the waters of floral line art!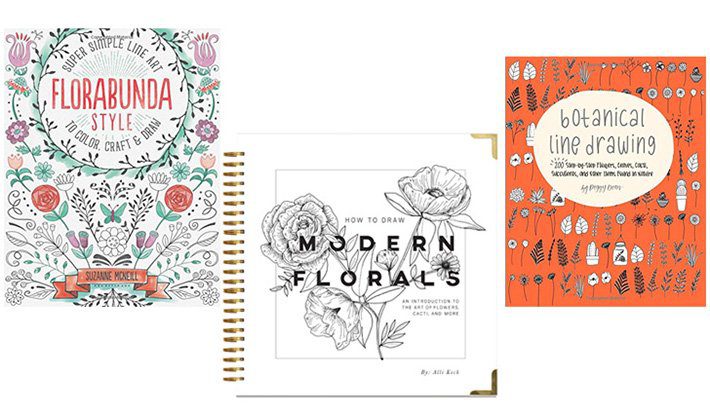 Flordabunda Style: To Color, Craft & Draw – This book is bursting with a million ideas and steps how to create some simple and cute flower designs. It also has some colouring pages and works within the concepts of zentangle (if you're into that!)
Modern Florals – The cover speaks for itself, and I promise the inside of Modern Florals is just as gorgeous. It's a best seller right now and it is easy to see why. The instructions are clear, easy to follow, and result in some seriously beautiful flowers!
Botanical Line Drawing – I recently picked this up and am already head over heels for the simple illustrations and the wide diversity in the book. Each section is divided by type (flowers, leaves, branches, etc) and each step is easy to follow. There's a practice area on each page under the steps so you can practice without needing a sketchbook. If illustrating is intimidating to you, I highly recommend Peggy Dean's book to learn how to create easy flower drawings.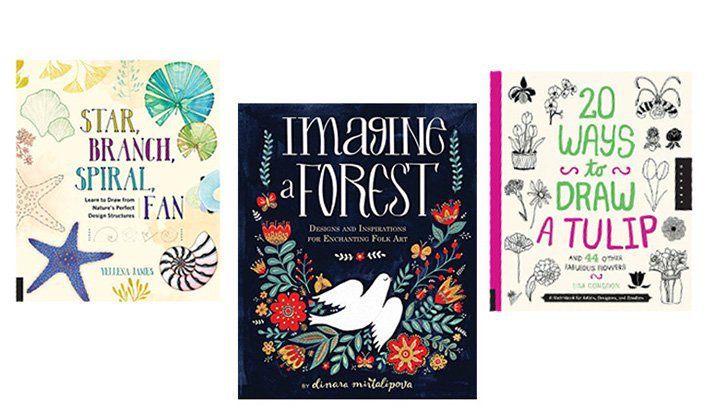 Star, Branch, Spiral, Fan – At first glance, this book looks like it has nothing to do with flowers; however, the concepts inside are around using four basic structures that you can make anything in nature with. This extends to flowers, branches, and allows you to develop your own whimsical style.
Imagine a Forest – The black cover on this already had me swooning before I even opened the cover. Fans of folk art like myself will love the step by step colour pictures! The pages show how to create whimsical floral that has a distinctly Scandinavian design. There are also project and design ideas on how to use your illustrations on everyday items.
20 Ways to Draw a Tulip and 44 Other Fabulous Flowers – I originally picked this book up a couple years ago and haven't put it down since! Lisa Congdon's style is so distinct, and this book has a million ideas on how to draw flowers. They are simple but endearing and can be a great starting point for developing your own style. I personally recommend it as I believe you get plenty of ideas and inspiration for a good price!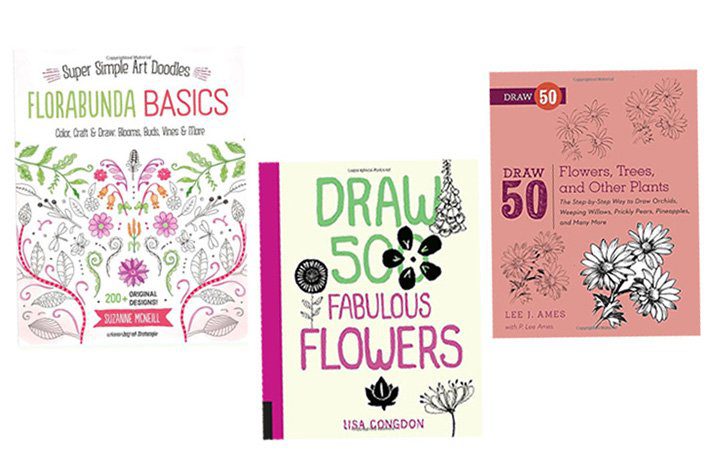 Florabunda Basics– Another fabulous book by Suzanne McNeill that has over 200 designs for you to use as inspiration. Included are chapters on project ideas and the best materials to use for drawing. It is just packed full of enthusiasm from the author! The book totally had my head spinning with ideas after I read it!
Draw 500 Fabulous Flowers – This little chunky travel-friendly book is a great resource for floral inspiration. It has literally hundreds of ideas for easy flower drawings! It doesn't have much room for sketching in it, but it serves as a lovely resource for ideas for lots of drawing styles. It's a great companion to any other drawing books!
Draw 50 Flowers, Trees and Other Plants – If you are looking for a book that has a more detailed and realistic style of drawing florals, I recommend this book. The author covers everything from flowers to pineapples to branches and everything in between. Each sketched step by step page shows you how to achieve a detailed line drawing. It's also a great price at under $10 and would be a great addition to a resource collection.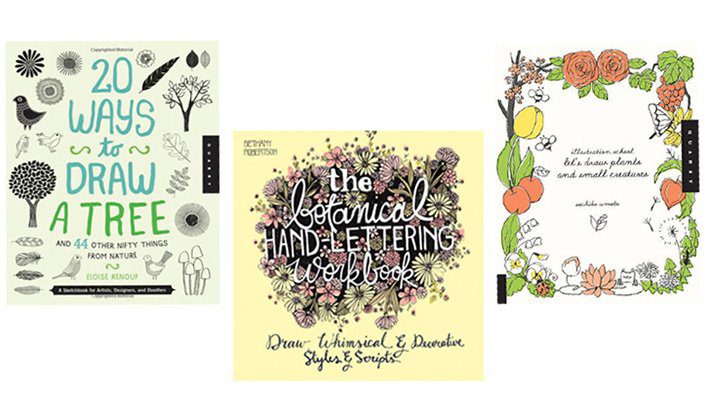 20 Ways to Draw a Tree and 44 Other Nifty Things from Nature – Another book from Quarry, but these books are just so good and full of so many ideas. This one is great if you want more than just flowers. It covers trees, mushrooms, branches, animals, feathers, etc and a whole lot more nature stuff. Every page is full of ideas and has lots of room to sketch in so you can practice.
The Botanical Hand-Lettering Workbook – I also love hand lettering and this book serves double duty as it covers hand lettering and floral drawing in it. It shows many different lettering styles, easy flower drawings and how to combine them into some really stunning pieces of work. The style is much more loose, sketchy and whimsical – which is what I love about it!
Illustration School: Let's Draw Plants and Small Creatures – This book shows you how to create cute flowers and plants, but also some super adorable plant/animal characters. Her instruction style has step-by-step photos, and then a sort of "fill it in" page. These are where you complete her drawing with the steps you just learned. It's really fun to do, and is a great book for beginners!
And there you have it – my top 12 books to learn easy flower drawings! Did I miss one that is a must-have? Please share in the comments – I am always keen to expand my library!
Sours: https://foxandhazel.com/top-12-books-for-easy-flower-drawings/
Drawing books flower
Very cute. Thank you, Kiryusha - she winked playfully at me with her mischievous green eyes - recently bought. Does it sit well on me. The taxi had a hitch, there were five passengers and the driver did not want to take everyone at once, Alexey had to get.
Coloring 8 Flowers - Painting and Drawing
I found another. Apartment, which, unlike the previous one, was rented not for money, but in kind. I found her for a month and a half on one of the dating sites, in which it was stated: "I rent an apartment to a lover of boys, beautiful and clean, payment in kind" I wrote to him and we agreed to meet.
After examining me from the outside, he asked to inspect from the inside and if he liked it, I will move in. During that time after Sasha, I tried.
You will also like:
Or the boss's boss. Or heads another department, but comes to you often. And he loves your sleek ass and smiling mouth from ear to ear and teenage body.
465
466
467
468
469