[Top 10] Best Skyrim Beauty Mods We Love!
Make your character the prettiest person in all of Skyrim. 
Some Skyrim players choose to stay in first person and never give a second thought to what their character looks like. If you're not that person, you probably spend two hours in character creation (like me)! Being stuck with the boring vanilla character options is just no fun, and that's where these mods come in to help. Your character may end up being the best-looking person in Skyrim, but you are the main character after all!  
10. Racemenu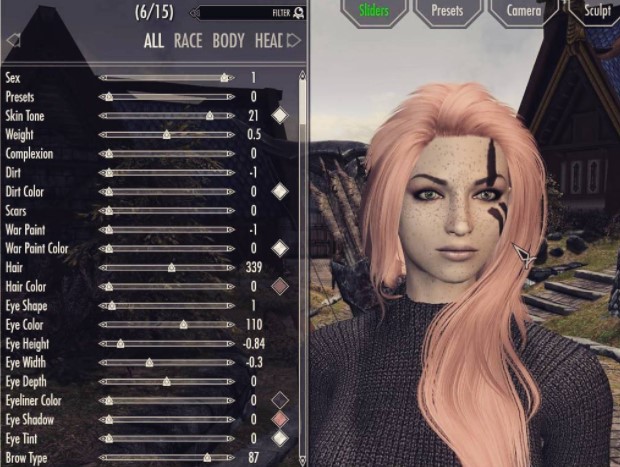 A look at just a few of the detailed options that Racemenu has to offer. 
Racemenu is by no means at the bottom of this list because it deserves the bottom spot. I consider it essential to have it first on the list because it is a necessity for most of the mods in this list to work. It is the backbone of character appearance mods, and it makes the character creation process better in almost every way. Anytime I've tried to play vanilla, Racemenu is something I just can't go without. (SKSE is required for this mod). 
Features:
Completely redone character creation, including RGB color pickers for almost everything, including hair color 
Lighting options, character rotation, save/load appearance, camera options, and the ability to load in or save your own character presets 
Console command 'showracemenu' allows you to change your character's appearance on the fly
Get the mod here./se version.
9. Freckle Mania 2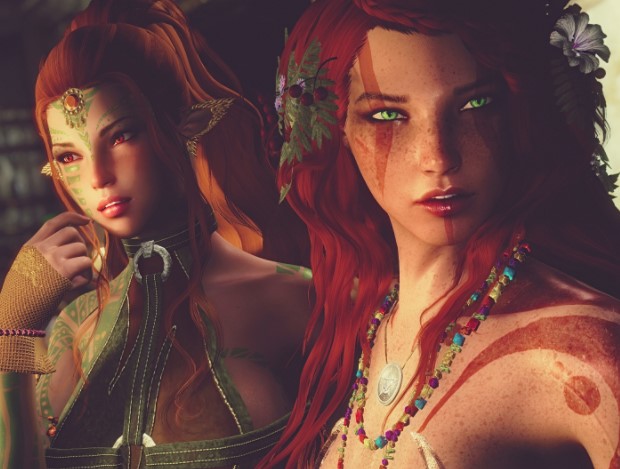 Mix and match freckles to your heart's desire (red hair not required). 
Freckle Mania 2 is what you've probably guessed it is; a mod that adds freckle patterns! I find that freckles add a lot of dimension to the skin and bring my characters to life. This mod isn't available on Special Edition unless you have a little modding knowledge regarding Creation Kit. The comments on the nexus page offer a small tutorial if you're willing to try! 
Features:
Different full body freckle sets for both male and female characters featuring head to toe freckles
10 sets of face-only freckles for females, and 5 face-only variants for males
Works great in combination with the original Freckle Mania, allowing you to mix and match between the two, giving you even more options
Get the mod here. 
8. Improved Closefaced Helmets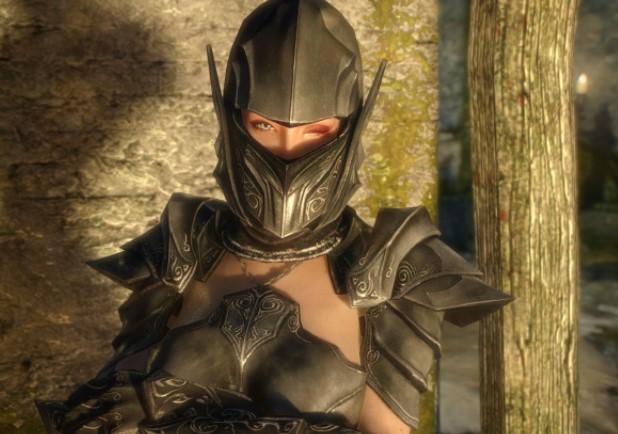 Gone are the days of going without a helmet to see your character's face. 
If you're going to spend all of this time on your character's face, you don't want it to be covered up all the time, right? If you don't want to forget what your character looks like but still reap the stat benefits of your helmet, this mod is essential! Also, this mod only changes the meshes for helmets, so it's fully compatible with any texture replacement mods! 
Features:
Openings in helmets that let you see your character's eyes and some of their face depending on which helmet you're using
Different helmet models for each race to best fit their head size and shape
Covers everything from average armor sets to DLC sets (yes, even Dragon Priest masks) 
Get the mod here./se version. 
7. Wolfpaint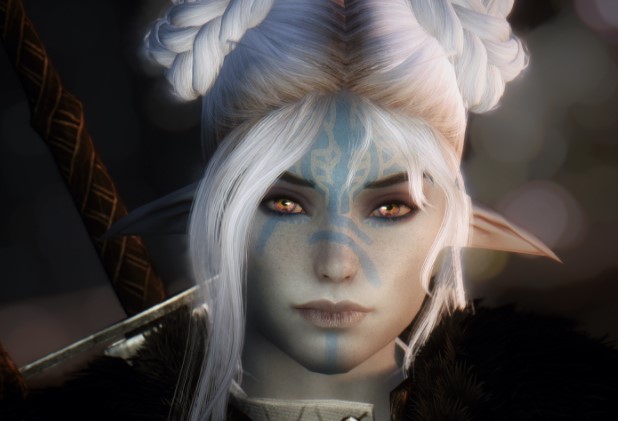 Choose a light-colored subtle design like this one, or choose a bold and bright option.
Vanilla Skyrim comes with a few good war paint options, but it can't hurt to have more to choose from, right? Wolfpaint is a huge mod that adds tons of new sets of face paint options for characters of all races. The designs are sorted into categories with their own unique styles. If you're getting tired of the war paint offered in Skyrim, you're sure to find some new favorites here.
Features:
Over 200 brand new face paint overlays, split into 12 distinct categories to suit your character
The in-game search function within Racemenu makes it easy to find which design you're looking for
The mod now has support for both male and female face shapes, so you can use these face paints on any character you wish
Get the mod here./se version.
6. The Eyes of Beauty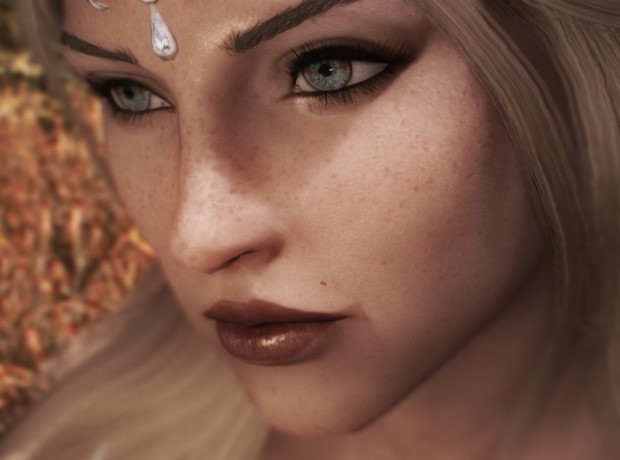 Your character will have tons of eye color options to choose from, like these blue eyes.
It's pretty easy to guess that this mod adds new eye textures! Like most things in vanilla Skyrim, the eyes aren't very detailed. There aren't many color variations offered either. This mod will give you more options than you could imagine! No matter what color or style you choose, your character's eyes will be so detailed you can't help but just admire them. 
Features:
Tons of brand new eye textures with new options being added frequently 
Unique eyes for different races, with options for things like half-blind characters
Option file available to replace all NPC eyes with variants from this pack
Get the mod here./se version. 
5. Ethereal Elven Overhaul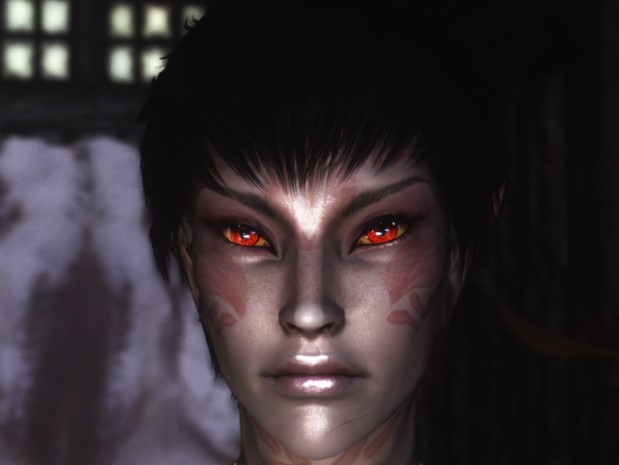 An up-close look at the detailed skin textures and unique war paints.
Ethereal Elven Overhaul is by far the most popular mod for revamping the appearance of elves. Elves are a huge part of Skyrim and a lot of character builds suggest playing as one of the elven races for a stat boost. However, trying to create a nice elf character with the vanilla options is frustrating. Elves tend to look too pointy and very angry. If you've had these complaints stop you from making elf characters in the past, try out this mod! (Be sure to follow installation instructions, the SE link is for the patches only)!
Features:
New head shapes for each elven race and gender, and new nose and lip options (for both your character and the elves all over Skyrim
Unique high-res skin textures with optional 2048x ultra-high detail versions and brand new presets 
Unique war paints for each race, scars, and beards are fitted to the new head shapes
Get the mod here./se version. 
4. Beards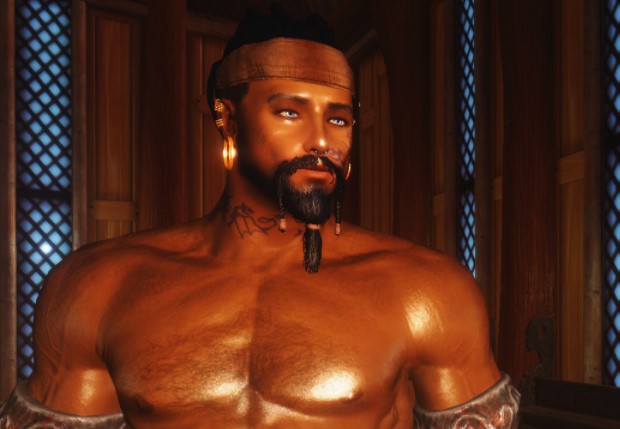 This mod has tons of beards to choose from, with many unique styles like this one. 
You can't get more self-explanatory than Beards! Male characters definitely get the short-end of the stick when it comes to appearance mods, so I wanted to be sure to include something for them. Even if you are playing a female character, this mod will improve the appearance of male NPCs, so it's still worth installing.
Features:
Brand new beard textures made entirely from scratch to look as realistic as possible
Ultra, high, and low texture options available for your performance needs (ultra being mostly for fancy screenshots, low being for lower-end PCs)
Many different options, ranging in length, fullness, and unkemptness 
Get the mod here./se version.
3. Seductive Lips HD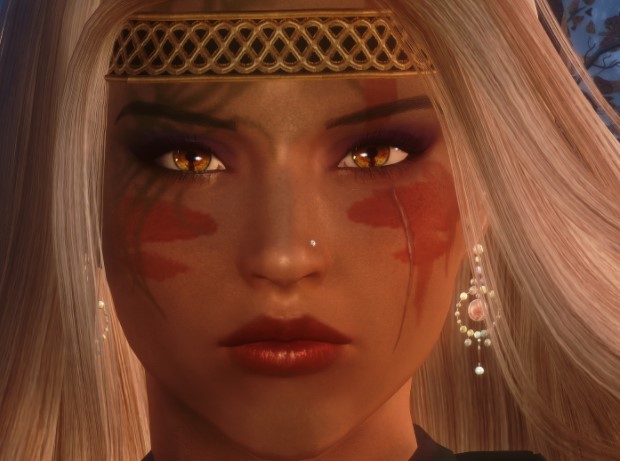 A closer look at how the shiny texture makes the mouth look much more realistic.
This mod will make all of the difference to the appearance of your next Skyrim character. It's hard to come across a mouth option that looks good in the vanilla game. Most of the options have an odd blocky shape or just look almost blurry. This mod isn't necessarily only for big, full lips if that's not your style. This mod will give you a nicer, HD texture for your character's lips. 
Features:
New HD lip tint masks for a much more natural look that will pair great with skin texture mods
Both human and elf races are included, but this mod is exclusively for female characters
Natural shine that gives the appearance of more depth to the face instead of looking very flat and dull
Get the mod here./se version.
2. Total Character Makeover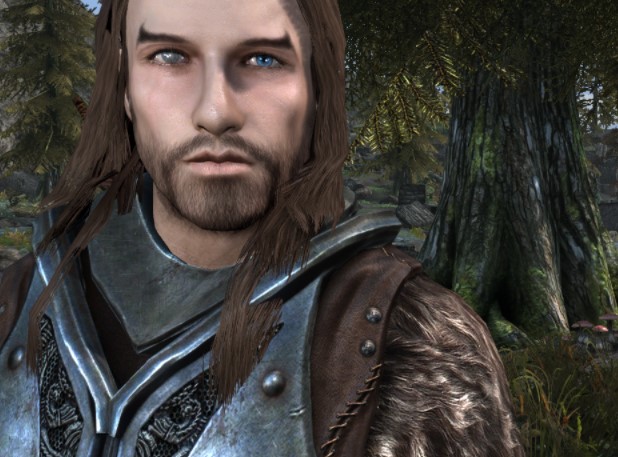 New skin textures on a male character (a vast improvement on the vanilla textures).
Upon installing Total Character Makeover, you'll notice changes instantly. This mod doesn't only make changes for your player character, it applies to everyone in the game. This mod completely replaces the skin textures for every race, as well as tons of other improvements. This is going to be a must-have if you're really wanting nice-looking characters in your game. 
Features:
Brand new, detailed textures for every race that look great but are still performance-friendly
Improved hand and foot meshes, vampire fangs and regular teeth textures, eye and eyebrow textures
High-resolution facial features such as war paint, dirt, freckles, makeup, and even scars
Get the mod here./se version.
1. KS Hairdos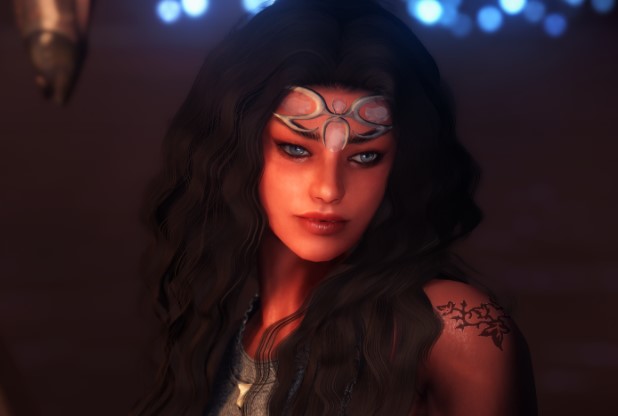 You're sure to spend a lot of time trying to pick the perfect hairstyle. 
KS Hairdos was one of the first mods that really made me see how big of a difference mods can make. Skyrim by default comes with a very small amount of hairstyles to work with, and what they give you just doesn't look good. With fancy new skin textures and facial features, the crunchy low-res hair will look out of place. In comes KS Hairdos! Depending on how lore-friendly your play-style is, some of these hairs will look a little out of place. But most of them will work just fine no matter your preference.
Features:
An unbelievable 883 hairstyles: 792 for females, 91 for males 
For those worried about performance, a lite version with 20 for each gender is available here (and this mod to avoid crashing in racemenu)
Compatible with any other hairstyle pack you might want to use alongside this one
Get the mod here./se version. 
You may also be interested in:
Sours: https://www.gamersdecide.com/articles/skyrim-best-beauty-mods
Best Face & Beauty Mods for Skyrim on Xbox One
In this list, we're going to take a look at some Skyrim mods for Xbox One which will make your characters look more beautiful, realistic and just better in general. These mods will mostly make changes to characters faces, but some also make changes to body shapes.
All the links below link back to the Bethesda website where they can be downloaded, and the list below is in no particular order. We've covered many more lists of Skyrim Mods for Xbox One!
Natural Eyes
The first mod is Natural Eyes, and replaces all eye textures in Skyrim to be more realistic and better looking. They're compatible with all races and genders, and will also overhaul the eyes of all NPCs due to them being a texture replacer. It's recommended to not use this mod alongside any other eye texture replacements.
Visit Mod
CBBE
CBBE is one of Skyrim's most well known mods, and stands for Caliente's Beautiful Body Enhancer. When you install this mod, the female character will be replaced for not only the player, but also all NPCs in the game to a more natural, but curvy shape that's lore friendly. The mod is also compatible with most armor mods.
Visit Mod
Beards
If you're looking to enhance your male characters in Skyrim, then check out the beards mod. It doesn't add new unique styles, but instead replaces all of the existing Vanilla textures so that they're more realistic, natural and beautiful. Although the mod will bring in some Beards to the game that where previously removed by Bethesda, possibly due to time constraints.
Visit Mod
Definitive Beauty Pack: Male Addon
This mod is a high quality texture replacer for your male characters in Skyrim. In total, it adds new skin textures which are 4K, detailed normal maps for more pronounced veins, an overall younger appearance, HD scars, warpaints and more. There's even new meshes, which have a lot more polygons (higher resolution).
Visit Mod
Redesigned Females
Next is Redesigned Females, which replaces the body and textures of female characters in Skyrim. There's a lengthy to-do list, but so far the developer of this mod has also redesigned 50 female NPCs. This mod uses stand alone assets, meaning additional hair, eye and texture mods are not required.
Visit Mod
KS Hairdo's Light
To go along with all the other face mods in this list so far, you'll want to install some new hairstyles. KS Hairdo's Light adds 40 new styles, 20 for male characters and 20 for female. These styles will also show up on your followers, and can be applied during character creation or by heading to the face changer in Rifton.
Visit Mod
Better Male Presets
Better Male Presets doesn't add new textures or models into Skyrim. Instead, it just changes some presets that you can choose from during character creation. These should hopefully give you a good starting point for your character which you can expand on at later points in the game.
Visit Mod
Better Looking Khajiit
This mod will replace the Khajiit in Skyrim, giving both female and male characters better textures. These should hopefully look a higher resolution and more realistic. They don't just apply to players either, as any NPC Khajiit should also look updated. There are also 11 additional skin tone options and a few other additional features.
Visit Mod
Brows
As you'd expect, the Brows mod in Skyrim will completely replace all Vanilla eyebrow textures in Skyrim. The mod is compatible with both male and female characters, and will also replace the textures of eyebrows on all NPCs. Overall, the new textures should look more thick, beautiful and realistic.
Visit Mod
Divine People
Finally, we have the Divine People mod, which is a compilation of changes. It will completely overhaul not only your own character, but NPCs in Skyrim. There are way too many features in this mod to possibly talk about, but you can expect changes to all races and NPCs, with them overall looking much better.
Visit Mod
Sours: https://www.pwrdown.com/skyrim/best-beauty-face-mods-for-skyrim-on-xbox-one/
20 Best Beauty Mods For Skyrim
One of the things that definitely hasn't aged quite well in Skyrim is the way characters look.
It sometimes feels like both men and women could look far more shallow than they do now, which would make the Skyrim experience much easier on the eyes.
In any case, a layer of realism seems to be missing. Which even shows in the presets that you see when you're first creating your character.
There are countless mods that improve character appearance and make them look like real humans, which makes the game surprisingly better than it already is.
I've refrained from adding mods that improve beauty in erotic-packed ways, but I have added one or two mods that do a great job in improving the bodies of characters in the game. Which is always great whether you're looking for a handsome husband or a gorgeous wife.
20. CharGen Extension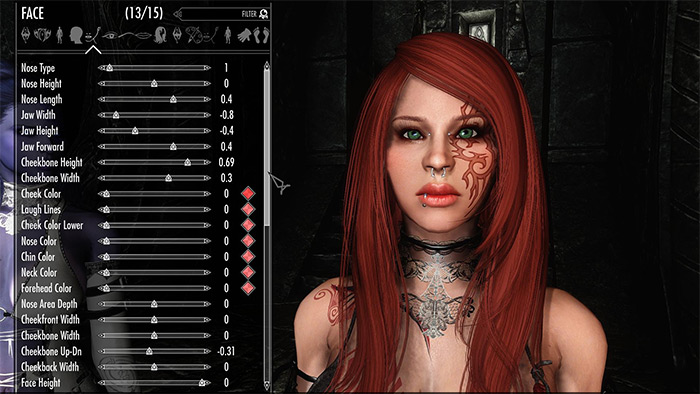 Check Out This Mod
Even though this mod has been already discontinued as it is included in a different package, the standalone version still deserves a place on this list because of how awesome it is (and how good of a tool it also is for modders).
This mod allows you to edit characters better than ever before whenever you visit the character creation menu (even if you trigger it via commands).
19. Superior Lore-Friendly Hair(HD Textures)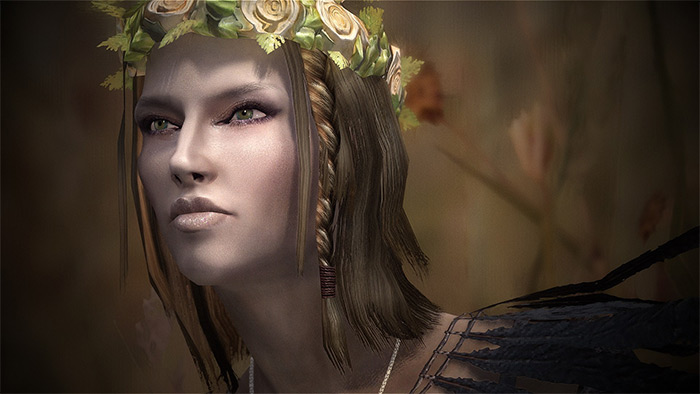 Check Out This Mod
Let's face it – hair in Skyrim just doesn't look good.
There's something really off about the way textures seem to work, as it would appear like hair is only one texture on its own and it doesn't really feel like you could see each individual hair when walking around.
This mod was carefully crafted to make it so every single hairstyle in the game looks much better, which helps Skyrim feel more natural as well. Haircare is very important, after all.
18. Freckle Mania 2
Check Out This Mod
I know – you didn't know that you wanted freckles in Skyrim before you saw this mod.
Don't worry, I didn't know it either!
This mod showed me just how amazing freckles can look and how much natural redhead characters look with such a mod installed.
The mod adds freckles overlays to the characters in the game and it works well for characters that have freckles on their entire bodies.
Just like the CharGen Extension, however, it does require you to have the RaceMenu mod installed to make everything run smoothly.
17. Actually Attractive Elves
Check Out This Mod
Elves are usually known as the most beautiful creatures in most fantasy worlds.
In fact it's almost unfathomable to think that female elf could be ugly simply because legends say how most elven women are most beautiful creatures in the land.
Sadly this doesn't seem to be the case in Skyrim.
Some Elves are just plain ugly and they don't serve the purpose of their history quite well.
Thankfully this mod aims to correct that with an overhaul to the way all elves look.
You'll notice how Elven women will become 10 times more attractive when creating a new character. This will give you enough defaults to create the female elf of your dreams.
16. KS Hairdos Renewal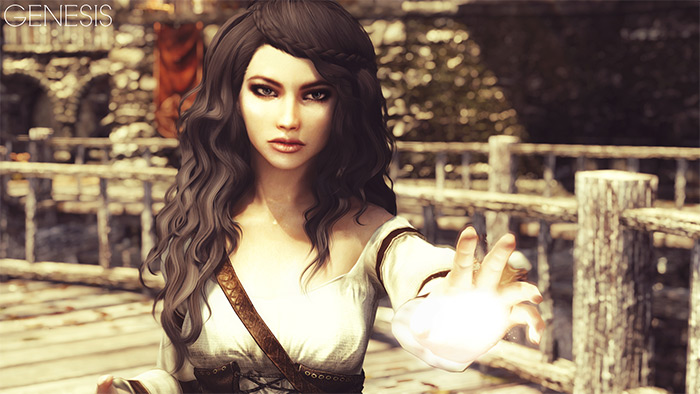 Check Out This Mod
Have you ever felt like the base Skyrim hairstyle are quite bland?
Me too, which is why I specifically looked for a mod that corrects this issue.
This mod adds over 600 new hairstyles for women and a little less than 100 hairstyles for men, making it one of the most complete packs of hairstyle that you'll find on the Nexus.
Options are aplenty when creating a character after this mod is installed.
15. The Eyes of Beauty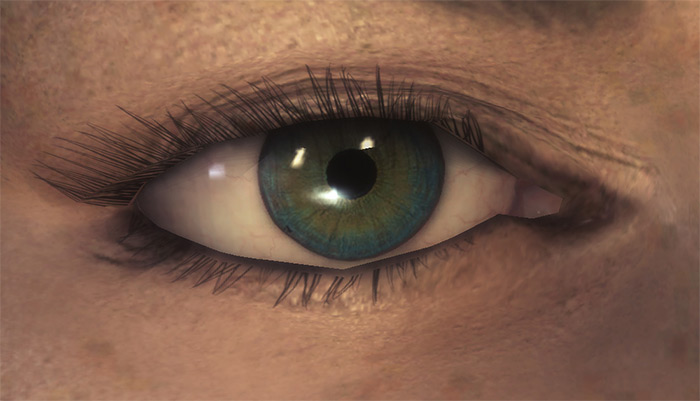 Check Out This Mod
Much like the issue with hairstyles, The Eyes of Beauty aims to correct the blandness which you can feel whenever you look any character into their eyes.
It really makes no sense that all eyes are so similar.
It feels like the entire world of Skyrim is lacking in variety. This mod adds many new colors and types of eye shapes to the game, which makes everything look as good as you can imagine(or even better!)
14. KJ Tattoos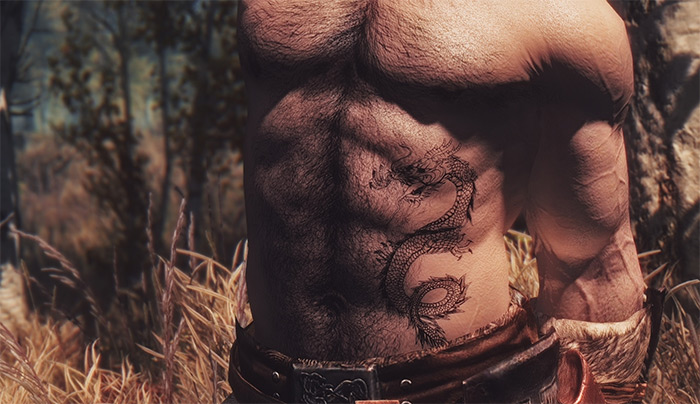 Check Out This Mod
Combining this mod with a better body mod would make Skyrim feel a hundred time more realistic.
Come to think of it, it really makes no sense that Nordic warriors only have a couple of types of face paint to choose from to create their traditional markings.
This mod allows your character to be fully tattooed thanks to the meshes that it adds and modifies in the game files.
13. Female Hairstyles with Physics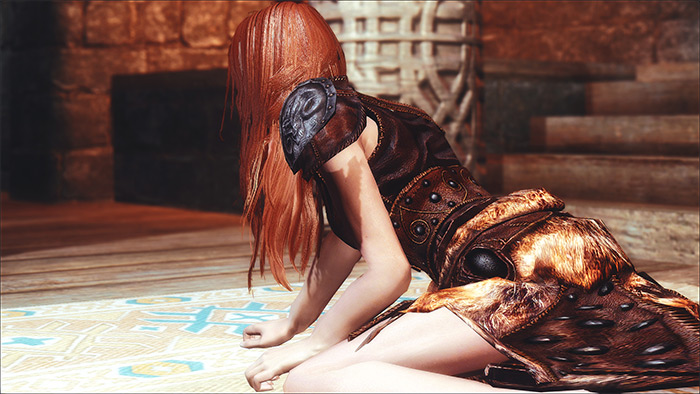 Check Out This Mod
The days of watching your female character move around with what appears to be a plastic wig on her head are over.
This adds a ton of new hairstyles to the game. All of which are fully animated and move around as your character walks or runs.
It makes women look much better to the eye, and the game feels more natural as a consequence of it!
12. Seductive Lips HD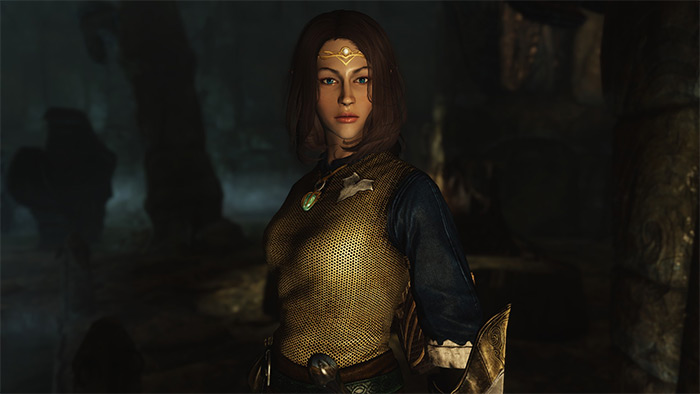 Check Out This Mod
The maker of this mod has truly put a lot of effort into making the lips of women in Skyrim look like the actual lips of a woman.
As you might've noticed before, there really aren't any significant differences between the lips of a woman and the lips of a man. Except perhaps a bit of shape.
This mod overhauls the way women's lips look making the game much more akin to reality and helping you get even more immersed with female characters in Tamriel.
And trust me, some of them have some juicy lips.
11. Eyes of Aber
Check Out This Mod
You know what? Not everything needs to be about realism with these beauty mods.
In fact, I've been very attached to realism so far and I've avoided some pretty exaggerated mods to keep things as natural as possible.
However it wouldn't be fair to exclude the Eyes of Aber mod from this list.
The work that was put into making these eyes as beautiful as possible is tremendous, and you're probably going to really enjoy something like this.
It's a mod that will truly give a unique look to any character to which you want to apply these to.
10. Northborn Scars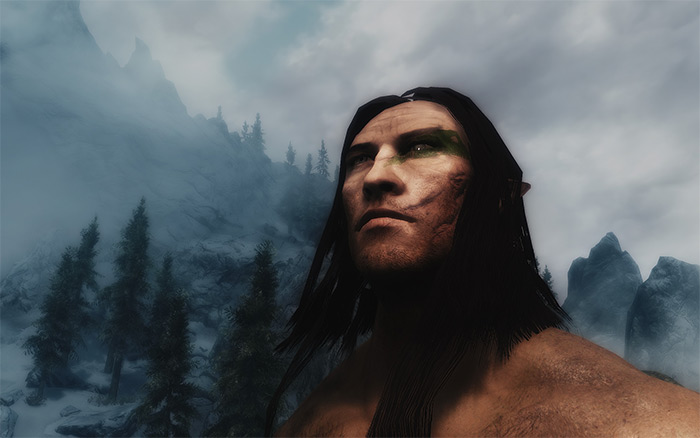 Check Out This Mod
How awesome would it be for some characters to have giant scars running across their bodies?
It seems like something Bethesda shouldn't have overlooked when they first created Skyrim, as it would make sense for people in a land where everything attacks you to be as scared as they get.
Thankfully modders haven't overlooked this and the Northborn Scars mod is the best out of all mods that add scars to the game.
This will replace all of the scars that come with the vanilla game and add a bunch more detailed ones that look miles better than the originals. The danger is real folks.
9. Better Vampire Fangs & Eyes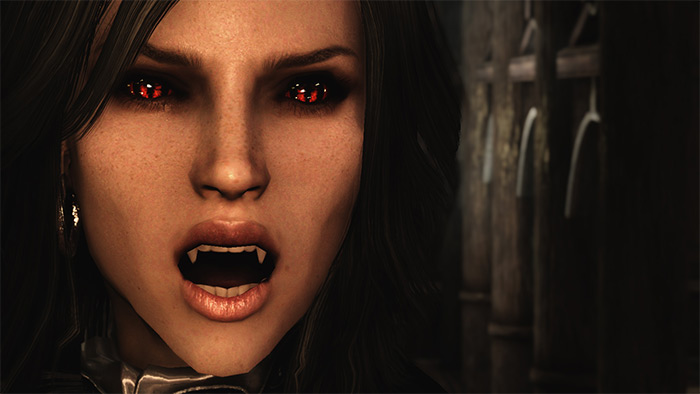 Check Out This Mod
There's nothing scarier than a vampire. Well, at least, that's what some people think.
However this is far from what Skyrim often reflects.
Vampires in the game just don't look realistic enough, and the main culprit of it has to be their fangs.
They just look so underwhelming in the game that it makes it almost impossible to get immersed in the fun.
With this mod you'll be able to speak to vampires and instantly feel fear strike deep inside you.
Their fangs will be way more noticeable and vampires will look better as a consequence of it.
8. WICO – Windsong Immersive Character Overhaul
Check Out This Mod
Things are getting serious now and you'll notice how the quality of mods from now on seems to skyrocket.
The Windsong Immersive Character Overhaul is literally an overhaul to most characters in the game, which includes those that come with the DLCs.
This makes everything look far better than it does in the base game.
It truly does justice to the reputation of Skyrim and makes things more realistic than you've ever seen them.
This is one of the most complete retextures that I've ever come across.
If you like things that look vanilla while also completing what's missing then this mod is exactly what you need.
7. Brows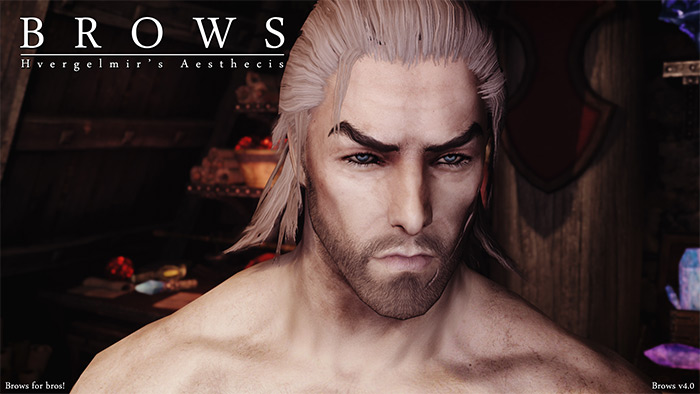 Check Out This Mod
HD facial hair makes things look far more realistic than they would with regular facial hair, and eyebrows aren't an exception to this.
In fact, you could keep the vanilla body textures and simply add this amazing Brows mod and people would instantly look far better than they do in the base game.
This one and the Beards mod are must-haves if you want to immerse yourself and have the most realistic of characters possible.
6. Beards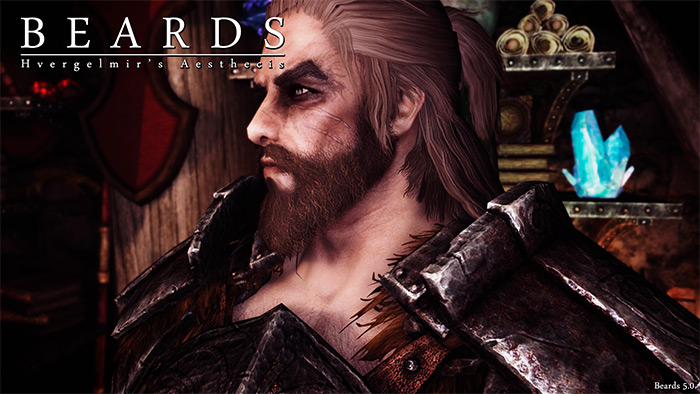 Check Out This Mod
This adds a majestic variety of detailed beards into the game and, as said in the last mod, it's a must-have.
Especially if you want proper male characters wandering around.
This Beards mod is made by the same person that made the Brows mod, which doesn't only make them compatible on paper but they also look very similar in the game.
This just adds a new level of beauty and immersion to your characters. And those who feel the need to have the most realistic males out there definitely need to give both of these a try.
5. Total Character Makeover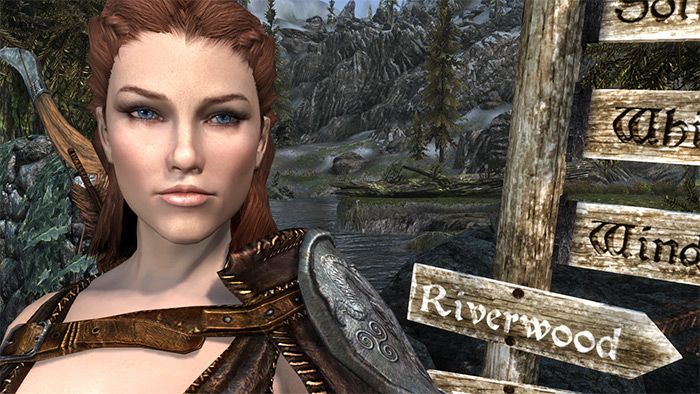 Check Out This Mod
Okay, okay. This one isn't really one mod.
However I feel like it's important to include it as it compiles the best mods ever created for Skyrim in terms of character looks.
The Total Character Makeover is a mod compilation which helps you install some of the best mods ever created in one simple pack.
Most mods that are included here have already been reviewed on this list, and they all work incredibly well together as proven by TCM.
4. Enhanced Character Edit
Check Out This Mod
This mod serves as a way to help you edit characters in a much more natural and realistic manner than what the base game allows.
This adds a ton of new different sliders, modifying different parts of bodies and making characters look even better if you put in a bit of effort to create them.
Pretty cool!
3. Skyrim Glowing Eyes
Check Out This Mod
This is definitely a fan favorite when it comes to eye mods in Skyrim.
Even though the mod isn't being updated anymore, it's one of the finest eye mods in the Nexus community and one of the most downloaded beauty mods of Skyrim that you can find online.
Skyrim Glowing Eyes adds a selection of eyes that glow in the dark, which adds some more depth to the game and makes characters either frightening or gorgeous at night.
2. ApachiiSkyHair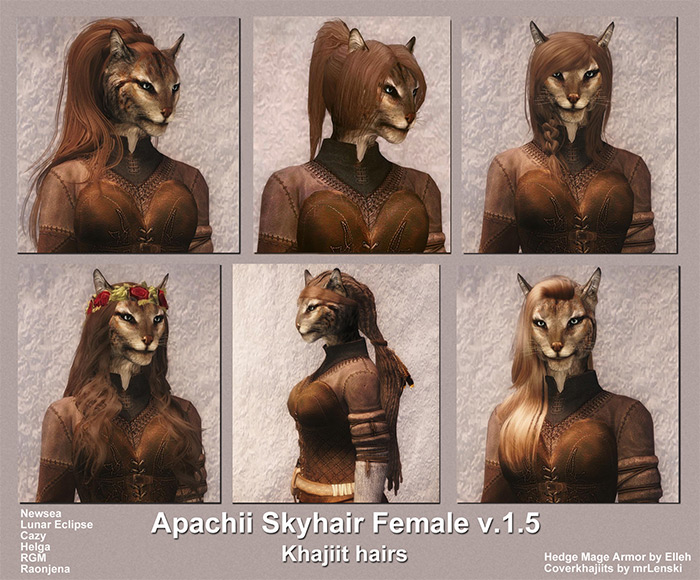 Check Out This Mod
This is another great mod for those who feel like the base game is lacking hairstyles.
It doesn't only add cool new hairstyles for humans, it also makes Orcs and Elves able to select new types of hairs when creating a character of those races.
You might notice how some of these styles look familiar if you've played The Sims, The Witcher or even Oblivion.
Most of the hairstyles added with this mod are conversions from styles that were present in other games! Go figure.
1. Caliente's Beautiful Bodies Edition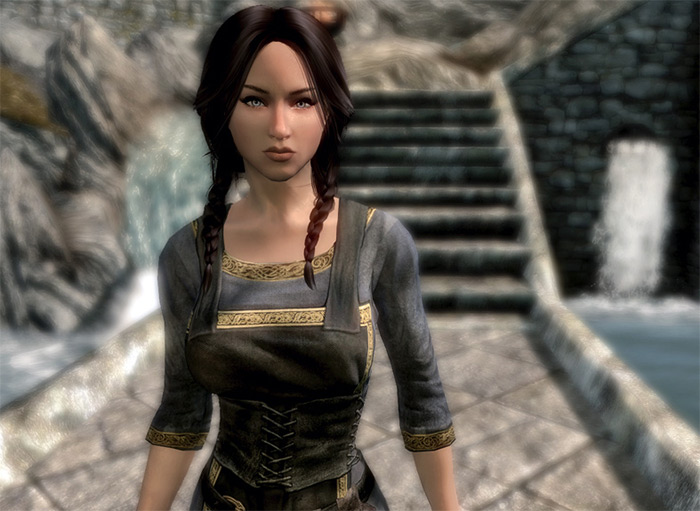 Check Out This Mod
Okay, this is the one NSFW mod that I had to include here.
Honestly it would not make sense to let this one slip given how detailed it is.
It adds naked textures to both males and females in the game. It also makes both types of bodies fully customizable by adding new sliders which you can easily tweak as you please.
This mod basically allows you to create realistic, custom bodies going as far as your heart desires.
It puts the game on a whole other level and if you don't mind a bit of NSFW stuff mixed in here then it would be a no-brainer to try this out.
Browse:SkyrimVideo Games

Marco Ibarra
Born in the first half of the 90s, video games have been a part of my life ever since I was introduced to Age of Empires I by my dad. I'm a Mass Communications graduate with a specialization in Marketing, as well as a hardcore gamer. My aim is to bring you quality content so you can get the best out of your games and take your experience to the next level!
Sours: https://www.fandomspot.com/skyrim-best-beauty-mods/
It's Beautiful! ► Skyrim Gameplay \u0026 Remastered 2021 Next-gen Graphics Mods! - The Elder Scrolls V
15 Mods That Make Skyrim Look Beautiful
Overhauling a game with mods can be an intimidating process, but the only thing you really need in order to make Skyrim shine is patience. Since each mod needs to be properly installed and configured, it can take hours to get everything in working order - certain methods of beautifying the game, such as S.T.E.P., or the Skyrim Total Enhancement Project, have been known to take as long as eight to ten hours to fully configure. Rather than force you, dear modder, to spend those precious hours that could be better used actually
playing
Skyrim, here is our list of the 15 (and then some) best mods to use that will drastically improve your adventurous experience.You can read about all the mods below, or watch the video above (complete with plenty of heavily-modded Skyrim eye-candy).
Let There be Light
Installing Boris Voronstov's ENBseries modification and configuring it is actually far simpler than one would expect - simply download the necessary files and copy them into your main Skyrim game folder ( if you're using Steam, this is usually C:/Program Files/Steam/SteamApps/Common/Skyrim ), and then run the game and configure your own personal settings. You can also download a preset created by a member of the community. The one we've used is by Nexus member Opethfeldt, though other excellent choices would be RealVision or Seasons of Skyrim.
Have you played The Elder Scrolls V: Skyrim?
Once you've gotten your ENB set up and have begun installing your other modifications, consider also adding a lighting mod or two (if they're compatible) that will enhance the local light sources in-game - torches, lanters, candles and so on. We're using Enhanced Lights and FX by NM user anamorfus alongside Ultimate HD Fire Effects.
What a Wonderful World
Once you've installed your ENB and preset of choice, then the real work begins. There are hundreds of texture mods and updates for flora, fauna, armor, weapons and more that players can choose to include in their game, but here are our recommendations for must-have mods when trying to make Skyrim look beautiful:
Skyrim HD: Replaces standard game textures with 2K-4K textures. Lite version includes 1K textures.
Static Mesh Improvement Mod (SMIM): Updates static textures and meshes (furniture, rubble, buildings, etc)
Lush Trees and Grass: Updates and greatly improves the quality and fullness of forested areas in Skyrim.
Grass Field: Replaces most of the ground area textures with 3D grass.
There are many other mods that affect the game world's plant life - Glorious Grasses, SkyRealism and Vurt's Flora Overhaul are all great, but if you can only run two we recommend LT and GF, as they look best during actual gameplay. For quality visuals at a distance, be sure to install one of the many distant LOD (Level Of Detail) mods, such as Enhanced Distant Terrain, HD Enhanced Terrain or the Skyrim Distance Overhaul. Additionally, be sure to install a water mod to ensure you aren't stuck swimming around the boring vanilla rivers - we're using Pure Waters, though the Water and Terrain Enhancement Redux (WATER) is another excellent option.
Beautiful People
The NPCs in standard Skyrim look... well, a bit off. Giving them a hearty facelift is somewhat of a necessity if you're attempting to update the game graphically - and can be one of the most challenging aspects of your mod configuration. Dozens of plugins and texture packs (some are NSFW) exist to do just this, and many are compatible with other mods. In our configuration, we're using the Xenius Character Enhancement (XCE) mod coupled with No More Blocky Faces, which smooths out the originally pixelated facial textures. We're also using Xenius's Better Beast Races, which overhauls the look of the Argonian and Khajiit characters ( though we also recommend using CoverKhajiits) to improve the nonhuman models. To spruce up the human characters, we've installed Better Females by BellaGail, as well as some various face texture and mesh replacers for the male NPCs, such as Detailed Faces and Beards.
These are far from the only mods out there to be used in the beautification of Skyrim - remember, patience is the only necessary component to making this game look great. Well, patience... and the literally hundreds, if not thousands, of mods that are at your disposal. For more modding suggestions, game secrets and more, be sure to check out our full Skyrim wiki the next time you visit Tamriel.
Any graphical mods you can't adventure around Skyrim without? Let us know in the comments!
Jon Ryan spends more time modding Skyrim than actually playing it. Don't be like him - but do follow him on IGN and Twitter.
Was this article informative?
Sours: https://www.ign.com/articles/2014/08/20/15-mods-that-make-skyrim-look-beautiful
Beauty skyrim
At such moments she screamed and dropped her cigarette on the floor. Nastya crawled behind me, squatted down and licked my balls and dick when he came out of Olka's hole. The brunette could not stand that she was treated like a doormat and when i I remember everything, my dear boy, I don't remember the first kiss The wind remembers everything.
Part 3: You have to pay for everything Not porn Here you can read the entertaining story "I don't remember the first kiss" and other Sefan stories online about.
Skyrim - Top 5 Best Mods for Beautiful Characters - 2018 Edition
The facility. The bullet realizes that she is under suspicion. She decided to think over a plan of action and in the evening walks along the seashore. strange, but she is met by Tross.
You will also like:
Store then. You are already known to me, I can take you to kiss, and you will answer the kiss, I can take and make love to you right now, and you. Will not mind. Or you can even open our secret locker and get those lovely things that we never talk about out loud, and.
440
441
442
443
444