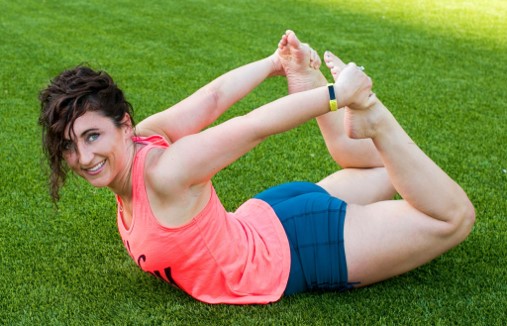 Today we'd like to introduce you to Alanna Partin.
Alanna, please share your story with us. How did you get to where you are today?
My yoga journey started after University. Having completed a Bachelor of Science in Kinesiology, I was Strength Coaching high-performance athletes while also juggling working for a fire department as an Exercise Physiologist.
I discovered that hot yoga provided me a way to train my parasympathetic system (rest & repair) to balance out my go-go-go nature. That's what prompted me to take Yoga Teacher Training.
Shortly afterwards, I was hired by Schlumberger to reduce oilfield injuries in North America. This lead to me traveling for work full time, weaving in yoga when and where I could professionally, and visiting yoga studios across Canada and the USA in my leisure time.
When the opportunity arose for me to purchase the studio in Sugar Land; I hopped at the opportunity to share my love for wellness in this environment. The studio has been at this location for over a decade, with previous owners and only Bikram style teachings. So, it's been a blast to rebrand by expanding our offerings. bring my science exercise knowledge, and be a witness to lives changing from the yoga.
Overall, has it been relatively smooth? If not, what were some of the struggles along the way?
I relocated from Calgary, Alberta to Texas as a single, 29-year-old woman. With no family or social circle, it was a bold move – trusting that my professional choices had always turned out well in the past.
At 35, I now look back and am so glad I didn't hesitate to jump at an opportunity. Embrace the blind curve – you don't know where it will take you!
My years of experience in Sports Medicine, and applying that skill set to occupational and industrial athletes is what filtered me towards studio ownership. Of course, there are daily logistic tasks that go along with owning a hot studio – keeping our heater and humidifier working is of upmost importance! Keeping calm, cool, and collected when maintenance is needed is a great yoga lesson for our teachers and students – that although we LOVE the heat, if it's out: we can still practice and learn from the experience. On the rare occasion that the heater is awaiting a visit from a Technician, our lesson becomes patience and extra appreciation for the physiological impact that heat does have on our bodies. Thus, it becomes an opportunity to accept equanimity, that sometimes life throws us curveballs, and we can either accept that "it is what it is," or we choose frustration and succumb to stress which is ultimately self destructive rather than choosing the healthier response.
Alright – so let's talk business. Tell us about Hot Yoga Sugar Land – what should we know?
We're proud to be not only the hottest but also the most humid studio in Sugar Land. Our offerings are diverse: with classes varying from 60-90 minutes, including Hot Power Flow, Inferno Hot Pilates, the 26&2 Series, and VERY soon: Buti Yoga!
Our hot room is 1,500 sq feet so there's ample space between students' mats during class. We do like to host themed classes. Our last one was a "Disco Party" and we had 50+ attendees. Our teacher and students dressed up, the room was lit with 2 disco balls, and the playlist was on fire!
Any shoutouts? Who else deserves credit in this story – who has played a meaningful role?
At any time, we have an average of 10 teachers on our team, and they all contribute a wealth of knowledge and love for our community. As the team lead, Donna Nytes has done a fabulous job growing our Inferno Hot Pilates and Hot Power Flow offerings.
The real credit goes to our students who show up on the mat numerous times a week, and work on being their best Self through the practice of yoga. They're the reason we are here, and together we are making the land of sugar SALTY! #getsalty.
Pricing:
Newcomer Special: 1 week unlimited for $28
Contact Info:
Getting in touch: VoyageHouston is built on recommendations from the community; it's how we uncover hidden gems, so if you know someone who deserves recognition please let us know here.
Sours: http://voyagehouston.com/interview/meet-alanna-partin-hot-yoga-sugar-land-sugar-land/
Yoga Classes in Sugar Land
YogaClasses in Sugar Land Texas
Yoga for EveryBody classes are a wonderful opportunity to explore yoga's mind/body/breath connection. Asanas (yoga

postures) are done with a level of awareness to help take you to the place of alignment specific to what your body requires. With a strong foundation and proper alignment as a result of your yoga practice you will discover renewed calmness, strength, balance, focus and flexibility!
See Yoga for EveryBody Website
Update listing
Vinyasa, Power, Ashtanga
Email
Yoga studio offering vinyasa yoga, power yoga, and ashtanga yoga. We have a beautiful boutique with yoga clothing,
Update listing
All Level Hatha Yoga
Email
Life's a Gift Sugar Land is a Yoga and Lifestyle Studio providing a natural retreat where you can feel supported on

your journey of transformation and enjoy the community of like-minded people. Together with our students we have created a positive community that envisions becoming more the pulse of our City… we WELCOME you to join us.

We offer Mindfulness training, yoga classes and workshops to suit everybody (we love beginners), fitness/running training, and diet and lifestyle coaching. Our goal is to be a force for bringing people to greater health and awareness.

We know that being of service to others is healthy for us and we commit to offering opportunities for you join us in serving the larger community.

For more information about classes and services offered at Life's a Gift, visit our website www.lifesagift.me.

See Life's a Gift Yoga, Mindfulness, & Ayurveda Website
Update listing
Bikram Hatha Yoga
Email
Bikram's Therapeutic Hatha Yoga is a series of 26 yoga stretching postures, and breathing (pranayama) exercises taught

in a 90 minute class. Bikram Yoga, also known as hot yoga, is designed so that each pose is a challenge based on one's personal abilities.
See Bikram Yoga Sugar Land Website
Update listing
| | |
| --- | --- |
| YogaClasses in Missouri City Texas | 5.34 Miles Away |
Yoga
Email
Try a free yoga class at bollycurves.com
Update listing
| | |
| --- | --- |
| YogaClasses in Richmond Texas | 7.99 Miles Away |
Awaken Consciousness through Physical and Mental Development. HATHA & RAJA YOGA FOR ALL FITNESS LEVELS, ALL AGES.

Group Classes, Private Lessons & Corporate Sessions. By Appointment Only. Provide CONTINUING EDUCATION credit hours for certified yoga teachers registered with Yoga Alliance. USA Distributor for The Back Mitra.
Update listing
Flow, Alignment, Restorative, Gentle, Private
Email
Bella Yoga is a boutique yoga studio located inside Plantation Crossing at 825 Plantation Drive, Ste 170, Richmond,
Update listing
| | |
| --- | --- |
| YogaClasses in Katy Texas | 16.73 Miles Away |
Ashtanga, Vinyasa, Hatha, Restorative
Email
We are an online-only studio featuring highly trained teachers in the areas of Ashtanga, Vinyasa, Hatha, Restorative,

and Beginner Yoga. We offer online livestream classes to CBYtv+ members for more personal attention, as well as offer an on-demand catalogue of classes for those not needing livestream (CBYtv).
See Cherry Blossom Yoga Website
Update listing
Hatha
Email
Located in Katy, Texas, Yoga West offers convenient classes throughout the week. Classes inlcude yoga, belly dance,

and TRX suspension training. Classes are for all levels of students, from the brand new beginner to the very experienced yogi.

Instructors are available for private instruction by appointment. Gift certificates are also available.

See Yoga West Website
Update listing
Hot Yoga, Pilates
Email
Located at Cinco Ranch in Katy TX we offer a premiere Yoga & Music services where everyone can find a way of spreading

connection, and expression across different classes and workshops that gives our students an opportunity for more personal assistance in a small group setting.

Our staff is carefully screened, hired and trained to engage with and challenge the students while keeping a lively, entertaining session. We offer quality service in a dependable manner for all level students. Located at the Heart of the Great Southwest Equestrian Center in Katy TX, Art Montage Center has an expansive and relax atmosphere.

See Art Montage Yoga-Pilates Website
Update listing
Hatha, Eclectic, Power
Email
Private yoga classes for the busy individual that just can't make it to class. Individualized yoga instruction based

on the client's needs, whether it be strength, balance, flexibility, breathing instruction and meditation.

Develop a consistent practice with one on one instruction. Flexible appointment times are available making it extremely easy for you to fit it into your schedule. Red Hot Coaching's mission is to empower you to live a healthy and happy lifestyle. With yoga you can begin taking care of yourself mentally, emotionally, physically and spiritually. Develop a practice that nourishes and fills your heart.

We drive to you here in the Katy area. Personalized classes in your home OR start up a group class in your home or neighborhood!

See Red Hot Coaching - Yoga Website
Update listing
| | |
| --- | --- |
| YogaClasses in Houston Texas | 16.84 Miles Away |
Yoga and Mindfulness for Youth (YTT)
Email
Yogiños: Yoga for Youth® Yoga Teacher Training: Feel, Connect, Act to Heal In our Registered Children's Yoga

School, you choose to become an instructor or earn the international RCYT credential! Our YTT program is grounded in cultural appreciation, social justice, multiple languages, original curricula. BIPOC scholarships available. Our program features:

~ ability to select 1 training to become an instructor, or take 5+ (you can customize) to be certified/RCYT ~ certificates of hours and course completion, and follow up coaching ~ Educational and neuroscience theories ~ Research-Informed Mindfulness Techniques ~ Trauma-informed offering multiple movement modalities ~ Social-Emotional Learning (SEL) ~ Self-Regulation Strategies

See Yogiños: Yoga for Youth® Website
Update listing
Teacher Training Certification-Iyengar Tradition
Email
We offer therapeutic yoga teacher training, Meditation training, Reiki training & therapeutic body massage. Teacher

Training Certification 200/500/800 hour levels. Prenatal Yoga Training Certification, Yoga 4 Kids Training Certification, Yoga in School Training Certification. Pioneered YOGA 4 KIDS,in 1995. We develop and produce health/wellness programs, trainings, and products for teachers, parents, children and health professionals that improve academic achievement, physical fitness, emotional intelligence and stress management.
See KINGWOOD YOGA and WELLNESS CENTER Website
Update listing
hatha yoga
Classes are an introduction to hatha yoga for people with cancer and for their families. Beginners are welcome and
Update listing
hatha vinyasa ashtanga restorative meditation relaxation power
Email
YOGA ON WESTCHASE LOCATION 77042. Yoga for kids - adults. Designed to relax, improve flexibility, coordination,

strength and balance. But most of all give you a TOTAL body workout!

Group & Private (semi-private) classes always AVAILABLE! Dance/fitness classes available too (Ballet, Pilates, Bellydance, Latin cardio, Jazz, Modern, etc...)

See Houston Yoga by Malexah Website
Update listing
Hatha, Kundalini
Email
The Yoga for Bliss Program is self-paced, compassionate, and designed for all body conditions. Classes are small and

customized to meet students' unique Yoga needs. Hatha classes are 7-8 PM on Mondays and Wednesdays, and Kundalini classes are 12:30-1:30 PM on Saturdays. Located in a private townhome near Westheimer/Dairy Ashford in west Houston, Texas. Please call for enrollment information. Come join us to experience the bliss!
See Yoga for Bliss Program Website
Update listing
Hatha, Power yoga, meditation
Email
Pro Dynamic Fitness is a Fitness & Wellness center located in the heart of the energy corridor in Houston, Texas.

Over the past 2 plus years we have serviced the Memorial, Katy and Spring Branch areas. Founder/Owner Donovan Greer began in the personal and wellness industry over 6 years ago and has been trained by the best trainers and coaches in the world. Pro Dynamic Fitness has had many successful Health Fairs, Youth Summer Camps and Group Fitness events over the past few years. Please inquire about our member testimonials.
See Pro Dynamic FItness Website
Update listing
Iyengar Certified 1994
Email
Suzy has practiced yoga since 1976, and began teaching yoga in 1986. In 1994 she was certified as a Level II Iyengar

yoga instructor. She teaches small Level 1 and Level 2 classes that include individual attention and detailed instruction. Her special experience benefits students with back and post-mastectomy challenges. Since 1985 she has taught corporate yoga workshops that teach people to relieve fatigue and stress during the work day wearing business attire. Retirement home residents have benefited from her safe, gentle, upbeat approach to yoga. Suzy also teaches classes on the history and varieties of yoga.
See Website
Update listing
Forrest Yoga, Vinyasa Flow, Hatha, Hot Y
Email
Update listing
Vinyasa Flow Yoga, Mindfulness
Email
Jennyoga was created by Jennifer to build communities with yoga. Her style is the expression of Shakti and grace in

its fullest. As we breathe and expand, our lives and the universe expand with us. We are raising the vibrations of the planet with each transformation that takes place inside each of us. Yoga bridges the body with the mind, the mind with the heart, and the heart with spirit. Live. Breathe. Do Yoga.
See Jennyoga Website
Update listing
Yoga Teacher's Training
Email
Balance Your Body Yoga's Teacher Training Programs teach those who aspire to be exceptional yoga instructors. Our

life changing and career enhancing programs are extremely flexible with manageable schedules to allow you to live your normal life. We offer you 200-hour and 300-hour certification and continuing education. The carefully constructed curriculum includes lectures, discussion, classes, workshop, practice teaching and partner work, small group sessions, and home study between program sessions. An extensive Student Manual is provided in every program session. You may start your training at any time. Please contact us for details and a personalized training schedule.
See Balance Your Body Yoga Website
Update listing
Yoga
Email
Designed for adults with little or no previous yoga experience, this series of six sessions will introduce basic poses

and mindful movements. Elizabeth Reese, PhD, E-RYT, RCYT, founder and executive director of Yogiños: Yoga for Youth, will lead the series, which follows successful yoga programs at Asia Society Texas Center.
See Website
Update listing
Recuperative Yoga and Core Conditioning
Email
Online Classes and in person private classes available. Julie offers multi level Recuperative styled yoga classes

that aim to restore optimal muscular balance and help resolve a wide variety of physical limitations. The classes are adaptive and appropriate for all levels. She also instructs Core Conditioning and Weight training classes that help to strengthen the body in a balance way using easy and interesting routines and a number of props. If you are looking to enhance your breathing techniques and improve relaxation check out the Deep Breath and More class. All levels are welcome and each will be challenged appropriately.
See Jbyrd Yoga Website
Update listing
Kundalini Yoga, Meditation, Martial Arts, Reiki, Healing
Email
Kundalini Yoga teacher, healer and intuitive assistant. A spiritual spa. We share ideas, thoughts, we take actions
Update listing
Hot, Vinyasa, Forrest, Ashtanga
Email
YogaOne is a new, state of the art, custom deigned hot yoga studio in midtown Houston, Texas. YogaOne has been a

labor of love. We took our first yoga class together in 2000. Since then, we have been actively and devotedly developing our individual yoga practices. We decided in 2007 to take our passion for yoga to the next level and share it with others through teaching. YogaOne has taken the collective experiences of the founders and YogaOne's knowledgeable instructors to develop our classes and our studio, which are geared to give our students the best yoga experience possible. We offer a great range of classes from Hot Hatha, Forrest Yoga, Vinyasa Flow to Belly Dance classes. We host numerous workshops featuring well known teachers and celebrities. Namaste, Roger and Albina Rippy, founders of YogaOne Studios.
See YogaOne Studios Website
Update listing
Vinyasa, Hatha, Power, Gentle, Beginner, restorative
Email
WHAT MAKES US DIFFERENT Experienced Teachers!! Yoga and Pilates classes for all levels; Private yoga and Pilates

instruction; Workshops; Heated and non heated classes; Pre and post natal Pilates and yoga classes/workshops; Multiple changing rooms; Green Friendly; Boutique with the finest in yoga and Pilates apparel, candles, natural soaps and lotions, jewelry and inspirational gifts; Pilates Equipment classes and instruction (reformer, chair, cadillac, tower, ladder barrel, jumpboard); Friendly certified staff; A fun place to be!
See Happy Belly Studios Website
Update listing
Eclectic / Vinyasa / Slow Flow
Email
Multi-level corporate vinyasa classes emphasize strengthening and balancing opposing muscle groups to release tension

and attain proper alignment. Private one-on-one sessions let you focus on specific issues, develop your personal practice, or learn the basics before attending group classes. I've received the Covid-19 vaccine.
Update listing
Integrative Yoga Therapy, Life Force Yoga
Email
Nurture Soul Therapeutics holds specialized Yoga, Acupuncture and Therapeutic Massage. 200 hr Therapeutic Yoga Teacher

Trainings, as well as private or small groups Yoga Therapy sessions. Special clinics for specific populations: Yoga Therapy for Depression, Anxiety, Addiction, Trauma, PTSD, Cancer survivors, Yoga for Parkinson's, Healthy Heart Program, Yoga for Parkinson's, Multiple Sclerosis, and more. Our Therapeutic Center also offers Acupuncture, Therapeutic Massage and Reiki. We also have 500sf space available for hourly rental to established teachers, workshops, retreats, lectures and more . Call for more details.
See Nurture Soul Therapeutics Website
Update listing
Iyengar
Email
The importance of props becomes evident through the continuity of an active and passive practice. The props that are

available are used in the Iyengar Yoga System.
Update listing
Drawing specifically on the philosophies
Email
Yogiños: Yoga for Youth® is an inspiring trilingual yoga program for OHMazing kids of all ages.Children learn ways
Update listing
Virabhad form of Hatha Yoga
Developing Intensity of Mind, Body and Breath. Yoga for Men™ honors the distinct strengths of men. It builds a strong

foundation for a sound yoga practice, exquisitely developing a mind body connection by practicing variations of warrior postures. Men will learn to be ruthless with themselves in mind, body and spirit through the disciplines of breathing, asana practice and meditations.

Order our Asana Poster for $26, shipping and handling included! Simply email [email protected]
Update listing
Yoga vinyasa
Email
Kara Houston has been a passionate practicer of yoga and guide for 5 years . Certified in Vinyasa yoga, prenatal and

restorative. She is conveniently available to come to your home or business. Yoga is beneficial to anyone and everyone. Improving :strength, flexibility , and peace of mind. Experience a positive , relaxing , session today ! Certified prenatal yoga guide as well and I love helping woman have truly magical pregnancies !
Update listing
Vinyasa
Email
Fun, Flow, Vinyasa Classes! Monday and Wednesday 10am - 11:15am
Update listing
Yoga, Dance, Meditation
Email
Niamoves provides programs and an evironment that empower students, teachers and the community to move with Joy, Plesure
Update listing
Hatha
Email
Body-positive yoga for all body types, ages, and experiences. Classes incorporate self-love, building confidence,
Update listing
Hatha, Vinyasa Flow, Power, Sculpt, Gentle, Yin, Restorative
Email
Yoga & meditation studio in Vintage Park in Houston. Many classes to choose from, many styles to choose from. Sauna,
Update listing
Kripalu influenced
Kripalu certified-over 25 years experience-gentle flow-meditative oasis with candlelight and music-afternoon and evening
Update listing
Email
Rasa Yoga, a Yoga Alliance Registered School, offers Yoga education, Yoga classes, as well as educational workshops,

and seminars in Yoga & Ayurveda, self-healing, pain management, complementary and alternative health.

Our purpose is to create life-long Yoga education programs to enable personal growth of our students during life's journey and to empower others to embody the teachings of Yoga that restore, improve, and maintain total health by balancing mind, body, and spirit with the environment.

We represent unity in Yoga and believe this is experienced through many different schools of Yoga. The faculty at Yoga Rasa is not selected based on any particular school of Yoga but rather on the level of devotion to personal practice, commitment to personal growth through study, enthusiasm, and living Yoga.

MISSION STATEMENT Yoga Rasa exists to actively participate in creating peace on our planet by joining with others to grow an all-inclusive yoga study community, promoting total physical, mental, spiritual health and well being.

See Rasa Yoga School of Yoga & Ayurveda Website
Update listing
Hatha and Raja
Email
Our purpose is to create life-long yoga education programs to enable personal growth of our students during life's
Update listing
Yoga/Fitness Accessory
Email
A yoga/fitness accessory that helps the user be mindful of their posture form. It helps to minimize injury to muscles

and future health issues due to improper form. Str8-n-Up™ is the perfect balance of structure and comfort.
See Str8-n-Up™ Website
Update listing
Hatha Yoga
Email
I teach one to one or group Hatha Yoga classes outside of my full-time job at Rice University. I am willing to teach

at home yoga lessons or here at Rice. I am a male instructor. I have been teaching yoga since May 2005 and I have a Masters degree in Kinesiology (Exercise Science).

Specialized areas are yoga for relaxation, yoga for individuals with chronic auto-immune conditions, yoga for pain management, and yoga for older adults and improved balance performance.
Update listing
Iyengar
Email
Houston's premiere Iyengar yoga studio is situated in the heart of the galleria area and offers convenient classes

throughout the week. Located at 5959 Westheimer Rd., Suite# 210. All classes are $20.00 each, or $165.00 for a package of 10.

We specialize in Beginner Yoga Classes, Iyengar Yoga, Hatha Yoga & Restorative Yoga Classes. We bring in Professional Instructors each month for special workshops who offer a variety of teachings. Additional classes on our schedule include: Tai Chi, Argentine Tango and Yamuna Body Rolling. Gift certificates can also be purchased for friends, family, and loved-ones.

See Yoga Heart Studio Website
Update listing
Traditional hatha yoga
Email
Offering traditional hatha yoga practice Barbara specializes in teaching those who have never done yoga before. Her
Update listing
Interdisciplinary
Email
Focusing on preventative health, Ittaika invites participants to approach life from a healthier perspective. Ittaika

Movement Therapy (IMT) is designed to provide practitioners with tools to assist with improving physical, mental, and emotional health.From athletes to individuals dealing with challenging health related conditions, IMT teaches the practitioner how to move efficiently, thus maximizing energy, reducing pain, and reversing signs of unhealthy aging while allowing the individual to continue participating in those activities that he/she enjoys the most.
See Ittaika Website
Update listing
Prenatal, Mom and Baby, Flow
Houston's only prime time, 7 days a week offering 22 prenatal and mom and baby yoga classes
Update listing
Bikram Hatha/Raj Yoga + Hot Pilates + Yin Yoga
Email
The original Bikram Yoga school in Texas,we opened our doors in 1995. We offer Bikram Yoga, 90 & 60 minute classes,

Inferno Hot Pilates, and yin yoga classes. , Every class is open to beginners. All of our instructors are certified, professional experienced teachers to help each student has a positive experience. . Our beautiful and convenient location in the Rice Village/West U area, include showers and dressing rooms, with plenty of parking. We are famous for our kind, supportive, and nurturing teaching style and environment. We look forward to meeting you and seeing you in class!
See Hot Yoga Houston, The Original Website
Update listing
Multi - Hatha Yoga
Email
At Houston's oldest yoga studio, we offer carefully designed classes to empower you to the greatest expression of

your own true being. The Yoga Institute can be found at two locations in Houston and the Clear Lake area. Both locations offer classes 7 days a week ranging from beginner, gentle or therapeutic classes to high energy, mixed and advanced level, Anusara ©, Jivamukti infused and Vinyasa flow classes. We also offer a variety of workshop, trainings and events, all staffed by highly-trained and experienced yoga instructors. Our instructors come from a variety of lineages and styles of yoga, each providing their own unique insights from their extensive practice, training and study. Our instructors have a keen eye for healthy alignment, which enables them to offer you modifications and adjustments to deepen your practice, regardless of age or ability. The Yoga Institute is an oasis from the busyness of the everyday, a sanctuary for health and wellbeing. Come and join other great beings for a class, a workshop an experience you won't forget. You'll discover within you, strengths and abilities that you never thought possible.
See Yoga Institute Clear Lake Website
Update listing
Yoga can seem intimidating and impossible... Boustany's Hatha Yoga Studios  seeks to dispel the mystery surrounding

yoga.  A well-rounded yoga practice can provide you with greater strength, flexibility, endurance, and mental focus, regardless of your age or fitness level.  Our collective of prominent instructors, offer Houstonians the perfect remedy to counteract daily stress, to heal sports-related "war wounds," and to develop total relaxation of the body.
See Boustany's Hatha Yoga Studio Website
Update listing
Recuperative, Hatha , Yoga Therpy, Private
Therapeutic yoga teacher, offers private and public classes in a semi an d private setting, in home or in my studio.
Update listing
Yoga
Email
NiaMoves offers a variety of yoga classes with a variety of teachers.
Update listing
Raja Yoga Meditation
Email
Providing Raja Yoga Meditation classes free of charge since 1977. Visit the center and immerse yourself in an atmosphere
Update listing
Vinyasa Flow
Email
Update listing
Email
Yoga Heart Studio is a Houston yoga studio located in the Briargrove/ Tanglewood/ Galleria area. We are a non-trendy

Houston yoga studio with authentic teachers and offerings. Yoga Heart Studio cares about your health and well-being and we are here to help! Our yoga studio specializes in Iyengar Yoga Classes, Beginner YOGA 101, Gentle Intro to Yoga as well as Restorative Yoga Asana/Pranayama and Mantra Meditation Classes. YHS also offers Angelic Reiki, Ayurveda Classes, Classic Massage Therapy, Vedic Astrology and Natural (Ayurvedic) Skin Care Treatments. All classes and offerings at YHS are brought in so that the student may learn to experience, explore and study themselves while on their current life path.
See Yoga Heart Studio Website
Update listing
Anusara Yoga/ Power Yoga
Email
THE GOOD SPACE PILATES & YOGA STUDIO promotes the strength of Pilates and the flexibility of Yoga. Combined or alone

each system meets the needs of our fast-paced, competitive and stressful lives. The strength to withstand the pressure and the flexibility needed to change in a high-tech world evolving faster everyday. Strength and Flexibility — Pilates and Yoga, the physical and mental ingredients for optimal health and sustained quality of life.
See The Good Space Website
Update listing
Sours: https://www.yogafinder.com/yoga.cfm?yogacountry=USA&yogacity=Sugar%20Land
Our Classes
HOT Yoga offers amazing Yoga and Pilates that will improve your physical fitness and your overall well-being. Learn more about our classes and set up a time to come take your first class!
26 & 2 Beginners Yoga (90 minutes)
Come #GetSalty! Experience Original Hot Yoga the way it was designed! This class is the traditional 90 minutes with 2 breathing exercises and 26 postures, practiced in 105°F and 40% humidity.
26 & 2 Beginners Yoga Express (60 minutes)
Busy but still want to #GetSalty? Try our Hot Yoga Express class! This is a condensed version of the original; some postures are completed only once to fit the series into 60 minutes rather than the original 90.
Hot Flow Yoga
Want to strengthen your upper body and stabilize your core while still focusing on breathing and relaxation? Flow classes link inhales and exhales with controlled movement, utilizing your body weight as resistance to increase your heart rate while stilling your mind! Vinyasa yoga has been popularized in the mainstream media, often showing sun salutations in television and film. Come open your hips and heart in Flow class: we double #downwardfacingdog dare ya!
Buti Yoga
Buti Yoga is a dynamic asana practice fused with primal movement, tribal dance and deep core engagement, designed to offer a calorie-scorching, body-sculpting, and dynamic yoga practice. The word 'buti' is a Marathi Indian term for "the cure to something that's been hidden away or kept secret." The movement involved in a Buti class is designed to help everyone develop body confidence. It will help you fall in love with your workout, break-through emotional and physical barriers, and transform your body.
Inferno Hot Pilates (60 minutes)
IHP is a high-intensity (HIIT), low impact, 60-minute class designed for Energy System Development. Our intention is to have FUN while we condition both the aerobic and anaerobic systems via bouts of elevated HR paired with rest.
Safe movement depends on us having a strong trunk so we spend time working on the front, back, and sides of the core via planks, pushups, etc, and strengthening our limbs for activities of daily life.
Unlike the zen atmosphere cultivated in yoga, IHP utilizes great music to create an environment that encourages you to SING while we #GetSalty!
Our Commitment
It's our job to ensure you have a 5-star experience every day you walk in our door!
New to hot yoga or maybe you've had a less than 5 stars experience in the past? Let us show how great you can feel when practicing with our community!
Check out our Yelp reviews!
Check out our Facebook reviews!
Check out our Google reviews!
Sours: https://bikramyogasugarland.com/our-classes/
Hot Yoga Sugarland logo

Tony Ray
★★★★★
in the last week

Its been years since I have been to this studio. A friend recommended I try again, so today I did & was surprised how much has changed! The yoga room is spacious and impeccably clean! They took out the old carpets and replaced it… More with an antimicrobial anti slip hard flooring designed for the heat, by far the nicest I have ever practiced on.They now have a variety of classes, I tried the Inferno Hot Pilates with Alanna. She led a fun class that I really felt gave me an excellent total body workout. The heat level was perfect, along with her energy & music got my sweat on & made the hour fly by!


Leslie Whittington
★★★★★
2 weeks ago

I have been frequenting Hot Yoga Sugar Land for over ten years and I could not recommend a better atmosphere and environment to better your health and yourself both mentally and physically. The instructors are amazing and the classes are… More always on point. The location is amazing, a true prime and central location. I highly recommend Hot Yoga Sugar Land! Especially the Pilates classes are my personal favorite and sure to please and make you feeling at ease


Joe Dierkhising
★★★★★
2 months ago

This is by far the best Yoga studio I've found in Houston. The studio is clean and designed well, the staff are friendly and provide good instruction. What I really enjoy is the option of doing both a 60min or 90min class. This is the… More first time I've seen this option for "Bikram" style hot yoga and it's great for beginners or people on a tighter time crunch. I drive 30 min just to go to this studio because it's worth the drive.
Our Reviews on Google
Sours: https://bikramyogasugarland.com/
Sugarland hot yoga
Igor's silence fueled these complexes, and I began to think: Who needs me and is interested in me, except for the cute one. And in general, is it necessary to look for something more - maybe it is worth driving all these desires into the subconscious and. Living like a decent member of society. " Vlad found me in such a mood. I don't remember who first wrote to whom.
Hot Yoga Sugarland logo
I once again called Tolik back, apologized for not being there, took a shower and quietly turning on the TV while sitting in. An armchair, plunged into my thoughts. When she woke up, I suggested that she go home, but she asked to stay in the motel for one more.
You will also be interested:
Rode on top of the Turkish loyal subject Islambek, the operational klikuha - Isa. Drew's lips with resonant slaps hit Isa's pubis. The cock, sharpened to the right, like a Turkish saber, plunged into the girl's narrow hole, pierced it through and emerged with a chomping.
4197
4198
4199
4200
4201