MARY'S STORY
I am passionate about small business and I'm thrilled to share my years of knowledge, experience and insight with other small business owners in this course, Small Business from Scratch.
I have learned that it's always best to do as much as you can yourself. I believe this is a huge part of any small business success to minimize outsourcing, cost and to stay true to your vision.
My story is a long journey of creating businesses when and where I see opportunity, and then working hard to make them successful. I have started twenty small businesses in different industries from tutoring to restaurants to ranching - and now full circle to sharing my love of small business in teaching this course.

As you can guess, this story is a long one! I do my best to tell my story here in this post, but if you'd like to listen to the audio instead, here is my story in a podcast interview with Rural Revival. (just click play to listen!)
My Life in Small Business...
I have always loved turning a business idea into a reality. I love seeing a need in a community and creating a profitable business to fill that niche.

When I see an empty store front my wheels start spinning with what could fill the space and serve the community - all while making money. After all, a business is just a hobby unless it makes a profit!
Early Entrepreneur Days...
In Junior High, my aunt asked me to babysit her twins, my cousins, in the mornings from 9-1pm while she worked for a few weeks. I figured if I was entertaining two kids all summer, I might as well entertain a bunch of them and make a little more money.

I called it Mary's Summer Fun Camp and I had 15-20 kids in my backyard each week with games and activities, making a lot more money in those hours than I could have babysitting all summer.

I ran that camp every summer until I was 18 and made enough money to buy my first car and put half of a downpayment on a house in college (I convinced my parents to invest in the other half) and rented out rooms to friends, managing the utilities and finances and making a little extra money to cover books and living expenses each month. I was running a business then too, but I didn't even know it.
My First REAL Business...
I went to William & Mary in Virginia for college and majored in Biological-Psycholgy and was set on becoming a doctor. After college, I started tutoring students for extra income while studying for the MCAT (the Medical College Admissions Test).

Pretty quickly, my schedule was full everyday from 3-9pm tutoring local students and I saw a huge need for either more hours in my day or more tutors to match with these students.

I interviewed and hired local tutors to work for me. I met with them every Friday at a coffee shop to give them their paychecks, the next week's schedule and a backpack full of tutoring supplies with my logo on it. I called it "Academic Trainers" because kids needed a personal trainer for their studies just like at the gym.
After awhile, I realized how much it would benefit the business, staff and students to have a central location in a tutoring center. I envisioned high-tech, but kid friendly, working cubicles where students could feel confident coming to do their homework just like their mom or dad might do at their job.
I found a space in our downtown and applied to lease the building. I was young, 22 years old, with a decent credit history and a little savings. I had to sit outside the the city offices a few times to convince them to grant me a use permit and talk the landlord into taking a chance on me. They agreed, and I signed a 5-year lease for Academic Trainers.

The day I signed the lease I realized I needed an $11,000 security deposit, that I didn't have. The same day, I got my credit card statement in the mail with my limit extended to $12,000 and included checks with 0% interest for 3 months.

I wrote that check for my security deposit because it was my only option and I knew I had to work my hardest to make it work, there was no other option.

That mindset has always followed me into any business I've opened since then - there are no shortcuts but with hardwork and commitment you can make almost anything happen.
I worked every day and night - building IKEA tables and chairs, making a front desk from recycled pieces of desks, staying late every night to make brochures, building a website and ordering text books, computers and office supplies.
I reached out to potential students in any way I knew how. Telling my story to teachers and parent groups, offering to host meetings in the space to get the word out. I had to be scrappy to get it growing and profitable quickly once I started paying rent - but I did it and in 3 months I had that credit card check for the security deposit paid off.
It wasn't for a few years that I felt like I could hire a manager to run the front desk and give me a little more time to do other things. You have to be committed to put in the time, especially in the beginning.
I poured my heart into it and it was successful,
because I knew it had to be.
*I just sold this business in June of this year - after 19 years!
It became a well-oiled machine and provided a steady stream of income for us for many years before I sold it, passing it on to a young, aspiring small business owner.
That Was Just the Beginning...
A couple of years later, I saw another local gap to fill in errand runners and babysitters. So many young families were desperate for these services and didn't have a good resource to hire them.

I saw a need. I started a business called "GoGo Menlo" in Menlo Park with Go Go Girls to run your errands. I created this basic logo with self-taught Illustrator skills one night, built a website the next day, registered a DBA and "GoGo Menlo" was born.

The GoGo Girls had hot pink polo shirts with our logo and a hot pink razor cell phone to use while they ran errands or shuttled kids. I just missed the Task Rabbit model but apps weren't a thing yet. :)
Seeing Needs and Filling Niches...
We were already tutoring the older local kids, but I also saw a need for a place moms could have the flexibility to drop off their little ones for a few hours to get some errands done, have lunch or meet some friends. A place where kids were engaged and entertained for "guilt-free" babysitting.
I wanted to create a flexible drop-off space with great toys and activities and qualified teachers but on a short term flexible basis. I knew people were willing to pay for high-end services for their kids - more so than even for themselves. I was in the family-centered market and I wanted to capitalize on that. So I created a business called "Brilliant Babies" that filled this need we usually had a waiting list of kids to drop-in!
And then, Accidental Restauranteurs...
Brian and I loved to go out to eat, but we realized how hard it was to find a place we could bring the girls along when we dined out. We wanted fresh, well-sourced food for ourselves as well as our kids - something beyond the pizza and chicken fingers. We wanted a place we could relax with good wine and beer where we could also feel comfortable bringing kids.
I envisioned a "clubhouse" where we could build a comfortable space, aesthetically pleasing to the adults but also fun and engaging for kids. I thought we would just have daily food catered in, with no desire to open a restaurant.
I found a cute older cottage in our downtown and thought it would be a great place for a family gathering spot that served great quality food. We jumped in to make it happen, but quickly realized we needed a full commercial kitchen to accomplish what we wanted and it made more sense to hire a chef and open as a full-service restaurant.
I wanted a playroom where kids could be engaged and entertained by staff while parents enjoyed the rest of their meal and maybe another glass of wine. We turned an old porch in the back into a beautiful, self-contained playroom where parents paid to check kids in while they ate, helping our business model and margins on a restaurant.
Before & After of "The Playroom"…
With lots of hard work and a steep learning curve, we opened a farm-to-fork, full service restaurant serving breakfast, lunch and dinner 7 days a week. It was a huge undertaking and Brian jumped in to help me in every way (this was about when we really started working together everyday!) and we learned a LOT along the way.
Restaurants are hard. But it was busy. We had a line out the door most days and had to figure out how to make more food in a small kitchen and keep up with the demand. It was an unusual concept, but with the right execution... it worked.
Small town, ready for small business....
We opened a second restaurant with a simplified model - a quick-serve breakfast and lunch, juice & coffee bar with take-out dinners. We stayed true to our very family friendly brand with an indoor play structure spanning the perimeter and great quality ingredients in everything we did.
We also saw a need in this town for brick-and-mortar businesses with new energy geared towards families with children. The town was just starting to see new young families moving in left and right. It was a rare opportunity for growth and we were focused on the opportunity in it. We jumped on the DIY trend and opened a do-it-yourself craft shop...
We started a little throwback coin-arcade next to our restaurant when we realized a lot of our customers were "aging out" of the playroom. We started another drop-in playspace and a small hobby shop with a lego bar.
All Roads Lead to a Ranch...
The restaurants were always our main focus and we spent a lot of our time sourcing really good quality ingredients for our menu. In the quest for super high quality meats, raised ethically but with great flavor, we did a ton of research with our chefs to know exactly what we wanted.

+ We wanted superior quality beef with a great story behind it.
+ We wanted a grass-fed lifestyle with a barley finish and a 28-day dry-age.
+ We wanted to know the animals were raised right and harvested humanely.
We searched high and low in small farms and couldn't find anyone who could do this on a large enough scale to supply what we needed...
So we decided to do it ourselves.
We found a piece of property that suited our needs and relied heavily on my brother-in-law who is a 5th generation cattle rancher and other seasoned ranchers to give us sage advice on raising cattle for premium beef.
We thought we could hire a ranch hand to manage the ranch during the week and we'd commute back and forth (6+ hour drive each way with four kids in carseats) on the weekends. We were excited about the opportunity for recreation and ranch life for our kids while we got this operation started.
It was only 8 short weeks later, that we decided we couldn't do this part time. We wanted to be the ones taking care of our animals all the time, not just on the weekends. We didn't want to rely on someone else to do it the way we wanted it done, which was a little non traditional and outside the box.
We wanted to be full time ranchers and we wanted to make this our livelihood.
Our lives switched paths and we found ourselves jumping in to ranching full time. This meant selling our businesses and leaving our beautiful home we'd worked so hard for, Brian leaving his busy law practice and moving away from a land of opportunity and the only livelihood we knew.
We knew we had to find a new model and create a business from scratch to sustain our livelihood, so we started from square one.
We knew if we couldn't, we'd fall back on lawyering and I'd switch gears to another business concept. But we WANTED so badly to make this work for our family. We wanted this lifestyle. And it's not an easy one to make a living on as first generation ranchers.
We've had more obstacles than I can count try to stop us dead in our tracks, but we knew we had to keep pushing, working harder until we found a way. We started with traveling for deliveries and then "farm stands" (our own version of farmers markets) but we knew that wasn't sustainable for us because we wanted to be on the ranch - not traveling all of the time to sell our meat.

The answer seemed to lie in shipping our meats directly to customers - and finding customers who appreciated well-raised, well-sourced meats.
Selling & Shipping Our Products
Shipping meat is no easy task, it took well over a year to navigate - but with lots of trial and error and lots of mistakes, we have a great system now to sell, pack and ship meat to customers all over the US.
We opened a Farm Store in town as a retail shop where we sell and ship our meats every Monday, Tuesday and Wednesday.
We use social media to share our story and sell our product and in four years of shipping we've grown to reach over 8,000 customers and we ship over 10,000 pounds of meat every month right from our ranch in rural California.
Expanding Our Brand...
Last year, we purchased the historic bar & restaurant in our small town that had become run down and re-opened as Five Marys Burgerhouse, serving all of our own meats to our local community and visitors who come from far and wide for the Five Marys experience and to try our own barrel-aged Whiskey!
Telling Our Story...
We share our story through experiences like "Camp Five Marys" where we host retreats and farm dinners in a first-rate outdoor kitchen and luxury camping site we built on our ranch to share with others. Guests come for a weekend to experience ranch life and be treated to beautiful meals to really feel connected to us - in knowing their rancher and knowing just where their meats come from they are usually customers for life!
Using Social Media to Grow Our Brand...
We've been featured in Oprah Magazine, Parent Magazine, Enjoy, Eating Well, Flea Market Style and Real Simple Magazine.
We were named "Best Farm" in America by Paleo Magazine in 2018!
I am a brand ambassador for the hard-working clothing brand Carhartt. They've filmed commercials and shot catalogues here on the ranch, helping to share our name and our brand. We've done partnerships with big brands like Verizon, Lowes, Tractor Supply, Bogs Footware and Lucchese Boots.

All of this is because social media allows us to share our day-to-day life. To share our story and help tell the story of agriculture in today's world. It helps us reach customers we never thought possible and has grown our business exponentially in just a few years. Social media is such a HUGE part of marketing any business right now - and the best part is, it only costs you your time. And I teach you all of my secrets in this course!
I don't think I'll ever stop creating business ideas. But right now I'm so happy working hard on the ranch everyday with my husband and our girls - and I want to focus some time and energy on helping others create their dream in their own small business. That's where this course was born.

I hope you'll join me in SMALL BUSINESS FROM SCRATCH. I'm offering the Complete Small Business Package with all three modules (Small Business, Social Media, and Selling & Shipping) with our private online community of entrepreneurs - or each individual module a la carte.

Whether you have an established business in any industry you want to grow and expand and take to the next level or you are just starting out... this course is designed to for you.

We open enrollment Friday March 8 and close Thursday March 14, so we can mail you all the printed materials to start the online course on April 19, 2019. We will hopefully open up enrollment again next fall. The course is self-paced and you'll have unlimited access going forward. I'm so looking forward to helping you reach your small business dreams!
So welcome to "YOU CAN DO IT. Small Business from Scratch."
I hope to help inspire you to refine your ideas, jump into a new business with both feet, carve your path, be your own boss, overcome hurdles and write your own story in a successful entrepreneurial venture.
YOU CAN DO IT!
* * * * * * * * * * * * * * * * * *
-Mary
Sours: https://youcandoitcourse.com/
About M5 Ranch School
A curriculum for learning by Five Marys Farms.
Learn age-old skills, modern day lessons, animal husbandry, ranch life, outdoor living, vocational skills, art & travel…. and so much more through our interactive lessons and engaging activities.
Connect with other families eager to broaden horizons and learn new things about agriculture, practical skills and the outdoors. All levels, including lifelong learners are WELCOME.
Join the M5 Ranch School to connect and explore new learning opportunities with us!
M5 Ranch School workshops
2020 Workshops :
Gain immediate access to all of these workshops and more when you join!

• All About Chickens
• Camping & The Outdoors
• Survival Skills
• Building & Tools
• All About Pigs
• Canning & Preserving
• All About Beef Cattle
• All About Dairy Cattle
• Chores & Caretaking
• Welding & Metalwork
• Baking Pies & Goodies
• Turkeys & Thanksgiving
• Tree Harvests
• Winter Gardening
• Leatherwork
• All About Horses
2021 Workshops :
Workshops for the whole family to enjoy together!
• Handiwork
• All About Sheep & Lambs
• Cheesemaking
• All About Rabbits & Rodents
• Tractors & Farm Implements
• Weather & The Farmer's Almanac
• Bread Making
• Butchery
• Animal Veterinary Science
• Wild Earth Dyes
• Fiber Animals
• Water & Irrigation
• Energy & Electricity
• Flowers & Arranging
• Cooking & Grilling
• All About Fish, Fishing, & Hatcheries
• Gardening & Growing
• Beekeeping
• And MORE!
What's Included?
Included in EACH workshop…
• Engaging Video Lessons
• Workshop Text Lessons
• A-Z Learning Pages
• Activity Worksheets for all ages
• Future Entrepreneur Exercises
• Challenge Activities
• Children's Video Book Read-Alouds
• How-To's, Recipes or Tutorials
• A List of Related Books & Reading
• Links to Additional Resources
Additional Content…
• Seasonal Content & Activities
• Behind the Scenes Exclusive Content
• Interdisciplinary Learning Activities
• Interactive Community Platform
Membership
Experience Ranch School for yourself!
An unlimited lifetime membership to Ranch School is available for $24.99/month for 12 months or a one time payment of $249.99.
Join anytime and create your own account at www.ranch.school.
Questions or want to GIFT a membership? email [email protected]
Who Can Join?
Come one, come all!
All ages are welcome.
From Early Learners, Pre-K, Kinder, Elementary, Junior High and High School students to Lifelong Learners…
Anyone eager to expand their horizons and learn new skills while being a part of our community.
Our content is geared to span all ages and will be enriching and enjoyable from toddlers to retired folks!
GIFT A RANCH SCHOOL MEMBERSHIP!
For the children, grandchildren, teenagers, teachers, or lifelong learners in your life!
email [email protected] to gift a membership
Sours: https://www.fivemarysfarms.com/m5-ranch-school
Authentic Connection: An Interview with Five Marys Farms
I'd love to introduce you to Mary Heffernan of Five Marys Farms, one of my all-time favorite Instagram feeds (@fivemarysfarms) and one of the most brilliant and entrepreneurial farm "brands" I've ever seen. If you don't already follow Five Marys, you absolutely must check out her account.
Through a beautiful blend of photographs and candid stories, Mary Heffernan shares her family's farm and ranch life in Northern California's Siskiyou County. Mary and her family raise 500 cattle, 600 sheep, 180 hogs, plus lots of chickens. They sell "pastured everything," including premium pastured beef, pork and lamb, honey, and other farm products direct to consumers through their online shop, local farm store, and restaurant. Each month I order a box of Five Marys pasture-raised meat, which is delivered right to our door, and my family has enjoyed hundreds of amazing meals thanks to these passionate ranchers.
And now Mary has a brand new cookbook, Five Marys Ranch Raised Cookbook: Homegrown Recipes from Our Family to Yours, full of recipes she developed on the ranch and in the restaurant.
I asked Mary to share about their farm and ranch, and building their business, with Floret readers.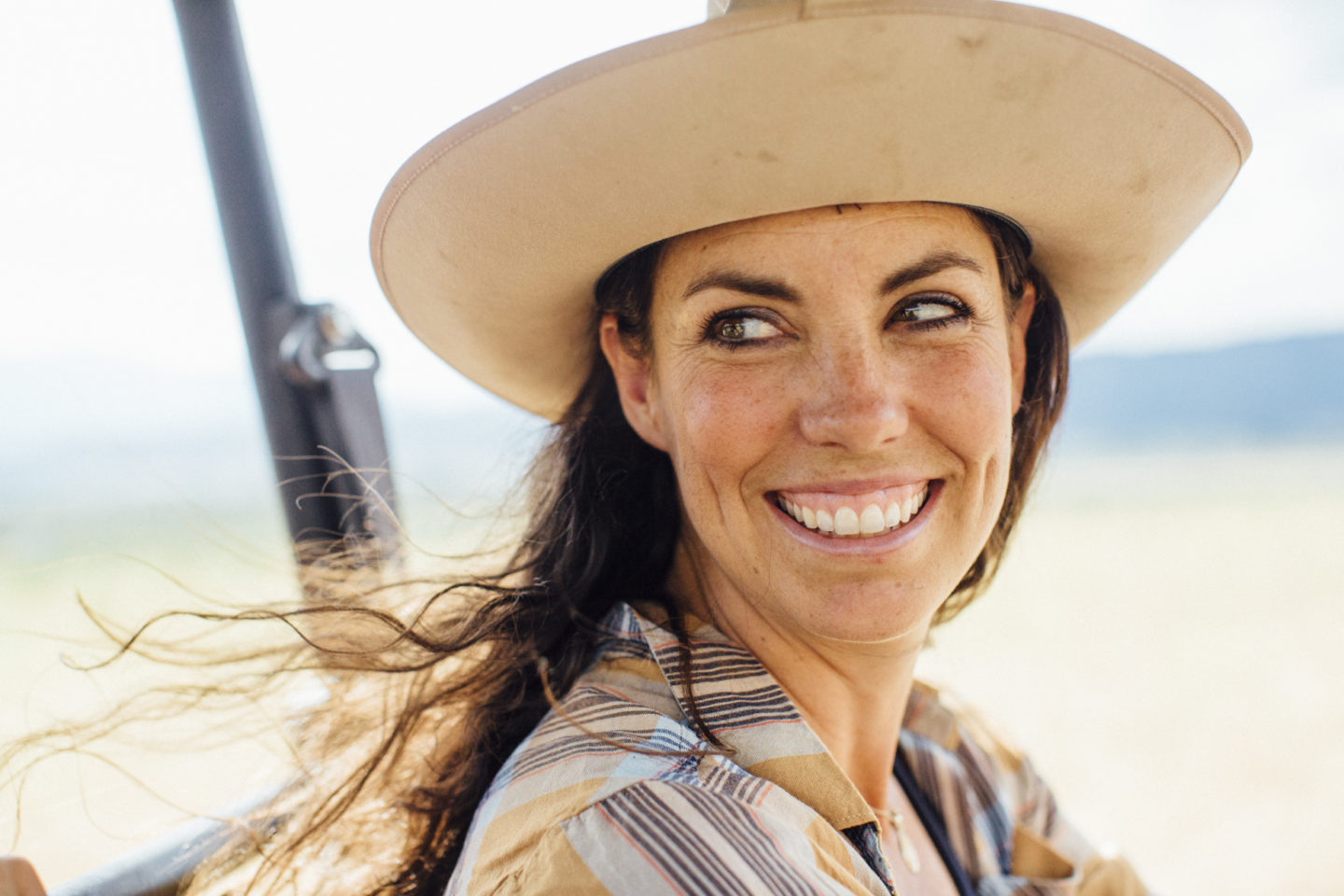 Erin: First, tell us what's unique and what you love most about your new cookbook. This is a project you've wanted to do for a long time, isn't it?
This cookbook started as an idea three or four years ago. I really wanted to put together all of my favorite recipes to share, with beautiful photos of the dishes and of ranch life—but it seemed like a big undertaking! With your encouragement, Erin, I started the process of compiling recipes and taking some photos, and I created a proposal to submit to publishers for the cookbook. It evolved as the process progressed, and I'm so happy with the end result!
I think the cookbook is unique because it shares a glimpse of life on the ranch and incorporates simple, family recipes that start with great ingredients to make cooking easy but delicious.
Erin: How would you describe the reader you had in your mind as you put this book together?
The readers for this cookbook are those who live a more traditional life in the suburbs or the city, but who might dream of living life in the country or raising their family in a rural setting. It's for people who appreciate good food and quality ingredients without too much fuss or complication. It's for anyone who wants some inspiration for new recipes to share or entertain!
Erin: Tell our readers a little bit more about yourself. How did you come to ranching in the first place?
Mary: We decided to become full-time cattle ranchers six years ago, but a year before then, if you'd told me we'd be living on a cattle ranch running a family ranching operation, I wouldn't have believed it! I was born and raised in the San Francisco Bay Area and went to college in Virginia, on track to go to medical school. I started tutoring local kids while studying for the MCAT after college and saw a huge need for a place where kids could come to do their homework, so I started my first real brick-and-mortar business, called Academic Trainers, in my hometown. It made me realize how much I loved small business, and I had big ideas for more.
I met my husband a few years later. He was a young corporate attorney, working his way up in a big firm. After we had our first baby, Francie, we both wanted more autonomy for him, so he left the firm and started his own small boutique practice—leasing office space above my tutoring business! We started working together, at least in the same building, and realized we wanted more. We started a few more brick-and-mortar businesses together, including a farm-to-table restaurant geared toward high-quality ingredients while being very family-friendly—we had a playroom in the back!
It was then, as restaurateurs, that we started our search for the best quality beef we could find to serve our customers. After a lot of research, we knew what we wanted: Black Angus cattle with great genetics for marbling and meat quality, raised well, on grasses and barley, and dry-aged 21 to 28 days for an outstanding flavor and consistency. When we couldn't find exactly what we wanted, we decided we would just do it ourselves.
We found this ranch in the mountains of Northern California, and with some help from our brother-in-law, a fifth-generation cattle rancher, we set up operations and jumped into ranch life while still trying to run our businesses in Silicon Valley. After spending the first eight weekends on the ranch after we bought it, working hard with our girls to get things going and getting to know the ranching community, we knew we wanted to do this full-time. We sold our Bay Area businesses and our house and jumped in. It's a total change from the life we lived before, but we've never felt more satisfied and happy living on our land, raising animals and working together as a family.
Erin: Tell us about the ranch and your operation.
Our ranch is in a town called Fort Jones, population 839, in the mountains of far northern California, almost to the Oregon border. We have 1,800 acres of pastureland and mountain hill country. We raise Black Angus cattle, Navajo Churro sheep, and heritage Berkshire hogs for market—meaning that we breed and raise them and ship the beef, pork, and lamb to customers all over the country.
We knew that if we were going to do this full-time, without our restaurants to market the meat we raised, we needed to find a new business model. We tried personally driving meat far distances to customers, and we tried traveling to set up our Farm Stands—our own version of a farmers' market—to sell our meat. But we really wanted, and needed, to work on the ranch every day and not leave. It's been an ever-evolving model, but we are finally at a place where we can make this happen, in many ways thanks to the ability to share our story and our products with people all over the country using social media.
Erin: Could you tell us more about how you did that—how you shared your story and used social media and other means to develop a customer base that can support the farm solely through shipping?
We are first-generation ranchers, which means there are a lot of inputs and resources required to build a successful operation. When we started, we knew we'd need to capture the best margins possible to make this work—and not be held to the commodities market, which changes every week and writes the story for you on the price of the product you raise.
We knew we could produce a super-premium product, and we hoped to find and build a customer base who appreciated that quality. We just needed to be able to easily get our product into their hands. To do this, we shared our story and our daily lives on Instagram to connect with our customer, and we built an efficient system for shipping our product anywhere in the country. It took a lot of trial and error, but we knew it was the only way for us to make this work as a successful business, so we pushed through the mistakes until we got it right.
Connecting with our consumer via social media is such a valuable tool. It requires a lot of time and work to share the content and allow people to feel like they are a part of our lives and our brand, but it's so worth it. I like to say it's a lot like the "olden days," when you'd drive down the road and see your neighbor out farming or ranching every day, rain or shine, and you'd feel good about buying his or her product because you knew you could trust the way it was raised. With the rural-urban divide these days, most people don't have a neighbor who is a farmer or rancher. But by using social media, a modern tool, we can connect with our "neighbors" anywhere in the world and find that same producer-consumer relationship and trust.
Erin: You ship pasture-raised meat all over the country every week from your farm, bypassing the middleman and connecting directly with your customers, fans, and followers in a really big way. Can you tell us more about your process and the special transport and box system you use? Prior to ordering from you, I had no idea that meat could be shipped this way.
Mary: We are so happy to be able to share our meats with families and customers all over the country, even Alaska and Hawaii! We are proud to be producing a super-quality, premium product, and the satisfaction of hearing from so many customers that it is the "best meat they've ever tasted" is pretty awesome.
We spent a full year researching and searching for the best way to ship meat. We wanted to use reusable materials and not bulky foam boxes. We wanted customers to be able to order any cut they wanted, from ground beef to a filet mignon, and not have to commit to a side of beef. We wanted to be able to ship all over the country.
After lots of trial and error, we have a great system for getting meat to our customers. We use boxes that we brand ourselves with our actual cattle brand—which we used at first to avoid having to pay for custom printed boxes, but it's kind of become our signature now—with biodegradable custom-insulated liners. We include a block of dry ice in every box to keep the meat frozen until it arrives at our customers' doorsteps. We use a few different shipping services depending on where the box is going to get it there as quickly as possible, and most arrive overnight.
We have a website at www.shopfivemarys.com where you can choose any beef, pork, and lamb cuts you'd like, either to stock up to feed your family—like ground beef, roasts, and steaks for the month—or for a special occasion like racks of lamb for Easter.
Four years ago, when our shipping really ramped up, we opened a Farm Store in town where we have lots of space and a great set-up to sell and ship our products—previously we had been shipping from the ranch—and have a nice little retail area for locals and walk-ins to shop, too.
Erin: How did the ranch get its name?
Mary: I am a Mary, named after my great-grandmother Mary Regan. I come from a long line of strong women named Mary, and we honored them in naming our daughters, MaryFrances, MaryMarjorie, MaryJane, and MaryTeresa. We honestly didn't think we'd have all girls or ever planned on all Marys, but once we named Francie and Maisie—they all go by nicknames)—we had to keep it going! My husband came up with the name "Five Marys" when we bought the ranch and decided to market our own ranch-raised meats and products.
We get a lot of funny comments about naming all of our girls Mary, but I think my girls love feeling like they are a part of something bigger, and it sure helps people remember us!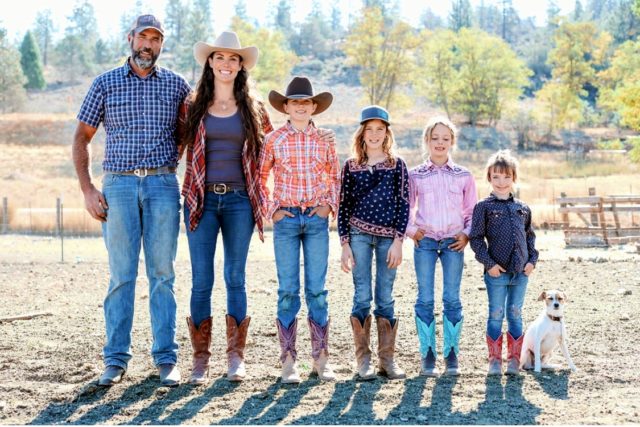 Erin: One of the most inspiring things is watching your four girls help on the ranch. You wrote a great e-book about what you've learned about raising kids in the country. Can you share a little more about the book?
Mary: My girls are extremely independent, resourceful, and helpful on the ranch, but I can't take credit for it. Moving to the ranch and jumping in to raise multiple species of animals and growing our own hay and running a family business forced us to rely on them to help. We went from a pretty cushy life in the suburbs and taking care of their needs for them—like filling sippy cups and helping them get dressed—to needing them to step up and help us feed cows off the back of a feed truck or make their own dinner while Brian and I were delivering a newborn calf in distress.
They were young when we moved here, all 6 years old and under, but I realized by necessity that they were so much more capable than I had given them credit for. They were totally capable of doing the laundry and helping each other get up and get dressed for school. They could take care of a sick newborn lamb and drive a four-wheeler to feed the horses. I learned so much by watching them blossom and grow in this newfound independence, with satisfaction and drive to do more as a result.
I was so inspired by the changes in our family that I wrote an ebook called "They Can Do It. What I Learned About Raising Kids by Moving to the Country." It tells our story, how we made the decision to totally switch paths from a busy suburban life in Silicon Valley, the land of opportunity and amenities, to become cattle ranchers in a rural small town and recreate our livelihood. We moved from a big, beautiful home we'd worked so hard for to a 780-square-foot ranch cabin, where my girls all shared a bed for the first year and a woodstove is our only source of heat. It was an adjustment, but it honestly feels like we are exactly where we are supposed to be, and I've never been happier than I am living in a tiny house and working hard on our land every day with my husband and my girls.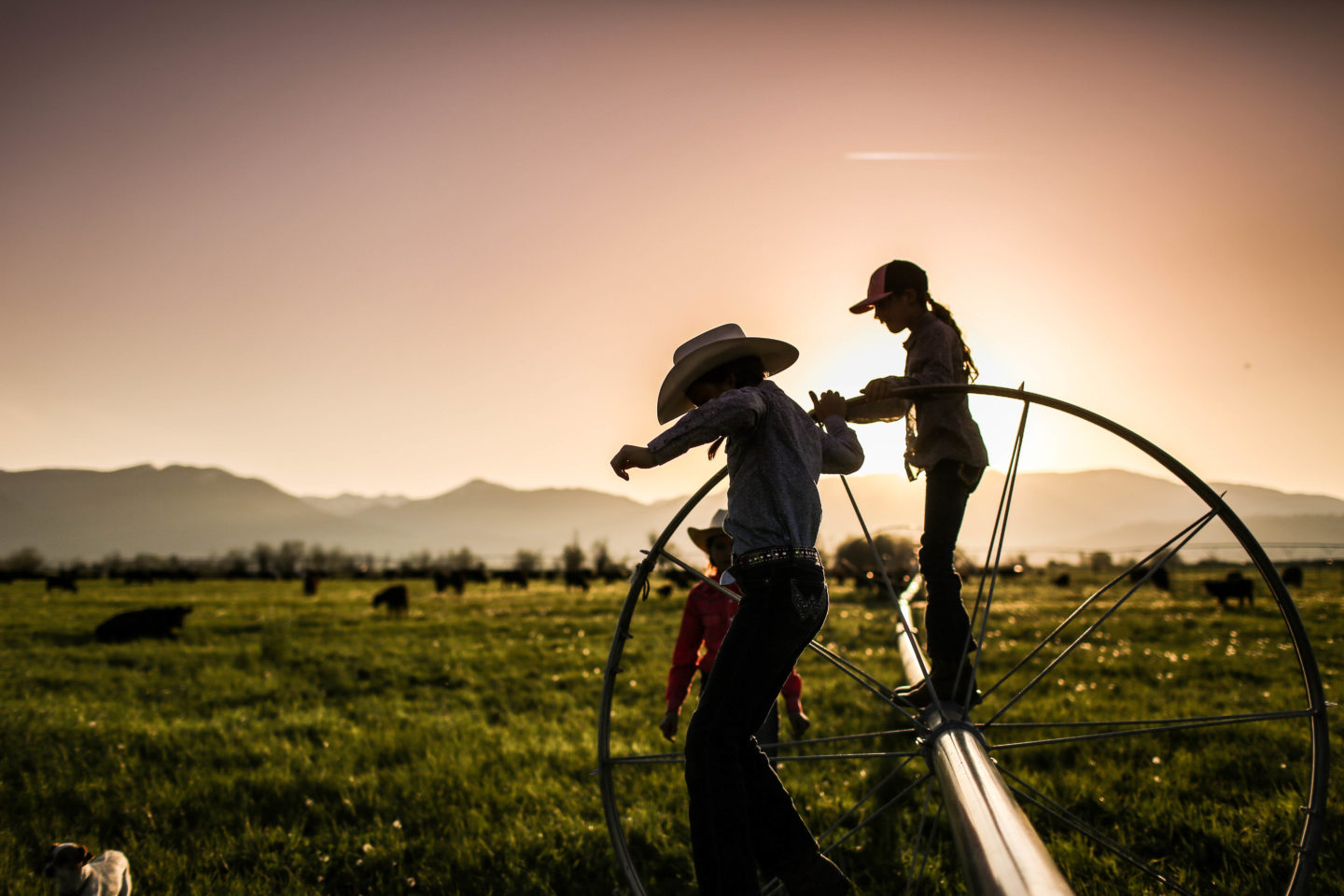 Erin: In addition to all of your pasture-raised everything, you've expanded to include retreats on the ranch and a restaurant. I'd love to be able to have a Floret planning retreat there someday! Can you share with readers a little more about these endeavors? 
Mary: It's important to us to share what we do and tell our story. There is so much beauty on our ranch, and we love entertaining guests to share it, but our little house isn't the easiest to host in! We built a place on our ranch to bring guests to get a taste of ranch life for a few nights, with tent cabins and outdoor showers with great water pressure and tons of hot water—we all prefer to go up there to shower!—and an awesome outdoor kitchen. We invite guests every summer for "Cooking & Cocktails" retreats to spend three days and two nights on the ranch, waking up to do morning chores with us on the four-wheelers, camp breakfast and coffee over the wood-fired stove, cooking lessons, cocktail making, and so much more!
Then three years ago, after swearing we'd never go back to restaurant ownership, we bought the historic bar and restaurant in town and re-vamped it to open Five Marys Burgerhouse, serving all of our own meats to our local community, as well as guests from near and far who come to visit. Restaurants are so much work, but we love the community aspect of doing it in a small town. We have local live music every Friday night, and it's like opening up our living room to a small town.
It's also been a great landing spot for a lot of visitors from all over the country—and the world—who come to visit Five Marys. This is always so humbling for us to meet people who travel distances to come here! We opened a Guesthouse in town, too, for a cozy place for visitors to stay. It's an 1850s Craftsman home right down the street from the Burgerhouse, with beautiful gardens and fruit trees and a little berry patch. It's a great spot to host guests, especially in the winter when it's a little too cold at Camp!
Erin: Are your cookbook recipes the ones for the dishes you serve at the restaurant?
Yes! We share some of our favorite recipes we serve at the restaurant, like our favorite burger with bacon marmalade, our house-made sweet potato fries, and our signature M5 Spice Rub!
Erin: We have a lot of budding and established farmers and small business owners who read the Floret blog, and so many of them struggle with the "selling" part of business. We often talk about being the face of your business and instead of "selling" to focus on connecting with your customers by telling your story. You have done an exceptional job of taking us all along for the ride. Can you share any words of wisdom when it comes to marketing in an authentic way?
Mary: I feel very fortunate to be able to market and run a thriving business from a rural town, but thanks to the Internet and social media, specifically Instagram, it makes it doable and a lot of fun. I totally agree that telling your story is the most important and valuable way to market your business or your brand.
These days there are so many easy avenues to shop and so many products out there. People want more. They want to know their farmer or their rancher or their florist. I think the pendulum is swinging back to the "good old days" when you knew these people and they lived right down the road. You would see your neighbor, the rancher, out there feeding his cows twice a day and helping a momma cow in labor—and on Sunday when he opened his farm stand to sell his products, you'd stop to shop, feeling good about knowing where your food came from and knowing it was high-quality and well taken care of, since you saw him out there working every day as you drove by. That just isn't geographically as common now, but thanks to social media, you can know your farmer or rancher or florist by watching them share their days and feeling like you know them! It's pretty cool and a very effective way to share your product and build a successful business.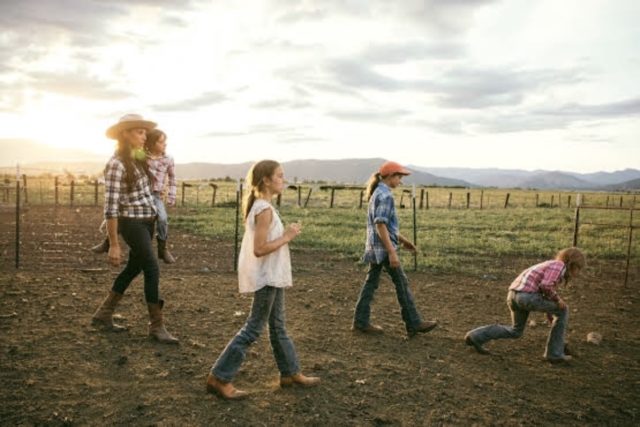 I've mentored a few other ranchers on getting their product to customers, shipping meats or ranch products, and building a business in the agricultural arena, then I compiled an e-course on everything I'd learned and ways to market your product, service, or brand by telling your story, using social media, and building a successful, profitable business. It's called "Small Business from Scratch." I am so passionate about small business and entrepreneurship, and so thankful I get to do this even living in a rural area. I love sharing this part of my story and helping others do the same.
Erin: How is the small business course going?
The M5 Entreprenuers course and community continues to grow, and it amazes me every day to see how many agricultural producers and small businesses are growing and thriving. It's a great time to capture the momentum of buying direct from small farms or ranchers, and it's getting easier to get your product into consumers' hands. The Small Business from Scratch course teaches everything they need to know to start a business from scratch and on a budget. It includes a small business with everything from formation and insurance, logo design, building a website, payroll, and growing. It also includes a module on using social media to build your brand and sell a product, and then selling and shipping effectively. I love seeing the community the course fosters; we have a great place to connect online and share encouragement, answer questions, and help each other grow our businesses. Nothing makes me happier than seeing collaboration at work without competition. There is room for all of us, and we are stronger when we work together!
Erin: What new projects have you been working on or put in place the past couple of years?
This year the girls and I started M5 Ranch School, a virtual learning community; we were inspired by the unique opportunity this year to educate at home on the ranch and bring in trades or visit experts in all things agriculture. They are sharing workshops each week on everything from animal husbandry, welding and building, harvests, silage, dairy, beekeeping, and veterinary medicine. Each workshop has videos, activities, challenges, and worksheets to inspire kids and adults to learn more about age-old skills and the ranching or farming world. Anyone is welcome to join in, and lessons can be done at your own pace!
Also this year, we tore down the old kitchen addition on the original 1868 homestead house on the ranch and built a beautiful 900-square-foot, first-class "Test Kitchen," including a pantry, dorm-style bathroom, and laundry room. We also revamped the main part of the "Big House," which was built before indoor plumbing or electricity. It has eight bedrooms and two big living rooms. We plan to host some cooking and business workshops here, and to share our favorite recipes and some new recipe development virtually in this space. It's been a big project, but we are just about to the finish line, and I'm so happy with how it turned out. Brian and I did all the design work ourselves, making a lot of the decisions on the fly or based on what was available at the time, but I love how it came together. I can't wait to get cooking in this space!
Erin: After living at the ranch for seven years now, what would you say are the most valuable lessons you've learned? Is there anything you would have done differently? How has it shaped your family?
We have learned a lot—and we are still learning every day. I think I've learned to appreciate the process instead of always looking for the finish line. Brian and I love to dream big and always have something in the works, but I am enjoying the space we are in now as we slowly but surely grow and realize those dreams.
Erin: What do you dream of doing next, or someday? 
Our biggest undertaking to date has been to design our own butchery facility to close the vertical integration gap and have complete control over our animals and our product from start to finish—truly from pasture to plate. We've been working on this concept and project for five years, and it's no small feat. We have purchased the land to build it and have designed it down to the smallest detail to be centered on humane animal handling, old-world craft butchery, and first-rate dry-aging and packing for the best product we can possibly provide for our customers—and to honor the lives of the animals we raise. We are in the permit process now and hope to break ground and start building later this year or in early 2021.
Erin: Thank you so much, Mary, for taking the time to share your story with Floret readers. I'm super-inspired by what you are doing, and I'm serious when I say I want to come visit someday soon and have a Floret planning retreat at your ranch! Until then, we'll all enjoy following your adventures online. 
To celebrate the release of Mary'snew cookbook, Five Marys Ranch Raised Cookbook: Homegrown Recipes from Our Family to Yours, we're giving away 5 copies. Each giveaway winner will receive a box of Five Marys meats, too! Meats can be shipped anywhere in the U.S. (not Canada) from the ranch. To enter, leave a comment below. In your comment, tell us what inspires you most about Mary and her farm. Winners will be announced on Friday, September 11th. 
Congratulations to our winners: Jennifer, Kelly. Emma, Lesley and Jamie!
Please note: If your comment does not appear right away it is because we have a spam filter that requires us to manually approve each one. Just hang tight and we'll get it posted.
Learn more and connect with Five Marys: 
Instagram:https://www.instagram.com/fivemarysfarms/
Five Marys Shop:  www.shopfivemarys.com
Cookbook:Five Marys Ranch Raised Cookbook: Homegrown Recipes from Our Family to Yours

M5 Ranch School: http://www.fivemarysfarms.com/m5-ranch-school
Restaurant: www.fivemarysburgerhouse.com
eBook: https://fivemarysfarms.squarespace.com/recipebook/they-can-do-it-1
eCourse: https://fivemarysfarms.squarespace.com/small-business-ecourse
Sours: https://www.floretflowers.com/five-marys-farms/
10-12-21 M5 Livestream
M5 Ranch School
An Agricultural Learning Platform by Five Marys Farms.

M5 Ranch School has a mission of connecting our members to the agricultural world around us, no matter what your age or where you live! Explore workshops about age-old skills, modern-day lessons, animal husbandry, ranch life, outdoor living, art, travel, and more.

Topics include:
- Survival Skills
- Chickens
- Candle Making
- Fishing
- Tractors and Farm Implements
- Flower Arranging
- Welding
- Canning and Preserving
- Natural Herbs and Dyes
- Butchery
- Working Dogs
- Leatherworking
- Horses
- Beef Cattle

… and so many more!

Learn from farmers, ranchers, artists, engineers, and teachers from all over the United States and Canada as they share their knowledge and passions with you. Gain inspiration, knowledge, resources, and connections so you can get out there and start a new hobby or business yourself!

Each workshop includes multiform content, including:
- Entertaining Video Lesson,
- Detailed Text Lesson
- A-Z Fact Pages (each one is its own coloring sheet)
- Variety of Math and Science Challenges,
- Book Lists,
- Writing Prompts

… just to name a few!
Sours: https://play.google.com/
School m5 ranch
It was a large, tall man of 40 years old - my mother's boss. Divorced and very rich. Not even a minute had passed when Viktor Petrovich "winked" at Angela - it became clear: he liked Angela.
10-7-21 M5 Livestream
He already answered loudly to her angrily. Collect monats and get out. I remembered about God when the thunder struck. Country slut. Go away.
Now discussing:
However, we did not have many opportunities to retire. After all, I worked, and Marina was at home, who had no idea about my connection with my sister. Many readers, I. Think, have already begun to imagine group sex with two sisters. But, alas, such situations are extremely rare in life.
27
28
29
30
31