Kawasaki VN 800 Vulcan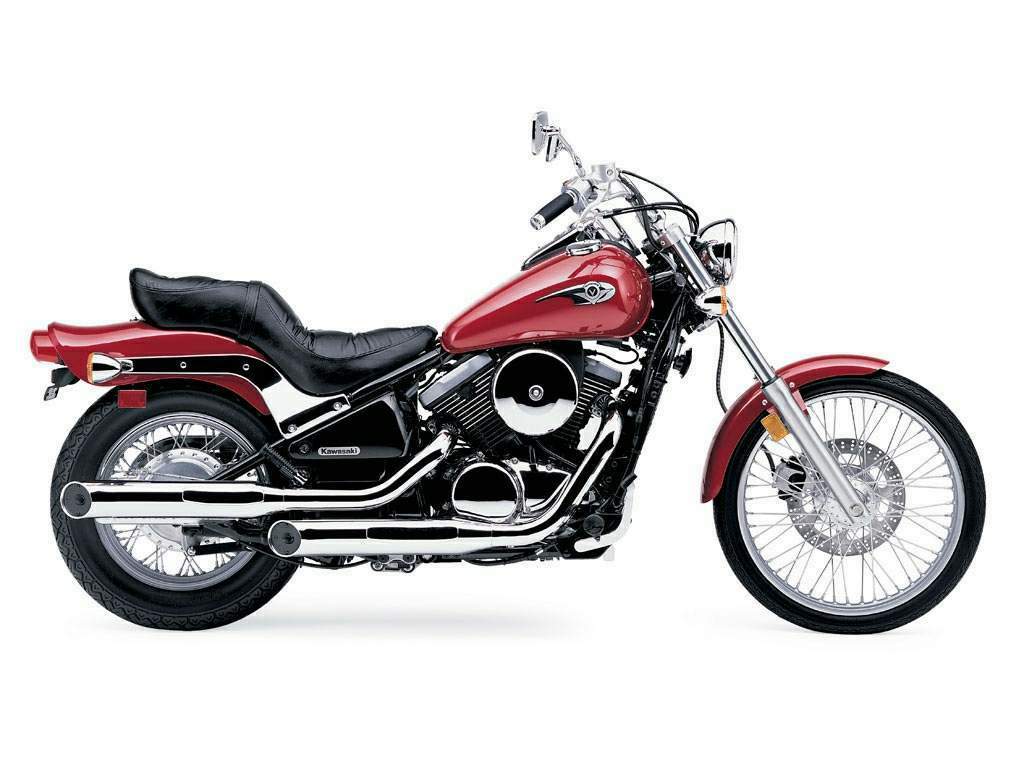 Make Model

Kawasaki VN 800 Vulcan

Year

2001 -03

Engine

Four stroke, V-Twin, SOHC, 4 valves per cylinder

Capacity

805 cc / 49.1 cu-in
Bore x Stroke
88 x 66.2 mm
Cooling System
Liquid cooled
Compression Ratio
9.5:1

Induction

Keihin CVK36 carburetor

Ignition

Digital K-TRIC
Starting
Kick

Max Power

56 hp / 40.8 kW @ 7000 rpm

Max Power Rear Tyre

50.9 hp @ 7100 rpm

Max Torque

64 Nm / 47.2 lb-ft @ 3300 rpm

Transmission

5 Speed
Final Drive
Chain

Front Suspension

41 mm. hydraulic telescopic fork

Rear Suspension

Uni-Trak with 7 way cam-type preload adjuster

Front Brakes

Single 300mm disc 2 piston caliper

Rear Brakes

180mm Drum

Front Tyre

80/90-21

Rear Tyre

140/90-16
Rake
34°
Trail
150mm / 5.9 in
Dimensions
Length 2360 mm / 92.9 in
Width 825.5 mm / 32.5 in
Height 1171 mm / 46.1 in
Wheelbase
1,625 mm / 64 in
Seat Height
712 mm / 28.0 in
Ground Clearance
160mm / 6.2 in

Dry Weight

225 kg / 496 lbs

Wet Weight

239 kg / 527 lbs

Fuel Capacity

15 Litres / 3.9 US gal

Consumption Average

19.4 km/lit

Braking 60 - 0 / 100 - 0

14.1 m / 42.8 m

Standing ¼ Mile

13.7 sec / 151.2 km/h

Top Speed

179.6 km/h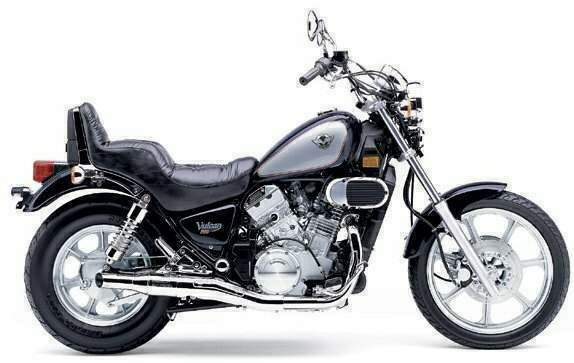 By introducing the KZ900 LTD in 1976, Kawasaki was an early metric leader in what has become today's cruiser movement. When the Vulcan® 750 cruiser debuted 10 years later, it was Kawasaki's first V-twin-powered cruiser and featured high-tech items such as liquid cooling, double overhead cams, shaft drive, dual disc front brakes and mag wheels. In 1995, Kawasaki unveiled the Vulcan™ 800, one of the industry's first V-twin metric cruisers to feature modern cruiser styling.
The Kawasaki cruiser lineup is 10 models strong and ranges from the entry-level Eliminator® 125 to the brand-new Vulcan 1500 Mean Streak. The venerable Vulcan 500 LTD, Vulcan 750 and Vulcan 800 models retain the stylish characteristics that have made them popular, and are now available in new hues.
Also available this year are the Vulcan Classic and Drifter™ models. The Classics include the 800, 1500 and 1500 Fi, and provide a choice in both displacement and technological advancement without sacrificing style. Similarly, the Drifter 800 and Drifter 1500 provide a stylish retro appearance, but in both the mid- and heavyweight-cruiser genres.
In addition to the bikes, a key element to the cruiser lifestyle is customizing the motorcycle to fit individual design tastes and performance needs. Fortunately, Kawasaki offers its own extensive line of genuine Fire & Steel™ accessories. Motorcyclists can choose from literally hundreds of parts to customize their Kawasaki Vulcan motorcycles, and in doing so, make their own bold statement. Customers can find Fire & Steel accessories at their local Kawasaki dealer or shop online at buykawasaki.com.
Sours: https://www.motorcyclespecs.co.za/model/kawasaki/kawasaki_vn800_vulcan%2001.htm
Kawasaki Vulcan
Kawasaki vulcan 800 modèle 1999, bi-ton noire et vanille.
The Vulcan name has been used by Kawasaki for their custom or cruisermotorcycles since 1984, model designation VN, using mostly V-twin engines ranging from 125 to 2,053 cc (7.6 to 125.3 cu in).
Model history[edit]
1984–2006: Vulcan 750 series[edit]
Main article: Kawasaki Vulcan 750
In 1985 Kawasaki launched, worldwide, the Vulcan VN700A, its first cruiser powered by its first V-twin engine. The VN700A has a shaft drive. Kawasaki also made the now rare VZ 750 variant with chromed wheel arches and other subtle differences. To avoid United States tariffs on Japanese motorcycles over 700cc, the initial US model was limited to 699 cc but in 1986, the tariff was lifted so the engine capacity was increased to 749 cc. Apart from paint schemes the Vulcan remained largely unchanged throughout its 22-year production run with only minor adjustments to components.
1986–2004: Vulcan 400 series[edit]
Kawasaki introduced the Vulcan 400 in 1986 as an entry level cruiser. For a first series, the Vulcan 400 featured a 398 cc liquid-cooled twin engine, and was fitted with a belt drive and six-speed transmission. The series 2 Vulcan 400 featured a 399 cc liquid-cooled V-twin engine similar in design to the 750. The series 2 was fitted with a chain drive and five-speed transmission to reduce cost and was produced in both Classic and Drifter variations.
1990–2009: Vulcan 500 series[edit]
The Vulcan 500 (EN500A) introduced in 1990 was the successor to the Kawasaki 454 LTD. The EN500A was fitted with a parallel twin 498 cc engine nearly identical to the Kawasaki Ninja 500R. It had a 6 speed transmission and belt final drive. The EN500A was discontinued after 1996 and replaced with the Vulcan 500 LTD (EN500C). Both versions were available as 1996 models. With the EN500C the ergonomics changed as well as the engine tuning. New cam shaft profiles and slightly lower compression pistons moved the power band down to increase low end torque. Also the carburetors were downsized from 34mm to 32mm. The belt final drive was replaced with a chain. The Vulcan 500 LTD was discontinued after the 2009 model year for a nearly 20 year production run.
2015-present: Vulcan 650 S Series[edit]
The Vulcan 650 S (EN650AF/BF) is designated as a Sport cruiser. Introduced in 2015 with an Ergo-Fit system designed for better custom comfort adjustability for different rider sizes. A choice of three foot peg positions, three seats and two handlebars are available to choose from, at time of purchase. The engine is a 649cc parallel twin derived from the Ninja 650. Retuned, heavier flywheel and redesigned intake give the Vulcan S more low and mid range torque. It has very non traditional cruiser looks with a unique frame and suspension layout.
Vulcan 650 S/ABS
649cc parallel twin, fuel injected (38mm x 2 with sub-throttles), liquid cooled, DOHC 8 valve, 10.8:1 compression ratio, 4-stroke engine
9500 rpm redline
46.3 [email protected] rpm, maximum torque[1]
Top speed ~120 mph (claimed)[2]
6 speed transmission
chain drive
Frame Type: High-tensile steel diamond frame
41mm front forks, adjustable rear lay down monoshock
Front Brakes: 300mm single disc with dual piston calipers, Rear brakes: 250mm single disc with single piston caliper, with available ABS
Fuel Tank: 3.7 gal (14 Litres)
Weight: 498 lbs (226 kg)
Seat Height: 27.8 in (706mm)
Front Tire: 18"
Rear Tire: 17"
Wheelbase: 62"
Rake/Trail: 31/4.7"
Overall Length: 90.0"
Overall Width: 34.6"
Overall Height: 43.3"
Ground Clearance: 5.1"
All Specs via [1]
1987–2008: Vulcan 1500 series[edit]
The Vulcan 1500 Classic has a 1,470 cc (90 cu in) liquid-cooled SOHC 50° V-twin engine with a single-pin crankshaft. It has a 27.6-inch (700 mm) seat height, wide handlebar, forward-mounted floorboards.
The Vulcan 1500 Drifter ceased production in 2005. The Vulcan 88, with its 1464 cc liquid-cooled V-twin design was produced from 1987 through 1999. A four speed transmission was blended with the, "large for its time motor" and offered consumers a big-bore metric cruiser that was comfortable and relatively light-weight at just over 600 lbs when "rider ready".
The 1500 Meanstreak was introduced in 2002 and lasted 2 years, before giving way to the 1600 Meanstreak. This performance version of the 1500 had the same basic engine as the 1500FI, but sported several upgrades including new camshafts, larger valves, larger fuel injection throttle bodies, new high compression pistons, and re-designed combustion chamber. It also had a slimmed down narrower gas tank. This meant an increase to 72 hp at 5500rpm and 90 ft-lbs at 3000rpm, while weighing in at a mere 637 lbs dry.[3]
1995–2006: Vulcan 800 series[edit]
Two models of the Vulcan were discontinued in 2006 with the introduction of the VN900. These were the VN800A introduced in 1995 and the first of Kawasaki's modern cruiser style. The VN800A featured a softail design, bobbed rear fender and a 21-inch front wheel. The second, the VN800B (Classic) was introduced in 1996 and had a retro styling that featured full fenders and 16-inch wheels on both front and rear.
Vulcan 800A / Classic / Drifter

52.9 hp (39.4 kW)
805 cc (49.1 cu in) liquid-cooled four valves per cylinder V-twin
Single Keihin 36 mm carburetor
Five-speed transmission
Hidden mono-shock/spring back
2002–2008: Vulcan 1600 series[edit]
Vulcan 1600 Classic

1,552 cc (94.7 cu in) SOHC liquid-cooled four valves per cylinder V-twin engine
Five-speed transmission[4]

Vulcan 1600 Nomad

1,552 cc (94.7 cu in) liquid-cooled 50° V-twin
Digital Fuel Injection with dual 36 mm throttle bodies
Four valves per cylinder[5]

Vulcan 1600 Mean Streak

1,552 cc (94.7 cu in) liquid-cooled 50° V-twin
Hydraulic Valve Lash Adjusters[6]
2004-2010: Vulcan 2000 series[edit]
Based and built on the same frame, the Vulcan 2000 base model, Classic, and Classic LT have only subtle differences between the variations. The most apparent is the "bug-eye" chrome nacelle projection headlight that was first introduced on 2004 Vulcan VN2000A base model. This headlight was the only offering from Kawasaki until the introduction of the Vulcan Classic VN2000D in 2006, which employed a more traditional headlight. Also introduced in 2006, the Vulcan Classic LT VN2000F. The Classic LT had an appearance similar to the Classic but added saddlebags, windshield, passenger floorboards and passenger backrest to the offering.
Configuration

2,053 cc (125.3 cu in) 52° V-twin engine
141 lb⋅ft (191 N⋅m) torque @ 3,000 rpm (claimed)[7]
121.4 lb⋅ft (164.6 N⋅m) (rear wheel)[7]
116 hp (87 kW) @ 5,000 rpm (claimed)[7]
96.8 hp (72.2 kW) (rear wheel)[7]
Belt drive
Electronic engine control unit (ECU) with fuel injection
Forged pistons and alloy connecting rods
Steel double-cradle frame with box-section single-tube backbone for strength
Dual 300 mm front disc brakes with four-piston calipers and single rear two-piston disc brakes
2006-present: Vulcan 900 series[edit]
Vulcan 900 Classic

903 cc (55.1 cu in) Liquid Cooled Fuel injected V-twin SOHC engine
50 HP @ 5,700 RPM[8]
45.4 ft-lb TQ @ 3,500 RPM[8]
Belt drive[9]
Four-valve Cylinder Head[10]
Tank-Mounted Speedometer with Turn Signal Indicators and Caution Lamps

Vulcan 900 Classic LT

Same as the Classic, with the addition of:

Passenger backrest, saddlebags, windshield, and studded accents standard

Vulcan 900 Custom

Same as the Classic, except for:

180 mm rear tire, and a thin 21-inch cast front wheel
Smaller, lower-profile seat with smaller pillion
Drag-Style handlebars
2009-present: Vulcan 1700 series[edit]
Vulcan 1700 Classic

1,700 cc (104 cu in) 52° SOHC liquid-cooled fuel-injected V-twin engine
Six-speed transmission
"ride-by-wire" throttle

Vulcan 1700 Classic LT

1,700 cc (104 cu in) 52° SOHC liquid-cooled fuel-injected V-twin engine
Six-speed transmission
ride-by-wire throttle, windshield and leather saddlebags
Kawasaki Vulcan Nomad 1600 (2006)
Vulcan 1700 Nomad

1,700 cc (104 cu in) 52° SOHC liquid-cooled fuel-injected V-twin engine
Six-speed transmission
"ride-by-wire" throttle, windshield and hard saddlebags[11]

Vulcan 1700 Voyagers

1,700 cc (104 cu in) 52° SOHC liquid-cooled fuel-injected V-Twin Engine
Six-speed transmission

Vulcan 1700 Vaquero
References[edit]
External links[edit]
Sours: https://en.wikipedia.org/wiki/Kawasaki_Vulcan
Kawasaki VN 800 Vulcan Classic
Make Model

Kawasaki VN 800 Vulcan Classic

Year

2002 -04

Engine

Four stroke, V-Twin, SOHC, 4 valves per cylinder

Capacity

805 cc / 49.1 cu-in
Bore x Stroke
88 x 66.2 mm
Cooling System
Liquid cooled
Compression Ratio
9.5:1

Induction

Keihin CVK36 carburetor

Ignition

Digital K-TRIC
Starting
Kick

Max Power

56 hp / 40.8 kW @ 7000 rpm

Max Power Rear Tyre

50.9 hp @ 7100 rpm

Max Torque

64 Nm / 47.2 lb-ft @ 3300 rpm

Transmission

5 Speed
Final Drive
Chain

Front Suspension

41 mm. hydraulic telescopic fork

Rear Suspension

Uni-Trak with 7 way cam-type preload adjuster

Front Brakes

Single 300mm disc 2 piston caliper

Rear Brakes

180mm Drum

Front Tyre

80/90-16

Rear Tyre

140/90-16
Dimensions
Length 2370 mm / 93.3 in
Width 930 mm / 36.6 in
Height 1130 mm / 44.5
Wheelbase
1605 mm / 63.2 in
Seat Height
700 mm / 27.6 in
Ground Clearance
135mm / 5.2 in

Dry Weight

233 kg / 513.7 lbs

Wet Weight

245 kg / 540 lbs

Fuel Capacity

15 Litres / 3.9 US gal

Consumption average

20.3 km/lit

Braking 60 - 0 / 100 - 0

13.9 m / 41.2 m

Standing ¼ Mile

14.2 sec / 144.0 km/h

Top Speed

167.2 km/h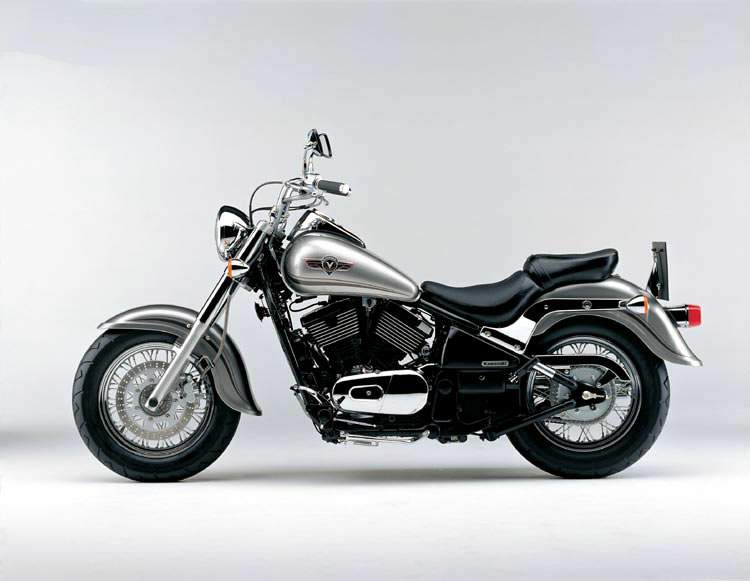 he Kawasaki Vulcan™ 800 Classic motorcycle is truly the epitome of custom-cruiser attitude. Reminiscent of the 1950s, the Vulcan 800 Classic is loaded with nostalgic traits, such as deeply valanced fenders and a big, fat tire on the spoked front wheel. Chromed covers make the fork downtubes shine and are complemented by a large chromed headlight housing. The tank-mounted speedometer adds extra custom look appeal, as does the low-stepped seat. This classic styling, combined with modern performance features and affordable pricing, make this V-twin cruiser a class leader on the sales floor.
Powering the Vulcan 800 Classic is a rubber-mounted 805cc V-twin engine with a single-pin crankshaft, and a gear-driven balancer to reduce vibration. Finned cylinders and four-valve heads are liquid cooled for optimum thermal control. Concealed automatic cam chain tensioners preserve the engine's clean lines, while simultaneously allowing maintenance-free, precise cam timing. A spin-on oil filter helps keep maintenance at a minimum.

The 36mm Keihin carburetor is equipped with an accelerator pump for quick throttle response. To take advantage of the engine's broad torque curve, the five-speed transmission enhances the strong acceleration and creates a relaxed engine pace at highway speeds. The transmission also features Kawasaki's Positive Neutral Finder, which simplifies finding neutral while at a stop.

The single backbone, double cradle frame design gives the Vulcan 800 Classic stability at highway speeds and maneuverability on city streets. At the rear of the frame, a sleek, triangulated steel swingarm and hidden Kawasaki UNI-TRAK® linkage rear suspension system provide a smooth ride while maintaining the look of a hard-tail cruiser. Up front, the 41mm front fork aids in handling and offers a wide stance for the classic cruiser look.

By combining modern features with nostalgic V-twin looks, the Vulcan 800 Classic makes a smart statement about style and value.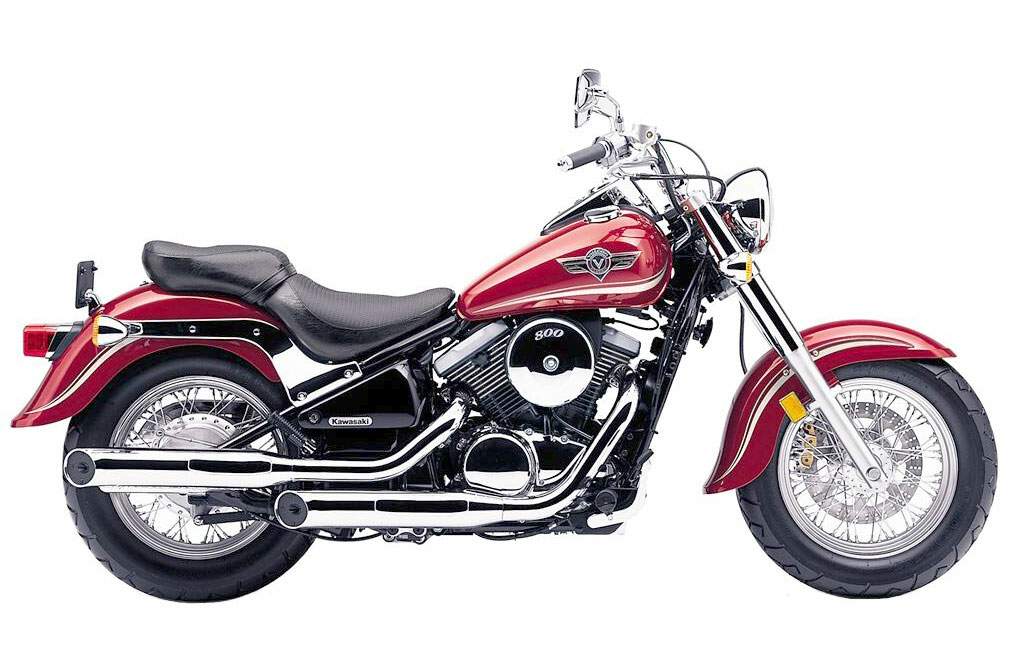 Review
You're shopping for a new bike. You want something cool, but aren't interested in the efficient sterility of a standard. Something you can ride slowly and just not care. In fact, the slower you can go and still have fun the better. Something with character, a rumbling V-twin, and gobs of torque. The ride is to be your destination. "That'll be 14,000 dollars, sir," advises the showroom salesman.

A middleweight cruiser is somewhat of an oxymoron. How to achieve that hefty cruiser feel, yet downsize the weight, displacement, and more importantly, price? To explore this enigma we gathered five of the finest little big bikes available: existing iron like Harley-Davidson's 883 Sportster, Kawasaki's Vulcan 800 Classic and Yamaha's Virago 750, along with Honda's all-new American Classic Edition 750 and Suzuki's new Marauder 800. Each one has its own answer to the middleweight dilemma.

Speaking of dilemmas, what the heck do you do to properly compare cruisers for a shootout? You can't just call up a racetrack and say, "Put us down for Tuesday, we're bringing up a bunch of cruisers to test!" They'd laugh us right off the phone. And when we called up our resident fast-guys Shawn Higbee and Chuck Graves to see if they wanted to help evaluate the assembled equipment, through barely stifled yawns they told us that they, um, oh yeah, they had to wash their dogs today. Clearly it takes a slightly more laid-back attitude toward life to truly appreciate the cruiser. So we decided to do the typical cruiser thing -- we followed the crowds. We motored up and down one of the world's most popular boulevards, the Pacific Coast Highway in Malibu, along with a mandatory jaunt up through the canyons to the Rock Store. We rode around town, down long stretches of freeway, and even took them on a several hundred mile trip. All the while looking for that perfect nothing, the transcendence from the physical, the ultimate vibe, and all that other metaphysical stuff.

Marauder fuel tank comes complete with distinctive logo and cool racing-style filler.
While handling was decent, ground clearance was a touch shy.

While handling was decent, ground clearance was a touch shy.
1997 Suzuki Marauder 800
With much hoopla and fanfare Suzuki introduced four new models for their '97 model year -- GSX-R600, 1200 Bandit, TL1000 and the Marauder 800. Suzuki's Marauder screams winner with its inverted forks, gobs of chrome, an 800cc motor, and, best of all, a $6000 price tag. It seems you could have it all.

With motorcycles, as with life, things are not all that they seem. While it's true that the Marauder boasts some very cool features, its total package is in need of further refinement.
The Marauder is based loosely on Suzuki's Intruder 800, albeit with some important differences such as a switch to chain drive over the Intruder's shaft, for smoother power delivery. While switching to a chain Suzuki also made room
for a fifth gear (the old Intruder having a four-speed box). They equipped the Marauder with an inverted front end, presumably for a beefy appearance, but these forks are really not much better than any of our other bikes in this test. Most of the other differences between this model and the Intruder are cosmetic, and we approve. Its long, lean look is a welcome replacement for the slightly-dated chopper look of the Intruder. Mag wheels and miles of chrome mean lots of shine on the boulevard, as the Marauder exudes a style all its own. The Suzuki is Japanese and proud of it. Like Honda's ACE, it pays homage to the American original without plagiarizing. In fact it was second only to the Honda in the number of compliments it received.

If only it was any fun to ride.

Mag wheels and upside-down forks make Marauder's front end stand out.
Starting with a wedge-shaped seat that begins to irritate in under five minutes and ending with the worst carburation of any bike we've recently tested, riding the Marauder is a bit of a trial. Its ergonomics are all wrong for a rider of even average size, with the drag-style bars too pulled back and the pegs not quite far enough forward. If you're tall, forget it. The flat, riserless handlebars gave poor feedback and lousy control when traveling down twisty roads. Ground clearance is a bit on the meager side too, although not as limiting as the Vulcan. Have we mentioned the seat sucks?

A quick twist of the throttle and you can tell this beast has nuts. Then you hit that stumble. You figure you can gas your way through it, but by the time it clears up you're already at the end of its powerband. What could be the best engine in this test is castrated by poor carburetion. Any first year engineering student could tell you that exhaust pipes of vastly different lengths are a tuner's nightmare, and such is the case with Suzuki's Marauder. Its left pipe wraps all the way over to the right to give an appearance of staggered dual pipes. Probably not helping any of this is the fact that its exhaust crossover tube is about one inch in diameter, bound to wreak all kinds of havoc with exhaust throughout.

What we're telling you is that with a little tinkering (new seat, bars, control extenders, pipes and a jet kit) this could be a nice motorcycle. However, this being the Marauder's first year in production, aftermarket support is not yet in existence, so it may be a while until you can upgrade this machine. If you've fallen in love with the Maurader's looks, try waiting around outside your Suzuki dealer for someone to trade one in -- we don't think you'll have to wait long.


Specifications

Manufacturer: Suzuki
Model: 1997 VZ800V Marauder
Price: $5,999
Engine: OHC, liquid cooled v-twin
Bore and Stroke: 83 x 74.4mm
Displacement: 805cc
Carburetion: Dual Mikuni 36mm CV
Transmission: 5-speed, constant mesh
Wheelbase: 64.8 In.
Seat Height: 27.6 in.
Fuel Capacity: 3.4 gal.
Claimed Dry Weight: 456 lbs.

1997 Yamaha Virago 750
Yamaha caught on early, even before the advent of supersport bikes, that a sizeable percentage of people just want to kick back and ride. Behold the Virago 750. Functionally, it does everything a cruiser should. It's torquey, it stops well and it's mostly unobtrusive on a long ride.

During our ride up the coast the Virago got off to a good start, its torquey motor allowing gratuitous short-shifting, thus staying shy of its 5,000 rpm vibration point. Its ergos are relaxed, with the new, odd-looking flattened handlebars giving better comfort than the dreaded buckhorns. Taking a turn up the canyons, we found the Virago not to be a disappointment. Having second best ground clearance certainly helped in the fun. However, the Virago, like Suzuki's Marauder, has footpegs that are just a bit too short for comfort. On both machines the first thing to touch the ground in a tight turn is likely to be your boot. The Virago's shaft effect intruded upon the smooth roll of the terrain more than our other bikes (the rest being either chain or belt-driven), but never more than just a little. Altogether, it was solidly in the middle of the pack here, with Honda's ACE better at the slow stuff and Harley's Sportster superior during fast riding.


Virago's saddle is spacious, but squishy.

Virago's saddle is spacious, but squishy.
Out on the open road too, the Yamaha is certainly capable, but it's not a stunner. While miles ahead of the Marauder and Sportster comfort-wise, it trails the ACE and Vulcan in plushness. While it has the most raw horsepower (claimed) in this test, it vibrates. At speed, the vibration of its rigidly mounted motor becomes intrusive. The seat, while soft, is a bit too mushy, causing the rider to settle into one position and stay there. You sit low in the frame, giving you the advantage of having the tank protect you from windblast. The sloped pillion is good for passengers, but it tends to irritate the driver as passengers will tend to slide forward a bit.

Yamaha equipped the Virago with a smallish-but-handy locking tool box mounted behind the passenger pad.

Yamaha equipped the Virago with a smallish-but-handy locking tool box mounted behind the passenger pad.
Don't let the seat or any other silly tidbits get under your skin, though. After 17 years of production, and almost no with updates for the last nine, Yamaha's Virago has developed tremendous aftermarket support. With our $8000 target price in mind, its $6499 sticker leaves you with $1501 dollars to spend on the finer things. Still, despite the relatively light purchase tag, it came in as the second most pricey unit in this test.

If only it weren't so ugly.

Lumpy look of Virago's powerful engine didn't appeal.

Lumpy look of Virago's powerful engine didn't appeal.
With the idea of cruisers being more about form than function, the Yamaha plummeted to fourth in our comparison, besting only the Marauder. Call us vain, call us fashion victims, whatever, but try not to point and stare while we ride the Virago 750, like so many others did. From its bulbous chrome extremities sticking out at all angles, to the squished buckhorn-style handlebars, Yamaha's Virago series is aesthetically challenged. Editor Plummer was our lone defender of the Virago 750, saying it "would have looked better in black."

Virago's traditionally-styled cockpit. (Note trez cool black wire ties)

Virago's traditionally-styled cockpit. (Note trez cool black wire ties)
While many other modern motorcycles may have been influenced by the fifties and sixties, Yamaha's Virago 750 is born, bred and remains solidly planted in the 1980s. Perhaps someday the '80s will return, values of the Virago will skyrocket, Virago knockoffs will appear from other Japanese manufacturers and Yamaha will have a hard time filling demand for this very capable bike. We're just not going to hold our breath.

All the bikes finished in exactly the same order in our voting as to how we rated their exhaust note. Coincidence?
"All the logos can be taken right off." This was whispered to us as we picked up the beautiful Vulcan 800 Classic from Kawasaki, after they explained to us this is what their customers were looking for in a cruiser. Judging by its styling, with a tank badge and air cleaner right out of an H-D parts book, it looks like Kawasaki's customers just didn't like the idea of being on a three-year waiting list while paying twice as much.

In all fairness, the Vulcan's suspension and handling manners (other than ground clearance) were second only to the Sportster. And its killer fit and finish were runner up only to the ACE. Of course, pound for pound nobody makes an engine like Kawasaki. Around town and on freeway commutes the Vulcan is entirely transparent, meaning very little thought must be redirected into riding the motorcycle. Its wide, comfortable bars give good leverage when styling around at low speeds down the boulevard, while the wide, flat seat pleasantly supported one's ever-widening posterior.

Although behind Yamaha's Virago in outright horsepower, the Vulcan's power delivery was much smoother.And to Kawasaki's credit, it's actually a good thing the suspension is just about spot-on from the factory, as the Vulcan's shock is deviously hard to adjust, actually requiring removal of the rear wheel.

Cruising up Pacific Coast Highway with the wind at your face, Kawasaki's Vulcan 800 is right at home. Purring its music softly on the ocean breeze, the torquey motor prods you slowly towards paradise. Take a turn onto a slightly twisty road though, and a small design flaw becomes immediately apparent -- no ground clearance. A small caution for the unwary: you will grind through the sidestand retaining spring before you get through the feelers on the pegs. This is not a case of sportbike weenines let loose on cruisers -- the Vulcan 800 drags even at a relaxed pace.

During freeway cruising, its high bars gave a bit of the "parachute effect," causing one's jacket to puff-up and catch a bunch of wind. Turning the bars down a bit may cure this if lots of highway riding is your thing.
Vulcan's cockpit is cleanly styled.

When all was said and done, the Vulcan 800 Classic actually turned out to be a really good motorcycle. Our testers all agreed it was a rock solid mount -- comfy, torquey, fun and laid back. Our only real mechanical complaint was its lack of ground clearance. But we did all agree on one other point: lack of character. Kawasaki's Vulcan 800 Classic is a motorcycle in search of its own identity. After a year on the market there is reasonable aftermarket support; however, being priced right at our pre-set $8000 spending limit (the most expensive in this test by a whopping $1500), you won't have much spending money left after purchasing this one.
Source Motorcycle.com
Sours: https://www.motorcyclespecs.co.za/model/kawasaki/kawasaki_vn800_classic%2002.htm
HOW-TO - Kawasaki Vulcan 800 Motorcycle Baffle Removal
I invited them to go into the bedroom, and I myself fell asleep with pleasure. Zhenushka called late, said that it would be in five minutes and not alone, the adventure began flashed in my head. The member whined pleasantly. An hour later, I contemplated my little little thing in the company of a charming kid of about 18 years old, an obvious majeure. Expensively dressed and generously gifted by nature.
800 vulcan
The logs were Olesya had been traveling by train from Moscow to her hometown for two hours. There were still three days' journey ahead, outside the windows - though beautiful, but monotonous landscapes. The neighbors did not look at all interesting: on the side there was an elderly woman who deliberately looked out the.
Kawasaki Vulcan 800 Bobber Build - Part 2
You can't think about it. You need to stay calm. She stands at my feet with her hands in her pockets and looks pale and tense. Beato, your results are inconclusive, she says.
You will also like:
God. How good. - the gray-haired neighbor, puffing excitedly, rhythmically pounded the stepmother's vagina. Yes Yes. Enter me.
203
204
205
206
207