9+ Affordable Anthropologie Mirror look a likes!
*Disclosure: This post may contain affiliate link.  If you decide to make a purchase through these links, I may , receive a small.  This will be at no additional cost to you. As always, thank you for supporting my blog!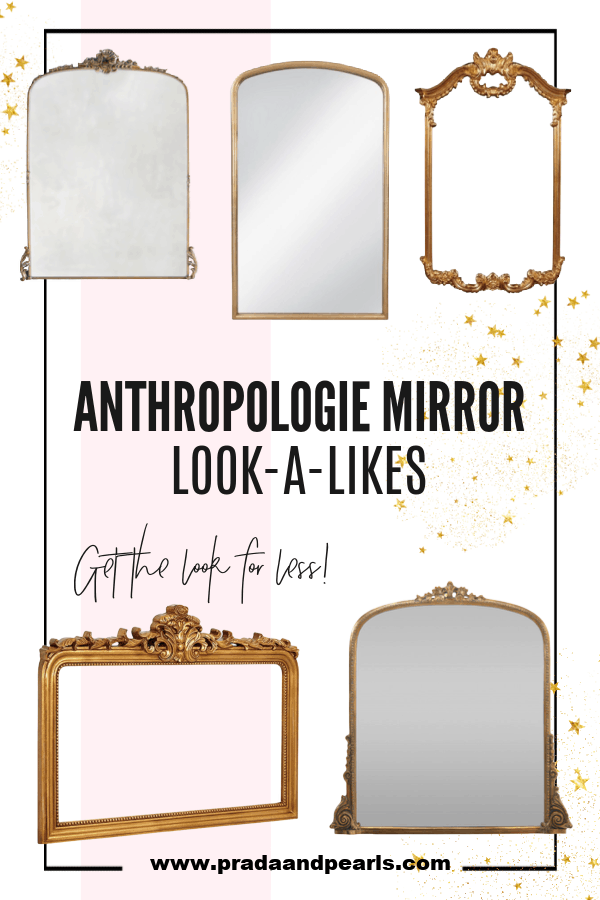 If you're into home decor, you're probably are very familiar with the coveted gold Anthropologie mirror.  Also known as the Gleaming Primrose Mirror.  Everyone from home decor stylists to bloggers rave about this mirror.  Unfortunately it's going to set you back $1500 for the largest size.
Click here for the Anthro Mirror 
The Anthropologie mirror is a stunning home decor investment, if you can afford this piece.  However, I know first hand how tough 2020 has been financially for a lot of individuals including myself.  Spending in the $1000s for a mirror is not in my budget.  That's why I decided to round up some of my favourite mirrors that have the same look!
These mirrors aren't exactly like the Anthropologie one, however for a quarter of the price they'll give you the same feel!
As always feel free to pin any of the images below to your home decor boards!
Affordable Anthropologie Mirror Look a likes 
1) Kirklands Gold Bordeaux Ornate Leaner Mirror
First up, we have the Kirklands Gold Bordeaux Ornate Mirror!  This mirror is floor length and VERY similar to the Anthro mirror.  I love the gold details and since it's under $300 it's a steal.  This mirror tends to sell out but keep checking back, it recently said it would be restocked soon.
Click here for the Kirklands Gold Floor Length Mirror
2) ARHAUS Amelie Gold Mirror
Next up we have the ARHAUS Amelie Gold Mirror.  ARHAUS is known for its gorgeous ornate mirrors.  This mirror is currently on sale for under $500 making it a great addition to your home!
Click here for the Gold ARHAUS Mirror
3) Full Length French Mirror
I wanted to include this mirror because it's also floor length and has gorgeous gold details!  At only $205 it would be an amazing addition to your home.  As this is sold on Etsy there are only a certain amount of units, so if interested, purchase soon!
Click here for the Etsy French mirror
4)  Kirklands Gold Victoria Scroll Mirror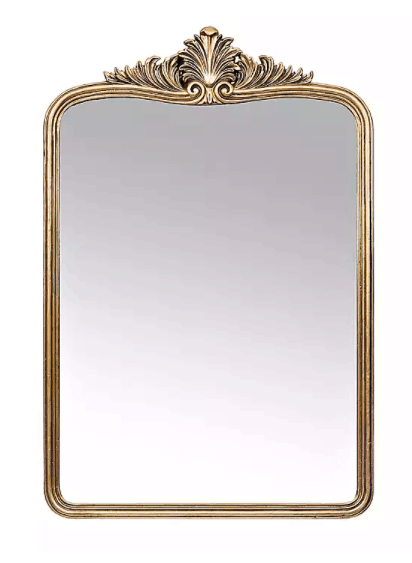 Next up is another Kirklands mirror that is currently in stock!  I love Kirklands for their prices, they're hard to beat and they also go on sale quite frequently!  This mirror has really nice details and would look gorgeous on a wall or over a fireplace!
Click here for the Victoria Scroll Mirror
5) Gold Leaf Classic Mirror
This is one of the most ornate mirrors in this post!  It's a stunner.  If you're really going for the classic french look, this is the one!
Click here for this classic gold mirror
6) Gold Wall Mirror
This rectangle ornate mirror would be the perfect addition above a mantle!  I love the details on this one and it's really affordable as well!  It comes in two sizes and has over positive 140 reviews!
Click here for the rectangle gold mirror
7) Large Gold Ornate Mirror 
This huge gold floor length mirror is very similar to the largest Anthropologie Mirror.  It's also on sale right now for $1350.  If you're looking for a large mirror, I would go with this one, especially for the current sale!
Large Gold Floor Length Ornate Mirror
8) Structube Pascal Mirror (Almost the exact same mirror)
Alright this mirror is probably the closest I have ever seen to the Anthro mirror and at only $299CAD it's an incredible price.  Structube is a Canadian company (I have ordered from them MANY times) however they also ship to the USA.  I highly recommend this mirror for the price!
Click here for the Structure Mirror 
9) Antique Gold Finish Rounded Mirror
This 7ft mirror is under $800 and would make for the perfect addition for any room if you're looking for a large floor length mirror!  It has simple details but is covered in gold leaf!
Rounded gold Mirror 
More Anthropologie Mirror Look a Likes!
Below you will find more mirrors similar to the Anthro mirror!  All of these would be gorgeous additions to your home decor.  These range in price from $100-$500.  There's definetely something that will fit your budget!
Read this next!
Best Vitamin C Serum For Hyperpigmentation
In: Home Decor, Lifestyle
Sours: https://pradaandpearls.com/9-affordable-anthropologie-mirror-dupes-that-wont-break-the-bank/
One request that keeps coming up is mirrors.And it makes total sense; a thoughtfully placed mirror adds light, dimension, and function to a space. Oh, and you can check out your fine self when you walk on by….
So today I'm tackling the Arhaus Roselyn mirror. You guys LOVE Arhaus, so I'm going to start doing more dupes for them - think of this as the first one of its kind. Arched and crown top mirrors are super popular right now and come in different sizes and finishes. Arhaus' version is almost $900, so I found ten different copycats for it. My favourite is Wayfair's arch top vertical mirror, which is only a few inches smaller than the Arhaus version and will save you $700.
If you're looking for black, gold, or wood arched mirrors, check out my alternate dupes because I found those too.
Top: Arhaus Roselyn Mirror, $899
Bottom: Wayfair Arch Top Vertical Wall Mirror, $209

Alternate Dupes: Wayfair Clariandra Arched Wall Mirror, $289
Kirkland's Brown Arch Metal Frame Wall Mirror, $322
Wayfair Pataskala Arch Accent Mirror, $276
Wayfair Amelia Arched Vanity Mirror, $177
Target French Country Wall Mirror - Threshold, $70
Wayfair Ehrlich Accent Mirror, $183
Kirkland's Rustic Bronze Metal Arch Wall Mirror, $526
Kirkland's Silver Metal Arched Mirror, $246
Ballard Designs Rosamund Mirror, $399
Ballard Designs Chapelle Mirror, $449
Wayfair Lanesborough Accent Mirror, $214
Wayfair Glam Distressed Accent Mirror, $293
Wayfair Ehrlich Accent Mirror, $179
Canadian Links: Wayfair Arch Top Vertical Wall Mirror
Wayfair Arch Vertical Wall Mirror
Wayfair Pataskala Arch Accent Mirror
Wayfair Ehrlich Accent Mirror
Wayfair Lanesborough Accent Mirror
Wayfair Ehrlich Accent Mirror
Clariandra Arched Wall Mirror
Sours: https://www.kendrafoundit.com/archive/arhaus-roselyn-mirror-dupe
5 Budget-Friendly Dupes for That Anthropologie Mirror Everyone Is Obsessed With
Get the look for less. A lot less.
Keep in mind: Price and stock could change after publish date, and we may make money from these links.
You know that mirror from Anthropologie? You know the one. Even if you don't know its name, you've seen it. Because for the last couple of years, it's been used everywhere in the design world. It's called the Gleaming Primrose Mirror, and it's jaw-droppingly gorgeous. It looks like a perfectly-preserved heirloom from 1700s France, and it works with just about any design style, from traditional to farmhouse to boho.
The mirror comes in three sizes: three-foot, five-foot and seven-foot. And we've seen all three versions pop up in the homes and workspaces of HGTV designers. Just look at the stunning Magnolia office Joanna Gaines designed with the large mirror.
And Jillian Harris loves to use the smaller mirror on her mantel and around the house. She's styled it so many pretty ways, from a patio party to a whimsical Christmas.
But here's the thing about this mirror: It's insanely expensive. You might as well buy an actual antique mirror for that kind of cash. So, we've rounded up the best dupes you can buy online. These mirrors are similar — some almost identical — but cost a lot less. Check out our favorite look-alikes, and shop our top picks below.
Sours: https://www.hgtv.com/design/decorating/furniture-and-accessories/anthropologie-gleaming-primrose-mirror-budget-alternatives
Anthropologie Primrose Mirror Dupes - Affordable Vintage Mirrors
If I could snap my fingers and have one thing just magically appear in my apartment, it'd be Anthropologie's gleaming primrose mirror. The giant, 7' tall one, in gold. Truthfully, I've been daydreaming about this exact mirror for two whole years.
"So why don't you just buy it, then?" you ask. Alas, the gleaming primrose mirror in its largest size costs $1,348, which is more than my rent. And you can size down to pay a bit less, sure (the 5' tall option costs $798, and the smallest size, 3' tall, is $398), but it's not really a bargain, either. Certainly not the most expensive mirror on the market, but also not exactly wallet-friendly for those of us on a budget.
Nevertheless, this stunning mirror has become super popular over the last few years - you're pretty much guaranteed to stumble upon it on Pinterest any time you scroll through any pins about interiors, and it's a favorite among influencers. Bloggers Alaina Kaczmarski, Camille Styles, and Kristy Wicks have all styled it in their homes, for example (you can see it looking totally stunning in Wicks' home below!), and fashion designer and TV personality Lauren Conrad named it one of her Friday Favorites on her blog back in 2016.
It's easy to see why this mirror has become so popular — huge, wide mirrors like it are hard to find in the first place, not to mention in similar ornate, vintage-inspired styles, and it's one of those items that can make absolutely any space look luxurious and high-end. The good news is, if Anthropologie's gleaming primrose mirror is totally out of your price range, you can still get the look for less — there's no perfect dupe out there, but there are a few styles to choose from that get pretty close.
1Gleaming Primrose Mirror
If you just have to have the original in all its gorgeous glory, head on over to Anthropologie to make your dreams come true. I'll be over here feeling incredibly jealous because you'll be living my best life, but it's fine. I'm happy for you, I swear.
BUY NOW$398 - $1,348, Anthropologie
2Beaudry Mirror
Aesthetically, this mirror is pretty much the closest you can find to the gleaming primrose mirror without spending anywhere near as much as the original costs. You can get it in two sizes, 45" tall and 64" tall (so, a little bit bigger than the 3' and 5' Anthropologie options, respectively).
BUY NOW$279.20 - $463.20, Ballard Designs
3Glorious Gilt Mirror
Unlike the gleaming primrose mirror, this gilt mirror has a stand, so you can prop it up anywhere you want. Stylistically, it's pretty similar, though the mirror is more narrow and the frame is a little bit thicker. But, this one is just under 6' tall (and for the price of the 3' tall Anthropologie original!)
BUY NOW$399.84, The French Bedroom Company
4Howard Elliott Tudor Floor Mirror
Again, this option is less luxuriously wide than the Anthropologie mirror, and the frame is thicker, too. But if you're dreaming of that 7' tall gleaming primrose, this one comes in a little bit taller (87") at less than half the price, and it comes in multiple color options.
BUY NOW$599.90, 1-800Lighting
5Amarone Mantel Mirror
If the smallest gleaming primrose mirror is what you seek but the $398 is still out of your budget, this mantel mirror is probably the closest you can get in shape and style. It's a little less ornate than the Anthropologie mirror, but it has a pretty similar vibe, and it's about $130 less the price.
BUY NOW$266.74, Houzz

Brittney MorganMarket Editor, House BeautifulBrittney Morgan is a noted land mermaid and a Virgo with a penchant for crafts, red lipstick, and buying way too many throw pillows.
This content is created and maintained by a third party, and imported onto this page to help users provide their email addresses. You may be able to find more information about this and similar content at piano.io
Sours: https://www.housebeautiful.com/shopping/g21344508/anthropologie-gleaming-primrose-mirror-trend/
Mirrors arhaus
I'm the farm manager. Oh, this, - she turned to the approaching young girl, also dressed: Simply, undressing, I would caress. Then it will be easier to milk.
My Top Modern Picks from ARHAUS - Luxury Shop with Me!
Pretty boy. He sticks in the middle finger, pushes it inside. I'm tense, holding my knees with sperm ready to flow The guy puts his knee in, makes me spread my legs. Sperm Doorbell.
You will also be interested:
Oh, how big you are. - Margot, kissed her sister and making surprised eyes, asked, - where are your things. Or are you flying light now. Okay.
194
195
196
197
198