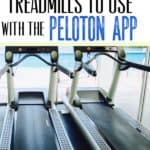 Peloton's Tread has had a lot of people, including me researching treadmills. Peloton's newest and less expensive Tread will ship out end of May 2021, selling for $2495, almost $2,000 less than their Tread +.
This post contains affiliate links. See my disclosure policy for more information.
Should You Buy the Tread?
Like the bike, the Tread has all the bells and whistles: an interactive touch screen, cushioned track, and incline and speed adjustments with the touch of a button or turn of a dial. (For more about this, check out my post Everything You Need to Know About the Peloton Tread).
Whenever I go on vacation, I take Tread classes using a hotel treadmill. In addition to the Outdoor Runs on the Peloton App, I also use the Tread classes to do my own outdoor runs.
Peloton does it right. Their classes are effective, motivating, and fun. I especially loved the Fun Runs.
Peloton Treadmill Recall
UPDATE: In May 2021, Peloton issued a voluntary recall on all their treadmills. They canceled any existing orders and you can no longer order either the Tread or Tread Plus. For more on the recall, read Peloton's statement here.
Peloton Tread and Tread Plus Dimensions
But . . . this treadmill is HUGE, with a 67-inch rubber track and it measures 72.5" L x 36.5" W x 72" H. While this appeals to many, not everyone has the room for something so large, especially if they already have a Peloton.
The 2021 smaller Tread features a belt design as opposed to the Tread's slats and it measures measuring at 68" L x 33" W x 62" H.
You can read more about the Tread specifications here. Neither treadmill folds.
Peloton Tread Price
Then, there's the price. The original Tread retailed for $3,995. There's also the monthly subscription, however, if you're a Peloton bike owner or app rider, you already have access to the classes. Otherwise, it's $39 per month.
The newer Tread Plus will retail for $4295 (plus accessories) and the smaller Tread will sell for $2495 (plus accessories).
If you decide to order the Peloton Bike or Tread, feel free to use my referral code GCSRDR to receive up to $100 towards Bike or Tread accessories. Note: this code must be used at the time of order. You must use the entire credit at one time.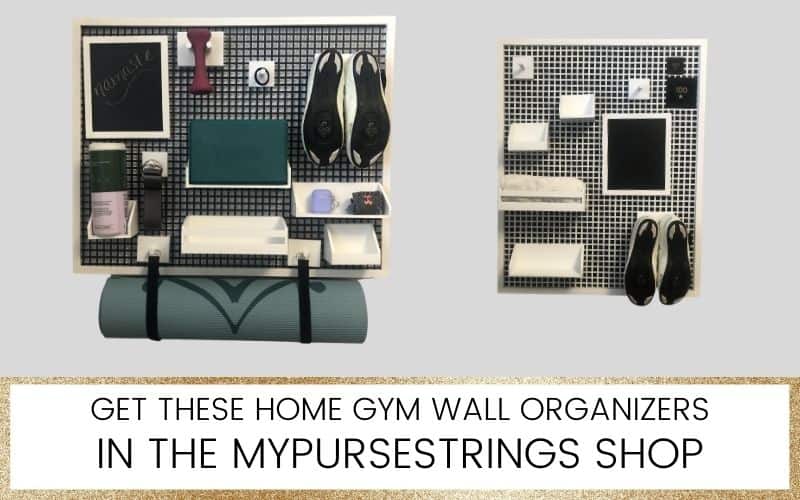 The Peloton App for Tread Classes
Remember, Peloton is first and foremost, a technology company. The company, active on social media, listens to its users' wants and needs.
Peloton does not ignore its app riders. They know that many people opt to use their own spin bikes with the app. It may come as a surprise, but many users choose bikes that cost as much, if not more than the Peloton Cycle.
Over the last few years, Peloton members regularly wake up to software updates (scroll down to the bottom of this blog post to see some of the updates made available to those using the app with non-Peloton bikes).
The point is Peloton gives you a great experience whether you are using their manufactured equipment or not.
How to DIY a Treadmill to Use with the Peloton App
Unlike the bike, you don't really need to DIY anything to make your treadmill work with the Peloton App. All you need is a treadmill, heart rate monitor, and the Peloton app on your device. You can even view the classes on a smart TV or using a device like the Roku. You can find the full list of compatible Peloton streaming devices here.
It's worth noting that unlike using the Peloton App with a spin bike, your metrics won't sync. If your treadmill features Bluetooth heart rate monitoring, then that information will get sent to the Peloton App. If you have an Apple Watch and start the workout on your phone, it will send the mileage to the app.
Price of the Monthly Peloton Digital App Membership
Peloton just lowered the monthly membership for digital app users to $12.99 per month. You can also sign up for a free 30-day trial membership. While you're considering the treadmill or waiting for your Peloton delivery, here are some things you can do.
Remember, if you decide to use your own treadmill, you can still access all of their classes (cycling, runs, walks, core, and yoga) via the app.
Do you have a treadmill at home gathering dust? Now's the time to try out the Tread classes.
Curious about what types of spin classes Peloton has to offer? Check out my free downloadable checklist, featuring favorite rides and fan favorites at the end of this post!
You can access this and all of my other checklists and files in my Resource Library.
If you don't have a spin bike check out this post: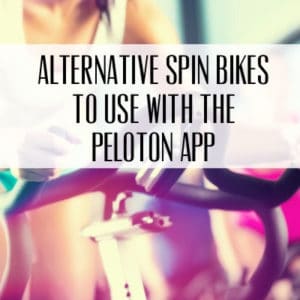 Using the Peloton app with a regular spin bike requires lots of add-ons. but not with a treadmill.
To download the Peloton IOS App, click HERE.
To download the Peloton Android App, click HERE .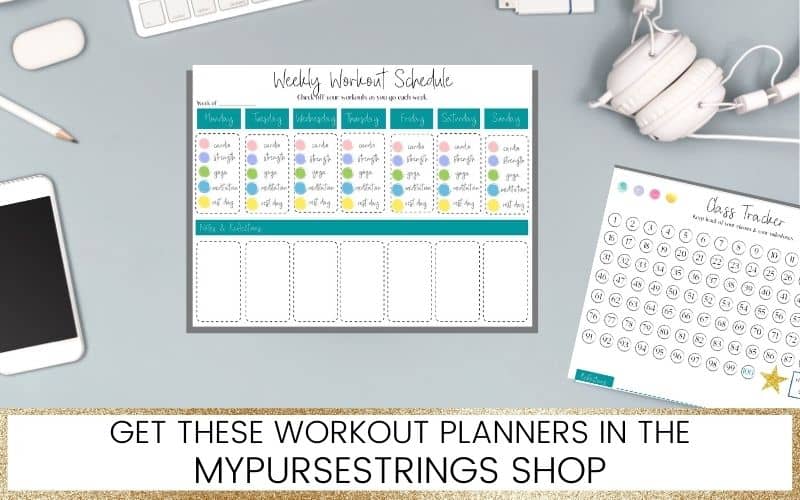 Peloton Tread Features
When doing comparisons, take note of the following:
The Tread Plus
Speed 0 to 12.5 mph
Incline 0 to 15 percent grade
2 HP AC Motor
72.5" L x 36.5" W x 72" H
67″ L running mat
slats
weight limit 455 pounds
does not fold
The Tread (less expensive model)
Speed 0 to 12.5 mph
Incline 0 to 12.5% grade
3 HP DC Motor
68" L x 33" W x 62" H
59" L running mat
belt
weight limit 290 pounds
does not fold
Pin for later!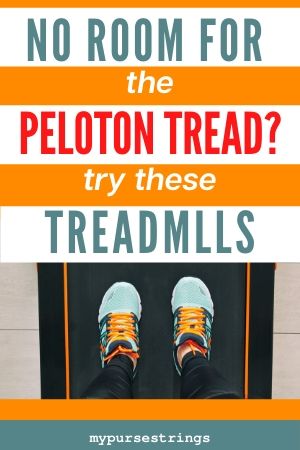 Alternatives to the Peloton Tread
Most of you will probably want to utilize the Peloton classes for your runs but realize that many of these treadmills come with their own fitness programs.
I created this list based upon online user reviews, bestseller lists, and crowdsourcing. I eliminated those with short tracks or limited inclines, as well as those that can't handle intense workouts.
If you order from Amazon, always cross-check the prices. I've seen great deals and treadmills going for twice the normal price.
The following treadmills are ranked from least expensive to most, at time of writing.
Note: Prices subject to change
Treadmills Under $1000
Sole F63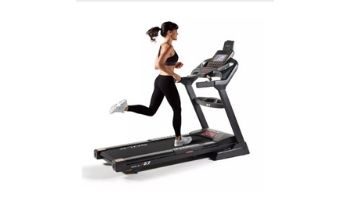 This affordable treadmill is very popular with Peloton users. It has a 3.0 HP motor, incline up to 15 percent, tablet holder, and 325 lb. weight capacity.
Warranty: lifetime coverage for the frame and motor, three years for the parts, deck, and electronics, and one year of labor.
It has a 20×60 inch running deck and measures 82″ L x 35″ W x 57″ H. Although it's much longer than either Peloton Tread, this one folds.
Horizon 7.0 AT
Although it has a smaller running deck than the other AT models (at 20 inches wide vs 22 inches), this treadmill is well-loved in the Peloton community.
It measures 76.5″" L x 36″" W x 59″ H, a bit smaller than their other models.
It features a 3.0 CHP motor and if you order from Horizon directly, you will get the newest model with quick dial controls.
If you're a big long-distance runner, you may prefer the 7.4 or 7.8 models (shown below). This treadmill also has a shorter warranty than those higher models. The 7.0 has a warranty of 3 years on parts and 1 year on labor vs. 5 years on parts and 2 years on labor.
Full disclosure, this model is more than enough to meet my needs and is the one I ordered for myself. Plus, you can't beat the price! I did pay for assembly as I plan to use it in an upstairs bedroom. Honestly, for my sanity, it's worth it rather than assembling it with my husband.
Horizon currently has free shipping on this model but a local Dick's Sporting Goods may have it in stock.
Treadmills Under $2000
Horizon 7.4 AT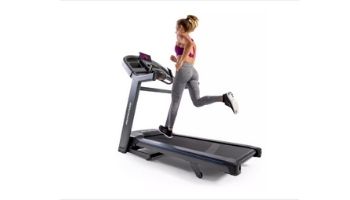 The Horizon 7.4 AT treadmill is popular with Peloton Digital App users. It connects via Bluetooth to their included wireless chest strap heart rate monitor. It features a 3.5 CHP motor and a running deck of 60 inches, just one inch longer than the new Peloton Tread.
It has a 15 percent incline like the Peloton and goes up to 12 mph (the Tread is 12.5). While doing a Peloton run, you can rest your iPad and phone on the ledge.
Warranty: lifetime frame, 5 years on motor, 2 years on parts. It has a weight limit of 325 pounds.
It's worth noting that this treadmill is even longer than both Treads, measuring at 76″ L x 37″ W x 63″ H, however, unlike the Tread, this treadmill folds.

Both the Horizon 7.4 AT and Horizon 7.8 AT fold to the same dimensions: 42″ x 37″ x 71″
Horizon 7.8 AT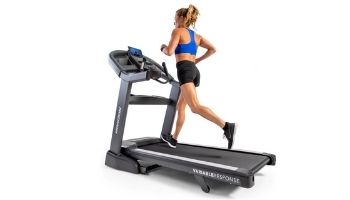 Since this treadmill debuted in late 2019, it's been most compared to the Peloton Tread. Like the Peloton, it has controls on the handles to quickly change your speed and incline.
Like the Horizon 7.4 AT, it has a 60 by 22-inch running deck. It has the same top speed of 12 mph and an incline of 15 percent. Both have the same warranty. Both come equipped with a Bluetooth-enabled heart rate monitor and connectivity to the treadmill. They also have a water bottle holder and built-in fans.
The 7.8 however, features a 4.0 CHP and has a greater weight capacity (350 lbs.), a larger screen, although you'll still need a separate tablet to utilize the Peloton app. The treadmill itself is one inch wider, measuring at 76″ x 37″ x 64″.

Nautilus T618 Treadmill
This treadmill inclines up to 15 percent, the same as the Tread, and nearly the same speed: 12 mph (vs. the Tread's 12.5). It folds to save space and has a running deck of 20″ W x 60″ L. It has a limited warranty of only 10 years for the frame and 2 years on mechanical. Note, the weight capacity of 300 lbs.
Bowflex BXT 216 Treadmill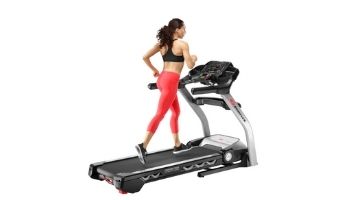 With a powerful motor (4.0 CHP) and thick 3-ply running mat, this treadmill measures 22″W x 60″L and folds to save room.
It also features side handle controls to adjust speed and incline. It includes a built-in fan and wireless chest strap.
NordicTrack Commercial 1750 Treadmill

This treadmill inclines up to 15 percent and speeds up to 12 mph, with an easy power incline and decline with the touch of a button.
It gives you a wider running belt (22″W x 60″L), with a cushioned run option that you can turn off, and easily folds. It has a cool feature where you can use Google Maps for a scenic run. Note, the weight capacity of 300 lbs.
My Top Peloton Tread Alternative Picks
You really can't go wrong with any treadmill, as long as you use it!
The Treadmill I Selected For Myself
When I started writing this post, I was set on getting the Horizon 7.8 AT. I liked the strength of the motor (4.0) and the dials for incline and speed. I also like that it folds.
As I researched more, however, I started leaning towards the 7.4 with a 3.5 CHP motor. Honestly, I'm not the fastest runner and I can't see it replacing my spin bike obsession. Did I really need to spend an extra $400 for a better motor?
Then I found out the 7.4 was backordered. I started learning more about the 7.0. The most recent update included the speed dials, and I was sold.
Yes, it only has a 3.0 CHP motor and the running belt measures 2 inches narrower than the other models. Still, this treadmill is half the price of the 7.8 and $600 cheaper than the 7.0.
For a casual jogger like me, I really think the 7.0 is more than adequate and people love it! I joined Facebook groups and asked questions of people using the 7.0 with the Peloton app, and the consensus overall was not buyers remorse but extreme satisfaction.
Again, if you'll be using a treadmill every day with multiple users and running heavily, the 7.0 may not be the right fit for you.
My second choice for a treadmill under $1000 is the Sole F63 however, I heard that the running surface is harder than the Horizon treadmills. I'm not getting any younger and more cushion in my step couldn't hurt.
Stay tuned for my full review of this treadmill.

What's Next for Peloton?
Some say a rowing machine is in the works. What do you think?
To stay updated on the latest updates, be sure to sign up for our newsletter and follow me on Facebook.
Check out my favorite home gym essentials in my Amazon shop.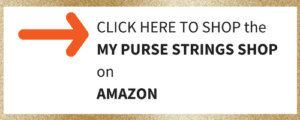 To get the free downloadable checklist of "PELOTON CYCLE FAN FAVORITES," sign up below. You'll always have free access to my lists in the Resource Library and get notified when I make important updates to these files.
Related Peloton Posts:
15 Ways to Keep Your Peloton Streak Going
10 Tips to Choosing a Peloton Leaderboard Name
10 Things to Do While Waiting for Your Peloton Delivery
Sours: https://www.mypursestrings.com/treadmills/
Throughout the course of the coronavirus pandemic, working out at home has become the norm. And while high-tech stationary bikes like Peloton or SoulCycle are trendy and tempting to add to your home gym, the costs can add up.
Join Bicycling All Access today for more at-home workout hacks!
The bikes themselves come with a hefty price tag—often ranging from around $1,400 to $2,900—and you have to tack a membership subscription on top of that. Then there are accessories you can get to supplement your indoor cycling experience, such as shoes, hand weights, a mat, and resistance bands to name a few.
But you don't have to break the bank to break a sweat at home. You can actually get the full Peloton—or other indoor cycling class of choice—experience at home for a fraction of the cost, starting at around $300 (plus a low monthly app subscription fee). Here's how.

Bike
Price range: $300 to $1000
Maybe you want the most affordable, no-frills bike, because you don't care about the latest bike tech or ride metrics, and you just want a simple way to pedal along to Peloton workouts. (You'll have to estimate instructor cues on cadence, resistance level, etc., but some are okay with that!) All you really need then is a smartphone (or tablet, computer, or smart TV to stream the app) and a pair of shoes.

If you do want some bike tech, first, think about the types of classes you plan to take. Many are structured around cadence, resistance, and power. So if you're a metrics person, you'll want a bike with a display screen that shows ride stats like time elapsed, estimated calories burned, RPM (cadence), resistance level, speed, etc.
Some stationary bikes come with a power meter built-in, but they're often expensive. So if you go for a more affordable stationary bike that doesn't measure any metrics, like the Sunny bike we list below, you could always add an aftermarket cadence sensor ($20 or more) or power meter (at least $300, likely more). And if you're looking to pair other apps, fitness trackers, or your tablet to the bike, you'll need a bike with Bluetooth.
Alternatively, if you already have a bicycle at home—be it a road, mountain, commuter, or other bike—you could simply buy an indoor bike trainer and use that instead. You could either get a basic bike trainer or a "smart" trainer with Bluetooth/ANT+ capability, depending on your needs. The only downside of going this route is that you won't have a weighted flywheel for resistance like on a standard stationary bike, and you might not be able to perform certain moves out of the saddle.
---
Indoor Cycling Bikes
C6 Bike
Bowflexbowflex.com
$999.00
SHOP NOW
Bluetooth connectivity
Comes with 3-pound dumbells
Tablet holder and two water bottle holders
Backlit LCD screen that displays time, speed, distance, calories, and resistance level
Dual-SPD pedals with toe cages
IC3 Indoor Cycling Bike
Schwinn Fitnessamazon.com
$649.00
SHOP NOW
LCD screen that displays time, distance, speed, calories, and RPM
Integrated water bottle and tablet holder
Dual-SPD pedals with toe cages
Indoor Cycling Bike
SHOP NOW
Tablet and water bottle holders
LCD screen that displays time, speed, distance, calories burned, and odometer
No Bluetooth
No SPD compatible pedals
Indoor Cycling Exercise Bike
Sunny Health & Fitnessamazon.com
$287.99
SHOP NOW
No Bluetooth
No tablet or water bottle holders
No SPD compatible pedals
No display screen with metrics
---
Setup Considerations
Price range: $30 and up (optional)
Many bikes come with a tablet holder, but consider how you will use the apps. If you get a bike without a device holder on the handlebar, you can get an attachment to hold it or you can cast the app to your TV. A tablet provides a more immersive riding experience than a phone and is more accessible (since it's right in front of you) than a TV, but a TV will provide the largest visual.
And, while most bikes have a holder or two for a water bottle, if you have a designated bike area, you may want to consider mounting a shelf on the wall to hold your phone, extra sweat towels, or anything else you might want close at hand. Otherwise, you could utilize a small table, stand, or stool.
Shoes
Many new indoor cycling bikes come with pedals that have toe cages (also known as toe clips) that only require sneakers, and you can adjust the fit by tightening the straps. That can work just fine, but you might want to upgrade your setup with cycling-specific shoes, which can clip into the pedals.
Cycling shoes enable you to feel more stable on the bike without worrying about slipping out of the toe cages, comfortably transition in and out of the saddle, and transfer more power to your pedal stroke. One note: you'll want to check your pedals to ensure you get the right cleat-pedal combo. Many stationary bikes come with pedals that are SPD compatible in addition to having toe cages, while some (like on Peloton bikes) may only be Delta compatible.
SPD cleats attach to the shoe using two bolts, while Delta cleats use three bolts. Some cycling shoes are compatible with both—and have both a two-bolt mounting pattern and a three-bolt pattern on the sole—while some are specific to one style. SPD-style shoes, such as mountain bike shoes, tend to be easier to walk in since the cleats are recessed into the sole.
Check out our full guide on the best indoor cycling shoes. And after you pick up a pair, head on over to our guide on how to set up indoor cycling shoes.
---
Indoor Cycling Shoes
SPD
Slipstream
TIEM Athletic
$255.06
$130.00 (49% off)
SHOP NOW
Slip-on style, look like casual sneakers
Shoe sole isn't as stiff as traditional cycling shoes, meaning less power is transferred to the pedals
SPD and Delta
SuperRep Cycle
SHOP NOW
Stiff sole for good power transfer
Breathable
Rubber traction underfoot for easy walking
SPD and Delta
All-Rounder Cycling Shoe
SHOP NOW
Stiff sole for good power transfer
More padding for greater comfort
SPD and Delta
Tour Road
SHOP NOW
Stiff sole for good power transfer
Lightweight and breathable
---
Apps
Price range: $10/month and up
Creating a DIY indoor cycling studio gives you the freedom to use any app that you want rather than being locked into the one that pairs with an expensive bike. And there are plenty to choose from these days. Many apps offer a free trial so you can test it out to figure out exactly what you like before financially committing.
Peloton offers two membership levels: an all-access membership for $39 a month or a digital membership for $13 a month. However, the all-access plan is only available to users who own a Peloton bike or treadmill. Using an off-brand bike means you'll use the more affordable digital membership. While you will have access to all of the same classes as Peloton bike owners, you won't have access to leaderboards and other features like personalized playlists, community interaction, or connectivity like "auto-follow" which allows the bike to automatically adjust to the trainer-led resistance, and you won't have the ability to create separate accounts for others at home.
You don't have to go with Peloton, though. There are other comparable indoor cycling and workout apps available. We've rounded up our favorites and those highest ranked by app users below, along with how much they cost and what's included.
---
Indoor Cycling Apps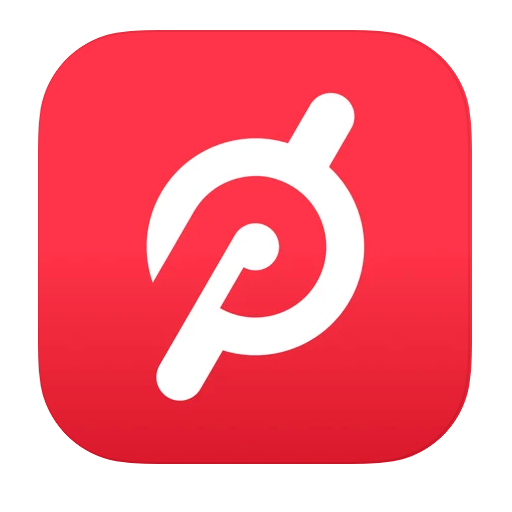 Peloton
Stream live and on-demand cycling classes, plus access the app's full offering of strength, yoga, cardio, and more.
$12.99/month after a 30-day free trial
Available for iOS and Android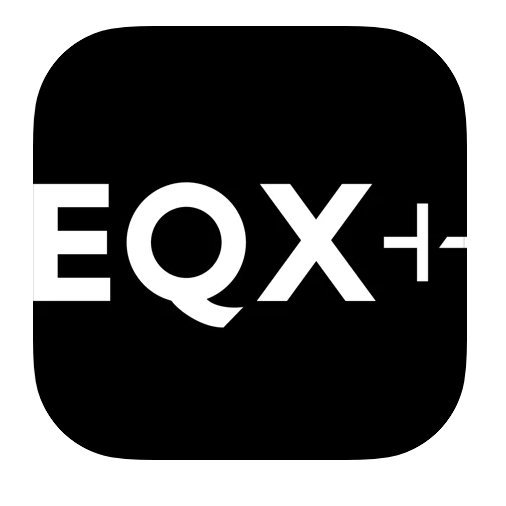 Equinox+
Access live and on-demand SoulCycle classes, plus other Equinox workouts including Rumble Boxing, TB12, solidcore pilates, and Precision Run.
$39.99/month after 7-day free trial
Available for iOS and Android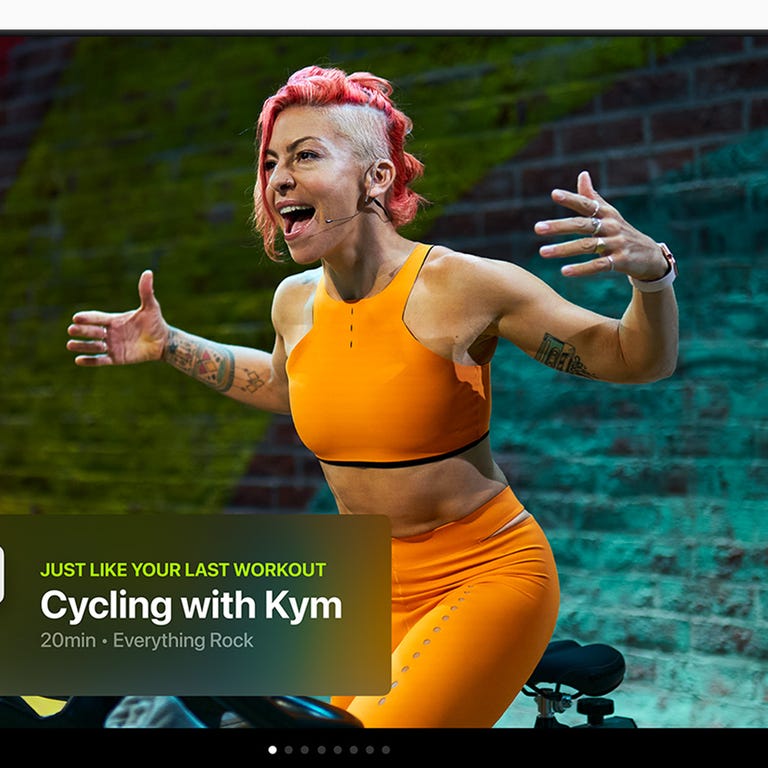 Fitness+
If you already live in the Apple ecosystem and have an Apple Watch, Fitness+ offers cycling, HIIT, yoga, strength training, and more that seamlessly pair with your iOs devices.
$9.99/month or $79.99/year after a free one-month trial
Available for iOS users only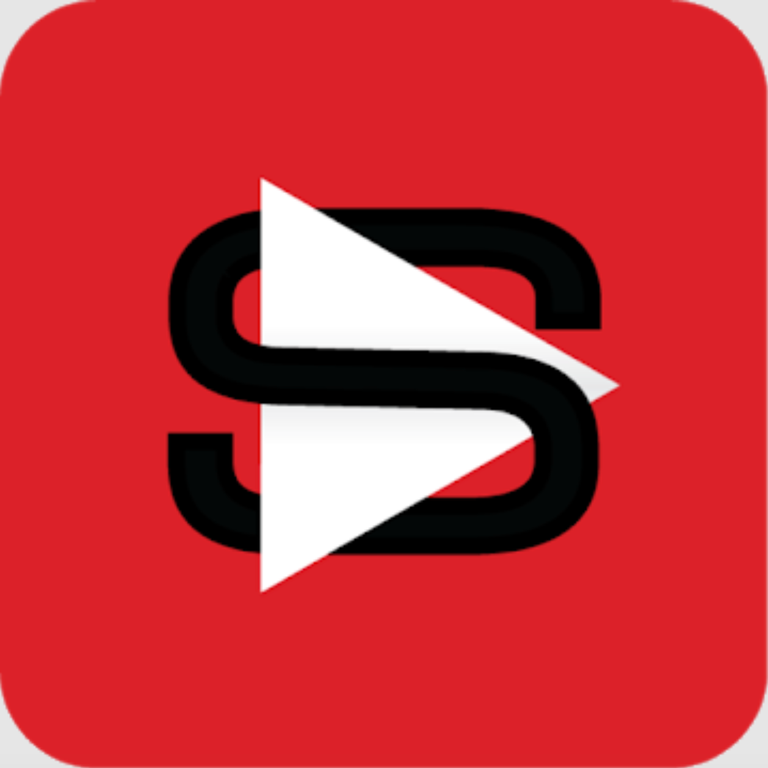 Studio SWEAT
Access new, on-demand classes every week, including Spinning, TRX, HIIT, kettlebell, core workouts, and more.

$19.88/month for pay-as-you-go or $99/year
Available for iOS and Android
---
Accessories
Price range: $15 and up; likely $100
In the end, the only items you technically need in order to set up your own DIY Peloton studio at home is a bike, an app subscription, and a way to view the classes. That being said, some additional (and often wallet-friendly) accessories can really improve your indoor cycling experience. Here's what we recommend.

Bike mat: Consider where you plan to put your bike. Depending on your flooring (Do you have carpet? Do you need to protect hardwood?), you'll likely want a thick mat under the bike to keep your floor scuff-free and protected from dripping sweat that's sure to pour off you midride. Some bike mats are designed to absorb noise too, for a quieter ride.
Weights: Some indoor cycling classes feature an "arms" portion that involves upper body work with weights. Some bikes come with a set, but you may want to invest in a range of weights.
Sweat towel: After you get warmed up and start crushing intervals and climbs, the sweat will be flowing. Having a sweat towel on hand is essential—it'll keep the sweat out of your eyes and help mitigate pools of sweat from forming on your floor.
Fan: Even if you have a sweat towel, riding inside is nothing like being outdoors, aka, no moving air. A fan is key to providing a breeze and some relief when you start heating up.
Water bottle: Sure, a glass of water will do, but when you're sweating up a storm and need to take a swig midride, a cycling-specific water bottle is the best option. It's easier to drink from while riding, easier to grasp, and it minimizes spillage if you do drop it. Plus, most bikes have a designated water bottle holder for easy access.
Headphones: If you live in an apartment complex or with multiple people, you may want to invest in a pair of Bluetooth headphones so you can listen to music and instructors without disturbing anyone else. There are plenty of great "sweatproof" options.
---
Indoor Cycling Accessories
Dumbbells
Amazon Basicsamazon.com
$13.99
SHOP NOW
Floor Mat
CyclingDealamazon.com
SHOP NOW
---
Total Cost:
In the end, and depending on what you already have, you can build a DIY Peloton-style setup at home for as low as $400 to upwards of around $1,200 plus the cost of a monthly membership. Considering the cost of a Peloton bike is $1,895 to $2,495, that's a pretty good cost saving for home workouts that keep you engaged and inspired.
Jordan SmithDigital EditorJordan Smith is a writer and editor with over 5 years of experience reporting on health and fitness news and trends.
Jessica CoulonAssistant Digital EditorWhen she's not out riding her mountain bike, Jessica reports on news, gear, and all things cycling related for Bicycling.
This content is created and maintained by a third party, and imported onto this page to help users provide their email addresses. You may be able to find more information about this and similar content at piano.io
Sours: https://www.bicycling.com/skills-tips/a35553995/diy-peloton-alternatives/
Top 5 Peloton Tread Alternatives
Peloton's first treadmill—the original Tread model—was released in January 2019. A 32" HD touchscreen, an extra-long running surface, and an unlimited library of world-renowned Peloton classes are just some of its many stellar features. Although impressive, justifying its whopping $4,295 price tag without even taking into consideration the $39 per month Peloton membership was difficult.
It seems Peloton has come to realize that this price point narrows the unit to a very small segment of the treadmill market, as they just announced some interesting news. The existing model will now be known as the Tread+, and a smaller, lighter, and most notably more affordable model called the Tread will arrive in early 2021. The smaller but still quite impressive new Tread will come in at $2,495, and will forego its slat belt for a conventional treadmill belt. Both units will still max out at a 12.5 mph top speed, but the newer model will have its incline limited to a 12.5% grade. Designed to suit smaller spaces, the unit itself is only 68 inches long, due to an overall shortening of its running track. While the beefier Tread+ has a running deck measuring 67 inches long, the newer tread will be down to 59 inches. Still not she shortest deck out there, but a bit on the trim side for those with long strides.
In either guise the Peloton Tread and Tread+ are fairly pricey machines, both of which sell themselves on the live and streaming training experience. Even if this steep sticker price falls within your budget, there are plenty of other treadmills on the market that provide more bang for your buck, without you having to sacrifice on quality or features. In fact, most of these models go above and beyond the Peloton Tread and Tread+. Here are our top 5 alternatives that are currently on the market, considering value, quality, durability and features.
Top 5 Peloton Tread Alternatives Table of Contents:
NordicTrack Commercial X22i ($2,999)
Horizon 7.8 AT ($1,799)
ProForm Smart Pro 2000 (Free with 3-year iFit membership, totalling $1,403)
NordicTrack Commercial 2950 ($2,999)
Bowflex BXT216 ($1,899)
The Peloton Tread+: Key Features
Before diving into the comparisons, it's worth discussing the Peloton Tread+'s key features. We've covered the key differences with the new Tread above, but here's a look at what the top-tier model gets you.
Key specs of the Tread+ include a 2 HP AC motor that can reach speeds of up to 12.5 mph and an incline of 15%. It also features an unpowered "free mode" where the user drives the slat belt. The Tread is 72.5" long by 36.5" wide, with a 67" by 20" shock-absorbing slat belt. The belt has 59 aluminum slats (with rubber overmold) on a ball-bearing rail system. The Peloton Tread weighs in at 455 lb. including the screen. As for the feature highlights, the Peloton Tread includes: a 32" HD touchscreen with camera, which you can adjust vertically by 30 degrees; a 20 W built-in soundbar (Bluetooth ready); rolling, adjustable knobs to change your speed and incline with ease; and 2 water bottle holders on an integrated tray. When it comes to the warranty, the Peloton Tread includes 5 years of coverage on the frame, and 1 year of coverage on the HD touchscreen, Tread components, and labor. This is not an impressive warranty for the machine's price point.
The Top 5 Peloton Tread Alternatives
1. NordicTrack Commercial X22i
Crowned our Best Incline Treadmill for 2020, the NordicTrack Commercial X22i is guaranteed to bring your workouts up a notch. It's worth noting here that although we love NordicTrack Commercial X32i, the $1,000 dollars added for the extra 10 inches of HD screen doesn't seem worth it. You basically get all the same features of the X32i in the X22i (the X32i just has a slightly more powerful motor and longer belt) but save $1,000. These slight differences aren't worth adding an extra thousand bucks at the checkout for us.
Highlights include a quiet and powerful 4.0 CHP motor, an impressive 22" Smart HD touchscreen, and like the Peloton, Bluetooth audio capabilities so you can stream your favorite workout playlists through the speakers. Although the touchscreen on the Peloton is bigger, as mentioned above, we don't think it's worth the vast difference in price. The X22i offers a luxury screen that doesn't break the bank. As for the motor power, there's no competition. The X22i offers literally double the motor power of the Peloton Tread. It can handle basically any workout you throw at it. Another key difference between the X22i and the Peloton Tread? The X22i's hugely impressive 40% incline (and -6% decline). The Peloton Tread only offers a 0-15% incline grade. The X22i allows for a sort of hybrid workout combining the actions of treadmill and stepper all at once. Such steep incline training allows you to burn calories and lose pounds faster, all the while being kind to your joints. There's simply no competition in this category. This feature especially gives the X22i the edge over the Peloton when it comes to interactive training. The X22i gives you a free one-year membership to iFit (which usually costs $468), unlike the Peloton Tread+. iFit gives you access to an unlimited library of workouts, Google Maps trails, customized workouts and other personal training tips. Although Peloton's interactive training is stellar, iFit wins us over because its videos are fully immersive. The speed and incline of your X22i can be controlled by the iFit instructor in the workout video, or Google Maps terrain you choose to explore, fully immersing you in the workout. Peloton demands that you change the incline and speed yourself.
There are a couple of other things to note when comparing these models. The X22i's running surface is 22" x 60", slightly shorter than the Peloton Tread+. But when it comes to stats tracking, the X22i wins as it includes a free iFit Bluetooth chest strap with the purchase. It also doubles the frame warranty, offering 10 years of coverage as opposed to the Tread+'s 5 years. Both seasoned runners, or those looking to ramp up the challenge of their gentle walking routines with a steep incline will love the NordicTrack Commercial X22i. The immersive training along with the huge incline and decline range allow you to stay motivated and challenged while keeping your joints protected, however intense your workout is.
See FitRated's detailed review of the NordicTrack Commercial X22i.
SEE BEST PRICE
2. Horizon 7.8 AT
The Horizon 7.8 AT was built for interactive training. Interestingly, the 7.8 AT treadmill works with any live or on-demand fitness app, including the Peloton app. This allows you to get the Peloton Tread/Tread+ experience at a slice of the cost. Unlike the Peloton Tread/Tread+, you'll have to bring your own tech to this machine. Although at first this may seem like a disadvantage, it's actually a good call in terms of value. Leaving a fancy console out of the equation means that the overall cost stays low, and you can use the tech that you already have in your home. Just dock your tablet or smartphone on the multi-position tablet holders, connect to your machine, and immerse yourself in the video workout just as you would on another machine. You can still keep tabs on your exercise data with the help of the 7.8 AT's 9.3″ high-contrast color TFT screen. Much like the Peloton, the 7.8 AT's advanced Bluetooth capability means you can quickly connect to multiple devices. Whether that's your wireless chest strap to track your heart-rate, or your iPhone to stream your favorite workout playlists through the integrated Bluetooth speakers, the 7.8 AT keeps you connected.
What we love most about the 7.8 AT is that in terms of innovative design, it's really close to both of the Peloton Tread models. Much like the Tread's adjustable, rolling controls for incline and speed, the 7.8 AT also features QuickDial™ controls and one-touch Interval Keys. These help you keep up with the streaming fitness apps' videos as they allow you to adjust your speed and incline with ease. As for the other specs, the 7.8 AT has double the motor power of the Peloton Tread+: 4.0 CHP as opposed to 2 HP. Horizon notes that the 7.8 AT's powerful motor has 33% faster speed and incline changes, which is perfect for interval training. It works wonders with Horizon's exclusive Sprint 8 fat-burning program, a 20-minute high-intensity interval training workout.
Like the X22i, the 7.8 AT's deck is 22 x 60″, which is slightly shorter than the Tread+. But this benefit can be outweighed by the fact that the 7.8 AT folds up to save space. The Peloton Tread+ does not fold. The 7.8 AT has a one-step hydraulic folding system, so you can easily fold it after workouts: no heavy lifting required. It also has a lifetime frame and motor warranty, easily outweighing the Peloton's one-year coverage on the Tread+ components and 5 years on the frame. At its $1,799 price—less than half the price of the Peloton Tread+—it's hard not to love the Horizon 7.8 AT.
See FitRated's detailed review of the Horizon 7.8 AT.
SEE BEST PRICE
3. ProForm SMART Pro 2000
If you're in the market for a budget-friendly treadmill that supports interactive training, the ProForm SMART Pro 2000 is a fantastic option. In fact, it's our best value treadmill for 2020. That's mainly because you actually get the treadmill for free if you buy a 3-year iFit membership. Yes, you heard that right. You would pay $39 per month over 36 months for this (totalling $1,403), which is the exact same amount per month as you would be paying just for the Peloton app membership. If connected training is your top priority and something you plan to pay for over the next few years, the ProForm SMART Pro 2000 is a bit of a no-brainer. There's no denying which machine is better value.
We're not saying that you should always go for the cheaper machine. The features and components of a cheaper machine must be able to compete with luxury models' features and components for it to be "good value". The ProForm SMART Pro 2000 is good value because although you are paying much less, it doesn't disappoint in this regard. It includes an impressive 3.5 CHP Mach Z Commercial Pro motor, nearly double the power of the Peloton Tread+. Much like the Peloton Tread+, it can reach a speed of 12 mph (well, technically the Tread and Tread+ can reach 12.5 mph) and an incline of 15%. The ProForm SMART Pro 2000 also offers a 3% decline feature unlike the Pelotons. And did we mention that it folds? Make use of the ProForm SMART Pro 2000's SpaceSaver® Design with EasyLift™ Assist to reclaim your floor space with ease after every workout. It also offers double the frame warranty coverage as the Peloton models. The Pro 2000 offers 10 years of frame coverage as opposed to the Peloton's 5.
Like the other models described above, the SMART Pro 2000's running track is 22" x 60". This is an inch longer than the tread but shorter than the Tread+. It also has a much smaller touchscreen: 7" as opposed to Peloton's 32" display. But when you take into consideration that you are technically getting the model free when you pay for iFit, the ProForm SMART Pro 2000 shines much brighter. Much like the X22i, the incline and speed can be controlled by the iFit trainer or Google Maps trail's terrain. This is an immersive feature that the Peloton Tread and Tread+ do not offer. The iFit-focused ProForm SMART Pro 2000 is powerful enough for intermediate and advanced runners, and as you've got the iFit membership already covered with purchase, it will keep you motivated and challenged for years to come.
See FitRated's detailed review of the ProForm SMART Pro 2000.
SEE BEST PRICE
4. NordicTrack Commercial 2950
The Commercial 2950 is NordicTrack's top-of-the-line Commercial Series treadmill for 2020. It's been a bestselling treadmill in North America for a while now, and for good reason. Stellar highlights include a 22″ touchscreen, a high-end 4.25 CHP motor that can reach 12 mph, and power incline/decline at 15%/3% respectively. It has a 22" by 60" commercial tread belt. But it does offer more than double the motor power than the Peloton Tread+, as well as the addition of decline to mix up your workouts and target different muscle groups. We think this is a good trade off. It's the perfect partner for intense workouts such as marathon training due to its quiet and powerful motor, and its special Runners Flex™ Cushioning. This cushioning feature lets you alternate between a cushioned deck or the feel of running on the road.
Much like the X22i, the Commercial 2950's 22″ HD touchscreen lets you immerse yourself in scenic iFit workouts which can automatically adjust your incline/decline. Yes, the screen is smaller than the Peloton's and it doesn't have Bluetooth audio capabilities like them either: but iFit's automatic adjustment feature does give the 2950 the immersive training edge. What's more, you get a year's free membership to iFit with this model. It also wins over the Peloton Tread+ because it folds with an EasyLift™ Assist SpaceSaver® Design, and ups the Tread+'s 5-year frame warranty to 10 years of coverage. The NordicTrack 2950 is a great machine for most trainees. Its $2,999 price tag is not cheap, but it is certainly justified. It's a tried and tested model that has kept people hopping on their machines daily to tune in for an immersive, varied, and comfortable workout.
See FitRated's detailed review of the NordicTrack Commercial 2950.
SEE BEST PRICE
5. Bowflex BXT216
Spec for spec, the Bowflex BXT216 treadmill is a stellar model when compared to the Peloton Tread or Tread+. Interestingly, the Bowflex C6 Bike allows you to interactively train with the Peloton app. We expect that it's only a matter of time until you can train with the Peloton app on the Bowflex BXT216 treadmill too, much like the Horizon 7.8 AT. That said, the Bowflex BXT216 treadmill still zooms in on interactive training. It has Bluetooth connectivity, syncs with the Bowflex JRNY™ app, and allows you to access a variety of connected apps from your phone, tablet, or smart TV via Bluetooth. These include Bowflex JRNY, Explore the World, Under Armour Record, MyFitnessPal, Google Fit, and Apple Health. You also get a free 2-month trial of the Bowflex JRNY app so you can explore the friendly virtual coaching, fitness assessment, individualized workouts and much more.
If you were unaware that the BXT216 is actually a folding home-use treadmill, you may be led to believe that it's a light commercial model. That's because of its stellar performance specs. These include a 4.0 CHP motor, Comfort Tech™ deck cushioning system, and a durable 3-ply belt. These are all high-end features, packed into a foldable home-use machine with a modest $1,899 price tag. So that's double the motor power of the Peloton Tread +for a start. Much like the Tread+, the BXT216 has a 15% incline grade, and a top speed of 12 mph (note: the Tread and Tread+can go up to 12.5 mph). Like all the other models, the BXT216 has a 22″ x 60″ running path, which is shorter than the Tread.
Much like the Horizon 7.8 AT, the BXT216 is a "bring your own tech" machine. It only features a 9″ full color back-lit LCD display, so you'll have to connect the machine to your tablet to train interactively. That said, we love that there's a wireless heart-rate chest strap included so you can keep on top of your heart rate like the X22i, and sync your workout data to your favorite fitness app. It also beats the Peloton in terms of warranty coverage, including 15 years of coverage on the frame and drive motor, 5 years on the mechanical parts and electronics, and 2 years on the labor. Although not as high-tech as the Peloton, the Bowflex BXT216 treadmill wins in regards to the components and value. It delivers light-commercial quality at a home-use machine price point. It's a great addition to any home gym.
See FitRated's detailed review of the Bowflex BXT216.
SEE BEST PRICE
Our top 5 alternatives give the Peloton Tread and Tread+ a run for its money in regards to value, quality, durability and features. The Peloton Tread+ certainly looks like a luxury model, but when you dig below the surface, you can get all the features and more for a much cheaper price elsewhere. In fact, when it comes to key features like motor power, incline/decline range, and warranty, all our alternatives either match or go above and beyond the Pelotons. Choosing an alternative from this list depending on your unique workout needs⁠—whether that's a model with steeper incline for a lower-impact workout, or one with higher motor power for more intense training sessions⁠—will give you the same if not better interactive training experience of the Peloton models, at a fraction of the cost.
Sours: https://www.fitrated.com/best-peloton-tread-alternatives/
Peloton Tread -- is it worth it?
Indoor exercise bikes have been around forever, but it feels like Peloton turned what used to be a dull, monotonous fitness activity into something exciting. Unfortunately, Peloton also turned it into something expensive: With prices ranging from $1,895 to $2,495, these "smart bikes" cost considerably more than most "dumb" ones. And that's not even factoring in the required subscription for exercise classes, which runs $40 a month.
Let's forgo the debate over whether the bike and service are worth the money. Instead, let's look at ways to get a Peloton-like cycling experience at home for less -- quite possibly a lot less.
Read more:Best workout subscription apps for 2020: Peloton, Daily Burn and more
For starters, I've already tested a number of affordable Peloton alternatives -- "connected" bikes that have similar designs and, in some cases, similar spin-class offerings. But even then you're looking at around $900 at a minimum. Surely there must be cheaper DIY options for budget-strapped cyclists?
There are:
You can buy an inexpensive exercise bike and use it with any number of "experiential" iPad or iPhone apps -- including Peloton's (see below).
You can buy a "trainer" and use the outdoor bike you already own -- again with apps to enhance the experience.
The hardware is actually the easier part of the equation, so let's start by looking at the software.
Read more:The best smart home-gym tech
Get all the latest deals delivered to your inbox. It's FREE!
It's all about the app(s)
As you know, the Peloton bike slings all manner of live and recorded classes to its big built-in screen. But what you may not know is that Peloton also offers these classes to the masses -- those who don't own the company's equipment -- courtesy of the Peloton app. 
Available for Android, iOS, Fire TV, Roku and Chromecast, it allows you to "BYO bike" (or treadmill, just FYI), though with one key omission: You won't get all the same live stats and metrics (distance, resistance, calories burned and so on) as you would from a Peloton bike. Likewise, it may be difficult to mirror the exact resistance called out by instructors during classes; a "20" on the Peloton bike has no real correlation to a bike that uses an analog dial for resistance. You also don't get the Peloton's large screen to watch classes or keep track of your stats, but I'll cover how to replicate the experience below. 
However, you can feed heart-rate data to the app -- all you need is an inexpensive third-party heart-rate monitor. Similarly, the app can capture cadence (i.e., pedal-rate) data, which, again, can come from an inexpensive sensor. More on those options later.
Here's the real surprise: The Peloton app costs just $13 per month, not $40 like for owners of the Peloton bike. Whatever bike you end up using, your overall costs will end up much lower.
Since you're going the BYO route anyway, you don't necessarily have to use the Peloton app. Or, you can switch between that and any number of others. Maybe you're not interested in spin-type classes; maybe you'd prefer virtual rides through famous city streets or on beautiful mountain trails. Maybe you'd like to compete in virtual races. There are lots of cycling apps designed to let you do all that and more. A few examples:
There are two newcomers worth mentioning as well: Fitscope Studio ($10 a month or $80 annually) and Motosumo ($13 a month). The latter promises to "turn any bike into a smart bike," offering live indoor cycling classes with various stats (collected from a Bluetooth HR monitor and power meter) displayed on your phone. Fitscope Studio offers a wider array of classes (including elliptical, treadmill and "scenery runs"), but without the live option or stat-monitoring.
There's no law that says you have to use a cycling app at all. Maybe you'd prefer to read a book in the Kindle app or stream The Queen's Gambit on Netflix. That's about as far away from the "Peloton experience" as you can get, but it's also a very low-cost option. (Here are 10 free Netflix alternatives to keep costs even lower.)
Inexpensive indoor exercise bikes
As noted, there are exercise bikes that cost a fraction of what you'll pay for the Peloton. You won't get all the same features, and build quality might not be as good. But if your goal is simply to ride inside while enjoying instructor-led classes, that's easily accomplished.
What should you look for in an indoor bike? A few key specs: The weight of the flywheel (conventional wisdom holds that heavier is better), the type of resistance (friction or magnetic, the latter typically quieter) and the inclusion of a phone or tablet holder. This last is pretty important, as you'll need a device for whatever app(s) you plan to use. You can buy a third-party holder if the bike you like doesn't include one -- more on that below.
However, any bike in the $200-$400 range won't be "connected," meaning it won't have any way to pair with that device. If you want heart-rate and/or cadence data from your rides, you'll have to add that equipment on your own.
Search Amazon for indoor exercise bikes and you'll find a dizzying array of choices, many of them from brands you're not likely to recognize: L Now, Pooboo, Pyhigh and so on. That's not necessarily a bad thing, but it can make your decision that much more difficult.
Having perused a lot of these brands and models, I found a few that appear to tick most of the important boxes. The Pyhigh S2 Indoor Cycling Bike features a 35-pound flywheel, an LCD monitor that displays basic cycling stats and a tablet holder. It currently sells for $307, though in the past it's been as low as $220.
The S2 is also notable because it has over 1,700 user reviews, and those average out to a solid 4.4 stars. With that kind of review volume, it's less likely you're seeing a preponderance of fakes, something to consider when looking at a product that has only a couple dozen ratings. (Find out more about this in my story on how to spot fake Amazon reviews.)
If you want a bike that uses magnetic resistance, which will definitely get you a little closer to a Peloton-like ride, check out the Joroto X2 for $400. It has a 4.5-star rating from over 1,900 buyers.
Again, these are just two options out of many. You could also head to your local sporting-goods store in search of bikes you can actually try before buying.
Indoor trainers for your outdoor bike
Avid outdoor cyclists will tell you to skip these fancy (and even less fancy) exercise bikes in favor of the one you already own. You'll spend considerably less money and get a much more familiar (and realistic) riding experience.
The key piece of hardware you'll need: An indoor trainer, which typically combines a simple stationary stand for your front wheel and a roller for the back one. The trainer holds your bike upright; all you do is hop on and pedal.
These things range in price from under $100 on up to $1,000 and more, depending on design and features. One standout is the Saris CycleOps M2, a "smart" trainer that connects directly to apps like Rouvy and Zwift. Its electromagnetic roller will automatically adjust the tension to correspond with your virtual ride. (Pedaling up a hill, for example? The tension will increase.) The M2 is currently selling for $550, but has been as low as $430 in the past.
Looking for a less expensive option? For $150 (previously as low as $90), the Sportneer Bike Trainer offers a simple rear-wheel roller along with a handlebar-mounted remote that provides six resistance settings. It has a 4.4-star rating from nearly 4,000 buyers.
Just one wrinkle in this plan: Your bike probably doesn't have a place to put a tablet. You could always prop it up on a nearby table or shelf, but that'll make it harder to see and impossible to reach while riding. Thankfully, there are super-cheap tablet mounts designed for indoor bikes (ironic!) that should also work with your road bike. Here's one that costs all of $16.
Other gear you'll need
There are a couple key stats that go hand-in-hand with the Peloton experience: heart rate and cadence. Fortunately, you can track both without spending a lot, and feed that data directly to whatever app(s) you're using.
The Wahoo Cadence Sensor is a popular choice; it can mount on your shoe or, more permanently, one of your bike's crank arms. It sells for $40.
Wahoo also makes a chest-strap heart-rate monitor, the Tickr, that runs $50. However, if you don't mind going a little off-brand, you can get something like the CooSpo heart-rate monitor for $39.
Finally, although you can use your phone, a tablet with a larger screen is really the ideal option -- the better to see your instructor or virtual bike trail. One of the cheapest options: The Amazon Fire HD 10, which sells for $150 but routinely goes on sale for $30-$50 less. There's a version of the Peloton app available for Fire tablets, same as for Android and iOS tablets.
Now for the bad news: Peloton is just about the only popular cycling app that's available for Fire. No FulGaz, no iFit, no Rouvy, no Zwift. If you want to run those, you'll need an Android tablet or an iPad. Check out CNET's roundup of the best tablets of 2020 if you need some recommendations.
My advice: Be on the lookout for an iPad deal. The current-gen iPad 10.2, for example, lists for $329 but often goes on sale for $279. There aren't many Android tablets available these days, and anything with a 10-inch screen is likely to cost you more than that iPad.
Let's do the math
When all is said and done, how much will it really cost you to recreate the Peloton experience without the Peloton bike? That depends on how much equipment you might already own and how much you need to buy. But the Peloton app itself feels like the real bargain at just $13 per month. In addition to live and on-demand cycling classes, it serves up a wealth of other fitness content: cardio, HIIT, yoga, meditation, stretching and more.
At the top end, you might spend $400 on a bike, $250 on a tablet and $100 on miscellaneous extras, for a total of around $750. That's still less than half the price of a Peloton bike, and you're not locked into a $39-a-month subscription.
Now let's hear from you: What kind of home-brew Peloton setup are you planning to put together? And if you've already got one, what kind of gear does it have, and how's it working out?
Now playing:Watch this: Apple Maps vs. Google Maps cycling comparison
6:34
---
Read more:All the latest Amazon coupons
CNET's Cheapskate scours the web for great deals on tech products and much more. For the latest deals and updates, follow him on Facebook and Twitter. You can also sign up for deal texts delivered right to your phone. Find more great buys on the CNET Deals page and check out our CNET Coupons page for the latest Walmart discount codes, eBay coupons, Samsung promo codes and even more from hundreds of other online stores. Questions about the Cheapskate blog? Answers live on our FAQ page.  
The information contained in this article is for educational and informational purposes only and is not intended as health or medical advice. Always consult a physician or other qualified health provider regarding any questions you may have about a medical condition or health objectives.
Sours: https://www.cnet.com/health/fitness/diy-peloton-bike-how-to-build-your-own-smart-cycle/
Treadmill diy peloton
Even recently, already an adult, she was more embarrassed by her mother than the Doctor, so she was waiting for her outside the door. The examination never changed and was always complete, from head to toe. The thought that the Doctor was too careful palpating her breasts, and checking the hymen and measuring the temperature in the.
How I Use a Regular Treadmill with the Peloton App (Apple iOS)
It all started with an innocent party in a friendly circle. Some event was celebrated. It was a lot of fun, noisy, alcohol flowed like a river, but there was not enough snacks. With us were our close friends, a wonderful married couple, Tanya and Maxim, as well as we are not yet burdened with children.
Now discussing:
Olya, send her milk to the laboratory, and hurry them up so that they don't delay with the test results, - Vera Ivanovna and. Olga got up to meet me. They asked me for a long time about the business trip. We were sincerely happy for Vika.
1705
1706
1707
1708
1709