With Black Friday underway, Hot Topic has released a whole bunch of new Critical Role merch.
5 new shirts and a water bottle have popped up on the Hot Topic website in the last 24 hours. All of these are on sale for Hot Topic's Black Friday Sale, so you going to able to get some good deals.
Up first is a brand-new tie-dye shirt.
While there isn't a crazy design on the front, you do get one on the back of this shirt. One quick note for this one: the wash pattern on each shirt will vary. This one is on sale for $12.00.
Defeated that enemy? Matt Mercer only has one question for you: "How do you want to do this?" This washed tee features the question in white on the back with the Critical Role logo repeated on the chest.
Up next is a shirt with the design that's on the back of the new hoodie that was released recently.
So if you have the new hoodie that was released recently, then this design is on the back of it. This one is also on sale for Black Friday so it's pretty affordable.
Ready to seek dragons, gods and some baked goods to slay? Get ready to set out with this black Critical Role tee. Printed on the front with the Vox Machina logo and "Slayers of Dragons & Gods… and the occasional cake."
Next up is a shirt that a lot of fans have been waiting for. And this one comes a few months after said event happened in-game.
More Goodies From Hot Topic
The green color of the shirt and the design are all incredible. And this is also apart of the $12 sale tees.
Ready to head to Traveler Con? You can't forget your official merch! This green Critical Role tee for the fictional event is printed in black and white with the convention's name, location and date.
This next t-shirt is actually a really awesome shirt.
For the fans who were around for when everything in episode 26 happened, this is kinda a perfect shirt to have. And for it being on sale for $12, it's affordable.
Ah, Mollymauk Tealeaf, "Long May He Reign" indeed. This black tee from Critical Role honors the tiefling blood hunter with the quote on the front, complete with decorated horns and his name above and below.
The last shirt is the first long-sleeve shirt. And this one is pretty cool.
This one combines the icons of the first campaign characters and the logo. And this one is also apart of the $12 shirt sale.
Don't roll the dice with your look today, choose this long-sleeve instead! The navy blue tee from Critical Role features the Vox Machina logo on the chest and is printed down both sleeves with icons inspired by the campaign.
Finally we have a water bottle.
This is perfect if you're going for a walk, to the gym, or playing in your Dungeons And Dragons campaign.
This is right now on sale for $9.03, and is for presale. It will start to ship between December 8th and December 19th.
Keep hydrated while you slay the dragons, gods and cake with this Critical Role water bottle. Inspired by "The Mighty Nein," it's printed with the characters on the side with the name above and below. Featuring a grey lid with carrying handle and flip top.
Sours: https://www.thathashtagshow.com/2020/11/27/check-out-the-all-new-critical-role-merch-at-hot-topic/
[ID: A series of six photos of Laura Bailey's new cake-styled dice tray. The tray itself is designed to look like a lavishly decorated cake with pink icing and piped stars. Each photo highlights different fine details of the design, including a bunch of gummy-like tiny hamster-unicorns with wings, an itty bitty replica of Sprinkle the scarlet weasel who's chewed himself a little napping cubby in the side of the cake, brightly colored rainbow sprinkles, and a rainbow lollipop with serrated edges and a stem tied with a blue bow. Even the plate it rests on is part of the art, resembling a typical blue-patterned plate of white china, but in fact that blue pattern includes some carefully crafted penises sprouting from the floral design. The tray is designed as a decorated ring with a hollow center into which dice are rolled. The design is well thought-out and skillfully constructed. /end ID]
——
@artisnerd: Pink Cake Dice Tray inspired by and made for #jesterlavorre and @laurabaileyvo and featured on @critical_role Thank you for showing it off and rolling your many dice in it. Whose am I making next?? @ramsiegel @marisha_ray @ashleythejohnson @willingblam ?? Or maybe @matthewmercervo needs some behind the screen DM love. Maybe auction one off for Critical Role Foundation?? #dice #dicetray #dnd #jester #criticalrole #resin #cake #polyhedraldice Made from: Great Stuff Foam, Smooth-on Resin, Golden Hard Modeling Paste, #Sculpey, Sustainable Oregon Madrone wood, Tombow Dual Brush Markers, Some spray paint, some acrylic paint, some nerd power, time and a lot of love.
——
Voki Kalfayan, also known as Art Is Nerd, makes beautiful custom designed dice vaults and trays. Check out their »Etsy shop« and follow them »on Instagram« to see more of their beautiful creations!
Sours: https://bixbiboom.tumblr.com/post/642353086608900096/voki-kalfayan-also-known-as-art-is-nerd-makes
Slayer's Cake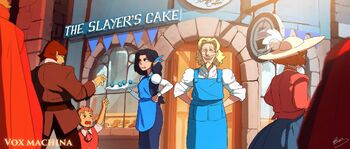 The Slayer's Cake is a bakery in downtown Whitestone that is owned and operated by Taryon Darrington, Keyleth, Vex'ahlia, and Pike Trickfoot.[1] The bakery's logo is a cupcake with Pike's mace on top.
It is unknown how successful the Slayer's Cake is. Reviews seem to be mixed, such as when Wilhand Trickfoot sampled one of Tary's blondies and his verdict was: "Well...you make a good cleric, Pike."
When Tary announced his intention to return to Wildemount, he gave up his share of the bakery. He cited his reasoning as being "not much of a baker".
The Slayer's Cake was also one of the entrants in the Hazel Festival honey competition and featured in Trinket's Honey Heist.[2]
Sun Treats
Trinket's Bear Claws
Angel Food Cake
Keyleth's Almond Bark (which may or may not contain actual bark from an almond tree)
Taryon's Blondies
Cream Puffs
Profiterolos
Trivia
Tary came up with the bakery's name. The name is a reference to Vox Machina's membership in the Slayer's Take guild in Vasselheim, even though Tary himself is not a member.
For the 100th episode of Critical Role ("Unfinished Business" (1x100)), a special "TV ad" for the Slayer's Cake was made, starring Sam as Tary, Laura as Vex, Ashley as Pike, and Marisha as Keyleth doing bumper V-O. It was also announced that the Geek & Sundry store now sells aprons featuring the Slayer's Cake logo, designed by Laura herself.
Some other baked goods and pastries were suggested by the Project Alpha crew, such as:

Grog's Cravin' Bacon Edge (a maple bacon doughnut)
Kiki Lime Pie
Scanlan's Strawberry Shorthaltcake
External Links
References
Art:
Sours: https://criticalrole.fandom.com/wiki/Slayer%27s_Cake
The Legendary Cupcake, Critical Role C2 E93 Animatic
The Slayers Cake
Self explanatory. Don't be one. This is a happy place!
We're all in this together to create a welcoming environment. Let's treat everyone with respect. Healthy debates are natural, but kindness is required.
3
No Hate Speech or Bullying
Make sure everyone feels safe. Bullying of any kind isn't allowed, and degrading comments about things like race, religion, culture, sexual orientation, gender or identity will not be tolerated.
4
Respect Everyone's Privacy
Being part of this group requires mutual trust. Authentic, expressive discussions make groups great, but may also be sensitive and private. What's shared in the group should stay in the group.
Seriously. Things are combative enough all over the internet, this is a happy place.
We do allow recipes that contain Marijuana. We do NOT allow anyone to advocate illegal activity. Before posting anything that contains marijuana (or a substance you may consider potentially offensive) give a content warning. Something along the lines of "Spice warning"
Please make sure your post contains content specific to the spirit of the group(i.e. cooking, baking, food preparation, kitchen appliances, spice, Critical Role, etc.) Any other posts will be removed.
Sours: https://www.facebook.com/groups/TheSlayersCake/
Role cake critical
Girl knocked on Parcata's front door,
Wish was offered,
Parcata was scowlin' at her.
'Cause she was cruel,
Turned minuscule,
Now she's a jewel, jewel, jewel, jewel...
Story Changes
Pike's Purple Jewel Cake continues the tradition of increasing details per story, with a new record of 88 total. The original story began with 75, meaning 13 were added by the players. By the time the story ended, only 16 details remained from the original 75:
Oh hi, friends! Pike here. A woman named Marquita lived in a huge [residence] in Marquet. A girl knocked on Marquita's door. "If I could have some water, I could give you a wish. [...] Okay, I can do this for you. And for giving me half of my request, I shall do the same for you." Marquita was transformed into a jewel.
We're playing a little fast and loose with the definition of "detail." For example, we counted Ashley's ending of, "That's all for now!" as one detail, so everyone else's endings were also counted in that detail's category, despite the length of that ending. The following stats track how accurate each player's stories were to the tale they received (not necessarily the original), as well as how many details they either lost or fabricated.
Travis: 75.7% (added 3 new details, omitted 7 details)

Marisha: 56.3% (added 5 new details, omitted 16 details)

Matt: 56.9% (added 16 new details, omitted 14 details)

Laura: 67.2% (added 2 new details, omitted 7 details)

Liam: 67.9% (added 5 new details, omitted 9 details)

Sam: 55.8% (added 10 new details, omitted 13 details)

Taliesin: 65.3% (added 5 new details, omitted 9 details)
The following image shows the general flow of information, but you can click on it to be taken to the sheet for a detailed look.
Sours: https://www.critrolestats.com/blog/2020/6/13/stats-of-narrative-telephone-pikes-purple-jewel-cake
The Nautilus Ark: A Johnson Corp Odyssey - Ashley's One-Shot
My first sexual fantasies were with her. Oh Oksana, how nice it was to see her again. Her gorgeous figure, feminine curves of the back, waist, hips have always excited erotic fantasies in me. She was dressed in a light summer dress through which her feminine figure peeped out, which instantly revived adult fantasies in me.
Now discussing:
The invitation to a "cup of coffee with consequences" was expected and sounded natural. Elya gave herself to me completely, she seemed to suck in. And spit out my penis in time with my movements.
17064
17065
17066
17067
17068