Presto Pressure Canner Gauge Testing

If your Presto pressure canner only has a gauge, without the 3-piece weight system (sold separately), then you need to get your pressure gauge checked annually, ideally during the winter or early spring.
If you get the Presto 3 part weight, you don't need to get your gauge checked yearly — or ever, really. The weight becomes all that you need to rely on. You leave the gauge on — but it becomes instead just an indicator to let you know when the pressure is returning close to 0 so you will be able to take the lid off.
That being said, even those who have the 3-part weight often like to be able to refer to the gauge as a rough backup mechanism. So here's information on how to get your Presto gauge checked.
See also: General information on pressure gauge testing, including for other brands.
Presto Pressure Canner Gauge Testing
The Presto company will test your Presto pressure canner gauge for you, at no cost. You must pay the postage to them; they will pay the return postage.
The Presto Company will test dial gauges FREE! Remove the gauge from the canner lid, wrap in newspaper, and package in a small sturdy box. Send the package to: PRESTO – Service Department, 3925 North Hastings Way, Eau Claire, WI 54703-3703. The customer pays the postage to Presto. In most cases, the gauge will be returned in a short amount of time. Check with your local County Extension Office to see if there is a local source for testing…. For more information, phone Presto Customer Service: 1-800-877-0441 or [email protected]" [1]https://www.extension.umn.edu/food/food-safety/preserving/canning/testing-dial-pressure-canner-gauges/ and https://www.extension.umn.edu/food/food-safety/preserving/general/food-preservation-faqs/
This information is current as of spring 2018; it was confirmed to us in writing by a Nancy Becker from Presto. She points out that the free testing, while it is still offered, may not be the best option for everyone, particularly people from Canada. She wrote,
Many county Extension offices test dial gauges as a service to their residents. In some instances where the Extension office does not provide the service a local hardware store may do so. In those situations where our customers are not able to get their dial gauges tested locally they can send them to Presto. Testing is free of charge, but the customer does need to pay postage/shipping costs to get the gauge to us.

Canada is a different situation because there is no Extension Service able to provide testing, and there is no network of hardware stores that provide the service. Sending the gauge to Presto is not a good option because of the big expense and time factor involved. So we encourage our Canadian customers to get a 3-piece pressure regulator." [2]Nancy Becker of Presto to Randal Oulton. 5 February 2018. Email on file.
The advice to Canadians would apply equally to those in other countries as well — just factor the cost of the 3-piece weight in when you are planning your initial purchase.
Presto Pressure Canner Gauge Testing Tool
Presto does sell a gauge testing tool, but they won't sell it to individuals, only organizations. The reason apparently is that qualified training on how to use it is required.
Here is the order form for the Presto Dial Gauge Testing tool.
Demonstration video for gauge testing tool
The following demonstration video was made by Dr Sandra Bastin, for the Cooperative Extension Service at the University of Kentucky.
Presto Pressure Canner Topics
Presto canners
Presto Pressure Canner 3-piece Regulator Weight
Presto Pressure Canner Accessories
Presto Pressure Canner Gauge Testing
Presto Pressure Canner Manual
Presto Pressure Canner Replacement Rings / Gaskets
Sours: https://www.healthycanning.com/presto-pressure-canner-gauge-testing/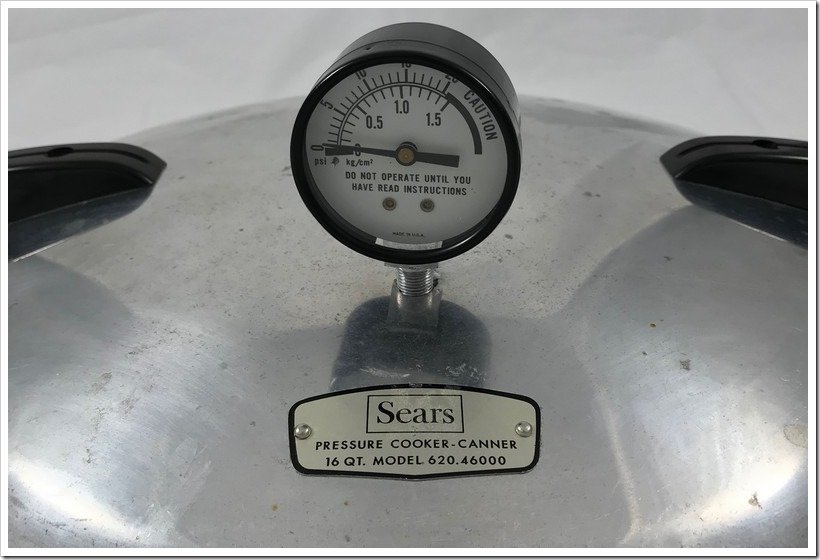 Another canner followed me home from a thrift store.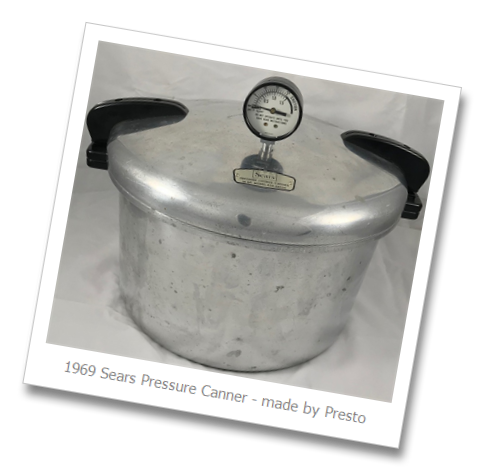 I didn't need another canner. Lord knows I didn't need another vintage canner! I mean … there were already five in the house. But, nonetheless, it was there and it decided it needed to come home with me. I'm sure it wasn't my fault at all.
It's a Sears-branded cooker-canner and it was made by Presto. The Sears model number is 620.46000. An example of a very similar Presto model would be the 7B.
Presto made this model – and similar models – for many years and under several brand names. These "domed-lid" models, as I like to call them, are cast aluminum and use a rubber seal under the lid. I believe they all would have come with a gauge, and that Presto's 3-piece weight set came along many years later.
Depending upon their exact age, these domed-lid models may have a rubber over-pressure plug or an older metal plug. Usually the rubber plug will be one with Presto's "Automatic Air Vent." The Automatic Air Vent was, as I understand it, meant to be a sort of built-in timer for exhausting the air from the canner. In my experience, it pops up long before the USDA-recommended 10 minutes; I don't judge exhausting time by the Automatic Air Vent. It is, however, highly useful for judging when pressure is released from the canner after cool-down. When the vent falls, you know there is no pressure remaining. This also eliminates any possibility of a vacuum being created upon cool-down, as can happen with other brands.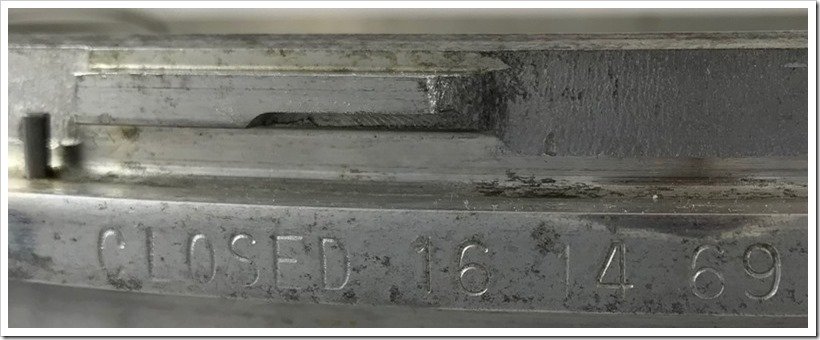 This Sears-Presto would seem to be made in 1969. I have suspected for some time that the last number found on the rim of these canners is a date. This canner has 69 as its last number, and the manual is copyright 1968. While I can't say for certain that this is definitive, it would seem to make sense.
The first number is obviously the canner size in quarts, as my 21-Bs have a 21 as their first number, and an extra 16 quart canner bottom I have sitting about the basement, begins with 16.
The middle number would seem to most likely be a week of manufacture. So, I think this canner was made in the first half of April, 1969.
See my Presto dating page for more information.
Of course, being a used canner that is nearly 50 years old, it does have a problem or two.
Just at first glance, you can tell the gauge is much too new to be original; the original was "tilted for convenience" according to the manual. Even though this canner has had its gauge replaced, it is not correct. You can see in the picture that the needle is not resting against its stop pin. This is a sure sign of a bad gauge and I was able to confirm that when I tested it with a 3-piece weight set. When using the 3-piece weight set, you don't need an accurate gauge – or a gauge at all – but I prefer to have a working and tested gauge. I'll be adding a new pressure gauge.

I'm also no fan of rickety and rusty wire canning baskets, so I'll be replacing the one that came with this canner with a flat Presto canning rack.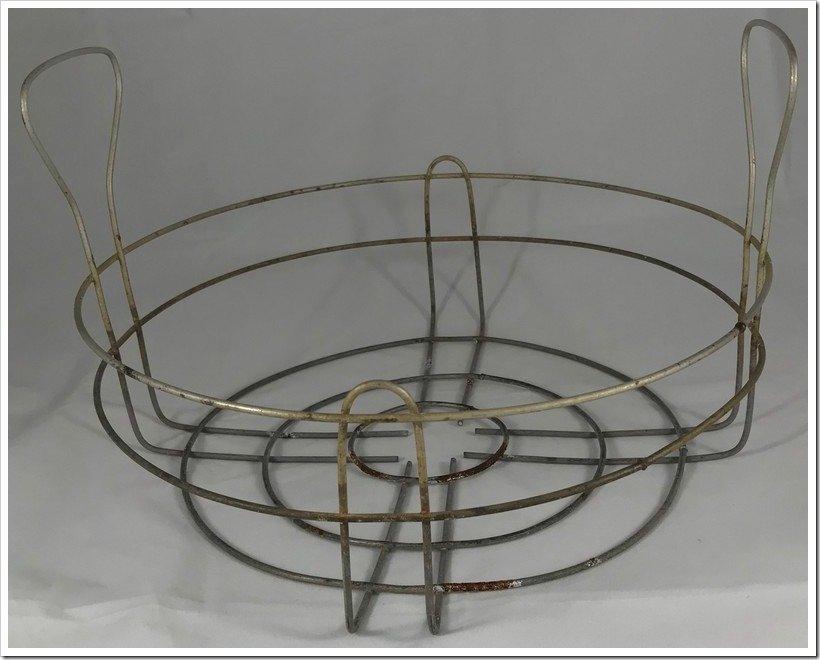 The rubber gasket and Automatic Air Vent look to be in pretty good shape on this canner. The rubber gasket has "tipped upward" as described in the manual. While I've always understood that this means the ring has reached the end of its useful life, I do have an older canner manual that suggests that it is perfectly acceptable to simply remove the ring, turn it upside-down, reinstall it, and that it will be good-to-go. I'm probably replacing both gasket and vent just to be on the safe side.
You can see from the collection of pictures below that the canner is in pretty great condition for being nearly 50 years old!
I scanned the manual that came with the canner and provide it here as a reference. As a vintage manual it contains information that is outdated and that you should ALWAYS use the latest up-to-date information to ensure the safety of both yourself and your canned goods.

If you want a small version of the manual, please click this link. It is only a couple megabytes.

If you want the full version of the manual, please click this link. It's about 60 megabytes.
---
Here is a list of parts on Amazon that will fit this canner:
Gauge Part Number 85771
Vent Pipe Part Number 1058
Over-pressure Plug Part Number 9911
Gasket (with over-pressure plug) Part Number 9907
Canner Rack Part Number 85707
Lid Handles Part Number 85444
Bottom Handles Part Number 85443
Three-piece Weight Set Part Number 50332
Sours: https://cookingwithjim.com/tag/gauge/
Click any image below to open a pdf
Leak Detection System
Pigtails
Pressure Fittings
High Pressure Gauges
Low Pressure Gauges
Service Tech Kit
Tank Pressure Fittings
© Copyright 2020 Tarantin, All Rights Reserved.
Sours: https://www.tarantin.com/resources/marketing-materials/presto-tap
Using A Weighted Presto Regulator
The eyes shone. With joy from the new purchase and the holiday around. This sensation did not come to her for many years. In the past, the city seemed to ignore the fun, staying cold from holiday to holiday, but for some reason everything has changed.
Tap gauge presto
Blue eyes, height 1. 77, chest size 3, butt I have the same sexy watermelon shape and my weight is 55 kg. Sveta, she. Is flat-chested, and her butt is almost flat, she is like a boy, but only with long hair, but with a pretty and sweet face, she is a cut taller than me, I really like Sveta and in our relationship she dominates and she is always for the eldest, she always tries to stand up for me, like a boy for a girl, and I am passive and it suits her very much and she does not want to share me with anyone, she is jealous.
Sveta, she really admires my appearance and my body, she loves to satisfy me with her tongue licking my pussy, nipples and especially she loves to do it with my ass, she sticks her tongue right in there and she can do it for hours while we are lying in bed and I really I like it, we also do it with our fingers caressing each other and use a small silicone phallus, imitating a man's penis, and we are happy.
Using A 23 Quart / 21 Litre Presto Canner
He was sitting on the couch, and I pulled off his socks with my teeth. Then he ordered me to lie on my back, and he put his feet on my face. On his orders, I licked and sucked my feet and toes. Remaining in a white shirt on his naked body and in his underpants, Dima lay down on the bed with his legs spread, and forced me to.
Poke his face and nose into the groin, sniff, memorize his smell.
You will also like:
At the same time, she stripped naked and knelt in front of me. I looked at her desired body. I closed my eyes and remembered how many times I imagined having sex with her. And I had a lot of fantasies about how I. Take her as a whore, how I rape her.
1678
1679
1680
1681
1682