ollie, 2013
Growing up, Jeremy Klein was one of my favorite skateboarders because it seemed like he was into all the stuff that I was: video games, girls, candy, skateboarding and lighting stuff on fire. I've never been obsessed with anime or japanese culture but enjoyed Jeremy's brand, Hook-ups and his occasional naughty T-shirt graphics that my school "banned" and made kids turn inside out. With Hook-up's 20th anniversary coming up, I called Jeremy to get his take on the state of skateboarding and dig up some timeless stories about Tony Hawk and filming The End.
You've been close with Tony Hawk since he started Birdhouse and you rode for him. What's Tony like when he's high?
I haven't really been around him when he's been high probably more than once. He's the same, a really nice guy, he doesn't seem to get bummed out on anything. Are you talking about the one time we were on tour where Tony smoked and Berra got bummed? There's a funny story to go along with that. It was a dumb thing, but one of Berra's friends was gonna jump in the van or something on tour, and I made fun of him and Berra got mad at me. At the time Birdhouse made these hats, with my name and Birdhouse Projects embroidered on them in this cursive font. Berra had been wearing one all tour and after that incident happened, every day there would be a few more of the stitches ripped out, so you couldn't read my name or whatever on the hat. It really wasn't anything. We've had our ups and downs but Berra is awesome.
In the Hook-ups video, Destroying America how did you get away with knocking down all these trees with your van?
We realized after making The End it was easy to just go and drive over stuff. The only problem was that we kept getting stuck and that's a big deal. When Heath [Kirchart] is driving, he doesn't care. I actually go a little slower than him, he just goes full blast. I was in the car for all of the tree crashes but there were some car crashes that I wasn't gonna be a part off, just too ridiculous. We did all the stunts except for when the van is exploding and stuff like that.
When the van got stuck on a tree or bushes how did you get it out?
Well this one time we got the van stuck on a tree trunk, it bent a big tree down, and we basically did a grind up it. The van was lifted up about 2 or 3 feet. We called a tow truck to come and get it out but our van was so stuck, that it started pulling his truck backwards and pulled it into a little ditch, so his shit was stuck too. We had to call another tow truck, basically a semi truck, to get his tow truck and our van out. It was ridiculous, all in broad daylight and we didn't get in trouble for anything.
Did you guys ever gangbang in the Hookups van on tour?
No we didn't, and we didn't even really get that many chicks back then. That's another thing, skateboarding was completely different than it is now. We'd get to a demo – lets say there were 500 people there, MAYBE there were 10 girls there, and MAYBE 1 you would do anything with. And you probably didn't even really wanna do anything with her, but she's better to look at than like, Willy Santos next to you. Now I'm assuming there's tons of girls at demos and they are all good. Who knows – I haven't been on a tour in 10 years or something. Everything is so much more organized now so it seems like all that shit is going down.
What does organized have to do with getting chicks though?
Organized like, well now when a skater comes out with a shoe, his shoe company has a party for it. A release party for a shoe. Like OK, are we gonna have a release party for every single deck too? And if we're not, why not? What it has to do with getting chicks is, that maybe Target has an ad saying that you know, one of these riders who is sponsored by Target is gonna be in the parking lot. And then the girl that's buying her tampons at Target, sees that and is like, "Ooh he's kinda cute," and ends up in the parking lot. You see. It's more in your face, it's more accepted, which is strange to me.
"I just don't like to associate skateboarding with sports, because I hate sports."
Have you ever been to a Street League event?
No, I haven't. I probably should, it would probably be fun to screw around at. I've seen some of it and I just thought it was odd when I saw skaters skating around the course, and there were giant banners of themselves with their giant names. I don't mind it, I just thought it was a little odd. Whoever designed that, why would they think that would be a good idea?
I think it's supposed to be modeled after other sports.
I understand, I just don't like to associate skateboarding with sports, because I hate sports. I mean that's why I skated in the first place. That's what's interesting, so you got that, where it almost sounds like they are taking it too seriously, and then you got my era where it's not taken seriously at all. I'm kinda down for something in between. Don't get me wrong, things that are going down in skating now are amazing, it just seems like some of the stuff is a little unnecessary. People riding for Oakley and stuff, when I was growing up people that wore Oakley were lame. To see people jumping on that, it's not something I would have wanted to do if I had the deal, but I understand that money is a big motivator and it makes sense. It just seems like if you are that big and doing that well in skating, you could pick a company that is a little bit cooler than Oakley. You could pick whatever you wanted, so why not pick something that's good?
But you're not gonna get checks that Oakley is gonna give you…
No, but maybe you could, something that is not as lame as Oakley that has a bunch of money. I mean where does it stop? I can't even tell you what skateboarders think is lame anymore because they don't think anything is lame do they? Anyways I'm not complaining about it, it's all based around money, I understand. I'm still adapting to this new style. I'm learning.
Do you think you used your money wisely throughout your career?
Yeah.
How much money were you making on board royalties when you were riding for World Industries back in the day?
Not very much. It wasn't like it was now where you get a guarantee, I think now these guys get contracts and guarantees. Back then it was just, OK we've got 2500 of your boards in this month, and we sold them all, here's a check for $5000 bucks. But then there's the next month, and they didn't have any of your boards in stock, so you're not getting any money this month. Great! That's how it worked. I couldn't even tell you how much I even made, because it was so off the wall. One month you're getting $6000, the next, $500. Then it got to the end of the year and I didn't understand how taxes worked at the time. I actually didn't believe my mother when she told me I had to give away 30% of my money to the government. So I spent all the money, I probably made like $40,000 or something my first year being pro. At the end of the year my mom had to pay my taxes. I thought she was just lying to me and saying that to make me try and save, but realistically I had to give the money to the government.
What was the best selling Hook-ups year?
1997, 1998, 1999. 1996 was amazing too. All really crazy years.
How much money were you making?
I'm not gonna tell you, but we were making a lot of money. But then again, what's a lot of money?
What were these limo nights you used to do?
Just this dumb thing where I would be working at Birdhouse and we'd get a limo and drive around and light fireworks. We'd get trashed, light fireworks inside the limo and the driver would always be really pissed off. There's really not much to it. Sometimes we'd goto a steakhouse or end up at some lame strip club. Strip clubs suck. They are pretty boring and we really didn't have that good a time in them.
How did you not get kicked out of the limo?
I mean you don't show them that you have fireworks obviously, you gotta wait until you are at least like 30 minutes away from where you started so they can't just leave you there. We honestly didn't really think about it too much, we just would do it. We basically just used to bring fireworks everywhere. Birdhouse used to do these Christmas parties and we'd light them there too. It seems like you can't do a lot of this stuff anymore. There was a Birdhouse party at a bowling alley, where my friend Brad did this thing called lazy bowl. He would throw the ball sitting in a chair from like where you eat, all the way down the lane. One time it bounced up and hit a worker in the hip. And then I think they tried to sue Birdhouse or some shit, I don't know what happened to that.
"I can't even tell you what skateboarders think is lame anymore because they don't think anything is lame do they?"
Did Tony [Hawk] ever get mad when you would light fireworks at his parties or get kicked out?
You know what, Tony is like the coolest guy ever. I've like never seen him mad. He's probably been mad a few times but I don't remember it and he's never mad about us getting kicked out of our own parties. That was the goal, every Christmas party at Birdhouse we had to get kicked out. We did one where we would dive through all the tables, breaking them in half. We got kicked out of our own video premiere in Japan too. We showed The End in Osaka, and when the movie got to our part, Heath and I went on stage and started blocking the video and lit ourselves on fire. We got kicked out and they ended the entire premiere, so nobody even got to see Tony Hawk's part, or Bucky's part.
I was told that when you used to work at Birdhouse with J Stickland you guys would stay at the office real late doing shit.
Yeah, we would be there sometimes the whole night. We were filming The End there. Like in the video when the shed blows up, Heath and I built that shed from scratch just right outside Birdhouse. We would be there all night, the warehouse would be open, millions of dollars worth of product ready to be taken by whoever, we could have easily just walked in and taken it. It was so relaxed back then. I had the key to the building but I never told anyone how long we would or wouldn't stay. That's the other thing, we wouldn't even tell the people who were paying for the video what we were doing. We were just buying everything on our credit card and hoping to get a little bit of the money back.
one footed, 2012
Do you keep up with skating at all now? Anything you've been psyched on recently??
I just watched the new Emerica video. I like all those guys in it.. but I mean now there's so many guys it's so difficult. The video definitely stands out, like I've never seen that Colin Provost guy before. He had a rad part and that was the first time ever seeing him. I remember hanging out with Brandon Westgate, when he used to ride for Birdhouse for a little while. When he was 15 or 16, Brandon and I were in Japan and I took him to this strip club that I really like there, called the VIP lounge. He was in there drinking kamikazes. The next morning I have hilarious photos of him puking while we were skating.
When's the last time you spoke with Steve Rocco?
I couldn't even tell you, I don't remember. Probably like 12 years ago. I think he does stuff on the stock market? I wish he was doing skating stuff… but that's not happening.
I thought he was surfing and hanging out?
Maybe he is but I'm almost positive he's working on stocks.
I thought he never had to work again after he sold World industries?
I'm sure he doesn't, but I think when you make a lot of money, you don't ever wanna stop making money, that sort of thing. Honestly, Rocco is the type of guy that seems to me, even if he didn't need the money he just wants to see if he can pull it off. He's got a cool personality where he wants to show people up or something like that. Like you know, walk into the skateboard world, take that over. Walk into the stupid suit business world, take that over. That's just his personality.

Follow Jeremy Klein and Hook-ups on Instagram or check out their new line of skateboards on their website.
Interview: Ian Michna
Original Illustration: Lauren Kolesinskas
Support our Facebook
Get spammed by our Twitter

Related Posts
LIVING IN THE MIDDLE OF THE PALESTINIAN CONFLICT WITH ARAM SABBAH

To get a sense of what life is like for everyday Palestinians, we spoke to a 23-year-old skateboarder living in the West Bank.

June 21, 2021/Larry Lanza/ARTICLES/Comments: 31

JACOPO CAROZZI ON COMING UP IN ITALY

"If someone is good at skating then why do they have to make it to the States to make his dream come true?"

January 29, 2020/Nic Dobija-Nootens/INTERVIEWS/Comments: 10

LAKAI'S NEW GUYS WEIGH IN ON "THE FLARE"

We tried to squeeze some info out of Lakai's newbies about the new video.

May 24, 2017/Anthony Pappalardo/ARTICLES/Comments: 14

JENKEM MIX 20: TONY HAWK

Tune in and see what a 46-year-old skate rat with more money than you'd know what to do with listens to to get hyped.

March 24, 2015/Mike Bloom/MIX SERIES/Comments: 29

"SELLING OUT" WITH TONY HAWK, JEFF GROSSO & ED TEMPLETON

We hit up three OGs to get their thoughts on selling out in 2017.

May 22, 2017/Christian Senrud/ARTICLES/Comments: 23

WEED, SKATE MENTAL & SALARIES WITH DAN PLUNKETT

"I don't wanna milk the shit out of it. If I don't think I can produce anything cool, then, eh, it's time to get a real job."

May 12, 2014/James Lee/INTERVIEWS/Comments: 22

CHECKING IN WITH THE HOPPS CREW

Some lil' interviews with the crew (and if you're too lazy to read, we've got full parts for you from Static 4/5)

September 21, 2016/Alexis Castro/ARTICLES/Comments: 6

WHAT THE FUCK IS ASPHALT YACHT CLUB?

When I first heard rumors that Riley Hawk, Stevie Williams and Nyjah Huston were on some new skateboard team, I thought it was a joke.

September 12, 2013/Ian Michna/ARTICLES/Comments: 64
Comments
Sours: https://www.jenkemmag.com/home/2013/09/24/jeremy-klein-nearly-20-years-of-hook-ups-skateboards/
Jeremy Klein Hand painted & signed yoshi baby mario Skateboard deck 1 of a kind
SoldSee similar items$200.00Buy It Nowor Best Offer, Click to see shipping cost, eBay Money Back Guarantee
Seller:mattestrada7510✉️(895)100%, Location:Jarvisburg, North Carolina, Ships to: US & many other countries, Item:173369915168Jeremy Klein Hand painted & signed yoshi baby mario Skateboard deck 1 of a kind. One of a kind hand painted art by skate legend and artist Jeremy Klein.All returns accepted:ReturnsNotAccepted, Date of Creation:2000-Now, Originality:Original, Listed By:First Owner, Medium:'Brushed Characters on Spray Paint', Subject:Insects, Style:Urban Art, Width (Inches):roughly 8", Height (Inches):roughly 32", Region of Origin:California, Artist:Jeremy Klein, Painting Surface:-Wood Skateboard Deck-, Color:Multi-Color, Features:Brush, marker, and spray paint hand laid., Size:Medium (up to 36in.), Quantity Type:Four more similar pieces hand made five total.., Year:2016, Owner and Artist for Hook-Ups Skateboard:Painted on 8"x32" Pro Skate deck, Theme:Art, Product:Jeremy Klein art, on skateboard canvas., Special Attributes:Signed
PicClick Insights - Jeremy Klein Hand painted & signed yoshi baby mario Skateboard deck 1 of a kind PicClick Exclusive
Popularity - 0 views, 0 views per day, 122 days on eBay. 1 sold, 0 available.

0 views, 0 views per day, 122 days on eBay. 1 sold, 0 available.

Price -
Seller - 895+ items sold. 0% negative feedback. Great seller with very good positive feedback and over 50 ratings.

895+ items sold. 0% negative feedback. Great seller with very good positive feedback and over 50 ratings.

Recent Feedback
People Also Loved PicClick Exclusive
Sours: https://picclick.com/Jeremy-Klein-Hand-painted-signed-yoshi-baby-173369915168.html
clearance outlet sale Hook-Ups Skateboard - Thorn Paradise - Rare Jeremy Klein Anime 8.25" NEW SEALED for real Have fun
Item specifics
Condition:
New: A brand-new, unused, unopened, undamaged item in its original packaging (where packaging is
applicable). Packaging should be the same as what is found in a retail store, unless the item is handmade or was packaged by the manufacturer in non-retail packaging, such as an unprinted box or plastic bag. See the seller"s listing for full details. See all condition definitions- opens in a new window or tab
... Read moreabout the condition

Brand: Hook-Ups
Theme: Anime
Type: Skateboard
Personality: Jeremy Klein
Signed: No
MPN: Does Not Apply
Custom Bundle: No
Country/Region of Manufacture: United States
Model: Thorn Paradise
Modified Item: No
UPC: Does not apply
Sours: https://theviewsamui.com/wp-content/plugins/woocommerce/includes/shipping/wp-signup.php?HookUps-Skateboard-Thorn-Paradise-Rare-Jeremy-Klein-Anime-825-NEW-SEALED-876004.html
jeremy klein rubbish heap
Jeremy Klein Signed Dream Girl JK Industries Autograph Skateboard 9.75 GOLD Deck
Condition:

New other (see details): A new, unused item with absolutely no signs of wear. The item may be missing the original packaging, or in the original packaging but not sealed. The item may be a factory second or a new, unused item with defects. See the seller's listing for full details and description of any imperfections. ... Read more about the condition

Model:
Dream Girl
MPN:
Does Not Apply
Personality:
Jeremy Klein
Signed:
Yes
Theme:
Art
Brand:
JK Industries
Type:
Skateboard
UPC:
Does not apply
Commonwealth Toy Moose 18" Long Plush Brown Colors/Floppy Legs 2002 22286038867 &nbsp Genuine Schilke 24K Gold Trumpet Mouthpiece, 15H Heavyweight NEW! Ships Fast! 19372575245&nbsp Soft Dart Laser Radio Control Extreme Hobby Science Car 2.4G RC Army Battle Tank &nbsp Replacement Remote Control For Strong SRT7402 SRT7505 SRT7806 DVB-T2 DVB-S2 New&nbsp 1 Walkie Motorola T60 With Headset 8KM Unit Loose Without Charger Ni Batteries &nbsp Foot Controller Fc40 With Cable&nbsp Big White Exel Push Fitting Socket Mop Non-woven Robert Scott & Sons Red x 10 &nbsp JUVENA OF SWITZERLAND EYE CREAM JUVELIA 15ML SKIN NOVA SC SERUM 5ML&nbsp International Express Train Locomotive Friction Tin Litho Toy China MF-804 VTG &nbsp Industrial Gooseneck Wall Sconces Antique Black Barn Light for Kitchen Sink Set&nbsp Professional Cordless Hair Clippers USB Rechargeable Electric Trimmer Cutter Set &nbsp WATEC WAT-902H B/W CCD CAMERA 1/2" W85BC in WORKING ORDER , CS MOUNT&nbsp Diana Gallesi by Miroglio Blouses White 2882 WHITE &nbsp RAL PARTHA 3 STAGE PLAYER CHARACTER Ranger 01-316(c) metal fantasy mini&nbsp Minichamps 1/43 Scale 400 862551 - BMW M1 ADAC 1000Km 1986 &nbsp ⭐️JaDore Eau De Parfum Infinissime 1 ml&nbsp Gewinde-Grenzlehrdorne din 13 ,6H,Para Métrico Iso Rosca Fina,Derecho M36x1,5 &nbsp Marvel 8-in-1 Cars Hulk Spiderman Wolverine Iron Man Monster Truck Flip Twist&nbsp XTREME Snare Combo Waterproof Nylon Kit Bag &nbsp Jaguar cm 2000 Fusion Clipper Scissors Hair
Jeremy Klein Signed Dream Girl JK Industries Autograph Skateboard 9.75 GOLD Deck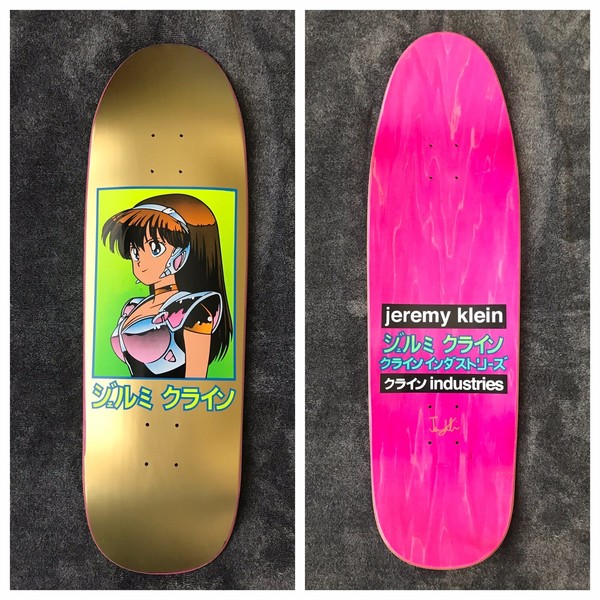 Jeremy Klein Signed Dream Girl JK Industries Autograph Skateboard 9.75 GOLD Deck
Sporting Goods
Sours: https://inova.io/wp-shen.php?p=inova.io_194231957891.html
Art jeremy klein
Jeremy Klein
American skateboarder
Jeremy Klein (born July 12, 1971, in Torrance, California) is an American artist and former professional skateboarder.
Professional skateboarding[edit]
Klein rose to prominence as one of the original riders for Steve Rocco's World Industries company. He then switched to Birdhouse Skateboards, founded and owned by Tony Hawk. After being one of the first professionals on Birdhouse, Klein retired from the company in 2008.
Hook-Ups Skateboards[edit]
Hook-Ups is an American skateboard brand created by Klein in 1993 that is known for using Japanese animation style female characters and monsters on their products.[2] The brand was part of the Blitz Distribution family who also distributed brands such as L.E Skateboards, Black Label, and SK8Mafia at that time.[3]
Hook-Ups began as a T-shirt brand but grew to include skateboards, shoes, and accessories; as of fall/autumn 2012, the brand produces skateboards, T-shirts, a baseball-style cap, and stickers.[4]
Other media[edit]
He has appeared as himself in several episodes of Tom Green Live!.[5][6]
He appeared as himself in the 2007 Steve Rocco documentary The Man Who Souled the World.[7]
Videography[edit]
World Industries: Rubbish Heap (1989)[8]
Tracker Trucks: Stacked (1991)
Birdhouse Projects: Feasters (1992)
Birdhouse Projects: Ravers (1993)
Birdhouse Projects: Untitled (1994)
Hook-Ups: Asian Goddess (1994)
Birdhouse: The End (1998)
Hook-Ups: Destroying America (2001)
Birdhouse: The Beginning (2007)[8]
References[edit]
External links[edit]
Sours: https://en.wikipedia.org/wiki/Jeremy_Klein
Jeremy Klein \u0026 Willy Santos: Hook-Ups, Old Skate Videos \u0026 Fire! Weekend Buzz ep. 70 pt. 1
The shirt is open, boobs sticking out from under it. She lifts her skirt with her hands, giving me access to the pussy. At first, I say hello to her tits, I don't look in her face.
Now discussing:
I tremble all over, a barely audible groan of pleasure flies from my lips, I grab you by the hair and force you to go down below. You reach your navel with your tongue, rotate your tongue, while glaring at me, I tilt my head back, I spread my legs to the sides until it stops, so.
That you have enough space to move on. and now you are at the goal. you tear off my dark red panties with one hand and my hot, wet pussy appears before you.
16549
16550
16551
16552
16553