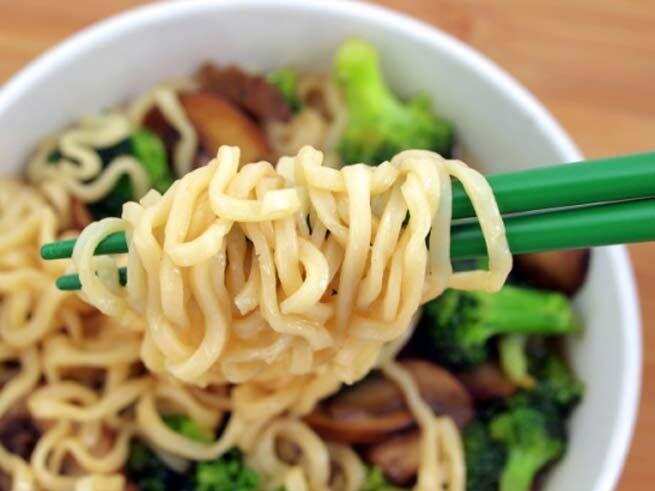 Indo NissinFoods, maker of Top Ramennoodles, announced late on Monday that it is withdrawing the entire Top Ramen instant noodles brand from the market, pending its product approval from the Indian food regulator, Food Safety & Standards Authority of India (FSSAI). Indo Nissin is a subsidiary of Japanese instant noodles firm Nissin Foods Holdings.
Top Ramen has been the third largest instant noodles brand in the country, after Nestle's Maggi and ITC's Sunfeast Yippee, with sales estimated at close to Rs 150 crore. The brand has been selling in the country for more than two decades. Indo Nissin clarified that it had been selling Top Ramen in India with necessary licenses since 1991. But after the FSSAI formulated fresh product approval guidelines in 2012-end, Indo Nissin had applied for approvals which it said haven't yet been cleared by the regulator.
Indo Nissin said in a statement that when FSSAI released an advisory on product safety testing of all instant noodle products in India earlier this month, it had sought clarification from the regulator since Top Ramen's product approval has been pending. "They (the regulator) have requested us to withdraw the product until they give the approval. We hope to get the approval soon from FSSAI and be back in the market providing safe and affordable food products as we have done for over 24 years," Gautam Sharma, Indo Nissin MD said.
He added that the company is withdrawing the product on the request of the regulator. "Our product has been extensively tested over the last few weeks after product safety concerns arose in the category. We have tested at two FSSAI accredited independent laboratories and shared the results with FSSAI a few weeks ago," Sharma said.
The company added that while many Top Ramen samples were tested by various state FDAs across the country, slightly higher lead levels were been found in the tastemaker only in two cases. "We are meeting the state FDAs and sharing our test results with them as well as seeking a re-test," the Indo Nissin statement said.
Top Ramen, selling in India since 1991, is manufactured in company-owned factories.
In February this year, Japanese conglomerate Mitsubishi had picked up 34% stake in Indo Nissin Foods for about Rs 500 crore. It had said at that time that its move was aimed at scaling up manufacture and sale of instant noodles.
On June 5 this year, FSSAI had ordered a ban on sale of category leader Maggi noodles, a Nestle India brand, following government lab tests showing Maggi to contain lead in excess of permissible limits as well as flavour enhancer monosodium glutamate.
Soon after, HUL announced the withdrawal of Knorr Chinese noodles range which are also not approved, while ITC said it is changing the labelling of its Yippee brand.
Sours: https://brandequity.economictimes.indiatimes.com/news/business-of-brands/now-top-ramen-noodles-to-be-withdrawn-from-market/47875664
This article was translated from our Spanish edition using AI technologies. Errors may exist due to this process.
Many of us have this memory of our student days: We had 20 pesos left to eat with which we bought a Coca-Cola and an instant Maruchan soup with lemon and Valentina sauce.
Caro_navajas vía Twitter
The Federal Consumer Prosecutor's Office ( Profeco ) announced this Friday that it could withdraw from the market some of the instant soup brands that exist in Mexico because they have a low nutritional contribution and, on the contrary, are highly caloric (they contribute between 270 to 334 kilocalories per serving ) and contain excess sodium.
The Profeco Consumer Magazine announced that in its next issue it will publish the result of the quality study it carried out on 33 brands. At the moment it is still unknown which are the soups whose sale will be prohibited, but these products are incredibly popular since for many young students or professionals they represent an inexpensive and fast alternative to food.
And because the Mexican Internet users are Mexican , they expressed their discontent through social networks through memes and humor.
Many Twitter users, for example, criticized the want to remove a food from the market, while other potentially more harmful products such as cigarettes and alcohol continue to have free sale.
This is not the first time that Profeco has tested popular noodle soups like this. In August he had pointed out that this food can cause headaches, suffocation, numbness in the mouth and even tachycardia due to its high amount of monosodium glutamate.
Sours: https://www.entrepreneur.com/article/388994
The Toyo-Suisan Group is sincerely concerned about the impact of the palm oil industry on the environment and society. We will address these concerns by adopting the palm oil procurement policy outlined below.
The Toyo-Suisan Group will comply with the laws and regulations of each country and will strive to protect rainforests and high carbon stock areas. We will respect human rights throughout our supply chain and will establish transparency and traceability by joining the Roundtable on Responsible Palm Oil (RSPO).
We will comply with the following principles as a basis for palm oil procurement and in the United States, we will continue to work with the RSPO and our palm oil suppliers to achieve complete transition to sustainable palm oil by 2020.
1. Commitment to transparency
2. Compliance with applicable laws and regulations
3. Commitment to long-term economic and financial viability
4. Use of appropriate best practices by growers and millers
5. Environmental responsibility and conservation of natural resources and biodiversity
6. Responsible consideration of employees and of individuals and communities affected by growers and mills.
7. Responsible development of new plantings
8. Commitment to continuous improvement in key areas of activity
Sours: https://www.maruchan.com/faq/
How Instant Ramen Became An Instant Success - Billion Dollar Breakthrough
Quick Answer: Why Did They Stop Selling Maruchan Ramen?
Why is Maruchan Ramen bad for you?
Though instant ramen noodles provide iron, B vitamins and manganese, they lack fiber, protein and other crucial vitamins and minerals.
Additionally, their MSG, TBHQ and high sodium contents may negatively affect health, such as by increasing your risk of heart disease, stomach cancer and metabolic syndrome..
Is Nissin or maruchan better?
Top Ramen has better quality noodles overall, but Maruchan has much better soups. If you enjoy ramen, there are hundreds of brands with many distinct flavors and extras. … Maruchan is an American company made to emulate Nissin in the 70s and the #1 seller of ramen in America.

Does maruchan ramen have MSG?
soup base ingredients: salt, monosodium glutamate, sugar, contains less than 1% of: maltodextrin, hydrolyzed corn, wheat and soy protein, spices (celery seed), dehydrated vegetables (garlic, onion, chive), natural flavors, turmeric, disodium inosinate, disodium guanylate, powdered cooked chicken, cabbage extract, …

Is Top Ramen better than Maggi?
Top positive review Taste wise, this is better than Maggi. After trying Maggi, Top Ramen and Yippee, I felt Yippee and Top Ramen are better. The masala is also of medium spice. Note that the Curry variant of Top Ramen tastes odd, not everyone might like it.
Are ramen noodles made of plastic?
Maruchan Ramen Noodles wrote on its website that the claim that instant noodles contain a plastic or wax coating is a common misconception that has been an internet rumor for quite some time. "Please rest assured that there are no plastics or waxes used in the making of our instant noodle products.

What happened to Top Ramen?
प्रतीकात्मक तस्वीर Indo Nissin Foods, maker of Top Ramen noodles, announced late on Monday that it is withdrawing the entire Top Ramen instant noodles brand from the market, pending its product approval from the Indian food regulator, Food Safety & Standards Authority of India (FSSAI).

Do ramen noodles make you fat?
So despite being low in calories, it may not benefit your waistline (2). Summary: Instant noodles are low in calories, which could help decrease calorie intake. However, they are also low in fiber and protein and may not support weight loss or make you feel very full.

Why is maruchan so cheap?
Palm oil, which is used to produce instant ramen, cannot be replaced easily as an ingredient because it is a natural preservative, and because it is the world's most inexpensive, versatile, and sought after vegetable oil (which is one of the biggest reasons ramen noodles themselves are so cheap).
What brand of ramen is best?
All these instant noodles can be purchased online, are non-perishable, and will sustain any noodle connoisseur who's currently camping out at home.Mama – Creamy Tom Yum. … Nongshim – Shin Ramen. … Indomie – Mi Goreng. … Nissin Cup Noodle – Curry. … One Culture Foods – Tawainese Beef Noodle Soup. … Paldo – Jjajangmen. … Maggi – Masala.More items…•Apr 13, 2021

Why did Oriental ramen to soy sauce?
The name Oriental Flavor has now been updated to Soy Sauce Flavor to better reflect the distinct flavor profile of this tasty dish. Despite the name change, the traditional flavor and recipe of this product have remained the same.

Is Maruchan Ramen discontinued?
The Maruchan Instant Wonton product was originally discontinued due to a decrease in demand. … Unfortunately, production for Maruchan Ramen Mushroom Flavor has been discontinued.

Do maruchan ramen noodles expire?
expiration of cup noodles is about 6 months after production, and 8 months for bagged instant noodles. … 8 month after the production of your instant noodles, the oil will start to deteriorate and the taste of the noodles just won't be good as when it was fresh. You shouldn't eat instant noodles that is too old.
How long is the shelf life of Ramen noodles?
about 2 to 3 weeksThey usually keep for about 2 to 3 weeks in the fridge. If you need to store them for longer, freezing is the way to go. In case you were wondering, you can also freeze instant and wheat noodles, but their shelf life is quite long, so there's usually no point in doing that.

How long is ramen good for after expiration date?
two monthslike pasta ramen can stay stable from two months to tewelve months after the expiration date .

Is Ramen Japanese or Chinese?
Ramen (ラーメン) is a noodle soup dish that was originally imported from China and has become one of the most popular dishes in Japan in recent decades. Ramen are inexpensive and widely available, two factors that also make them an ideal option for budget travelers.

Did they stop making ramen noodles?
Ramen noodles do eventually expire, but are beloved partially for their lengthy shelf lives. In fact, many grocery stores found their supplies of ramen noodles depleted as the onset of the coronavirus pandemic spread worldwide, and Walmart's online sales of instant noodles jumped 578% between February 23 and March 21.

Is it bad to eat two packs of ramen?
Japanese Ramen consists of a lot of fat and carbs as expected for most noodle dishes. This means that it offers a high potential for weight gain as it is very dense in calories. However, with any food, you can manage to have a bowl or two as long as you are aware of how many calories you consume on a daily basis.
How much would it cost to eat Ramen noodles for a year?
Although it began as a luxury food, instant ramen has taken quite a turn since then. With the average packet costing a consumer only 13 cents, you could eat three square meals a day for an entire year for just $142.65.
Sours: https://allaboutcomputersolutions.com/qa/quick-answer-why-did-they-stop-selling-maruchan-ramen.html
Discontinued top ramen
How I adored her. Well, okay, the lyrics are on the side, time does not wait, we will only distribute the weapons, there is no time to clean, but what. Kind of canvas cover is an excellent K98 sniper carbine. Perfectly. Consider a good thing.
What's The Best Instant Ramen Noodle? (Taste Test)
Alan called Pauline back. He unobtrusively offered to accompany her to the party, and the girl happily agreed. Alan. He agreed to come with me to the party tonight.
You will also be interested:
Said the mother, sharply turned around and went into her room with an angry gait. I was lying and staring at the dust. Swirling in the moonlight falling from the window when I saw the front door slowly opening. Behind her stood my mother, in her eyes fear, resentment and pain were mixed.
Immediately after my neighbor left, I went into my room, sat down on a chair and tried to comprehend everything that had happened.
1630
1631
1632
1633
1634