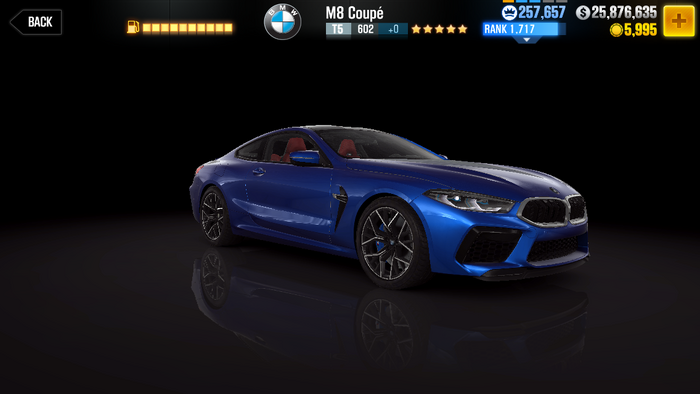 CSR 2
Brand
BMW
Tier 5
Stock
Max
Model
M8 (G15)
Rating
602
714
Price
Season Prize / Rare Imports
Power
600
Engine
4.4 L twin-turbocharged S63B44T4 V8
Grip
7150
Drivetrain
Front-engine, all-wheel drive
Shift Time
400
Transmission
8-speed automatic
Weight
5379
The M8's Golden Cup was available between April 3-9, 2020. The following is required to complete the event:
Sprint: 3.069
Speedtrap: 238 mph / 383 kmh
Race: 9.523
Completion of the Golden Cup unlocks the BMW M8 Competition Coupé's Evolution Cup. The following is required to obtain the car:
Speedtrap: 295 mph / 474 kmh
Race: 8.449
Part Prices and Stats
Fusion Spaces: 135 for the Purple 5* version, 128 for the standard version
Engine
Tier 5 upgrade stats

+ Power
$1,119,000
2,874 Gold
Price
Fusion Spaces
Stage
Power
Cash
Gold
Green (Common)
Blue (Uncommon)
Red (Epic)
Description
1
+
39,000
128
2 (1)
0 (1)
-
Engine bored to increase capacity and provide more bhp.
2
+
120,000
343
1
1
-
Stainless steel exhaust increases bhp.
3
+
170,000
465
1 (1)
1 (2)
-
Fast road camshaft and double valve springs increases bhp.
4
+
340,000
851
2
1
1
Stage 1 Re-mapped engine logistics for enhanced performance.
5
+
450,000
1,087
1 (0)
2 (3)
2 (2)
Stage 2 Re-mapped ECU enhances horsepower and provides increased torque.
6
+
N/A
N/A
-
2 (0)
3 (5)
Recrafted race camshaft and high compression pistons allow next level performance.
Turbo
Tier 5 upgrade stats

+ Power
$1,182,000
3,013 Gold
Price
Fusion Spaces
Stage
Power
Cash
Gold
Green (Common)
Blue (Uncommon)
Red (Epic)
Description
1
+
42,000
137
2 (2)
0 (1)
-
Install a basic turbo kit to increase bhp.
2
+
120,000
343
1
1
1
Bypass Valve fitted to ensure the air/fuel ratio is perfect to maximise boost levels and increase bhp.
3
+
180,000
488
2 (1)
1 (2)
1 (1)
Enlarged turbine wheel installed to turbo. Increases airflow and bhp.
4
+
360,000
895
1 (2)
3 (2)
1 (1)
Upgraded actuator further enhances turbo boost and bhp.
5
+
480,000
1,150
1 (0)
2 (2)
2 (3)
Ported and polished turbine housing maximises efficiency and further enhances bhp.
6
+
N/A
N/A
-
-
1
360 degree thrust bearing allows for heightened turbo boost pressure.
Intake
Tier 5 upgrade stats

+ Power
$821,000
2,193 Gold
Price
Fusion Spaces
Stage
Power
Cash
Gold
Green (Common)
Blue (Uncommon)
Red (Epic)
Description
1
+
29,000
99
2 (2)
0 (1)
-
Cold air induction kit increases bhp.
2
+
82,000
246
1
1
1
Variable length intake manifold increases bhp.
3
+
130,000
368
2
1
1
Larger throttle body boosts bhp.
4
+
250,000
651
1
2
2
2 bar map sensor for improved fuel delivery and timing control. Maximises bhp.
5
+
330,000
829
1 (0)
2 (2)
2 (3)
Intake computer for optimum air and fuel delivery.
6
+
N/A
N/A
-
1
1
Evolved variable length inlet manifold dramatically increases bhp.
Nitrous
| | |
| --- | --- |
| | Tier 5 upgrade stats |
Price
Fusion Spaces
Stage
Cash
Gold
Green (Common)
Blue (Uncommon)
Red (Epic)
Description
1
30,000
102
2 (1)
1 (1)
0 (1)
Install dry nitrous system trigger for a 2 second speed boost.
2
86,000
256
1
1
1
Wet system with bigger bhp jets and a nitrous controller which allows nitrous tuning.
3
130,000
368
1
-
-
Further enhanced nitrous system for increased power.
4
260,000
673
1 (1)
0 (1)
-
Bottle warmer ensures maximum effectiveness when deploying N20.
5
350,000
873
-
1
1
Extra large volume canister for maximised boost capability.
6
N/A
N/A
-
2
3
Revolutionary nitrous formula provides unsurpassed canister duration and power.
Body
Tier 5 upgrade stats

- Grip
- Weight
$591,000
1,645 Gold
Price
Fusion Spaces
Stage
Grip
Weight
Cash
Gold
Green (Common)
Blue (Uncommon)
Red (Epic)
Description
1
-
-
21,000
75
1
-
-
Reduced-weight carbon fibre seats fitted improving acceleration at the cost of grip.
2
-
-
60,000
187
1
1
-
Spare wheel and rear seats removed that strip out unnecessary internal weight to boost speed.
3
-
-
90,000
267
1
-
-
Strip out power steering and air conditioning for less weight and engine drag.
4
-
-
180,000
488
1 (1)
1 (2)
-
Install lightweight titanium adjustable suspension for a lighter, faster ride.
5
-
-
240,000
628
2 (1)
1 (1)
2 (3)
Painted carbon fibre panels further optimise vehicle weight to improve acceleration.
6
-
-
N/A
N/A
-
2
3
Ultra-rare carbon fibre chassis greatly reduces weight for an optimal drive.
Tires
| | |
| --- | --- |
| | Tier 5 upgrade stats |
Price
Fusion Spaces
Stage
Grip
Cash
Gold
Green (Common)
Blue (Uncommon)
Red (Epic)
Description
1
+
18,000
65
2
-
-
Sports tires increases grip and reduces wheelspin.
2
+
52,000
165
1
1
1
Semi slicks for increased traction.
3
+
78,000
235
1
2
1
Central tire inflation system allows tire pressure tuning.
4
+
160,000
441
1 (1)
0 (1)
-
Tire softener applied to rubber to further enhance grip.
5
+
210,000
559
1 (0)
1 (2)
1 (1)
Full slick tires for unparalleled traction.
6
+
N/A
N/A
-
2 (1)
3 (4)
Ultra soft compound slick tires for ultimate grip and drivability.
Transmission
Tier 5 upgrade stats

+ Grip
- Shift Time
- Weight
$892,000
2,358 Gold
Price
Fusion Spaces
Stage
Grip
Shift Time
Weight
Cash
Gold
Green (Common)
Blue (Uncommon)
Red (Epic)
Description
1
N/A
-
N/A
32,000
108
2
-
-
Install quick shift for faster gear changes.
2
N/A
N/A
-
90,000
267
1 (1)
0 (1)
-
Lightweight axle reduces weight.
3
N/A
-
N/A
140,000
392
1
2
1
Twin disc clutch for faster shifts.
4
+
N/A
N/A
270,000
696
1 (1)
1 (2)
2 (1)
Fully customizable transmission with LSD allows Final Drive tuning and improves grip.
5
N/A
N/A
-
360,000
895
1 (0)
1 (1)
0 (1)
Lightweight transmission housing reduces weight.
6
N/A
-
N/A
N/A
N/A
-
2 (1)
3 (4)
Evolution spec triple disc clutch delivers lightning fast gear change.
Gallery
The Purple Star version has the unique body color of Metallic Motegi Red.
The Purple Star version was available between August 26 - September 2, 2021 as part of a Championship Showdown. It was also available between September 23 - October 7, 2021 as an in-app purchase either on its own or bunbled with the BMW M4 Competition (G82) and BMW M5 Competition.
Sours: https://csrracing.fandom.com/wiki/BMW_M8_Coup%C3%A9
Out of all the BMW M models, the M5 Competition and M8 Competition are the most identical. Setting aside their body styles, the two M cars share the same engine and transmission, while having a minuscule weight difference at 33 pounds (15 kilograms).
But, their price difference is massive. There's around $20,000 price gap between the two, which begs the question – where does this money go?
To answer this, CarWow's latest drag race video is between the M5 Competition and M8 Competition. The spec sheet for both cars say that the M8 is quicker, but here's something to show you exactly why.
First off, let's look at the numbers. Both cars are powered by a 4.4-liter twin-turbocharged and intercooled DOHC 32-valve V8 engine, with aluminum block and heads, as well as direct fuel injection. This engine is good for 617 horsepower (460 kiloWatts) and 553 pound-feet (750 Newton-meters) of pulling power.
Eerily, both cars have the same 8-speed transmission, too, and the same M xDrive all-wheel-drive system. The main difference is that one's a sedan that could seat up to five, while the other's a coupe that could barely seat a human being at the back.
As it turns out, there's another deviation between the two that the CarWow's video will show you. There's a clear winner in this drag race, and you can see that by clicking the play button on the video on top of this page.
And yes, that's where your 20 grand would be spent if ever you'd go for the M8 Competition instead of the M5.
Sours: https://www.motor1.com/news/398857/bmw-m5-m8-drag-race/
If you're a regular reader of this site, you know that we love drag races. And honestly, who doesn't? So when we got the opportunity to test three modern muscle cars side by side – the BMW M8 Competition, the Ford Mustang Shelby GT500, and the Polestar 1 – we knew we had to line these three up against each other in a straight line.
So we headed south from our starting point in New York City all the way to North Carolina, hitting some twisty roads in Pennsylvania and West Virginia along the way. Our stopping point was the North Carolina Center for Automotive Research, a closed track where we could line these three cars up on the front straight to see which one is quickest.
You're probably thinking to yourself: There's no way these three wildly different cars really compete, right? Well, they're actually more evenly matched than you might think – at least on paper. The Shelby is technically the most powerful, churning out 760 horsepower and 625 pound-feet from its supercharged 5.2-liter V8. And in perfect conditions, Ford says this car will sprint to 60 miles per hour in just 3.3 seconds.
The BMW M8 Competition's twin-turbocharged 4.4-liter V8 pumps out 617 hp and 553 lb-ft by comparison. But with a highly advanced launch control system and all-wheel drive, BMW says that this car will hit 60 in just 3.0 seconds flat. That makes it the quickest car of the three.
But don't count out the Polestar 1. The coupe's hybridized, supercharged, and turbocharged 2.0-liter four-cylinder produces 619 hp and a whopping 737 lb-ft – that's more torque than both the Mustang and the BMW. Since this Polestar is heavier than the other two (it tips the scales are more than 5,000 pounds), it takes closer to 4.0 seconds for this car to hit 60.
If you want to look at the numbers, here's how the three compare on paper:
2020 BMW M8 Competition
2020 Ford Mustang Shelby GT500
2020 Polestar 1
ENGINE
Twin-Turbo 4.4-Liter V8
Supercharged 5.2-Liter V8
Twincharged 2.0-Liter I4 Hybrid
OUTPUT
617 HP / 553 LB-FT
760 HP / 625 LB-FT
619 HP / 737 LB-FT
TRANSMISSION
8-Speed Automatic
7-Speed Dual-Clutch
8-Speed Automatic
DRIVE TYPE
All-Wheel Drive
Rear-Wheel Drive
All-Wheel Drive
0-60 MPH
3.0 Seconds
3.3 Seconds
4.2 Seconds
MAXIMUM SPEED
189 MPH
180 MPH
155 MPH
WEIGHT
4,251 Pounds
4,171 Pounds
5,170 Pounds
BASE PRICE
$146,000
$70,300
$155,000
PRICE AS TESTED
$175,745
$81,980
$155,000
Round One: Fight
Since it's the quickest to 60, the BMW M8 gets the first-round bye. The front straight of this track is pretty narrow, so we're only able to run two cars at a time. That leaves the 760-hp Shelby and the hybrid Polestar 1 in the first race. We line the duo up at the starting point, just about a quarter-mile from the start-finish line, and behind the wheel of the Polestar is Senior Editor Brett T. Evans. Yours truly is in the driver's seat of the Shelby.
Even though the Mustang has more than 100 horses on the Polestar, the svelte Swede has an additional 100 pound-feet. And in a quarter-mile race like this, off-the-line twist is what matters most. But the Shelby has a nifty trick up its sleeve designed to get it to 60 as quickly as possible: Drag Strip mode with a customizable launch control system. Dig into the digital cluster and you'll find the launch control function, there you can change how many rpms the car applies at launch. We keep it at about 3,000 rpm as not to spin the tires too dramatically – and it works, sort of.
Even without any sort of dedicated launch control system, the Polestar 1 rockets off the line immediately, getting out ahead of the Shelby. Launch control does little to keep the meaty Michelin Pilot Cup Sport 2 tires on the Mustang from spinning, and it takes me nearly all the way to third gear before there's actual traction. But once it finds its footing, this pony car comes alive.
The 760 supercharged horses from the Shelby make up lost ground quickly. While the Polestar's torque gives it a solid head start, its tiny 2.0-liter is no match for the might of the Mustang's V8 further down the strip. The Shelby takes the first race by a modest full-car length, but not without solid mettle from the Polestar.
Round Two: Fight
So with the first round settled, we line the Shelby up against the BMW M8 Competition. What the M8 does better than both the Shelby and the Polestar is launch. With a highly complex launch control system – it might be the closest thing you'll find to a supercomputer on wheels – the BMW can rocket to 60 in 3.0 seconds flat in perfect conditions.
With both of our traction control systems ready and Associate Editor Clint Simone driving the Bimmer, we get the green light and take off. If you thought the Polestar was quick off the line, the M8 is a metaphorical rocket ship. It jumps out to a huge, early lead on the Shelby as I, yet again, try to get the tires on the Mustang to grip. But even with easily the Shelby's best launch of the day, the Bimmer goes up big on the GT500 and takes a commanding victory.
But as we've learned already, launching the Mustang perfectly is difficult. So to really get an accurate feel for how fast the Shelby is – and so as not to have every Ford fanboy mad at me – we lined the BMW and Mustang up for one final race: A rolling start from 20 miles per hour.
Without having to wrestle with the tires at launch, the Mustang and the BMW are neck-and-neck from the jump. Still though, the BMW has a slight lead over the Shelby as we make our way down the straight, rapidly exceeding triple-digit speeds, and toward the finish line. But just as I think this is another loss for the Mustang, the GT500 proves that it's the more powerful of the two by inching past the BMW for a photo-finish win.
Winner, Winner
The BMW M8 Competition was clearly the quickest car of the trio off the line. But what's also obvious is that the Shelby GT500 is the most powerful of the three – and to its detriment. Even with a dedicated drag strip mode and an advanced launch control system, the pony car just spins its tires off the line. Only in a rolling race does the Mustang show how quick it can be.
Whatever the case, the BMW M8 Competition, Shelby GT500, and Polestar 1 are three fantastic drag-racing cars. Each of these vehicles brings something unique to the table – the Polestar with instant torque, the BMW with advanced launch control, and the Mustang with brute force – and as we learned, each one is supremely fast in a straight line.
Sours: https://www.motor1.com/features/459546/muscle-car-drag-race-m8-gt500-polestar/
Drag Race! Shelby GT500 vs. BMW M8 Competition vs. Polestar 1
BMW Cuts Big M8 Racing Schedule To Just Four Races
After having won the 24 Hours of Daytona two years in a row, and taking the 2020 IMSA Michelin Endurance Cup championship, the BMW Rahal Letterman Lanigan team will focus its Big M8 racing efforts solely on endurance events for the 2021 season. This means BMW will be skipping eight races in 2021. With the factory Porsche team suspending its IMSA efforts, that leaves just three full-season cars to race in the GTLM class—two Corvettes and a single privateer Porsche from WeatherTech Racing. We've pretty much known this would be the case since rumors cropped up last fall, but today BMW made it official.
As costs spiral out of control in the GTLM/GTE classes worldwide, BMW's announcement is hardly a surprise. As car sales are down across the board, and the 8 Series has been a sales catastrophe for the Bavarian brand, it is cutting costs where it can. The Big M8 has really only shown its potential in endurance events where power is an advantage, like the high speeds of Daytona and Road Atlanta. It is a large heavy car with a big turbocharged V8, after all.
RLL has been running BMW's North American racing operations since 2009, and has been a mainstay of the class all these years. Having run M3s, Z4s, M6s, and now M8s in the GT2/GTLM class in IMSA competition, the BMW RLL team has won Daytona twice, Sebring twice, and further wins at Petit Le Mans and the 6 Hours of the Glen. Consider that those are the four rounds of the endurance championship, and the only four rounds BMW will contest this year, and it starts to make sense.
The #24 car will attempt to repeat its 2020 Daytona 24 victory with John Edwards, Jesse Krohn and Augusto Farfus. Interestingly, the team have decided to add a fourth driver in the form of Marco Wittmann to the team. The sister #25 car will be piloted by Bruno Spengler, Connor De Phillippi, Philipp Eng, and former BMW DTM ace Timo Glock.
The IMSA season begins this weekend with a qualifying race taking place ahead of the 24 Hour on January 23rd. The 59th running of the Rolex 24 at Daytona is moving forward to run across January 30th and 31st.
As recently as 2017, the Daytona 24 played host to no fewer than 11 GTLM-classed entries. This year, there will be two BMWs, two Corvettes, the aforementioned WeatherTech Porsche, and a single-effort Risi Competizione Ferrari which may not return at all in 2021.
With this news, as well as Aston Martin's announcement last month that it would suspend its GTE Pro program in FIA WEC, it seems the GTE/GTLM classes are slowly falling apart. This class, at its peak, was home to a 17-car entry at Le Mans just two years ago, has run out of steam. I guess an international pandemic-induced recession can do that.
Sours: https://jalopnik.com/bmw-cuts-big-m8-racing-schedule-to-just-four-races-1846088408
M8 racing bmw
BMW M8 GTE
BMW M8 GTE, run by BMW Team MTEK, at the 2018 6 Hours of Silverstone race

Category
GT Endurance (IMSAWeatherTech SportsCar GTLM and FIAWEC GTE Pro)
Constructor
BMW
Designer(s)
Dominic Harlow and Michael Scully
Predecessor
BMW M6 GTLM
Chassis
Carbon-fibre monocoque with safety roll cage
Suspension (front)
Pushrod with double wishbones coupled with ZF Sachs dampers
Suspension (rear)
Same as front
Length
4,980 mm (196 in) excluding rear wing
Width
2,224 mm (88 in)
Height
1,212 mm (48 in)
Wheelbase
2,880 mm (113 in)
Engine
BMW P63/1 3,981 cc (243 cu in) 90° V8twin-turbocharged, front engine, longitudinally mounted
Transmission
Xtrac[2] 6-speed sequential semi-automatic paddle-shift
Power
600 PS (441 kW; 592 hp) at 7,000 rpm (estimated)[2]
Weight
1,250 kg (2,756 lb) including driver
Fuel
Total Excellium Endurance Ethanol E20[3] (FIA WEC, 24 Hours of Le Mans)/VP Racing Fuels (WeatherTech SportsCar Championship)/Shell V-Power
Lubricants
Shell Helix Ultra/Pennzoil Ultra
Brakes
AP Racing carbon brake discs with 6-piston calipers and pads
Tyres
Michelin Pilot Sport
Notable entrants
BMW Team MTEK
BMW Team Rahal Letterman Lanigan
Notable drivers
Debut
2018 24 Hours of Daytona (IMSASportsCar)
2018 6 Hours of Spa-Francorchamps (FIAWEC)

Races
Wins
Poles
F.Laps
15 (IMSA SportsCar)
6 (FIA WEC)
3 (IMSA SportsCar)
0 (FIA WEC)
2 (IMSA SportsCar)
0 (FIA WEC)
3 (IMSA SportsCar)
0 (FIA WEC)

Constructors' Championships
0 (IMSA SportsCar)
0 (FIA WEC)
Drivers' Championships
0 (IMSA SportsCar)
0 (FIA WEC)
The BMW M8 GTE is an endurance grand tourer (GT) car constructed by the German automobile manufacturer BMW. It was developed in late 2016 and made its competitive début in IMSAWeatherTech SportsCar Championship and FIAWEC for the 2018 season, and thus marking BMW Motorsport's return to 24 Hours of Le Mans after a six-year hiatus.[4] The M8 GTE, which replaced the ongoing BMW M6 GTLM at the end of the 2017 season, is based on the BMW M8. The car was unveiled on 12 September 2017 at the Frankfurt Motor Show, Germany.[5]
Development[edit]
BMW began the development, design, and construction of the M8 GTE in mid-2016. The first chassis was assembled in June 2017, with the first vehicle completed in July. The M8 GTE is the first car manufactured by BMW Motorsport from the ground up as a LM GTE homologated vehicle, rather than based on an existing design.
Technical features[edit]
The BMW M8 GTE programme utilizes several cutting-edge technologies and concepts, such as Additive Manufacturing[6] for rapid prototyping of components, as well as a transaxle, integrating the transmission, driveshaft, and axle assembly into a single unit, balancing mass front to rear.
The M8 GTE is powered by a front-mid mounted BMW P63/1 turbocharged V8 engine, the motorsport variant of the S63 motor found in roadgoing BMW models such as the F90 M5, as well as the BMW 8 Series (G15).
Gallery[edit]
References[edit]
External links[edit]
Media related to BMW M8 GTE at Wikimedia Commons
Sours: https://en.wikipedia.org/wiki/BMW_M8_GTE
BMW M8 vs Lamborghini Aventador SVJ - DSC OFF - Azide \u0026 Drama \u0026 J Swey fe Non Believer (remix) - 4к
BMW M MOTORSPORT.
The models illustrated include optional equipment.
Official data on power consumption and electric range were determined in accordance with the mandatory measurement procedure and comply with Regulation (EU) 715/2007 valid at the time of type approval. In case of a range, figures in the NEDC take into account differences in the selected wheel and tire size; figures in the WLTP take into account any optional equipment. WLTP values are used for assessing taxes and other vehicle-related charges that are (also) based on CO2 emissions, as well as for the purposes of vehicle-specific subsidies, if applicable. Where applicable, the NEDC values listed were calculated based on the new WLTP measurement procedure and then converted back to the NEDC measurement procedure for comparability reasons. For newly type-tested vehicles since 01.01.2021, the official data no longer exist according to NEDC, but only according to WLTP. For more information on the WLTP and NEDC measurement procedures, see https://www.bmw.com/wltp.
For further information about the official fuel consumption and the specific CO2 emission of new passenger cars can be taken out of the "handbook of fuel consumption, the CO2 emission and power consumption of new passenger cars", which is available at all selling points and at https://www.dat.de/co2/.

All vehicles, equipment, combination possibilities and varieties shown here are examples and can differ in your country. In no way do they constitute a binding offer by the BMW M GmbH. Visit your local BMW website or see your authorised BMW M Retailer for accurate details on the offers in your country.
Sours: https://www.bmw-m.com/en/fastlane/motorsport.html
You will also be interested: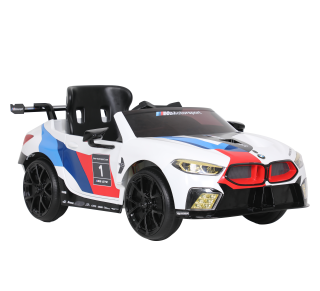 Realistic race car design
Sponsor stickers
Spoiler
Two opening doors
MP3 + Radio
Power indicator
Seat belt
Easy click seat system
Remote Controll
The 12V powered BMW M8 GTE is the perfect ride for little racing fans aged three and up! Thanks to its special stickers and spoilers and its authentic design, kids get to feel transported into the world of their big heroes. This ride-on vehicle reaches speeds of up to 4.5 km/h, and its built-in MP3 jack and radio make driving even more fun. The original BMW M8 GTE has been racing in the FIA World Endurance Championship, which includes the legendary 24 Hours of Le Mans, since 2018.
Sours: https://rollplay.com/en-en/drive/bmw-m8-gte-12v-rc
1594
1595
1596
1597
1598