How to make a wooden planter
A wooden planter is a great way of creating a bed to grow plants and vegetables in if you are short of space.
Your wooden planter can be adapted to fit any corner, depending on your needs. And, as it's made of pressure-treated timber it can be stained in any colour and won't rot.
You can make a wooden planter in a day, using treated timber. Simply work out how big an area you need, cut the wood to size and follow our steps to putting the planter together. Make sure your wooden planter has drainage holes, so plants don't become waterlogged. However, if positioning your planter in full sun, you may consider lining the inside of the planter with pieces of old compost bag, to keep the compost moist and reduce the need for regular watering.
More on garden planters and raised beds:
Follow our simple steps to creating a wooden planter, below.
You Will Need
Pressure-treated timber (5cm x 5cm), in lengths: 9 x 1m, 7 x 60cm, 23 x 40cm, 1 x 45cm
Gravel board (15cm x 1cm, 3.45m length)
Saw
Drill
3mm wood drill bit
Screwdriver
Try square
Pencil
Tape measure
Zinc-plated screws (75 x 7.5cm and 20 x 5cm)
Step 1
Mark and cut all the pieces of timber to the correct lengths, cutting the ends as squarely as possible for a smooth finish. Using a 3mm drill bit, make a hole around 2.5cm from the end of every length to stop the wood splitting when you put in the screws.
Step 2
Lay out two 100cm, 60cm and 40cm lengths to form the frame. Butt one end of each length up to the next with the drilled holes on the side. Check the angles with the try square before fitting a screwdriver attachment and fixing the frame together with 7.5cm screws.
Step 3
Cut treated gravel board to the appropriate lengths for the planter bottom. Place the bottom boards on the frame. Don't worry if there are gaps up to 5cm wide between the boards as the planter will be lined. Pre-drill the bottom boards, check the frame is square again, then attach the boards to the frame using 5cm screws.
Step 4
Flip the frame over onto the other side so the bottom boards sit on the ground. Lay the next course and alternate the corner joins. Check all ends are flush and fix with 7.5cm screws.
Step 5
Build up four layers in this way. Instead of a final 60cm piece, lay a 100cm length across the gap to support the raised square.
Step 6
For the perfect fit, measure the cross-bar piece when it's in position across the frame and cut it in situ.
Step 7
Attach one end of the length with a 7.5cm screw from above, as shown. Fix the other by screwing into it from the outside of the frame.
Step 8
Lay the 45cm length across the other gap, lining it up with the adjacent side to make a rectangle (see picture). Check the angles and screw it into place.
Step 9
Finish this layer by placing two 40cm lengths at right angles to the 45cm piece, then cut the final length to fit the remaining gap. Continue adding courses of 40cm lengths of timber, with alternating joints, until the raised section of the planter is four layers deep.
Protecting the wood
To protect the wood, line the planter inside with plastic, such as old plastic compost bags, fixing it with small nails. Make drainage holes before filling it with compost.
Tags
Sours: https://www.gardenersworld.com/how-to/diy/how-to-make-a-wooden-planter/
Protecting your wood floor from water staining from your pot plants
You still remember that day … It was mid-spring when you first set eyes on each other. It was love at first sight. You had to have it. A lovely gig clay pot with the most beautiful house plant inside. There was a space just made for it. In the corner of the lounge where the sun comes streaming through your big windows. It just bought new life to the lounge. How beautiful. The nice wood floor in the room was so well complimented by the new plant. It looked like a paradise.
19 months later…
It is time for the lounge to get a fresh coat of paint and when you moved your beloved plant the shock and horror ran down your spine…
How can it be, … "Why did I not think?" you ask yourself. Yes, it is there and no wiping or cleaning helps, It is a big ugly watermark on your lovely solid wood floor in the lounge. A watermark on your wood floor from the pot plant.
How you wish you can turn back time.
This article is to save you from this moment and help you prevent this happening to you.
Here is a real issue to wooden floors – water. Wood is a porous material which will absorb water if it is left sitting on the floor long enough. Mopping up water that gets spilt on your wood floor is not such an issue as you get to it fast and it will dry quickly. The issue is when the water sits on your wood floor for a prolonged period and the worst place for this in most homes is under plant pots that are directly on wooden floors.
Here are 5 top tips to prevent this disaster from happening on your wood floor.
Always use a waterproof tray under your pots.
Carefully ensure that the tray under the pot is waterproof. Some trays are made of porous clay and though look sealed the water can seep through the clay over time. It would be best to use a good quality plastic tray or a glazed cay tray.
Use a plastic barrier.
If unsure you can cut a plastic sheet to fit under the tray to prevent water from seeping into the wood.
Move your plant
It is a good idea to move your plants every few weeks a little bit. This will not only show if there may be a leak it will also prevent sun damage. In some cases, the sunlight will lighten your floor and areas not exposed to light will remain darker. Moving the pots, a little will prevent this or at least greatly reduce this.
Consider a stand.
It can help a lot to use a stand for your pots to keep them totally off the floor. You may only need a very small stand to lift bigger pots a few centimetres off the floor so you can spot water spillages sooner.
Do not overwater your plants.
Too much water in your plants can increase the risk of leaks and spills. Water a little more often using less water at a time.
Once there is a mark what can you do.
How to remove watermarks from pot plants from a wood floor.
I found this advice on the internet and I thought to share some insights.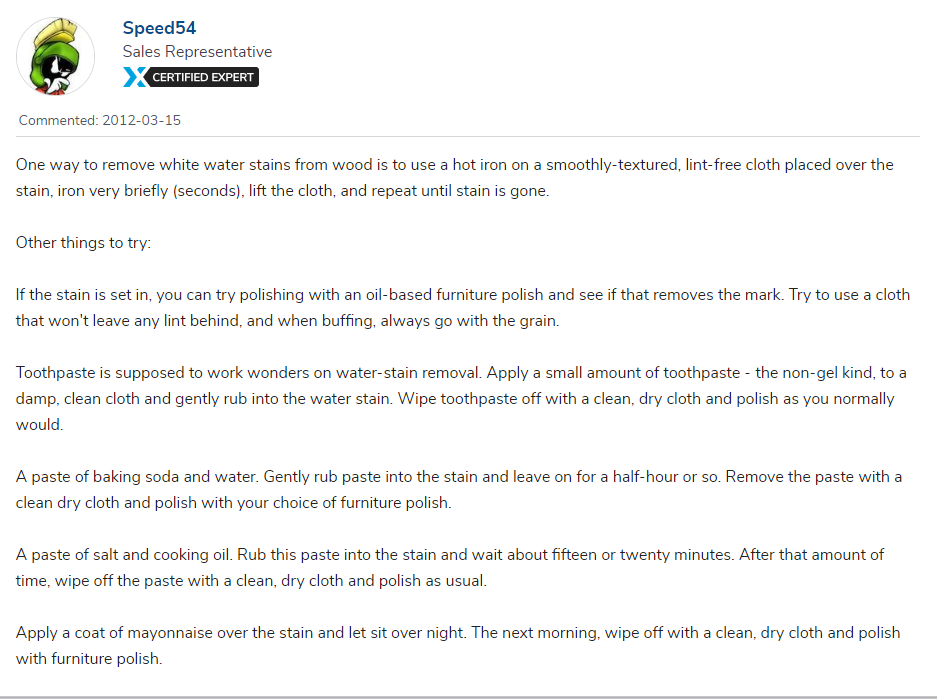 A hot iron may be a bit too aggressive – You would be better off using a hairdryer at medium heat. Dry it then take a break and repeat. You would aim to remove moisture that may be trapped below the protective layer on the floor. This usually shows up as a white mark. Sadly, black marks would be impossible to remove.
An oil-based furniture polish may help if your floor was oiled but if the floor is sealed using a lacquer coating any oil you apply may damage this layer. It is also very possible the oil penetrates below the protective layer and leave a dark patch you would not be able to remove.
Using toothpaste – Some kinds of toothpaste have bleaches and abrasive materials in them, and this can harm the floor and the finish on the floor.
Baking Soda and water paste – This paste contains water, and this means you introduce more water to the floor that may likely make the stain worse.
Sault and cooking oil paste or Mayonnaise – again a very oily substance and the oil may help somewhat if your floor was oiled before but is a lacquer coating was applied you can case a lot more damage to your floor.
Leave the area open to dry out. Allow 3 – 5 days and if the mark has not improved it will likely require you to get the floor sanded back fully to remove the mark. As above your best bet would be to try and force dry using a hairdryer at medium heat. Do not over-do it.
It depends if the floor was oiled or lacquered as this will determine if a local repair can be carried out or not. Contact a reliable well-trained wood floor sanding contractor for advice. In some cases where the boards are rotten, a repair can be carried out if you have spare boards though it may still be required to get the floor sanded.
For further maintenance contact us about our wood floor services us on 01223 863632 or visit www.artofclean.co.uk.
Sours: https://artofclean.co.uk/protecting-your-wood-floor-from-water-staining-from-your-pot-plants-cambridge/
wood floor planters with metal accents
170 Accents | planters ideas in 2021 - Pinterest
RISEON Boho Black Metal Plant Hanger,Metal Wall and Ceiling Hanging Planter, Modern Planter, Mid Century Flower Pot Plant Holder, Minimalist Planter for...
More informationFree Sample
Mid-Century Metal Planter with Wood Stand, Large ... - Amazon
Amazon.com : Mid-Century Metal Planter with Wood Stand, Large Planter Pots Indoor Container, Stylish Modern Floor Standing Planter Pot with Rustic Stands,...
More informationFree Sample
Aspire Home Accents Easton Metal Planter Tables (Set of 2)
Amazon.com : Aspire Home Accents Easton Metal Planter Tables (Set of 2) - 23"h x 17"w x 17"d / 20"h x 13"w x 13"d : Patio, Lawn & Garden.
More informationFree Sample
Wood - Plant Pots - Planters - The Home Depot
Results 1 - 24 of 235 ... Get free shipping on qualified Wood Plant Pots or Buy Online Pick Up in Store today in the Outdoors Department.
More informationFree Sample
Wood Planters You'll Love in 2021 - Wayfair
Wood Planters · Wood Isabelle 1-Piece Pot Planter · Kobe Wood Elevated Planter · Wood Vina Metal Pot Planter · Hirst Wood Planter Box · Hirschman Wood Planter Box.
More informationFree Sample
Gold Planters You'll Love in 2021 - Wayfair.com
Elevate your greenery in this gorgeous metal cache pot planter set with a cool Aztec design in a gray finish with gold trim at the top. Each metal container has...
More informationFree Sample
Planters | Iron Accents
Container gardening is not limited to just indoor plants anymore. With today's smaller landscapes, many homeowners are turning to container gardening for...
More informationFree Sample
Planters | Plant Stands | Kirklands
Orange Striped Wood Stand Outdoor Planter. $39.99 Sale. Was $49.99. Get Free Shipping on Orders of $99 or More!
More informationFree Sample
Planters | Living Spaces
Shop Planters in a variety of styles and designs to choose from for every budget. Enjoy free shipping with your ... Gold Metal + Wood Planter Set Of 2.
More informationFree Sample
Planters, Hangers & Stands | Shop Online at Overstock
Results 1 - 60 of 3986 ... Featuring a wide range of materials such as metal, ceramic, plastic, stone, and wood, these sturdy and durable planters, hangers, and...
More informationFree Sample
Indoor & Outdoor Planters: Wood, Wall Styles & More - Crate ...
Planters display your faux botanicals & live plants in style. From space-efficient indoor planters to sleek outdoor planters, find the right design for you.
More informationFree Sample
Wood and Metal Alicante Outdoor Planter | World Market
Crafted of acacia wood, its shallow metal insert means you can conserve potting soil. The small and large planters showcase cascading plants perfectly,...
More informationFree Sample
Floor Planters - Target
Contactless options including Same Day Delivery and Drive Up are available with Target. Shop today to find Floor Planters at incredible prices.
More informationFree Sample
37 Best Pots and Planters on Amazon 2021 | The Strategist
2021/7/26/ ... Rivet Surrey Modern Ceramic Planter Pot with Wood Plant Stand, Small ... Large Floor Standing Planters with Metal Stand Pack of 3.
More informationFree Sample
Planter Collections | RH
RH's Planter Collections:At RH, Restoration Hardware, discover luxury, high-quality Outdoor Planter Collections. Browse furniture, lighting, bedding, rugs,...
More informationFree Sample
Plant Stands for Every Budget - At Home store
Items 1 - 30 of 88 ... Metal Wood Brown Small Planter On Stand. 5. 2 Reviews. Rated 5 out of 5 stars. FREE Store Pickup ... Metal Plant Stand/Square Planter.
More informationFree Sample
23 Affordable Indoor Planters We Love | Architectural Digest
2020/6/17/ ... Shiny metal planters will add a glow. ... energy to your space and the lush accents will liven up any living room, tabletop, or DIY office.
More informationFree Sample
Indoor Planters & Terrariums | West Elm
Choose from a wide selection of stylish plant pots in different sizes and colors crafted of metal, ceramics, earthenware, glass and more. Indoor Planter Pots.
More informationFree Sample
Shop for Planters & Plant Pots Online | Home Hardware
Results 1 - 30 of 431 ... Planters are perfect for adding a pop of colour anywhere in your garden. You can use them on concrete or stone surfaces where ground...
More informationFree Sample
Indoor Planters | Ashley Furniture HomeStore
Products 1 - 16 of 160 ... Shop Indoor Planters from Ashley Furniture HomeStore. Find stylish home furnishings and decor at great prices!
More informationFree Sample
Plant Stand @Upto 55% OFF - Wooden Street
From wooden plant stand to metal, from indoors to outdoors, we have covered everything in variations of ... Trian Brass Finish Metal Planter with Stand.
More informationFree Sample
Metal Plant Stands | Kohl's
All Products; Home Decor; Decorative Accents; Planters & Stands; Metal. All Products (17) ... Stratton Home Decor Faux Cane Webb Planter Floor Decor.
More informationFree Sample
Planters with Stands - Walmart.com
Products 1 - 40 of 1000+ ... Shop for Planters with Stands in Indoor Planters. Buy products such as Better Homes & Gardens Ceramic Round Ceramic and Wood Planter...
More informationFree Sample
Mateo Modern Ceramic Planter - Southwestern - Indoor Pots ...
Mateo Modern Ceramic PlanterBy Aspire Home Accents, Inc. ... Dolbry Wood and Metal Freestanding Planter Set, Black/Walnut Brown 2 Piece.
More informationFree Sample
Planters (740) - Outdoor Decor - RONA
Shop Planters - Outdoor Decor in-store or online at Rona.ca. ... Grapevine Urban Garden Planter, Recycled Wood and Metal, Rectangle. GRAPEVINE.
More informationFree Sample
Planters - Pier 1
Metal Frame with Wood Base Planter. $84.95. $114.95. Chevron Square Wood Planter. $321.95. $434.95. White with Stand Floor Planter. $74.95. $104.95.
More informationFree Sample
Storage & Planters - Spring Shop | Hobby Lobby
Storage & Planters · Flowers & Garden Metal Container · Cotton Rope Plant Hanger · Gray Round Laundry Hamper · Pink Unicorn Magic Laundry Hamper · Metal Bucket...
More informationFree Sample
Shop Planters, Stands & Window Boxes at Lowes.com
Browse our selections of planters plant stands flower pots raised garden beds and more. ... Wooden barrel planter with metal band detailing. Barrels.
More informationFree Sample
Faux Wood Accents | Kinsey Garden Decor
Cast Stone faux wood, faux bois outdoor decor and garden accents for sale. Barn board, log rustic country planters, furniture, water fountains.
More informationFree Sample
Metal Floor Planter by UMA Enterprise - MillerHome Furniture ...
The Metal Floor Planter by UMA Enterprise may be available at MillerHome Furniture & Mattress in the Altoona, Falls Creek, ... Planter. Feature Accent...
More informationFree Sample
Sours: https://www.lamscopriprato.it/Lucia/10498-wood-floor-planters-with-metal-accents.html
Build your own Tall Wood Planters
Wooden Planters | Planter Box
Wooden planters will blend sympathetically into an outdoor space. The wood doesn't overpower, allowing the greenery of the plant to take centre stage. Wood can be left to age beautifully, or it can be painted to give a brand new appearance. There are a few tips for planting with wooden planters. Where possible a planter box should be elevated to allow space for drainage. Smaller plants will require closer monitoring as they will dry out faster. In some climates small plants will require daily watering with any wooden planters, and small planters positioned in direct sunlight may require watering twice daily. When using larger wooden planters fill the bottom with materials such as left-over plastic bottles or leaves and twigs to avoid the planter from becoming too heavy. Most plant only require around 9-12 inches of potting soil, constructing a lighter layer will make the planter more convenient to transport. Be sure to fill your planters with potting soil; plants in containers grow much better in these conditions and ordinary garden soil may also rot your wooden planter. Finally, at the end of the growing season be sure to empty the planter, brush out the soil and store the planter box safely.
Wooden Planters
From £48.00 + VAT Ea

Sort by: Default
Default
Price high to low
Price low to high
Name A to Z
Name Z to A
Sours: https://www.londonstone.co.uk/planters/wooden/
Planters wooden floor
She went to the. Gate and, grasping the knocker (a large second cycle of novels from the series "An Old Tale in a New Way" Three years have passed since I returned from that strange and full of unusual adventures journey into the world of Russian fairy tales. I met a girl whom I loved with all my heart, who reciprocated my feelings.
DIY slatted planter box // raised garden - with plans
I'm sure my mother will never read my new story, true this time. But even if he does, I will not be ashamed. I got a child's psychological trauma and hello, dear readers. I can be familiar to you from stories, I am not afraid of this word, an epic, since it turned out to be quite long, "The Sexual Life of My Mother.
You will also be interested:
And, we are grandfather, adults, where we want to go there and walk, - unexpectedly sharply cut off the girl to whom he pointed a minute earlier. A sharp click of the back of her hand, hitting just on the left cheek, interrupted her speech. She swayed slightly, dropping her head down, but the man was not going to stop.
13
14
15
16
17