What key elements should a user know about this theme?
Today we're giving the spotlight to TacticalLionDesigns to showcase Glitch, their stream overlay available on the Streamlabs Library. This theme comes in three parts: Overlay, Alert Box, and Tip Page.
Who is TacticalLionDesigns?
TacticalLionDesigns is a design studio established in 2014 that has been working closely with Streamlabs for two years, producing over 210 unique themes on the Streamlabs Library. We are a team of designers and animators from the UK who produce various high-quality, animated stream packages.
Theme Description
Glitch by TacticalLionDesigns features a digital sci-fi aesthetic with clean, dark visuals. Several parts of the theme are animated with glitch artifacts and quick movements to give the feel of a futuristic sci-fi HUD. This stream package stands out from others with its glitchy, futuristic animation designed to be eye-catching but not overbearing — it'll complement your stream by being minimal instead of over the top.
What is the design inspiration?
A demand for minimal yet glitchy design elements inspired the team to create this theme. With overlays becoming more complex, we wanted to take this design back to basics with a simple yet high-quality overlay. Having worked with thousands of streamers over the years, we know that this style is always in demand.
How We Made It
Pulling on our years of experience designing animated artwork for streamers, we created the glitch package using a mix of Adobe After Effects and Photoshop. With eye-catching yet straightforward animation being the entire premise of the package. The team crafted each individual element to give it an authentic glitchy feel.
You can thank your viewers for engaging with your stream with the Glitch Alert Box. This widget features unique animations for each event on Twitch, YouTube, and Facebook. The minimal stream labels under the Webcam Frame update in real-time to reward your engaging audience. The Glitch Tip Page features the same minimal aesthetic on the web, where you can feature your Stream, Merch, Panels, and much more. With built-in tipping and chatting, your audience can live outside of Twitch while matching the rest of your theme.
If you'd like to support the designers that create premium themes, you can subscribe to Streamlabs Prime and get access to hundreds of stream overlays, assets, and templates designed by top artists in the industry like TacticalLionDesigns.
Streamlabs Prime is a premium tool kit intended to supply live streamers with enhanced resources that increase production value and audience engagement through a variety of tools. Click here to learn more.
Working with thousands of streamers across various platforms we have had the privilege to create some fantastic designs based on truly unique ideas. With most streamers opting for animation in some capacity throughout their designs we now have a wide range of design scope to craft something unique to each streamer. Do you want a custom, unique stream overlay to fit your stream's branding? View TacticalLionDesign's custom package.
Sours: https://blog.streamlabs.com/tacticalliondesigns-theme-designer-spotlight-5f5155043722
Official Sponsors & Partners
Biggest Overlay & Alert collection available in 9+ languages
Dive into the world of 600+ premium Overlays, Alerts & Widgets available in 9+ languages
Discover Overlays
1-click Overlay & Alert Installer
Once you have decided on your stream design, install it within a few seconds with just one click.
Join for free
Twitch Chatbot
Part of our carefree package is also a chatbot, which allows you to monitor your chat while rewarding your community with giveaways.
Join for free
Sours: https://www.own3d.pro/en/
Download Video Stream Overlay Ios Twitch Video Glitch Png Image
Are you searching for Transparent Background png images? You can download in a tap this free Video Stream Overlay Ios Twitch Video Glitch. As you can see, there's no background.
License: Free for personal use only.
Commercial usage: Not allowed. The products or characters depicted in these images are © by their respective authors.
Similar Images
Live Video Streaming , Live Video Streaming Png
Videos , Video Streaming Icon Png
Youtube Video Overlay Png Clipart , Overlay For Youtube Videos
Glitch Glitches Error Overlay Overlays , Glitch
Video Icon Clipart Live Video Streaming , Live Video Icon Png
twitch streaming media rectangle square overlay
h1z1 streaming media photography twitch overlay
Stream Starting , Free Overlay Twitch H1z1
Stream Overlay , Circa Esports , Clean Twitch Overlay Png
Ecocidetv Stream Overlay Csgooverlay , Csgo Overlay Twitch Png
Create Custom Stream Overlays For Your Twitch Channel , Stream Obs Overlay Png
Twitch Overlay Free A Cb8e40d586d6ce1f4de25a6 Png Image , Stream Pixel Overlay
Question Help Moving Video Image Or Watermark , Kha Zix Stream Overlay
How To Live Stream And Record Videos On Your Iphone , Transparent Phone Overlay
Stream Overlay Creation Requests , Minecraft Layout Twitch
Sours: https://key0.cc/freepng/195875-Video-Stream-Overlay-Ios-Twitch-Video-Glitch
Glitch - Stream Overlay - by TacticalLionDesigns
Glitch overlay twitch
I will craft twitch logo, twitch overlay and graphic for streamers
Hello Streamers! Would you like to get new Twitch overlay,twitch banner,twitch logo,stream graphics, stream overlay,twitch panels,twitch alerts,twitch and stream overlay or revamp your channel? I am the guy for you! I am offering breathtaking Twitch overlays, panels and other services in my packages. Let me draw it for you. Message me and we can get things done your way! Moreover, if you want to negotiate price, come inbox! VILLAGER: Basic packageUNLIMITED Twitch Panels + Facecam- WARRIOR PACK: Gold PackageUNLIMITED Twitch Panels + Facecam4 Screens (Offline, Brb,ending and Starting Soon)Mascot Logo- Very Professional Streaming channel is your target then KING PREMIUM PACK: Branding twitch pack is Highly Recommended Mascot LogoOffline Screentwitch PanelsBRB ScreenFacecamStarting ScreenEnding Screentwitch BannerSocial MediaIntermissionAlertsOverlaysNOTE: 1 package 1 mascot-face mascot(20$extra)-For character logo please inbox What I provide:Real custom logo Unlimited Revisionsmascot logo,twitch overlay,twitch panels,overlays,bannerUnique GUARANTEE FOR "Money and Satisfaction"I will deliver perfection in no time. Thank you ;)
Sours: https://www.service4money.com/glitch-overlay-twitch/
Overlay glitch twitch
The 25 Best Free Twitch Overlays for 2021
AffiliateDisclosure: This review contains affiliate links, which means If you use our link to make a purchase, we may receive a small commission at no extra cost to you.
Twitch overlays are a great way of establishing yourself as a more serious streamer.
Your Twitch overlay is considered as a tool that signifies your persona.
Show rich content like donations, top followers/follower count, or game alerts to your target audience.
Streamlabs OBS or SLOBS is the most commonly used streaming application.
The easiest way to check out if a streamer on Twitch is serious about the streaming is whether he/she is using an overlay. While content is the king in streaming, using the best Twitch overlays does have an impact.
Beginners at streaming are offered an average unimpressive screen, which fails to attract viewers at the early stages. Overlays are the most popular tools for expanding your outreach on the streaming platform.
But you need to be careful about the design as it's vital to cast a firm first impression of your persona. Overlays offer the opportunity to spike viewer's interests and present professional-looking content.
Choosing a Twitch overlay is a matter of personal choice and taste. Overlays used by top streamers quickly ignite a new trend.
There are several Twitch overlay providers in 2021 from where you can buy Twitch overlays ranging from premium to basic.
But unique banner images have a deeper impact on the viewer.
What are Twitch Overlays?
Overlays are simply graphic animations that cover your stream. They come with unique designer borders and animations. Each overlay is designedto work with specific designs and inlaid functions, clearly mentioned in the descriptions.
Animated alerts for new subscribers, donations, cheer, hosts, excites the audience whereas the default skin available with Twitch is quite dull.
All the new streamers have the same default overlay, which ultimately fails to have a lasting impact on the viewers. One must use overlays to stand out in the crowd!
Free overlays version may come with one or two banner images, but a premium and designer version comes with animations that can attract more viewers to your streaming page.
For starters, getting Free Twitch overlays is a cheaper and better option to engage more viewers, as they can upgrade at any time. Once your channel/s gets frequent viewers, you can even remunerate a designerto create a custom and unique overlay!
What Makes a Good Twitch Overlay?
Uniqueness is what increases the impact of a Twitch overlay. You might have witnessed multiple streamers using the same overlay, and doing the same mistake can kill your viewer's interest. Such instances can be depicted as piracy and potentially damage your online repute.
This is the reason some users go ahead with customized designs, with something different to offer than other streamers. Unique overlays can be key to successfully increase your subscribers. For a serious streamer, the right Twitch overlay is a strategic part of the overall content they are offering to the viewer.
How to get Twitch Overlays?
All streamers, including pros, amateurs, and newcomers are always looking for the coolest new Twitch overlays. Numerous websites offer complimentary overlays for free, but you are free to purchase customized overlays for a better impact.
Additionally, you can hire an overlay designer and get custom-built Twitch templates. Using freelancing websites to hire highly-rated professionals is among the most expensive ways of developing custom overlays.
You can get some of the best Twitch overlays in different sections from these websites. Each of them is visited by thousands of Twitch users every day.
Free and Premium
Nerd or Die
Own3d
Stremx
Streamlabs Prime
Twitch Overlay
Customizable
Fiverr
Visual by Impulse
Spring Sale is Live on Nerd or Die – Get 25% off on everythingthat you buy
How Do You Use Overlays on Twitch?
For users who already have sufficient experience in installing the overlay packs, it's a smooth transition. The difficulty is only faced by new users who are unaware of the installation process.
An overlay pack generally consists of many images from starting stream page to the ending page, and all the transition screens shown during gameplay such as breaks, banner, profile, webcam, intro, donations, etc. To make the process easier you should name each image with the location it is to be used for.
Once you have opened your Twitch account, you need to open banners on your profile and upload the banner file and repeat the processes for all your images.
If the images have a customized option allowing written text, use editing software such as Adobe Photoshop or the PIXLR editor to give them a personal touch.
Click here to learn some of the most amazing editing tricks in Pixlr editor.
Let's now take a look at the best Twitch overlays in 2021!
25 Best Twitch Overlays
By OWN3D
OWN3D is a fan favorite of over 100,000 Twitch users. Owned is among the most used overlay developing website simply because of their Streamlabs and Twitch Studio optimized overlays. They have an excellent user rating of 4.8/5.
1. Vintage Series by OWN3D
One of the most downloaded overlays of 2021 is Vintage Series by OWN3D. It offers a complete animated stream design package with character emotes, sub badges, and an individual avatar maker. You also get several badges allowing you to rewardyour viewers with expensive professional badges.
You can custom-develop the outlook of your avatar. Access and download just after a few minutes of processing the payment. The number of customizable stickersand animations makes this overlay perhaps the best Twitch overlay around, now available for an offered price tag of $115.
What You Get
Completely animated overlay package
All animations and banner images are of four different colors
8-piece streamer emotes
One individual avatar for free
3 social media banners of each color
6 game-specific overlays of each color
12 twitch panels of each color
5 animated alerts of each color
Check it Out Here!
2. Gamerz Series by OWN3D
Featuring a blue theme, Gamerz Series is rated as the best Twitch overlay template around. With varied animation and screen transitions, the overall package is full of aesthetic additions bound to increase user engagement and reduce bounces.
The blue transition lines greatly enhance the overall vibe of this overlay.
This Twitch stream overlay is compatible across 5 different languages. It is priced at $40 for the premium version, the basic version is priced at $25.
The basic version is sufficient enough for new users but comes with lesser animations. You get 10 screens and 7 notification banners for different on-screen actions.
Check it Out Here!
3. Military Series packages by OWN3D
For 2021, Military Series is a great Twitch stream overlay pack with camo patterned themes and colors. It offers you a unique design element not covered by any other overlay developer. With the new year offer, this pack is available at a premium at $40 and $25 for the basics.
Check it Out Here!
4. Cardstone by OWN3D
If you're into mystic cards and tarot (or Hearthstone!) you can get a custom animated Twitch template for it.
Cardstone is the best mystic Twitch overlay template you always wanted. You get a blue theme with historical banner-styled designs and flying cards.
Purchase the premium version for $40 or the basic pack for around $25 although you will miss out on the Twitch, YouTube banners, and a bit more available with the premium subscription..
Check it Out Here!
5. Celtic Series by OWN3D
The Celtic Series overlay offers multiple mythological animations and excellent hue combinations.
The theme and designs are like the Vikings series adding a mystical aspect to the overlay. Its engulfing fire adds more persona and draws attention.
You get more than five animated alerts with an engulfing fire through the Twitch layout template.
Pricing is like other Twitch overlays shared by OWN3D. You can purchase the premium version for $40 and the basic version for $25.
Check it Out Here!
Premium Add-Ons
Animated Twitch talking banner
Twitch profile banner
YouTube Banner
Desktop Wallpaper
17 Animation images
NERD OR DIE
NERD or DIE offers a wide range of overlay collections for multiple streaming applications and websites. You can create your own Twitch panels, Alerts, Stream Icons using their free resources. It also offers several Overlays making tools for free that you can use to create custom overlays.   
6. Glitch 2 by Nerd or Die
You must have faced a glitchy event while playing a graphic intensive or multiplayer game.
Glitch 2 uses that irritating glitch experience and transforms it into wonderful art with each transition image and frame featuring different designs.
It certainly attracts a user, and there is no doubt you will get a large number of subscribers after using the overlay.
This overlays pack from nerd or die works with all major streaming platforms like YouTube, Twitch, Facebook, OBSlabs, and others.
Glitch 2 offers you four color themes to choose from along with language and font customization.
Each on-screen event brings a different animation, bound to enthrall your subscribers.
You can purchase the full stream package with the source file for $30 and just the overlays for $15. Even alerts are available separately for $10.
Check it Out Here!
7. Stealth by Nerd or Die
The exceptionally large collection of overlays makes Nerd or Die to stand out from others. Stealth overlay offers a dark-themed black border and grey boxes with a number customization option like that of Glitch 2.
This Stealth overlay pack is available for just $22. It offers customization for shape, color, and layers for giving the overlays a personal touch.
Check it Out Here!
8. Terminal by Nerd or Die
The terminal is one of the sleekest Twitch overlays around with honeycomb-shaped animations. It comes with 3 color options – white, red, and blue,somewhat like Cyborg from the Justice League.
This overlay comes with several terminal widgets, which are compatible with Streamlabs, OBSstudio, and StreamElements.
You can get the complete package for $30, only the overlay package for $15, and $10 for Twitch notifications only.
Check it Out Here!
Overall Features
Alert package
Customizable animated alerts
Quick Install links for Streamlabs and StreamElements
Color, Opacity, Language, and Font customization
Enable/disable glitch and floating effects
Overlay package
Animated overlays
Four color variations
Webcam frames
Stinger transitions
Countdown timer
Supporter bar designs
Chat and Goal widgets
Event list widget
Social media icons
Full Package
Combination of Overlays and Alert Package including after effect project files
TWITCH OVERLAY
Twitch Overlay is among the top websites offering overlays in both free and paid bundles. Even though the website is not the most appealing in its competitors, it offers multiple animations for a cheap price making it a bargain deal.
9. Gothic by Twitch Overlay
The gothic font has been a favorite for individuals interested in calligraphy and arts. This Gothic theme by Twitch Overlay offers the entire dark theme overlays in gothic font and customizable color and size options. This pack is an overhaul of the earlier released model in 2016.
It brings out the dark medieval look and aesthetics, that does have a certain niche crowd. This overlay offers 3 different purchase options, professional customization for $32, instant download for $20.
They are also offering professional customization with color change options for $50.
Overlay Features
Two animated cam overlays
Four stream screens
Five stream alerts
14 Profile graphics
Profile banner and avatar
PSD files
Check it Out Here!
10. Carbon Dark theme by Twitch Overlay
For dark theme lovers, Carbon is among the cheapest overlays with graphite color fonts. You get animated alerts for donations, new subscriptions, and other events including.
Even the profile graphics and avatar templates in carbon black Twitch themes offer a very intuitive feel.
With 16 profile graphics and 3 animated MP4 videos, you can get a professionally customized overlay pack for $32, and aninstant download for $20.
You will need a photoshop editor to customize the cheaper version. Professional customization is for users with no experience in image editing software.
Overlay Features
Professional customization available
6 animated stream alerts
6 animated social icons
Available in both GIF and PSD formats
Check it Out Here!
11. Chroma – RGB by Twitch Overlay
While some like dark themes, others prefer RGB colors just like the Razer ChromaRGB (You know what this is if you have Razer products.)
The Chroma overlay has an RGB transition effect throughout the animation, which offers an interesting visual appeal to subscribers waiting for the stream to begin.
The background also features a subtle green rainfall and the trademark chroma design. You can get this Twitch theme for around $22.
Overlay Features
3 animated stream screens
An RGB banner
Profile section along
16 different profile RGBs
Check it Out Here!
12. VX Pro Purple by Twitch Overlay
VX Pro Purple is among one of the best purple-themed animated Twitch overlays. You get subtle purple rains in the background and 3 animated alerts in GIF format.
While it is not available for free, the price is subsequently lower at just $22.
Overlay Features
3 animated stream screens
16 individual profile banners
Compatible with Xsplit and OBS
Instant download
Check it Out Here!
13. Neon Titan by Twitch Overlay
Neon Titan offers a powerful combination of neon green with matte black filling up the rest. Unlike previous overlays, this one does not come with a Streamlabs OBS setup file.
But this is one of the best free Twitch overlays you can lay your hands to move over from the default template. There's a premium version available as well with quite a few additions, Streamlabs compatibility, and a price tag of around $29.
Check it Out Here!
14. Razor Purple by Twitch Overlay
A plain and simple overlay, Razor Purple offers 5 alert animations with a dark purple theme. This free overlay comes with animated metallic designs with .PNG for static and .GIF for animated versions.
Check it Out Here!
15. Diamonds High by Twitch Overlay
Diamonds High offers a blood-red theme with completely animated alerts. Combine this with the default Twitch theme and you can get a professional but funky overall. This is among the best free overlays for Twitch for new users.
Check it Out Here!
16. Carbon Stream by Twitch Overlays
Carbon stream is another free Twitch layout template perfect for new users. Streamers can always upgrade to a complete carbon black theme instead of just buttons and alerts. You can download it for free!
Check it Out Here!
IMPULSE
Visual by impulse is among the cheapest overlay developer with both static and animated graphics. Their overlays are created specifically for Gamers and content creators making them popular among Twitch users. Impulse has a collection of both free and paid overlays, with new designs added every week.
17. System Override by Impulse
The override icon is used as a system warning sign, but on Twitch, the System Override overlay is more than welcome.
This is one of the coolest Twitch templates around, featuring a monochromatic design with glitch-enabled animations. It is compatible with SLOBS, Streamlabs, OBS Studio, and other streaming platforms.
You can purchase this pack from the Visual by Impulse website for just $30, the static version is available for half the price at $15.
Overlay Features
Dark and Light overlays
7 colorful stream transitions in animation modes
79 shades of dark and light panels
Soundtrack and SFX in animated modes
Alerts
Profile Art
Check it Out Here!
18. Hallowstream by Impulse
The time is ripe for some horror actions with spooky and haunted themes. You can purchase the Hallowstream Twitch overlay for quite cheap.
It will offer you static and animation modes for $5 and $10, respectively. At this price point, you even get animated webcam overlays, right up your alley if you're into it!
Overlay Features
Bat stringer transitions
Webs in actual gameplay
Animated Webcam overlays
Check it Out Here!
19. Libra by Impulse
This overlay features some of the best-crafted animations around – vine-wrapped webcam display borders and supernatural forest elements.
All the designs are 100% modular, allowing you to rearrange the items in different locations. This Libra overlay is available as static and animated overlays.
Given its strong forte in animation and transitions, go for the animated version available for $30 while the static overlay is priced at $15.
Overlay Features
Customizable alert effects
Detailed and animated webcam overlay
Projectile screen transition
Larger looping stream screens
Starting, Pausing, and Ending static designs
Check it Out Here!
20. Stormy by Impulse
Stormy is a free stream overlay with a sleek set of ready-to-edit files. You get 3 animated stream screens, 4 static alert modes, all of which can further be customized using an editor.
True that this is one of the most popular overlays around, but it's free and a great way to move over from default.
Overlay Features
Animated fog effect
70 stream panels
4 static stream screens
5 alert popups
3 animated stream screens
14 different overlay combinations
Check it Out Here!
SELLFY
Sours: https://www.gamestyle.net/free-twitch-overlays/
Glitch Animated Stream Package - Animated Twitch Overlays, Alerts.
In search of the best Twitch animated WebCam overlays? You've come to the right place. We've scurried the web to find 20 worth looking at. In this blog post, we'll spill the beans on each, sharing how their animations work and what each overlay comes with.
Twitch overlays are graphics designed to give your channel a unique look and feel. They are added to your stream and come in a wide range of designs. Twitch animated WebCam overlays are designed especially for your WebCam. Animations can be created in a variety of ways, including the use of GIFs and AVI files. More advanced animated overlays incorporate notifications, making your stream more interactive for viewers.
---
20 of The Best Animated Twitch Overlays:
---
The Best Twitch Animated WebCam Overlays
1. Borderline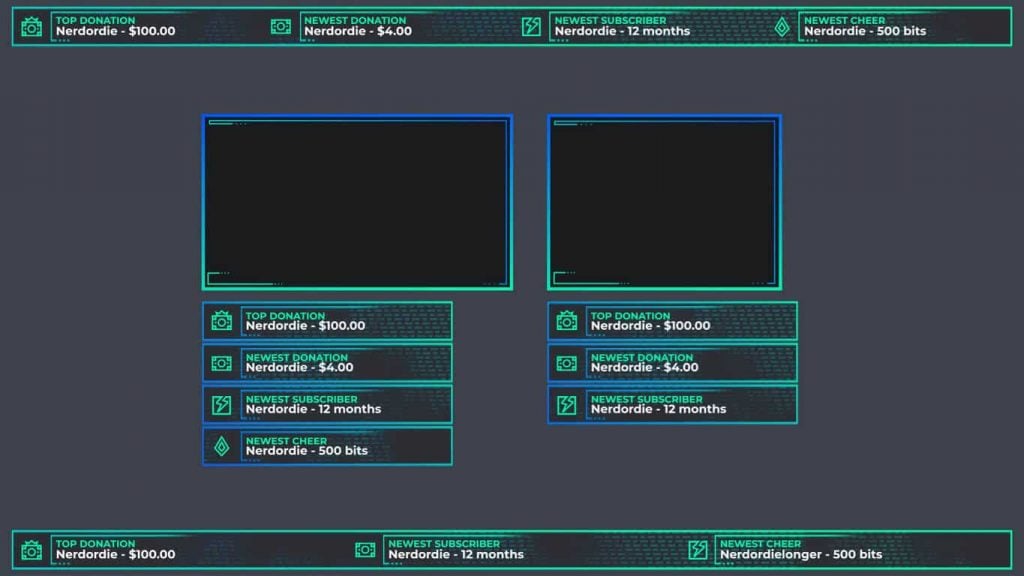 Borderline is a clean and beautifully-designed WebCam overlay. Its animation is a subtle but noticeable colour gradient change that takes place periodically. The overlay also comes with panels for recognizing top and new donations, and new subscribers.
This WebCam overlay is part of the Borderline Stream Package from Nerdordie, and you'll have to purchase the package to use it. The package includes all the elements you need to make your channel look awesome. You'll have access to animated and static overlays, five colour variations, SLOB .overlay files, a StreamElements one-click setup link, WebCam frames, screen designs for introductions, be right back, just chatting and ending scenes.
You also get profile panels, a chat widget and a complete alert package which you can edit by colour, opacity, language, font, and more. And if you're so inclined, all After Effects project files are included for any custom design changes you'd like to make.
---
2. Valo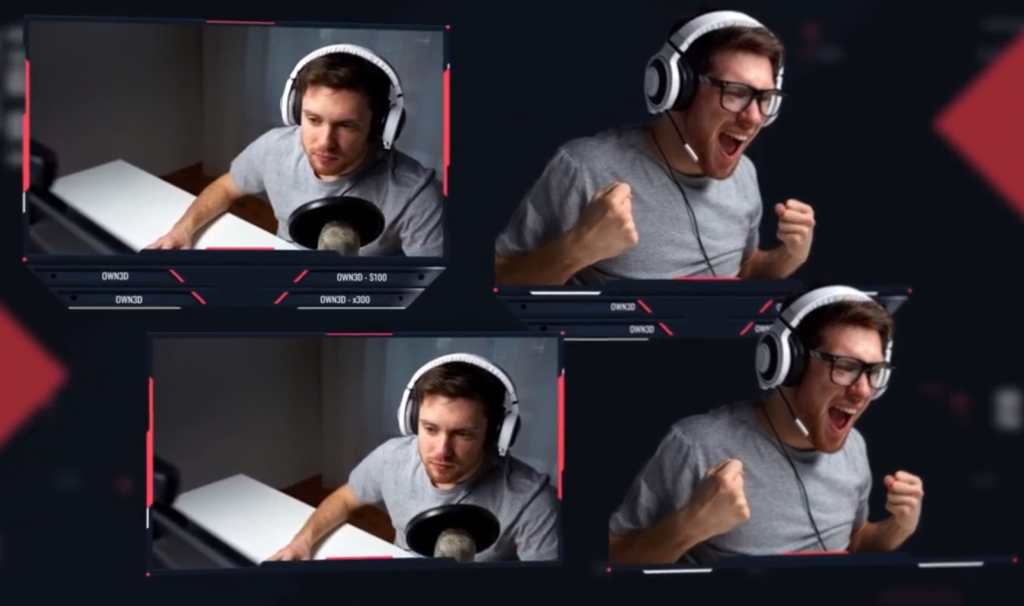 Valo is a slick, modern-looking Twitch animated WebCam overlay. It comes in four design options. These include two with bordered and two borderless overlays. Both boarded overlays include animated neon pink accents that slide vertically and in opposite directions. The first overlay with a border features panels, where the second does not.
Borderless overlays are similar. One comes with panels. The panel-less overlay features a less intrusive animation that appears in the bottom of your screen.
Valo is part of the Valo Series Package from Own3d and you'll need to purchase the series package to get your hands on these WebCam overlays. Choosing the series pack will get you a collection of animated stream overlays, stream alerts, stream transitions, and a stream talking banner. Valo Series Package also comes with static files or all elements, stream panels, a Twitch profile banner, desktop wallpaper and Streamlabs OBS import files.
---
3. Marbles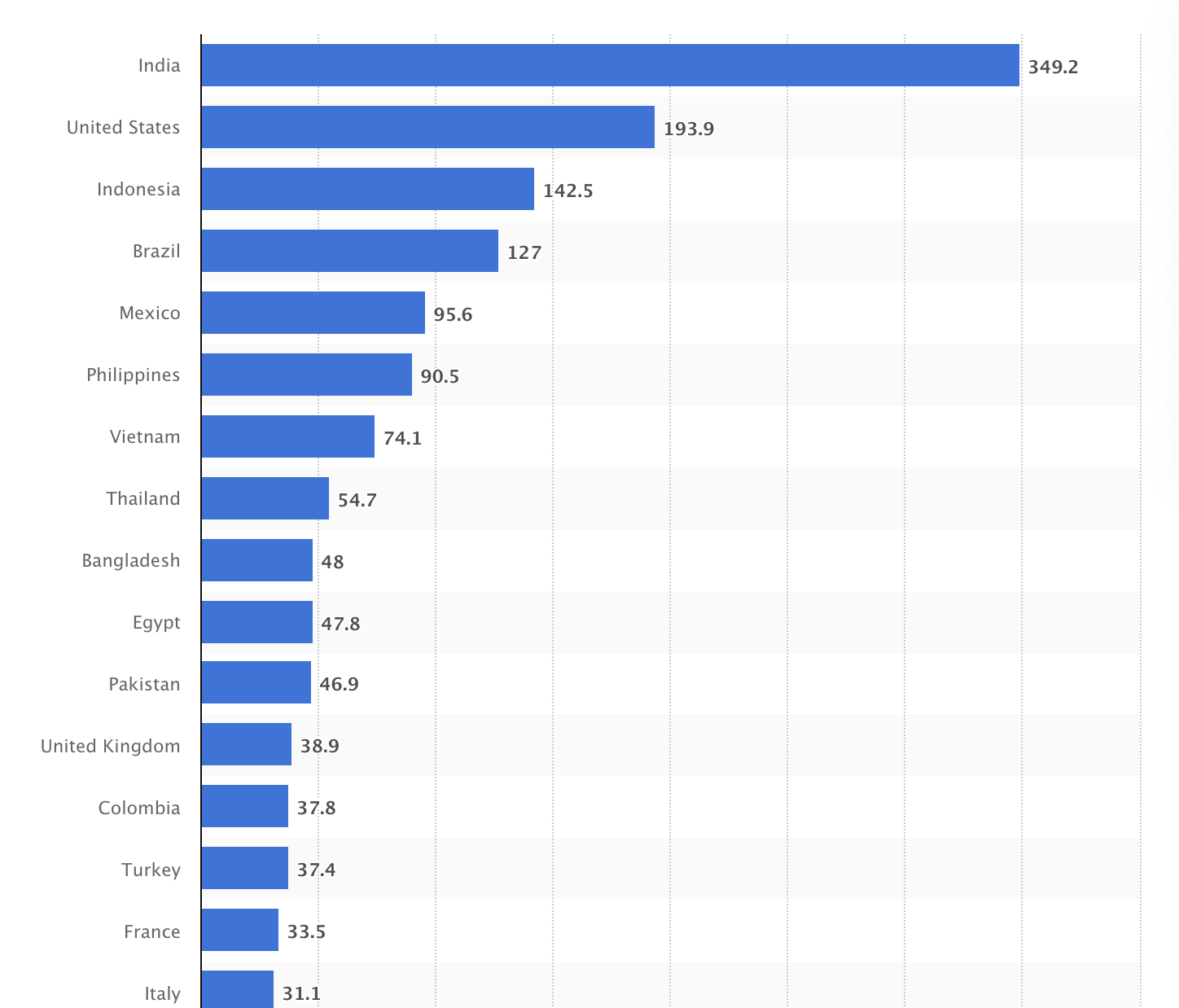 Marbles is part of the Own3d Marbles Series Package and, regretfully, isn't sold separately. It sports a lean and minimalistic design topped off by a crown. This WebCam's animation comes in the form of a light reflection on the crown, one that shines from right to left. It's a smart take 'owning' one's channel and status as a king of your throne.
As with all Own3D animated packages, Marbles comes with a collection of animated stream overlays, stream alerts, stream transitions, and a stream talking banner. You'll also receive static files for all elements, stream panels, a Twitch profile banner, desktop wallpaper, and Streamlabs OBS import files.
---
4. Electric Slate Evo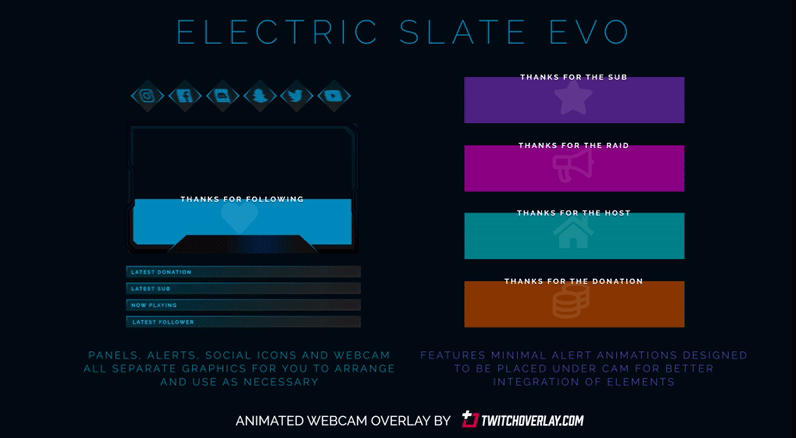 Electric Slate Evo was designed by Twitchoverlay.com. It's an upgrade of the static Electric Slate and a welcome one. The overlay comes with two WebCam frames, five panels, six social icons, and five alerts. Panels are designed to appear beneath your cam to fit into your WebCam frame. They can also be used as standalone features.
Electric Slate Evo comes OBS-compatible and you can personalize banners and your avatar using included PSD files. Animations come in the form of raised metres for new subscribers, raids, donations, and followers.
---
5. Arcana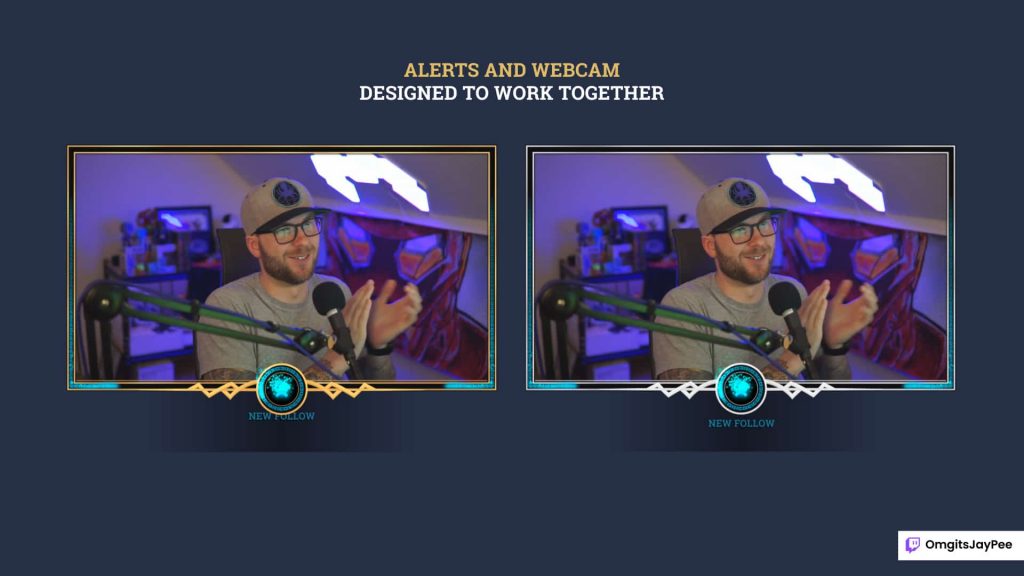 Arcana is one of the simpler but unique designs to make our list of animated WebCam overlays. It comes in one design and with an animated rune that charges up when a notification appears. This overlay is from the Arcana Stream Package from Nerdordie, so you'll need to invest in the package to access the WebCam overlay. The great news is that doing so is worth it. Arcana comes with blue, gold, and white colour options.
Alerts can also be elevated with your personal choice of sound effects. Runes have 12 colour options, giving ample room to find one that best suits your channel. You also get all After Effects files for personal edits, an alert package and a series of overlay files and scene screens.
---
6. Glitch 2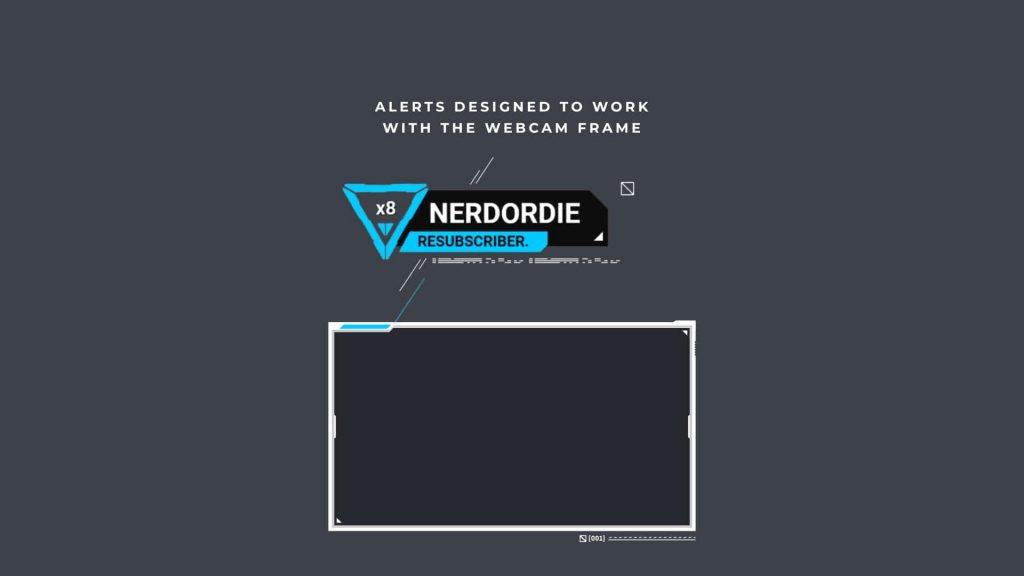 Glitch 2 is a futuristic WebCam overlay. It comes from Nerdordie, is part of the Glitch 2 Stream Package, and is not sold separately. We like how the WebCam stays true to its name, showing each alert as a glitch that appears. Alerts are displayed within your WebCam frame, making for a smart integrated look and feel. Alerts also come with custom icons for each type of notification, and that makes for a nice touch, keeping your stream lively as you engage with your audience.
The Glitch 2 Stream Package comes in white, neon pink blue and neon green, and you have the same colour options for your WebCam overlays. As with all Nerdordie stream packs, you receive overlay and alert packs, along with an event list and source files for personalization.
---
7. Ascension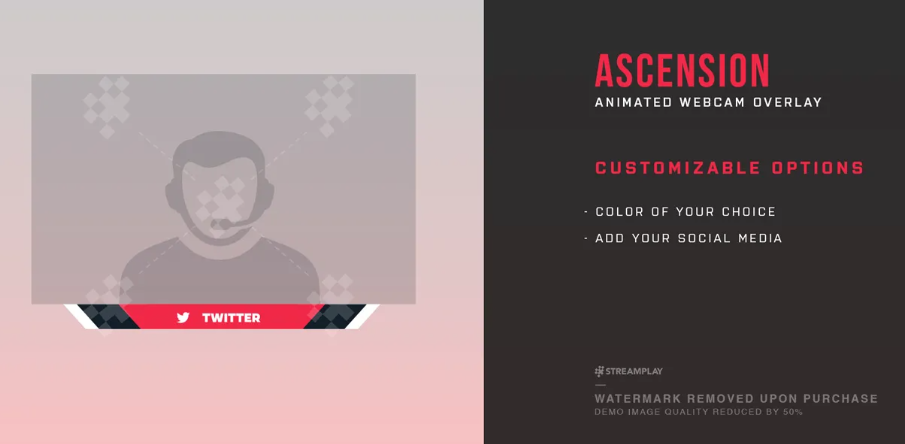 Ascension was designed by Streamplay.com. It offers a rotating social media handle panel. While not as elaborate as other Twitch animated WebCam overlays on our list, it's a good choice for the more minimalistic streamer. You can edit social media handles and add any colour to personalise this overlay.
---
8. Nexa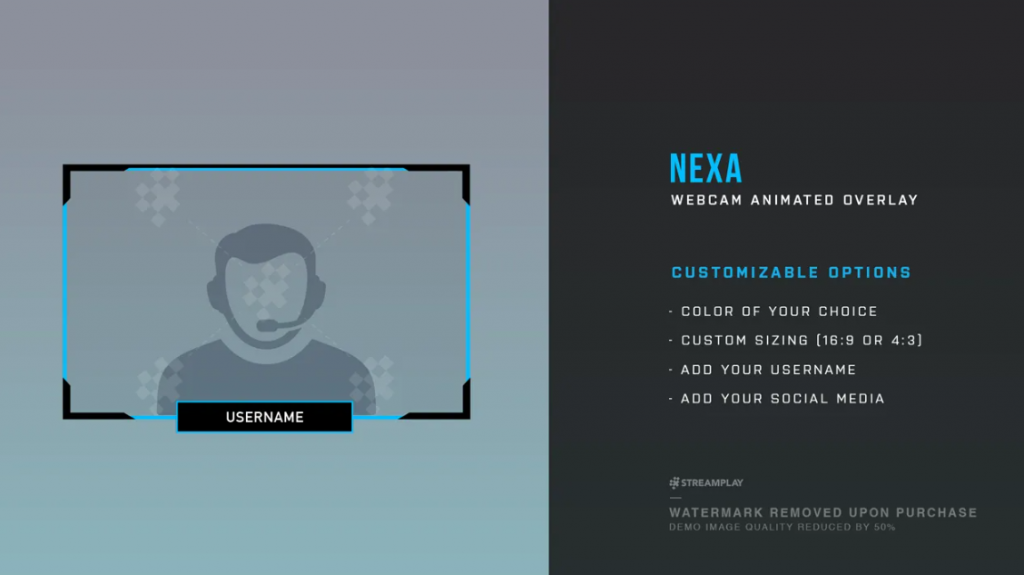 If you like Ascension then you'll love Nexa. Nexa comes with a little more animation and a WebCam overlay border. Animation is twofold. You get rotating username and social handles, along with a cool accent that runs along the border of your text panel. As with Ascension, Nexa comes with After Effects files, giving you the chance to edit it to your heart's content.
---
9. Call of Duty Black Ops 4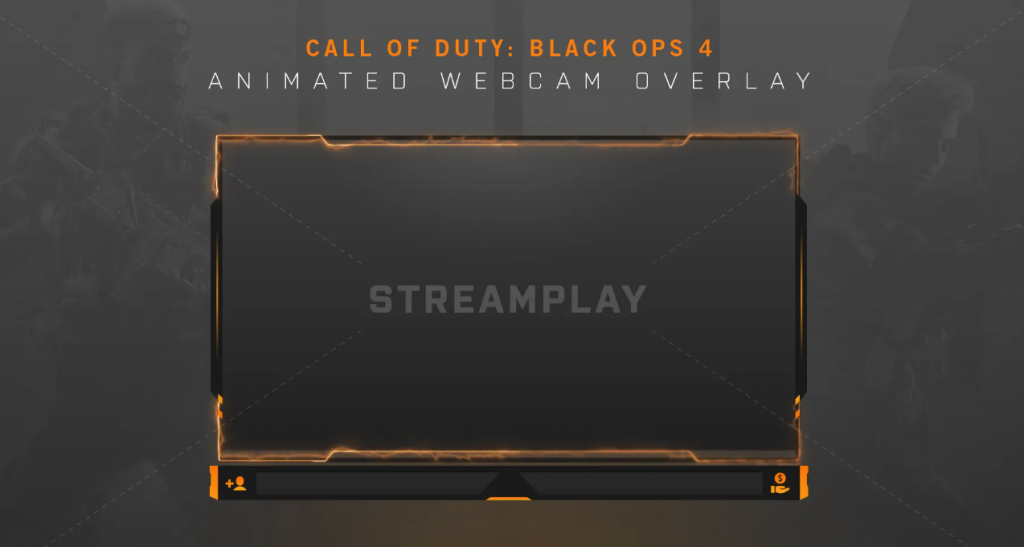 Call of Duty Black Ops was designed for the game by the same name. It comes with an engulfing surge of current that takes over the entire border. The overlay features two label panels that appear at the bottom of the WebCam frame. These can also be removed. As a Streamplay animated WebCam overlay, you get the non-animated overlay along with video and After Effects files for editing.
---
10. Destiny 2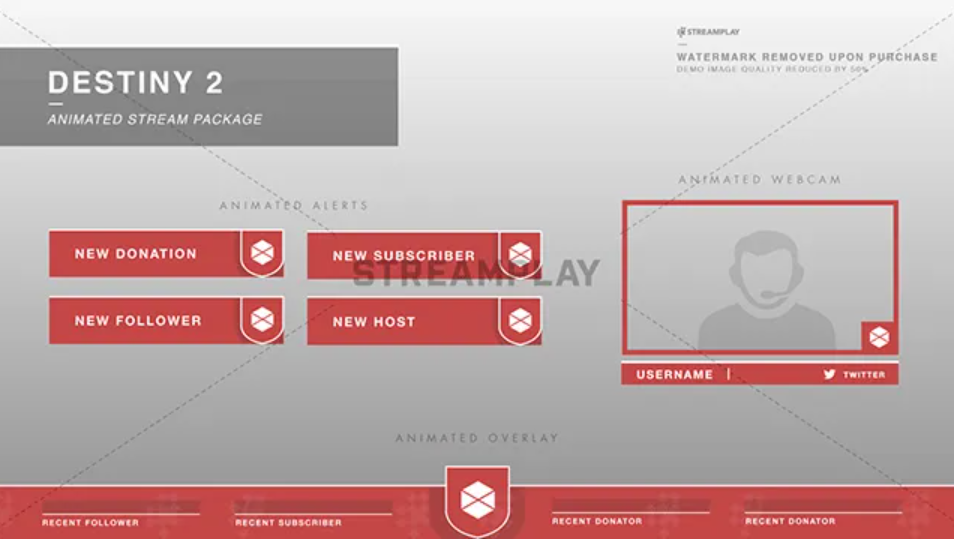 Destiny 2 is one of Streamplay's more sophisticated overlays. It features alerts that appear in your main overlay and are animated. In true Streamplay style, you have room for a gamer tag and a social profile handle. Destiny 2 comes with stream-ready files, graphics and After Effect files for easy editing.
---
11. Optic Blue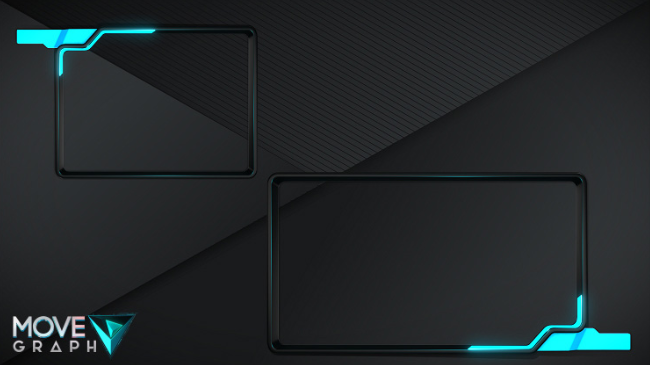 Optic Blue is likely to spark a sense of nostalgia. It's available from Move Graph and based on a clean, sleek, neon look -- one that will remind audiences of Tron. Optic Blue's animation is in the form of an energy current that runs from the bottom right-hand corner to the ends of the neon turquoise accent. This overlay comes in two sizes and in both .WebM and .mov files. You also get static images.
---
12. Facecam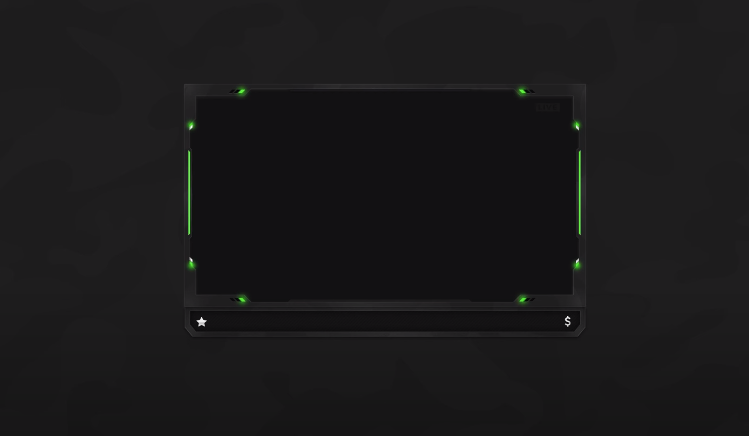 If you appreciate minimal animation, Facecam may be perfect for you. It's a clean WebCam overlay with accents strategically placed along the border of your WebCam. Accents glow in different colours and this overlay is designed for editing through pintools.com, allowing for colour changes.
---
13. Creed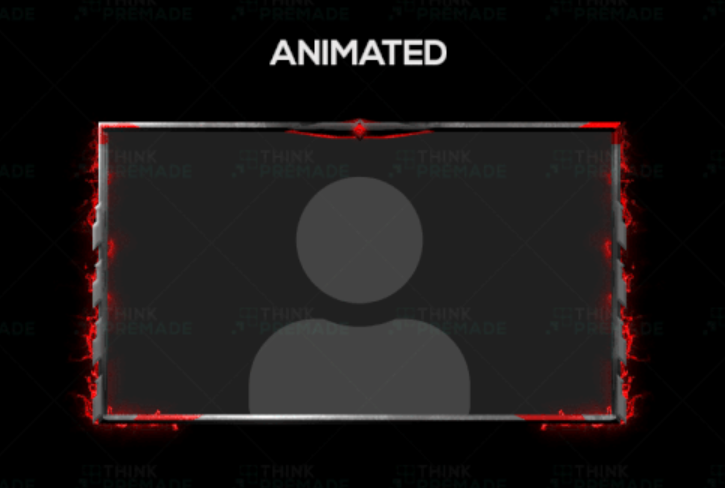 Creed is a Think Premade WebCam overlay. It includes two animations in the form of a constantly burning fire and glint of light that mimics a reflection as it runs from left to right of the border. It comes with multiple colour options. You can also add a username to the top via your streaming software, and this overlay comes in .WebM file format.
---
14. Helix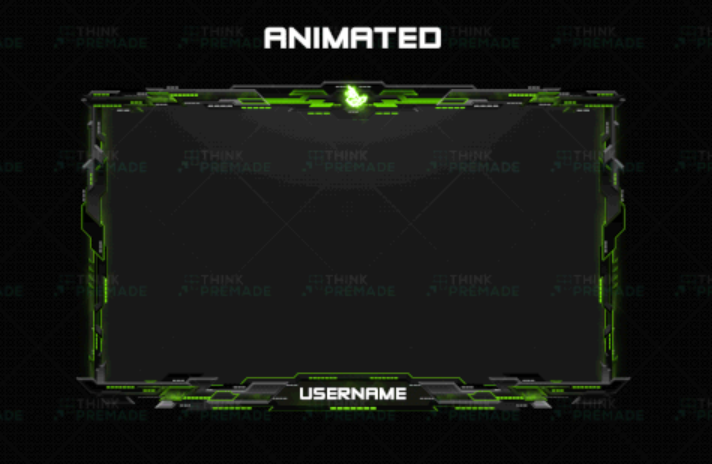 Helix offers a more complex look and feel, but makes for an attractive overlay. Its animation includes a burning flame positioned at the top-centre of your WebCam view. It also includes an energy surge that runs down the left and right borders, and status bars that load in the bottom left and right corners. There's room for your name at the bottom of the overlay. This animated Twitch WebCam overlay comes with a free static image, 10 colour options, and an AVI file.
---
15. Stealth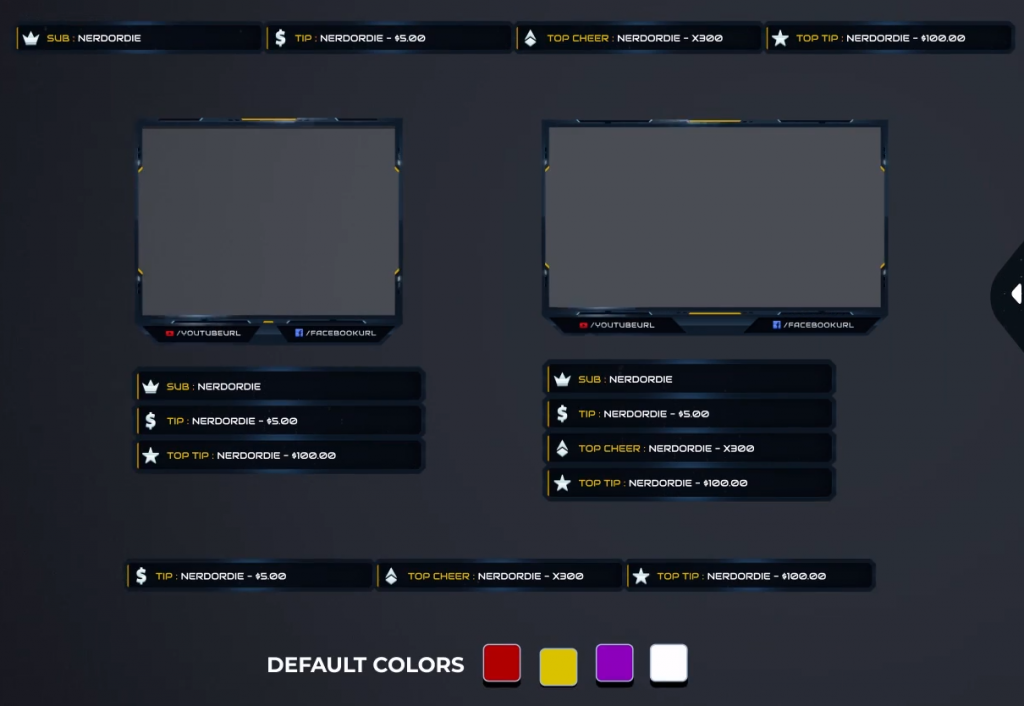 Stealth is a Nerdordie WebCam overlay that's part of the Stealth Stream Package and comes with mesmerizing animations. You get reflections that run from left to right along the border, accent colour changes, and status bars that load along the left and right borders. The overlay also includes panels that are displayed below the cam window. It comes in red, yellow, purple and white colour options. As a Nerdordie product, you get overlay and alert packages with all source files for edits.
---
16. Clearview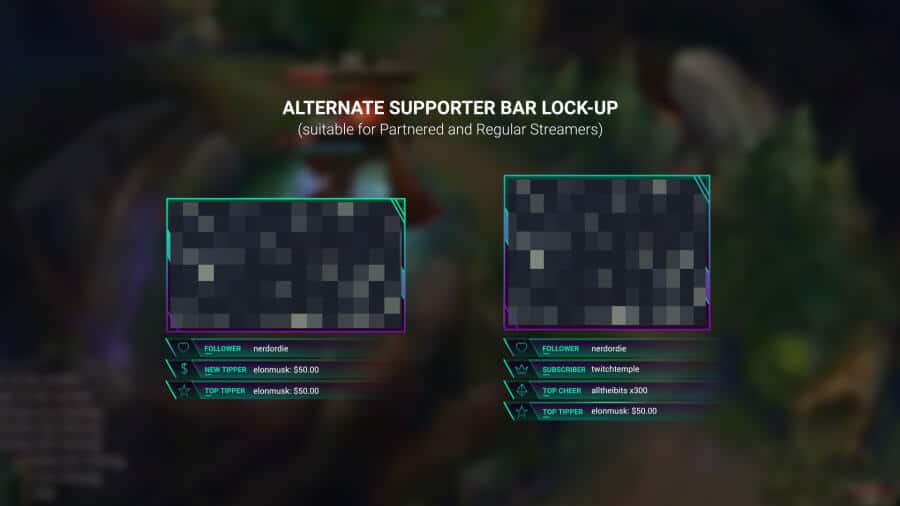 Clearview has a distinct colour gradient and animation feature audiences will enjoy watching. It includes shifting bars that run vertically and in opposite directions, while its border colours gently transform, getting lighter and then returning to their original hue. It is part of the Clearview Stream Package, and to use it you'll need to purchase the complete package. As with all packs from Nerdordie, you won't be disappointed with your buy. You'll get alert and overlay packages with editable files.
---
17. Clean Dark
Clean Dark is a rugged-looking animated WebCam overlay from Own3d. It's in the Clean Dark Steam Dark Design Series. The solid look and feel are likely to be the first design elements fans will notice. You receive four types of overlay designs (two bordered and two borderless). We like this overlay because it's designed to give streamers more attention with animations that are present but subtle in the form of small, glowing orange border accents.
---
18. 80s Retro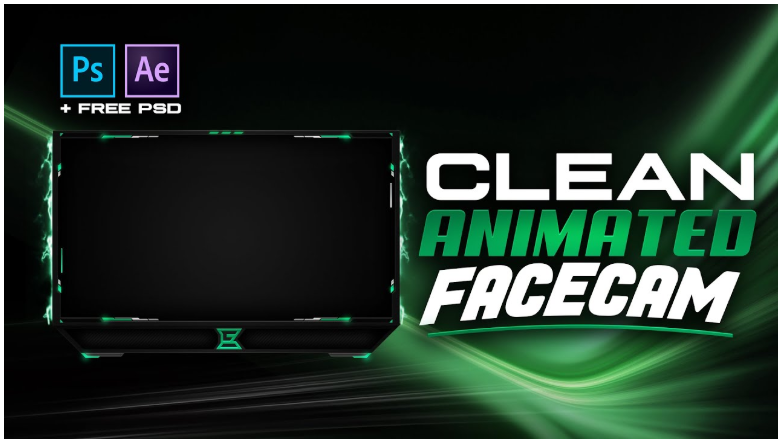 80s Retro is a standalone WebCam overlay designed to give you the feels. It includes everything that made the 80s cool, from the strong neon purple and turquoise colour combination to an animated grid that appears at the bottom of the WebCam, something that's reminiscent of a Star Wars opening reel. 80s Retro includes a PNG file that can be edited (contact Twitchoverlay.com support).
---
19. Stone Fire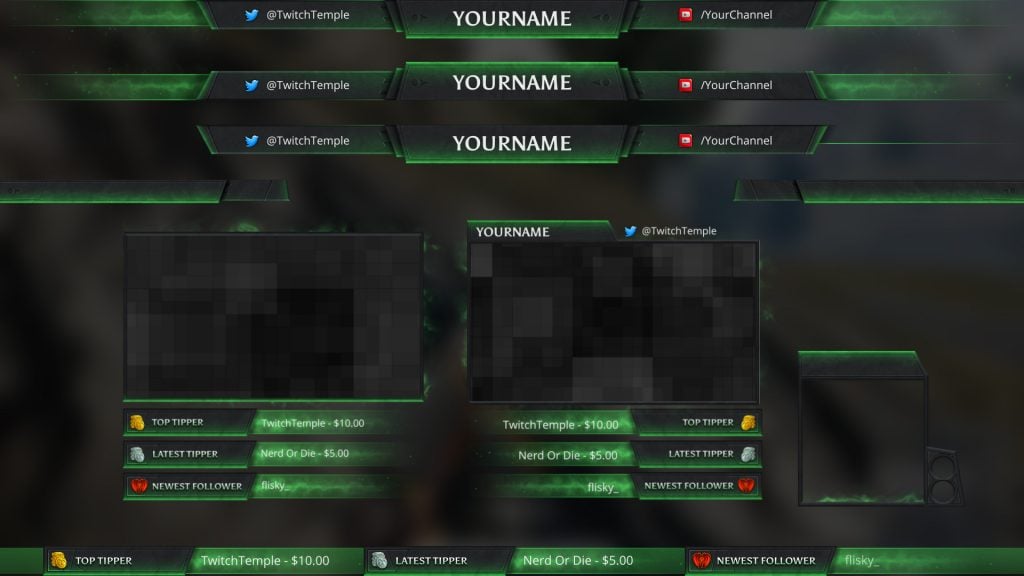 Stone Fire is a Twitch Temple animated WebCam overlay and one of the more advanced to make our list. With it, you can add custom alert sounds for cheers, new followers, hosts, new tips, top tips, and new subscribers. You also get free blank panels to create your own designs.
The animation includes vapour that emanates from the top, left and right of the overlay border. There are two overlay options (bordered and borderless).
---
20. ITOC Purple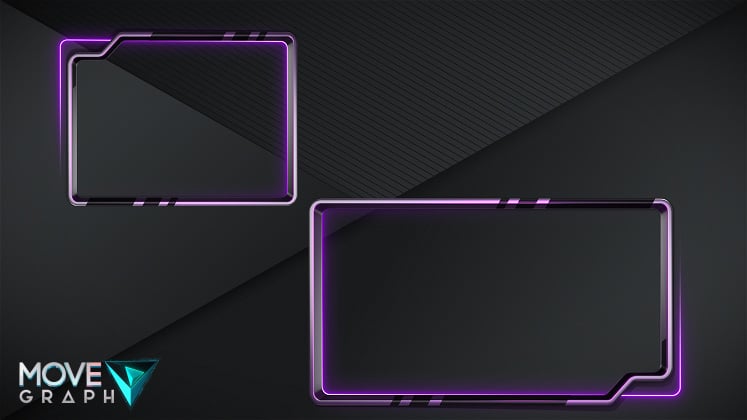 Like Optic Blue, ITOC Purple uses a strong neon light design theme. In this case, the colour is purple and the animation is more subtle. Reflections slowly run from the bottom to the top of the overlay border, while neon lights steadily pulsate. ITOC Purple comes with two .mov and .WebM files and is OBS-ready.
---
Wrapping Up
There are tons of Twitch animated WebCam overlays available today. As you search for yours, enjoy the process. They come with multiple colour options, features and animation effects, so take the time to find one (or a couple) that resonate with you and your audience.
Sours: https://influencermarketinghub.com/animated-twitch-overlays/
Similar news:
Free Stream Overlays for OBS & Streamlabs
What is a stream overlay?
A stream overlay is, on a basic level, the graphics you see over the top of someone's gameplay and/or webcam when you're watching a stream.
It's normally things like a header featuring the streamer's name, a border around the webcam, and smaller info panels to show off Latest Followers, or social media names.
These are provided as .PNG, .GIF, and .WEBM files
Starting Soon Screens, Stream Alerts, and more
Starting soon screens (also BRB screens, and Stream Offline screens) probably require little explanation - these are graphics and animations that fill your Scenes in OBS Studio or Streamlabs OBS, designed to keep viewers updated when you're not on-screen. They normally come as .JPG images, or .WEBM & .MP4 video files.
Stream alerts are little graphics (often animated) that pop up on screen during streams shouting out viewers who've followed, subbed, donated, or cheered. They're effective and engaging ways to make your audience feel valued. These are provided as .GIF, .PNG, or .WEBM files, all compatible with Streamlabs.
Twitch Banner & Avatar Templates
A Twitch banner is found on your profile page, while the avatar is used throughout the site. A number of stream packages on Twitch Overlay include matching stream banner & avatar templates you can easily edit with your own info.
These Twitch banner & avatar templates are normally provided as .PSD files for you to customise manually, or have the customised for you by selecting Professional Customisation when choosing a Buy Option.
Sours: https://twitchoverlay.com/downloads/category/free-downloads/free-stream-overlays/
1440
1441
1442
1443
1444