You love hiking. I love hiking. We all love hiking. But you know what we love when we aren't hiking? Hiking memes!
I cleaned out the files and pulled out my 15 best hiking memes that will make you laugh.
Two days into your backpacking trip meme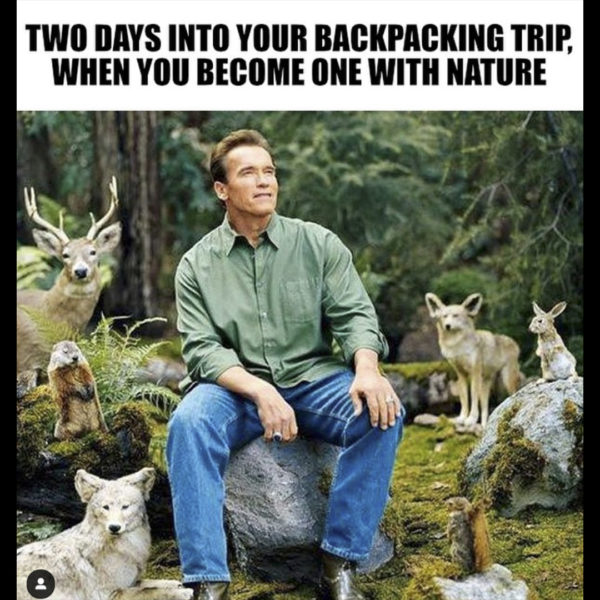 Admit it, you have experienced this hiking meme. Two days in or so and you just want to be one with nature and live there forever.
Deciding if you really need to pee camping meme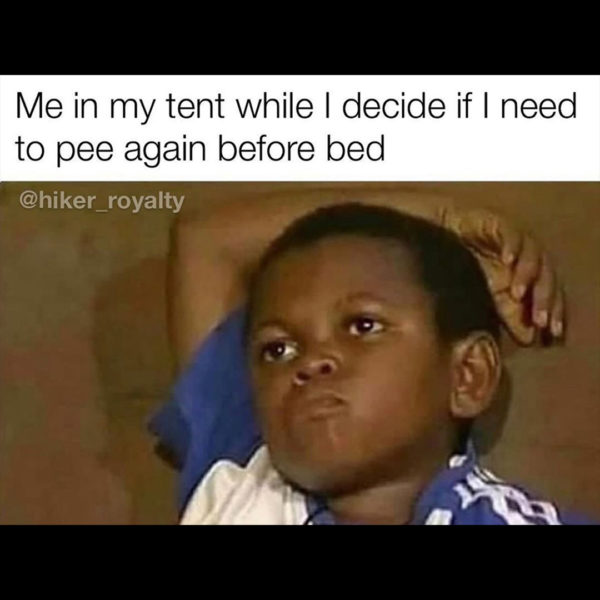 It isn't usually right before I get in my tent that I debate this. It is about 10 minutes after I get in and have wrestled myself into my sleeping bag that my bladder says "are you sure don't need to pee again?"
Day 1 of backpacking Vs Day 3 of backpacking meme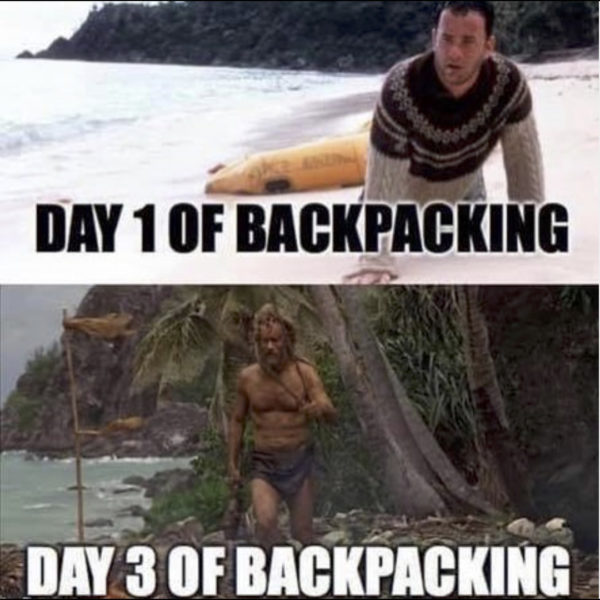 I know I've come out of the woods looking and smelling like I've been lost out there for weeks when it has only been 2-3 days. Sweat, bugs, dirt all add up to make day 3+ of hiking a smelly operation.
Day hikers vs through hikers meme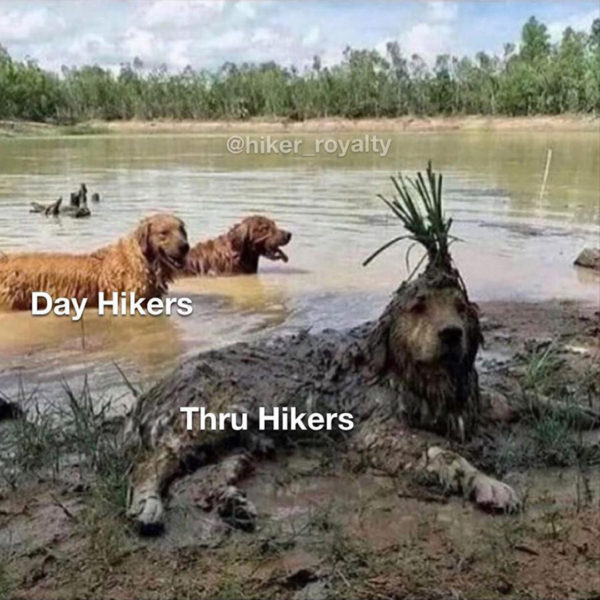 I am always a bit suspect of the Instagram hikers that always look good in their photos. By the end of day 1 I'm usually a mess. This hiking meme rings incredibly true.
Long hikes vs all of life hiking meme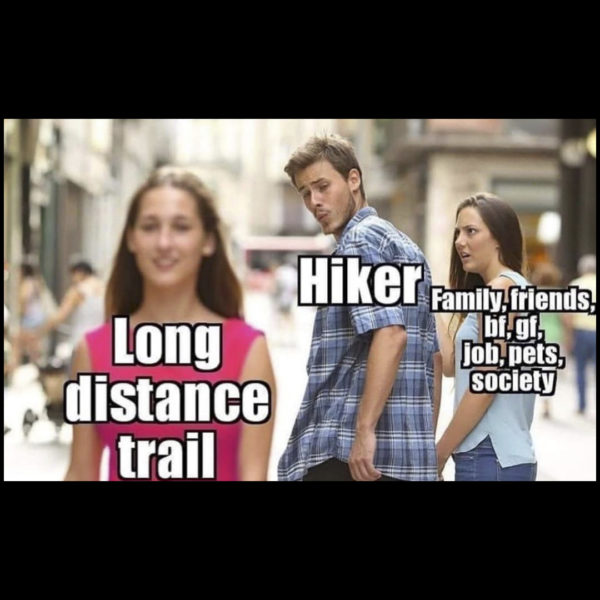 Something has to win. This hiking meme hits home at the eternal battle between going on long hikes and camping in the middle of nowhere and life, family, work and all the other mundane parts of life.
Mom wanted a photo from the top hiking meme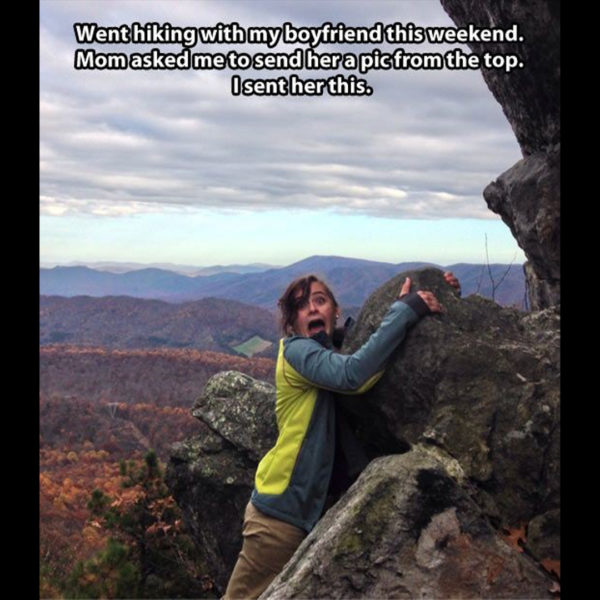 The new hiking buddy meme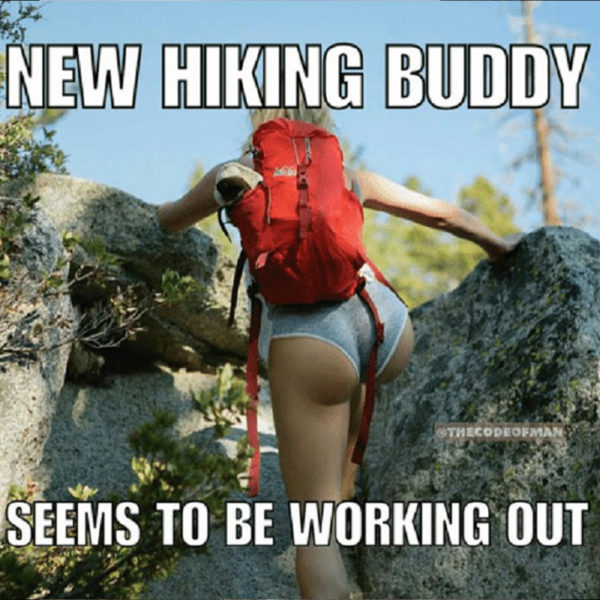 BTW I'm always taking applications for hiking buddies that look like this and can keep up with me. Trust me the keeping up part is easy, I'm slooow. 😆😆😆
Pack out some trash and pretend it is CrossFit meme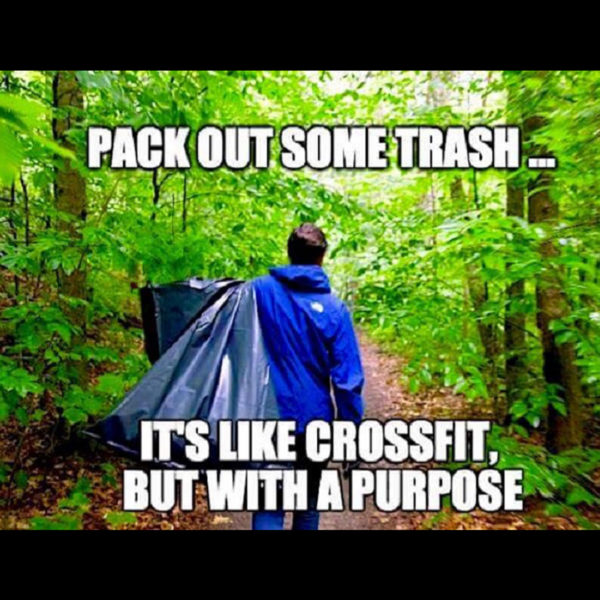 I've never packed that big of a bag of trash out from a trail, but it has come close a few times. The stuff people leave behind when hiking kills me. Like a full single use water bottle full of pee. Why would you leave that in the woods?
People in sleeping bags are burritos for bears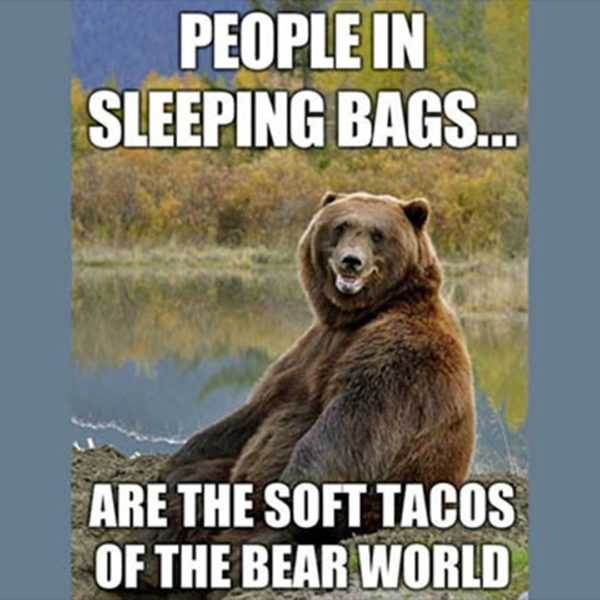 Now this isn't generally true, but being all tucked into a sleeping bag does make it easy for Bigfoot to pull you out of your shelter and have some fun with you before you wake up. Ever wonder if young Bigfoot dare each other to go mess with the humans? I'm betting they do.
Sketchy hiking plans meme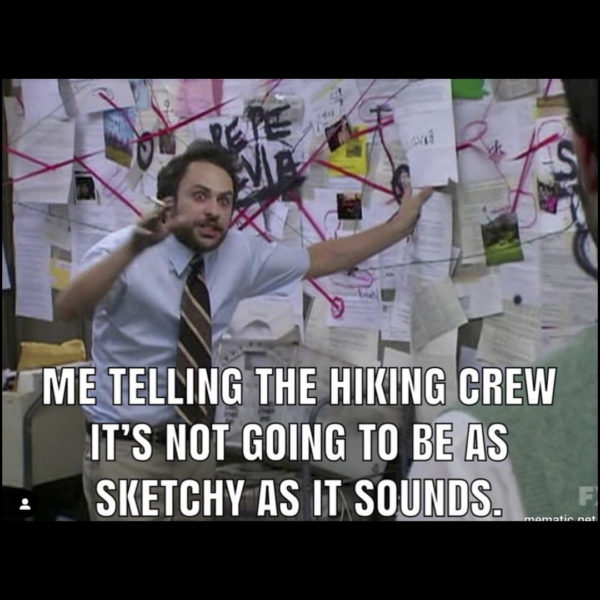 Most of my plans sound pretty sketchy. Mostly because I got used to going hiking solo, so I only had to talk myself into it, which is pretty easy.
I've got 99 problems and switchbacks are literally all of them hiking meme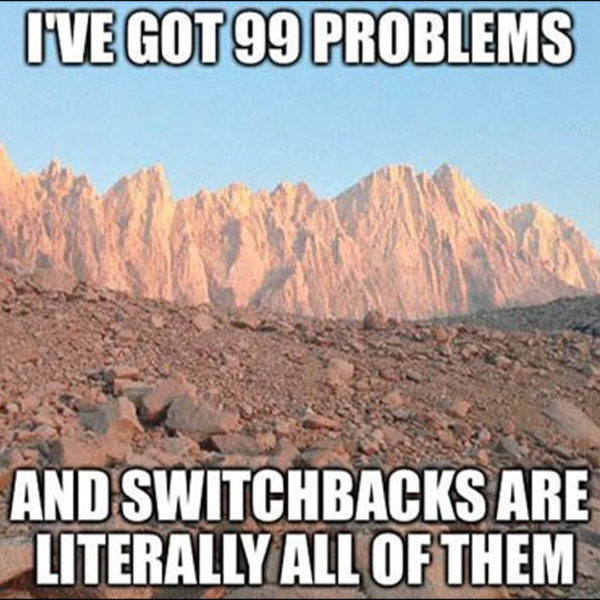 My main hiking buddy HATES switchbacks. This one was included especially for her.
Hiking trail mix music meme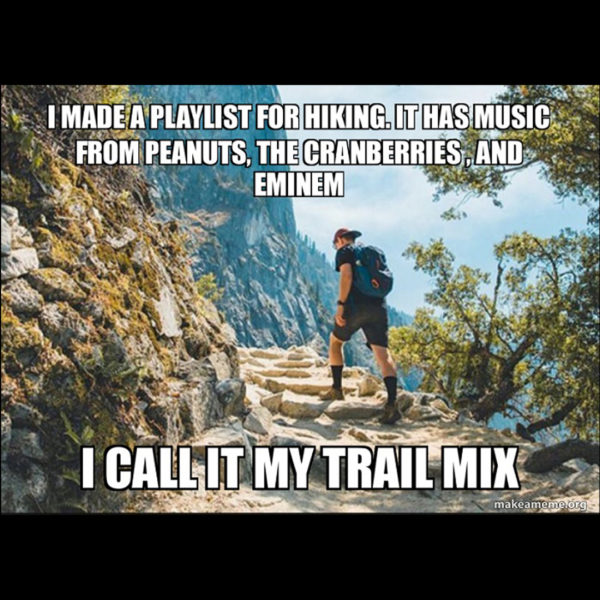 A music trail 'mix' is great, as long as you aren't pumping it through a bluetooth speaker at full volume. If you are one of those people that does that, let me just tell you now that everyone hates you. Stop it!
Hiking – what people think I do vs what I actually do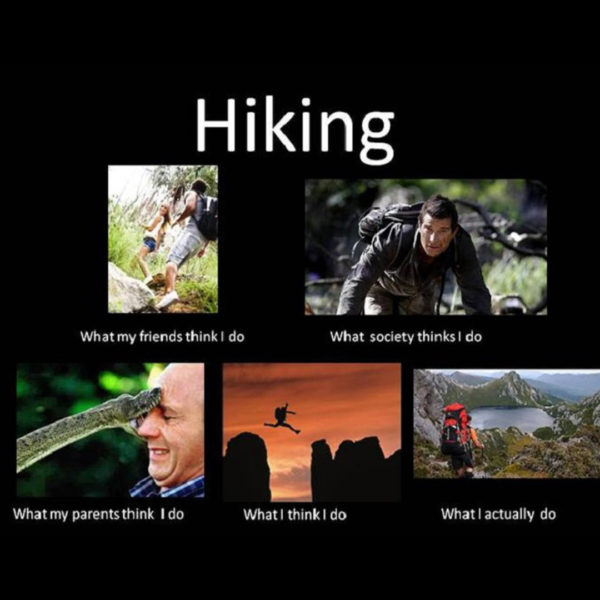 What I feel like when I come home from hiking meme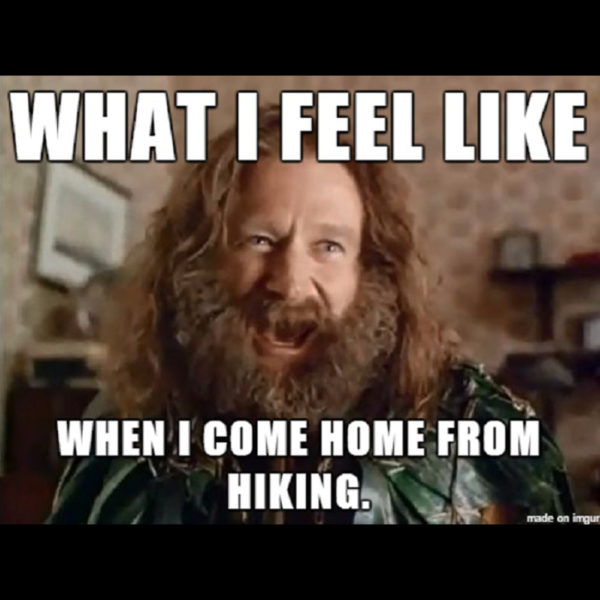 Honestly when I get home I usually want a beer, a shower and a long nap. Maybe some ribs. Yeah, food is good. LOL
If the worst day on the trails is better than your best day at work meme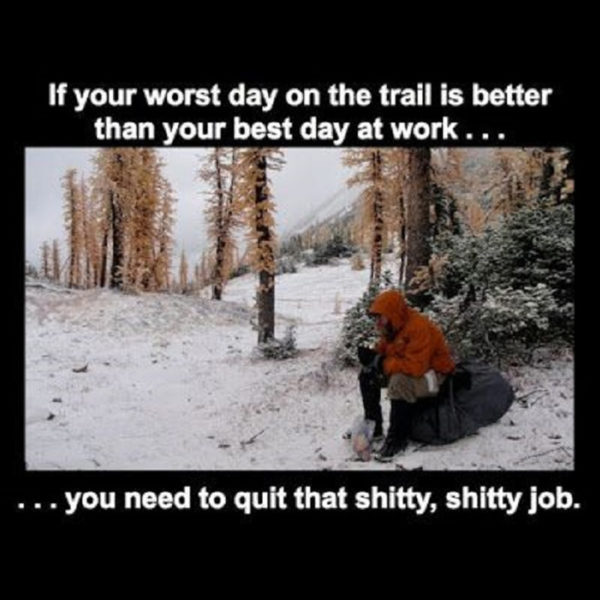 I'm fully with this one. Mainly because I've had some shitty days on the trail and work isn't always that bad. If your work is that bad, you really, really need to find a new job.
There you have it, 15 hand picked hiking memes to make you smile. If you have one that you think I should include, drop me a note and let me know!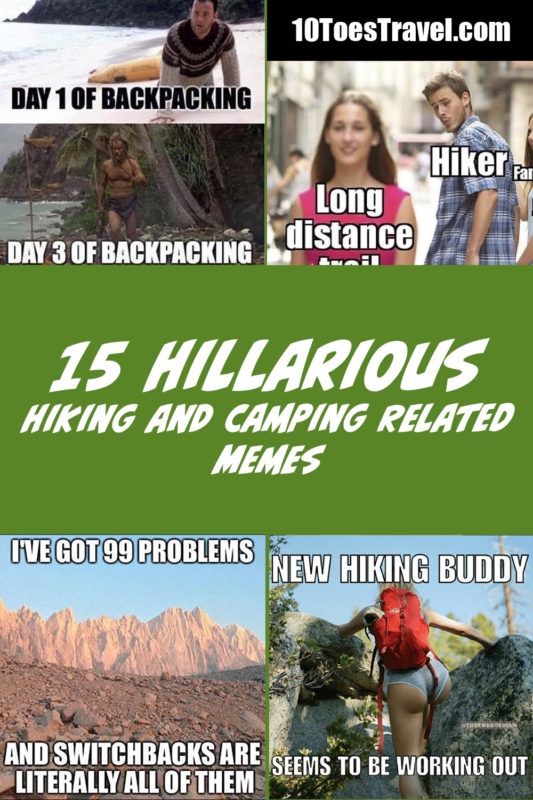 Sours: https://www.10toestravel.com/15-hiking-memes-that-will-make-you-laugh/
20 of the best hiking memes and gifs on the Internet
The internet has given us a number of different ways to amuse ourselves - no matter what our favourite hobby may be. Hiking enthusiasts will not be disappointed when searching for ways to express their love of hiking and humour online, and here are twenty of the best.
Bear in mind that these are all SFW (Suitable For Work), and you could even download a collection of them for your next hike as a motivational tool. Alternatively, you could always hike somewhere with excellent mobile data coverage.
1) What's that 'animal' rustling in the leaves?

Surely we have all approached a moving pile of leaves before and wondered what beast is hiding beneath?
2) Overly-attached girlfriend - hiking style.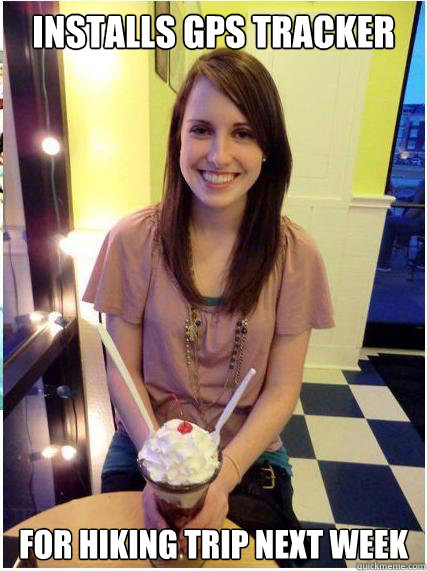 It was only a matter of time before overly-attached girlfriend made her debut into the world of hiking!
3) The hungry raccoon is waiting to pounce.

Beware those pesky raccoons when there's food around!
4) Grumpy cat goes hiking... and gets grumpy.

It seems that the even the fresh air of the great outdoors cannot change his mood.
5) Stating the obvious.

When going hiking, remember 'safety first' to avoid any unnecessary injuries.
6) Bi-lingual English/Canine signpost.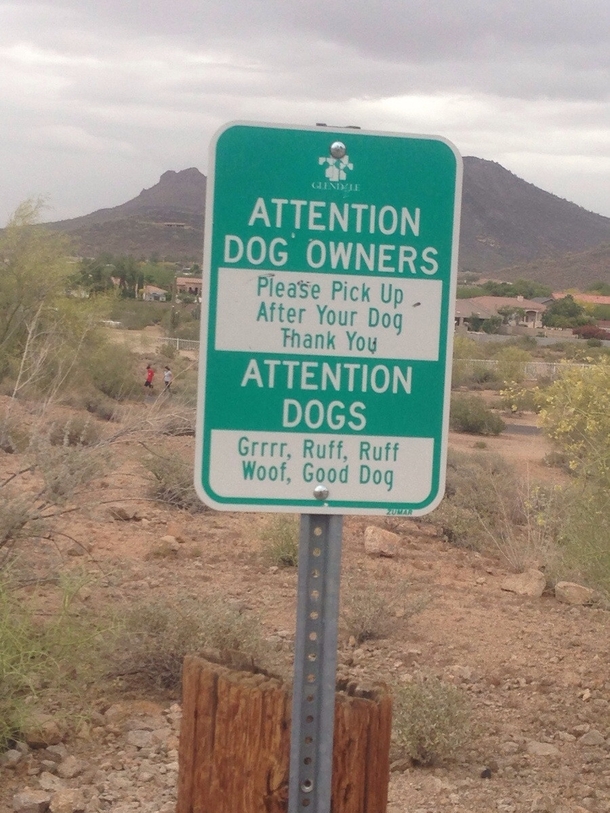 Someone needs to check the dictionary to make sure that it is accurate.
READ MORE: The funniest camping GIFS and Memes on the internet
7) Sudden Julie Andrews Syndrome.

Is this actually a 'thing' for hikers? Would it also work on ground that is completely flat?
8) A little lost?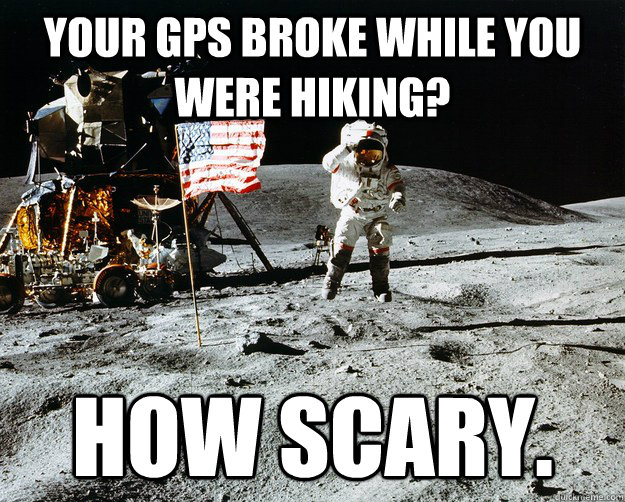 Perhaps this is just the tiniest bit far-fetched.
9) Hiking season is coming.

Is there actually any subject left that has not had the GOT treatment?
10) Meanwhile, in Russia.

They like to take camping to the extreme over there, and most of the hardiest Russian campers and hikers wouldn't even bat an eyelid.
11) Zombies!

Someone may have been watching too much of The Walking Dead.
12) Burn more calories while hiking.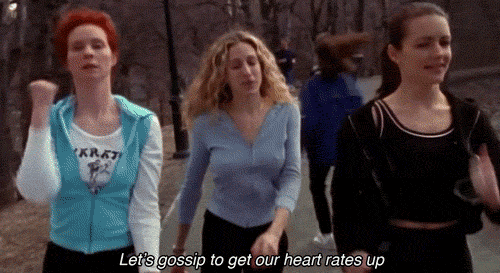 Carrie and her pals conduct a fitness experiment that may bring even more benefits over a long hike.
13) The real danger of hiking.

Keep to the footpaths to avoid these guys - they're not all about cute patterns and milk.
14) Beware of squirrels

Always make sure your nuts aren't exposed out in the wild.
15) The honest truth.

You're a long way from home.
16) Donkey likes a boulder.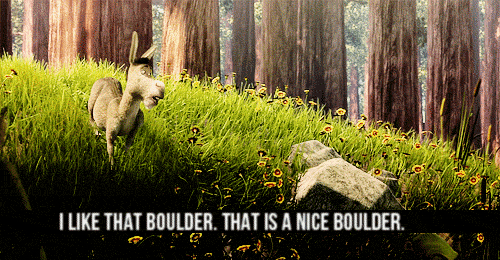 Shrek seems to be another hiking-friendly movie.
17) Above-average camping toilet / bathroom.

Warning - other camping facilities may not quite be up to this standard.
18) If the Northface jacket fits.....

It was never going to be long before Gene Wilder also got in on the hiking action.
19) Does a bear hike in the woods?

People who follow you will certainly think so.
20) The new scale for measuring total distance hiked per day.

Are there any other 'epic journey' movies that could be used for this scale?
Sours: https://www.winfieldsoutdoors.co.uk/blog/20-best-hiking-memes-gifs-internet/
60++ Hilarious Hiking & Camping Memes You Absolutely Have To See
Sharing is caring!
Huge collection of absolutely hilarious hiking & camping memes, and funny outdoor comics, jokes, quotes, and cartoons!
Have you ever found yourself in an unexpected or funny situation while on a hiking trip? That face-palm feeling you'd have, or that non-stop laughing spree? You'd wish you could make a hiking meme or a funny camping comic of it! We come across these outdoor meme-worthy moments on almost every hiking trip!
Once in awhile browsing the internet, we come across a hilarious hiking meme or a funny camping quote, and can not but chuckle. So we've decided to make a collection of our favorites! Dear hiking enthusiasts, you will not be disappointed!
***This post may contain affiliate links and we may earn compensation when you click on the links at no additional cost to you.
All product recommendations and feedback are ours and based on personal experience. Please refer to our Disclosure Policy.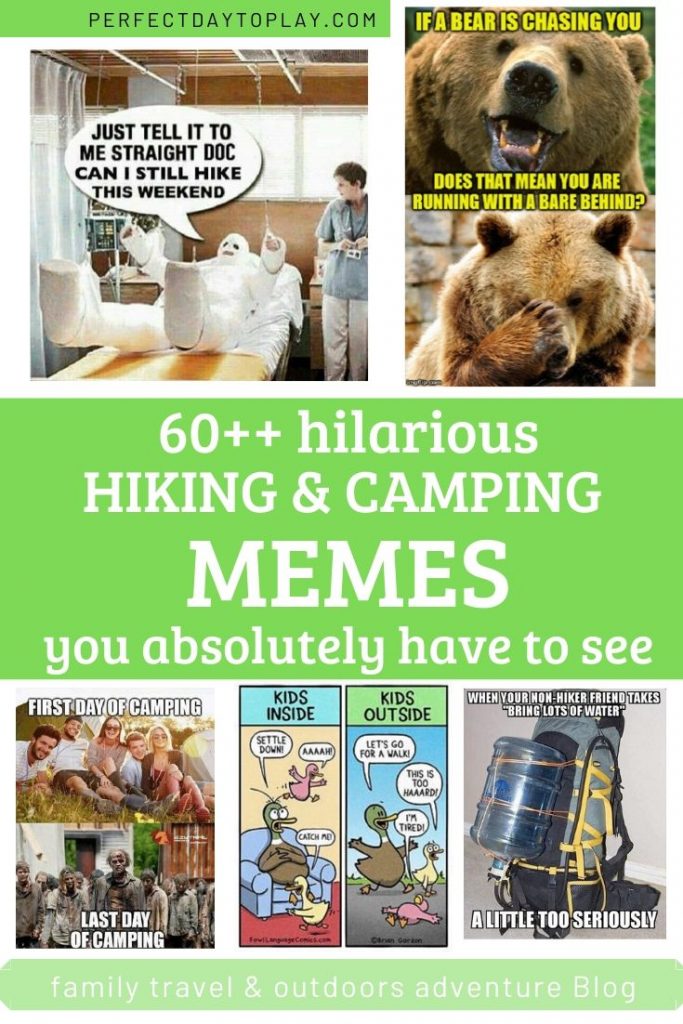 Please note, the images are taking off the internet and are not produced by us. These funny camping memes and hiking memes are posted "as is" – we have not been editing out any references on the pictures themselves. Where possible, on a "best-effort basis", we tried to trace back the source of these hilarious hiking and camping cartoons, jokes and quotes and added a credit to the author.
You may also like:
.
Absolutely Hilarious Camping & Hiking Meme List
.
1) "Come hiking they said…" MEME.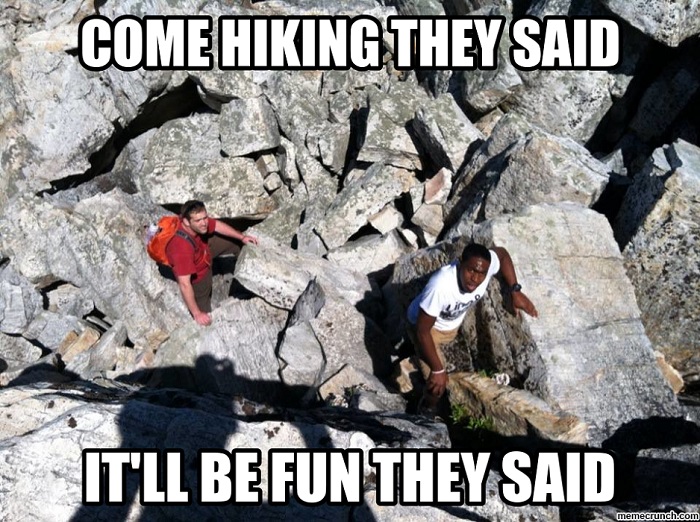 .
2) What I feel like when I come from hiking" funny hiking MEME
.
3) "Hiking – what they think I do" MEME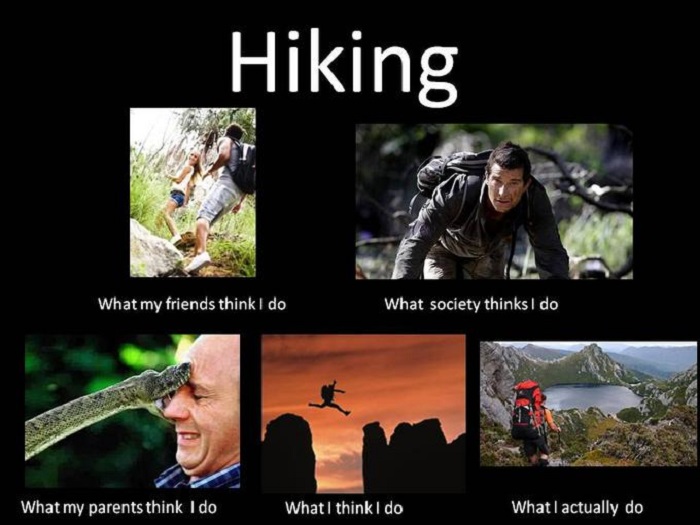 .
4) "Always hike with someone in worse shape than you" funny hiking MEME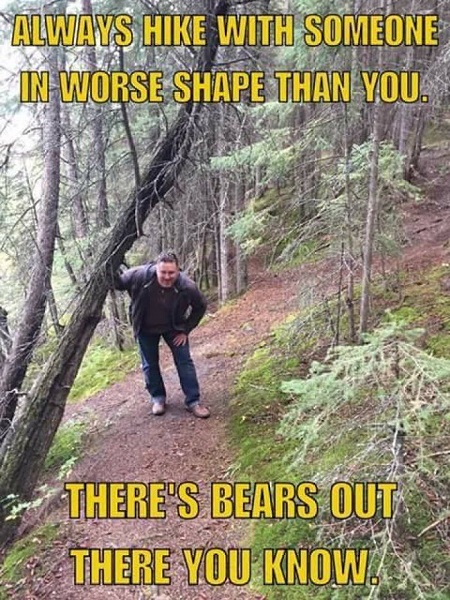 .
5) "Running with a bare behind" funny outdoors MEME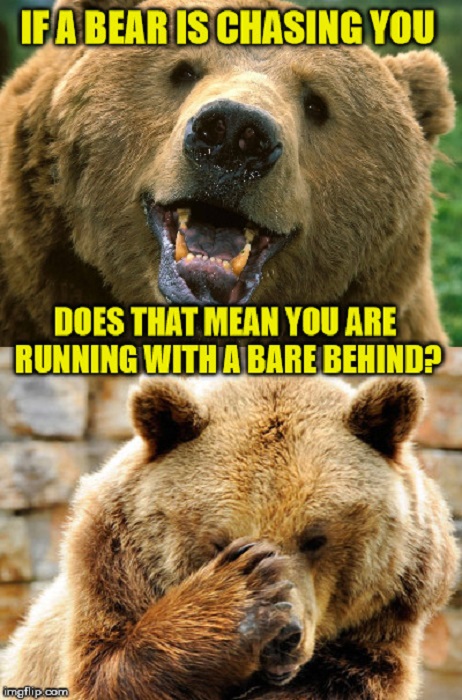 .
6) "When my therapist says I need to do more outdoor activities" MEME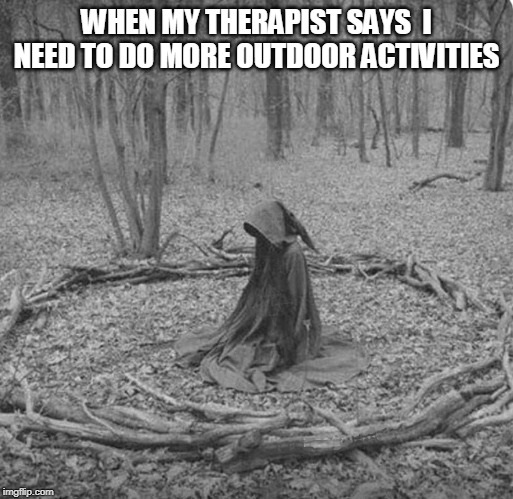 .
.
You may also want to check out our other funny meme and humour collections:
60++ Absolutely Hilarious Homeschool Memes, Jokes & Cartoons for Moms
50++ Hilarious Travel Memes and Jokes To Cheer You Up During Covid19 Pandemic
100++ Hilarious Road Trip Memes and Cartoons Speaking Truth About Family Travel

our entire collection of family fun is HERE
.
7) "Going to school" MEME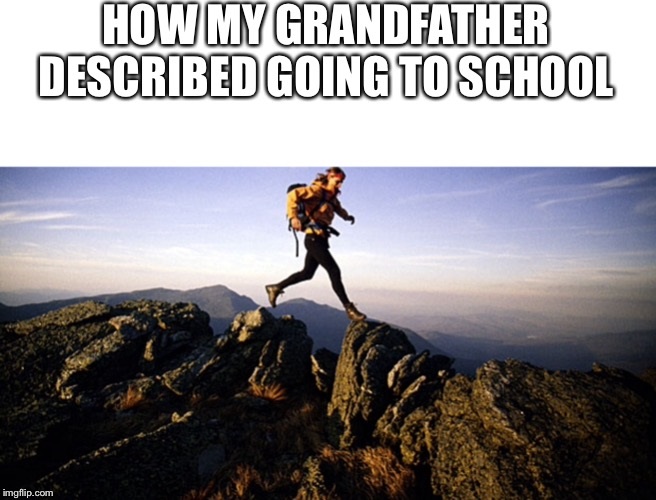 .
8) "Kids inside vs outside" funny cartoon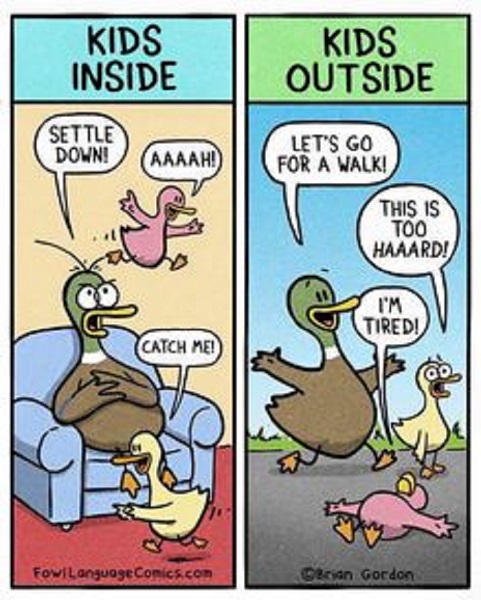 .
9) "North is every direction" comic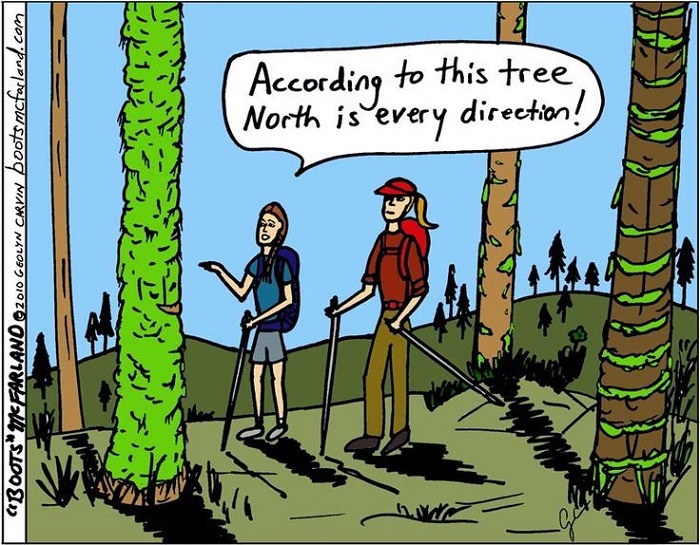 .
10) "Mom asked me to send her a pic" funny hiking MEME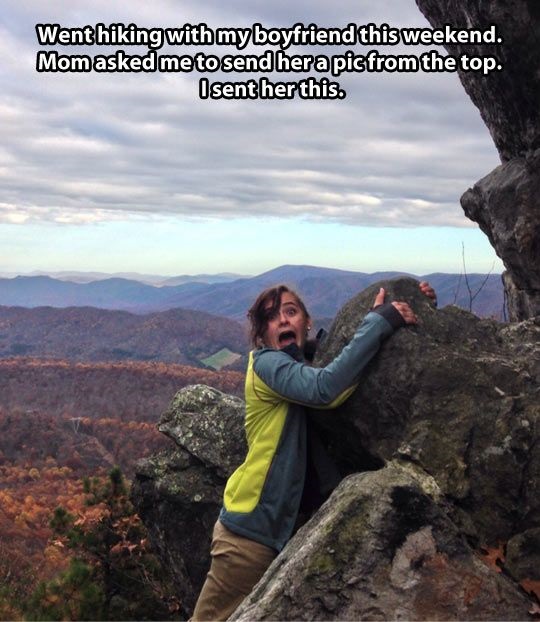 But in all seriousness, check out this article on Safety before ever going on a hike: Hiking With Kids: 12 Simple Safety Rules Every Parent Should Follow
.
11) "No WiFi" MEME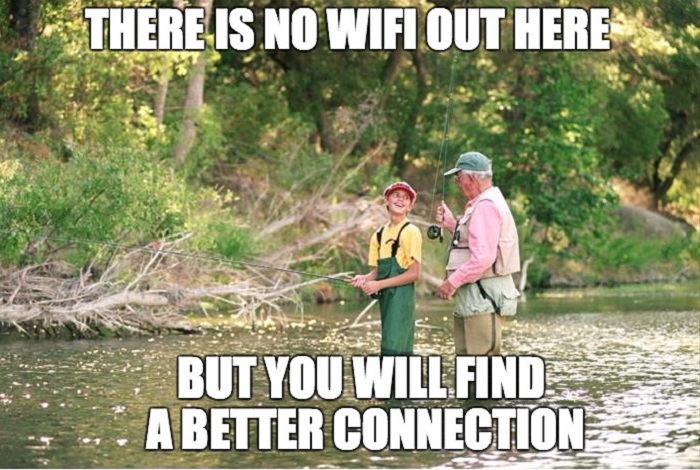 .
11) Backpacking MEME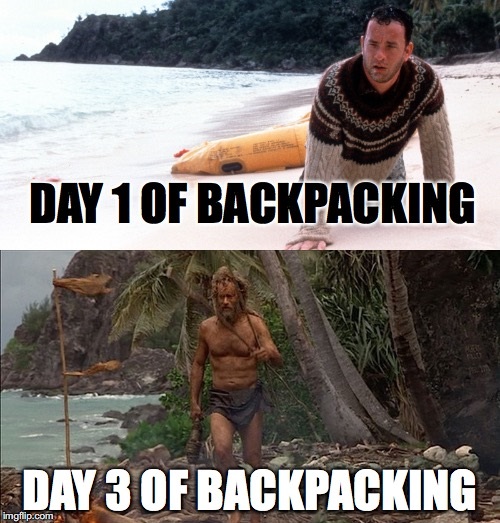 .
12) "Quit that job!" MEME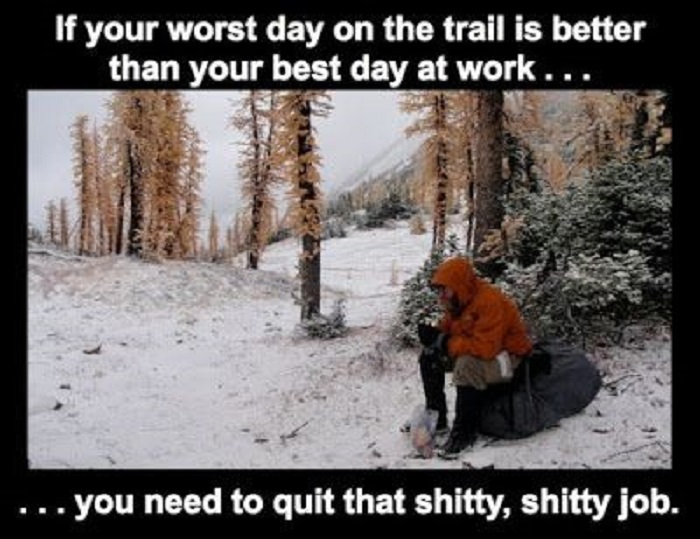 Also check out these awesome Road Trip Quotes to find inspiration if you feel you'd want to transition to a more digital nomad lifestyle.
.
13) "How's your knee?" funny hiking cartoon. We've been in this situation sooo many times!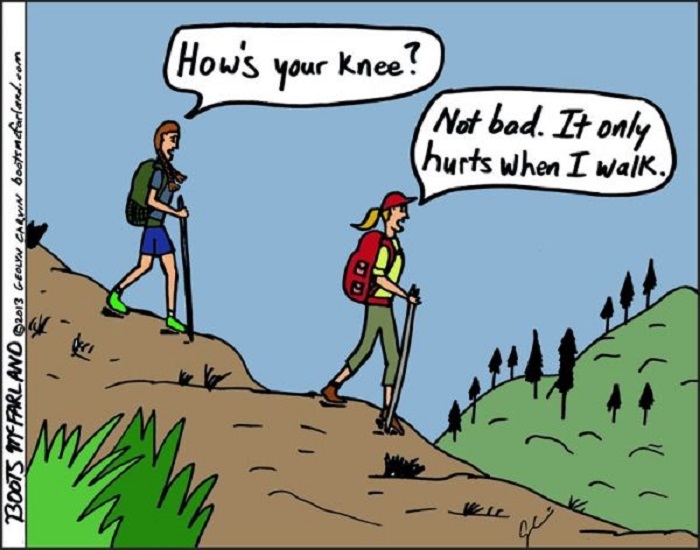 .
14) "Crossfit with a purpose" outdoor hiking MEME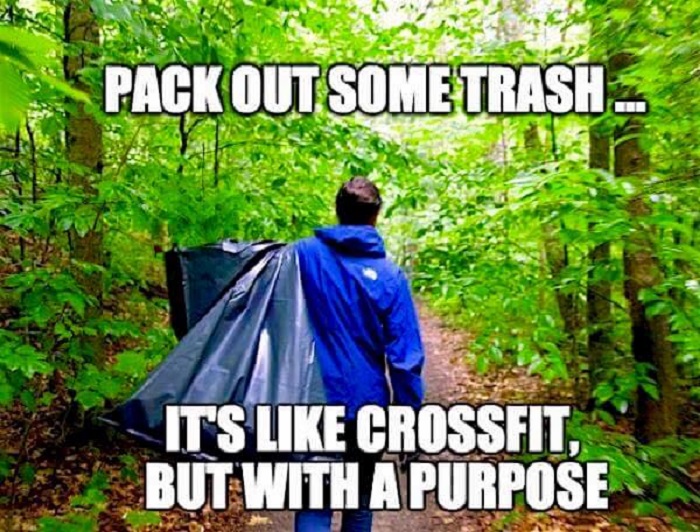 More on the topic of purposeful green action: Leave No Trace & Outdoor Ethics – Zero Impact Family Adventures
.
15) Mountaineering cartoon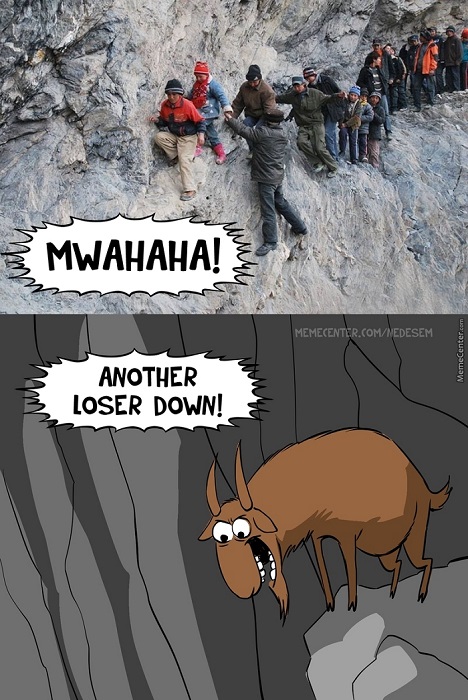 .
16) "Hiking – what they think I do" MEME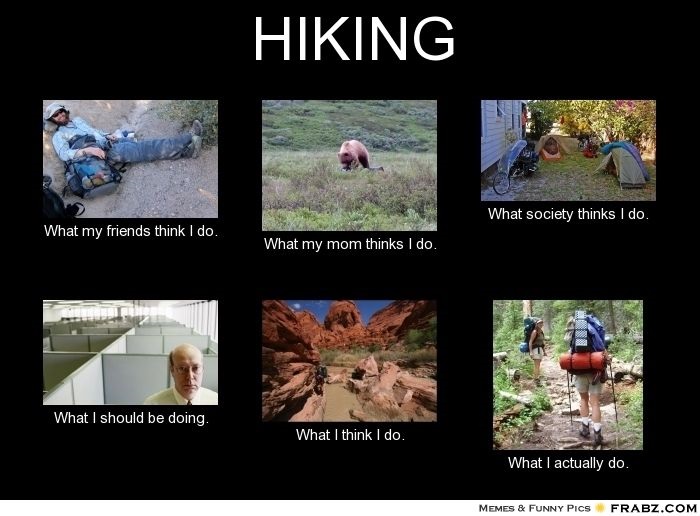 .
17) "Early bird" funny outdoors MEME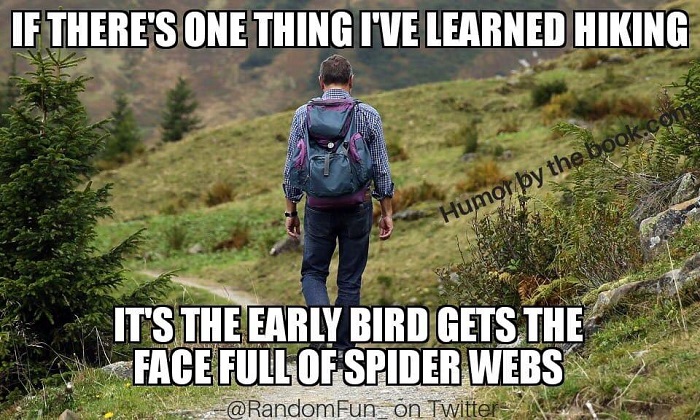 .
18) "Summer barbeques" MEME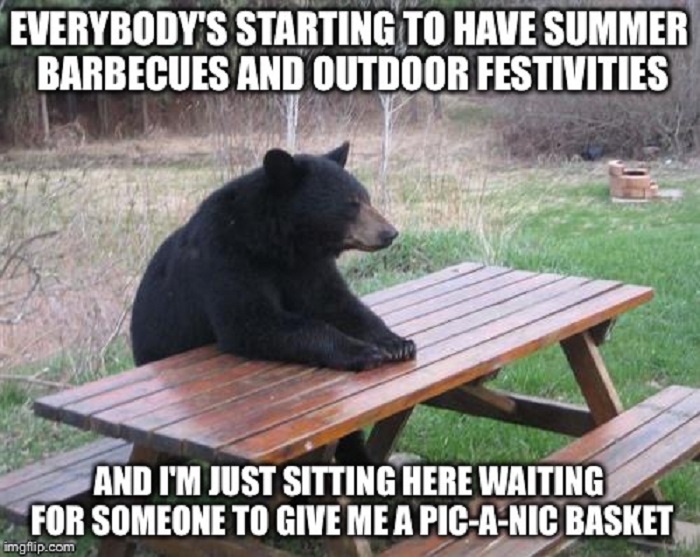 As much as this camping meme is funny, actually and sadly it is NOT.
MUST-READ: We Killed A Bear by Taryn at HappiestOutdoors.ca
.
19) "Technology addiction cure" MEME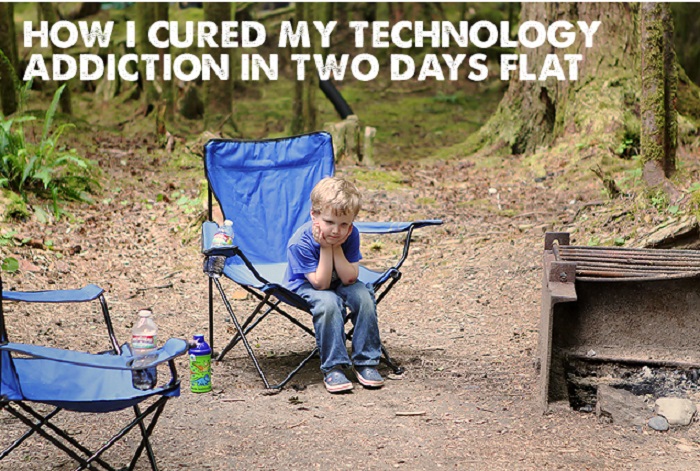 Wondering how you can pull this off if you have younger kids? Camping even with an infant baby IS possible! Here is how: Camping With a Baby – Six Baby Gear Essentials To Take With You
.
20) Hilarious camping MEME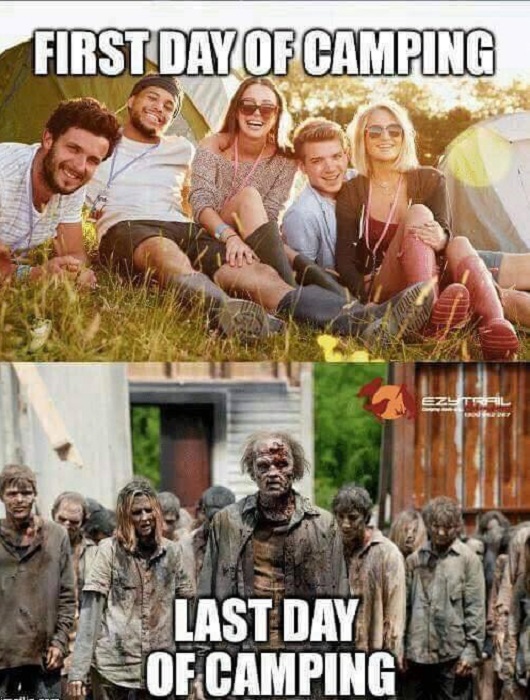 .
21) "All this stuff?" funny hiking cartoon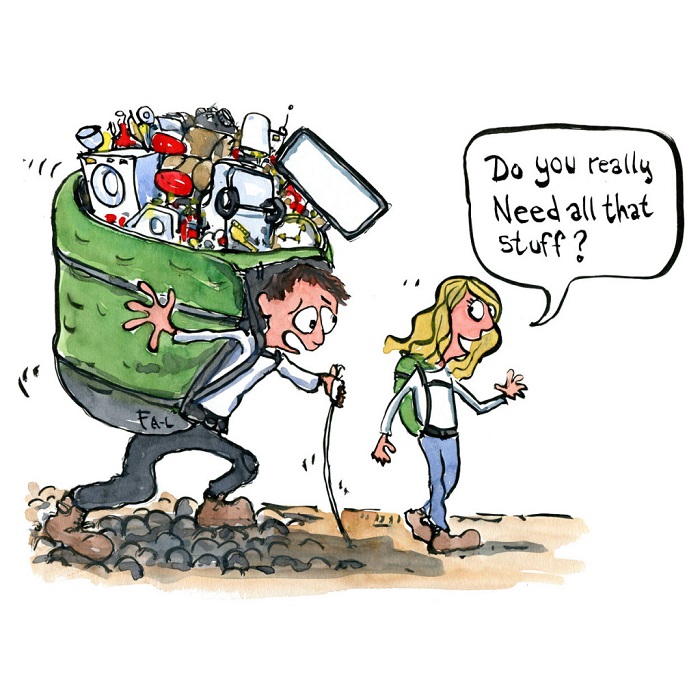 .
22) "Hikers – what they think I do" MEME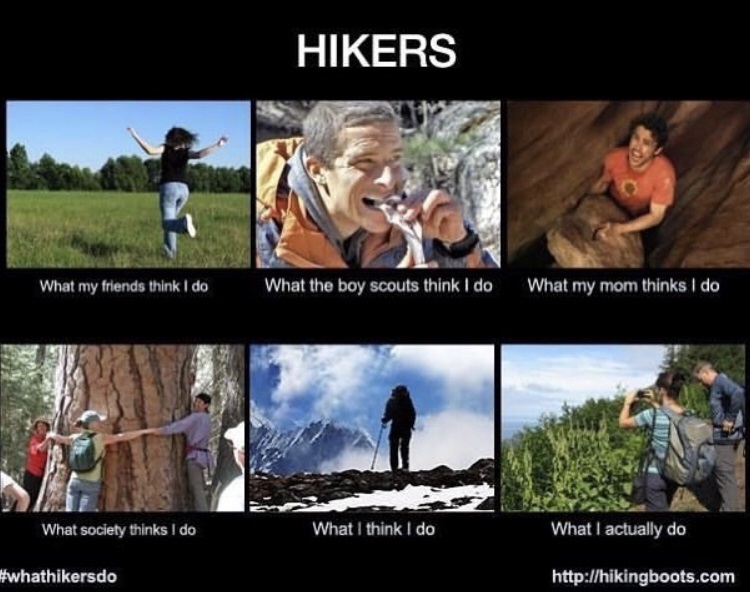 .
23) "Soft Tacos of the Bear World" MEME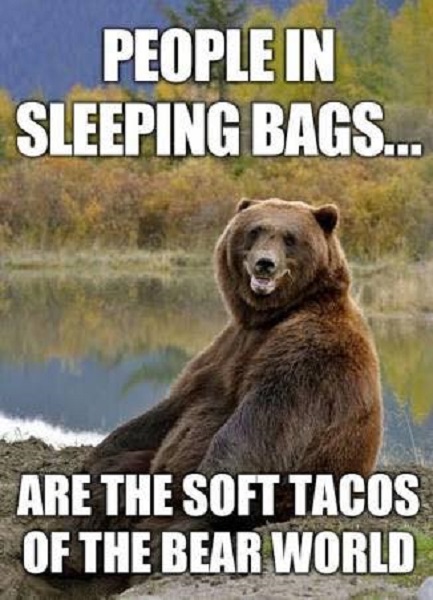 .
24) "How much farther to the top?" funny hiking cartoon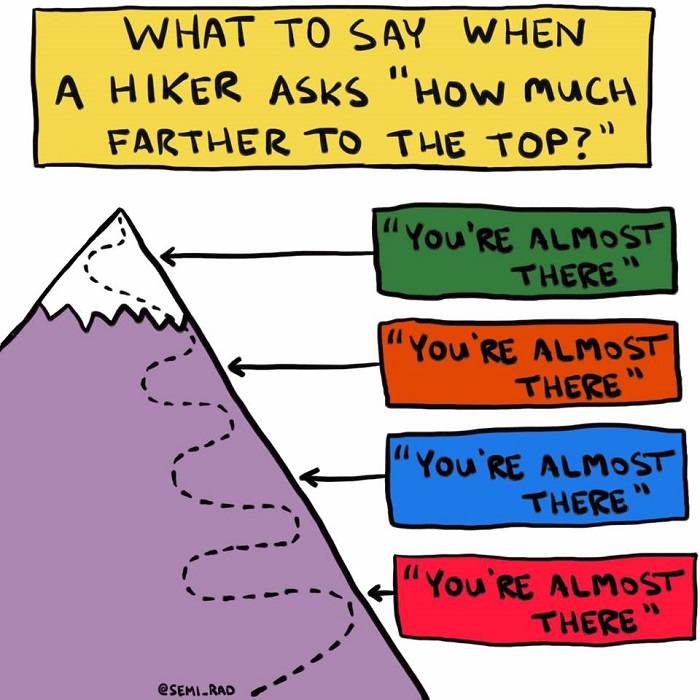 .
25) Funny wildlife cartoon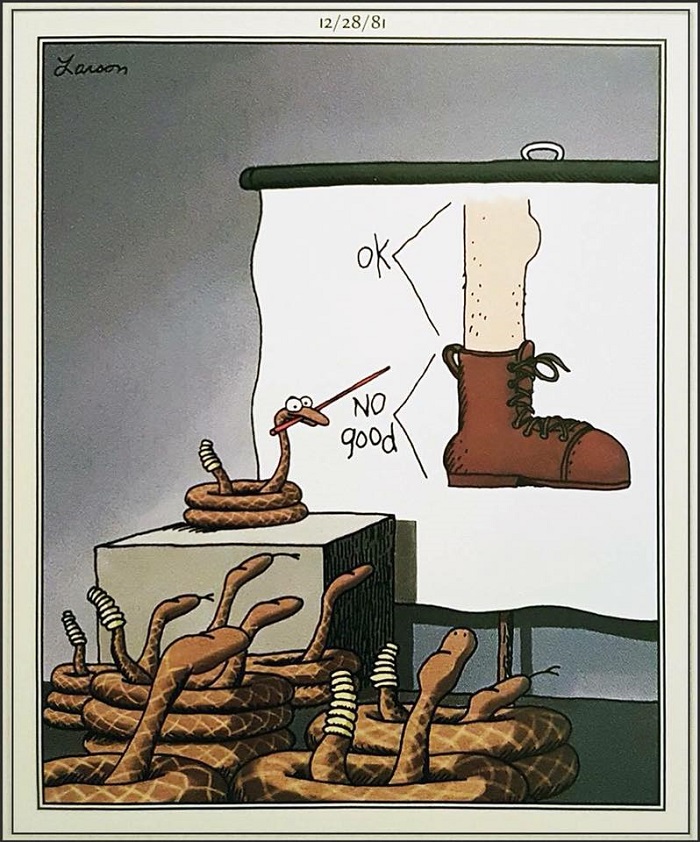 .
26) "Hiking Bears?" MEME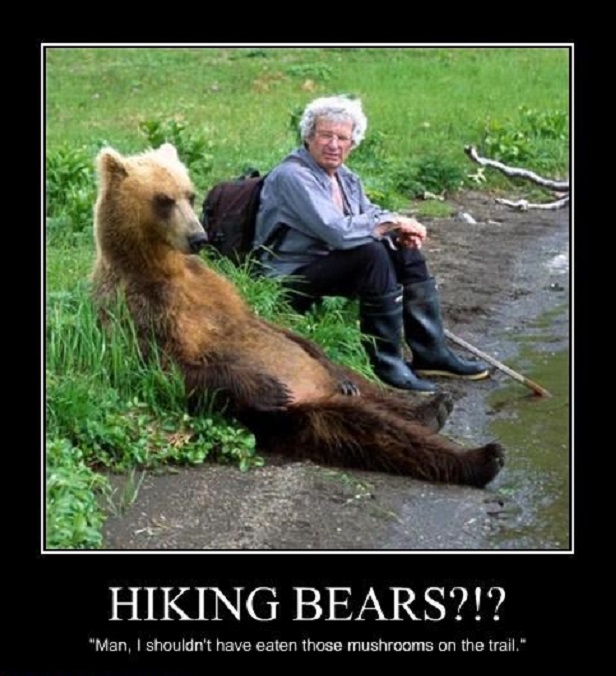 .
27) "How to return from a wilderness trip" comic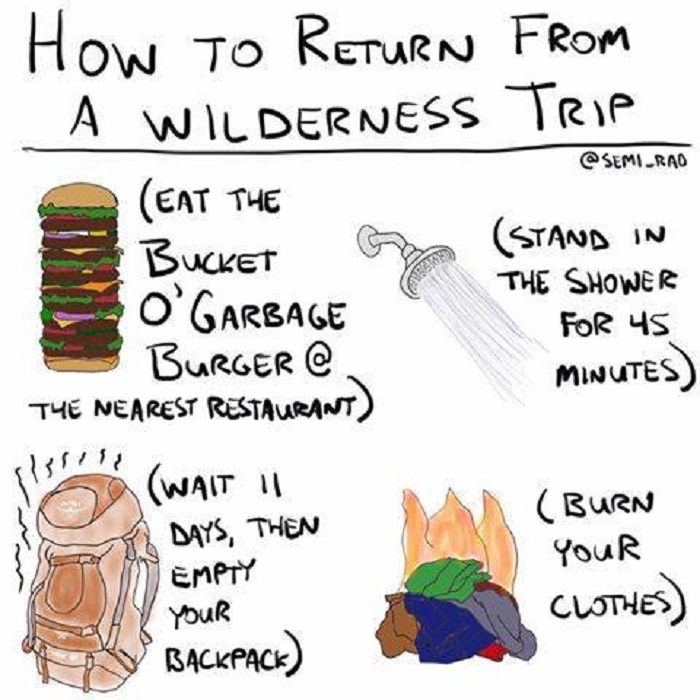 .
28) "Watching a live stream" outdoors MEME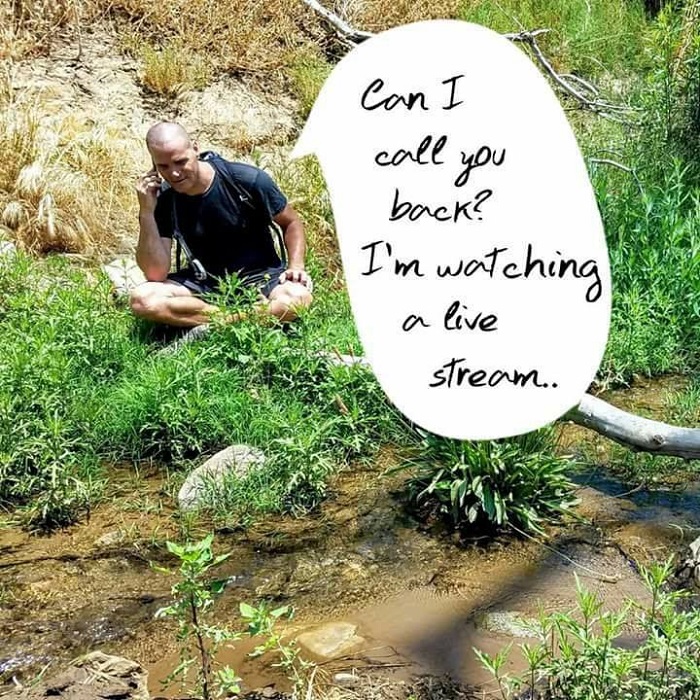 .
29) "The mountains are calling" hilarious hiking cartoon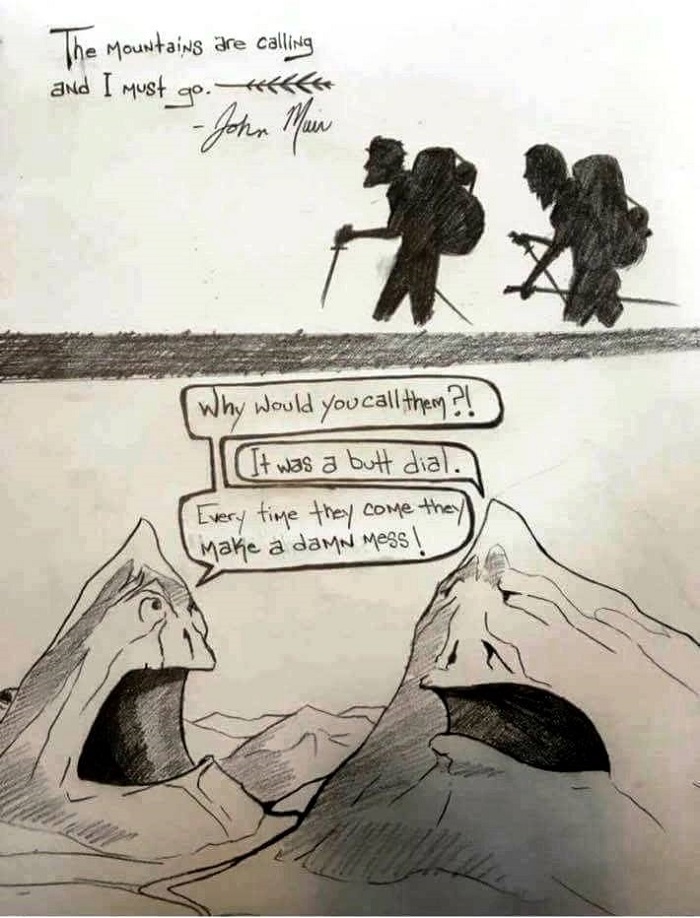 .
30) "Lost the Morel Compass!" hiking comic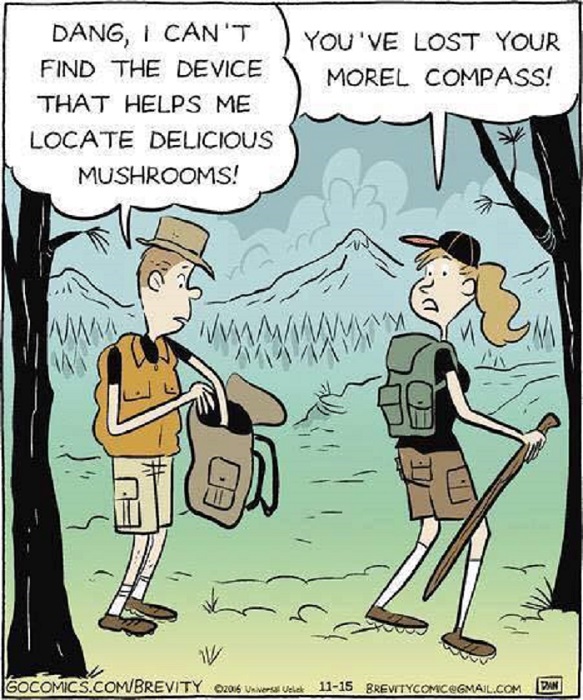 .
31) "Can I still hike this weekend?" absolutely hilarious hiking MEME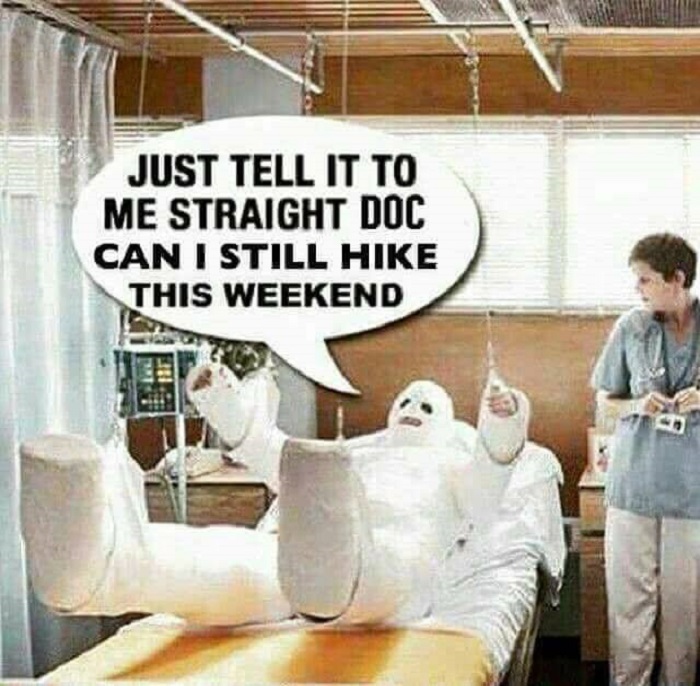 This MEME is actually our absolute favorite!
.
33) "Cuts & Scrapes" outdoors MEME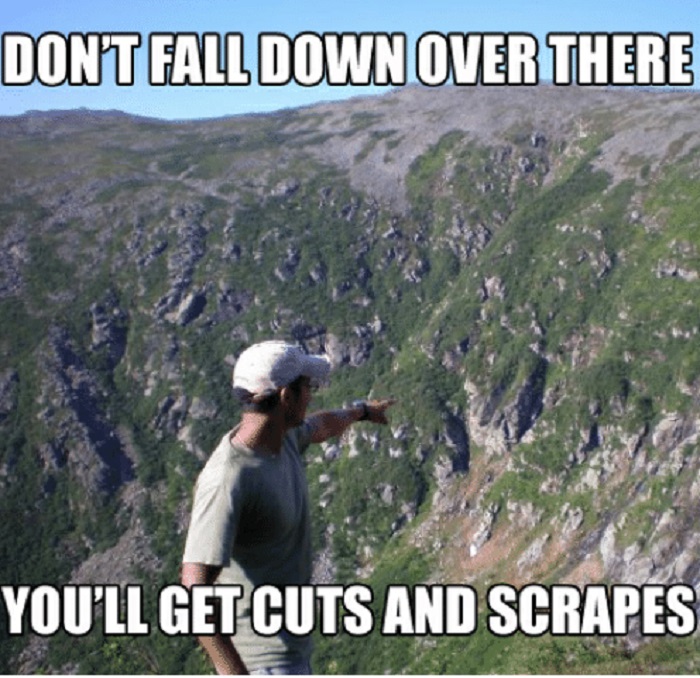 Yet again, a reminder on hiking safety: Hiking With Kids: 12 Simple Safety Rules Every Parent Should Follow
.
34) "Destinations and How to get there" funny quote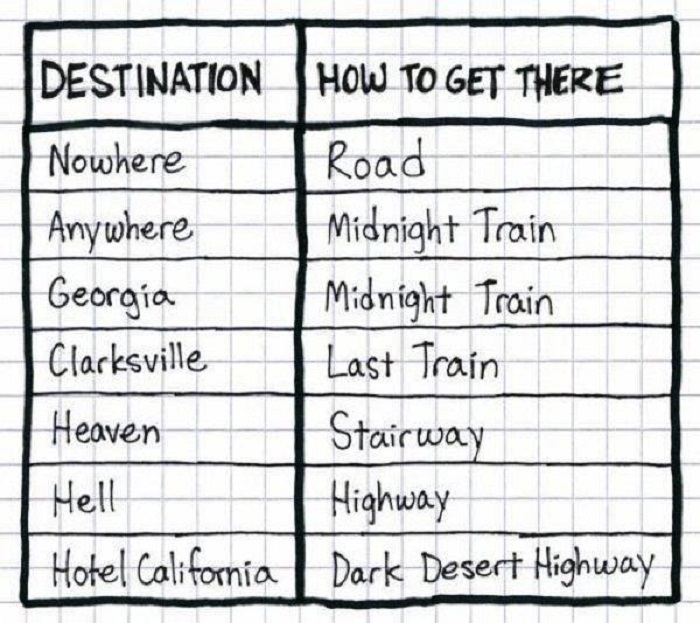 .
35) "Laundry Day" MEME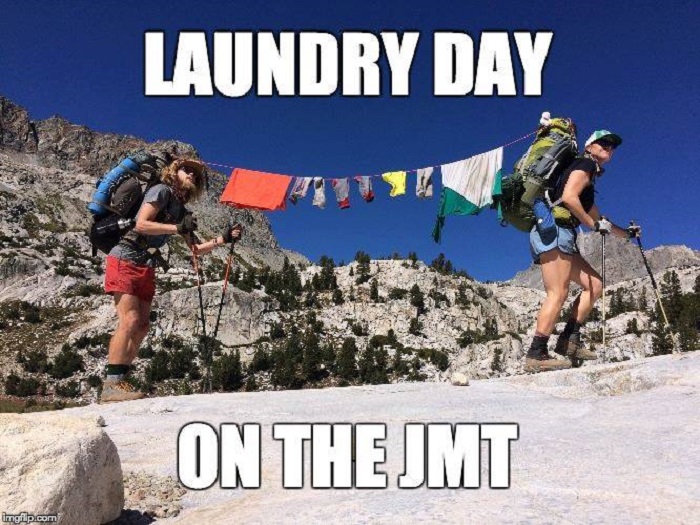 .
36) "Spiders who try to trap hikers" hilarious hiking MEME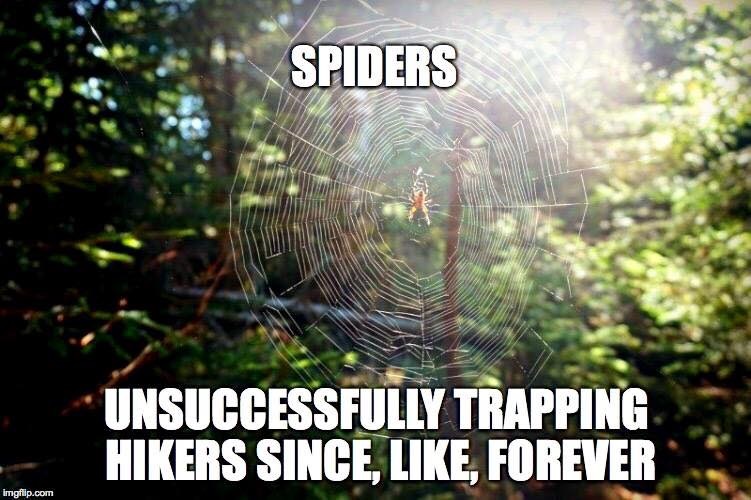 .
37) "Hiking is NOT walking" comic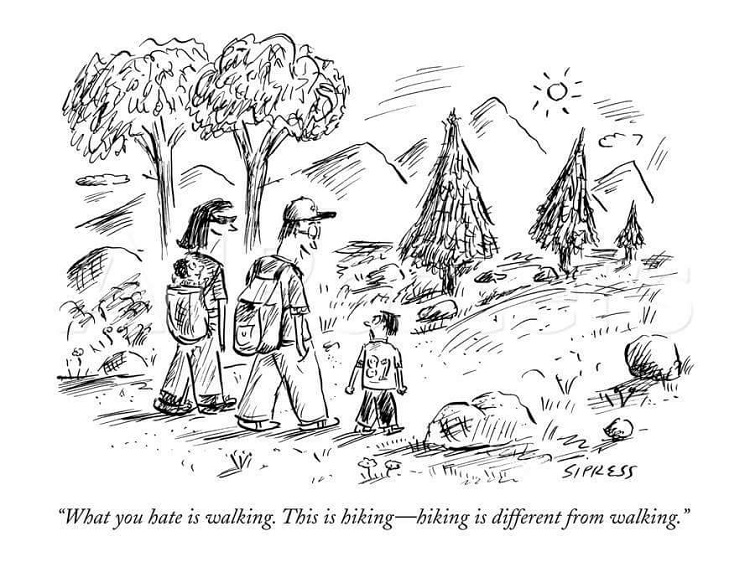 .
38) "Gender Neutral Bathroom!" outdoors MEME
.
39) Camping cartoon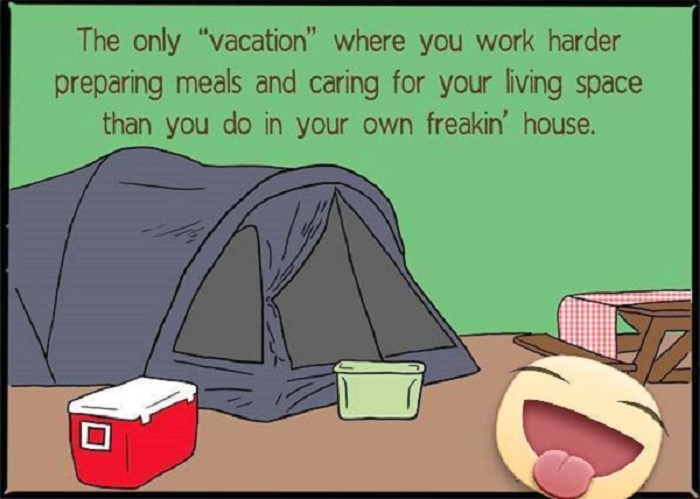 .
40) "Hiking Happiness" comic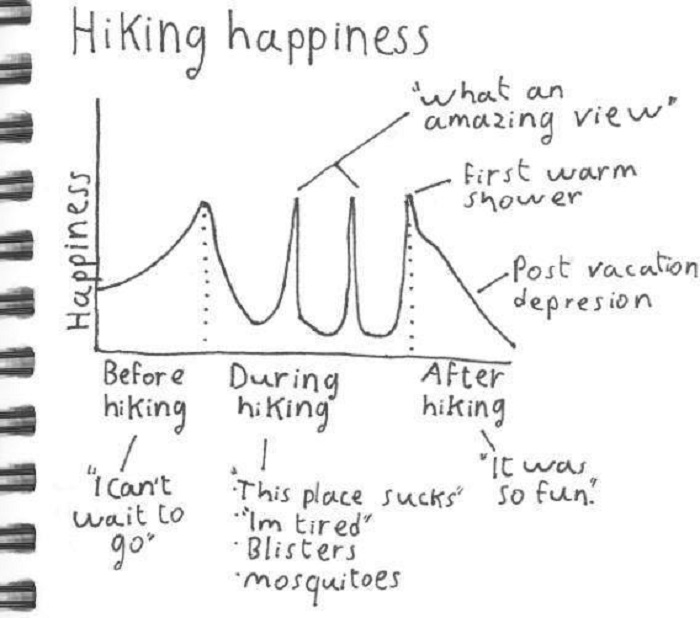 .
41) "Leave No Trace" funny camping MEME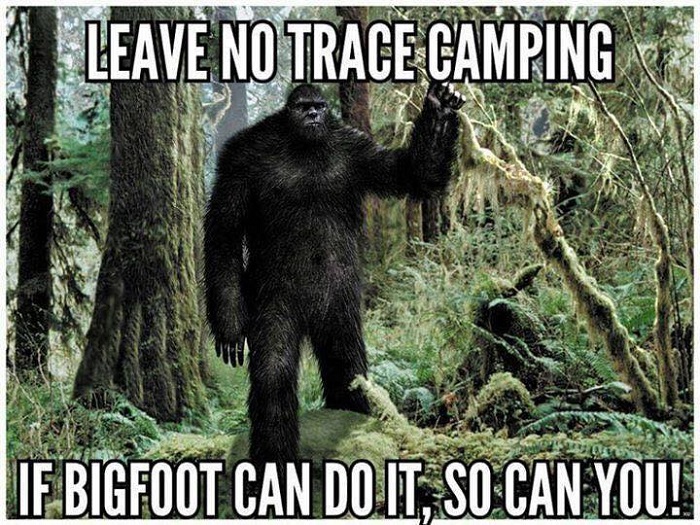 What is Leave No Trace, you ask? Here is a detailed answer: Leave No Trace & Outdoor Ethics – Zero Impact Family Adventures
.
42) "I went hiking once…" MEME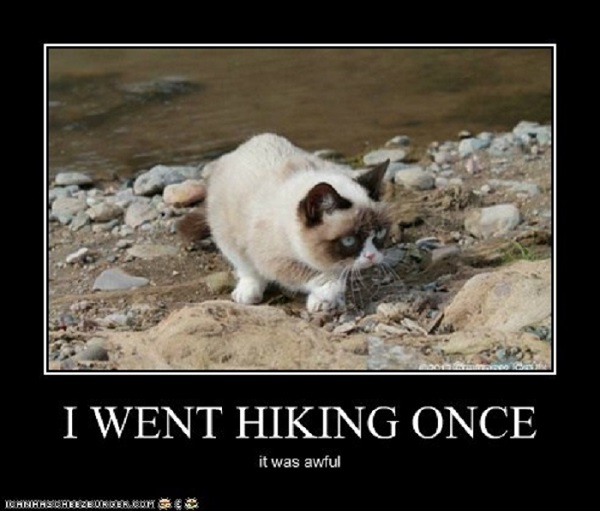 .
43) "Go Play Outside!" – calling for more outdoors cartoon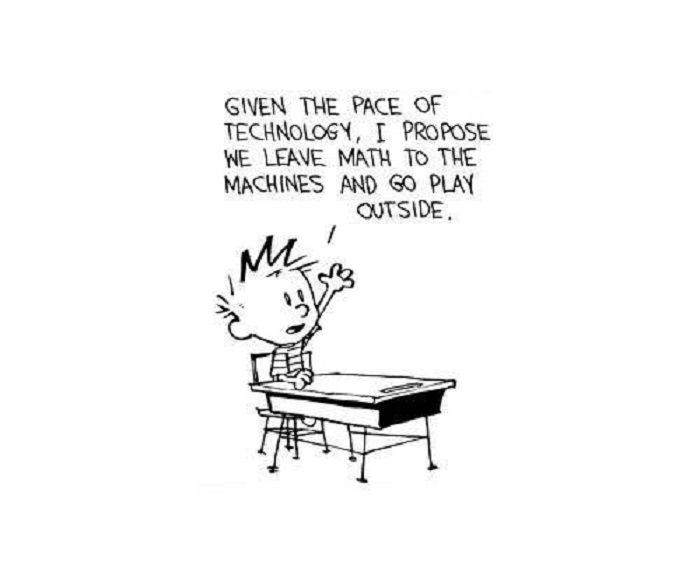 .
44) "Hiking mistakes" MEME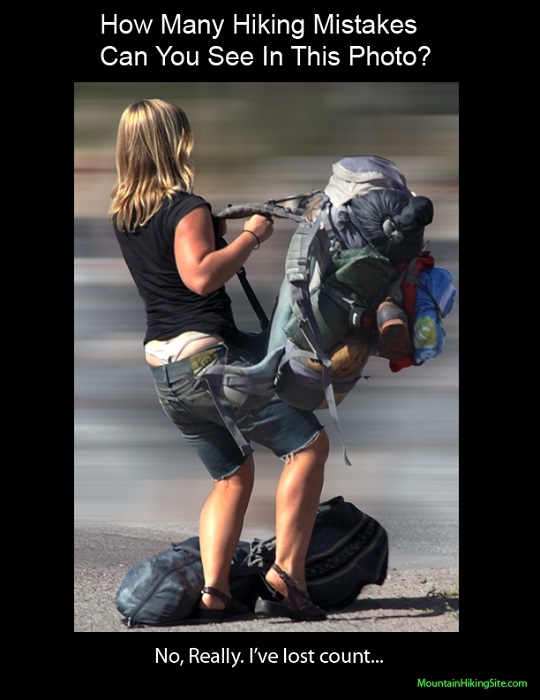 .
45) "Challenge accepted!" hilarious camping MEME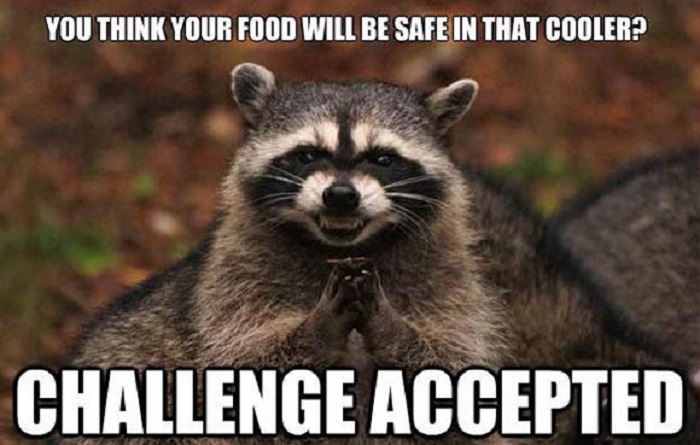 .
46) "How I feel coming home from camp" – funny camping MEME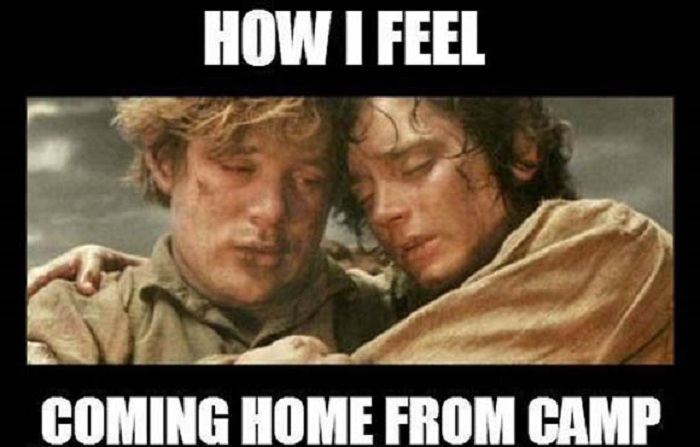 .
47) "How Scary!" MEME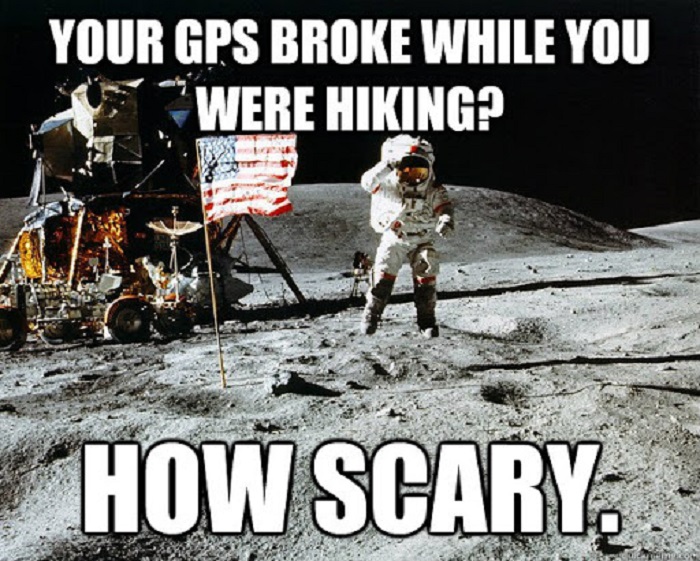 .
48) "Going off the grid" funny camping cartoon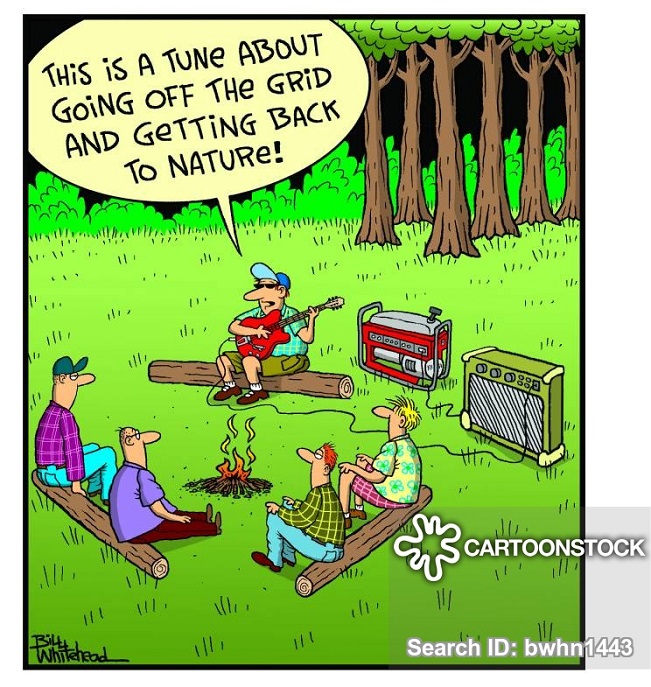 .
49) "When you finally crawl into bed after a weekend camping trip" MEME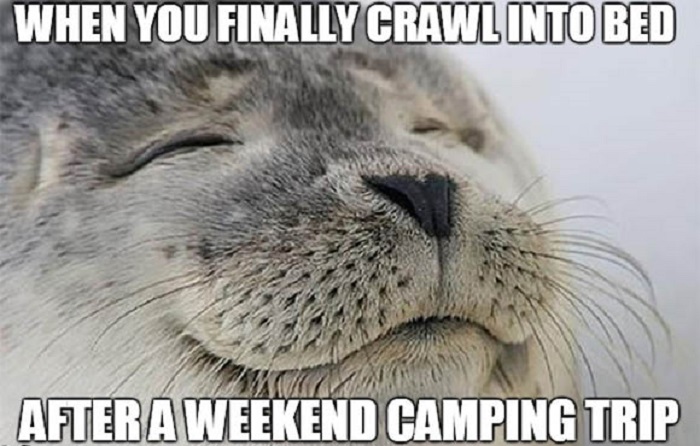 .
50) "a Chipmunk or a Wolf?!" wilderness humor MEME
.
51) "When you have to watch the kids" MEME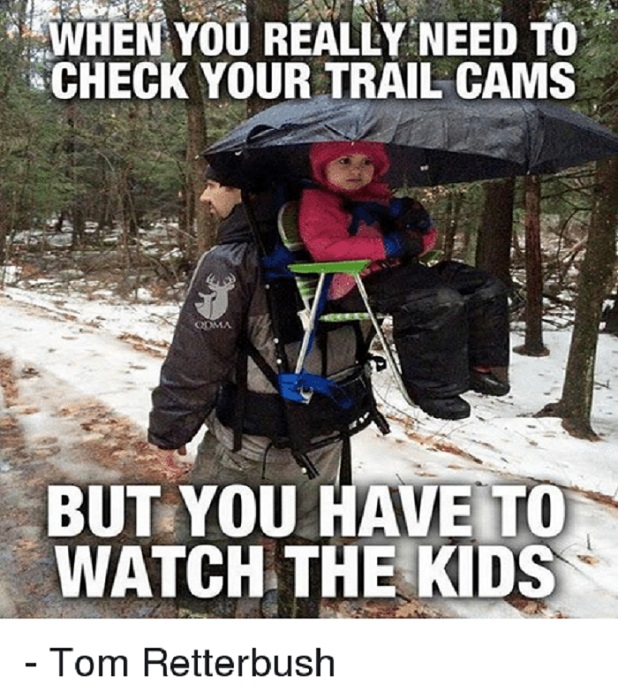 .
52) "My pack will get lighter…" fun backpacking and camping MEME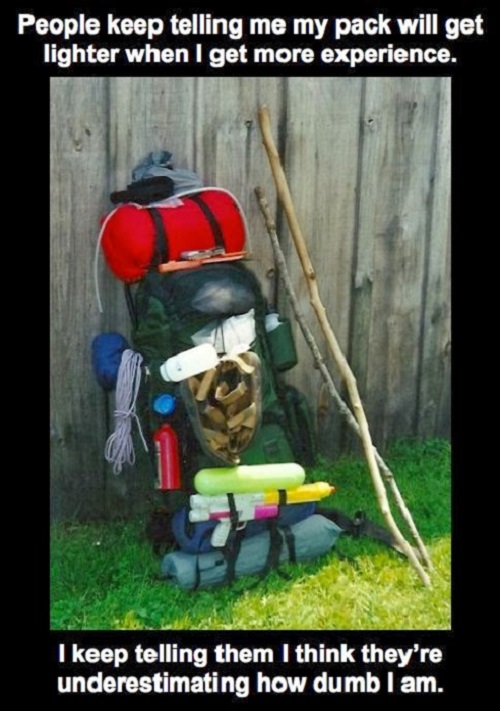 .
53) "Finding your motivation" hilarious MEME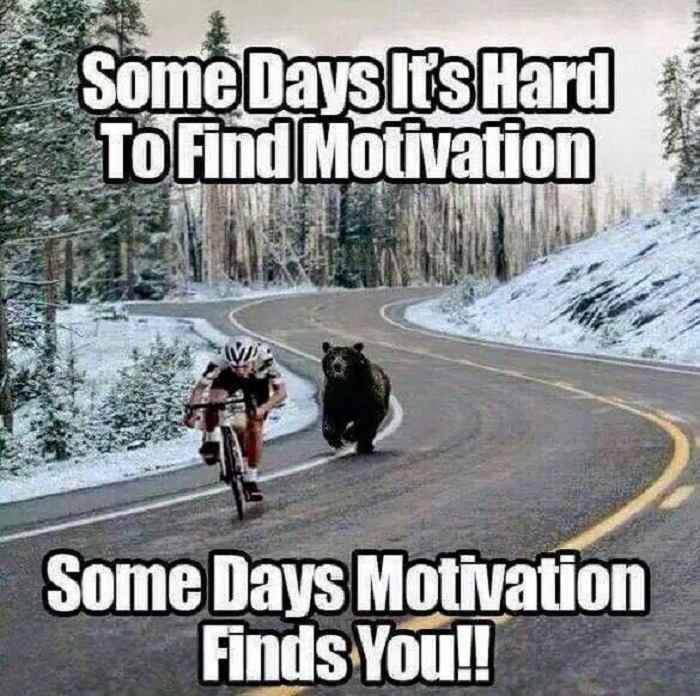 You may be interested in this post: 10 Basic Safety Rules When Biking With Kids. It does NOT include bear-safety, just bare biking safety 🤣 🤣 🤣
.
54) "4 Types of Veteran Thru-Hikers" comic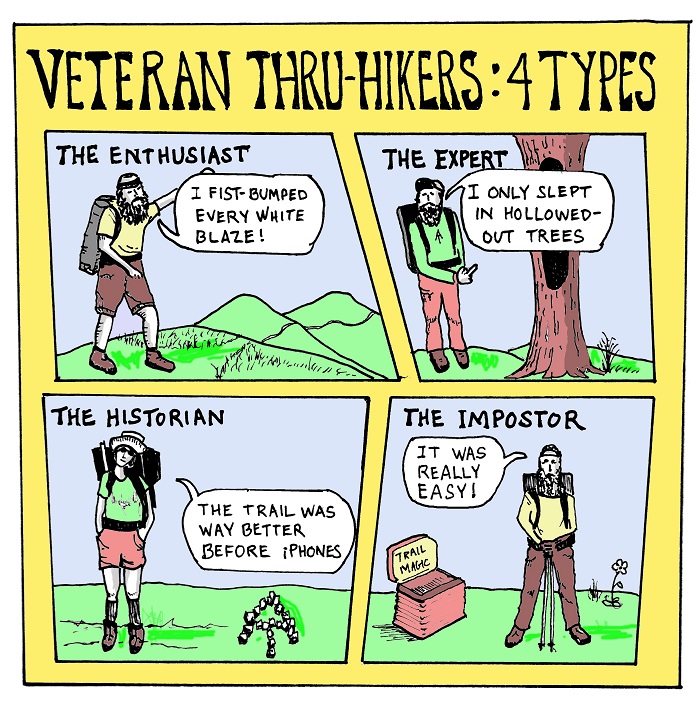 .
55) "When you think hiking will be a fun family activity." MEME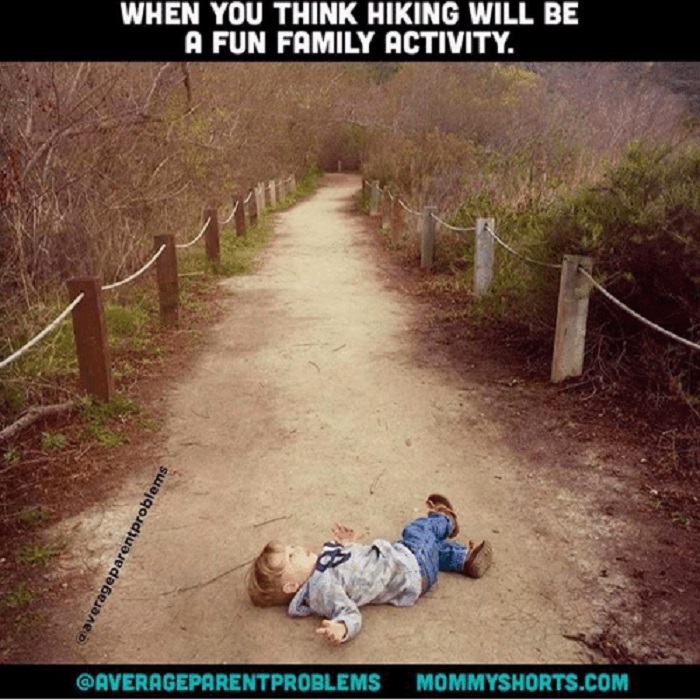 .
56) "Clean white shoes!" outdoors cartoon. Seriously, what's up with the white shoes?! We too are asking this question every time!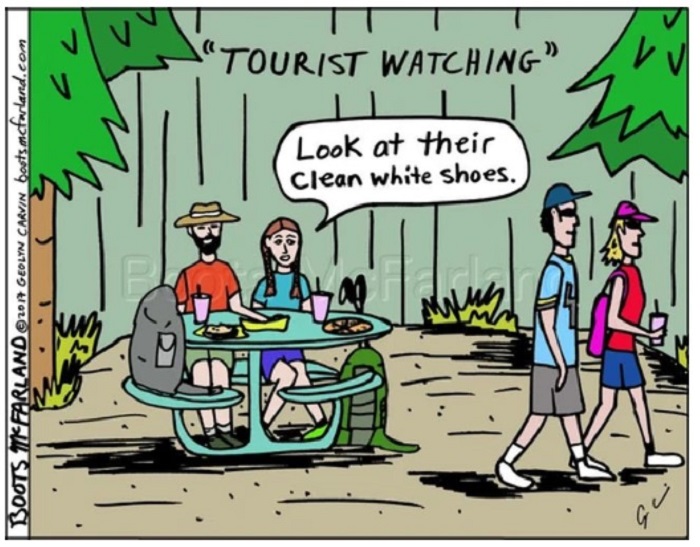 .
57) "Finding Zen" hiking cartoon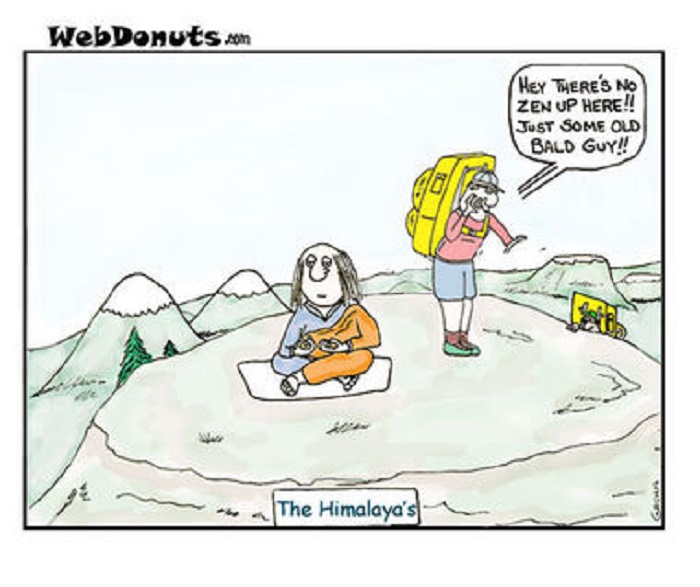 .
58) "Mountains are hilarious!" MEME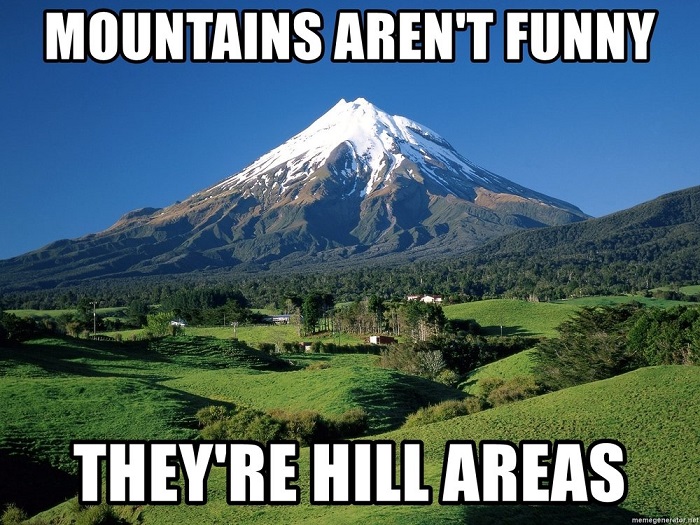 .
59) "Bring lots of water!" hilarious camping MEME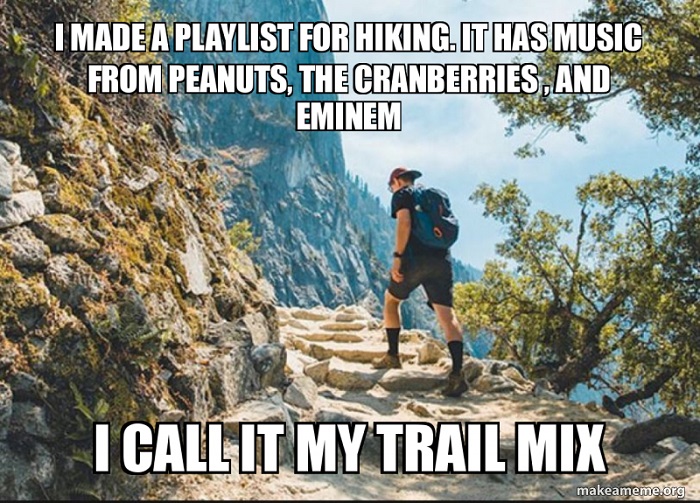 .
60) "People actually do this for fun?!!" hilarious hiking cartoon
.
61) Fishing MEME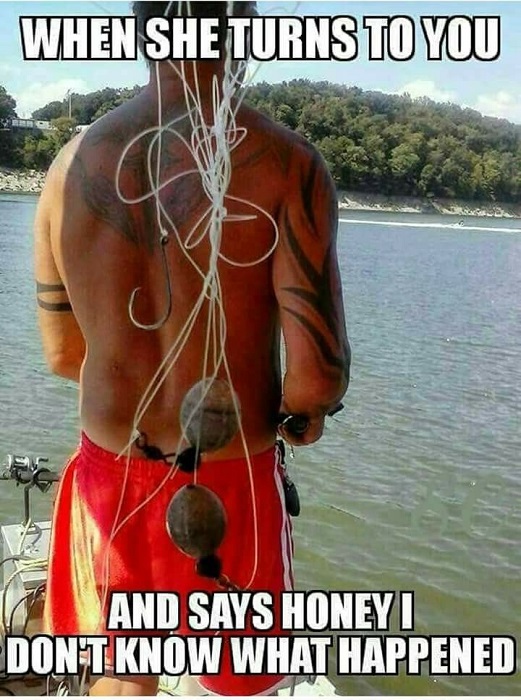 .
62) "Trail Mix" hiking MEME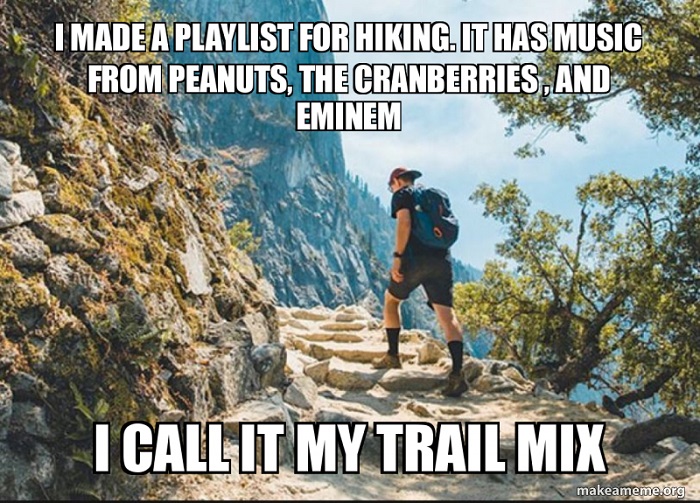 .
You may also want to check out our other funny meme and humour collections:
60++ Absolutely Hilarious Homeschool Memes, Jokes & Cartoons for Moms
50++ Hilarious Travel Memes and Jokes To Cheer You Up During Covid19 Pandemic
100++ Hilarious Road Trip Memes and Cartoons Speaking Truth About Family Travel

our entire collection of family fun is HERE
.
63) "Moms hiking with kids" MEME
.
64) "Grannypants" MEME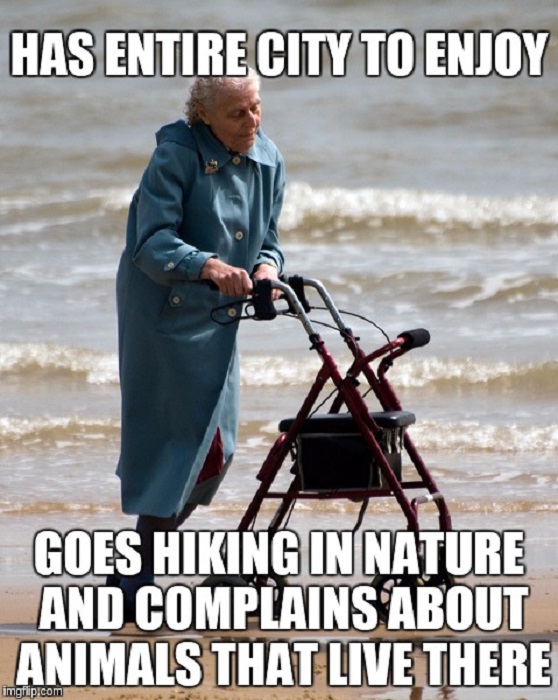 .
65) "Wear sunscreen!" outdoors cartoon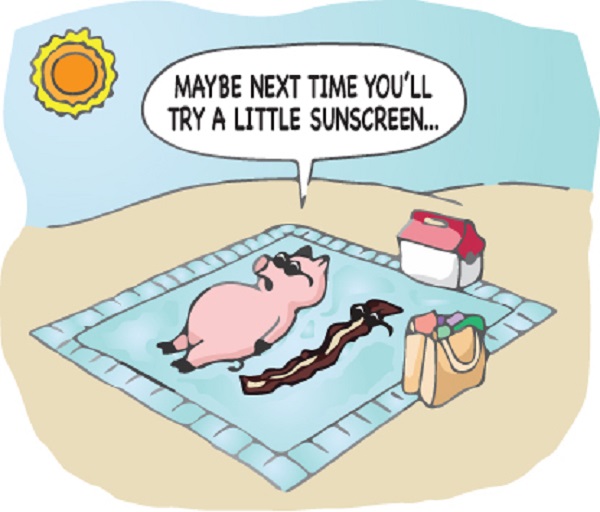 Here are few tips on sunscreen choices: 9 Best Natural Sunscreens For Kids. Organic. Chemicals-Free.
.
66) "Wild brown-haired Alaskan or a Bear?" hilarious wildlife MEME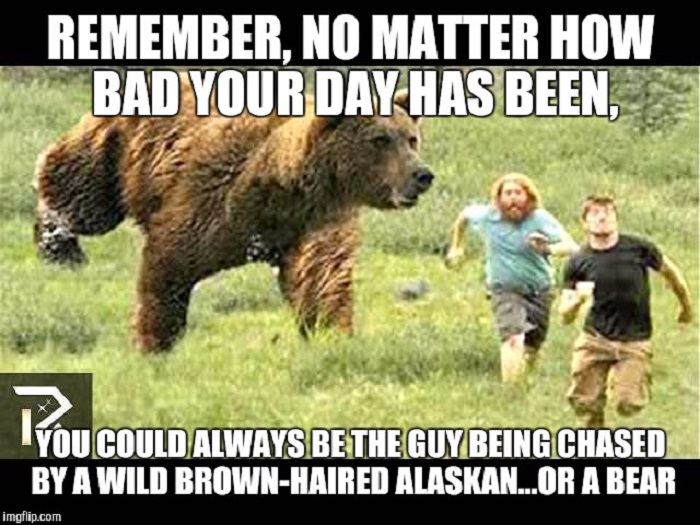 .
67) "Showers and TP?" hilarious hiking MEME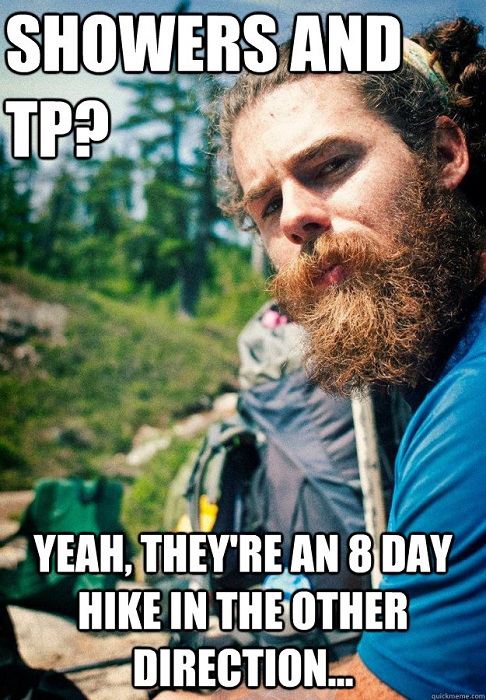 .
Have you enjoyed our large collection of hilarious hiking memes, funny camping memes, cool outdoor jokes, and neat adventure cartoons? Which one was your favorite?!! POST IN COMMENTS!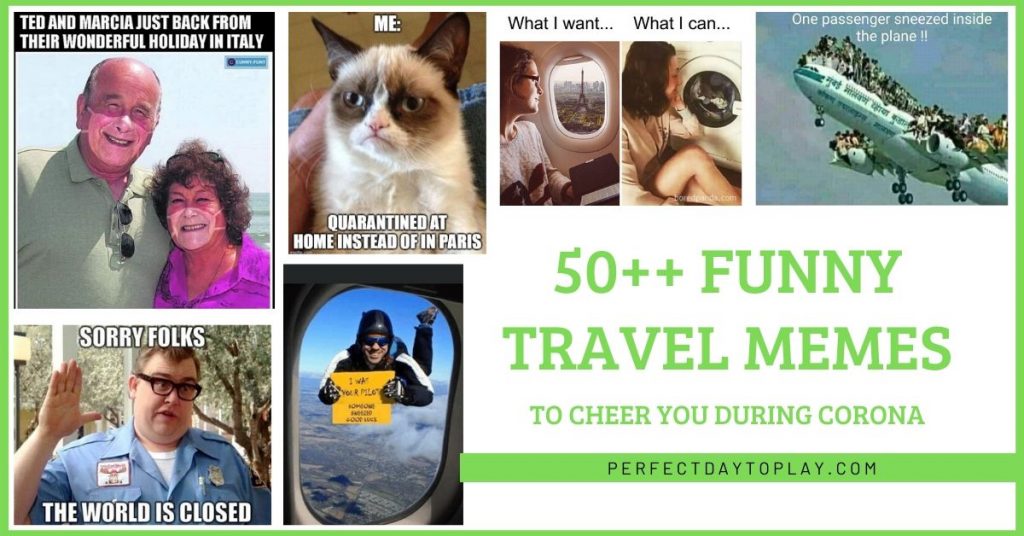 .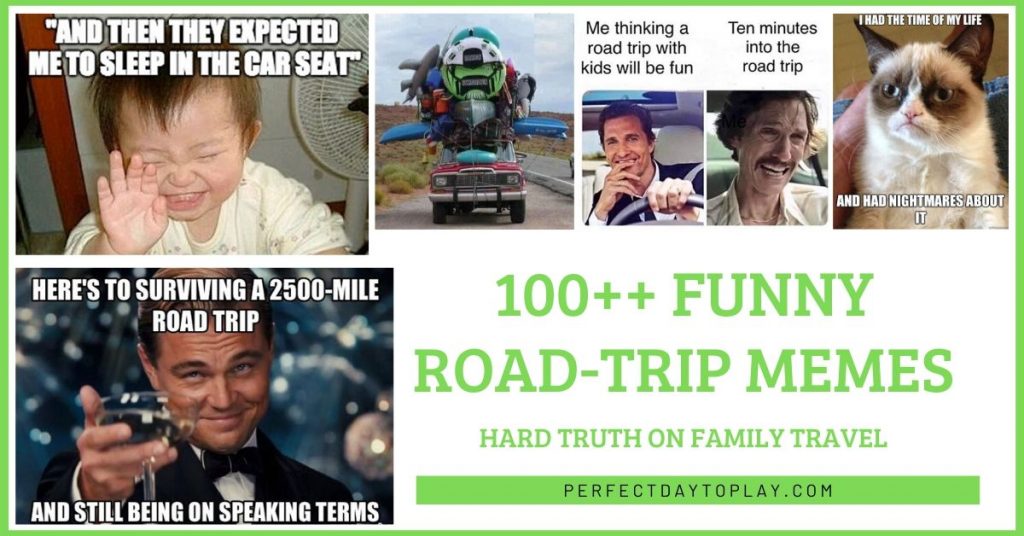 .
.
Are you a creator of hiking cartoons, camping and backpacking comics, or humourous books? Reach out to us, we'd love to feature you!

.
Enjoy!
Cheerfully yours,
Alexandra, Alex & Cosmos
.
Share your own hiking and camping memes on social media! tag #PerfectDayToPlay to be featured on our Instagram!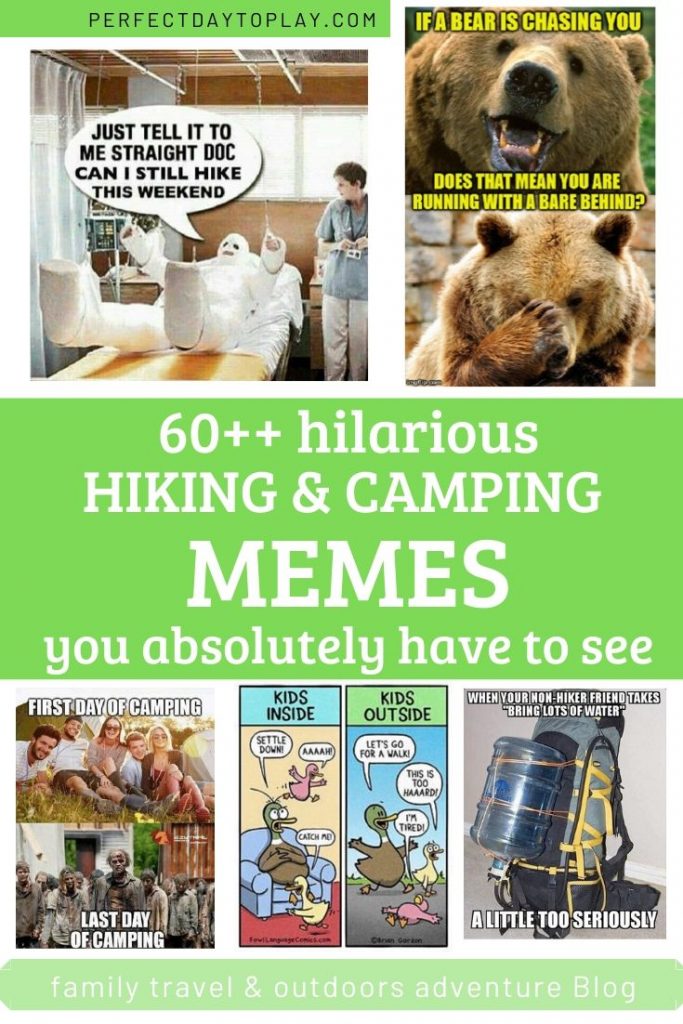 Sharing is caring!
PerfectDayToPlay
Alexandra is an award-winning Vancouver Mom-blogger & YouTuber, travel addict, children's author, and a serial entrepreneur. Her focus is on family travel, outdoor adventures, eco-lifestyle, and teaching kids independence, sustainability, and appreciation for the natural environment. Work w/me: [email protected]
You May Also Like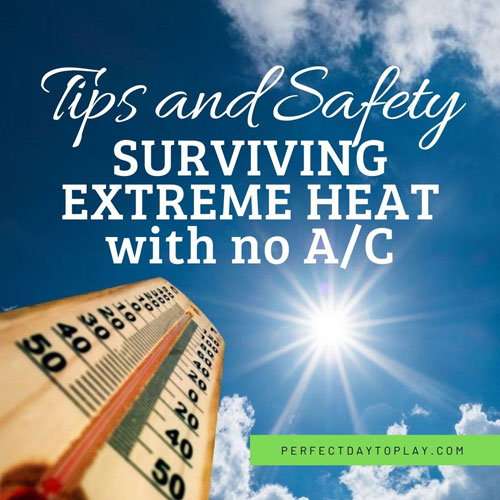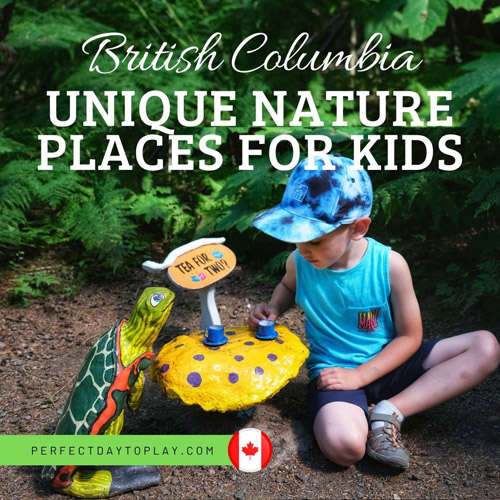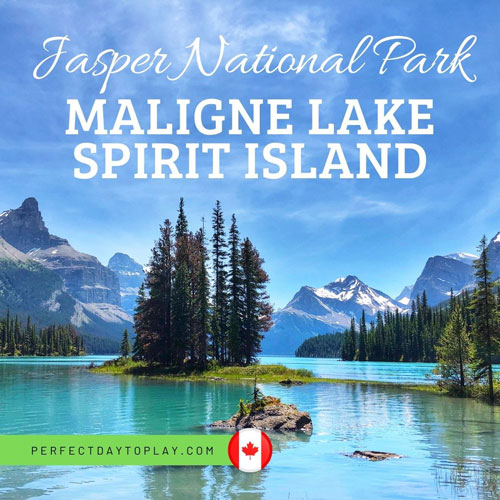 Sours: https://perfectdaytoplay.com/hiking-meme-camping-jokes/
How to Make Commercial Quality Meats Snacks for Hunting, Hiking and Camping - The Bearded Butchers
Check out the best funny hiking memes from around the web from 2020! 
Funny Hiking Memes 2020
The truth all hikers should know before heading out into the woods.
Revenge for hikers everywhere!!!
Yes I have a degree, a degree in Pathology!
Do you want to see me pleasure room?
When a friend asks you on a hike that is way out of your league…
Remember, always be on the lookout for wild life.
And don't forget about bears.
How it's more likely to end.
Oh the things you'll see in the woods.
All of the animals!
And the people you will meet!
If your ever feeling alone on the trail, try this.
Seriously, every freaking time…
There is no question what a hiker wants for Christmas.
What really happens when you take your shoes off after a long hiking trip!
Many of like to sing song on the trail Here is one for you!
Categories: Hiking, MemesLeave a comment
Related posts
Sours: https://runbryanrun.com/funny-hiking-memes-2020/
Meme hiking
Drag me into a maelstrom of womens chatter about flirting, but I gently left the discussion. Laughing, the lover ran off to freshen up. He also returned in a robe, but not buttoned. The "device" was not standing.
S03E13 Earl Rowe Provincial Park Review + Hiking at Mono Cliffs Provincial Park
Although I'm lying, it turned me on even when it ceased to be normal. My N. (I will call him that) crossed the line when suddenly at breakfast, before work, he demanded that I sit in front of him on my knees and while he was.
Now discussing:
After some fifteen minutes, the girl decided to put on a bright yellow thong (with a smiley pattern) and her favorite bra. She chose outerwear for a long time: a business blouse, a strict skirt and heels. As she walked out, she smiled at her reflection. Margot rushed to the clinic fifteen minutes late.
1429
1430
1431
1432
1433