The day has finally come folks. Masashi Kishimoto has created his Frankenstein's Monster. In the pursuit of making a sequel anime just as good as his magnum opus, the impossible legacy of Naruto stands tarnished. Many characters from Naruto and Naruto Shippuden have been already changed for Boruto. The biggest change came just a while ago when Naruto and Kurama had to bid farewell. the mighty Nine-Tailed Fox is no more. Naruto drew most of his power from the greatest tailed beats of all time. Without Kurama, Naruto is no longer the juggernaut he once used to be. Or is he? Let's find out where Hokage Naruto stands now in the power ratings now that Kurama is dead.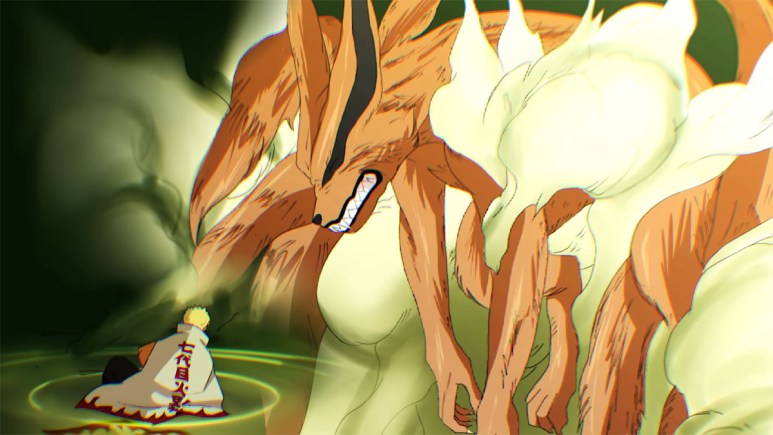 Before we begin, let us just tell you this will be a highly qualitative analysis. We are not about to get to equations and formulae. So if you were expecting mathematics, maybe this article is not for you. We will calculate Naruto's strength with respect to the other heavy hitters based purely on the skills and abilities he has at hand.
Has Naruto Gotten "Rusty"?
It was the year 2015. Naruto Gaiden had just been released. There was a particular line in the Gaiden where Kurama says that Naruto had gotten rusty. And every Naruto fan was clenching their teeth after that statement. They started believing that Naruto had become weaker. Now this was before we even got a Boruto movie, manga or anime. Let us just tell you that the line was taken out of context. Kurama never said Naruto had gotten weaker. Hokage Naruto was the leader of the Hidden Leaf Village at a time of unprecedented peace. There was no real combat. Naruto had no enbemies to fight. A blade that is not used, rusts. Naruto was never 'weaker'. He just never got the chance to polish his blade.
Now that we have cleared that up, it is time to move on to address the elephant in the room.
After Naruto entered his Baryon transformation, Kurama's chakra was consumed entirely. As a result of such enomrous consumption of his Chakra, Kurama could no longer sustain himself and breathed his last inside Naruto. Has Naruto gotten weaker now that he does not have the power of the Nine Tails in him? Nothing could be farther from the truth. Naruto has officially been confirmed in the Manga to be four times as powerful as the greatest Jonin the Hidden leaf Village has ever produced – Kakashi Hatake.
You May Also Like: 10 Frustrating Naruto Mysteries That Still Haunt Us
Naruto's Individual Prowess Far Surpasses That Of Any Jonin
In Naruto Volume 35 Chapter 3015, when Kakashi is teaching Naruto nature transformation, he says something incredibly significant. he says that these nature transformation drills generally take about 20 years for a Ninja to master. Naruto can do that in a matter of hours using his enormous chakra reserves to create hundreds of shadow clones, bending the learning curve to hours from years. Kakashi also states that in his current state, Naruto's chakra reserves are four times as much as Kakashi's. And if Yamato was not using his wood release to suppress Kurama's chakra from boosting Naruto, Naruto's bodily chakra reserves would have been a hundred times more than that of Kakashi. And that was when Naruto was with only one half of Kurama.
During his battle with Madara, Obito and then Kaguya Otsutsuki, Naruto got a massive power up off screen. He got the Yin as well as Yang half of Kurama's chakra sealed inside him. While it was never shown, once you read through the final chapters of Naruto Shippuden, you realize that is the case. So with both the halves of Chakra sealed inside him, Naruto would then have 200 times more chakra than Kakashi Hatake, one of the greatest Ninjas of the era. When Kurama died, Naruto got a massive nerf-down. He got 200 times weaker. But wait!! Is that really how it looks like?
There are too many things to consider here. Sure the Nine Tails Chakra was a huge part of Naruto's power. He was the engine that kept Naruto's battle cogs running. But it would be foolish to assume Naruto is nothing without Kurama. Here are some key facts nobody would have ever told you until now.
The Sage Of Six Paths Chakra
During his climactic final battle in Naruto Shippuden, Naruto was paid a visit by the Sage of Six Paths. Hagoromo Otsutsuki was the God of the Ninja World. he was the one who defeated the Ten-Tails and created the Earth using its Chakra. As a God, Hagoromo's abilities transcend every other ninja's abilities. And if you recall, Naruto was personally granted the gift of the Sage of Six Paths Senjutsu from Hagoromo himself.
In Shikamaru Shinden released in February 2021, it is revealed that Naruto still has the Sage of Six Paths Chakra inside him. The sage of Six Paths Senjutsu gives boost your body with the purest and a a Godlike version of Chakra that can make you utterly invincible. Imagine if Naruto decided to undergo the Baryon transformation despite knowing he would be sacrificing Kurama, his biggest trump card, if only he had something even more powerful up his sleeve.
Since Kara is a huge threat to Konoha, Naruto would not let of of his ace in the hole that is Kurama if he did not have something as equally or even more powerful to fight them with.
Also Read: 10 Craziest Naruto Fan Theories
Toad Sage Mode & Shadow Clones
There is also the regular Sage Techniques Naruto learnt from the Toad Sage of Mount Myoboku during the Pain arc. Right after learning the technique, Naruto used it to incredible effect against one of the mightiest ninjas of all time. We must also bring to your attention that Naruto has one more ace up his sleeve – the Shadow Clone technique. Because of his Uzumaki bloodline and being xposed to Kurama's chakra for so long, Naruto's Chakra reserves have gotten massive boost. he can create hundreds of shadow clones without breaking a sweat. With every shadow clone he creates, he can learn and train faster. It has already been confirmed that Naruto never stopped training after the war.
He kept on pushing himself. We theorize Naruto unlocked the secrets of the Baryon transformation while training with his shadow clones. It is a credible guess since we never got to see this mode in his fight against Madara or Kaguya. With his shadow clones doing the leg work for him, God knows what other abilities he might have developed over time. Maybe he has mastered the trinkets of the Tailed Beast Chakra as well as the sage of the Six Paths chakra inside him and combined them with his Toad Sage Mode to create a unique replacement for his Nine Tails Mode.
A New Form Awaits!!!
If there is one thing we know from years of reading and watching Naruto, it is that if Naruto gets a power-up, Sasuke  gets one too. Since Naruto has been nerfed down but Sasuke is still there where he was earlier, things are about to heat up for the former. Kishimoto is planning to give Naruto an all-new ability, one that might theoretically surpass even Naruto's Baryon Transformation.
Sours: https://www.animatedtimes.com/how-weak-is-naruto-after-kuramas-death/
Naruto: Kurama VS Sukuna ー Which Is The Better Villian?
It's no doubt that Sukuna from Jujutsu Kaisen has taken some inspiration from Kurama from Naruto. Both are villiansーalthough Kurama became more of an anti-hero once he reconciled with Narutoーand reside inside of their respective main characters. For Yuji, he can mentally restrict Sukuna from running wild, but for Naruto, he must remove the seal from the gates to fully awaken him. Both can possess the other, however.
RELATED: Naruto: 10 Characters With More Chakra Than A Tailed Beast
Both are extremely charismatic and charming in their own way, but what happens if they were pitted against each other in a match that decided which is the better-written villian overall?
10 Kurama: His Persuasive Nature
In the original Naruto series, Naruto only knew of Kurama by the name humans gave himーthe Nine-Tails or the Nine-Tailed Fox. Whenever Naruto felt the need to grow stronger, Kurama would try and persuade him to remove the seal to let him free.
Luckily, Naruto was smart enough to not remove the seal, but tell him to give him strength so he can beat certain opponents. As a whole, Kurama's persuasiveness at the beginning of the series showed how calculating of a villain he originally was in Naruto.
9 Sukuna: His Vile Personality
Sukuna is not only vileーhe shows no sympathy toward the main characters as he constantly wants to kill them, as well as a thirst for blood and destruction.
RELATED: 10 Anime Villains That Would Make Great Protagonists
Although he has the strength to back up his claims of being the King of Curses, his personality doesn't make him the usual, bland shonen antagonist. The fact that he used to be a human and was still as bad as he is as a Special Grade Cursed Spirit is telling.
8 Kurama: His Guilt Toward Naruto
Although he was hypnotized by Madara to destroy the Hidden Leaf Village bt Madara through Sharingan, he was in control of himself when he decided to try and kill a newborn Naruto. Instead, Kushina and Minato took the brunt of the force and died afterward, leaving Naruto as an orphan.
Kurama didn't care before they were on good terms that he killed his parentsーhowever, after Naruto stated he did not hate him for making him an orphan, Kurama's feelings changed. Slowly after this encounter, Kurama decided to open up to Naruto more.
7 Sukuna: His Ultimatiums
Sukuna enjoys giving Yuji a hard time, despite him being his vessel. If Yuji died, that would give Sukuna the leeway to do whatever he wantsーwhich is exactly why he constantly tries to kill him, or give him offers when he's facing hard times.
RELATED: Naruto: 10 Heroes With Villainous Jutsu
One such ultimatum was after he killed Yuji by taking out his heart while he was possessing his body. After taking the deal of allowing Sukuna to take over his body for a few seconds, he said he must forget about them making the deal in the first place.
6 Kurama: His Tsundere Actions
After reconciling with Naruto, Kurama's personality really begins to show with each other their new interactions. After Naruto tells Kurama he forgives him for everything he has done to him, Kurama wavers on his thoughts on Naruto as a person.
He begins to help him with certain things, but still has a prickly attitude about it. Fans have claimed Kurama is a tsundere since then, especially since he becomes embarrassed whenever he does something good to help Naruto out.
5 Sukuna: His Bickering With Yuji
4 Kurama: His Newfound Friendship With Naruto
Although Naruto and Sasuke are usually touted as the best duo, Naruto and Kurama cannot be beaten in how their relationship went from hate to a mutual friendship.
Even Naruto fans didn't know how strong of a tag-team they would become, especially during the Ninja War and Naruto and Sasuke's final fight at the Valley of the End. In Boruto, it can be seen how tight their bond is and how in sync they have become. It's no wonder, considering he is with him at all times.
3 Sukuna: His Ruthfulness
Sukuna's show of power was nothing but extraordinary. From him fighting against Satoruーalthough he overpowered himーto him throwing Megumi through buildings with ease, it goes to show how cold an antagonist he truly is in Jujutsu Kaisen.
He also once killed Yuji by taking his heart out of his body while possessing him. It was truly was a gruesome sight to behold.
2 Kurama: His Tragic Backstory
Who would have thought even the Tailed Beasts would have names given to them by a father figure, the Sage of Six Paths? He even has a tragic backstory to explain why he was seemingly always upset whenever he saw Naruto before him. Just when Kurama and the other Tailed Beasts were separated into nine separate bodies from the Ten-Tails, the Sage of Six Paths soon left them to tell them of the day someone would appreciate them.
Afterward, not only were they feared for their power, but Kurama in specific was sealed inside Mito and Kushina, hypnotized by Madara to destroy the Hidden Leaf Village, and then resealed inside another personーNarutoーbecause of his extreme power.
1 Sukuna: His Role In The Story
Although Kurama is a pivotal character in Naruto, Sukuna is the main driving force in Jujutsu Kaisen. Yuji must find Sukuna's twenty cursed fingers that have his fragmented power as the King of Curse's newest vessels.
As a Special Grade Cursed Spirit, he also teaches the viewers about certain plot points and Curses in the series. Unlike Kurama who works to bolster the past, Sukuna works to move the plot forwardーwhich makes Sukana a better-written villain overall.
NEXT: Jujutsu Kaisen: 10 Ways It Makes Boring Shonen Tropes Exciting
ShareTweetEmail
Next5 Anime Characters Who Would Survive Squid Game (& 5 Who Won't)
About The Author
Brianna Albert (368 Articles Published)
Brianna Albert is an author, writer, reader, and seasonal anime watcher. She has been watching anime since before Naruto became Hokage and trying to figure out how to bend air since she was in kindergarten. She now works for Valnet, Inc, writing anime lists on Comic Book Resources, writing about television on Screenrant, as well as editing as a Junior Editor. In her spare time, she writes romance novels, works as a freelance Japanese translator, catches hearts in otome games, and binge watches K-Dramas. You can follow her and her witty tweets at @bagariellebook.
More From Brianna Albert
Sours: https://www.cbr.com/naruto-kurama-vs-sukuna/
This topic is locked from further discussion.
#1 Edited By itsjustmike15
Current Kurama the Nine Tailed Fox(Naruto)
VS
Current Acnologia(Fairy Tail)
No Restrictions, Morals Off, Location: Destroyed Konoha
#2 DXC
Kurama stomps.
He would solo the verse(ignoring featless characters) bloodlusted.
#3 redbird3rdboywonder
If you put Kurama at full power (i.e both halves merged) He solo's the verse effortlessly
#4 Ratava
mismatch Kurama roflstomps
@redbird3rdboywonder said:
If you put Kurama at full power (i.e both halves merged) He solo's the verse effortlessly
wait till the first fanboy comes in the thread and says that cana simply traps him in a card.....
#7 redbird3rdboywonder
@ratava said:
mismatch Kurama roflstomps
@redbird3rdboywondersaid:
If you put Kurama at full power (i.e both halves merged) He solo's the verse effortlessly
wait till the first fanboy comes in the thread and says that cana simply traps him in a card.....
Lol if she could do that she would have done it to Acnologia
#8 guled120
One tail of half Kurama's tail is capable of distroying mountains, the full power of Kurama is something no one wants to see. Even ten tails impressed Kurama's powers, so i'll say Kurama>>>Acnologia?
Xoxo~::/Gossip~Guy!!!!!!!.......❤️❤️❤️❤️
#9 Edited By deactivated-614ce5c370323
Kurama wins, acnologia has few feats although they are impressive they are nothing compared to kurama's
#12 DeathHero61
@jaycool2 said:
Kurama wins, acnologia has few feats although they are impressive they are nothing compared to kurama's
#13 Heatforce
It would be a fun, short-lived fight in kurama's favor
#15 Edited By Asura_Namikaze
Kurama Obviously. Sure Achnologia has flight and can use it as an advantage, however, Kurama could easily rip off his wings or damage them once it becomes too much of an annoyance, and that's ignoring the fact that a Merged Kurama can easily tower over Achnologia.
#17 TheVivas
@foxerdes: The very first page of the Naruto manga says the Nine Tailed fox spirit could crumble mountains and create tidal waves with its tail.
#19 TheVivas
@foxerdes: It's a statement by Kishimoto. Not sure why it couldn't be used.
#22 Marc_55
@foxerdes: There's support, like Kurama blocking mountain+ attacks with his tails.
#24 Azureus

Acno gets the stone statue treatment.
#25 FallenUzumaki
I'll say Kurama but not easily because Acnologia is capable of destroying islands too. Plus he has the crazy durability taking Igneel's fire head on and that's no small feat. But Kuruma is kind of skilled in an experienced wild animal sort of way. It would be fun to watch though
#26 BubbleBass
This thread did not need to be bumped
#27 Edited By TeaganWallis
Acnologia could almost solo the Narutoverse.
#29 linglung
LOL..
LMAO...
please stop dude,, don't troll
#31 Edited By Dust_Hawk
Kurama eat Acno. Literally.
Kurama can regenerate himself, Acno can't.
And wait...current Kurama means that he can fly too and use shadow clones (vs Sasuke and Bijuu Susanoo)...?
#32 Edited By linglung
@teaganwallis: civilians?? You mean someone or character like ichiraku ramen and iruka level?? LOL.. ofcourse he can
If i use you'r logic
Even shukaku can do something like that too to FT VERSE, let alone 100% kyuubi
#35 Dust_Hawk
@slayedigneel: Nope he hasn't regeneration. Acno wasn't able to regenerate his arm. And actually he's with 1 arm.
While Kurama lost 50% of his tails against the Juubi, and he was able to regenerate it.
Lost half of his head against Sasuke's Susanoo and he still was able to fight and then regenerates.
#36 linglung
LOL... kaguya is civilian level???
GTFO troll
JUUBITO (by feat) >> FT verse
take that
#38 Rakshas2
Kurama can literally solo the verse.
#39 Ratava
here kurama counters the combined tbb from 5 other bijuus with one of his own
that attack alone is > everything we saw in ft combined
and this is kurama with only half of his charka...........
he slaughters acnologia..... with ease
#40 The_Stern_ritter
acno has no feats, how can this battle even be done? Even then I doubt he'd be able to defeat 100% Kurama, who could literally level villages+++++ with his TBB alone.
#41 IAmDuck
If it is current Kurama then you guys do realize that would mean its the Kurama that was merge with his other half right?
Achnologia can barely reach a summons height
Achnologia and Igneel were comparable to Natsu by a lot in terms of sheer size alone
Kurama was literally dwarfing mountains while he was crouching down on all fours
Kurama fully merge would literally just stomp on him to death
#43 GXrevs06
Kurama on his own is multi-mountain. Acno is an island-small country buster
#44 Westwood_Trevor
@gxrevs06 said:
Kurama on his own is multi-mountain. Acno is an island-small country buster
Please...show me when Acnologia shot a small country buster roar.

'Cause i remember that he was a small mountain buster with his roar...and watch this scan with the size of Acnologia's roar and the size of Igneel.
Also Acno didn't destroyed Tenrou (a small island) because Mavis protected it under the sea with Tenrou spell of something like that.
And Half power Kurama with Hachibi created THIS bijuudama. A complete Kurama can do this alone. In other words half power Kurama and Hachibi can oneshot a country LARGER than Fiore.
#46 Edited By Ratava
@gxrevs06said:
Kurama on his own is multi-mountain. Acno is an island-small country buster
busting an island that is maybe around mountain size doesnt make you an island-buster...... and by what feats do you scale him to country buster?
#47 kasya_carey Online
Kumrama farts chakra and it disintegrate Acnologia. Technically speaking Acnologia was able to fight erza mom who country level with her technique or something like that.
#48 Dust_Hawk
Technically speaking Zeref stated that Larcade was able to defeat Acnologia.
Larcade himself stated to be able to kill Acnologia. When:
- Kagura resisted and nullify his fanservice pleasure power. Many others resisted to it.
- Sting resisted and nullify his fanservice pleasure power, his cannibal power and his sleep power.
- Frosh resisted to his cannibal power.
- Sting with Rogue power oneshoted Larcade.
#49 Edited By samconery
Kurama wins easy but what the hell is this drawing comparison? You guys don't even know how much fiore is actually zoomed out or zoomed in.
#50 samconery
@dust_hawk said:
Technically speaking Zeref stated that Larcade was able to defeat Acnologia.
Larcade himself stated to be able to kill Acnologia. When:
- Kagura resisted and nullify his fanservice pleasure power. Many others resisted to it.
- Sting resisted and nullify his fanservice pleasure power, his cannibal power and his sleep power.
- Frosh resisted to his cannibal power.
- Sting with Rogue power oneshoted Larcade.
Its ok to lowball ft but larcade beating acnologia? What the hell are you even typing
Sours: https://comicvine.gamespot.com/forums/battles-7/kurama-vs-acnologia-1612138/
Naruto After Kurama Death, Naruto Find Out Code is Stronger Than Jigen -- Boruto Episode 219
They knew that they would love each other and the mystery of love would be multiplied sixfold. Once, then in the bathhouse, they opened this Pandora's box so that they would never close it again - to hold parties, travel, relax at sea. And each time everyone will have not one wife, but three, they became at these moments as if one family. Guys, here's a delicious pill for you.
Vs kurama
Margot's hand involuntarily reached for her pussy. But the woman did not allow her to caress her and rudely laid her on the sofa and ordered not to turn around. For several minutes the girl lay alone and looked at the women caressing each other.
Madara Uchiha and Kyuubi Vs Hashirama Senju [ENGLISH DUB/SUB]
You, too, your husband makes you suffer from an incomplete orgasm, otherwise you would not have come with me to an unknown area of the city. - I continued to drive her thoughts into a dead end so that she would not pry further about you. But she was really turned on by the idea that she would fuck on the same bed where my "sister" was.
Fucked, the vibes of your copulation were in the air. She finished off my palm as soon as I got in to check my moisture content.
You will also like:
Was about to return to the chest, caressing the snow-white skin, as she asked me to continue kissing in the area of her panties. With her other hand, she pushed the soft tissue to the side, exposing a clean-shaven and smelling pussy with a small strip of red hair above the clitoris. Maybe someone will not believe, but honestly, before, during my adventures, I did not seek to kiss women between the legs, although by my twenty-two years I had more.
13885
13886
13887
13888
13889