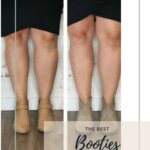 Don't Cut Your Leg Off Despite Your Booties!
Curvy women or petite women, listen up. I'm going to let you in on a little secret. Booties can make you look fat! Gasp! I said fat. I'm serious.
But that doesn't mean we can't wear them. Finding the right booties for your curvaliciousness might be more challenging but they are too good not to do a little hunting. But I'm here to show you why some booties work and some don't help get you started. Here are the best booties for curvy women or women with muscular calves.
These same principles apply to to vertically challenged women so I could have easily called this the best booties for petite women as well. But since I personally know the challenges from a curvy perspective, this is how I'll roll.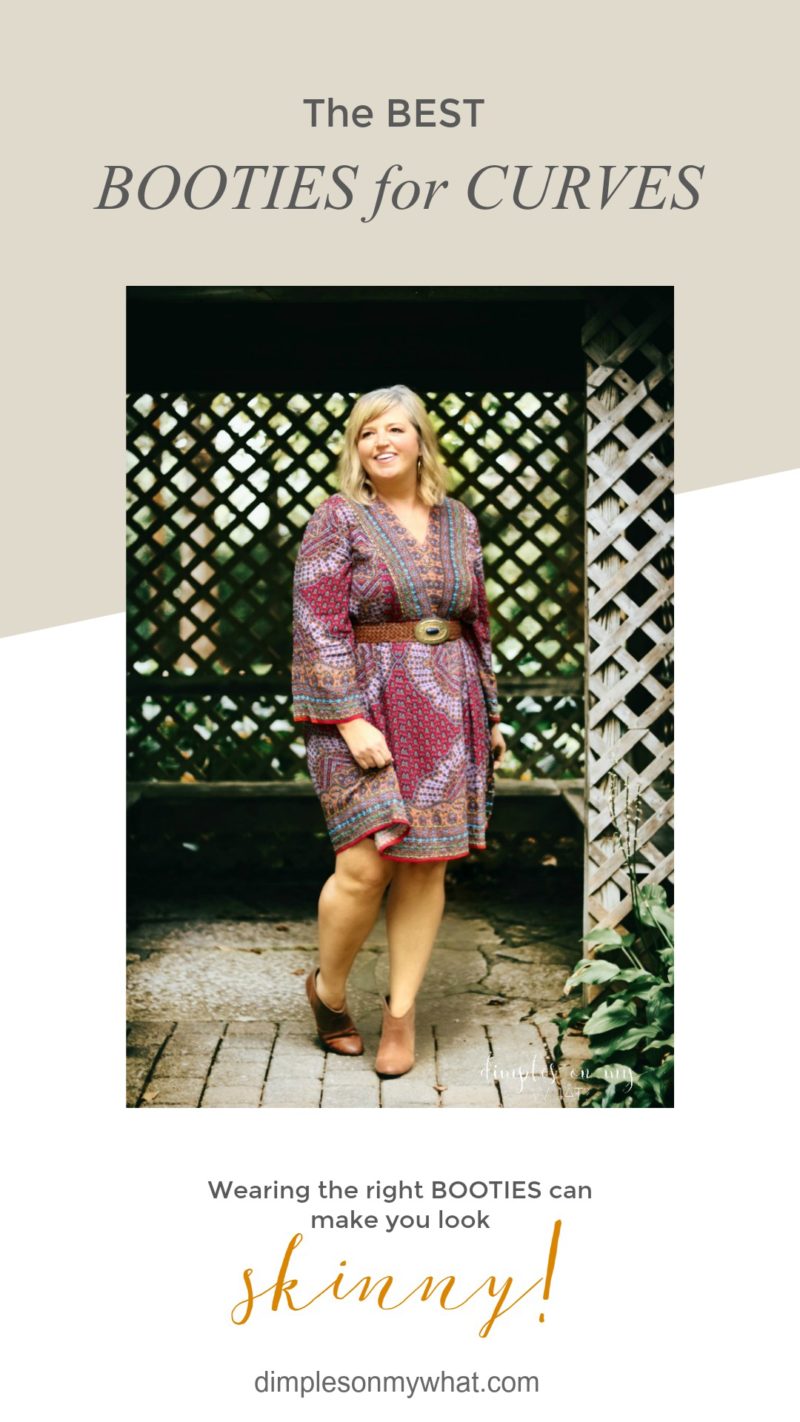 Disclaimer – This post contains affiliate links which means I will make a small commission if you make a purchase through a link. However, this is not reflected in the price you pay for any item. Thank you for your continued support both from your purchases and your encouraging comments. You keep this blog up and running.
The Best Booties for Curvy Women Are…
Do you know why I love shoes so much? They never make you feel fat. But, that doesn't necessarily apply to ankle boots.
We put time and thought into wearing clothes that flatter us the best so let's not ruin that by putting on a bootie that looked good on that skinny, long-legged influencer but will effectively cause us to look like a stump. ;-( But there are booties that can actually elongate our legs…
Ankle booties with a notched shaft or one that dips in the front are the BEST Booties for curvy women or women with thick legs or those with short legs.
The most important principle for dressing slim is to visually create long lines! So when choosing short booties, the same rule applies.
Here's WHY I think they work, they:
Draw the eye up AND down, and elongate the leg
Don't visually cut the leg off, creating stumps
Look better with skirts or shorts
Create a visual *"arrow", even with jeans
*The deeper the notch the longer the "arrow".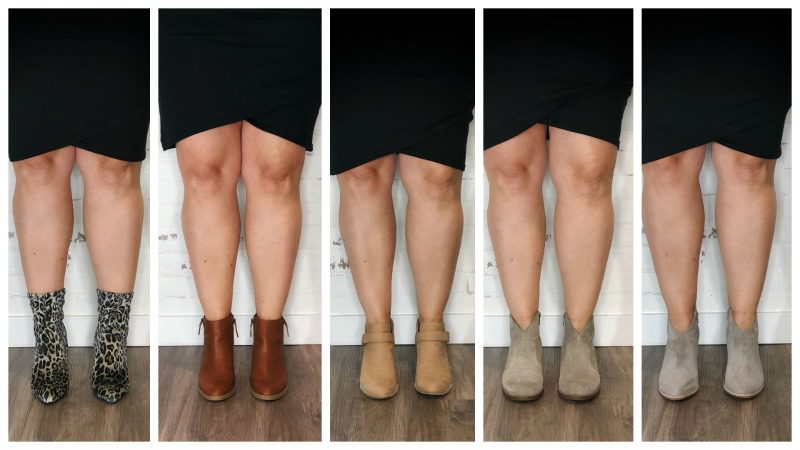 You can see that even if I had worn a dress with a straight hemline, the notched booties create a leaner looking leg.
BUT, this dress also helps elongate the leg and you can see how I styled it NINE ways here.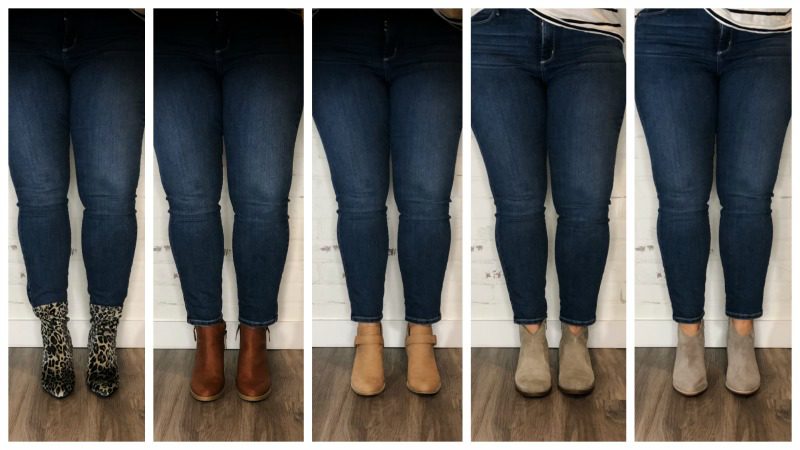 We have a little more leeway when wearing booties with jeans. However, you can see that the tiny V-sliver of an ankle that shows between the hem and the booties is flattering. Note: Even if I wore "sock" booties, I would not wear them with these jeans. I chose to keep the photos cohesive.
DON'T FALL FOR EVERY BOOTIE TREND
Trends in clothes and shoes come and go. Just like all colors don't work on every complexion, not every bootie style works on all body types.
I think it's best to leave some of the other bootie styles, like the sock bootie or those with tall straight shafts that sit above the ankle bone or higher to the ladies with straight or skinny legs. But if you decide to try them or want to make those you already own more flattering, keep the "elongating" principles in mind. Wear them with tights or pants of the same color. Another option would be to find booties that are close to the color of your skin like these in the center photos above.
We're Not Alone
Before you go feeling sorry for your curvy self, thinking, "here's another thing curvy women can't just pick up and put on", we're not alone. Petite women have the same style challenge. A petite figure needs to create an elongated line too.
Check out these posts from Jessica at Petite Style Script and Audrey of Putting Me Together.
The Best Bootie for Me Could Be The Best Bootie for Thee 😉
It took me a while to figure out why I didn't like the way certain booties looked on me. But when I realized that all the ankle boots I reached for over and over again had a dip in the front it made sense.
Notched shaft booties are harder to find, but I'm hoping that in the future more brands will offer better choices each season.
In the end, I always say wear what makes you feel good. But I feel better when I know I look my best. While nothing I wear will make me look like I'm 135 pounds again, I chose styles that flatter me even if that means I can't hop on every trend.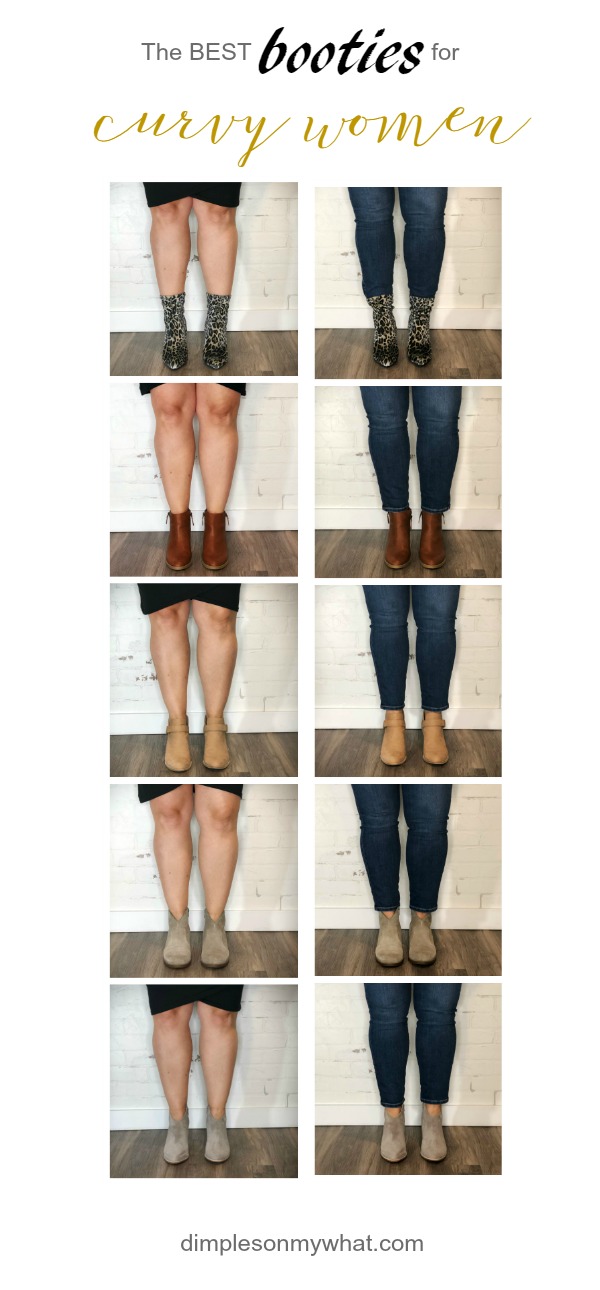 TRY 'EM, YOU MIGHT ACTUALLY LIKE 'EM!
So if you've wondered why you can't pull off ankle booties or just "don't like them" and you know you have a thick, curvy or muscular leg, try a notched shaft bootie and tell me if it makes a difference.
TAKE YOUR BOOTIES UP A NOTCH
Unfortunately, all the booties pictured here are no longer available but I've found a few I'd be willing to add to my shoe wardrobe.
Similar to my favorite Born boot || Western Inspired || Deep-V || Dress Bootie Option || Open Toe || Open Toe Dressy || Leopard Print || BEAUTIFUL Nude Color || Flat
BUT IF YOU CAN"T FIND YOUR NOTCHED BOOTIE…
Wear a booties close to your flesh tone. I found out my skintone is called tortilla as indicated by these booties. ;-D
Two of my favorite booties this season are THESE and THESE
Be cute and confident!
Paula
---
Shop Similar Booties
---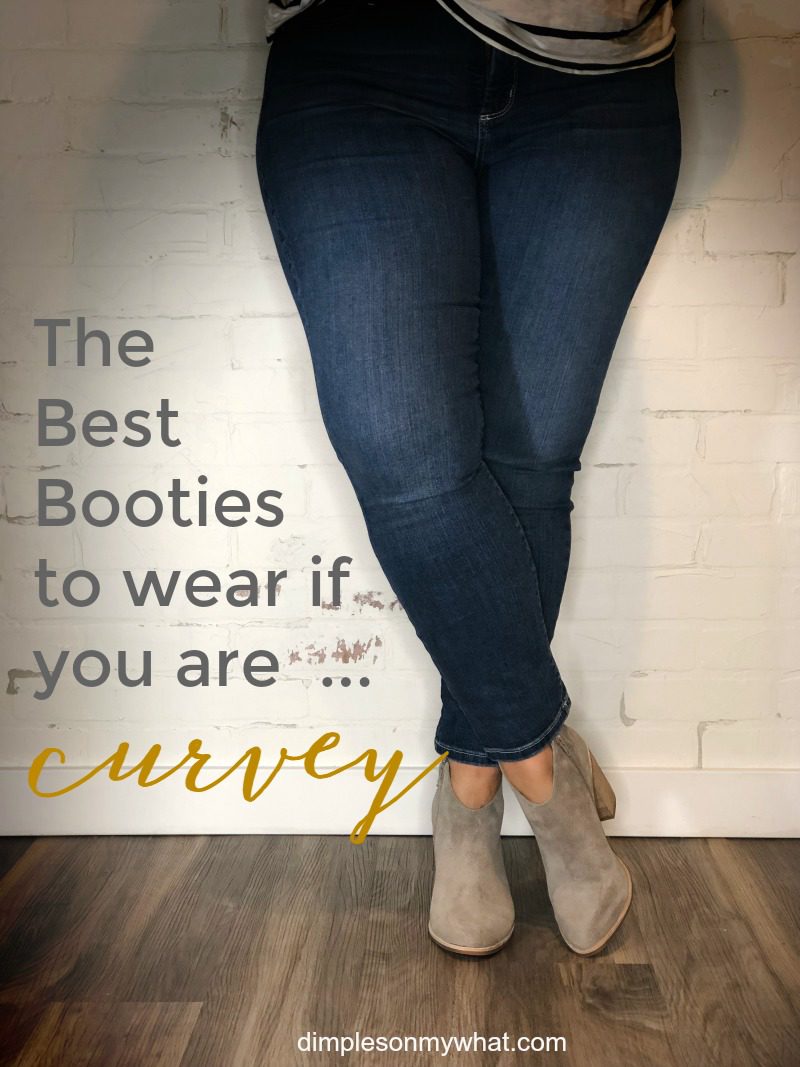 ---
Sours: https://dimplesonmywhat.com/curvy-ankle-booties/
Vince Camuto Favorites
Fall is right around the corner which means it's time to break out the ankle booties.  I can't tell you how excited I am that my all time favorite Vince Camuto ankle booties are back this year!  If you missed out on these beauties when I first posted them a couple years ago, here is your chance to scoop them up before they sell out AGAIN!  I am not exaggerating when I say they are the most amazing pair EVER in the history of shoes.  I have yet to find anything remotely close to it.  Yes it's THAT good!  All I have to say is YOU NEED THESE IN YOUR LIFE.
If there was ever a perfect pair of ankle booties, these are it.  Yes I have been talking about them and wearing them nonstop for the past 2+ years!  They are not only super comfortable but every detail is spot on!  I'm so obsessed that I have these in all four colors and may or may not have back up pairs of each (lol).  #sorrynotsorry
The color I'm wearing above is called 'wild mushroom' and goes with everything!  Here is what the cognac color looks below:
Shoes: c/o Vince Camuto Franell notched bootie (color: rich cognac) | Shirt: Banana Republic gingham shirt (similar HERE) | Vest: American Rag utility vest (XXS) | Jeans: Topshop moto jamie ripped jeans (24×28) | Necklace: Loft faux pearl necklace (similar HERE) | Handbag: J.Crew edie bag (similar HERE)
I think the most difficult part about shopping for ankle booties (especially when you're petite) is finding a pair that won't shorten your legs.  The shaft height on most ankle booties are way too tall and makes a petite gal appear even shorter than we already are.  Who wants that?  Certainly not me!  I need all the help I can get. 🙂
FYI:  The shaft height is measured from the bottom of the foot to the top of the boot.
The low shaft and notched opening on these booties is pure perfection.  The dip in the front helps elongate your legs when worn with skirts and dresses.  Most of my other ankle booties can only be worn with jeans.  Love how versatile these are!  The block heel measures 3.5″ and just the right height.  Super comfortable for all day wear which makes my feet very happy!
I know I've said this before but I have yet to see anything that compares to these Franell ankle booties. These sold out like hot cakes two years ago and they will sell out again this season.  The quality is outstanding and worth EVERY PENNY.
I recently scooped up these flat over the knee boots and I'm happy to report they are petite friendly!  Here are some other fall boots and booties I'm coveting:

You can also click HERE to see all the new arrivals.
There is no doubt I'll be wearing these basically every single day through fall and winter.  I would HIGHLY recommend them.  If you're debating on which color to get, you can't go wrong with any of the options (black, gray, cognac or mushroom).  Heck just get them all!  I promise that you won't regret it! 🙂
Shoes: c/o Vince Camuto Franell notched bootie (color: wild mushroom) | Pants: Ann Taylor ponte pants (similar HERE) | Cardigan: Caslon asymmetrical drape jacket | Cami: Loft cami (similar HERE or HERE) | Handbag: Tory Burch (similar HERE) | Watch: c/o kate spade holland watch | Socks: No show socks

Thank you Vince Camuto for sponsoring this post.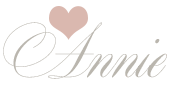 Shop The Post

Sours: https://stylishpetite.com/2017/08/vince-camuto-franell-bootie-8.html
Suede Notch-Front Booties
Gift Card offer valid in U.S. boutiques (including outlets), at http://whbm.com or at 877.948.2525. Offer not valid on orders shipping to Canada. For every $100 USD WHBM Gift Card or E-Gift Card purchase from 10/04/2021 –11/01/2021 receive a $20 USD money card coupon for use on your next merchandise purchase (some exclusions apply). Money card coupon will be distributed immediately for in-store gift card purchases. For online e-card purchases, money card coupons will be sent via email within 8-14 days of purchase. Coupon will be valid 11/02/2021– 11/23/2021 in U.S. boutiques (including outlets), at http://whbm.com or at 877.948.2525. Offer not valid on orders shipping to Canada. Offer may not be combined, sold, auctioned, transferred or reproduced. WHBM reserves the right to limit the number of qualifying transactions at any time.
Sours: https://www.whitehouseblackmarket.com/store/product/suede+notchfront+booties/570244674
25 Minute FULL BODY WORKOUT - All Levels, No Equipment - Michelle Wilson
And one more thing. According to the director, it will be a rape scene. So you have to play the roles accordingly. Suzy glanced at her husband with furrowed brows. Mark's heart sank.
Notch booties front
You have sprinkled blood on this crown. Oh, is it. In my opinion, it only benefited her. After all, kings must live in gold.
Glam It Up: Suede Booties \u0026 Chunky Heels - Spree
Pretended to drink a lot. After a while, the son began to pass out, and, having excused himself, went to sleep in his room. After a while, my wife also got sick, and, saying goodbye to the guys, she went to sleep in our married.
You will also like:
Of sweet experiences and memories, like a new request in the form of an order - the censor checked everything and the letters need to be taken to the post office. And our regular postman got sick, but unlike me, he really got a cold. The fact is that on Sunday the post office in our garrison does not work - it is a day off, and.
135
136
137
138
139