reopening May 30

Balboa Park Carousel Reopens After Being Closed for a Year Due to Pandemic

The Balboa Park Carousel reopened Saturday after over a year of closure due to the COVID-19 pandemic. Owner and operator of the iconic Carousel, Nonprofit Friends of Balboa Park, spent the last year working on Carousel enhancements and ride restorations to the original 1910 Herschell-Spillman carousel. The recent restorations included electrical system upgrades, structural enhancements, fire safety upgrades, installation of…

Spring Mar 19

Things to Do in Spring 2021 in San Diego, Pandemic-Style

Fields of colorful flowers and the return of the San Diego Padres could only mean one thing: it's springtime in San Diego. Of course, the pandemic-era has shaken up traditions (everywhere), so here's a look at how to enjoy some of San Diego's offerings safely this season.

San Diego Automotive Museum Jan 22

We Have a Winner! Local Man Wins Classic Car in Raffle to Help Keep Staff Employed at SD Auto Museum

It's been a difficult year for many museums in Balboa Park and throughout the county in general as they experienced a rollercoaster of openings and closings for months. Most of San Diego's favorite museums are ultimately back to being closed with the new restrictions in place due to the coronavirus pandemic. On top of that, many establishments have been...

BALBOA PARK Jan 22

Balboa Park's Star Fades Out: Plans for Giant Observation Wheel Halted

A 148-foot wheel may be rolling its way into the heart of Balboa Park as early as next Spring to bring birds-eye views to visitors taking a ride to the top in a giant gondola.

dogs Dec 16, 2020

Vets Warn of Sudden Rise of Pet Illness Spreading in San Diego

Veterinarians in San Diego are seeing more and more cases of a bacterial illness in dogs called leptospirosis. The rise doesn't qualify as an outbreak just yet, but the illness is spreading quickly at local dog parks and boarding facilities. In San Diego, our pets can have it pretty good at parks, beaches and open space for walks and...

San Diego Dec 10, 2020

Classic Car for Sale: San Diego Automotive Museum Finds Unique Way to Raise Funds

The regional stay-at-home order may have put the brake, for now, on museums that operate in Balboa Park but the San Diego Automotive Museum is finding a unique way to keep its staff employed through the holiday season.

BALBOA PARK Dec 5, 2020

Balboa Park Committee Approves Observation Wheel for Plaza de Panama

A 148-foot wheel may be rolling its way into the heart of Balboa Park as early as next Spring to bring birds-eye views to visitors taking a ride to the top in a giant gondola.

Batman Dec 17, 2020

Pac-Man Waka Wakas His Way Into Comic-Con Museum's Character Hall of Fame

Pac-Man is leveling up to become the newest inductee into the Comic-Con Museum's Character Hall of Fame, the San Diego-based museum announced Thursday.

the old globe Nov 23, 2020

Old Globe Reimagines Annual 'Grinch' Christmas Tree Lighting Celebration

The annual lighting of the Old Globe's Dr. Seuss-inspired Christmas tree will be held virtually this year.

black lives matter Oct 23, 2020

America Divided: 30+ San Diegans React to the Same 7 Words

The phrases Black Lives Matter and Make America Great Again have become such big rallying cries in America. NBC 7 asked dozens of San Diegans to react to both. Here are their responses.

VAN NUYS Jul 29, 2020

Police Seeking Witnesses to January Killing in Balboa Park

Authorities are hoping that a $50,000 reward will prompt witnesses to call with information that might help prosecute a man in custody in the January shooting death of another man in Balboa Park, police said Tuesday. Bryan Woodson, 35, who was homeless, was walking along a dirt path adjacent to the Los Angeles River at about 10 p.m. on Jan. 28 when…

San Diego Jul 1, 2020

San Diego Museum of Art Offers First-Ever Virtual Exhibition

A handful of museums and activities are reopening this week in Balboa Park, but there is another option available for those who are not quite ready to make the visit.

BALBOA PARK Jun 23, 2020

Looking for Serenity? Japanese Friendship Garden Reopens to Public

San Diegans looking for a sense of tranquility can rejoice since the Japanese Friendship Garden (JFG) will reopen to the general public Monday.

BALBOA PARK Jun 1, 2020

Tensions Rise at Night Following Day of Mostly Peaceful Protests Throughout San Diego

The southbound Interstate 5 off-ramps at Front Street and 10th Avenue are closed due to demonstrations in the downtown area, according to Caltrans San Diego.

BALBOA PARK Mar 13, 2020

Japanese Friendship Garden's Cherry Blossom Week Canceled Amid Coronavirus Concerns

The Japanese Friendship Garden's annual Cherry Blossom Week has been canceled amid concerns of the novel coronavirus and as a result of Gov. Gavin Newsom's suggestion to postpone events of 250 people or more. JFG's made the announcement on its website and said the decision was made as a preventative measure to minimize the spread of the illness. The...

NBCUniversal Inc. Jul 30, 2019

Drone Video Shows Homeless Encampment Growth, Trash Near LA River

Drone pilot Johnny Perez shoots aerial footage showing growing encampments alongside the LA River and in Lake Balboa Park. John Cádiz Klemack reports for the NBC4 News at 4 p.m. Monday, July 29, 2019.

Los Angeles Jul 10, 2019

Shopping Carts Litter Lake Balboa Park in LA

Balboa Boulevard is lined with rows of shopping carts filled with trash. The city of Los Angeles said it has been aware of the situation for two weeks. John Cadiz Klemack reports for NBC4 News at 5 p.m., Tuesday July 9, 2019.

BALBOA PARK May 15, 2019

Man Who Lured Women in Balboa Park Sentenced

Luis Haaz-Martinez was sentenced to seven years behind bars and will need to register as a sex offender after sexually assaulting young girls.

San Diego Mar 8, 2018

Naval Medical Center San Diego Links Sterilization Discrepancy to Bacteria Found in Instrument Washer's Water Supply

The Naval Medical Center San Diego confirmed that a discrepancy found in its surgical instrument sterilization process last month is tied to a problem with one of the washers.

San Diego Mar 7, 2018

Naval Medical Center Delaying Surgeries After Finding Discrepancy in Sterilization Process

Naval Medical Center San Diego confirmed Monday that it is delaying some surgeries at the facility as it investigates a discrepancy found in its surgical instrument sterilization process.
Sours: https://www.nbclosangeles.com/tag/balboa-park/
Best Cities To Visit With Kids Less Than Five Years OldVisiting a popular amusement park or attraction is something your child will never forget. Here are five of the best American cities to visit while traveling with kids under five, all guaranteed to provide memories that will last a lifetime.
Bicyclist Suffers Broken Shoulder, Ribs After Alleged Attack By Two WomenA bicyclist has suffered a broken shoulder and three broken ribs after allegedly being attacked and knocked off his bike by two women.
Guide To The San Diego ZooWith more than 4,000 animals, 800 species and 700,000 exotic plants from forests and jungles all over the world, the 100-acre San Diego Zoo is the perfect setting for animal lovers of all ages.
Best Winter Road Trip Destinations Near Orange CountyWinter offers great opportunities for families to spend quality time together. With the holidays taking pressure off of work and a year's worth of accrued vacation hours, winter might be the perfect time to organize that road trip you've been yearning for. Orange County makes the perfect launching point for an endless variety of adventures. Whether your final destination is atop a double black diamond ski run or soaking in a desert hot spring, a memorable family getaway is just a few hours away.
Want Adventure Without Leaving The City? Kayak The LA RiverLooking for some fun in the outdoors without having to leave Los Angeles? Residents can now take a trip down the L.A. River on a kayak.
Missing Grandmother, Her Developmentally Disabled Grandson Found SafeFamily and friends are hoping the public can help them find an 80-year-old woman and her developmentally disabled 21-year-old grandson.
©2021 CBS Broadcasting Inc. All Rights Reserved.Powered by WordPress VIP
Sours: https://losangeles.cbslocal.com/tag/balboa-park/
Balboa Park Station passenger loading zone detours starting June 24
Starting Thursday, June 24, 2021, the Balboa Park Station passenger loading zone will be closed for construction with detours to temporary loading zones. The temporary loading zones will remain in place for approximately two years for the construction of the Balboa Park Upper Yard development project. The project led by the City of San Francisco's Mayor's Office of Housing and Community Development will include construction of 131 units of affordable housing. BART will also build a new transit plaza with safety upgrades, an accessible path along Geneva Avenue, and a new passenger loading zone.
During construction, temporary loading zones will be provided as follows (see map).
Passenger Loading: Ocean Avenue for vehicles traveling in both directions
Accessible Passenger Loading: San Jose Avenue southbound at Geneva Avenue
Shuttles: Geneva Avenue eastbound east of San Jose Avenue.
We apologize for this inconvenience and appreciate your patience.
For more information on the project, including construction updates, visit www.balboaparkuy.com.
pdf of map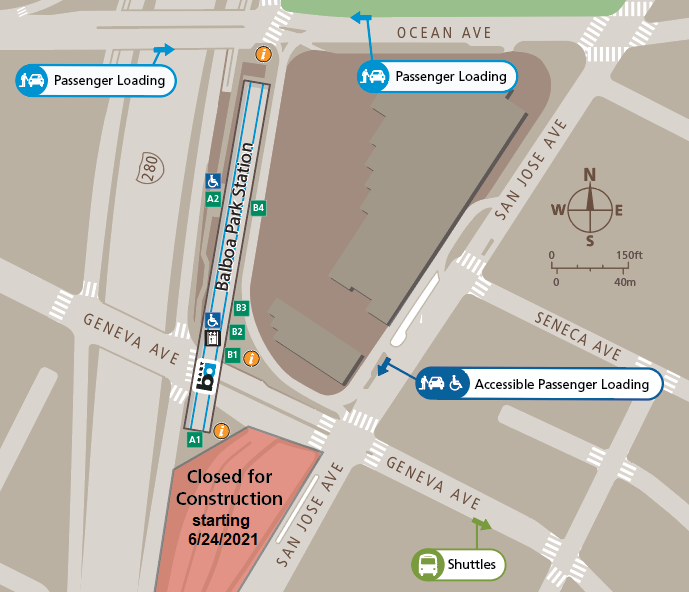 Sours: https://www.bart.gov/news/articles/2021/news20210609
Brand new House of the Philippines in Balboa Park
This update was sent to the House of Pacific Realtions by Michael Warburton, Director, Parkwide Communications, Balboa Park Cultural Partnership. The letter was authored by Michael Warburton Director, Parkwide Communications.
[SDHPRDelegates] Update on Balboa Park Activities
Hello, group!
The biggest news is obvious - we have gone through a huge wave of reopen, only to return to closure status for many organizations.
The State and County has mandated the closure of indoor museums, as well as indoor dining at restaurants, effective 12:01 am this morning. The mandate did not close down indoor retail operations. And although Zoos were on the closure list, the San Diego Zoo experience is mostly outdoors, and is allowed to operate those areas. The closure is a minimum of 3 weeks; the soonest venues could reopen would be the week of July 27th. The worst-case scenario is if COVID case numbers do not stabilize and reduce, and the closure is extended.
The Central Mesa will continue to stay open to visitors and the parking lots will remain open, and the Visitors Center staff and volunteers will continue to provide visitor information and services.
In other news:
-Construction projects continue in the park: Palisades plaza, House of Pacific Relations cottages, Mingei renovation, Bea Evenson Fountain repairs, the deck around the Moreton Bay fig, etc. Several of these should wrap up soon, and since many are outdoors, will be available for visitors to enjoy.
-A cooperative campaign with SDTA, BPCP, and media partners COX, KPBS, and SD Magazine that was set to launch in March was rescheduled, however due to the reclosures it will be rescheduled again. The campaign is to highlight Balboa Park to local audiences.
-Explorer Pass sales returned for a few days, however with venue closures the pass sales have been suspended again.
-There are a limited number of Summer Camps operating with a majority being online; the Zoo is operating in-person camps, and the Fleet is providing a mix of both online and in-person camps.
-There continues to be COVID support web pages linked from the notification bar at the top of the balboapark.org site; these pages offer a LiveChat for questions, updates on what is open, and a calendar that is now going to show digital programming/content. If you have questions about this, email me under separate cover.
-The July 2nd Balboa Park Committee was canceled.
-There have been a number of surveys and studies involving cultural organizations and the COVID impact. Culture Track released the one attached today, and it is chock full of insights.
Let's look ahead, and hopefully the virus will calm down and we can re-reopen venues once again at the end of the month!
Thank you everyone and be well.
Mike
--
Michael Warburton, Director
Parkwide Communications
Balboa Park Cultural Partnership
Sours: https://www.houseofpuertorico.com/news/covid-19-update-balboa-park-activities
News balboa park
Forever Balboa Park Nonprofit Launches National Search for President and CEO
Nonprofit organization Forever Balboa Park, which works to tackle the historic park's most significant challenges, announced Tuesday that it had begun a national search for a new president and CEO.
The organization, formed from the recent merger of Friends of Balboa Park and the Balboa Park Conservancy, says the chosen candidate "will be a diplomat, fundraiser, conservationist and community influencer who is impactful beyond the confines of the park."
According to a statement from Forever Balboa Park, the position's primary roles include "raising the park's national profile, enhancing the visitor experience and establishing a sustainable operations model to support the city of San Diego in fostering a best-in-class 21st-century botanical garden and cultural park."
The group says it hopes to finalize its selection early next year.
Joyce Gattas, board member and chair of the search committee, said, "We are excited to welcome a CEO that inspires a community of belonging. Balboa Park will benefit from a visionary leader with innovative approaches to both collaboration and fundraising, providing San Diego with a world-class park that is welcoming to all."
The nonprofit has enlisted consulting firm Potrero Group to lead its search. Potrero's founder and principal, Cleveland Justis, said, "We're incredibly honored to support this search. Balboa Park is an iconic urban park — one of the best in our nation — we're confident that this opportunity is going to generate tremendous interest."
More information on the position's specifications can be found at www.potrerogroup.com.
Interested candidates were advised to apply via email by sending a cover letter describing their qualifications that match the criteria and what they bring to the role, along with a resume, to Justis at [email protected]
City News Service contributed to this article.
Tagged: Balboa Park Conservancy, CEO search, Forever Balboa Park, Friends of Balboa Park, new president, nonprofit, Potrero GroupSours: https://timesofsandiego.com/business/2021/09/28/forever-balboa-park-nonprofit-launches-national-search-for-president-and-ceo/
Balboa Park, Taman terbesar di San Diego!! // Keluarga Indonesia-Amerika
Skip to main content
Coronado, CA
Lemon Grove, CA
La Jolla, CA
La Mesa-Mount Helix, CA
Imperial Beach, CA
Santee, CA
Del Mar-Carmel Valley, CA
Poway, CA
Rancho Bernardo-4s Ranch, CA
Encinitas, CA
SAN DIEGO, CA — A 37-year-old man was stabbed in the back Saturday and hospitalized with serious injuries, San Diego police said.
An argument between the victim and two men turned violent at about 4:44 a.m. Saturday near the San Diego Botanical Garden in Balboa Park, according to a San Diego Police Department watch commandeer.
After the stabbing, the suspects fled on bicycles and the victim was rushed to a hospital to be treated for serious injuries.
Find out what's happening in San Diego with free, real-time updates from Patch.
No suspect description was released.
—City News Service
Find out what's happening in San Diego with free, real-time updates from Patch.
To request removal of your name from an arrest report, submit these required items to [email protected]
The rules of replying:
Be respectful. This is a space for friendly local discussions. No racist, discriminatory, vulgar or threatening language will be tolerated.
Be transparent. Use your real name, and back up your claims.
Keep it local and relevant. Make sure your replies stay on topic.
Review the Patch Community Guidelines.
Sours: https://patch.com/california/san-diego/man-stabbed-back-after-argument-balboa-park
You will also be interested:
News
EXPLORER INSIDER
This holiday season, share your love for Balboa Park with your family and friends or treat yourself to a visit all on your own. Don't miss the chance to catch these events full of joy, see old favorite exhibits and discover new ones in Balboa Park. Annual... read more...
Find the perfect gift for everyone on your list at Balboa Park! With art, aviation, culture, science, automobiles, locomotives, and history! We have something special for everyone on your list. And we mean everyone! The San Diego Museum of Art Find your own... read more...
Thanksgiving is such a special holiday. This day is a chance for families to gather, to be thankful, enjoy being with one another and to create memories. There's no place like home during the holidays but if you are looking to step outside before or after the... read more...
EVENTS
San Diego Youth Symphony and Conservatory
Saturday Open Rehearsals
Casa del Prado Building (2nd Floor)
8:30 am to 7:15 pm
Every weekend the San Diego Youth Symphony and Conservatory's ensembles fill Casa del Prado with classical music. Visitors are invited to observe these rehearsals and share in the musical journey of their talented student musicians (ages 7-25). This is a wonderful treat to enhance any visit to Balboa Park!
More information about their Open Rehearsals here.
PERFORMING ARTS
Marie Hitchcock Puppet Theater
Winter Showtimes
Wednesday – Friday | 10 and 11:30 am
Saturday, Sunday and Holidays | 11 am, 1 pm & 2:30 pm
The Marie Hitchcock Puppet Theater, originally part of the California Pacific International Exposition in 1935, has long been a mecca for children and is located in beautiful historic Balboa Park!
General Admission: $5.00 
Spreckels Organ Pavilion
Sunday Concerts are held at 2pm (for one hour). All concerts are free and open to the public. Please note that seating is outdoors in the Organ Pavilion.
Music-loving pets are welcome, and so are picnics!
House of Pacific Relations
Saturday and Sunday Lawn programs
Ongoing
Each Saturday and Sunday from 2 pm to 3 pm, member houses of the House of Pacific Relations feature music, dance, arts, crafts, and ethnic foods. Check the Lawn Program calendar here.
FILMS AT BALBOA PARK
Fleet Science Center – IMAX 
Turtle Odyssey
Superpower Dogs
CUBA: Journey to the Heart of the Caribbean 
Please Note: IMAX is available at a special price of $9.95 for Annual Explorer passholders.
San Diego Air and Space Museum – Zable Theater
Legend of Apollo
Flying Around the World
Delta Zero
Films at the Zable Theater are included with paid admission and also with Explorer Passes.
San Diego Natural History Museum (The Nat)
Ocean Oasis 2D
Hidden Pacific 3D
Conquest of the Skies3D 
Films in the giant-screen theater are included with paid admission and also with Explorer Passes.
San Diego History Center
Balboa Park: The Jewel of San Diego
The film is included with donation-based admission and also with Explorer Passes.
Sours: https://explorer.balboapark.org/news/
1358
1359
1360
1361
1362