With a pair of satellite speakers in tow and motorized drivers upfront, Vizio's Elevate is more than just a run-of-the-mill soundbar. Yet, it's not a full-fledged 7.1 channel surround sound setup, either. What it is, is an excellent hybrid offering superior sound – and sound effects – compared to some of the best soundbars, while delivering audio fidelity comparable to systems costing hundreds of dollars more.
The $999.99 (£720/AU$1293) Vizio Elevate is the TV maker's top-of-the-line sound system, an acknowledgment that if you want the complete movie experience, you need to add a solid audio package to your big flat-panel set. It is a rather standout effort in the crowded field of soundbars, with Dolby Atmos and DTS:X skills that bring blockbusters and dramas alike to life. In our tests, the Vizio Elevate proved to be unquestionably sonically superior to soundbar-only designs, like the $799 Sonos Arc. Moreover, it delivered a more realistic and immersive sound experience than more expensive competitors, such as the Samsung HW-Q900T 7.1.2 Channel Soundbar with Dolby Atmos / DTS and the LG SN10YG 5.1.2 Channel High Res Audio Sound Bar with Dolby Atmos.
Vizio Elevate review: Design and Setup
The Elevate is a so-called 5.1.4 home theater surround sound system. For the uninitiated, it means it has 5 main channels (three up front in the soundbar and two satellite speakers in the back), plus a separate subwoofer for the lower bass range (the point 1), and 4 overhead channels. It's that last number that delivers the 3D effects of Dolby Atmos, with birds chirping overhead in forest scenes and rockets roaring by in less bucolic sequences. And it also this feature that has attracted the most attention in the Elevate system because of its unusual design: the two front side speakers in the soundbar are motorized so that they will rotate upward so that sound effects can bounce off your ceiling. And it's not just a gimmick; it can be quite effective with the right soundtrack.
In total, the entire Vizio Elevate package has 18 speaker drivers housed in 4 separate enclosures: a 48-inch wide soundbar that sits under your TV, a subwoofer that wirelessly connects to the soundbar and 2 rear satellite speakers connected by cables to the subwoofer.
It sounds more complicated than it is. It took me 10 minutes to plug it all together; figuring out how to open the box was more time-consuming. There are 3 HDMI inputs on the soundbar, including one for HDMI ARC (audio return channel), which allows it to sync up automatically using a compatible port on your TV. Using the supplied remote control there's also a speaker test you can run once it's powered up. It delivers a spoken voice sound off: "left front," "right rear," etc., to confirm you've connected and positioned everything correctly (in my haste I had swapped the rear speakers so it proved to be helpful).
Should want to do more, the Elevate has plenty of other connections. There's an analog mini-jack input, optical input, Wi-Fi, and it works with Bluetooth wireless sources (a feature lacking in some competitors, like the Sonos Arc). The system also has Chromecast built-in, but not Airplay.
Dressed in unassuming black, the system is relatively inconspicuous. The soundbar is 2.64-inches thick, so it will slide under most big screens on a tabletop. However, paired with a 65-inch Vizion Quantum X I was also testing, I discovered the soundbar's 48-inch width was just a touch too much to fit between the set's legs.
While you don't have to run cables across the room from the subwoofer to the soundbar, it's a bit of a challenge to hide the subwoofer. It's 11 by 14 by 16 inches, a larger-than-average big black box we had to "conceal" next to a coffee table; it certainly won't fit behind a couch.
Vizio Elevate review: Sound Quality
Situated in a large 18 by 20-foot room with double-height ceilings, the Vizio Elevate was easily able to fill the space with dinosaur roars and bellowing superheroes. (Vizio says it can deliver 107 dB of sound pressure.) Out of the box, I found the system too bass-heavy, rattling the floor in the nearby kitchen (the subwoofer is rated to go down to 30 Hz). The remote makes it possible to adjust most settings, though finding them all takes some study of the user's manual.
There are preset EQ modes on the remote control for movie, music, and gaming, for example. But adjusting the balance of, say, the center channel for dialogue is under "Levels" on the remote. Also adjustable are the overall bass and treble levels, and subwoofer and satellite speaker balance. I also tweaked the height level adjustment so those rotating speakers could take better aim at my higher ceilings.
For standard movies with surround sound, the Vizio Elevate was more than up to the task. In the 2005 version of King Kong, the bi-planes swirling around Kong on the Empire State Building were thrilling. The machine guns seemed to come straight at us with the sound of propellers clattering around our heads.
In Dolby Atmos, The Hobbit: The Desolation of Smaug sounded like Peter Jackson would appreciate. From the center channel grunts of orcs to the stereoscopic peel of an elf's horn, the soundtrack comes through splendidly. The orchestral flourishes of the music seemed to be capably handled by the satellites. Two scenes particularly stood out: the one with barrel-riding dwarfs tumbling down the shoreline and then into the water had burbling and rushing water all around us and when the fish were dumped on their heads, it felt like the smelts were falling on us.
Furthermore, the latest streaming monster mash, Godzilla vs. Kong, fared very well, too. From navy vessels being bashed into underwater Kong screams, the sound effects seemed thrilling and able to do as intended – draw you into the action. In the Vizio Elevate's default Movie mode, I found I had to adjust the volume of the dialogue and center channel to bring the actors up into the forefront ­– without driving the volume to ear-splitting levels.
To really judge the Vizio Elevate's sonic abilities, I auditioned a wide variety of hi-res tracks from jazz and rock to classical pieces. With prog rock from Yes, I found a lot of the lower midrange instruments emanate directly from the front soundbar, with higher notes, such as those from Steve Howe's acoustic guitar at the opening of Roundabout coming from the satellites. All the while Rick Wakeman's keyboards swirl all around you.
I did find myself switching EQ settings between Movie and Music on the remote. Listening to a hi-res version of David Bowie's Pinups demonstrated some interesting differences. Movie mode gives the sound some artificial high-end bursts and accentuates more extraneous sounds originally buried in the mix (like background cymbals). Switching to Music mode definitely improves things flattening out the sound and keeping it more balanced and faithful to the original mix ­– although it will seem to most listeners as if you just muted the volume.
As for more classical music works, the Vizio Elevate performed surprisingly well. Bach's Toccata and Fugue in D Minor (Simon Preston) had a wonderful limpidness to the upper ranges of the pipe organ, and the very low end was fine. But there was something oddly lacking in the midrange of the keys. Beethoven's Eroica (Jordi Savall) was actually very pleasing, handling violin and piccolo with equal skill. But then we had to boost the bass levels back to bring out the thundering timpani rolls.
Can the Elevate supplant a solid dedicated stereo system? Probably not for critical listeners. Astute classical fans will detect a slight lack of sharp edges that violins can have, and brass instruments sometimes aren't quite as bright as they should be.
Be that as it may, the Vizio Elevate acquitted itself rather well, whether I was listening to the Beach Boys or Roxy Music. Even old classic movies seemed to be reinvigorated by the sound system. The throaty sound of the Mustang in Bullitt, for example, was a particular pleasure and seemed so immediate that we forgot we were testing a sound system and were just watching a great car chase scene. And that may be the biggest compliment to the Vizio Elevate because the best surround sound systems should make you forget you're listening to a surround sound system.
Vizio Elevate review: Verdict
Priced just under $1,000 (£720/AU$1293), the Vizio Elevate is no small investment. It's also currently not available in the UK or Australia. However, it does deliver on the promise of bringing surround sound into your living room – unlike most of the single soundbars out there that can cost nearly as much. If you were to add a subwoofer and satellites to other systems, they would easily cost hundreds more. And it does a great job with 3D formats like Dolby Atmos and DTS:X, surpassing the likes of the Samsung HW-Q900T and LG SN10YG 5.1.2 Channel High Res Audio Sound Bar.
The Samsung HW-Q950T offers a similar four-box set up the Vizio Elevate, with a soundbar, sub and two rear speakers, and for similar money. It refers to this as a 9.14-channel arrangement, as it packs a mighty nine channels into that front speaker, bouncing the sound upwards and to the sides for a full surround effect.
If such a system is simply beyond your budget right now, consider a soundbar-only solution like the Yamaha SR-B20A. Yamaha all but invented the soundbar, and it shows in this compact $179/£249/AU$329 piece. It doesn't support all the official surround sound modes, but for smaller rooms, it significantly improves the cinematic audio experience.
On the other hand, if you really want Dolby Atmos support for less money, there's the Sony HT-G700. For less than $600/£450/$900 you get a respectable soundbar, plus a wireless subwoofer, for a combination that produces an excellent soundstage.
Prices - Vizio Elevate Sound Bar:▼
Sours: https://www.t3.com/reviews/vizio-elevate-review-a-big-brash-514-soundbar-plus-system
Vizio Elevate soundbar review: This Dolby Atmos speaker could start a revolution
The Vizio Elevate is expensive for a soundbar, but Atmos bars in general have always tended toward the high end. The Samsung HW-Q950T comes close in terms of specification but that system is also $1,700. The Sonos Arc offers the simplicity of a single bar and includes a voice assistant, but it doesn't sound as good as the Vizio. With its moving speakers, the Vizio Elevate really is its own animal.
Newbies beware however: The Vizio Elevate's manual setup can be complicated and isn't helped by the confusing remote. Some users may also find the wired surround speakers a pain depending on where they choose to place the subwoofer -- the cables are probably too short for large rooms.
The rotating speakers reek of gimmickry, but in practice they work well, adding oomph to music and spaciousness to true Atmos soundtracks. If you don't mind plunking down the money for a fully featured, great-sounding soundbar, the Vizio Elevate is a very serious contender. If the Elevate is too rich for your blood, however, the Vizio SB36512 is our Editors' Choice winner and an excellent alternative at less than half the price.
Build quality: A step above
The Vizio Elevate is a 5.1.4 soundbar which offers compatibility with both immersive standards: Dolby Atmos and DTS:X. In addition to the main speaker itself, the Elevate's setup includes rears, a large subwoofer and a remote. If you wanted to deck out the Arc with a similar array of speakers, namely the Sonos Sub and two Symfonisk for the rear channels, it would cost about $1,700.
The Vizio Elevate may be a plastic soundbar at heart but its design is... ahem... elevated. The main bar feels sturdy and comes in a two-tone finish -- part thick vinyl wrap and part gun-metal aluminum. This is a big speaker at 48 inches wide and a table-swallowing 6.5 inches deep. The ends are covered in a matte-black material, which makes it hard to see the matte-black controls, but the raised buttons are actually easier to use by touch. The front of the soundbar includes a colored LED that makes it relatively simple to tell which input you are on, as well as a white LED level meter.
The main speaker features a whopping 13 drivers, including a dedicated center channel and 5 tweeters in total. The swiveling speakers are situated at each end and rotate when the system detects a Dolby Atmos/DTS:X signal, revealing the Atmos logo on one side and DTS:X on the other.
The subwoofer is one of the largest I've seen on any system, measuring 11 inches wide by 14 inches deep and 16 inches high. The rear speakers feature both forward-facing and upward-firing drivers and are tethered to the sub by a 30-foot cable (the connection between the soundbar and the sub is wireless). The cable was long enough to drape behind my couch and along the side of the living space to the sub at the front, but the length could be an issue for some installations.
Vizio claims the system is capable of 107 decibels, and I did find it was quite loud, so no worries about filling even the largest living spaces. The Elevate includes a wall-mount bracket in the box (BYO screws, however), and Vizio designed the bar to mate seamlessly with the Vizio OLED TV.
A mountain of features
Connectivity is excellent with two separate HDMI inputs, as well as a third, labeled "HDMI Out," which supports eARC. There's also an optical digital input, a 3.5mm analog audio and a 3.5mm "voice assistant" input, USB and Bluetooth. The Elevate connects to your network via Wi-Fi and supports Spotify Connect and Chromecast built-in. Unlike the Arc, it lacks Apple AirPlay support but its physical connectivity is far better than the Arc's.
The Elevate also lacks a built-in voice assistant, found on the Arc and other soundbars, but I don't see this as a major disadvantage. Using Alexa or Google Assistant on a soundbar can be annoying as the volume will mute if it hears the wake word, which means you could miss some of your show. If you want to use a voice assistant to listen to music through the Elevate it's easy to set the soundbar up as the default speaker for an inexpensive Google or Echo speaker nearby.
The remote looks like the ones that come with cheaper Vizio soundbars but differs in two important aspects. There's an LCD display at the top, and four buttons which help with setup at the bottom. Having both Effect and EQ options is a little confusing because they perform very similar tasks, and navigating menus via the different buttons takes a little getting used to.
Adjusting the volume of the subwoofer was easy enough with the Level button but not everything was intuitive, and you will need to know to download the Vizio SmartCast app to complete the setup of Wi-Fi, for example. I also had some issues updating the firmware from the website, but Vizio told me it was because one of the files was misnamed and assured me it was now fixed.
In comparison the Sonos Arc was a simple pleasure to use, install and update, although that speaker's setup does heavily favor iPhone users -- Sonos' TruPlay calibration app is not available on Android. I had some issues with the Arc initially and these were helped by using TruPlay (on an iPad).
High and mighty sound
The Elevate is twice the price of the existing SB36512, but you can't expect twice the performance. I was unable to test the two models side-by-side, but in my experience there are always diminishing returns when going from an excellent, affordable speaker to a much more expensive one.
For these tests I compared the Elevate side-by-side against the Sonos Arc, because the two are roughly the same price. The Vizio acquitted itself very quickly with authoritative sound quality across all kinds of material. Unlike the Arc, which performs better at home theater than music, the Elevate was equally capable with both -- a rare feat among soundbars.
I started my tests with music, Radiohead's My Iron Lung to be precise, and I found that the Arc wasn't quite as accomplished as the Vizio. The Arc played the song at a remove, slightly boxy and distant. By fiddling with the EQ I was able to improve definition to the percussion, but Thom York still gave the impression he was phoning it in. The Vizio was the opposite, lively and punchy thanks to that subwoofer. It wasn't quite perfect, though, as I needed to back off the treble a little, but much more listenable overall.
I moved to something more ethereal with Yulunga (Spirit Dance) by Dead Can Dance, and the Arc improved somewhat, with a crispness and presence in the stereo shaker eggs for example, even if it wasn't able to dig deep on the larger drums. The Vizio's authority was evident from the first few bars of the song. Lisa Gerrard's voice floated free of the speakers, and the string accompaniment was easier to hear. The sub was able to let the drums and gong sounds fully resonate in my testing room.
I moved to movies and TV next, starting with the infamous egg-stealing Chapter 10 of The Mandalorian. The episode features a chase scene through clouds and an inevitable canyon run (it wouldn't be Star Wars if you couldn't flip your ship vertically or had to contend with guard rails on gang planks). During this scene the Arc was able to convey a real sense of height as the Razor Crest descended into the frosty planet's atmosphere, pursued by two X-wing fighters.
As lovely as the Arc sounded, it was the Vizio's dedicated rears and sub which really helped anchor the action. The Elevate's surround effects were much more pinpoint and the metallic thud of the ship as it skidded across the floor of the icy canyon sounded impactful and scary. It didn't have the same vertiginous feeling of height as the Arc however.
The sub and rears again helped the Vizio convey a sense of space in my next test, the Thanator chase scene from Avatar. Insects buzzed around the listening position, dialogue was clear and explosions bombastic. In comparison with the Arc, it could occasionally send an insect-like click to my right that made me think the Elevate's rears were somehow still working, but the sense of surround was much less palpable.
The revolution starts here
Are revolving, motorized speakers going to become a trend? Probably not. The up-firing speakers of the Vizio Elevate add some impact when in stereo mode it's not really enough to justify a potential moving-part weak point down the road.
The Elevate may not be as easy to use as the Arc, but it's the better performer, and that's really what matters. The Vizio soundbar is also a better value, due to its enhanced connectivity and dedicated subs and rears. The Vizio SB36512 still offers the best value of any Atmos soundbar I've tested, but if you want an upgrade, the nifty Elevate is a more refined and home-theater-ready speaker.
Sours: https://www.cnet.com/reviews/vizio-elevate-p514a-h6-review/
I watch so many movies and shows when testing TVs, soundbars, and various other home theater toys that I begin to get jealous of the perfectly sculpted universes in them. Sci-fi doors slide open with puffy wisps; stereos are perfectly recessed into custom-made walls; and showers are each the size of a single-car garage, with steam nozzles to match.
The Vizio Elevate is one of the few soundbars around to give me this tingly James Bond feeling. One moment the rounded speakers on each side of the bar are pointing toward you, and the next—precisely when you select a movie or show that supports Dolby Atmos—they rotate skyward, transforming into the front height channels of the 5.1.4 system.
It's very polished and sounds great; it's absolutely worth considering as a replacement for a traditional sub-$1,000 surround sound system. But if I'm being honest, I'd buy the Elevate because of the rotating speakers. They're a shining example of innovative design in a sea of black rectangles. Every time I see them move, I feel happy. Isn't that what big purchases like this are for?
Surround Soundbar
Even home theater nerds have aesthetic living rooms, it turns out, and that's one place where Atmos soundbars like this one shine. They allow you to experience quality surround sound in spaces that otherwise aren't suited for running wired speakers, or for super-large setups like you'd find in a local McMansion.
The Elevate is sleek and looks great. The system consists of a soundbar, an 8-inch subwoofer, and two wireless surround speakers that are small enough to place anywhere in most rooms. I highly recommend rear speaker stands so that the height channel of your Atmos is coming from equal distances left and right.
One typical problem with speaker sets like this is getting them close enough to outlets. If you make the surround speakers wireless, they still need a power outlet, which often defeats the purpose. The wireless speakers of the Elevate come with very long proprietary cables from Vizio that connect to the subwoofer—I prefer this to extension cords, though you might still need one to power the subwoofer if it isn't near an outlet.
Once you get the Elevate all set up and plugged in, the speakers automatically pair, and you can adjust the settings to your liking on the included remote. This year, Vizio has fixed one of my biggest pet peeves: The remote now has a backlight! Changing settings in dark rooms is now a breeze.
Most of us will be using the included HDMI ARC port, which sends signals back and forth from your TV digitally. I plugged it straight into the Vizio OLED I was testing, and it worked right away. The Elevate also has optical, RCA, and 3.5-mm connections, plus Bluetooth and Google's Chromecast built-in. It will also pass through Dolby Vision and HDR10+ video signals, as needed.
In addition to acting as a 5.1 or 2.1 system for older movies, TV shows, and music, the Elevate is ready to tackle both DTS:X and Dolby Atmos object-based surround formats. The soundbar recognizes whether it's receiving that signal and mechanically rotates the front left and right drivers skyward so they can join the drivers on top of the rear wireless speakers to give you four full-height channels. These channels enable the soundbar to bounce sounds off your ceiling so they sound like they're above you.
It's a very clever gimmick that gives you a best-of-both-worlds scenario for surround listening. In 5.1 mode you get extra drivers, and in Atmos mode, you get those height channels.
The Sound
Speaking of drivers, this system has a whopping total of 18, including dedicated tweeters for high-end shimmer (often sacrificed to save room in smaller soundbars).
All those drivers contribute to a lot of detail in even the densest mixes, with Marvel and Star Wars films surrounding you with very crisp recreations of their audio universes. The separation between the bass and the highs, and between the center and side channels, is impressive given that most of the drivers are in a single tube together. It's easily the best-sounding Atmos bar system I've tested so far.
That said, I can guarantee you'll need to adjust the volumes of each channel to balance the sound in your space. My TV setup is on one side of my room, so I had to adjust the left and right balance, and I almost always have to boost the volume of the center channels. Pro tip: On nearly all the systems I test, the subwoofer is turned up too high for my space, so there's a good chance you should turn it down. All of this is easily fixed with the remote.
Vizio claims the Elevate gets up to 107 decibels without distortion—you'll never use it at such a loud volume without some nefarious reason. In practice, I had to push it to about 60 percent volume to get what I'd describe as "room-filling" sound in my 15- by 20-foot room. Push it above 70 and you're really entering butt-rumbling territory.
It sounds good—really good for its size and cost. Especially when compared to the likes of the Sonos Arc, which costs $800 but doesn't come with separate speakers or a sub. Watching the season finale of The Mandalorian with the Elevate and the aforementioned 65-inch Vizio OLED was almost a religious experience.
I'll be the first to admit that you can spend thousands of dollars on speakers, a dedicated receiver, and cables to tie it all together, and it will sound better than the Elevate. But for $1,000? I don't think you can beat the cost and convenience of this system, not to mention the design. I also do have to mention that if you just want to improve the sound coming out of your TV, you absolutely do not need to spend anywhere near this much. Our Best Soundbars guide has plenty of other, cheaper picks, even ones from Vizio.
High-quality object-based surround sound is still relatively hard to come by, and this has some of the best I've heard outside of wired home theater systems. Add the fact that the sides of the soundbar can rotate toward the heavens as if to acknowledge the Movie Gods, and Vizio has a real winner on its hands. Just remind the home bartender that you take your martinis shaken, not stirred.
Sours: https://www.wired.com/review/vizio-elevate-soundbar/
My SoundBar Pick of 2021: The Vizio Elevate
TODAY'S BEST DEALS
30-second review
If you like conversation-starting design, you'll appreciate the Vizio Elevate Sound Bar. When it recognizes Dolby Atmos input, the side speakers physically rotate up revealing the Dolby Atmos logo before you're immersed in a bubble of sound.
It's a neat party trick, certainly, but it's also an effective way to shift between a standard 5.1 surround sound soundbar with satellite speakers to a full fledged 5.1.4 Dolby Atmos system, all without having to install speakers in the ceiling to accommodate the extra channels.
The sound quality is a bit on the boomy sound with a heavy emphasis on rumbly bass and a lack of clarity in the upper registers but, if you want Dolby Atmos sound without having to buy a receiver, it's a well-rounded alternative to some of the best soundbars from LG, Sony and Samsung.
Price and release date
The Vizio Elevate made its debut at CES 2020 and was released late last year. That said, you're going to see this one on store shelves for awhile as Vizio will continue to put out the soundbar throughout the rest of the year.
In terms of price, you're looking at $999 – around £700, AU$1,300, though not available in either territory right now – making it one of the more expensive soundbars on the market.
The Elevate comes with two satellite speakers and a wireless sub for the high asking price, but you can find similar systems for half the cost - like Vizio's own SB46514-F6 that comes in at $599. Why you're paying extra for the Elevate, essentially, is that it has rotating speakers and extra drivers in the soundbar that deliver a louder sound.
Of course, if you're looking for both power and clarity – and don't mind paying even more – we'd recommend looking at the Samsung HW-Q950T Soundbar or the LG SN11RG. They're both more expensive and don't rotate when they detect Dolby Atmos audio, but they offer better balanced sound. Still, the Vizio Elevate is a good offering worth considering if you've got a Vizio OLED.
Design
The Vizio Elevate certainly has a unique design: instead of being an all-black unibody bar, the Elevate incorporates rotating speakers on the sides. It's still mostly an all-black unibody bar otherwise, but this little detail makes it stand out in a crowded field.
That said, to accommodate the rotating speakers, the body has a bit more depth than traditional soundbars have and measures in at a rather chunky 2.64 x 48 x 6.5 inches (H x W X D). It can still be wall-mounted despite the extra depth, and it will pair nicely should you decide to go for the Vizio OLED for which it was built for.
Inside, you'll find a full array of drivers (18, according to Vizio) with about two drivers per channel. Those drivers are going to add to the power output but their close proximity to one another is what creates the confined sound.
So how do you get a wider soundstage? Well, that's where the satellite speakers come in.
To power and drive the satellites you'll run an included power/signal cable from the back of the subwoofer to each of the two satellites. They're not wireless, unfortunately, but the proprietary power cables Vizio uses should be long enough to span any living room and the subwoofer, thankfully, is wireless.
Turn the 'bar upside down and you'll see the ports. Here you've got one HDMI-ARC port that connects to your TV and two HDMI-In ports that you can use to connect game consoles, Blu-ray players or streaming sticks. While HDMI-ARC is your best bet to connect to a TV – as it's the only way to pass Dolby Digital data – you can also connect it via a 3.5mm auxiliary cable or optical audio, and it's nice that the Elevate is flexible enough to support them all.
Last but not least, the Vizio Elevate comes with a basic plastic remote. The remote is nothing special in terms of build quality, but it does come with a screen that makes it easy to navigate menus and tweak the soundbars' settings. We typically prefer GUIs for this stuff, but we appreciate how easy it was to enable things like Night Mode that reduces bass with just a few button presses.
Features
There's not much in the way of extra features, sadly. Unfortunately this is really just a soundbar – there's no built-in smart assistant or smart platform – so it just takes the audio you route to it and pumps it out.
While we can live without yet another smart assistant in our homes or another avenue to streaming services like Netflix and YouTube, not having features like auto-room calibration at a soundbar at this price point does feel like a big miss. Sure, you can go in and tweak the EQ yourself using a number of different presets, but auto-room calibration is something the Sonos Arc has for $200 less than the Vizio Elevate.
The good news? You may not get a built-in smart assistant here, but the Vizio Elevate is compatible with Alexa, Siri and Google Home, plus it comes with Chromecast Built-in if you simply want to throw on a song from your phone without getting any smart assistant involved.
The latter is nice if you want to throw on some music from your phone without having to deal with Bluetooth, while the former is a nice perk for folks who have a Google Nest Mini or Amazon Echo Dot.
Admittedly, it's not as feature-rich as some of the competition, and at this price point that really hurts the value of the Elevate.
Performance
The good news is that, as a Dolby Atmos soundbar, the Vizio Elevate can really hold its own. With Atmos turned on and it firing at full blast, the Elevate is an immersive experience that puts you in the heart of the Amazon when watching Our Planet on Netflix or on the dusty, dangerous plains of the post-apocalyptic future in Mad Max: Fury Road.
In fact, anytime the soundbar was playing Dolby Atmos, we were very impressed. The mix could've had a bit more surround presence, but all things considered it was exactly how Dolby Atmos audio should sound.
The problem, unfortunately, is that when it comes to stereo or regular 5.1 surround sound, the Vizio Elevate just doesn't do much to enhance the audio – it presents the audio tracks with a relatively flat sound that lacks a lot of detail.
That can be an issue when you want to get the most bang for your buck out of 5.1 Blu-rays or streaming movies, and it really makes games like Overwatch – that have a ton of details when using headphones – feel less immersive.
The Elevate also has an enormous amount of bass as well. That can be great when you want wall-shaking action sequences, but can be less enticing when you just want crisp, clear dialogue at night. Thankfully, there is a Night Mode that you can enable, but even in that mode there's still way too much bass.
Music, on the other hand, has a bit of bass but a nice focus on the mids. You won't get shimmering vocals in the upper registers, however, and sound will only play from the main soundbar unit and not the satellite speakers – so don't expect a club-like atmosphere in your living room.
Finally, it's not available on the Elevate, but it'd be nice if the soundbar could detect what kind of content is playing at any given moment and shift the EQ to match. This is one of the key features of Samsung's lineup of soundbars, and unfortunately the Elevate doesn't match it. You'll have to change the EQ any time you change from movies to music to games. Bummer.
Should you buy the Vizio Elevate Sound Bar?
Buy it if…
You want solid Dolby Atmos sound in a single box
If the idea of running spools of wire throughout your living room sounds like an exercise in frustration, the Vizio Elevate offers a simple and convenient Dolby Atmos experience.
You love showing off cutting-edge technology
Watching the rotating speakers turn up toward the ceiling when the soundbar detects a Dolby Atmos signal never gets old. It feels futuristic and will certainly impress your guests.
Don't buy it if…
You want a feature-rich soundbar
Compared to another high-end soundbar like the Sonos Arc, the Vizio Elevate is definitely a bit sparse on the features front. It doesn't have auto-calibration, nor does it come with any smart platform built in or a built-in smart assistant.
You're after pristine sound with tons of clarity
Unfortunately the convenience of a soundbar comes at the expense of a more limited soundstage. Yes, you'll get some solid 3D sound with Atmos turned on, but this isn't the clearest or most immersive 5.1 surround sound system we've heard for the price.
TODAY'S BEST DEALS
Nick Pino is the Senior Editor of Home Entertainment at TechRadar and covers TVs, headphones, speakers, video games, VR and streaming devices. He's written for TechRadar, GamesRadar, Official Xbox Magazine, PC Gamer and other outlets over the last decade, and he has a degree in computer science he's not using if anyone wants it.
Sours: https://www.techradar.com/reviews/vizio-elevate-sound-bar
Specs vizio elevate
Vizio Elevate Soundbar Review
Pros
Sleek, innovative design

Detailed, cinematic sound

Plenty of connection options
Cons
Aggressive attack lacks musicality

Not for audio novices
Vizio's new Elevate is a fun, powerful, and stylish way to bring home the thrill of the theater.
The highlight of the Elevate is the feature that brings the bar its uncharacteristically simple name: rotating speakers that "elevate" from their front-facing position to bounce sound off the ceiling and back down to the listening position when fed a Dolby Atmos or DTS:X audio signal. While the vast majority of Dolby Atmos-ready soundbars use the ceiling-bounce effect with permanently mounted speakers, this is the first bar to cleverly utilize these upfiring height speakers when the still-rare Atmos or DTS:X content isn't available.
The Elevate delivers more than just spinning speakers, of course. Like the rest of Vizio's Atmos lineup, it comes with surround sound speakers that plug into the subwoofer, in this case allowing for a fully immersive, 5.1.4-channel surround sound experience at a cost that meets or beats nearly all similarly outfitted setups. And while the Elevate has its drawbacks, including the need to fine-tune it manually for best results, you'll have a hard time getting this much home theater performance for under $1,000 anywhere else.
About the Vizio Elevate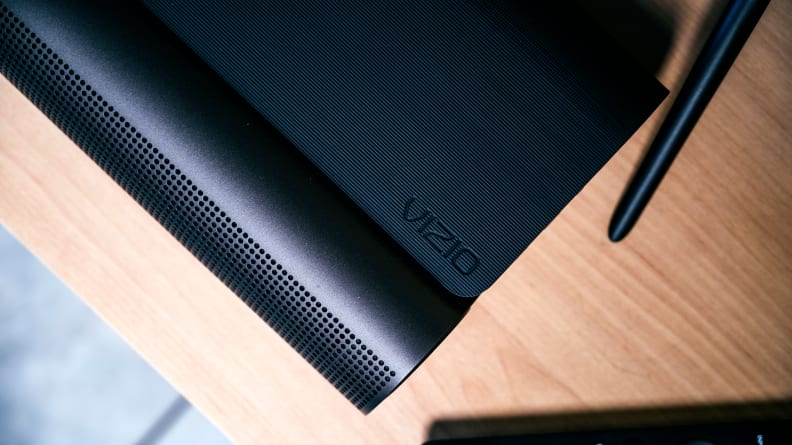 Before we dig in further, here's a quick look at the Elevate's main specs:
Height x Width x Depth: 2.64 x 48 x 6.5 inches (bar), 15.6 x 10.83 x 13.7 inches (sub)
Weight: 12.39 pounds (bar), 2.28 pounds (sub)
Speakers/drivers: 18 total drivers; 13 in the bar, two in each surround satellite, and an 8-inch woofer in the sub cabinet
Wireless Connection: WiFi with Chromecast streaming, Bluetooth
Wired connection: HDMI eARC/ARC input/output, two spare 4K/HDR HDMI inputs, optical input, 3.5mm analog input, USB input
Smart features: Google Assistant, Siri, and Amazon Alexa (requires separate smart speaker)
Sound formats: Dolby Atmos, Dolby Digital+, Dolby TrueHD, DTS:X, DTS Virtual: X
Video support: 4K/HDR passthrough including Dolby Vision
While there's plenty new here, opening the Elevate is reminiscent of the rest of Vizio's soundbar solutions, right down to the thin cardboard box laden with every connection cable you'll need. As a 5.1.4-channel system, the Elevate's massive L-shaped box includes a hefty subwoofer, dual surround satellites with both front and upfiring drivers, and of course, the massive bar itself that stretches 48-inches across and packs 13 individual drivers.
The included remote with its Casio-style screen for navigating settings calls back to the old-school Vizio design but, like all other design elements, it's been snazzed up with a rounder, all-black casing along with backlighting.
Putting the system together is somewhat arduous, but it's simple enough if you follow the instructions. That includes making sure you've properly aligned the color-coded surround cables so that the left and right channels input properly to both the wireless subwoofer and the speakers themselves. A quick note: I was blasted by nearly full volume when connecting, so make sure your TV is off first. Also, you'll need to tap the volume key on the bar while setting up WiFi and the app still thinks it's on the top—the new design places it on the right side.
What we like
Stylish, innovative, and rugged new design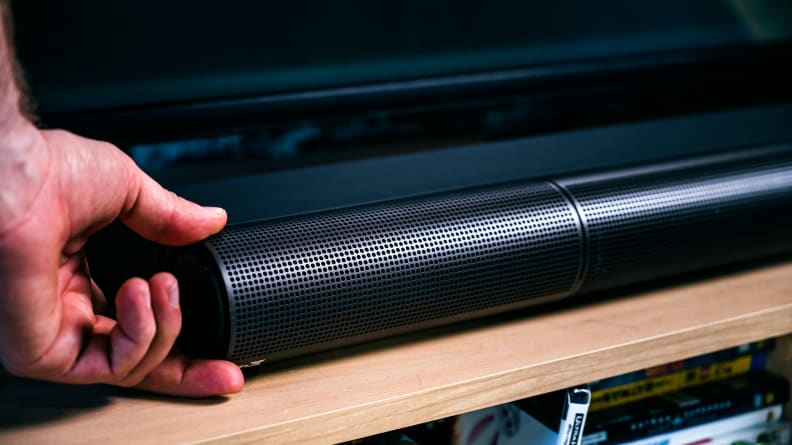 I actually quite liked the black and silver gleam of Vizio's old rectangular bars, predictable as they may have become. There's no doubt the new design looks better though, especially the tubular, anodized aluminum grill on the Elevate's front face. As massive as it is (and this thing is massive), the bar pairs well with an equally massive TV—particularly aimed at integrating with Vizio's new OLED TV—and looks both futuristic and sleek.
We really can't go much further without talking about the spinning speakers because, honestly, it's rare to see anything new under the soundbar sun. I confess to thinking they were a shade gimmicky at CES 2020 (how naive we all were then). But in practice—apart from the ability to utilize all speakers at all times—there's something exciting about hearing the smooth electric whir of the speakers turning upward when an Atmos signal comes in. In this age bereft of movie theaters (and most other such niceties), any new entertainment ritual is welcome. With each spin, I found myself bracing for action with the promise of revved-up performance, like watching the automatic spoiler on a supercar dovetail upward.
Whether or not this reduces the lifecycle of the system remains to be seen, and it was odd that the speakers would roll down and then back up again as I smashed through Mandalorian episodes. But the accompanying app does offer an option for keeping them forward or upward at all times, alongside the Automatic adjustment mode.
Ample input set with the future in mind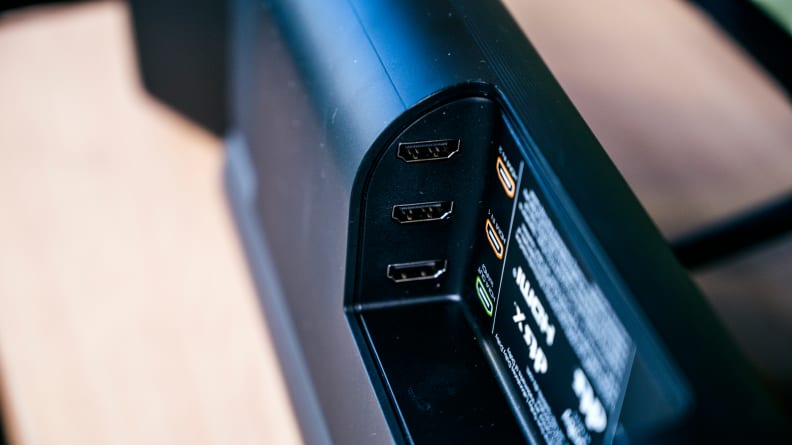 At the Elevate's back cubby you'll find ample connection ports, including optical and 3.5mm inputs, dual HDMI inputs for plugging in a pair of 4K/HDR-ready outboard devices (two more than Sonos' Arc soundbar), and HDMI ARC/eARC connection. The latter is something we expect in all new premium bars, allowing you to control the bar's volume and power with your TV remote when connected via HDMI ARC on your TV. And, if you've got a new eARC-ready TV, you can also source fully uncompressed audio directly that auto-adjusts for any sync issues (not that there were any of note).
Deep details deliver a premium flavor
While Vizio's bars have always been in the plucky-yet-impressive camp when it comes to their sound performance, there's nothing budget about how the Elevate performs. I'll get to the big show—the Elevate's sheer cinematic might—in a moment. But first it's worth reveling in how well the bar delivers the goods in the subtler scenes of quality content.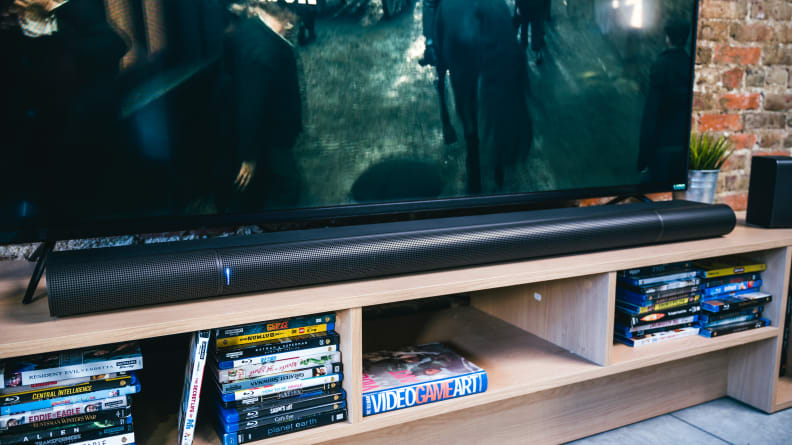 Once you get the settings locked in (which included raising the center channel a few notches for me), you'll get premium detail, whether it's the surprisingly sumptuous clunk of a plastic telephone receiver in Ricky Gervais's Extras or the ambient whoosh of sound as Liz Lemon moves from the halls of her 30 Rock studio to the busy thoroughfare of New York City streets. While sometimes a bit sharp, dialogue is especially noteworthy in many scenes, to the point where you can easily tell the quality of a show's sound mixing; Seinfeld is fine, but The Office borders on exceptional, pushing the bar's performance in equal measure.
A wall of sound
You don't buy a 48-inch bar for its subtlety, of course, and with a boasted 107 dB of ear-bleeding velocity (of which I accidentally got nearly the full force during setup), this bar is anything but subtle when you crank it up with some hearty action. I can't remember at this point the last time I've actually sat in a movie theater, but regardless, the first time I threw on an action film I felt that theater thrill I've been jonesing for.
Like Billy Joel, the Elevate's sound signature goes to extremes to some degree, with bass that needs to be heavily ramped down for fear of taking over the whole venture, and a topside that is shimmery and taut to the point of near sibilance at its most unfurled. You'll miss out on some of the ruddy richness of the midrange that I loved so much in the Sonos Arc. But letting this sucker loose with the right content pounds your couch with sound, and in these times, it's an absolutely joyous experience.
I was on the verge of chuckling with home theater nerdery.
The Mandalorian in Dolby Atmos was my favorite Elevate experience. When we're introduced to the (SPOILER ALERT) Jedi in episode 5, I was on the verge of chuckling with home theater nerdery as the crunchy sparks of her dual lightsabers lit up the solemn, leafless landscape. The judicious touch of the mix engineer let the overhead sounds envelope me in atmosphere, rather than hitting me over the head, which only added to the immersion as Ahsoka Tano battled her way through blasters and, eventually, sliced open the alarm bell like an apple.
Speaking of Atmos, the system was similarly fun with my go-to Atmos demos, bringing thunderous bass and swirling wind and rain to life in scenes like Amaze and Leaf.
With speakers rolled forward for regular 5.1 content, I realized why having this many speakers in use at all times could be an asset. The tight boom of sound from all 13 speakers at once in His Dark Materials, such as the moment when the Witches are bombed by the Magisterium, was a poignant experience, as the heft of the bass and crack of the upper register brought more emotion to the already devastating scene.
At times the bass can feel a little tubby and sluggish—this isn't a top-tier cabinet or woofer and the accuracy it lacks is proof—but it does its job well when properly constrained, holding down the foundation of the biggest scenes as the rest of the bar does its work.
What we don't like
It puts the "Metal" in Metallica
For all Vizio chatted up the musical prowess of the bar with its height speakers rolled forward, the Elevate's most lackluster moments came with music streaming. It's not bad, by any means, but because of the heavy emphasis at the two extremes of the frequency spectrum, the system is less musical than some of my favorites, including the aforementioned Arc, as well as Samsung's HW-Q800T. Snares are too snappy, guitar strings too jangly and bass, even when constrained, can get too bold.
Finding the Direct EQ mode (my usual go-to with Vizio bars) only exacerbating some of the sharpness in the upper midrange and treble, I ended up spending most of my time listening in Movie mode. Music mode is perhaps a little less bassy, but regardless the balance between registers can lead to some tracks sounding less natural than I'd like. It gets the job done, and it gets darn loud so your next house party (whenever that comes) will be a banger, but you'll need to trade some of the balance and musicality for theatrics in this case. I did find it fun to let the system spread the music around in surround, though, enveloping you in your stereo mix.
The interface is still a bit clunky
Vizio's bars have always asked you to give up some intuitiveness in the interface for performance that punches above their weight. While things have improved there in most ways, in at least one, it's actually gotten worse. I used Movie mode most often, not only because it seemed to work the best for TV/movies, but also because changing the mode, for some mind-bending reason, pauses all sound while an off-putting male voice tells you the mode you've just chosen, "Music Mode."
I know he's not really mocking me, but his slow reply feels like it, and I ended up almost fearing to change the mode when someone else (my wife) was in the room. It's obvious that this is in place of a visual display. But even though the only visual interface on the bar itself is a line of LEDs, the remote and the app already let you know which mode you're in, so it seems wholly unnecessary to have it spoken back.
Speaking of the Smartcast app, it's improved quite a bit over the years, offering a quick view of all your settings, including basic EQ, but you can also delve into channel levels, inputs, and more. It's a bit sluggish, though, sometimes failing to sync to the bar. Frankly, I've been spoiled by the snappy response of Sonos' app, but Vizio's is still a welcome inclusion.
You've got to work for the sound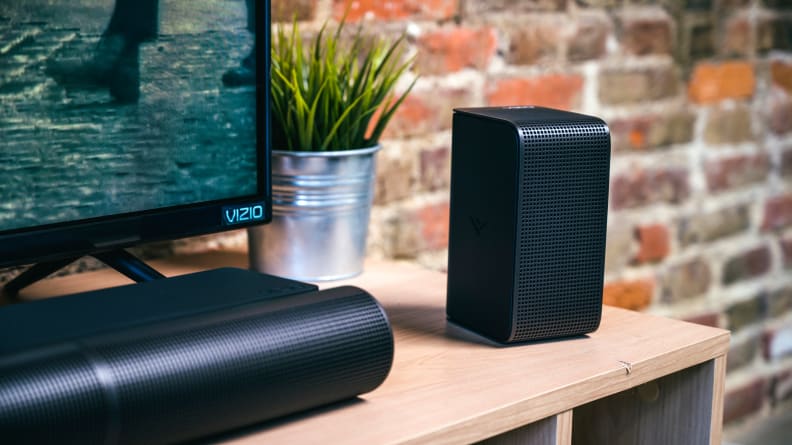 One feature Vizio is still missing is any form of auto-calibration for its Atmos systems. I'll be the first to admit these systems, which essentially fire frequency sweeps at a cheap mic, aren't perfect. But they're a starting point, allowing you to fine-tune from there.
While I actually enjoy futzing, without calibration it took me about a week of messing with levels in a casual way before I really felt the Elevate was fully locked in. It will sound fine without tuning, but moving both bass and the subwoofer down, raising the center and height channels (a lot actually) were all necessary to get the fluid, swirling effect I wanted, while still keeping dialogue clear and present. If you're not up for the challenge, you may want to look at simpler systems, such as the oft-mentioned Sonos Arc or other one or two-piece sound setups.
It's freaking massive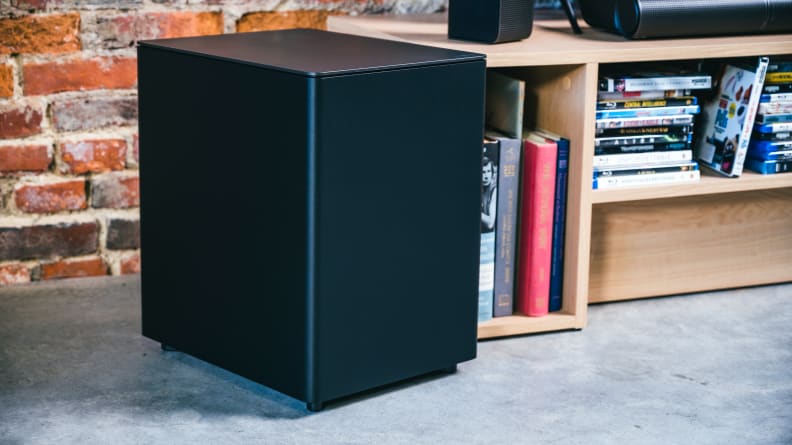 The pictures tell the story, but it's worth saying that not only is the bar long and deep, so is the subwoofer. You've also got to account for running wires and finding speaker stands (or shelves or couch cushions) to put up the surround speakers. This is less of a con than a PSA, but again, if you want something simpler that's still cinematic, you may want to look for a one or two-piece setup that also includes Atmos.
Should you buy it?
Yes, if you're ready to bring the theater back, this is a great option
Vizio's new Elevate is fun, powerful, stylish enough for the average living room, and equipped with all the features you need (and more) for a full-blown, future-ready cinematic setup. Its interface is a bit clunky and you've got to mess with the levels a fair bit to get things rocking, but once you do, you'll have a hard time finding this much theatrical punch elsewhere without spending a good deal more.
If you're not sure you absolutely need a full surround setup, spinning Atmos speakers and all, you may want to look at the Sonos Arc or the Samsung HW-Q800T, both of which allow you to add wireless surrounds later should you decide you need them (though they'll still need to be plugged into a power source, of course). Both are more musical, though the Arc lacks a subwoofer meaning you'll miss out on the lowest, spaciest bellows of your favorite action. You can usually get either bar for less, too, meaning you lower upfront costs. However, neither allow for upfiring surround speakers, so you'll still be missing two height channels.
Vizio still sells its more affordable, if less powerful, Atmos systems like the SB36512-F6, as well. While the company has got a lot better at naming things, it hasn't improved on its value proposition, as that 36-inch setup can be had for under $500, and packs an impressive wallop of its own.
Still, if you're missing the theater as much as I am, and you've got a grand to spend, the Elevate makes you work for it, but it does not disappoint.
The product experts at Reviewed have all your shopping needs covered. Follow Reviewed on Facebook, Twitter, and Instagram for the latest deals, product reviews, and more.
Prices were accurate at the time this article was published but may change over time.
Meet the tester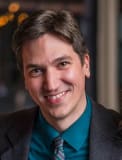 Ryan Waniata
Managing Editor - Electronics
@ryanwaniata
Hailing originally from Montana, Ryan parlayed his time working as a musician and audio engineer into a career in digital media in 2013. Since then he's had extensive experience as a writer and editor, including everything from op-eds and features to reviews on TVs, audio gear, smart home devices, and more.
See all of Ryan Waniata's reviews
Checking our work.
Our team is here for one purpose: to help you buy the best stuff and love what you own. Our writers, editors, and lab technicians obsess over the products we cover to make sure you're confident and satisfied. Have a different opinion about something we recommend? Email us and we'll compare notes.
Shoot us an email
Sours: https://www.reviewed.com/home-theater/content/vizio-elevate-soundbar-review
This is HUGE!!! - VIZIO Elevate Sound Bar
She realized I didn't have time to say anything. She took my penis with her fingers, pulled it slightly and kissed the head with relish. Then she licked him from top to bottom, completing the movement with a kiss that sucked the head. The ring of her hot lips moved up and down more and more densely, more carnivorous, more frank.
I just blissed out.
Now discussing:
Perhaps because it is perceived as incomplete sex. Girls cannot really intercourse with each other, like men, for the simple reason that there are no direct organs of intercourse. Everything else is subconsciously perceived as a make-believe. That is why I do not like films in which strapons and other improvised toys are used, I like natural, "natural" means (lips, fingers, tongue).
And the scene with a girl straponing another (especially from behind in the anus) takes on a masculine homosexual aftertaste.
1329
1330
1331
1332
1333