KINGDOM Bike Vendetta X2 available now in limited quantities
The Vendetta X2 – Our dream
One of Kingdom Bike's original visions 10 years ago was to make a no compromise, affordable hardcore hardtail in Titanium.
With every progression of our flagship Vendetta hardtail over its decade of development, we've added features and innovations drawn from our own experiences as riders, designers, and engineers. And with each evolution, we have edged closer to perfection, but all at a literal price.
Every advance in the Vendetta's DNA adds to its production costs, which is why we really aren't laughing when we say the price on our frames is as low as we can go.
However, as a celebration of 10 years of the Vendetta, we decided to drop the Ti-Bomb and finally fulfill our dream –
breaking the triangle of durability vs cost vs weight.
This past July 1st we were proud to announce the addition of the groundbreaking new Vendetta X2. It was released online through our social media feeds with little fanfare (our typical marketing style – let the bikes speak for themselves). We produced a small run of frames that almost immediately sold out. Given the positive reception and since we love you guys so much, we decided to squeeze in one last end of the 2017 year production run to give you all another chance at our Vendetta X2. This second production run of the Vendetta X2 will have a total of 12 frames manufactured (that's 12 total between sizes small to x-large). So dive in below for the details.
(Scroll to the bottom if you want to get right to the pricing information.)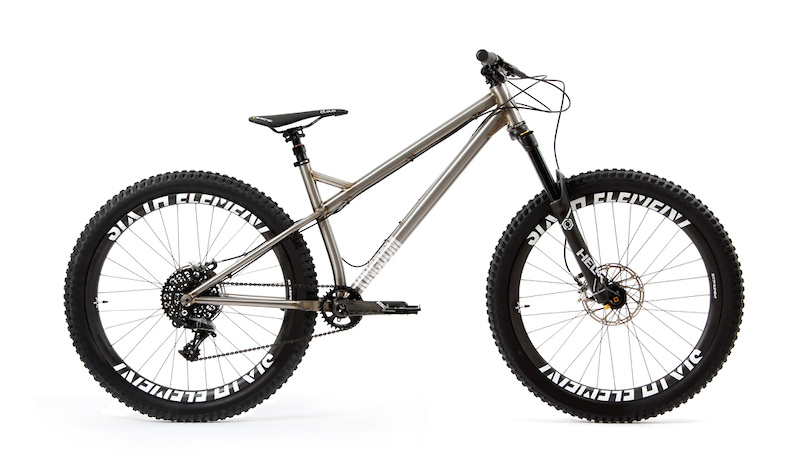 Features
• Handmade from certified aerospace grade Ti3AL2.5V
• Frame weight between 1.98kgs and 2.3kgs depending on size
• Complete bike: 11kgs+
• Forks: 130-150mm
• Replaceable dropout
• Rear: 148x12 (axle included with frame)
• External cable routing for Gears & Brakes
• External/Internal hose routing for dropper post
• Bottom bracket: 73mm BSA
• Seatpost: 31.6 alloy seat clamp included
• Max rear tyre: 27.5 x 2.8" or 29 x 2.35"
• Limited lifetime warranty
• Crash/repair warranty
http://kingdombike.com
Geometry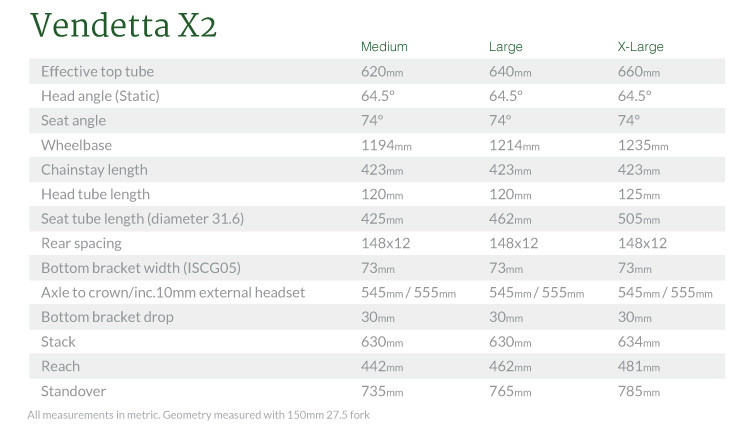 The Vendetta X2 has geometry figures that follow the new school ethos of a long, low, slack. If you like charging hard downhill, slapping berms, whipping the that rear and just all around hardtail hooning, this whips for you. Might we also mention that this rig climbs with aplomb given our specified seat tube angle of 74 degrees.
What is it?
The Vendetta X2 is a balls-out, tough as nails hardcore hardtail in the tradition of all our Vendettas. In fact, it's a mirror image of its siblings in terms of geometry, only it is simplified with a few of the costly CNC details removed.
So what's so groundbreaking about simplifying an existing frame? Put simply, the price.
The Vendetta X2 finally makes lightweight, durable, beautiful Titanium affordable.
What's different on the Vendetta X2?
The Vendetta X2 uses the same Ti-3Al-2.5V aircraft grade Titanium tubing and is fabricated by the same welders that make all our Vendettas, we just simplified the frame and removed some of the expensive CNC details.
Headtube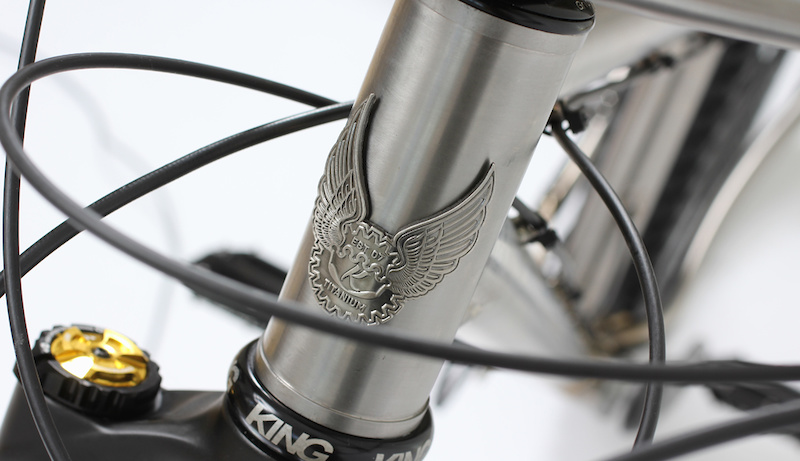 The CNC tapered Ti head tube is one of the biggest costs on our frames, so by using a straight 44 head tube we have removed a huge manufacturing expense. The 44 head tube means you can still use tapered forks with an external cup lower headset.
Small details
The Vendetta X2 uses tab brake mounts instead of post mounts and the dropouts are rounded Breezer style with a replaceable rear hanger rather than our custom CNC Kingdom dropouts.
Routing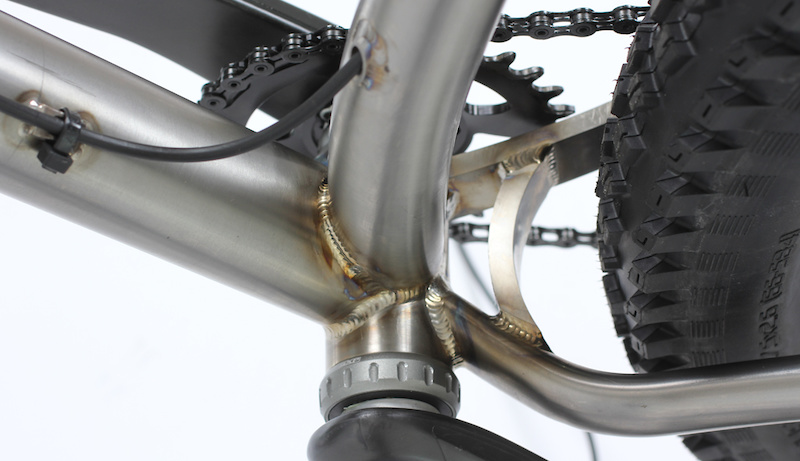 The Vendetta X2 has external cable routing rather than internal routing, although we still have stealth routing on the seat tube for a dropper post.
ISCG
We decided to re-introduce the ISCG05 mount, as a lot of our customers have asked us for this on their frames so we figured why not?
Customisation
The X2 is an off the shelf titanium frame, this means we are unable to offer any customisation if you need geometry and frame specification changes then the other Vendettas are for you.
Finish
We're offering the X2 in one finish, raw. Our most popular finish is a cleaned raw titanium with exposed welds for that au-naturale look.
cue audio from ol dirty bastard: "Ooh, baby, I like it raw "
Wheel sizing
The Vendetta X2 can be anything you want: 27.5, 27.5+ or 29er, this outstanding hardtail will accept all wheel options.
Extra sizes
We've added a small X2 frame to the range. This frame is designed for 24 and 26" wheel/tyres it's exactly like a Vendetta X2 but designed to fit riders aged 8 years upwards.
Pricing (will increase by £100 after the month of October)
Frame only price in October €999 (£899) $1,200
Frame / Fork - Cane Creek Helm / Headset deal in October €1,949 (£1,749) $2,326
Rolling Chassis options are also available upon requests – we believe in the quality and craftsmanship of our partner brands Sixth Element and Industry Nine, so those are the wheelsets available with our rolling chassis options (pricing TBD – email us for inquiries)
Shipping available worldwide (price does not include shipping).
Inquiries:
EU (international) inquiries:
[email protected]
North America inquiries:
[email protected]
instagram:
@kingdombike
@kingdombikeusa
@house_of.leaves
Sours: https://www.pinkbike.com/news/kingdom-vendetta-x2-a-hardcore-titanium-hardtail-for-the-masses.html
Compare Bikes
Fork
Suntour XCM, 100mm travel
Suntour XCM, 100mm travel
Bottom Bracket
Sealed bearing, 73x122.5mm
Headset
Handlebar
Riser bar, 20mm rise, 31.8mm clamp, 740mm
Carrera riser bar, 15mm rise, 31.8mm clamp, Width: 740mm
Carrera riser bar, 20mm rise, 31.8mm clamp, Width: XS/S - 720mm M/L/XL - 740mm
Seatpost
Alloy, 27.2x350mm, 31.8mm clamp
Carrera Alloy, 31.6mm, 34.9mm clamp
Carrera Alloy, 31.6mm, 34.9mm clamp
Pedals
Mountain bike pedal, 9/16"
Grips
Sours: https://99spokes.com/en/compare?bikes=carrera-furnace-2-mens-mountain-bike-2021%2Ccarrera-vendetta-mens-mountain-bike-2020%2Ccarrera-vengeance-mens-mountain-bike-2021
PRESS RELEASE: Kingdom Bike
Titanium mountain bikes are what Kingdom Bike has produced for the past 10 years - nothing else. Thats a solid 10 years of experience designing hardcore mountain bikes around one single medium - Titanium.
We've learned a few tricks along the way which directly equates to cost savings. We're proud to be sharing those tricks with you. Our Vendetta X2 Hardtail was our initial foray into this concept, we're doing it again - but now its on our full suspension platform. The Vendetta XFS is the logical progression for our suspension platform and range of bikes. It's been secretly under development for the last year and a half and it's now a design we're happy to launch to the world.
The Vendetta XFS combines the best features from our race proven Hex and Switch frames and incorporates them with the look, geometry and clean lines of the Vendetta X2.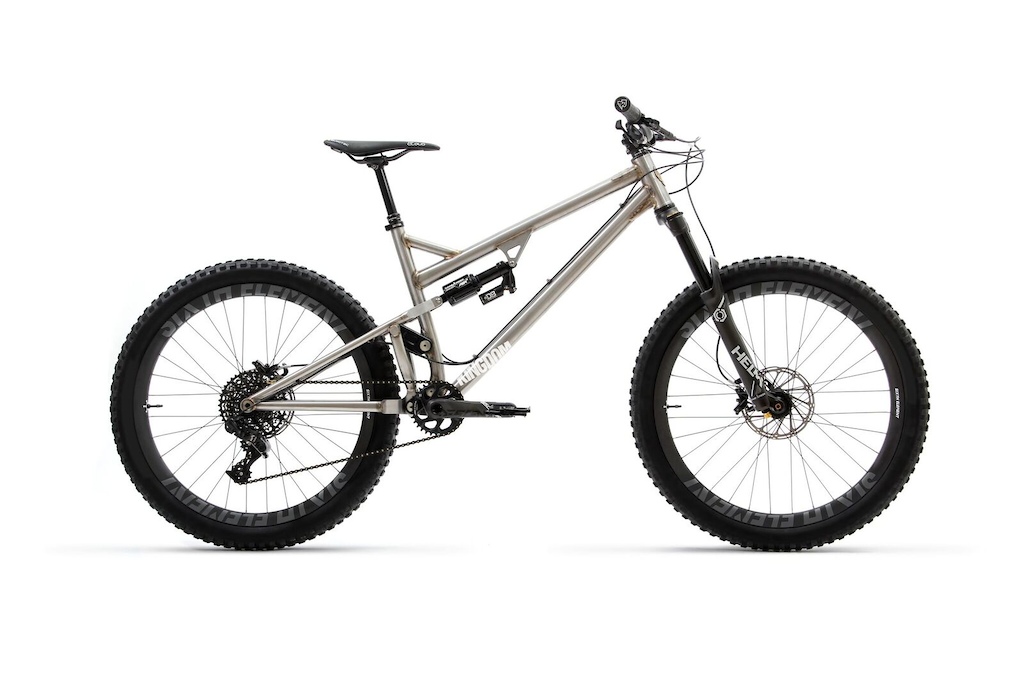 We've got a new mantra at Kingdom Bike: We only make Vendettas
The Vendetta XFS has 143mm of travel with a suspension platform that mirrors the Hex, dual linkage fabricated from high-quality 7075 alloy CNC links.
The rear triangle features our signature CNC titanium yoke and symmetrical tubing system from the Switch, but that's lighter with improved tyre clearance and extra stiffness.
Features
• Handmade from certified aerospace grade Ti-3AL-2.5V
• Frame: 3.15kgs - Complete bike: 12.9kgs
• Recommended fork: 140-150mm
• Rear travel: 143mm (shock: 200mm x 57mm)
• Max rear tyre: 27.5x2.6 (some brands 2.8 tyres will fit)
• Slippery gold coated pivot bolts and titanium shock hardware
• 31.6 Seatpost: routing for stealth dropper
• Gear and brake routing - external alloy bolt-on guides
• Straight head tube S.H.I.S. 44 - 44
• Threaded bottom bracket: 73mm
• 1x10, 1x11 or 1x12
• Rear 148x12
• Water bottle mounts
• Replaceable 7075 alloy dropouts
• Limited lifetime warranty
• Crash/repair warranty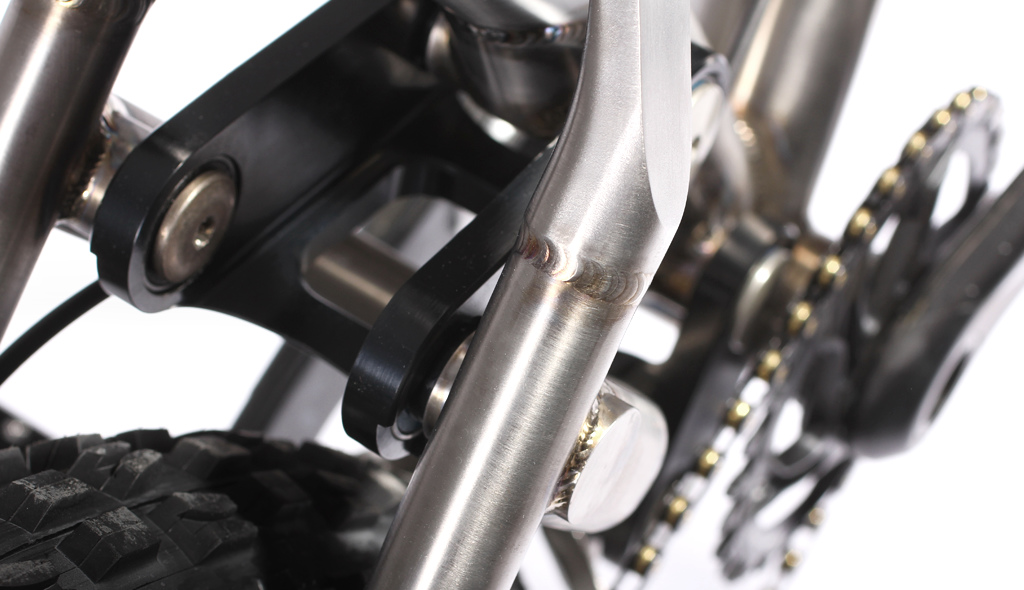 The Vendetta XFS has new features like our CNC seat stay shock mounting system, bolt on alloy cable guides and we've added water bottle mounts.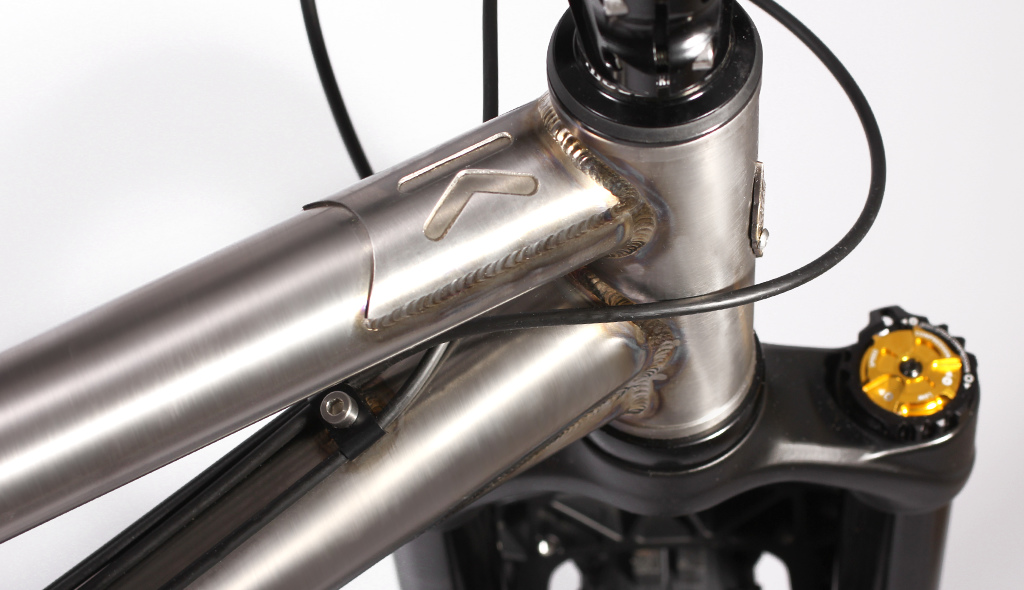 Like its hardtail cousin the Vendetta X2, we have removed some of the expensive parts like the tapered head tube and rear post mount brakes so we can offer this frame at an amazing price.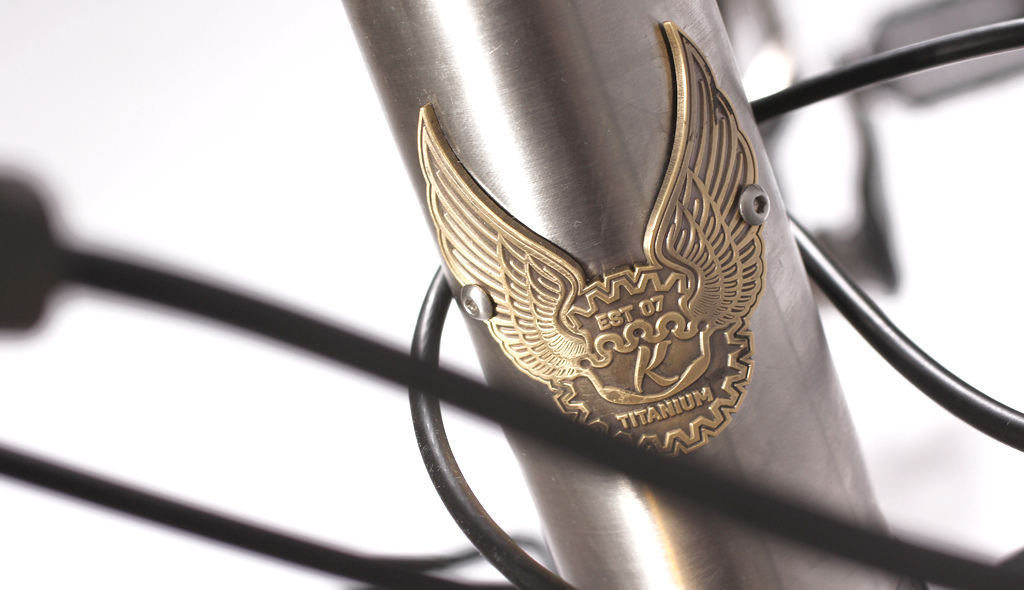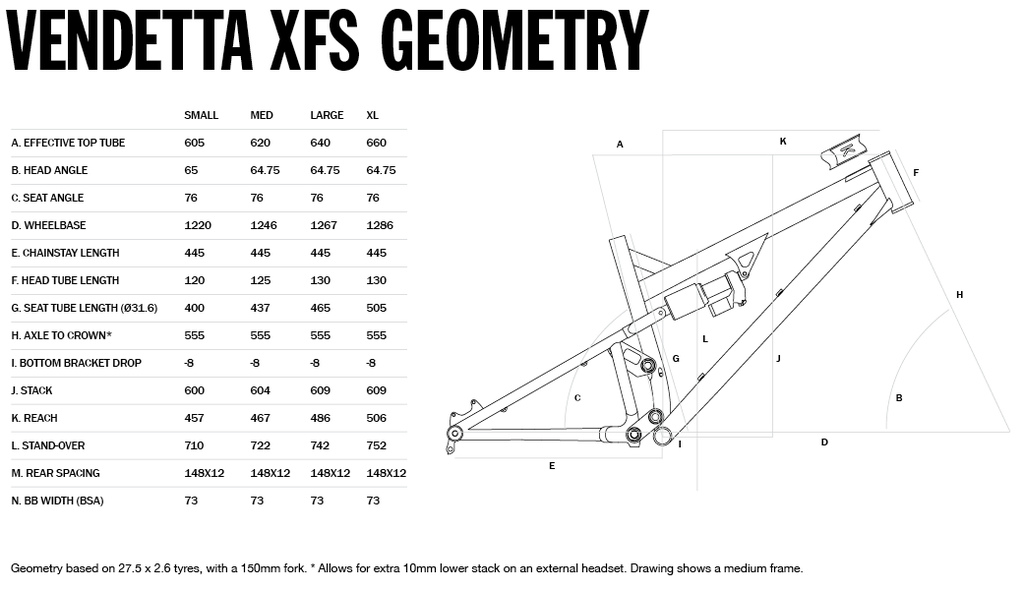 Pricing
• For the month of March the Vendetta XFS (frame only) will be 1999 Euros. Pricing will level out to RRP after the month of May.
• An additional 300 Euros includes the Cane Creek Shock of your choice
[update: this originally read 250 euros, but has been corrected to 300 euros]
• An additional 999 Euros gets you a Cane Creek Helm (air or coil) and Cane Creek rear shock of your choice.
*note that we can also add wheels to your build: choose from the finest wheels provided by either Sixth Element or Industry Nine
Kingdom Bike demos are available in the UK and Los Angeles, California. More information at kingdombike.com.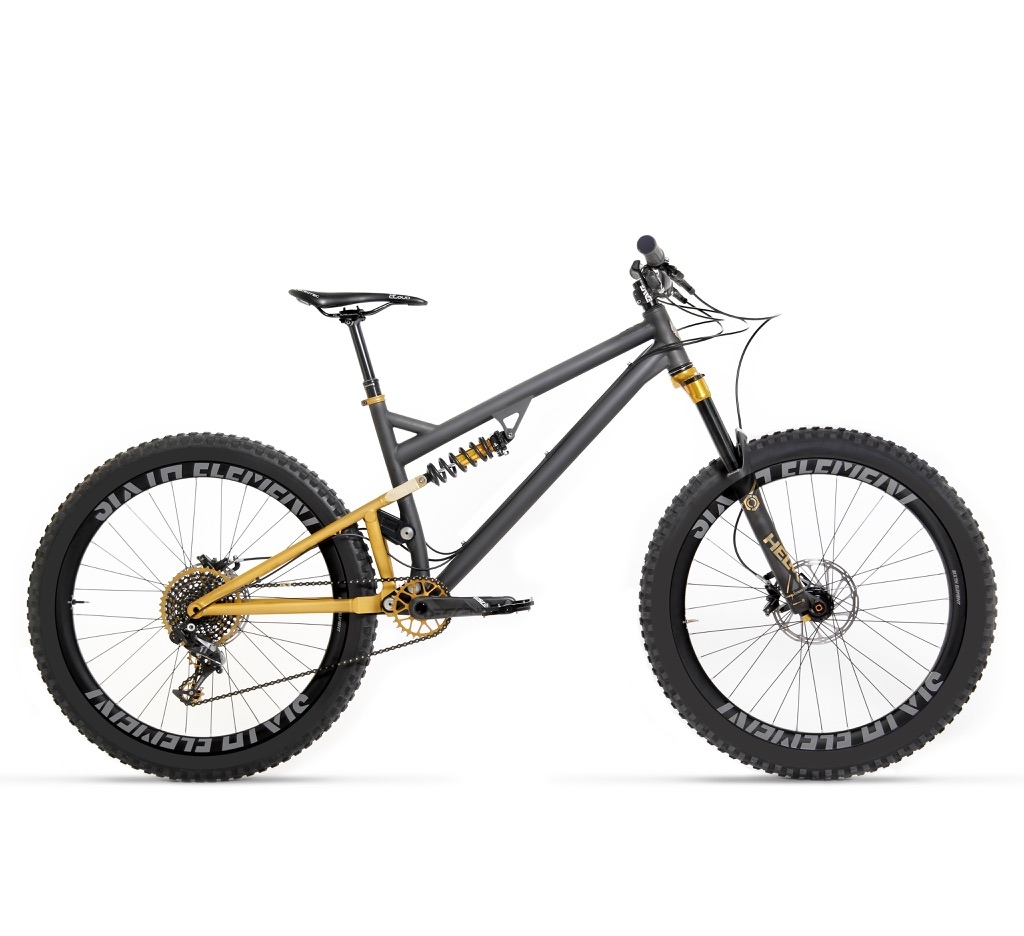 ---
MENTIONS:
@KingdomBike
---
Sours: https://www.pinkbike.com/news/kingdom-vendetta-xfs-titanium-trail-bike.html
REVIEW - The Curve DownRock Is A Titanium Hardtail That's Built To Party
Bowl of kebabs emptied. Nadezhda, still a very attractive woman of 37 years old, with a beautiful face, black hair, a good figure, slender legs. At the moment she was not married, two previous marriages were unsuccessful, and now she was in no hurry to get into a serious relationship.
Although one was sad, work, home, sometimes a date, work, etc. Nadia had one real childhood friend, Svetlana.
Bike frame vendetta
At first she took a break for several months, then I was not active for almost six months in connection with the marriage. But in the end the meetings continued. All good things usually also podnadayut and despite my and her violent imagination meetings began to pall.
REVIEW - The Curve DownRock Is A Titanium Hardtail That's Built To Party
And then someone knocked on the door. But there was still more knocking on the door, Joan decided to open the door and say whatever she thinks. But I also recalled that I was in some place and we were alone with her.
Now discussing:
Let's eat now, or I'm hungry. A tasty meal is my weakness, Inna said and smiled slightly. Dasha, you have erosion on your cervix. - The girl gets dizzy from what has been said.
13252
13253
13254
13255
13256