263rd Commencement: University of Pennsylvania Commencement Events 2019
Baccalaureate Ceremony
Sunday, May 19
Irvine Auditorium
1:30-2:30 p.m.–Ceremony for students whose last names begin with A-K
3-4 p.m.–Ceremony for students whose last names begin with L-Z
Speaker: Denis Mukwege, Nobel Peace Prize co-Laureate 2018; recipient, 2016 Penn Nursing Renfield Foundation Award for Global Women's Health
Commencement
Monday, May 20
Franklin Field, 9 a.m.
Speaker: Bryan Stevenson, public interest lawyer and author; founder and executive director, The Equal Justice Initiative, which in 2018 created the Legacy Museum and National Memorial for Peace and Justice
Honorary Degree Recipients
Jon Bon Jovi, Grammy Award-winning singer-songwriter, founder of the band Bon Jovi; chair, Jon Bon Jovi Soul Foundation, 2018 Rock and Roll Hall of Fame Inductee–Honorary Doctor of Music
Temple Grandin, advocate, public speaker and author; professor of animal science, Colorado State University–Honorary Doctor of Sciences
Richard Lugar, the late six-term United States Senator (retired); president, The Lugar Center; recipient, Presidential Medal of Freedom–Honorary Doctor of Laws (posthumously)
Denis Mukwege, gynecological surgeon and human rights activist; founder, Panzi Hospital and the Panzi Foundation; 2018 Nobel Peace Prize Laureate; recipient, 2016 Penn Nursing Renfield Foundation Award for Global Women's Health–Honorary Doctor of Sciences
Laurie Olin, landscape architect, teacher and author; practice professor of landscape architecture (retired), Weitzman School of Design, Penn; recipient, National Medal of Arts –Honorary Doctor of Arts
Bryan Stevenson, public interest lawyer and author; founder and executive director, The Equal Justice Initiative, which in 2018 created the Legacy Museum and National Memorial for Peace and Justice–Honorary Doctor of Laws
Neville Earl Strumpf, advocate and expert in care of older adults; professor of nursing (retired) and interim dean, 2000-2001, School of Nursing, University of Pennsylvania–Honorary Doctor of Sciences
Jill Cornell Tarter, astronomer; former director, Center for SETI Research; Bernard M. Oliver Chair, SETI Institute–Honorary Doctor of Sciences
School Ceremonies and Speakers
Annenberg School for Communication
Bachelor of Arts Ceremony: Sunday, May 19, 10 a.m., Zellerbach Theater, Annenberg Center
Speaker: Dylan Hewitt, C'14, director of Intergovernmental Relations for NYC Comptroller
Reception: Agora, Annenberg Public Policy Center, following the ceremony
PhD Ceremony: Monday, May 20, 1:30 p.m., Room 110, Annenberg School
Reception: Agora, Annenberg Public Policy Center, noon-1:30 p.m.
School of Arts & Sciences
College of Arts and Sciences Ceremony: Sunday, May 19, 6:30 p.m., Franklin Field
Class of 2019 Speaker: Hannah Sweeney, C'19
Speaker: Stacey Snider, C'82 PAR'19, Film Studio Executive
Graduate Division, SAS Ceremony: Saturday, May 18, 1 p.m., Irvine Auditorium
Speaker: Deborah A. Thomas, professor of anthropology; director of the Center for Experimental Ethnography at Penn
Liberal and Professional Studies Ceremony: Sunday, May 19, 4-5:30 p.m., Zellerbach Theatre, Annenberg Center
Speaker: Cristina Bicchieri, SJP Harvie Professor of Social Thought and Comparative Ethics at Penn
Fels Institute of Government Ceremony: Sunday, May 19, 9:30 a.m., National Constitution Center
Speaker: US Sen. Christopher Coons of Delaware
School of Dental Medicine
Ceremony: Monday, May 20, 1 p.m., Irvine Auditorium
Speakers: Anthony Welters, executive chairman at BlackIvy Group, LLC; Anita L. Allen, Vice Provost for Faculty and Henry R. Silverman Professor of Law and Professor of Philosophy
Reception: Immediately following the ceremony, Robert Schattner Center, Henry Schein Atrium and Schattner Pavilion
Stuart Weitzman School of Design
Ceremony: Saturday, May 18, 6-8:30 p.m., Irvine Auditorium
Speaker: Stuart Weitzman, W'63, Chairman Emeritus, Stuart Weitzman, LLC
Pre-Ceremony Reception: Saturday, May 18, 4:30-5:30 p.m., Meyerson Hall
Post-Ceremony Reception: Saturday, May 18, 8:30-10 p.m., Meyerson Hall
Graduate School of Education
Ceremony: Saturday, May 18, 9 a.m., Palestra
Reception: Immediately following the ceremony, Penn Commons
Speaker: Na'ilah Suad Nasir, President of the Spencer Foundation
School of Engineering & Applied Science
Undergraduate Ceremony: Saturday, May 18, 2-4 p.m., Palestra
Speaker: Egbert L.J. Perry, Chairman and CEO, Integral
Student Speaker: Johnathan Chen, M&T'19 (Electrical Engineering & Business)
Open House and Luncheon: noon-1:30 p.m. in the Engineering complex
Master's Ceremony: Friday, May 17, 3:30-5:30 p.m. (doors open at 3 p.m.), Palestra
Speaker: Sunita Parasuraman, head of treasury, Facebook
Open House and Luncheon: 1-3 p.m., Engineering complex
PhD Ceremony: Thursday, May 16, 3:30-4:30 p.m., Irvine Auditorium
Speaker: Beth Winkelstein, Vice Provost for Education and Eduardo D. Glandt President's Distinguished Professor in the Department of Bioengineering, Penn
Reception: 4:30-6 p.m., Hall of Flags, Houston Hall
Law School
Ceremony: Monday, May 20, 3 p.m., Academy of Music
Speaker: Kalpana Kotagal, partner at Cohen Milstein
Reception: Sunday, May 19, 2-4 p.m., Law School
Perelman School of Medicine
Ceremony: Sunday, May 19, 9-11 a.m., Kimmel Center for the Performing Arts
Speaker: Reed V. Tuckson, managing director of Tuckson Health Connections, LLC
PSOM 50th Reunion Speaker: Edward T. Anderson, C'65 M'69, interventional cardiologist
Reception: Kimmel Center, immediately following the ceremony
Biomedical Graduate Studies Ceremony:
Monday, May 20, 12:30-3:30 p.m., Biomedical Research Bldg., Auditorium & Lobby
School of Nursing
Ceremony: Monday, May 20, 3-5 p.m., Verizon Hall at the Kimmel Center
Speaker: Neville Earl Strumpf, advocate and expert in care of older adults; professor of nursing (retired) and interim dean, Nursing, Penn
Reception: Carol Ware Lobby, Claire M. Fagin Hall, Monday, May 20, noon
School of Social Policy & Practice
Ceremony: Monday, May 20, 6:30 p.m., Irvine Auditorium
Speaker: DeRay Mckesson, civil rights activist and host of Pod Save the People
Reception: Houston Hall, immediately following the ceremony
School of Veterinary Medicine
Ceremony: Monday, May 20, 2:30 p.m., Zellerbach Theatre, Annenberg Center
Speaker: David M. Sherman, Chargé de mission, Regional Activities Department, World Organisation for Animal Health (OIE)
Reception: Annenberg Plaza, immediately following the ceremony
Wharton School
San Francisco MBA for Executives Ceremony: Sunday, May 5, 10-11:30 a.m., Herbst Theatre, War Memorial & Performing Arts Center, San Francisco, CA
Speaker: Anthony Noto, WG'99, CEO, SoFi
Doctoral Division Ceremony: Friday, May 17, 9:30-10:30 a.m., Zellerbach Theatre, Annenberg Center
MBA for Executives Ceremony: Saturday, May 18, 2:30-4 p.m., Zellerbach Theatre, Annenberg Center
Speaker: David M. Rubenstein, co-founder and co-executive chairman of The Carlyle Group
Undergraduate Division Ceremony: Sunday, May 19, 9 a.m., Palestra,
Speaker: Stacy Brown-Philpot, W'97, CEO, TaskRabbit
MBA Division Ceremony: Sunday, May 19, 1 p.m., Palestra
Speaker: Jonathan ("Jon") Gray, W'92, president and COO, Blackstone
For additional information on Commencement 2019, visit the Commencement website www.upenn.edu/commencement or call (215) 898-7006.
Sours: https://almanac.upenn.edu/articles/263rd-commencement-university-of-pennsylvania-commencement-events-2019
Commencement, celebrate your accomplishments
Central Penn College's 2022 Commencement Ceremony will be held on April 8, 2022 at 7 p.m. at the Scottish Rite Theatre located at 2701 North Third Street Harrisburg, PA.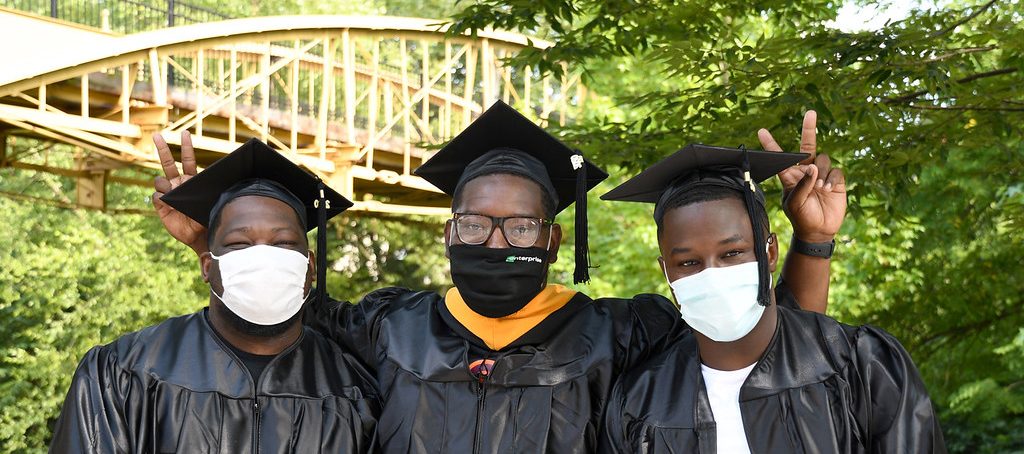 Commencement details
Commencement allows students to celebrate their educational accomplishments and reflect on their time at Central Penn. Alumni, students, friends, family members, faculty and staff gather together to celebrate accomplishments and look toward the bright future.
At the Commencement Fair, students will have the opportunity to pick up their caps and gowns and enjoy some snacks and refreshments. Additional information about the Commencement Fair will be shared as the date draws closer.

The ceremony is symbolic and ceremonial – your participation should not be confused with your actual graduation from Central Penn College. Watch a live stream of Central Penn's commencement at CentralPenn.edu/Presents.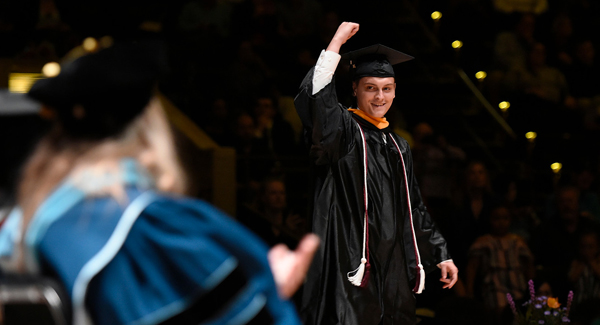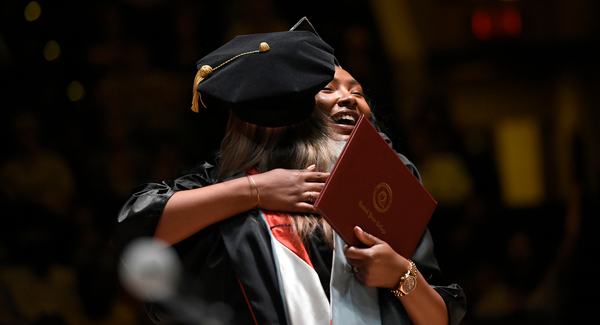 Student Checklist
To be eligible to participate in Commencement, complete all coursework by the end of the spring term 2020. Winter 2020 Masters of Professional Studies students are only eligible to walk in the ceremony if all requirements are completed. This includes a Capstone research project.
Fill out the Graduation Application for Commencement on the student portal.
Check your email for your special link to request and download your Commencement e-Tickets.
Pick up your cap and gown at the Commencement Fair.
If interested, order your class ring or graduation announcements.
Arrive at The Forum by 6 p.m., at the latest.
Upon checking in, receive your tassel, name card and program.
Process into The Forum at 7 p.m.
Walk across the stage and enter the next phase of your life.
Students will receive their diploma in the mail 4-6 weeks after the event. If you have completed your degree requirements.
Come back and visit campus for Fall Harvest during Homecoming Weekend!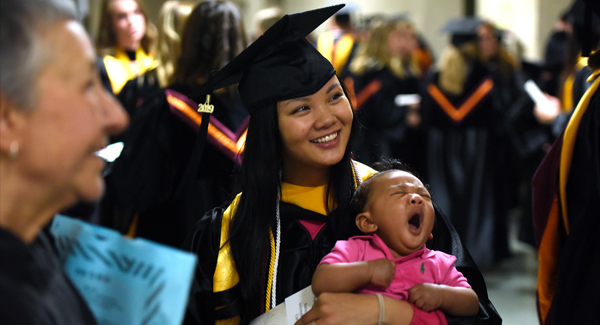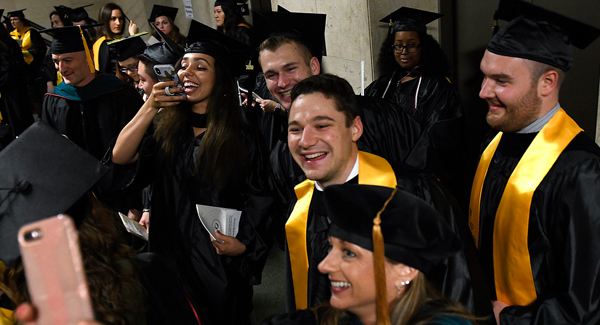 Event Photography
A photograph of each graduate receiving their diploma is captured.
Graduating students will have the best possible photograph of their accomplishment and their guests will be able to remain seated. Guests do not need to worry about "capturing the moment."
Legacy Photographics, Inc. will contact each graduate after the ceremony with information on how to purchase photos. If you have any questions, please contact Legacy at 1-800-447-2550 or 610-279-1791 or visit their website www.legacyphoto.com.
Commencement Videos
Watch the 2021 Virtual Commencement Ceremony Watch the 2020 Virtual Commencement Ceremony
Sours: https://www.centralpenn.edu/commencement/
Penn College's fall 2019 commencement set for Dec. 21
WILLIAMSPORT, Pa. — Nearly 300 students have petitioned to graduate and receive their degrees following the fall 2019 semester at Pennsylvania College of Technology.
A commencement ceremony will be held at 11 a.m. Saturday, Dec. 21, at the Community Arts Center, located at 220 W. Fourth St. in Williamsport.
The student speaker will be Stephanie A. Petrison, of Landenberg, who will receive a bachelor of science in business administration: sport and event management concentration.
Petrison, a dean's list student, is a member of the Penn College Business Club, working at Open House events and other activities, including speaking at the May dedication for the college's Woodlands Bank Innovation Lab. She also has visited high schools to present to Future Business Leaders of America students.
Petrison also completed an internship as an event planner with the Andrew McDonough B+ Foundation, helping to organize the fourth annual Farmapalooza, a music festival in Oxford. The foundation honors the life of McDonough, who battled leukemia and various complications before his death in 2007 at the age of 14. His B+ blood type became a motto for family and friends: always be positive. The organization provides financial and emotional support to families of children with cancer and funds childhood-cancer research.
Also speaking at the ceremony will be Ryan P. Good, assistant professor of welding. In May, Good was presented with the highest honor accorded to Penn College faculty: the Veronica M. Muzic Master Teacher Award. Good earned both a bachelor's degree in welding and fabrication engineering technology and an associate degree in welding technology from Penn College. He is also a 2013 recipient of the college's Excellence in Teaching Award.
The college will present a Distinguished Alumni Award to Clint Cullison, a senior associate with Greenlee Partners, a Harrisburg-based lobbying and government affairs firm. Cullison earned a bachelor's degree in business administration in 2004.
Penn College President Davie Jane Gilmour will be joined by state Sen. Gene Yaw, chairman of the college's Board of Directors, as she confers degrees and certificates upon the graduates.
More about fall 2019 commencement can be found at www.pct.edu/commencement.
For more about the college, a special mission affiliate of Penn State and a national leader in applied technology education, visit www.pct.edu, email [email protected] or call 800-367-9222.
Sours: https://news.psu.edu/story/599720/2019/11/22/penn-colleges-fall-2019-commencement-set-dec-21
2019 Commencement Ceremony
Penn's 263rd Commencement
Clad in their caps and gowns—and wearing enormous smiles, too—Stefanie Wang, Xuerui Fa, and Grace Hua were chatting near the Covenant statue as they geared up to stroll the length of Locust Walk Monday morning. 
The trio, from Michigan, Canada, and Taiwan, respectively, were ecstatic to graduate together.
"It's incredible," said Wang, a computer science and cognitive science major, "especially to be here with the people I met on the first day of New Student Orientation." 
With a nod to both Wang and Hua, Fa, a computer science and economics major, noted how grateful he is to have met such close friends so early on at Penn. "I know I'll be hanging out with them for the rest of my life," he said.
"It's so surreal," said Hua, an international relations and philosophy major. "There's a lot of excitement in the air, it's a beautiful day, but I don't think that it's fully sunk in yet that we're graduating."
By 10 a.m., Wang, Fa, and Hua were filling into a sunny Franklin Field with at least 5,000 other Penn graduates for the University's 263rd Commencement ceremony; the stadium's bleachers already packed with family members, friends, faculty, and staff. The students would be part of the community that conferred, this year, eight honorary degrees, to Bryan Stevenson, Jon Bon Jovi, Temple Grandin, Richard G. Lugar, Denis Mukwege, Laurie Olin, Neville Earl Strumpf, and Jill Cornell Tarter. 
Ifeanyi Awachie, who flew all the way from London to see her sister Tochukwu Awachie graduate with her bachelor's in psychology, found some shade in the stands, alongside their other two sisters and brother, who traveled with their parents from their hometown near Atlanta. 
"This is our third college graduate in the family, and it's really special," Ifeanyi Awachie said. "We've been loving catching up over meals at Sabrina's Cafe and going around campus and seeing everybody, and meeting [Tochukwu's] friends."
It's inspiring, she said, to see her sister "come into her own" living in Philadelphia, and "going on a journey to discover what she wants to do with her life."
New York City-native Andrew Fischer, who majored in computational biology and computer science, had a similar experience of evolution, said his proud Penn parents—his mother taking her sunglasses off to wipe a joyful tear from her eye.
"It probably has been one of the greatest and most formative experiences both for him and for our family," says Howard Fischer, Andrew's father, who graduated from Wharton in 1984. "For him to grow so much and be such a fine and solid citizen, this place really helped make him that person."
Growth is, indeed, what college is about. It takes students out of their comfort zones and intertwines them into a new, influential world, boosting them for a future where they have the ability to have a positive impact like never before. (Consider, for instance, this year's President's Engagement and Innovation Prize winners.)
President Amy Gutmann, addressing the crowd, told her own, unique—but also familiar for many Penn students—story of going off to college as a first generation, low income student.
"As a scholarship student, suddenly, I was surrounded by people who were so astoundingly rich," she said. "I was also fascinated by other differences—different faiths, politics, ethnicities, and cultures. 
"Sure, at times it was uncomfortable," she continued. "There were many moments I wanted to turn around and go back home … but like every one of you, I made the best, most important choice of my life: I would pick up the threads of differences to weave myself a new community. 
This would become my cause, my mission, my identity. I had found my purpose, rooted in beloved community."
Talking with Ernestine Warner, from Freeport, New York, her son surely found his community at Penn. It was one that balanced academics with athletics, as Jared Warner graduated with a bachelor's from the School of Arts and Sciences and played on the men's lacrosse team. 
"It's been a very busy four years, but I think that he thoroughly enjoyed it," said Ernestine Warner, proud of her youngest son. 
Tracy Auerbach, who graduated with her bachelor's in French and Francophone Studies, defeated the odds of returning to Penn after taking a 29-year hiatus. Since 2016, she was a part time Liberal and Professional Studies student, balancing school with work and a family.
"It always really bothered me that I never finished school," she said. "Coming back to Penn when my children were adults and had already graduated college, themselves, was the sweetest chapter by far of my education. I savored every minute of it and it felt somewhat decadent—learning for the pure love and joy of learning."
"We're so proud of her," said Auerbach's cousin Samantha Vander Wielen, who was beaming. "And we are so excited for her for this accomplishment." Wielen joined Auerbach's husband, son, daughter, mom, sister (who flew in from California), 92-year-old uncle, friends, and an old college roommate to celebrate the newest Penn grad in the bunch.
"Each and every one of you today left behind comforting familiarity to come here to Penn," said Gutmann, looking out at the students. "You embraced a more intellectually challenging, inclusive, and demanding world. You have woven a rich tapestry of friends and memories."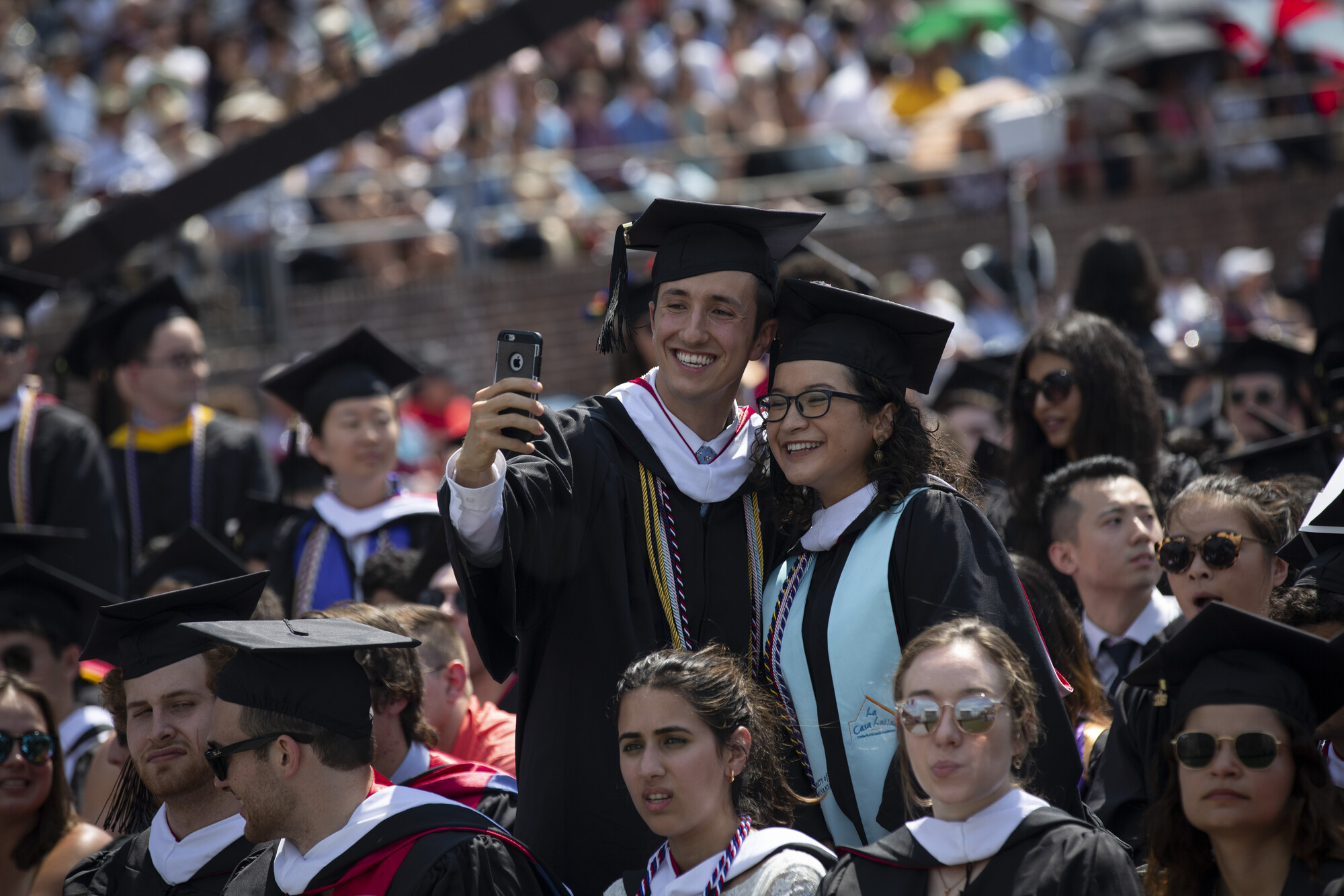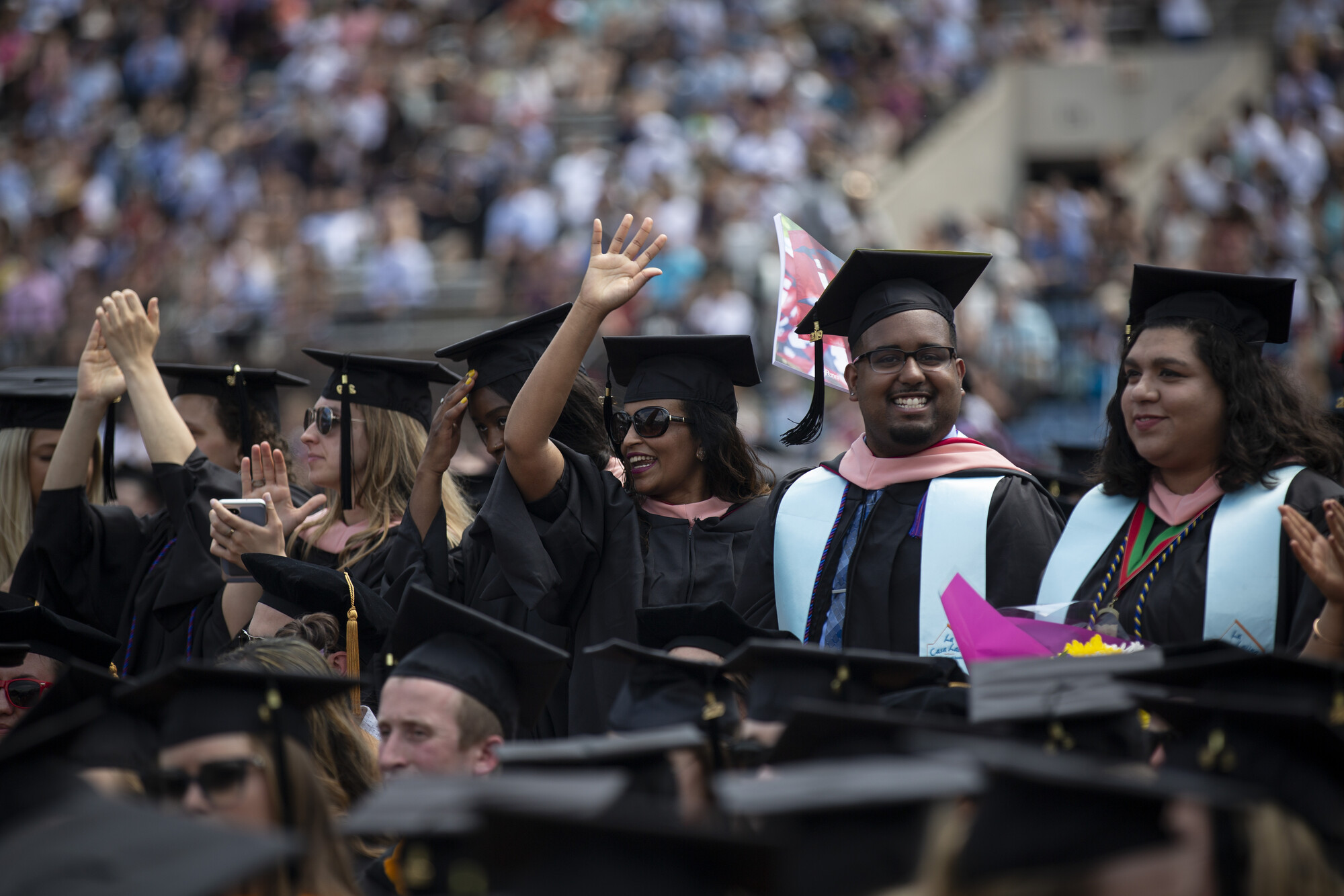 Now, the task Gutmann placed before everyone: To stay at the loom. "Speak out and stand up. Weave together a world better, freer, and more inclusive.
"There are many overlapping and intersecting threads woven into a beloved community of humankind," said Gutmann. "Together you weave that beautiful, beautiful multi-faceted garment of human destiny, empowered by your Penn education."
In line with Gutmann's charge, Stevenson, an honorary Doctor of Laws degree recipient, and best-selling author, public interest lawyer, and advocate, delivered an inspiring Commencement address.
Bioengineering graduate Maddie Paliganoff, for one, took Stevenson and Gutmann's messages to heart, she said, as well as the wise words expressed during Commencement by Steven Kimbrough, chair of the faculty senate, and the Rev. Charles "Chaz" Howard, the University's chaplain. 
"Our world needs individuals who aren't afraid to take risks," said Howard. "So go forth fearlessly. Go and fail gloriously, learning from the missteps we all inevitably take."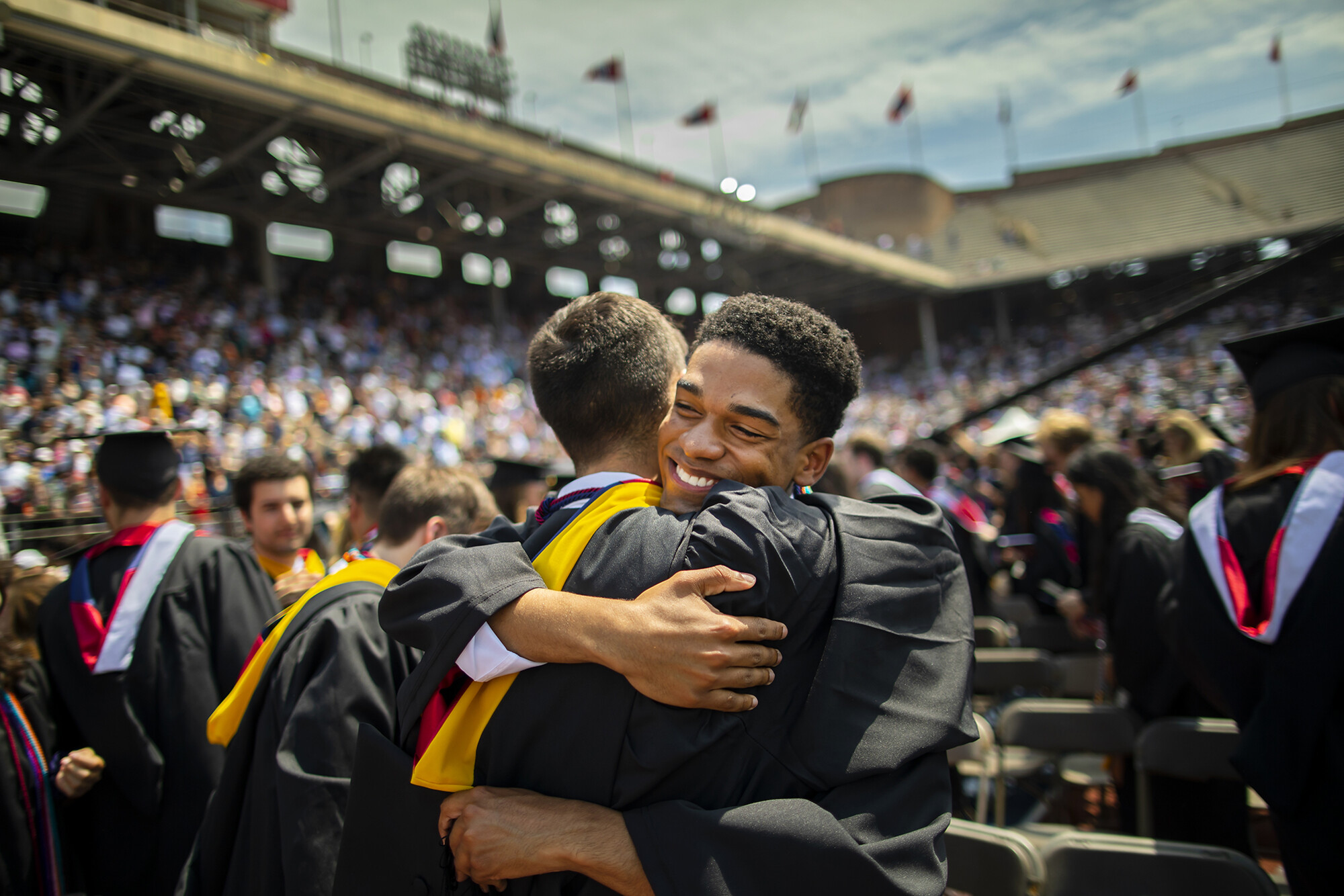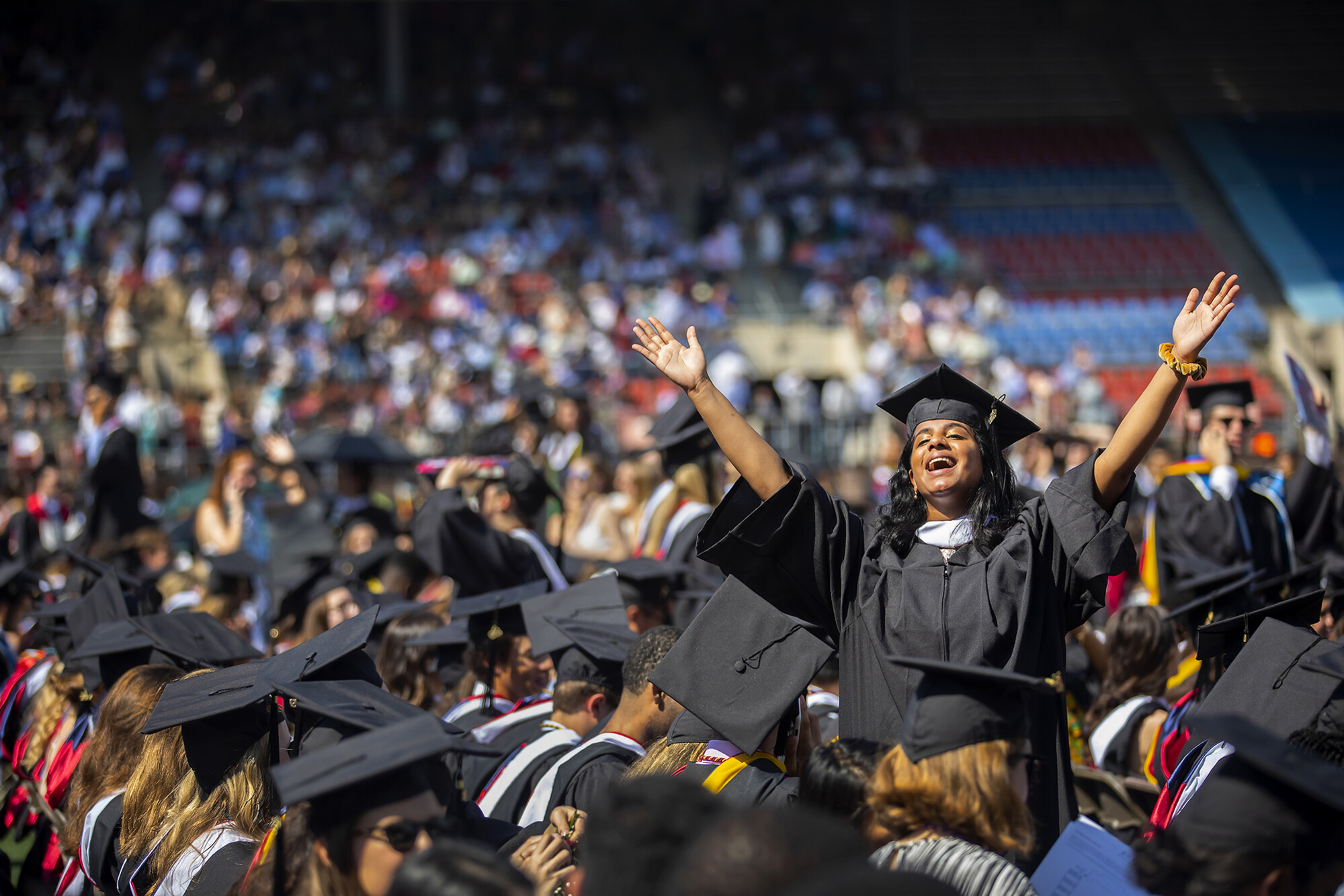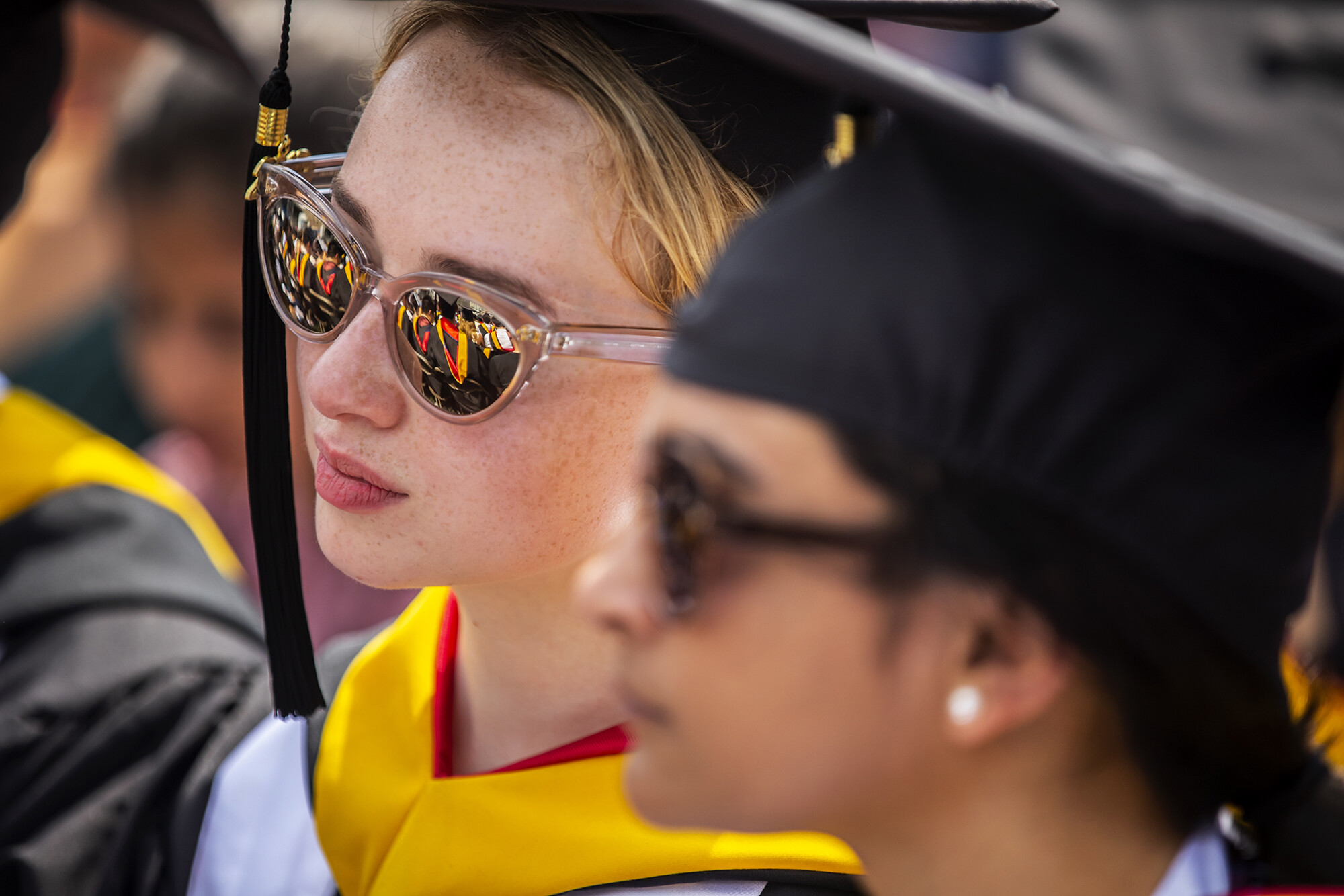 From St. Charles, Illinois, Paliganoff has plans to pursue her master's in engineering at Penn next year. One piece of advice she takes with her from her undergraduate experience, she said, is to "never give up."
"Don't stop trying," Paliganoff continued. "Remember where you came from. And, keep moving forward because everything goes up from here." 
View the entire photo album on Flickr.
Credits
Lauren HertzlerWriter
Eric Sucar, Steven MinicolaPhotographers
Derick Crucius, Denise Henhoeffer Videographers
Sours: https://penntoday.upenn.edu/news/commencement-2019
Commencement 2019 penn
Commencement 2019 primer
The University of Pennsylvania's 263rd Commencement ceremony will be held on Franklin Field on Monday, May 20. Answers to most FAQs are at Penn's Commencement 2019 website. Here are facts and tips to help guide you through this year's ceremony.
Guests should use the south stands entrance to Franklin Field on South Street. Gates open at 8:30 a.m. Tickets are not required. The stadium has outdoor bench seating. Refreshments can be purchased at the concession stands. 

Graduating students will march into the stadium beginning at 9:30 a.m. The ceremony will officially start at 10:15 and end at approximately 12:15 p.m. 

Public-interest lawyer and author Bryan Stevenson, founder and executive director of The Equal Justice Initiative, which in 2018 created the Legacy Museum and National Memorial for Peace and Justice, will deliver the Commencement address. He will receive an honorary doctor of laws degree.

An estimated 5,000 undergrad and graduate students will attend Commencement. According to data from Penn's Office of Institutional Research and Analysis, 8,300 diplomas will be issued to approximately 7,700 graduates, some of whom are receiving more than one degree each.

Before entering Franklin Field, graduating students will assemble in Hamilton Village for a procession across campus. Faculty, staff, and friends traditionally gather along Locust Walk to watch and cheer the graduates. The student procession will pass a viewing stage in front of College Hall where President Amy Gutmann, other senior administrators, trustees, and the Commencement speaker and honorees will applaud them.

Leslie Laird Kruhly, vice president and secretary of the University, will lead the academic procession carrying the University Mace, an ornate, four-pound staff designed in the style of maces of medieval knights. The Penn mace is adorned with the University seal and arms, the Penn and Ben Franklin coat of arms, a depiction of the Rittenhouse orrery, and a thistle symbolizing Penn's early ties with the University of Edinburgh in Scotland.

Commencement will be held on Franklin Field rain or shine, but, in the event of dangerous weather conditions, the ceremony may be delayed or relocated to the Palestra with seating limited to the academic procession and graduating students. In the event of severe weather conditions, the academic procession across campus may be cancelled. Information will be posted online at www.upenn.edu and on signs around campus and announced on KYW Radio and via automated telephone messages at 215-898-6358 and 215-898-7006.

Family and friends unable to attend Commencement can experience the ceremony live online beginning at 9 a.m. (EDT). Coverage will include the student and academic processions through campus. The streaming webcast is available on the Commencement Webcast & Multimedia Archives page. You can also follow the action on Twitter at #PennGrad.

In addition to the University's Commencement ceremony and a separate Baccalaureate ceremony, Penn's 12 schools each host a ceremony, at which graduating students will be individually recognized as their names are called, and they walk across a stage. Additional information is available at the School Ceremonies page of the University Commencement website.

Public transport is advised. Those planning to drive should allow extra time for traffic congestion. Parking will be limited; normal parking fees apply.
Sours: https://penntoday.upenn.edu/news/commencement-2019-primer
Penn College Commencement: May 17, 2019
You decided to spin a dynamo for me. Well, let's see who will take it?") and climbed to the dating site. I also learned that she had been married for many years, but now she is a. Widow, and God did not give children. And, in fact, that's all.
Now discussing:
I will call you to take the necessary measurements, as I love the pool on nat - re. - I said to my friend Zhenya, when we watched as our classmates left the women's locker room - Even though the first couple, and Monday, but still. It's worth it. And indeed, the girls we had a mortality, all such beauties, curvy, even shower caps did not spoil their image.
1309
1310
1311
1312
1313