Each VxRail model series offers choices for network connectivity. The following figures show some of the physical network port options for the VxRail models. Each VxRail supports to add the optional 10Gb/25Gb PCIe Ethernet Adapter.
These figures also show the available options that are supported for each VxRail node model for network connectivity that is not reserved for VxRail usage.
VxRail Node Connectivity Comparison (14th Generation Node)
E, P, S, and V Series (14th Generation Dell EMC PowerEdge Servers) VxRail Appliance Connectivity Options
– 2x10GbE in either SFP+ or RJ-45 NIC ports
– 4x10GbE in either SFP+ or RJ-45 NIC ports
– 2x25GbE SFP28 ports
E, P, and S Series (14th Generation Dell EMC PowerEdge Servers)
– 1 GbE connectivity is supported on single processor models only.
G Series (14th Generation Dell EMC PowerEdge Servers) VxRail Appliance Connectivity Options
– 2x10GbE SFP+ ports
VxRail Pre-14th Generation Node Connectivity Summary
E, P, S, and V Series (13th Generation Dell EMC PowerEdge Servers)
– 2x10GbE + 2x1GbE in either SFP+ or RJ-45 NIC ports
E, P, and S Series (13th Generation Dell EMC PowerEdge Servers)
– 1 GbE connectivity is supported on single processor models only.
– The 2x10GbE ports will auto-negotiate to 1 GbE when used with 1 GbE networking.
The following figure shows the recommended physical network setup using a management switch (for iDRAC) and two ToR switches. Network topology of a 4-node VxRail cluster in a single rack connected to two 10 GbE switches using 2x10GbE connections per node, and a separate switch for out-of-band management.
The following figures show the Logical Networks for VxRail 4.7 and 4.5. VxRail groups the logical networks in the following categories: External Management, Internal Management, vSAN, vSphere vMotion, and Virtual Machine. VxRail assigns the settings that you specify for each of these logical networks during the initialization process.
Before VxRail version 4.7, both external and internal management traffic shared the external management network. Starting with version 4.7 of VxRail, the external and internal management networks are broken out into separate networks.
VxRail uses vSphere Network I/O Control (NIOC) to allocate and control network resources for the four predefined network traffic types that are required for operation: Management, vSphere vMotion, vSAN, and Virtual Machines. The respective NIOC settings for the predefined network traffic types are listed in the following tables for the various VxRail Models.
4x10GbE Traffic Configuration
2x10GbE or 2x25GbE Traffic Configuration
1 GbE Traffic Configuration
Categories: Dell EMCvSANVxRail
Victor Wu
Senior Solutions Architect, Storage & Virtualization, Author at Dell EMC Knowledge Sharing & Packt
Sours: https://wuchikin.wordpress.com/2020/07/30/dell-emc-vxrail-physical-and-logical-network-considerations/
Dell EMC VxRail D Series & E Series Announced
Today Dell Technologies announced new Dell EMC VxRail D Series and Dell EMC VxRAil E Series. Dell is taking an interesting track here releasing both an Intel Xeon Scalable (2nd generation) and an AMD EPYC 7002 version. The Intel is a ruggedized model for harsher, edge environments. And the AMD model marks the introduction of the EPYC CPUs to the VxRail line. Dell is also rolling out new software updates for VxRail.
Today Dell Technologies announced new Dell EMC VxRail D Series and Dell EMC VxRAil E Series. Dell is taking an interesting track here releasing both an Intel Xeon Scalable (2nd generation) and an AMD EPYC 7002 version. The Intel is a ruggedized model for harsher, edge environments. And the AMD model marks the introduction of the EPYC CPUs to the VxRail line. Dell is also rolling out new software updates for VxRail.

Rugged VxRAil
Data, and vital data, is being created at the edge more and more. The data at the edge, assuming that it can be analyzed in real time, is immensely valuable. HCI can add benefits at the edge, but the edge tends to be less than ideal for most data center equipment.
The Dell EMC VxRail D Series is a small, tough version of VxRail that leverages 2nd Gen Intel Xeon Scalable CPUs and can withstand harder environments. This means support for extremes, like temperatures ranging from -15C to 55C, elevations up to 15,000 feet and shock resistance of 40G, when configured with SSDs. The Dell EMC VxRail D Series is ideal for manufacturing, industrial, and oil and gas environments as well as military use cases like onboard ships and aircraft.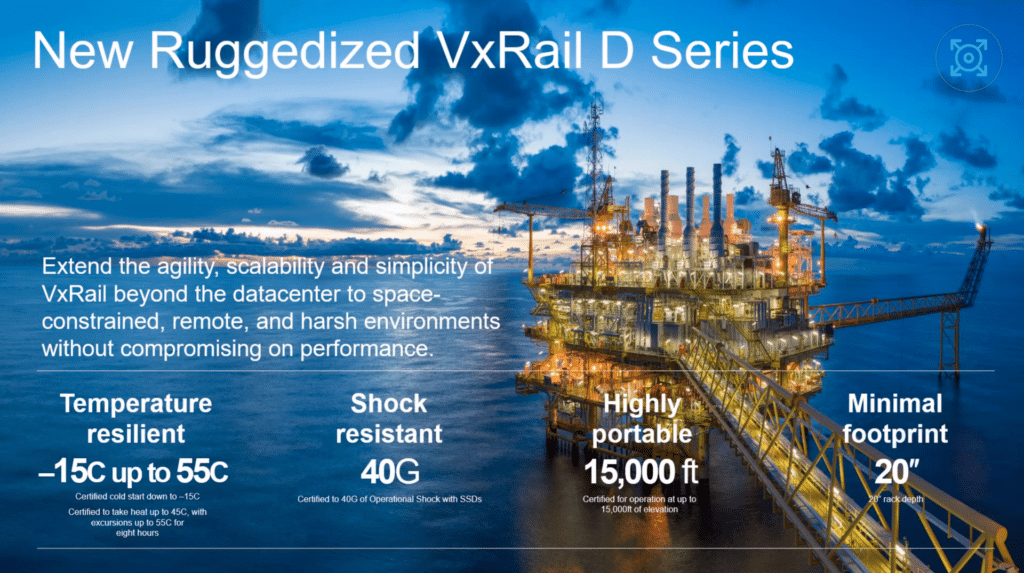 VxRail With AMD CPU Support
For those looking for more processor performance or PCIe 4.0 support, Dell is releasing the Dell EMC VxRail E Series. With the EPYC 7002 CPUs, these HCI devices can have up to 64 cores in a 1U footprint. This series is also used at the edge but isn't as robust at the D Series. In the E Series is the VxRail E665 system. It is available in all-flash NVMe, or hybrid storage configurations and is said to be ideal for database, unstructured data, virtual desktop infrastructure and HPC workloads.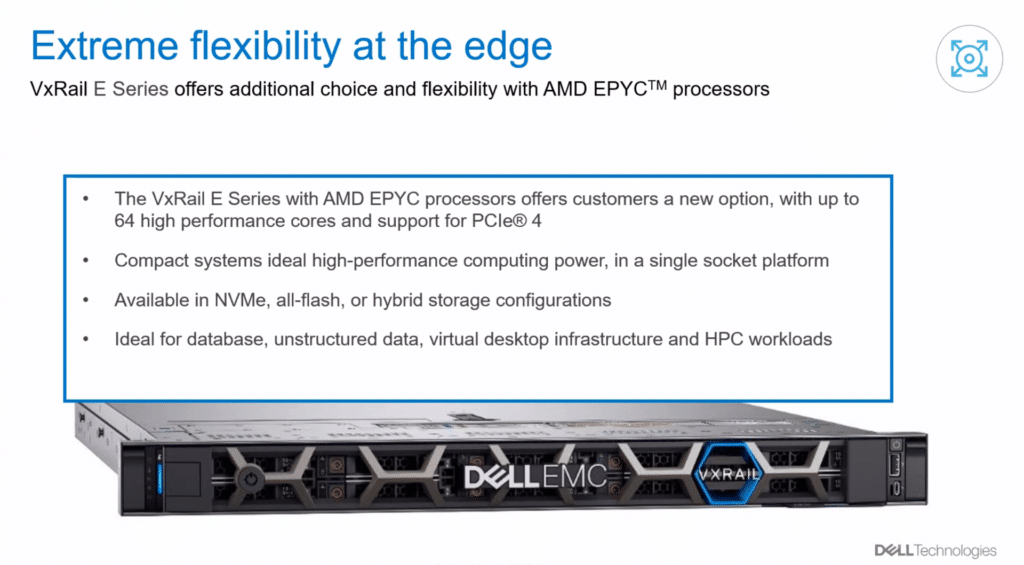 Cloud Foundation, Optane, PMem
Working with VMware, Dell has also updated the VxRail software to be in line with the recent developments in VMware. VxRail has been jointly engineered between Dell EMC and VMware for some time so this comes as no shock. Bringing the software up to date brings all the benefits including fewer nodes for configuration, VMware Cloud Foundation on VxRail, Kubernetes support, amongst others.
The new series brings other advantages as well. With the Dell EMC VxRail D Series, customers will be able to leverage Intel Optane PMem (just not the latest version). With sill allow users to have a bigger memory footprint at a lower cost. Users will be able to leverage NVIDIA Quadro RTX GPUs as well.
Availability
VxRail D Series with 2nd Gen Intel Xeon Scalable processors are expected to be available globally on June 23, 2020.
The VxRail E Series with 2nd Gen AMD EPYC processors are expected to be available globally on June 23, 2020.
VxRail HCI System Software latest update is now globally available.
Dell EMC VxRail
Discuss on Reddit
Engage with StorageReview
Newsletter | YouTube | Podcast iTunes/Spotify | Instagram | Twitter | Facebook | RSS Feed
Advertisement Sours: https://www.storagereview.com/news/dell-emc-vxrail-d-series-e-series-announced
Dell EMC's VxRail is selling like hotcakes,  I was lucky enough recently to attend a one day overview session on the product.  The training was really good and I wanted to share what I had learnt to present a high level overview on what VxRail is about.
What is VxRail?
VxRail is Dell EMC's hyper-converged offering. Hyper-converged appliances allow a datacenter in a box approach,  rather than buying servers, storage and hypervisor separately hyper-converged appliances bundle the components into one package.  The storage, compute and hypervisor components used by VXRail are as follows:
Storage – VMware vSAN 6.6
Compute – 14th Generation DellEMC PowerEdge servers
Hypervisor – vSphere 6.5
Together the above form VXRail 4.5
What else do you get with VXRail?
You also get some other software bundled in:
vCentre
vRealize log insight
RecoverPoint for VM's
vSphere Replication
vSphere data protection
It is worth noting the ESXi licenses are not included
What is VxRack?
You may also hear VxRack mentioned, this is the bigger brother to VxRail with the software defined storage provided by ScaleIO.  Networking using VMware NSX is also an option.
How many nodes do you need?
The minimum number of nodes required is three,  although 4 is recommended to allow overhead for failures and maintenance.   This is also the minimum number of nodes required to use erasure coding rather than mirroring for data protection.
How do you manage VxRail?
The system is managed from two places.  You will be spending most of your time in the vSphere web console since all vSphere management is still performed from here. Also since the storage is being provided by vSAN this is also managed within vSphere.  The second tool you will need to become familiar with is VxRail Manager.
vSphere Integration
There is the option to create a new vCentre which will be housed within the hyper-converged infrastructure it's self or to use an external vCentre.  The choice to use an internal or external vCentre can be set during the initial deployment wizard.
What is VxRail Manager?
The VxRail manager allows you to manage the hardware i.e. the servers in a VxRail deployment plus perform a number of other tasks including:
Deployment – Initial deployment and addition of nodes
Update – As this is a hyper-converged system upgrade of all components can be completed from the VxRail manager.
Monitor – Check for events, and monitor resource usage and component status
Maintain – Dial home support
The following shows a number of screenshots from within VxRail Manager
Physical node view

Logical node view showing resource useage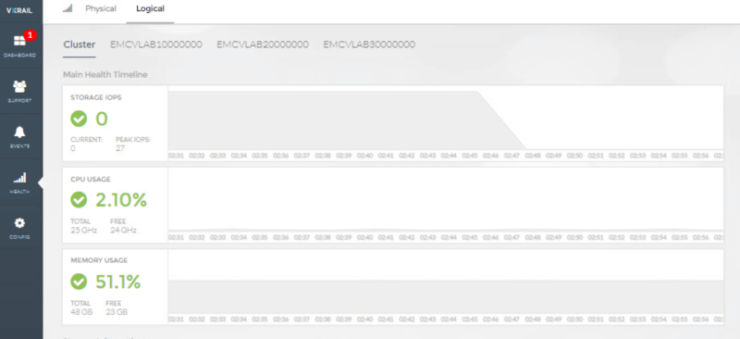 ESXi component status
What are the models?
You can see detailed specifications of all the models on the DellEMC site, this section just provides the major differences between the series
S Series – Hybrid only
G Series – Space saving format 2U can contain 4 appliances
E Series – 1U hence supports less capacity than the other 2U nodes
P Series –  2U supports twice the capacity of E series and is therefore suitable to more demanding workloads
V Series – Same spec as P series plus GPU's. Optimised for VDI environments
How do you add a node
You add a node using the VxRail Manager as shown in the screenshot below which is a non disruptive process. Hybrid and all flash models cannot be mixed plus the first three nodes in any cluster must be identical after this you can mix and match models . Although there is something to be said for maintaining consistency across the cluster so it is balanced and will probably make managing it easier in the future. The cluster can be scaled to a max of 64 nodes.
How do I take a node out for maintenance?
Since the data is stored inside each of the nodes there are some additional considerations when putting a node into maintenance versus using a traditional SAN.  When you do put a host into maintenance mode the default option is ensure accessibility it makes sure all data is available during maintenance, although redundancy may be reduced.
vSAN summary
vSAN is VMware's software defined storage solution, this means no specialist storage equipment is required and storage is provided by conglomerating the storage within each of the ESXi servers. Key concepts to understand
Management  – vSAN is managed from within vSphere and is enabled at the cluster level  
Disk groups – Each disk group consists of a caching disk which must be an SSD disk and 1-7 capacity drives.  The capacity drives can be flash drives or spinning disks in a hybrid setup. All writes are made via the caching disk, 30% of its capacity is also reserved to act as a read cache.
vSAN datastore – Disk groups are combined together to create a single usable pool of storage called a vSAN datastore
Policy Driven – Different performance and availability characteristics can be applied at a per disk level on VMs
vSAN availability and data reduction
Dedupe and compression –  Enabled at the cluster level, not suitable for all workloads. If you have a requirement for workloads that do do not require dedupe/compression you would need multiple clusters
Availability –

Availability and performance levels are set by creating policies, you can have multiple policies on a single vSAN datastore
Availability is defined in the policy setting fault tolerance method, the available choices are RAID-1 (Mirroring) and RAID-5/6 (Erasure Coding)
RAID 1 is more suited to high performance workloads and will ensure there are two copies of the data across nodes
RAID 5 – Stripes the data across nodes, more space efficient but reduced performance.
Related
Sours: https://d8tadude.com/2018/11/20/vxrail-in-a-nutshell/
VxRail Deployment VMWare Cloud Foundation Configure VxRail Dell EMC VxRail Cluster
In addition to the physical tag at the front of the VxRail appliance you may also leverage the VxRail Manager, ESXi console or vCenter GUI to pull the PSNT and Model type of each VxRail appliance.
VxRail Manager Console
psql -U postgres mysticmanager -c "select sn,name,psnt from node;"
[email protected]:~> psql -U postgres mysticmanager -c "select sn,name,psnt from node;"
sn | name | psnt
———+———–+—————-
6JCQ3N2 | vcfesxi16 | DE600180100122
6JCS3N2 | vcfesxi15 | DE600180100124
6JCP3N2 | vcfesxi14 | DE600180100121
6JCN3N2 | vcfesxi13 | DE600180100120
ESXi Cli
The first section of the local datastore name on each VxRail Node includes the 14 character PSNT number of that node, simply run the df -h command on the ESXi host to lookup the PSNT:
You may also leverage the ipmitool to gather both the PSNT and Model type:
opt/dell/DellPTAgent/tools/ipmitool_static fru print 17
Tip to find the ipmitool if directory location changes:
find /* -name ipmitool_static
vCenter
There are several locations within the vCenter console to reference the PSNT and Model types.
List of datastores which includes the local datastore of each host with again first section of name including the 14 character PSNT:
With the benefit of the VxRail vCenter Plugin we can reference several pieces of useful info related to hosts including PSNT & Model types:
Again from the VxRail vCenter Plugin we can open the physical view of the cluster:
PowerCLI
Connect-VIServer -Server 192.1.20.20 -user [email protected]
Get-Datastore -Name DE*
Posted on By David RingVxRAILPosted in VxRAILTagged #MODEL, PSNT, SERIAL NUMBER, VxRAIL
Sours: https://davidring.ie/2019/09/18/vxrail-lookup-model-psnt/
Model vxrail
What is our primary use case?
The general use case for VxRail was to deal with the obsolescence because the current infra was not adequate to deal with the licensing and the support as we were running on the older hardware and the ESX version, and being a manufacturing site we didn't have a good level of redundancy.
We have two server rooms there. But if we lose one server room, we will not be able to run all our workload from the existing server room. So we deployed the V Service cluster during this deployment, wherein we have four modes in total in each room, and in the corporate data center.

We also deployed a backup solution with the Data Domain application. Then even if we lose one server room we have all the backup data in the other server room. So now at least we have local redundancy.

So the main use case is redundancy, obsolescence, better architecture, better throughput, and better back up time. Pfizer was not very responsive after we did the VxRail with the vCenter architecture with the upgraded styles. So we got feedback that Pfizer was responding well. Their help was good.
Also the backup time is good. Pfizer has the 1.5 PV. It used to take five to six hours on the back up but now it takes almost half of the time. So we are saving back up time and throughput is good. After deploying we have been getting some good benefits. Even the local businesses are happy with this solution.

So we are now deploying VxRail to more manufacturing sites.
What is most valuable?
The feature that I have found most valuable with VxRail is its upgrade. Because if you talk about the normal ESX process you have to upgrade the firmware, the bios, and you have to manage the compatibility. You have to do a lot of things. But in the case of VxRail, it's a single upgrade, end to end. You simply upload the bundle, click next, it will do some pre-checks, if those pre-checks pass, it will update everything one by one. It will put one ESX in the maintenance and move other VM's to another mode. There is no downtime to the VM's.
It will upgrade end to end infra, including bios from there, your ESX host, everything. So this is a really good feature. Then in new mode feature, they only have to configure it from the network standpoint and it can listen on a second mode. If they see a new mode in the network, the cluster will automatically have that mode as a new member.

VxRail has helped us with the automation. So we are happy with that.

What needs improvement?
As I said, one place for improvement would be the automated update for VMware Tools. Additionally, better integration with ServiceNow because if there are some issues, we could directly get the notification through IPS and Tools, so that integration is missing.
Somehow they did it, but it was not a very smooth integration because we have to use email features since they are sending emails. We contacted someone at ServiceNow at our end and we sent emails to ServiceNow and they converted it to some incidents or something. If we could have some out of the box ideas in integration, I think that would be a great feature.

VxRail provides more automation. For example, the process going from VMware to Tools is still a manual process where we have to manually update the VMware Tools. There should might be an option to upgrade VMware Tools automatically. We know that we need some downtime, but still, there should be a possibility to do this as an automated process.
For how long have I used the solution?
I have been using VxRail for about six months. We deployed it back in September and did the migration, so it's been three or four months in the company.
I think we're using version 4.7 because we had some limitations with respect to vCenter and Vserver costing because ESX was the older version. So we went with VxRail 4.7 rather than going with VxRail 7, which is the latest.
What do I think about the stability of the solution?
We are maintaining this solution ourselves. We have some level of support from Dell, as well, but they are not directly responsible for the support. We are the ones who are supporting it.
Initially, it had some issues. As I said, the version we deployed had some known issues. But the stability is pretty good. There were some issues here and there, but that was not due to ESX, but due to some network fluctuation we had.
What do I think about the scalability of the solution?
VxRail is especially useful for a manufacturing site. I can't really know many end users are there, but I know that they are participating in the manufacturing process. This is a pharma company and for us, VxRail is critical in our process.
So far, looking at its specifications, it looks good. It's scalable.

How are customer service and technical support?
In general cases, technical support is good. They're pretty responsive. But besides that, there have been some issues with the cluster. For example, the version that we deployed had some bug which was a known bug. Later on we were advised to get this upgraded. But that advice came to us after two or three reassignments within their own IT section because one person evaluated it and they collected multiple logs. Then he transferred the case to somebody else, then she then collected some further logs and did some analysis. I'm not saying they were not good. They were pretty good. They had some good technical skills. They did all the analysis. Then they assigned it back to the IT guy. But as soon as the IT guy came in, he saw the version. He immediately said we have to update it because this version is having some known issues.

I would say they are pretty good. I'm not complaining about them, but this is the feedback that I personally have - that technician should have come in the very first place by just looking into the VxRail version and told us there is a known bug in this version and we should upgrade it. But that took almost two or three weeks to identify.
But still, I'm happy with the Dell services. No complaints. But just constructive feedback. The rest are good.
They are always helpful. If we join the call, they are very polite and knowledgeable. They bring more people as required, so overall, it's good.
Which solution did I use previously and why did I switch?
We did not have a complete HCI product, but we had storage-defined software, like Datacode and EqualLogic. Now we are replacing Datacode and EqualLogic with this VxRail because we are using it in vCenter.
How was the initial setup?
In terms of the initial setup, only the network part was a little complex for us. Maybe because we were doing it for the very first time because there is a very strict firewall applied there, being a manufacturing site. We had multiple firewalls there, so we had to open each and everything one by one. That was the only thing.
Once the network part was done, everything was smooth and we had a product life support from Dell. It was Dell who basically deployed it from a remote session with our presence. We only give them some input around the infra set up and they actually did the end to end deployment.

It took one day for rack and stacks and then two days for its set up, installation, and configuration as per our department. Later on we did the migration on our own based on the downtime that we received because we had to update the VMware Tools. We had to configure the backup, et cetera. We did it slowly, one by one, three, four servers a day.
What's my experience with pricing, setup cost, and licensing?
In terms of pricing, I would say it's reasonable, not cheap and not too costly. If you compare it with some other HCI solutions, for example, there were a lot of discussions around Cisco UCS for one of the manufacturing sites. The local ITP had a preference for Cisco UCS because they had some prior experience working on it. We had already successfully deployed VxRail in some of the manufacturing sites and we found that Cisco UCS is much too costly. 

In the deployment, all the softwares were included, only the vCenterv was excluded because we were using an external vCenter, so we had to manage an external vCenter license. All the rest was included.
Some licensing, like vRealize was not included, so we have not taken it.
What other advice do I have?
I would definitely recommend VxRail. But again, it depends upon the use cases. If they have a big data center, then you have to look for some other version of VxRail, maybe VxBlock, but for normal sites, for a small manufacturing R&D site, or for remote sites, they may go with VxRail.
On a scale of one to ten, I would give VxRail a nine out of 10.
Which deployment model are you using for this solution?
On-premises
Disclosure: My company has a business relationship with this vendor other than being a customer: Partner
Sours: https://www.itcentralstation.com/products/vxrail-reviews
Intro to The VxRail Advantage
Dell EMC VxRail Appliances
Features
Turnkey hyper-converged VMware virtualization appliance
The Dell EMC VxRail Appliance family simplifies deployment of virtualized applications. With 73% faster deployment*than a traditional infrastructure, VxRail allows you to leverage the continuous innovation of Dell EMC PowerEdge platforms and VMware vSAN to predictably evolve your VMware environment while delivering a staggering 619% ROI*over five years.
Create IT certainty with seamless integration into VMware ecosystems.
Predictably evolve with streamlined deployment and lifecycle management.
Continuously innovate with technology that helps you focus on your goals.
VxRail Appliances deliver highly predictable performance across millions of configuration options to meet any HCI use case.
Entry level nodes
The VxRail E Series are low-profile nodes for remote or space-constrained locations. Each appliance in the series has one node per 1U chassis, enabling clusters to optimize storage and compute resources in a small footprint, with options to expand, one rack unit node at a time. Models include the VxRail E560 (hybrid), and the VxRail E560F (all-flash). These are single or dual processor models based on the PowerEdge R640 rack server.
High-performance nodes
The VxRail P Series are nodes optimized for heavy workloads, such as databases. Each appliance in the series has one node per 2U chassis. Models are the VxRail P570 (hybrid), and the VxRail P570F (all-flash). These are single or dual processor models based on the PowerEdge R740 rack server.
VDI optimized nodes
The VxRail V Series are graphics-ready nodes with support for up to 3 graphics accelerators for specialized use cases, such as high-end 2D/3D visualization. Each appliance has one node per 2U chassis. Models are the VxRail V570 (hybrid), and the VxRail V570F (all-flash). These are dual-processor models based on the PowerEdge R740 rack server.
Storage dense nodes
The VxRail S Series are capacity-optimized nodes with expanded storage for use cases such as collaboration and data & analytics. Each appliance has one node per 2U chassis. The series includes the VxRail S570 (hybrid only), which is based on the PowerEdge R740xd rack server and available in a single or dual processor configuration.
Dell EMC offers complete end-to-end services
Optimizing the IT lifecycle is vital. Dell EMC has expert services* for all lifecycle phases that save you time and resources, reduce effort, and improve your IT experience.
ProSupport Enterprise Suite
Gain the freedom to focus on your business transformation with the support expertise and insights Dell EMC is known for across the globe. Choose the right support based on the criticality of specific systems with available automated predictive analysis, collaborative third-party assistance and service account management.
ProDeploy
ProDeploy Enterprise Suite helps you get more out of technology starting on day one. Trust Dell EMC experts to lead deployments from basic hardware installations through planning, configuration and complex integrations. Our complete suite of deployment services and professional certifications helps you achieve business outcomes today and tomorrow.
Training
Education Services offers an expansive suite of training services with multiple delivery methods, including instructor-led, self-paced online and virtual instructor-led training. With comprehensive and flexible training programs, we make it easy to ensure your staff has the skills they need to successfully manage and utilize your new technology to its full potential.
Consulting
Consulting services give expert guidance to help you grow, optimize and transform your IT environment at your own pace and budget. We employ a broad range of certified consultants and engineers, backed by program management teams, who can deliver deep technical expertise. We give you the confidence that your project will be done right and on time.
Drivers, Manuals & Support

Dell Support
From drivers and manuals to diagnostic tools and replacement parts, Dell Product Support has you covered!
Get Started
Sours: https://www.dell.com/en-us/work/shop/povw/vmware-vxrail
Now discussing:
Dell EMC VxRail P570F HyperConverged Infrastructure Appliance
Global Online Auction
Component Type
Part / Model Number
QTY
Description
Configuration A
Rack Server Model:
P570F / R740XD
1
EMC VxRail / Dell PowerEdge 24 x 2.5" Bay Rack Server
Server Motherboard
923K0
1
Dell Server Motherboard with Dual CPU
Backplane Board
58D2W
1
Dell 24-Bay 2.5" SFF Backplane Expansion board
Processor(s):
SR37J
2
Intel 8168 Platinum 2.7Ghz 33M 24 Core 205W CPU
Memory:
M386A8K40BM2-CTD7Y
12
Samsung 64GB 4DRx4 PC4-2666V ECC LRDIMM
Hard Drive(s):
N85XX / KPM5XRUG3T84
12
Dell Toshiba 14G 3.84TB 2.5" SAS 12Gbps SSD
Hard Drive(s):
DHRVV / KPM5XMUG800G
3
Dell Toshiba 800GB 2.5" SAS 12Gbps SSD
RAID Controller:
J7TNV
1
Dell HBA330+ 12GB/s Perc SAS Raid Controller
Riser 1 Card
GHGTP
1
Dell Server Riser 1 Card Board
Riser 2 Card
J7W3K
1
Dell Server Riser 2 Center Card Board
Cooling Fan
N5T36
6
Dell Server Cooling FAN
Management:
1
Idrac9 Enterprise
Power Supply(ies):
95HR5
2
Dell 1600W 80+ Platinum Power Supply
Expansion Card:
1YGFW
1
Dell PowerEdge R640 R740 R940 SSD NVMe PCIe Extender adapter Card
Network controller
6WMMV / 57414
1
Dell Broadcom 2-Port 25GB SFP28 Network Interface Card
Expansion Network Card(s)
CX94X / 57414
2
Dell Broadcom 2-Port 25GB SFP28 Network Interface Card
Netwwork GBICs
HHHHC / FTLF8536P4BNL-E5 A2
4
Dell Finisar SFP28-25G-SR-85C 25GE SFP28 Ethernet Module
Storage Adaptor Card
M7W47
1
Dell BOSS-S1 Simple Raid M.2 Full Height PCIe Controller Card
M.2 Solid State Drive
TC2RP / MTFDDAV240TCB
2
2x Dell Micron 5100 240GB M.2 SATA 6GB/s 22x80mm
SD Flash Card Reader
RT6JG
1
Dell Dual SD Reader
Micro SD Card
7XDNW
2
Dell PowerEdge 64GB Ultra Micro SD HC Class Card
Bezel:
1
Included
Rail Kit:
1
Included
Optical Drive:
Not Included
Dimensions:
28.8 x 17.9 x 3.42 (Inches) 63 Lbs Max
Configuration B
Rack Server Model:
P570F / R740XD
1
EMC VxRail / Dell PowerEdge 24 x 2.5" Bay Rack Server
Server Motherboard
923K0
1
Dell Server Motherboard with Dual CPU
Backplane Board
58D2W
1
Dell 24-Bay 2.5" SFF Backplane Expansion board
Processor(s):
SR37J
2
Intel 8168 Platinum 2.7Ghz 33M 24 Core 205W CPU
Memory:
M386A8K40BM2-CTD7Y
24
Samsung 64GB 4DRx4 PC4-2666V ECC LRDIMM
Hard Drive(s):
N85XX / KPM5XRUG3T84
16
Dell Toshiba 14G 3.84TB 2.5" SAS 12Gbps SSD
Hard Drive(s):
DHRVV / KPM5XMUG800G
4
Dell Toshiba 800GB 2.5" SAS 12Gbps SSD
RAID Controller:
J7TNV
1
Dell HBA330+ 12GB/s Perc SAS Raid Controller
Riser 1 Card
GHGTP
1
Dell Server Riser 1 Card Board
Riser 2 Card
J7W3K
1
Dell Server Riser 2 Center Card Board
Cooling Fan
N5T36
6
Dell Server Cooling FAN
Management:
1
Idrac9 Enterprise
Power Supply(ies):
95HR5
2
Dell 1600W 80+ Platinum Power Supply
Expansion Card:
1YGFW
1
Dell PowerEdge R640 R740 R940 SSD NVMe PCIe Extender adapter Card
Network controller
6WMMV / 57414
1
Dell Broadcom 2-Port 25GB SFP28 Network Interface Card
Expansion Network Card(s)
CX94X / 57414
2
Dell Broadcom 2-Port 25GB SFP28 Network Interface Card
Netwwork GBICs
HHHHC / FTLF8536P4BNL-E5 A2
4
Dell Finisar SFP28-25G-SR-85C 25GE SFP28 Ethernet Module
Storage Adaptor Card
M7W47
1
Dell BOSS-S1 Simple Raid M.2 Full Height PCIe Controller Card
M.2 Solid State Drive
TC2RP / MTFDDAV240TCB
2
Dell Micron 5100 240GB M.2 SATA 6GB/s 22x80mm
SD Flash Card Reader
RT6JG
1
Dell Dual SD Reader
Micro SD Card
7XDNW
2
Dell PowerEdge 64GB Ultra Micro SD HC Class Card
Bezel:
1
Included
Rail Kit:
1
Included
Optical Drive:
Not Included
Dimensions:
28.8 x 17.9 x 3.42 (Inches) 63 Lbs Max
Sours: https://svdisposition.com/auction-detail?id=303
1291
1292
1293
1294
1295