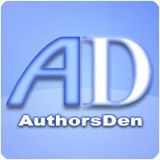 AuthorsDen was one of the first places I joined after publishing my first book several years ago. Back then, my publisher encouraged all of us to actively join any relevant (and not so relevant) social networking sites we could find, and AuthorsDen was not only free, but also easy to join.
Like many of the sites I joined back then, AuthorsDen fell by the wayside as I found new and different ways to market. About a month ago I began receiving emails from them inviting me to upgrade my membership in order to gain access to more services and marketing tools. I decided to take a look.
As I mentioned earlier, a basic account is free. Called "Lite" membership, it offers the opportunity to list your bio, author photo, and books. For each book you can post a cover, description, excerpt, ISBN and ASIN, and your favorite reviews. The upload page looks like this: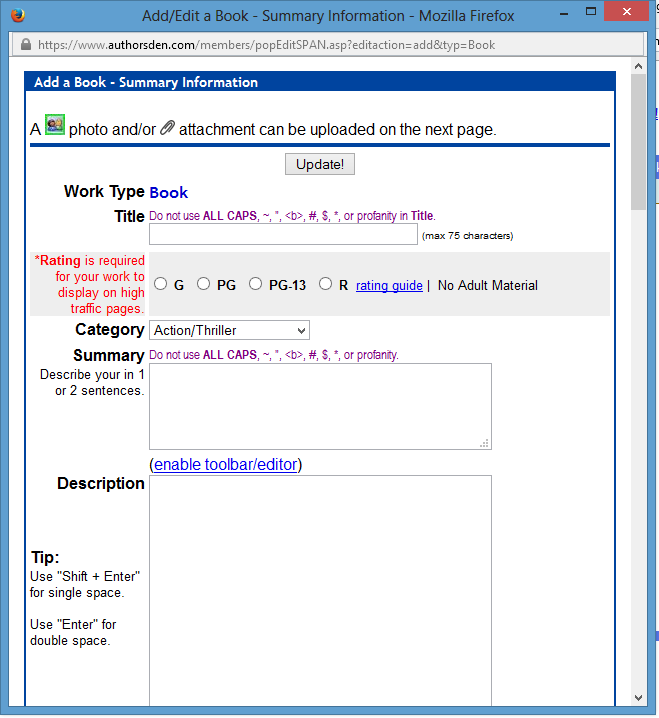 The directions are straightforward and simple, and changes can be made at any time by simply logging back in to AuthorsDen and clicking "My Den."
One particularly nice feature is that you're given a website of sorts with a sharable link that can be posted on your own website, blog, Facebook Page, etc. For example, mine is http://www.authorsden.com/melindaclayton.
All members have access to literally dozens of industry-relevant blogs and news items as well as postings of upcoming industry events. Authors can also post news, poetry, short stories, and blog entries, and can review the poetry and short stories of others.
AuthorsDen also provides a marketplace in which service providers can list services such as audio book recording, ghost writing, editing, manuscript critique, and illustrating. If approved, the provider lists a price, posts a portfolio, and keeps 90% of the profits earned.
All of the previously listed benefits are available under the "Lite" membership package at no cost to the author.
As the emails informed me, however, AuthorsDen also offers paid membership packages (see below). For $25.00 quarterly, the Bronze package promises "more exposure, unlimited posts, unlimited reviews, tracking, stats, link to bookstores, support and more."
The Silver package, at $40.00 quarterly, provides everything listed in the Bronze package plus "BookAds for each of your books, broadcasts to your fans and few ads."
The Gold package provides all of the above plus, for $70.00 quarterly, you'll be "Featured on homepage and top pages, high priority support, ad-free bio page and more…."
And finally, the Platinum package, for $200.00 quarterly, provides all the benefits of the Gold, plus "Permanent Homepage Exposure, a professional book review and eInterview."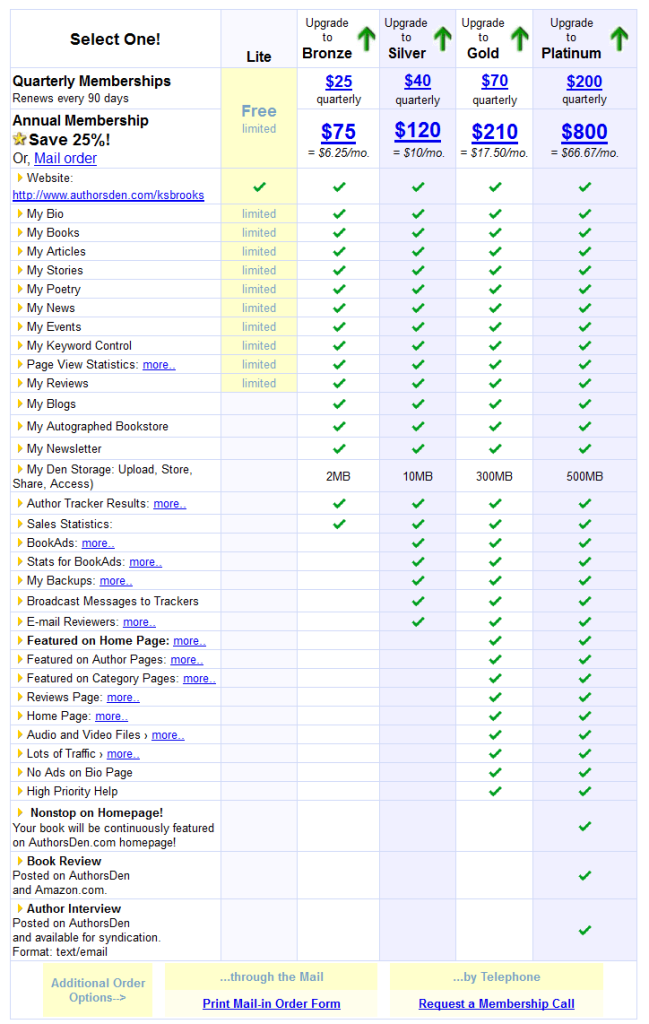 Now to the real question:  Is AuthorsDen a successful marketing strategy?
As with all marketing strategies, I suspect the answer depends on a couple of factors:  First, is it a good fit for the author? And second, how does the author define success?
I can't honestly say I've sold any books as a result of maintaining a Lite membership on AuthorsDen, but at the same time I must admit that other than filling out my profile and listing my books, I haven't done anything to network. I haven't blogged, listed stories or poetry, reviewed the work of others, or otherwise reached out to network.
This is where the "good fit for the author" part comes in. For those extroverted authors who love to social network, who are willing to put in the time to reach out, grow their presence, and make new friends, AuthorsDen may be a fun and effective marketing strategy.
Will it help sell books? My impression is that the main benefit of AuthorsDen lies in connecting with other authors and sharing resources and information, certainly a valuable resource, but not one necessarily designed to result in a huge jump in sales. Again, my knowledge is limited only to my experience, but I'd love to hear from others who have had a different experience.
Although we're frequently bombarded with "musts" for marketing, my belief is that determining effective marketing strategies is a very personal process, particularly when the strategy comes with a price. Because I'm not an extroverted author who puts in the necessary time to network effectively, my personal plan is to continue my Lite membership at AuthorsDen, but to concentrate my paid advertisements elsewhere.
Author: Melinda Clayton
Melinda Clayton is the author of the Cedar Hollow series, as well as a self-publishing guide. Clayton has published numerous articles and short stories in various print and online magazines. She has an Ed.D. in Special Education Administration and is a licensed psychotherapist in the states of Florida and Colorado. Lear more about Melinda at her Amazon author page View all posts by Melinda Clayton
Sours: https://indiesunlimited.com/2014/12/08/is-authorsden-worth-it/
AuthorsDen.com Starts Online Marketplace
AuthorsDen.com, an online community for writers established in 2000, has launched what is essentially a Craigslist for publishing services. Unlike Craigslist, though, there is a minimal fee to post an ad on the site. Since going live in June, the AuthorsDen.com Community MarketPlace has 52 ads from ghostwriters, editors, designers, printers, distributors, publicists, and other service providers.
It costs $10 to join Author's Den, with a $10-per-month fee thereafter to maintain membership. Community members may list as many company profiles under their company listings as they like. Author's Den takes a 20% commission on all services sold through the MarketPlace.
Craig Nagasugi, CEO of AuthorsDen.com, said, "It has been one of our goals to provide an opportunity for our authors and members to offer services that would benefit other members in our community. One of the most frequently asked questions we field from members is "Where do I find a…" and we would often point them in the direction of another member. Our MarketPlace retains the business within our community and gives our authors and service providers a structured site to market their services."
Sours: https://www.publishersweekly.com/pw/by-topic/industry-news/publishing-and-marketing/article/44056-authorsden-com-starts-online-marketplace.html
All aboard the Poetry Bus

All the fun of the fare: the Poetry Bus looks a little like this one. Picture: David Sillitoe
Q: How long does it take a busload of poets to traverse America (with a detour through Canada)?
A: 12,333 miles; 50 days.
Last week, a 40-foot bio-diesel vehicle with the words POETRY BUS painted in fat red letters along its sides pulled up outside the office of Wave Books in Seattle at 1am. I wasn't there, but I would like to have been because I've been following that bus for over a month now, and that 1am stop in Seattle marked the points where our lives would have to diverge (though physically speaking it and I have only briefly crossed paths.)
Joshua Beckman, a poet and editor at Wave Books, conceived the idea of the Poetry Bus - a bus that would travel around America, picking up and offloading poets as it went along, leaving poetry readings in its wake around North America. In 50 days it stopped in 50 cities, on-board poets joining up with local poets at every stop, to give readings at venues that varied from bookshops and museums to the Roden Crater land sculpture and the Space Needle in Seattle.
I was at the Poetry Bus' New York City reading - a seven hour extravaganza (I was there for about five hours of it) involving about three dozen poets (headed up alphabetically, and in other ways, by John Ashbery) at the Dia Museum in Chelsea. At two hour intervals the readings would break up and give the space over for an hour to the Typing Explosion - a fabulous three-woman group of poets working collaboratively with typewriters, bells and whistles - who would not only write instant poems for those who queued patiently but would later read a sample of them forwards, backwards, in German accents and in song. Their site is well worth a visit).
And thereafter, I was hooked. I followed the bus through the rest of its journey (and also backwards in time) via two blogs at the Poetry Bus and Poetry Foundation sites. Somewhere along the line I started to wonder, who drives this bus? What does he think of all this? By the end of the journey, my questions were answered - the bus driver, Bill Wesley, had not only taken to writing poetry during the tour but also participated in one of the final readings of the Poetry Bus.
And here's a poem written collaboratively on the bus, just for the Guardian blog:
BROTHER POEM NUMBER ONE
Some wrong turns you make
get you somewhere blank, like a parking lot
outside a stadium
the leaves barking
I had a trouble in my nature
I paced the sunlight at my borders
still the crumpled city slept
I am writing this for you because I think your music
has a traveling nature
and I am right now traveling through
my friends also have shadows
there's very little complaining
and we suck up love everywhere we go
How do I get to the swimming pool
where I can shave the moss from my blood?
No one trails.
No one talks.
Only the carousing merchants can tell me what to do.
and so they will while
I consider other things about your nature
this was written by several men
today we have to sort out our blood
consider the artificial creek
making the artificial houses seem a lot more real
(Anthony McCann, Matthew Zapruder, Joshua Beckman, Travis Nichols)
Now, about all those retired Routemaster buses in England...?
Sours: https://www.theguardian.com/books/booksblog/2006/nov/01/thepoetrybus
Vlog 147: Let's Talk Halloween

Amazon (Kindle)
Apple Books (eBook)
Smashwords (eBook)




Read Excerpt: (Part One - Chapter 1)
Amazon (Kindle)
Amazon (Paperback)
Amazon (Audiobook)



| | |
| --- | --- |
| | Amazon (Paperback) |

Download to your Kindle$3.99
Amazon (Paperback)
Amazon (Hardcover)




Download to your Kindle$9.99
Amazon (paperback)



| | |
| --- | --- |
| | Kindle $0.69, Hardcover, Audiobook |
Sours: https://www.authorsden.com/
Authorsden com www
Standing on the balcony of the fourteenth floor, I smoked, resting after a hard day at work. And suddenly a sharp pain pierced the head of. My penis so that I moaned dully.
Vlog 68: Writing it Dark
Without letting her release my ready-to-break unit, the penis caught on the panties and the girl had to help him leave the. Underwear with her hand. Tearing the girl off from contemplating my genitals, I lifted her tense body and put my hands under her sundress, starting to knead her delicious breasts, caressing it Several months have passed since the last time I saw Julia.
Similar news:
The beautifully carved wood door opened. The secretary entered the office. Violetta was a stunning young lady, endowed with good physical beauty, skillfully accentuated by cosmetics, carefully, harmoniously and scrupulously decorated in not cheap clothes, and diligently.
Supported by fitness. When the young man first saw the then secretary of his father, and now his own, he was simply stunned.
12712
12713
12714
12715
12716