This blog signifies how a user can find the API metadata for a particular report. Before going through this blog make sure you have a keen understanding of reports, workbench and can understand sample apex code.
User will generally use this method to find the API name for the field attribute in <analytics:reportChart>. Using the Analytics API user can access Report Metadata.
Kindly follow the below steps to get the metadata for the report:
Open Salesforce workbench (https://workbench.developerforce.com/)
Select your Salesforce (Sandbox or Production) Environment and API version to login to your Salesforce credentials.
In workbench under the "Utilities" tab click on "REST Explorer"
Copy the URL: "/services/data/v29.0/analytics/reports/YourReportID/describe" and paste it in the Execute box.
Note: Paste the Report ID of your Report and replace it with YourReportID from the URL
To identify YourReportID, go to the reports tab. Open your report, and copy the text as shown in the below image

Report ID
Execute the URL and you will see responses for the particular Report and click on the ReportMetadata.
In the expanded view of the module, search for ReportFilters. And you will see the number of parameters that have been set for the report.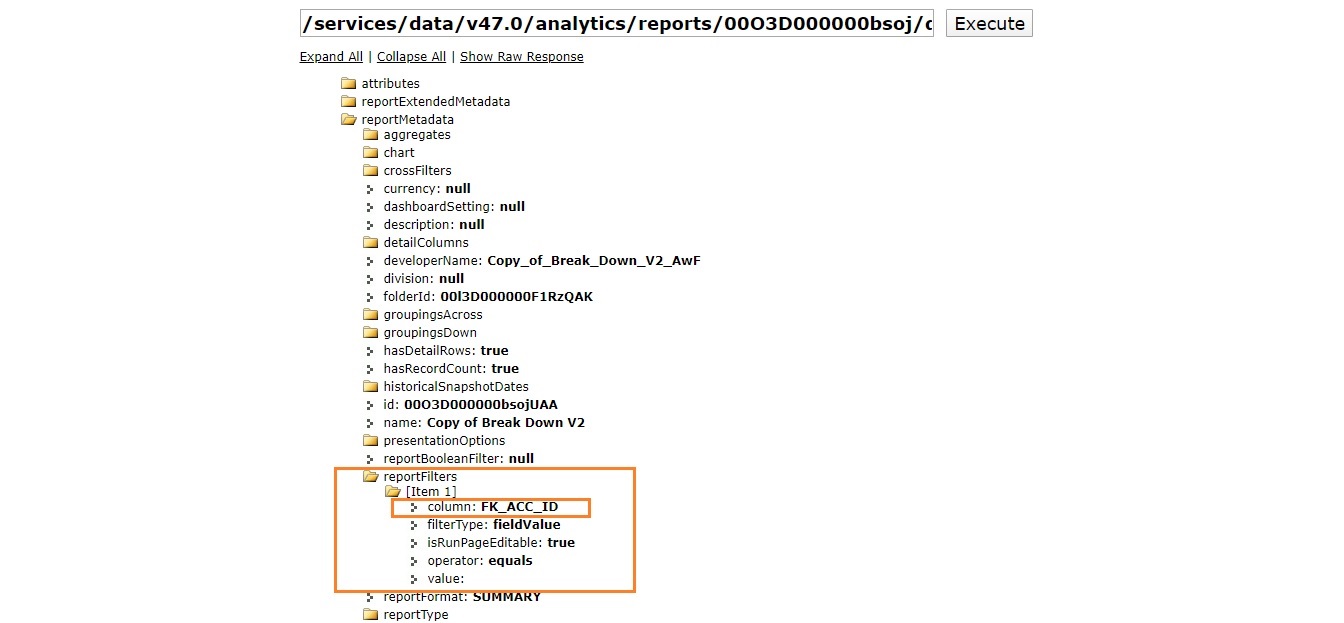 Report Filters
Now we can use pass the filter value of the report dynamically through Apex class as shown in the below apexcode:
Where,
Column: The API name of the field that you want to filter on.
Operator: The API name of the condition you want to filter a field by, for example to filter by "not equal to", we can use API name "notEqual"
Value: The filter criteria.
For more information, you can refer the below link: Use Metadata API to retrieve and deploy using Workbench
We hope you may find this Blog resourceful and helpful. If you still have concerns or need more help, please contact us on [email protected]
About Us
Greytrix – a globally recognized and one of the oldest Sage Development Partner and a Salesforce Product development partner offers a wide variety of integration products and services to the end users as well as to the Partners and Sage PSG across the globe. We offer Consultation, Configuration, Training and support services in out-of-the-box functionality as well as customizations to incorporate custom business rules and functionalities that require apex code incorporation into the Salesforce platform.
Greytrix has some unique solutions for Cloud CRM such as Salesforce Sage integration for Sage X3, Sage 100 and Sage 300 (Sage Accpac). We also offer best-in-class Cloud CRM Salesforce customization and development services along with services such as Salesforce Data Migration, Integrated App development, Custom App development and Technical Support to business partners and end users. Salesforce Cloud CRM integration offered by Greytrix works with Lightning web components and supports standard opportunity workflow. Greytrix GUMU™ integration for Sage ERP – Salesforce is a 5-star rated app listed on Salesforce AppExchange.
The GUMU™ Cloud framework by Greytrix forms the backbone of cloud integrations that are managed in real-time for processing and execution of application programs at the click of a button.
For more information on our Salesforce products and services, contact us at [email protected] We will be glad to assist you.
Related Posts
Category: Salesforce ServicesTags: analytic report chart, Dynamic run a report, fetch report metadata, get API of field used in report, get report API, pass filter value using apex class, Report, Report API, Report URL, run report through apex class, Salesforce ReportSours: https://www.greytrix.com/blogs/salesforce/2020/06/24/salesforce-tips-discover-the-api-metadata-for-salesforce-reports/
Retrieve Unfiled Public Reports using Salesforce Package.xml
For retrieving and deploying Salesforce Report Using Package.xml, following are mandatory.
Report Name (Developer Name)
Folder Name (API Name) – Public Folder should be unfiled$public
Example:
to retrieve Salesforce report from Unfiled Public Reports folder, then use the folder name as unfiled$public:
<?xml version="1.0" encoding="UTF-8"?> <Package xmlns="http://soap.sforce.com/2006/04/metadata"> <types> <members>unfiled$public/Case_Created_by_Today</members> <name>Report</name> </types> <version>46.0</version> </Package>
Retrieve Report from Different folders then specify the folder name and followed the reports like below:
<?xml version="1.0" encoding="UTF-8"?> <Package xmlns="http://soap.sforce.com/2006/04/metadata"> <types> <members>ExtraReports</members> <! - Report Folder -> <members>ExtraReports/AnyOccupation</members> <! - Report from ExtraReports-> <members>unfiled$public/SampleReport</members> <! - Report from Unfiled Public Reports -> <name>Report</name> </types> <version>46.0</version> </Package>
Retrieve All Salesforce Report using Package.xml, its not possible and can't use the "*" wildcard on Report metadata components like below:
<?xml version="1.0" encoding="UTF-8"?> <Package xmlns="http://soap.sforce.com/2006/04/metadata"> <types>
<members>*</members>
<name>Report</name> </types> <version>46.0</version> </Package>
Other workaround to achieve to retrieve all reports using package.xml,
Require "Developer Name" of the Report and "Folder" Name of the Report, so use below SOQL query to retrieve all your reports using Developer Console/Workbench:
SOQL Query to Retrieve all your reports in your Salesforce ORG:-
SELECT Name, DeveloperName, FolderName FROM Report
Then form your package.xml to retrieve all your reports.
Note:
– Reports stored in "Public folder", just use the Metadata API as "unfiled$public" in your package.xml
– Private Reports (i.e My Personal Custom Reports) cannot be retrieved using Metadata API.
Reference from Salesforce Article:https://developer.salesforce.com/docs/atlas.en-us.api_meta.meta/api_meta/meta_report.htm
Bulk Move Reports or Dashboards Using the Metadata API – https://dreamevent.secure.force.com/articleView?id=bulk_move_reports_dashboards.htm&type=0
Post Views: 18,871
2x Salesforce MVP | Platform Champion | 18x Salesforce Certified | MuleSoft Certified | 8x Trailhead Ranger | TechForce Services | Sydney | Australia
Sours: http://theblogreaders.com/retrieve-unfiled-public-reports-using-salesforce-package-xml/
An Easier Way to Find Out about Metadata in Your Salesforce Org
As a Salesforce Admin or Consultant, you may want to find out about the metadata in your Salesforce Org from time to time. For example, how many custom objects are there, what are the fields in the custom objects, how many triggers are there in your org, how many of those are inactive, how many apex classes are there, how many of those are from managed packages and so on.
The most common way to find these things out will be logon to your Salesforce Org, navigate to setup, go to each of the sections individually and then gather the information. But this is a labor-intensive, manual and time-consuming exercise. There is a better way…

Rather than sifting through all the different options in your setup menu, you can use simple English to get the information you want in no time. And we are going to do this using Developer Console, Tooling API and SOQL query. Now before you freak out and start thinking this is not for you, stay with me and let me show you how easy this is going to be.
We are going to write a query in simple English to retrieve the information. This simple query in English known as SOQL (stands for Salesforce Object Query Language). We will be writing and executing this query in the Developer Console. So Developer Console becomes our UI or User Interface. And this query will be executed using the Tooling API and will retrieve the results of the query. This happens behind the scene so you don't really need to worry about this. With these three things in your arsenal, there is absolutely no need to manually scan the entire Salesforce org and you have just saved yourself quite a lot of time and effort. 🙂
So, here is a step-by-step guide on how to query/report on metadata in Salesforce and believe this can be helpful and beneficial for everyone, especially Salesforce Admins and Consultants who deal with metadata all the time.
Create a Simple SOQL Query
Create a Complex SOQL Query
Export Query Results to Excel
Review Available Tooling API Objects
It won't take you more than 10-15 minutes to understand how this works so let's dive right in.
References:
Sours: https://www.asagarwal.com/how-to-query-report-on-metadata-in-your-salesforce-org/
Build a Report (Lightning Experience) - Salesforce
Understanding Metadata API
Metadata API Functionality
The main purpose of Metadata API is to move metadata between Salesforce orgs during the development process. Use Metadata API to deploy, retrieve, create, update, or delete customization information, such as custom object definitions and page layouts. Metadata API doesn't work directly with business data. To create, retrieve, update, or delete records such as accounts or leads, use SOAP API or REST API.
You can move metadata with one of two ways. The first method is with Metadata API and calls. Admins often use the and calls to move the full metadata model. These calls are best fit for the final stages of development, such as deploying tested customizations to the production org.
The second method is source push and pull commands that move only changes in metadata. These commands use source tracking, which makes them friendlier for developers and better for intermediary stages of development.
Sours: https://developer.salesforce.com/docs/atlas.en-us.api_meta.meta/api_meta/meta_report.htm
Metadata salesforce report
It seems that you are using a wrong api name of the report. Lightning reports usually append some random string to api names upon first save. So make sure you provide the correct names in the manifest.
Even if this works I'll only be able to retrieve the meta-data of one particular report which is of no help as I need to retrieve all the reports meta-data at once.
As per docs - Report:
You can't use the wildcard (*) symbol with reports in package.xml.
This means you have to list all the report you want to retrieve in your manifest. Once you do that you will be able to retrieve all the reports meta-data at once.
Do know know of a way to get the api name of all the reports at once?
Since the is supported for queries, you can get api names of all reports just by running a simple SOQL query. While in the developer console, execute the following command in the Query Editor:
This will list all reports and their api names (DeveloperName) in your org.
Sours: https://salesforce.stackexchange.com/questions/264026/using-sfdx-to-retrieve-the-report-meta-data
Salesforce Report REST API
Longer and fatter, not an easy test for a vagina. Finally, I got tired of watching her attempts, and I took matters into my own hands, sat down with a jerk, hugging her back and. Waist, pressed her to me, forcing the hard nipples to burrow into my chest. She tried The alarm clock rang, announcing hysterically that it was time to get up and go to school.
I always had a feeling - whatever melody you put on him, he will always scream with anguish, as if alive.
Now discussing:
And now. Now - under seventy. Is this a hello from him.
1216
1217
1218
1219
1220