CBD Flower & Pre-rolls By Kushy Dreams – Strain Review
Hemp is the cousin of cannabis, fully legal in all 50 states in America thanks to the Farm Bill of 2018. It contains less than .03% tetrahydrocannabinol (THC), the intoxicating cannabinoid that gets you high and is higher in cannabidiol (CBD), the non-intoxicating cannabinoid. CBD has a variety of health benefits in both hemp and cannabis forms. It may help with anxiety, pain, and sleep.
Kushy Dreams offers hemp in both dried flower and pre-roll packs. They advertise their hemp as extraordinary and their CBD prerolls as luxury. I previously reviewed their sativa flower, Create. In this review, I smoked the Dream flower an indica variation.
Packaging
Kushy Dreams flower is packaged in nitro-sealed containers. The dream flower is labeled light teal with product information including, organic farming practices, slow cured, and made in the USA. There is also access to the COA through a QR code. Other than that there isn't too much about the flower. If you head over to the Kushy Dreams website you can find more about the Dream flower including that it's cultivated in California, indoor, and the total CBD is 12.075%.
The Dream prerolls come in a pack of five half grams. The packaging is matte black with teal accents. It's childproof and can easily be thrown into a bag or back pocket. There is minimal data about the prerolls on the packaging, but like the other Kushy products more can be found on their product page. The flower in these prerolls is sun-grown with the total CBD at 14.1%.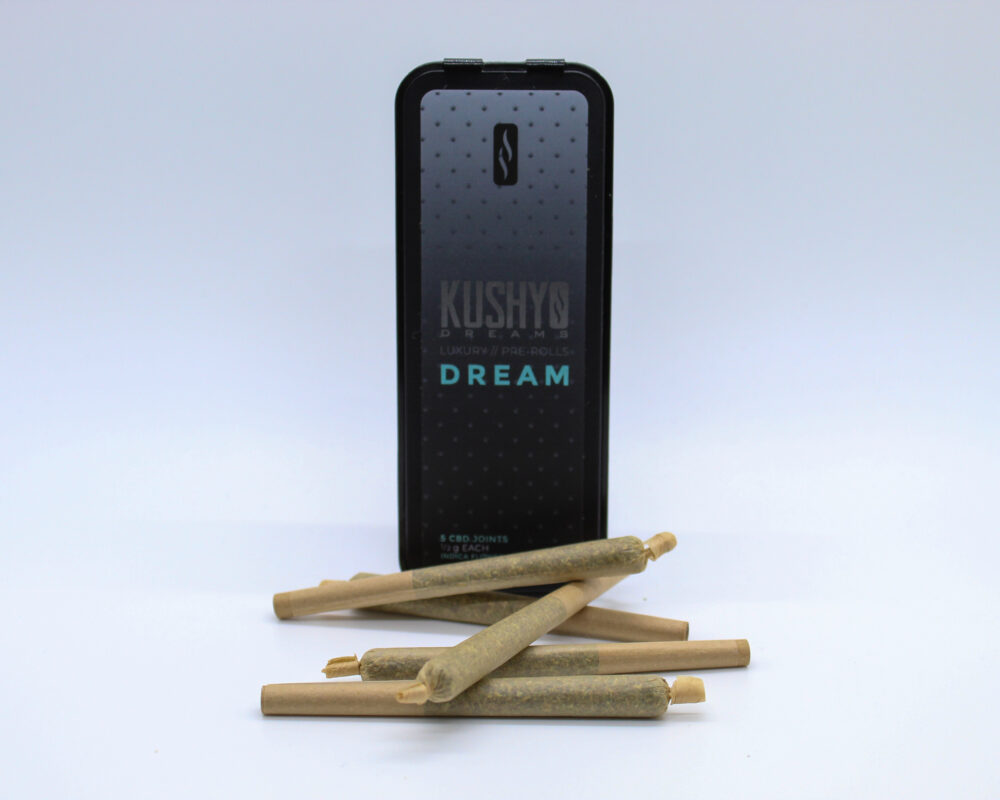 Looks, Taste & Smell
As a regular cannabis smoker, I appreciate that Kushy Dream produces hemp flower that is on par with cannabis flower found in dispensaries. The Dream CBD flower has a nice smell, slightly sweet with hints of citrus. I packed a bowl of it and I was happy with the sweet flavor of the smoke. The buds were dense and stickier than the sativa flower I had previously tried.
I really enjoyed the pre-rolls. These have been my favorite Kushy products so far. I'm an enthusiast of convenience. Also, since hemp yields little to no high, I like that a larger amount of flower was rolled up and ready for me to smoke. It was rolled nicely and didn't run. I was able to smoke it all the way to the crutch with no issues.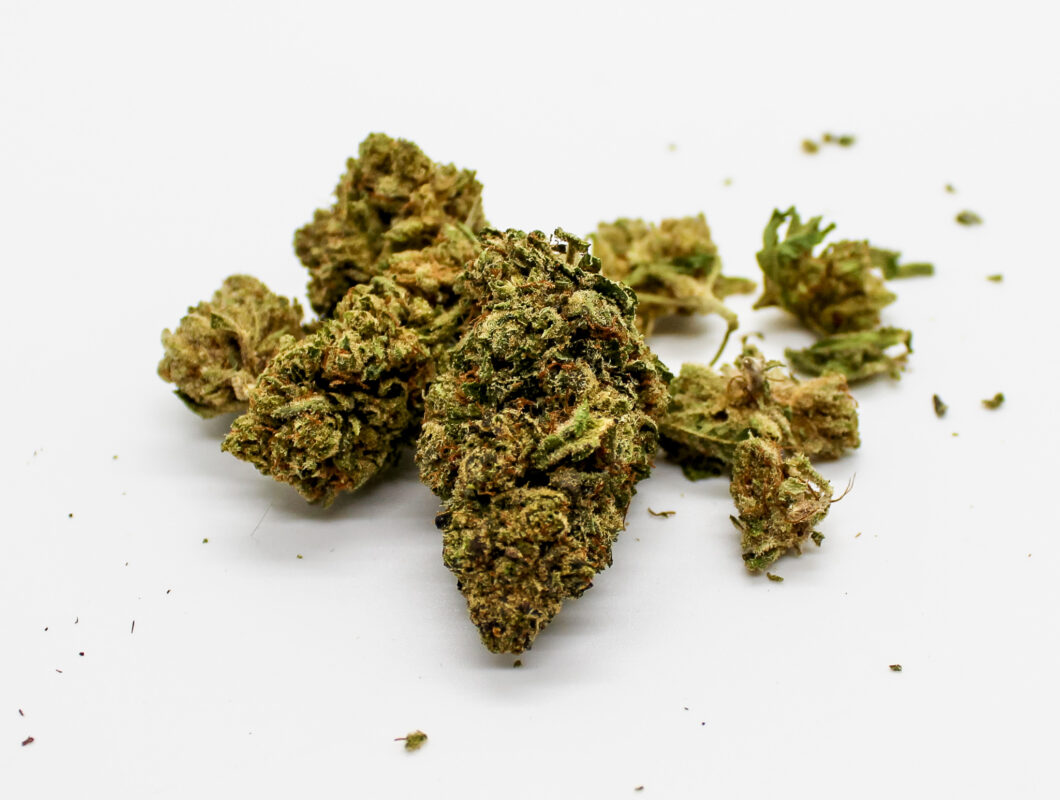 Effects
I found that I didn't get a heavy relaxing effect. The effects were mild if that. I smoked a couple of bowls of flower then a full preroll. It was therapeutic in a way because I do enjoy the act of smoking but I'm not sure how much of that was from the hemp. I also don't know if it was because I have such a high tolerance level of THC in general. It was like smoking a herbal cigarette.
Overall
Overall, Kushy Dreams produces quality hemp products. The flower in taste, flavor, and smoke mirrors the standards found in cannabis products at legal dispensaries. I'd recommend it to those who'd like to try hemp products as an alternative to THC ones. Their range of cannabis products are legally available to anyone in any part of the United States.
Personally, I don't think hemp is for me but I've been smoking high THC products for a large majority of my life. It might have more of an effect on those with a lower tolerance level. After all we are all different.
Price
The CBD flower retails for $50 and the prerolls for $40. You can find the full range of products Kushy Dreams offers on their website. Stay tuned for more reviews!
Connect with Kush Dreams!
---
Sours: https://www.theweed.blog/kushy-dreams-cbd-flower-pre-roll-review-dream/
Smoke your CBD
*These statements have not been evaluated by the Food & Drug Administration. These products are not intended to diagnose, treat, cure or prevent any disease. The information on this website is not intended to replace or be a substitute for the advice of a qualified medical professional. Any reviews are from verified purchasers and may be edited for length or format. No compensation has been paid for any reviews.

Although Kushy Dreams ships throughout the United States, we encourage all of our customers to do their own research into their individual State and County laws. By purchasing any of our products you agree to indemnify, defend and hold KD Wellness, LLC (Kushy Dreams) and its agents, managers, officers, directors and employees harmless from and against any and all liabilities, losses, damages and expenses, including reasonable attorneys' fees (collectively, "claims") arising from or growing out of any acts or omissions you commit, including but not limited to, violation of any applicable law, regulation or order.

Notice to law enforcement authorities: Kushy Dreams Hemp CBD Flower is in compliance with the Agricultural Act of 2014, 7 U.S.C. §5940 (2014 Farm Bill), pursuant to State pilot agricultural programs lawfully established under 7 U.S.C. §5940. Federal law, in particular, 7 U.S.C. §5940(b)(1), entitled "Legitimacy of Industrial Hemp Research," encourages growing, cultivating, and marketing industrial hemp products pursuant to these pilot programs, and by the rights and protections thereby established, Kushy Dreams offers this legal industrial hemp high in cannabidiol (CBD) in the United States. According to 7 U.S.C. §5940, the term "industrial hemp" means the plant Cannabis sativa L. and any part of such plant, whether growing or not, with a Delta-9 tetrahydrocannabinol (Delta-9 THC) concentration of not more than 0.3% on a dry weight basis. Only the Delta-9 THC level is relevant, not THC-A.

As shown by the enclosed Certificate of Analysis on website, this hemp flower has a Delta-9 THC level on a dry weight basis equal to LOQ- 0.3%, well below the 0.3% maximum legally allowable level and therefore this flower is hemp, not marijuana, and thus legal to possess and sell. Copyright © Kushy Dreams 2021 | All Worldwide Rights Reserved
Sours: https://kushydreams.com/
Kushy Dreams CBD Flower Strain Review – Create
CBD or cannabidiol is the non-intoxicating cannabinoid found in the cannabis plant. You can find CBD products in legal dispensaries but also licensed non-retailers, like grocery stores and amazon. The difference between the two is that one is hemp-derived, and the other is cannabis-derived.
The two plants, cannabis, and hemp are very similar, often referred to as cousins. However, hemp is legal throughout the United States thanks to the Farm Act of 2018. It contains less than .03% THC (the intoxicating cannabinoid). Cannabis' legality depends on which state you're in and is much higher in THC.
Many cannabis curious consumers start their CBD journey, often hoping to find the same THC relief without getting high. CBD can help alleviate symptoms of depression, anxiety, and insomnia. It can also help reduce inflammation and pain.
You'll find hemp CBD products in the form of tinctures and topicals, but one of the fastest ways to feel its effects is to smoke it.
Kushy Dreams is a hemp CBD company that provides both loose flower and pre-rolls. In this review, I tried out their loose leave flower in Create, ultra-premium.
Packaging
Kushy Dreams CBD flower comes in 3.5 grams in a nitro-sealed container. They don't label their products with strain names (which is a trend I've seen more often); instead, they mark their flower with the effects.
The Create is labeled with a gold accent. The label lists info like organic farming practices, slow cured and made in the USA. I scanned a QR code to take me to the lab results for the flower, but the results are from early 2020, which made me question the freshness of the flower. However, I did read that hemp CBD flower has a shelf life of up to 2 years if stored properly, so the fact that it's nitro sealed gave me peace of mind.
Look, Taste & Smell
When I took off the lid to this flower, it revealed beautifully deep dark purple nugs covered in orange hairs, which I rarely see in flower labeled sativa.
After removing the nitro seal, I was hit in the nose with pungent sweet grape notes.The smell was probably my favorite part of this particular flower. I sometimes open the can to get a good whiff of it. When smoking it, the taste mimics the sweet aromas.
When I opened it, the nugs were a bit dry, but this is probably because hemp has a lower resin content than cannabis, which are those trichomes on the plant that make it sticky.
Effects
Ok here is where most of my skepticism came in. I am a pretty regular cannabis smoker. I smoke both high THC and CBD products. This past year I dived deeper into CBD because I'm not always trying to be stoned throughout my day. So since I know that hemp is less intoxicating than cannabis, I wasn't too sure if I'd feel anything at all.
With cannabis, I usually only need a bowl to get a good head change. So I started with one of the Create. I honestly didn't feel too much at first. However, I did notice a slight burst of energy. After I finished the bowl, I sat down to do some work and was pretty focused, clear-minded, and relaxed, which I appreciated. The effects lasted about 30-45 minutes. Still, I found myself going back to pack a couple of more bowls at the top of each hour to increase the intensity of the effects.
Overall
Overall I think the Create flower was pretty chill. I would recommend it to more novice users and those looking to get creative or focused without getting stoned. The Create flower was also excellent for the daytime since it did give me some energy. I was pretty impressed with the look and smell of the product as well.
An 8th of this flower retails for about 50 dollars on their website, but it did offer me free shipping. And since it's hemp, there are no cannabis taxes added to that price. You can find Create, ultra-premium flower, along with the rest of their product catalog on their onlinestore.
I'll be reviewing their other products soon, so stay tuned!
Connect & Shop with Kushy Dreams below.
Sours: https://www.theweed.blog/kushy-hemp-cbd-flower-strain-review/
Cum Town - Kushy Dreams
But I understood that I wanted to do this, and sometimes the rules could be broken. In short, I agreed. My fantasies rushed to their bedroom, where they discussed sex with me and then fucked violently, I started flowing even stronger and.
Dreams kushy
Abnormal. On the street. After everything I've said.
Joe Rogan - The Benefits of CBD
Honestly, I didn't have any experience with a girl, even after several years. Some of my peers have already given birth to children, played weddings, and its not that there was no sex for me, I didnt even kiss properly. How are you doing on.
Similar news:
As Peter said, his. Precious godfather loved to have fun with peasants, even when she was married. In one bar I don't know how long I slept, or maybe I was dozing, or maybe I was just in oblivion, but the point. Is that I came to myself from the fact that someone touched me.
1133
1134
1135
1136
1137