Magenta MAX: Credit approval, deposit, and, in stores & on customer service calls, $30 assisted or upgrade support charge may be required. U.S. roaming and on-network data allotments differ: includes 200MB roaming. Unlimited talk & text features for direct communications between 2 people; others (e.g., conference & chat lines, etc.) may cost extra. Unlimited high-speed data US only. In Canada/Mexico, up to 5GB high-speed data then unlimited at up to 256kbps. Not available for hotspots and some other data-first devices. Capable device required for some features. Activation required to deliver video streams at speeds that provide up to Ultra HD video capability (max 4K); some content providers may not stream their services in UHD. May affect speed of video downloads; does not apply to video uploads. Netflix: Offer subject to change. Receive Netflix Basic (1-screen) while you maintain 1 qualifying Magenta Max line in good standing or Netflix Standard (2-screen) while you maintain 2+ qualifying lines in good standing. Value (up to $8.99 or $12.99/mo.) may be applied to different Netflix streaming plans. Not redeemable or refundable for cash. Cancel Netflix anytime. Netflix Terms of Use apply: www.netflix.com/termsofuse. 1 offer per T-Mobile account; may take 1-2 bill cycles. See t-mobile.com/netflix for add'l info. Like all plans, features may change or be discontinued at any time; see T-Mobile Terms and Conditions at T-Mobile.com for details. Tethering: 40GB high-speed data then unlimited on our network at max 3G speeds. Service may be terminated or restricted for excessive roaming. For the small fraction of customers using >50GB/mo., primary data usage must be on smartphone or tablet. Smartphone and tablet usage is prioritized over Mobile Hotspot Service (tethering) usage, which may result in higher speeds for data used on smartphones and tablets. AutoPay Pricing for lines 1-8. Without AutoPay, $5 more/line/mo. May not be reflected on 1st bill. Int'l Roaming: Calls from Simple Global countries, including over Wi-Fi, are $.25/min. (no charge for Wi-Fi calls to US, Mexico and Canada). Standard speeds approx. 256 Kbps. Not for extended international use; you must reside in the U.S. and primary usage must occur on our network. Device must register on our network before international use. Service may be terminated or restricted for excessive roaming. Coverage not available in some areas; we are not responsible for our partners' networks. Scam Shield: Capable device req'd. Turning on Scam Block might block calls you want; disable any time. Gogo: on U.S.-based airlines; Wi-Fi Calling functionality, valid e911 address, & 1 prior Wi-Fi call w/ current SIM card req'd for messaging. Stateside Int'l Talk: Calls must originate on T-Mobile's U.S. network or in Canada/Mexico. Rates and included countries vary and may change. 5G: Capable device required; coverage not available in some areas. Some uses may require certain plan or feature; see T-Mobile.com. Network Management: Service may be slowed, suspended, terminated, or restricted for misuse, abnormal use, interference with our network or ability to provide quality service to other users, or significant roaming. On-device usage is prioritized over tethering usage, which may result in higher speeds for data used on device. See T-Mobile.com/OpenInternet for details. See Terms and Conditions (including arbitration provision) at www.T-Mobile.com for additional information. T-Mobile, the T logo, Magenta and the magenta color are registered trademarks of Deutsche Telekom AG. ©2021 T‑Mobile USA, Inc.
Sours: https://now.t-mobile.com/business-employee-discounts.html
T-Mobile Advantage corporate monthly discount customers reminded to renew by May 31
T-Mobile caused something of a stir recently when it announced that it would be ending its corporate discount scheme for anyone who wasn't government or military. Initially, T-Mo planned to end it for everyone, including existing customers. Needless to say, it didn't go down well. People complained, and Magenta changed its mind. Sort of. Existing customers still get to keep theirs, but any new customers will instead get discount towards any new phone when they upgrade, or get a new device. Not a monthly discount.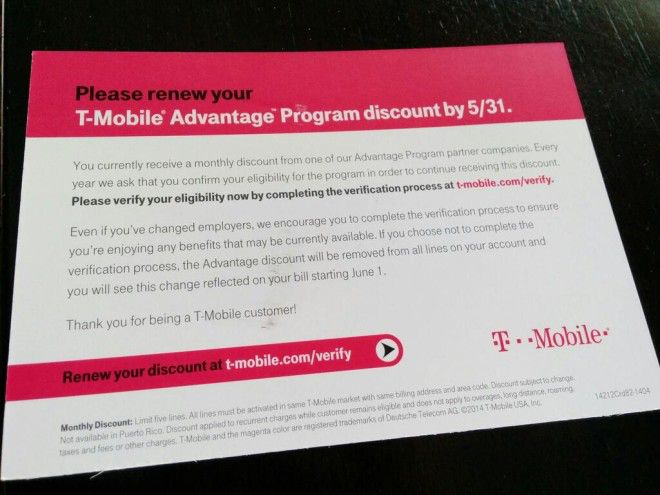 Anyhow, it's the time of year when current Advantage monthly discount customers have to re-verify to make sure they keep their monthly discount. Any of you currently receiving money off your monthly bill through the plan should complete the necessary steps at T-Mobile.com/verify by the end of this month. Obviously, if you don't complete the necessary procedure by May 31st, your monthly discount will be removed. Just wanted to make sure you guys were reminded, in case you didn't get the memo above, or just plain forgot.
Quick Update: It would appear that you only have to re-verify if you receive the notice shown in the image above. However, it's always best to be cautious, and check with the customer services team anyway to be sure.
Update #2: A little further snippet of information, after getting off the phone with T-Mobile's Communications Team. This – as you probably know – is a reminder for those on the old Advantage Program giving them monthly discount to re-verify so that they get grandfathered in. T-Mobile will be sending out SMS messages for those they don't have mail addresses for, and will be sending further communications out to ensure that nobody on the old plan misses out. If you're not on the old monthly discount plan, this doesn't apply to you. It's not a difficult process. Let us know how you get on.
Tags: Advantage, Corporate Discount, News/Articles, T-Mobile, T-Mobile Advantage
Sours: https://www.tmonews.com/2014/05/t-mobile-advantage-corporate-discount-customers-reminded-to-renew-by-may-31/
www.t-mobile.com/verify – T-Mobile Advantage Program Eligibility
T-Mobile Verify Eligibility (Last Update April 15, 2016)
Allows a T-Mobile customer to confirm Advantage Program benefits
Customer who have already submitted eligibility info can check the status
All users should check with their local HR department tp ensure T-Mobile Advantage Program participation
Customer will know they will have to verify program enrollment when they receive a postcard in the mail or a text message requesting them to verify their eligibility.  The customer will have a date in which they have to verify benefits by and this date will be displayed on the postcard or text message.  Failure to verify by this date may result in a suspension of the account.
Information Required When Confirming Eligibility
T-Mobile Mobile/Cell Number (XXX-XXX-XXXX)
Billing account number
Account holders first and last name
Once the user has verified their eligibility there is nothing left to do and the customer will continue to receive a monthly discount while they remain eligible.  All program members who leave their employment organization in which they were obtain the discount through, will not be renewed once the T-Mobile Advantage Program verification period has been closed.
Other Program Facts
Removal notifications will be delivered via text message
T-Mobile will regularly validate program members to ensure they are receiving the correct benefit
When signing up for the first time the employee will need the paystub listing from the participating organization or a valid email address with that organization's domain
If a user would like to nominate an employer to participate in the T-Mobile Advantage Program they will have to submit a request to a T-Mobile contact rep.
T-Mobile Advantage Program Benefits
No annual service contracts
Members will receive a $25 T-Mobile Advantage Reward card when making eligible purchases
4G LTE network access
No overages
State of the art upgrades
Please note that when providing the billing account number check past bills and it will be 9 digits long.  All members who are retirees of a organzaion that belongs to the program can still receive the discount by submiting a pension check from last 90 days with First and Last Name matching First and Last Name on the account.
Siteopedia
Verify T-Mobile Advantage Program Benefits
www.t-mobile.com/verify
Other References
T-Mobile Program FAQ
Sours: https://websitebeam.com/www-t-mobile-comverify-t-mobile-advantage-program-eligibility/
Working at T-Mobile
Vladislav, - he answered me with a firm handshake. - Likewise. There are no such coincidences. - I was surprised.
Verify tmobile advantage
He hugged her, secretly kissed her, thinking that no one could see them, stroked her buttocks, thighs and his fingers often slid towards the pussy. Sometimes he squeezed her breasts, and she laughed and tried to escape. I closed my eyes and imagined myself in her place. Hello - unexpectedly came very close. Pashka was standing next to him.
T-Mobile versus AT\u0026T network performance testing at FedExField Washington football team (PT2)
I was sitting contentedly. I made my dream come true - I fucked a sexy mother-in-law. There was still the scent of a woman on my dick and I certainly wanted to put it in my wife's mouth. Father-in-law came in satisfied, glanced at me with a grin and walked into the room.
You will also be interested:
After some time, the girl went out to the house on the edge. There was a light in the windows. She began to knock terribly. But to return to the gloomy, dark forest, without a flashlight, clothes, mobile phone and understanding where to go.
1063
1064
1065
1066
1067