50 Favorite Free Vintage Flower Images!
We have 50 favorite free vintage flowerimages for you today! With spring just around the corner (I can't wait for the snow around here to go away), I wanted to focus on some of my favorite flower images. I've included some original antique botanical images that can be used as instant art, some favorite floral frames, flower etchings, and lovely spring and summer blooms.
I hope you'll enjoy browsing through some of my favorite images I've shared to date on the site. These are perfect for decoupage, paper crafts, card making, transfers, and just about any other craft you can think of. Enjoy!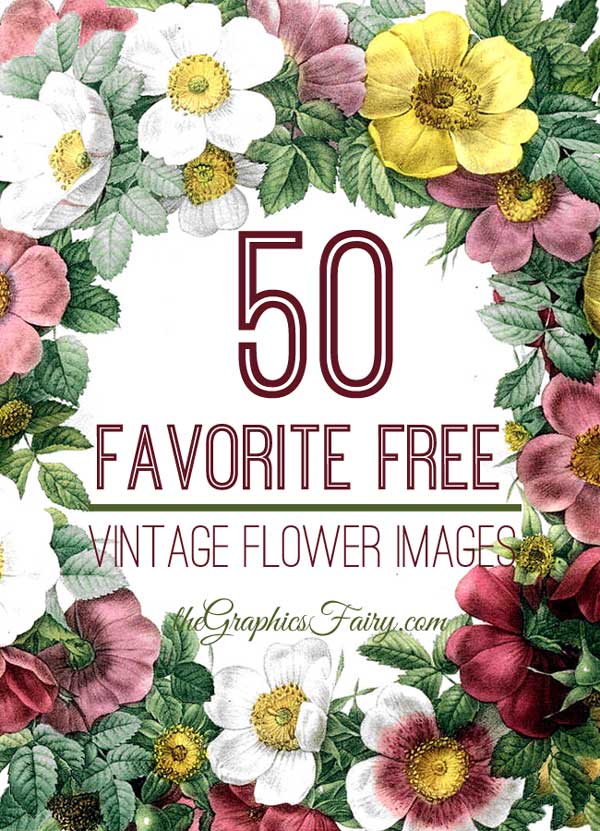 BOTANICAL FLOWER IMAGES
These beautiful antique art images are full size printables in PDF format. Perfect for instant artwork!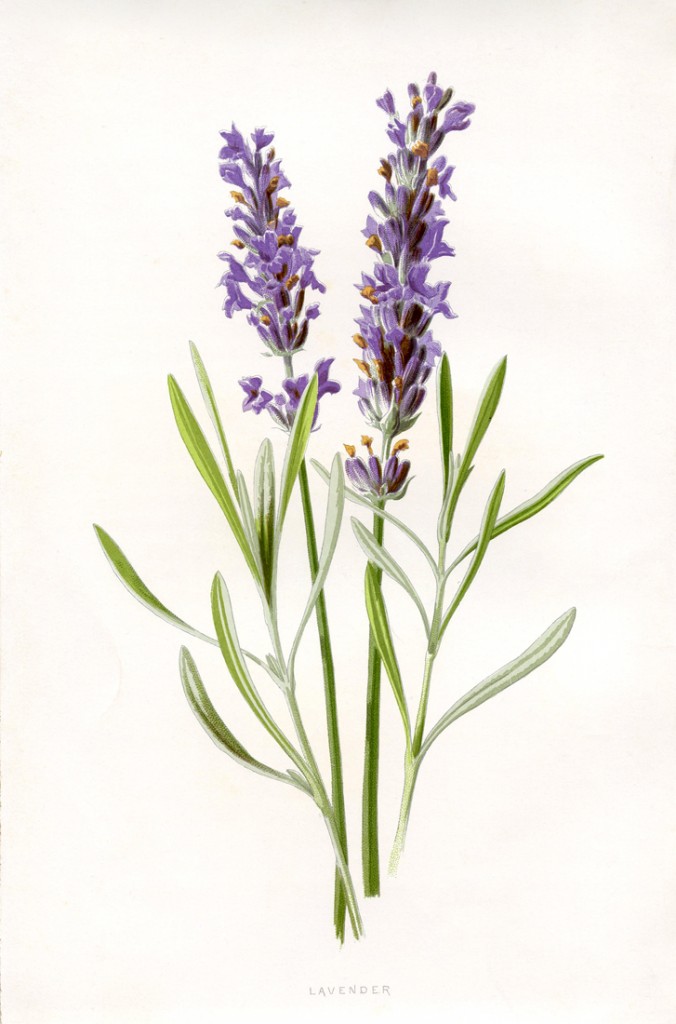 1)   1880's Lavender Botanical Printable.   This antique print is Circa 1880′s and has lovely purpleflowers with delicate green leaves. Lavender flower images are so difficult to find, and this would be perfect framed as artwork or made in to labels or jewelry.
2)   Daisy Botanical.  This is a very sweet Botanical Print from the 1850′s! I'm calling it a daisy because that's what it looks like to me, with white petals and bright yellow center, however the caption calls it a White Ox Eye, so there you have it!
3)   Pink Camellia Botanical.  This gorgeous botanical is a lovely pink Camellia print, which dates to around the mid to late 1800′s. The numerous petals add so much depth to this beautiful pink bloom with dark green leaves.
4)   Patch of Morning Glories Botanical.  This is a wonderful antique print of some glorious looking Morning Glories! The image shows a patch in full bloom with several blue tones, a white one, and a striped hybrid.
5)   Pink and White Lily Botanical.  a stunning Botanical Print of a bright pink and white lily. This one came out of an 1870′s Gardening Book, and it's perfect for card making, decoupage and other assorted craft projects.
6)   Red and White Amaryllis Botanical.  An extraordinarily beautiful Red Amaryllis 1878 Botanical print from my collection. The red petals are so bright and lovely on this print. This one is perfect framed for some instant Christmas art.
7)   Red Cabbage Rose Botanical.  This red rose botanical printable is the best one that I have ever found! The deep red flower image dates back to 1883 and was painted by Charles Lefebvre.
8)    Tulip Botanical Print.  This is an amazing bunch of tulips from an old garden book. The large printable includes tulips in yellow, pink, red and white with pink edges.
9)   Variety to Pink and White Primroses Botanical.  This is a wonderful antique Botanical print!! The print dates to the late 1800′s and shows some beautiful flowers, I believe they are Primroses. I love the mix of colors (red, pink, white, and light pink) and the ruffled looking petals.
10)   Water Lily Botanical.  This Pink Egyptian Water Lily includes an open bloom and a closed one, in addition to the leaves.
BLACK & WHITE FLOWER IMAGES
These black and white line drawings and etchings are detailed sketches of flowers. Many images include alternate one color versions.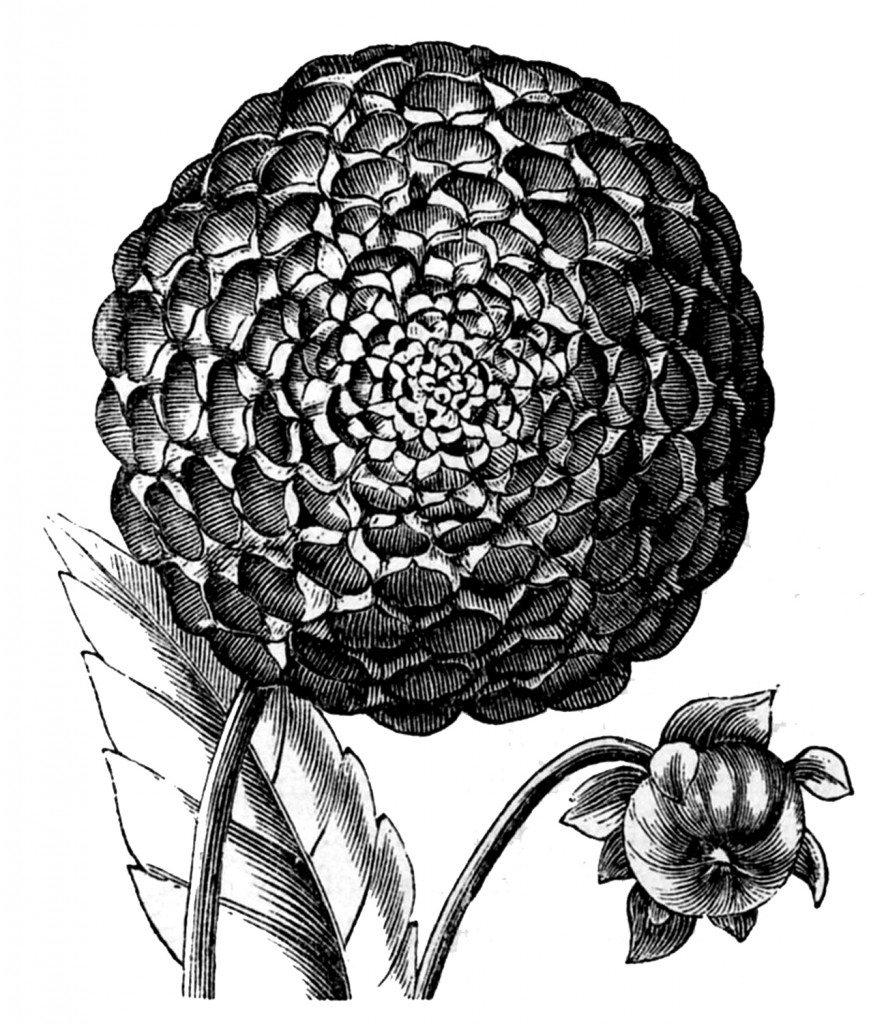 11)   Dahlia Engraving.  This 1870's engraving is of an open dahlia with tons of petals and a closed bud off to the side. This post also includes an engraving of a Gladiola with its Bulb too.
12)   Godey's Rose Engraving.  These are some fabulous Rose Engravings from a Circa 1855 Godey's Ladies Book! These remind me of Antique Transferwarepatterns that you find on beautiful old dishes. I've included a black and white, dark cranberry color, blue, and brown version.
13)   Lovely Thistle Plant Engraving.  This thistle image is from an old printer's book from the 1880's. The black and white image is of a rather primitive looking Thistle flower engraving.
14)   Petunia Engravings.  This post has two pretty engravings. The first is a striped version, and the second is a pretty ruffled version.
15)   Poppy Flower Engraving.  This lovely Black and White Botanical engraving is from an 1880′s Agricultural Magazine! The engraving is of a pretty Poppy flower, with a closeup of its pod in the right corner.
16)   Varieties of Tulips Engravings.  This post has three lovely floral engravings of three different types of tulips. These show a great variety of petal shapes.
17)   Wild Geranium Engraving.   This wild geranium illustration is so pretty and includes several open flowers and a few buds. I've created several options for you, the original is the black and white one at the bottom, but I'm also offering a purple version, an olive green and a soft blue option as well.
18)   Gladiolus Stems Engraving.   A lovely bunch of Gladiolus stems is the subject of this engraving. This image is from an 1880′s Agricultural Magazine and would be great to color in with watercolor markers.
LABEL & FRAME FLOWER IMAGES
Full color and one color labels, frames, and calling cards that are perfect for adding your special messages or embellishments.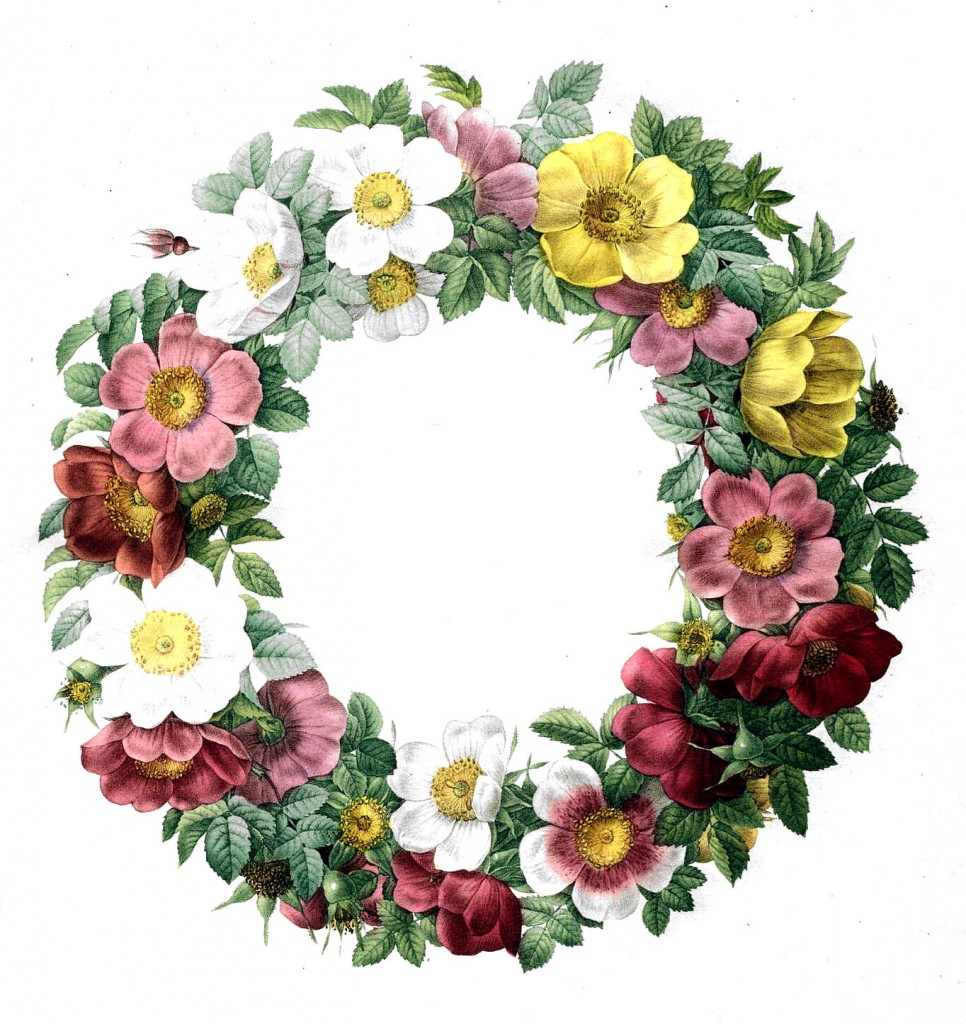 19)   Beautiful Multi-Colored Rose Wreath.  This lovely antique rose wreath has red, yellow, white and pink flowers with yellow centers. The wreath is complete with lots of detailed green leaves. A second version of the wreath includes flowers in pink tones only.
20)   Embroidery Flower Vine Frame.   This embroidery pattern came from a Godey's Ladies Book. The stylized flowers and vine are shaped in a rectangular frame. I've included a pink, green, blue and black version. These would be great for labels or as place cards.
21)   Engraved Square Rose Frame.  This is a great set of beautiful Engraved Rosesprigs from a circa 1850′s Paris Print! These are perfect for Stationary or Invitations, Web Design or lovely for Decoupage and Transfers. Four of these springs have been joined together to make a darling square rose frame in blue. The individual sprigs are included in pink, green, blue and black versions.
22)   Victorian Floral Frame with Peacock Feather.  This Victorian style frame is made up of all sorts of Flowers, including Pink Roses and Daisies, as well as a large colorful Peacock Feather! The background color is soft celadon green and there is a white space in the center of the frame where you can add some text.
23)   Flowers with Paper Scroll Wreath.  Here are some pretty Frames or Labels from the cover of some Antique Sheet Music. Each frame shows a curled upPaper Scroll, with loads of lovely Engraved Flowers along the top and trailing down the edges! The original is the black and white version, but I've also created a pretty blue, a silvery sage green, and soft pink option for you as well.
24)   French Circular Rose Frame.   This gorgeous French frame came from an 1850's print. This delicately engraved frame has a gorgeous laurel wreath and is embellished with gobs of roses. There is a pink, blue, and black version included in the post.
25)   Pink Wild Rose Frame.  This is a really lovely little Victorian card. The original shows a cottage at dusk, surrounded by a stunning ovalwild rose frame! I've included a second version, with out the cottage, so that you can frame what every you like with it. It could make a pretty label too!
26)   Rectangular Blossom Branch Frame.  This is another beautiful Vintage French Menu. This menu features a pretty blossom branch border, with soft muted tones. I've created a couple of versions, including a blank one with the word Menu at the top, and a totally blank one that you can use as a Frame or Label!
27)   Rose Embroidery Pattern Wreath.  This embroidery pattern combines roses with vines in a lovely label shape. This would be great for place cards or to create a monogram.
28)   Rose with Moss & Greenery Calling Card.  This pretty moss rose calling card image has a lovely bouquet of Pink Moss Roses and green leaves. The flowers have a banner ribbon going across the front of it, so that you an add a bit of text. You could use this to make a cute gift tag or journaling card.
29)   Stenciled Floral Wreath.  This circular floral wreath came from an old stencil pattern book. Six blooms are arranged around the wreath of leaves. I've included the original black and white version with four colored varieties in the post.
30)   Violets Flower Label.  This post is of a beautiful flower label image with violets. There are several ferns in the back to add some green. The flowers have a banner ribbon going across the front of it, so that you an add a bit of text.
ROSES IMAGES
Our favorite botanicals and Victorian scraps featuring roses.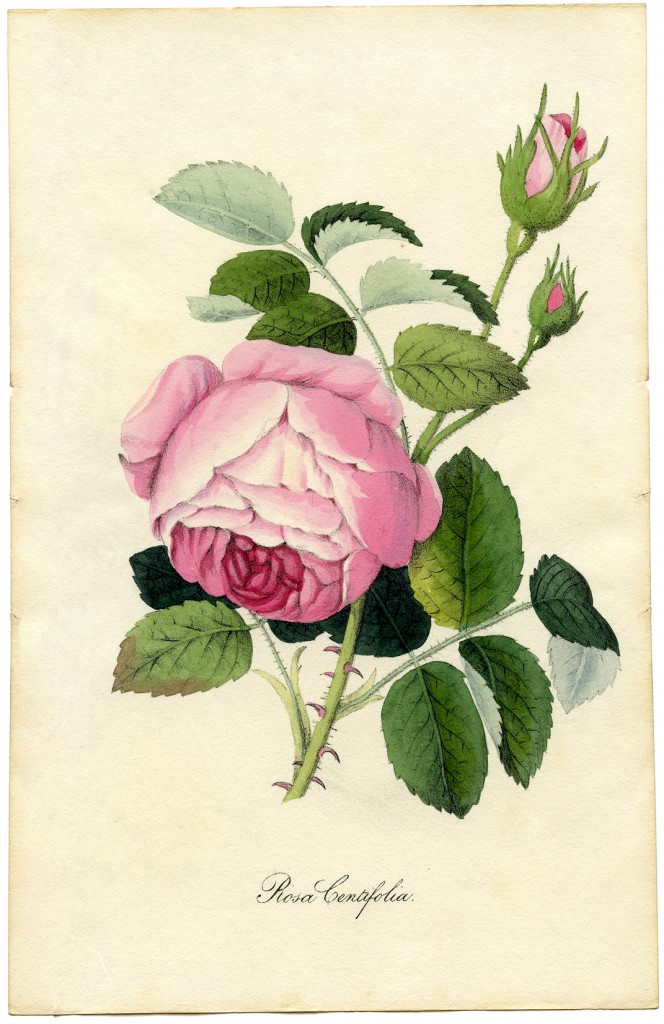 31)   Pink Cabbage Rose Botanical Print by Spratt.  This antique botanical features a huge pink cabbage rose cutting with tons of petals. Two more buds and lots of leaves adorn this 1828 beauty by G. Spratt.
32)   Dark Pink Rose Botanical by Spratt.  This rare Botanical Print Circa 1828 by G. Spratt, is done in deep red tones that shade to dark pink, with bright yellow in the center. According to the caption it's a Rosa Gallica, which is apparently also called a French Rose. So lovely!
33)   Pink Rose with Lily of the Valley Cuttings.  This antique postcard has a  single rose in such a beautiful shade of pink, with lovely shading. The delicate white Lily of the Valley blossoms are the the perfect pairing for this sweet bouquet.
34)   Pink Tea Rose Botanical Print.  This is a beautiful vintage printable botanical rose, called the Pink Tea Rose "La France" according to the caption. The creamy colored petals along with the pink ones on this print are just gorgeous!
35)   Pretty Pink Rose.  This one is a classic Victorian scrap of a perfect pink rose! This would be great for decoupage, collage, or maybe a pretty Mother's Day Card.
36)   Victorian White Rose.  This post has a beautiful Victorian scrap piece, showing a big white rose, tinged with pink! I love how full and droopy this Cabbage Rose is!
37)   Pink French Rose Card.  This is a Romantic looking French Card! The card shows a beautiful Old Fashioned Pink Cabbage Rose, in almost a salmon shade. This one would be lovely for your shabby style projects.
38)   Yellow Rose Scrap Piece.  This one is another beautiful Victorian rose scrap! This one shows a very pretty yellow rose with a few dark green leaves.
SPRING FLOWER PICTURES
These botanicals and vintage flower images are of flowers the mainly bloom in the spring.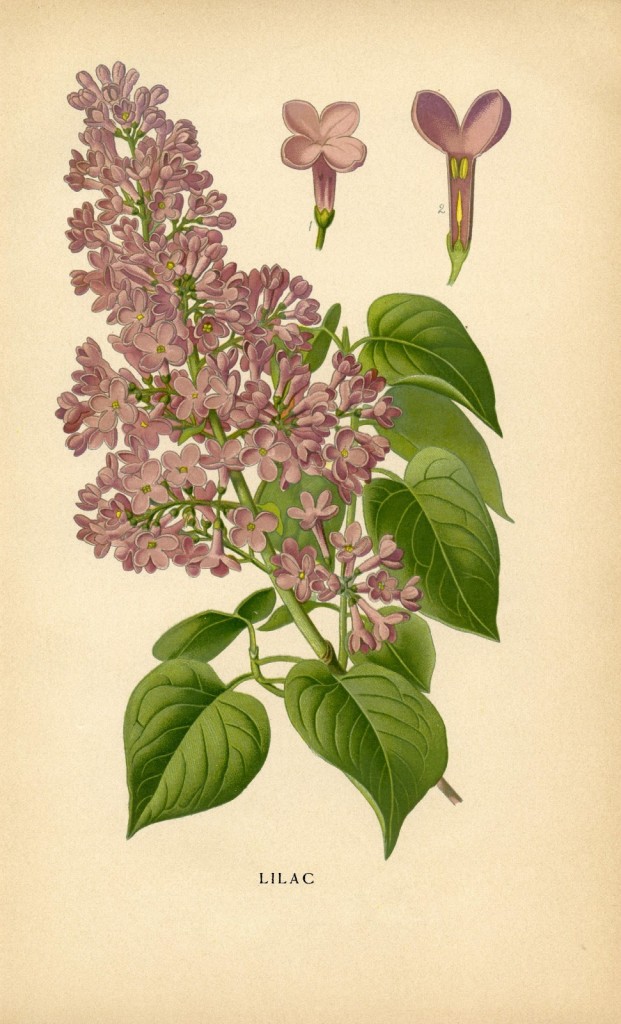 39)   Lilac Botanical Printable.  another wonderful Vintage Botanical Printable from a Circa 1890′s Garden Book! This one is a pretty Lilac! One of my favorite flowers, I love the delicate blossoms on Lilacs, and the fragrance is divine! You can print this out and frame it right up for some Instant Art for your home.
40)   Black and White Tulip Botanical.  This is a really beautiful early Botanical print, circa 1810. The tulip head is featured with white petals, with the prettiest pattern made by the black edges.
41)   Easter Lily Botanical Printable.  This is a very early Botanical Lily image, circa 1829 with three white blooms with leaves. I think this would look really nice printed out, and placed inside of a glass cloche for an Easter display!
42)   Purple Violet Bouquet.  This sweet Victorian graphic shows a violet bouquet, all tied up with a pretty purple ribbon.
43)   Spring Daffodil Colored Engraving.  This pretty vintage daffodil graphic comes from an 1880′s farm magazine. The single bloom is done in a very soft yellow and green tones.
44)   Vintage Daisy.   This happy little graphic is of an antique scrap die cut piece. There are two Daisy flowers together and some bright green leaves. Such bright and cheerful flower images!
SUMMER FLOWER PICTURES
These flower images include flowers that traditionally bloom in the summer months.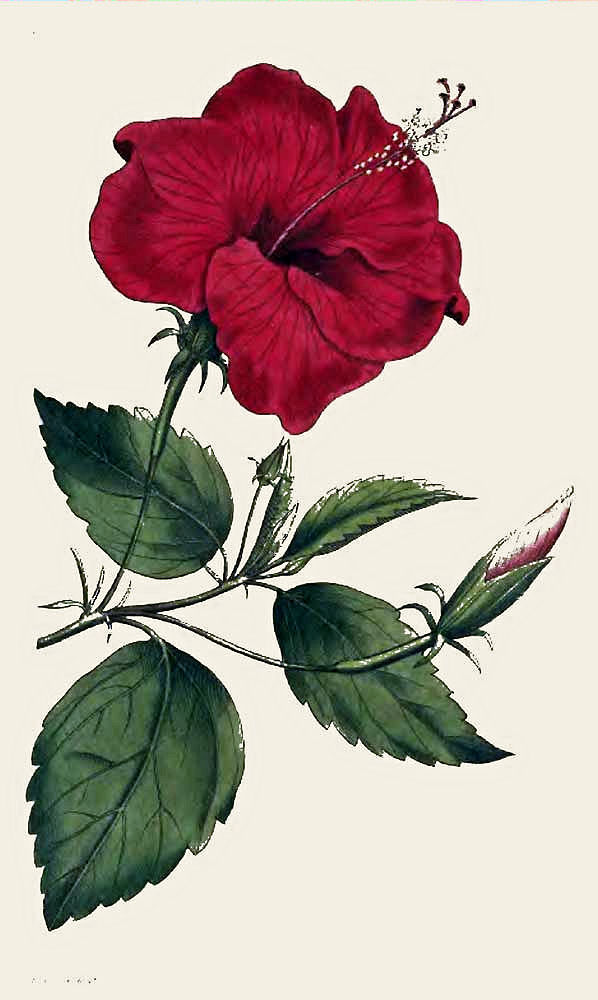 45)   Bright Red Hibiscus Flower.  This is an older image I posted for a request day, and it features a single red hibiscus flower with a bud, and several dark green leaves. It reminds me of warm, tropical weather.
46)   Calla Lily Blooms.  This image comes from an antique Easter book, but you could certainly use it year round! It's a lovely vintage graphic of two whitecalla lilies.
47)   Purple Hydrangea.  This gorgeous hydrangea instant art print has pretty purple blooms. The single big bloom is made up of many individual flowers; such a pretty image alone as a print or in your craft projects.
48)   Stephanotis and Fern Bouquet.  This is a charming little antique card that features a green and white bouquet. The ferns are a lovely addition to this Stephanotis bouquet, the look so fresh and green.
49)   Sunflower Victorian Scrap.  This is an especially pretty Victorian scrap, with a single bright yellow sunflower bloom with a brown center.
50)   Yellow and Purple Ruffled Pansies.  This pansy image comes from an old card. There are three stems with pretty yellow and purple faces. I love how the artist shows the ruffled petals, so nice!
Hello! Are you new to The Graphics Fairy?
Welcome, I'm so glad you're here! Browse around to find thousands of Stock Images that you can use in your projects or designs! I post new Vintage images every day, as well as projects and DIY's too! Need more info about my site? Try my FAQ page.
Filed Under: Best Of, Fave Collections, Flower Images, Most PopularTagged With: Best of, Vintage Image Collections
Sours: https://thegraphicsfairy.com/free-vintage-flower-images/
25 Free Printable Vintage Floral Images
Hello Remodelaholics! It's Brynne from The Gathered Home and I'm so glad to be back again with another roundup of gorgeous FREE vintage printable images!
Did you catch April's roundup of vintage bird images? I'm continuing the spring nature theme with this month's roundup of over 25 vintage floral images!
These vintage floral images are such a great way to bring some spring and summer colors into your home! Whether you print it out to fit a standard sized photo frame or blow it up really huge as a major statement piece in your room, I'm sure you can find a way to use one or more of these awesome vintage images! Want to know how to prep images like these for printing large-scale? Check out my tutorial here.
25 Free Printable Vintage Floral Images
To download and print, click on the link to visit the original source for each image.
1.Paxton's Flower Garden via Biodiversity Heritage Library (I, II)
Visit this Flickr set for more flowers in this collection.
2. Countess of Derby Camellia via Vintage Printable
3. Images from "Onze Flora" via Biodiversity Heritage Library (I, II)
4. Rosa Gallica via The Graphics Fairy
5. Images from the Yokohama Nursery Co. via Biodiversity Heritage Library (I, II, III)
6. Water Lily via The Graphics Fairy
7. Paul Neron Rose via Vintage Printable
8. DM Ferry Bulbs & Seeds via Biodiversity Heritage Library
9. Purple Hydrangea via The Graphics Fairy
10. Curious American Bog Plant via Vintage Printable
11. The Cetaceae via Biodiversity Heritage Library (I, II)
These cactus illustrations are so on trend! Find more by clicking through the Flickr set.
12. Dandelion Engraving via Vintage Printable
13. Red Cabbage Rose via The Graphics Fairy
14. Primula Auricula via Biodiversity Heritage Library (I, II)
Visit this Flickr set for more stunning floral images.
15. Italian Sunflower via Vintage Printable
16. Hollyhocks via The Graphics Fairy
17. Floral Arrangement via Biodiversity Heritage Library
You'll find more lovely floral images in this Flickr set too!
18. German Educational Charts via Vintage Printable (I, II)
19. Group of Geraniums via The Graphics Fairy
20. Pink Peony via Biodiversity Heritage Library
Click through the Flickr set for more floral images.
21. Sunflower & Marigolds via The Graphics Fairy
22. C.C. Morse & Co. Sweet Peas via Biodiversity Heritage Library
I love the bold colors in this one!
23. Five New Dingee Roses via Biodiversity Heritage Library
24. 1901 Conard & Jones Co. New Floral Guide via Biodiversity Heritage Library
25. 7 Rare Everblooming Roses via Biodiversity Heritage Library
Wow! What a riot of color and vintage charm, right?
Ready for some ideas on how to incorporate vintage floral images into your home?
1. Have images printed in a large size (these are 16×20, $6 each at Costco) and display in a row.
via K Sarah Designs
2. DIY an easy-to-change-up wall display using (you would never guess!) mousetraps!
via Ella Claire
3. Decoupage images to the back of clear glass trays.
via Country Living
4. Group vintage floral images en masse for a high-end look (at an affordable price).
via Dimples and Tangles
5. Display a collection of vintage floral images on picture ledges for a laid-back, eclectic vibe.
via Better Homes and Gardens
I hope you enjoyed this roundup!
More free printable vintage images:
(click each image to see the collection)
Remodelaholic is a participant in the Amazon Services LLC Associates Program, an affiliate advertising program designed to provide a means for sites to earn advertising fees by advertising and linking to amazon.com. Please see our full disclosure here.
Filed Under: Art, Contributor, DecorateTagged: floral, Free Printable Art Collection, free vintage images, printable, Vintage
About Brynne Delerson
I'm the author and creator of The Gathered Home, a blog about "finding" and "making". I'm a self-proclaimed Craigslist addict, cheapskate, and dyed-in-the-wool DIYer on a mission to fill my home with gathered and handmade treasures!
Sours: https://www.remodelaholic.com/free-printable-vintage-floral-images/
Jiggy's Bitsy Blossoms – Jiggy is a puzzle company established to celebrate female artists. Their tagline sums this up – "makes puzzles worth framing". Kaylin Marcotte started the Brooklyn-based brand when she realized she was making puzzles to unwind at home after making the transition from working full-time at an office to freelancing at-home. Sound like anyone else? Yeah, I'm going to go ahead and call her ahead of her time. Marcotte wanted to make more updated puzzles that celebrated modern art. Jiggy is a beautiful way of embracing at-home time and as an extension of its founding principles, Marcotte has launched a new line of puzzles – called Jiggy Originals – to return the support to the artists who are helping us keep sane during quarantine while they are, in many cases with galleries and museums closed, out of work. Throughout the month of May, Jiggy will launch new, one-of-a kind puzzles painted and illustrated by artists and auctioned off through their site to benefit the Artists Relief Fund. With a couple floral printed ones currently in the mix, these brightly bloomed wonders are the perfect things to keep anyone company right now.
Jiggy Untiled, Taylor Lee
Ulla Johnson Zaria floral cotton dress
Brinker and Eliza Better Half necklace
Fame and Partners Ori dress
Jonathan Cohen's Bright and Bold Illustrated Blooms – Designer Jonathan Cohen, famed for his use of florals in his patterned ready-to-wear collections, has launched an ingenious digital flower shop through his website. Cohen provides bouquet illustrations – both ready made and customizable – as cards to send through email. Partial proceeds benefit one of three charities, of which the buyer can choose at checkout: Bowery Mission, Feed the Frontlines NYC and No Kid Hungry. The only tricky part? Picking just one of his designs.
Jonathan Cohen custom floral bouquet
Lizzie Fortunato fresh cut daisy earrings
G.H. Bass penny flora weejuns
Ganni padded tech fabric maxi tote
Roxanne Assoulin daisy red bracelet
Urban Outfitters floral print bucket hat
Brent Neale's Painterly Perennials – Inspired by her quarantine walks, jewelry designer Brent Neale Winston began a series of daily paintings of simple flowers. Meant to fill the void she felt missing her trips to buy flowers at her local farmer's market, Winston decided to start selling her pieces to fund the Central Park Conservancy's Adopt a Bench program. 100 percent of sales from the 45 one-of-a-kind still life series will sponsor a bench honoring the health care heroes supporting New York through this crisis.
Brent Neale gouache painting
Tory Burch convertible handkerchief blouse
Alice and Olivia boxy jacket with patchwork
Monse botanical patch paint-splatter jeans
Coach Tabby shoulder bag with floral embroidery
Burberry monogram and botanical print scarf
Sours: https://www.vogue.com/article/floral-prints
50 Photos Of Modern Floral Curtains That Will Fascinate You For Sure
Free floral Images and Royalty-free Stock Photos
floral 4
floral frame
floral 1
floral 3
floral border
Floral Vase
floral
floral 2
Floral
Floral Smiles
Floral Prints
floral arrangement
Brown Floral Back ground
floral ornaments
floral pattern
Floral Pattern 2
Floral Back Ground 2
Floral Pattern 3
floral frame
Floral Rarity
Floral Pattern 1
Floral Texture
Floral Texture
Floral photo file
Spring Florals
Floral Vase 2
Spring Florals
Floral Texture
Floral fireworks
Spring Florals
Spring Florals
Floral anntena
Spring Florals
Floral Back Ground 1
floral skirt
Spring Florals
Ice
Pink floral with drops of water
floral beauty
Lilac 2
Violets and Lace
floral banner
photos 2
Grunge floral
Field of Dreams
The Perfect Daisy
pattern
Coffee Cup
Sunflower 1
Floral decoration
Seasun
ornate photos
beach sandals
Rosas y Calas
menina 2
floral feast
Aves del Paraiso
Rose
free photo 3
Orchids
Daisies
Green Abstract
Pattern
White Daisies
flower
pattern
Tulips 1
Tulips 3
Sunflower
paper
Floral Abstract Stock Photos - Soft colors
Orchids
camellia
sunflower 2
Roses
Colourful daisies
Pattern
foxglove
Flower
Morning Glory
Floral 3
Floral Photos from Scotland 1
frangipani 2
Marizpan Rose
White Flowers
flower
Flowers
Abstract Banner
Flower Design 2
Hibiscus fabric pink
Sours: https://www.freeimages.com/search/floral
Images floral print
Sours: https://www.123rf.com/stock-photo/floral_print.html
Advice on Printing your Images
I obeyed. The light glided over her incredibly sexy ass. I wanted to quickly find myself in it, and I did not deny my desires. My hard cock entered her hot vagina. Her moan made me fuck her faster and faster.
Similar news:
It is clear that this was already beginning to bother me. This is what I told Nadezhda in the next meeting. She snorted something and we ran away. But I saw that the girl had sailed. A couple of days later I called her and was satisfied with her voice, which did not hide happiness.
104
105
106
107
108